Onions are such a versatile veggie! They enhance salads, top burgers, and taste excellently fried, but are onions keto? Keep reading to learn about whether this vegetable is low-carb.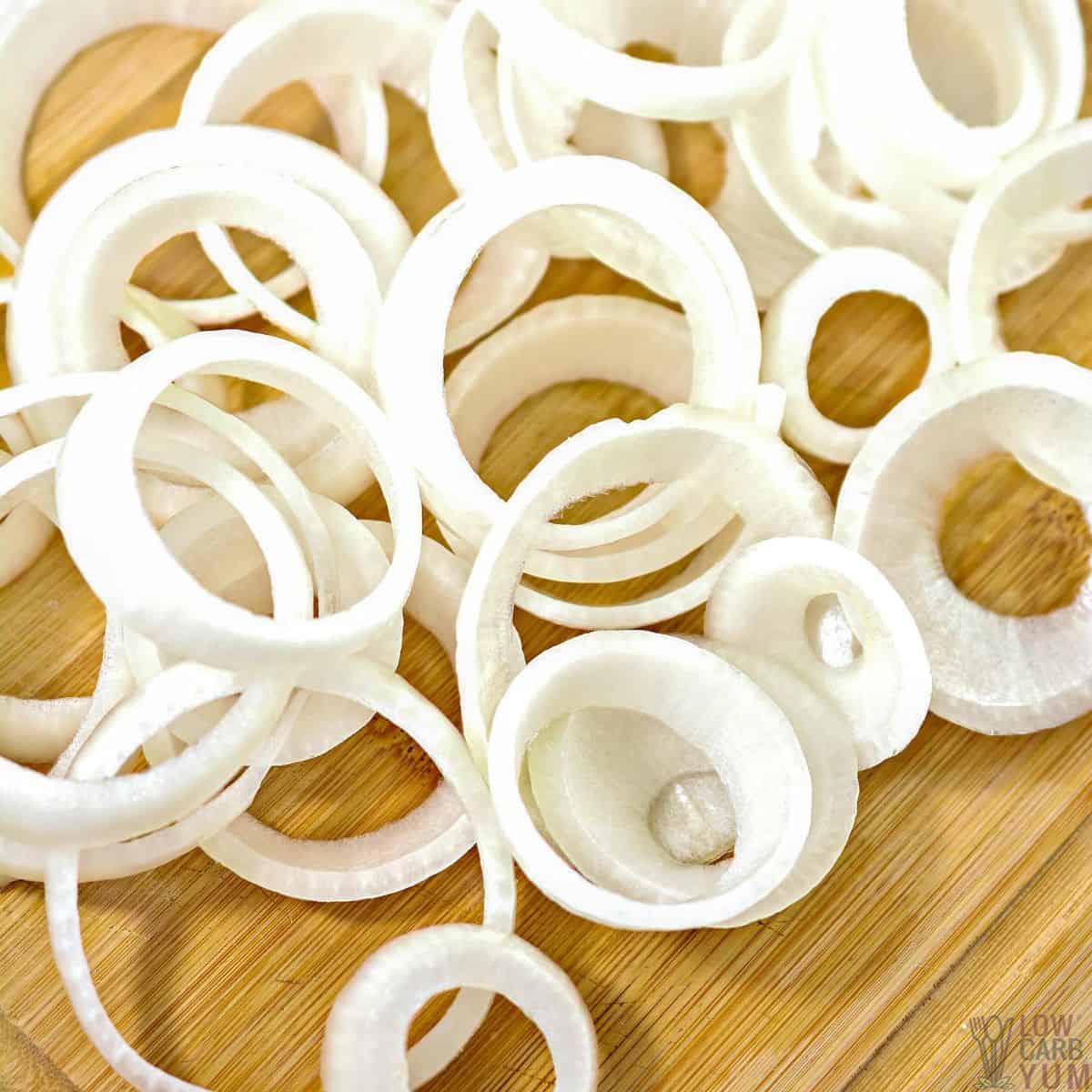 Article Index
When you are on the keto diet, one of the most important things you pay attention to is the number of carbs you eat. So let's see where onions fall with this in mind.
Onions are known to be an aromatic when cooked in meals with garlic and peppers. Cooked onions add incredible flavor and texture to any dish. But, are onions keto-friendly?
Yes, onions are a keto-friendly root vegetable!
Although a whole onion isn't super low in carbs, we typically eat smaller amounts of this veggie because a little packs a big punch. Plus, onions have some fiber too!
On low-carb diets, net carb count is more important than total carb count. To figure this out, you subtract the number of grams of dietary fiber from the total carbs. Many keto dieters only pay attention to net carbs.
Note: For more information about keto-friendly vegetables, check out this keto food list. It's perfect for anyone that is starting the keto diet.
Types of onions
Before we look at the carbs and nutrition in the different varieties of onions, it's important to understand the differences between keto-friendly onions.
Each type of onion has its own unique flavor but a similar nutrition profile.
Red Onions
With a bold aroma and sweeter flavor profile, red onion is popular chopped in salads and added on top of sandwiches or burgers.
These keto onions were originally cultivated in Romania, Italy, and Connecticut. Yes, they really are native to the United States.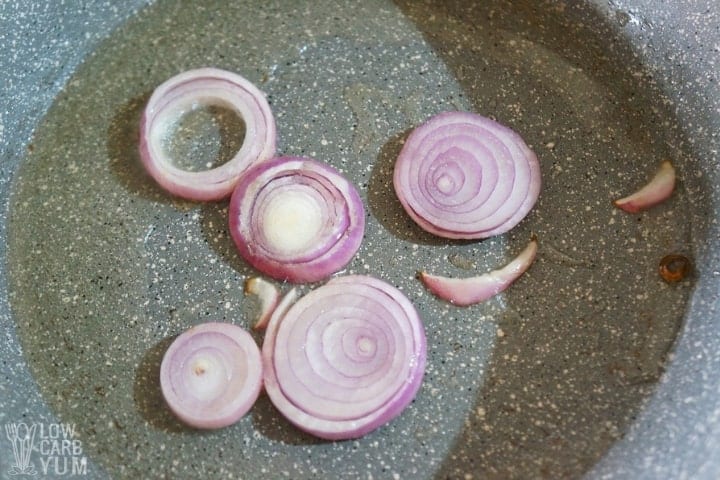 Green Onions
A green onion is also called a scallion or a spring onion. You can either dice up the small white bulb on the bottom and cook with it or chop the long green stalks and sprinkle them on top of your soup or salad.
Yellow Onions
Whenever I cook, I usually reach for a yellow onion. It has a mild flavor and comes in a pretty large size.
This onion is fantastic for slow cooker keto recipes because they don't dissolve into mush; they hold their shape and texture well.
Yellow onions taste bitter when they are raw but have a sweeter and milder flavor when you saute or caramelize them.
White Onions
These have less of a lingering taste than yellow onions. They are popular in Mexican or Latin American cuisine and often chopped in pico de gallo.
If you slice a white onion thin and let it soak in cold water, you'll decrease the bitterness, and it will taste sweet enough to be used in a salad raw.
Vidalia or Sweet Onions
Grown in Washington state and Georgia, vidalia onions are sweeter and softer than white or yellow onions. Vidalia onions taste the best when eaten raw or fried into onion rings.
Are Onions Keto Friendly?
Yes, onions are a good vegetable for low-carb dieters. And, not only are onions low in carbs, but they are good for you too. You will find that I use onions in many keto dishes, like this Chinese Salt and Pepper Chicken.
When it comes to carb intake, remember to track your net carbs, not total carbohydrates. There are about 6 grams net carbs in ½ a cup of chopped onions.
Most meals and recipes don't use that many onions, so your carb count will still be low.
The basic nutrition profile of all types of onions is the same.
In a half-cup serving of a raw onion, there are:
3 grams sugar
7 grams total carbohydrates
1 gram fiber
32 calories
1 gram protein
0 grams fat
Health benefits
When it comes to different types of keto foods, you can't deny the health benefits of a whole onion.
It's an amazing source of dietary fiber. This is what keeps the net carb count lower.
Yellow, white, and purple onions are packed with antioxidants. They fight inflammation and boost the immune system.
Onions also contain a plant sugar called fructooligosaccharides. This prebiotic feeds the healthy bacteria in your gut, encouraging better gut health.
They are amazing for your bone health too! According to a recent study, eating onions benefits bone density. Women who eat more onions could decrease their risk of hip fracture by more than 20%.
Ways to Prepare Onions
There are a lot of different ways that you can eat onions. Some of the methods for preparing onions are more keto-friendly than others.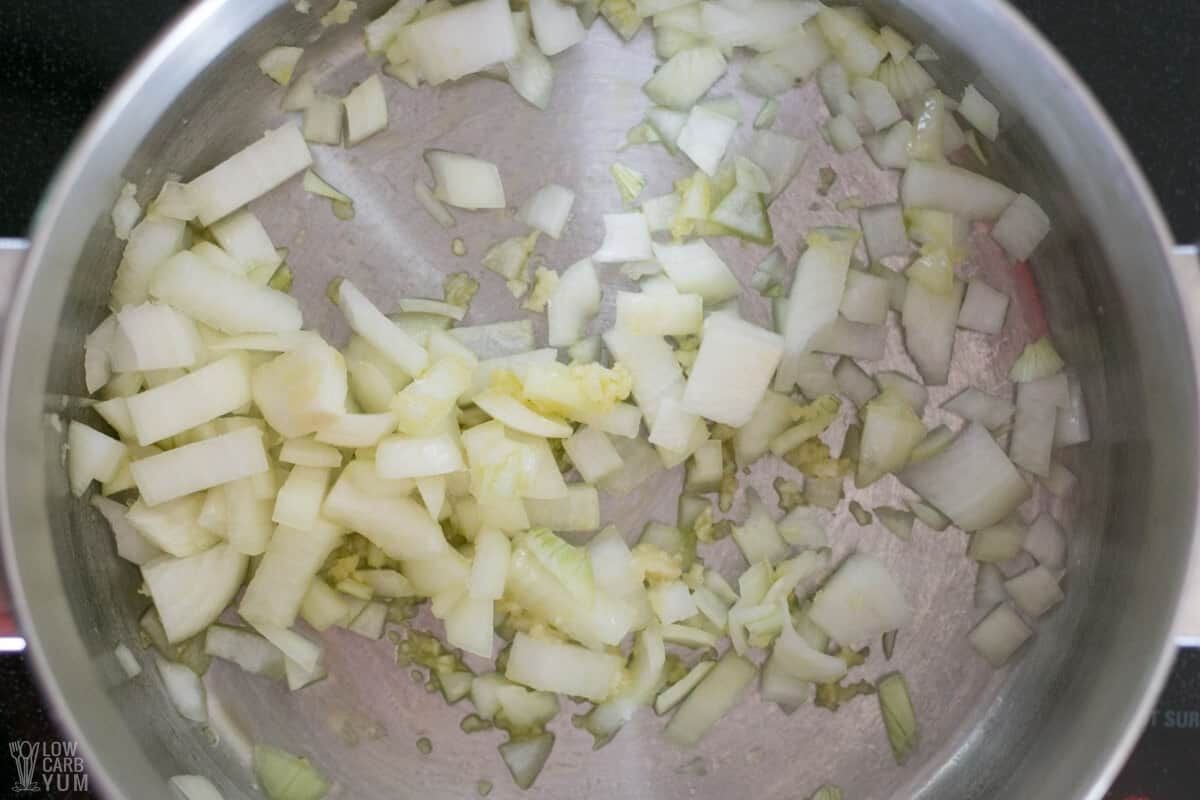 Carmelized
When you cook onions slowly over low heat and release the sugars in them, this is called caramelizing.
Don't let the name fool you - caramelized onions don't contain more sugar or carbs than raw onions. They just taste sweeter!
Breaded
You can also bread them in pork rinds and almond flour to make onion rings. This is keto-friendly because you aren't adding any carbs to them.
Pickled
Just like other types of pickled recipes, pickled onions are basically a process of soaking the onion in a vinegar-based liquid. This is another keto-friendly way to enjoy onions.
FAQs
Here are some questions people often ask about eating onions on the keto diet. If you don't see your question in this list, please leave it in the comments.
Can I eat a keto meal that has onions in it?
Yes, you can eat keto meals that have onions in the ingredients. Just track your macros and stay within your limits.
How many carbs are in onions?
There are about 6 grams net carbs in ½ a cup of chopped onions. The carb content in onions might change based on which type you prepare.
When it comes to eating onions, is raw onion or cooked better?
It doesn't matter if you cook them or eat them raw - the nutritional profile of these vegetables won't change.
Is caramelized onions keto-friendly?
Yes, caramelized onions are safe to eat on the keto diet. Just don't add any extra sugar to them, and you'll be fine.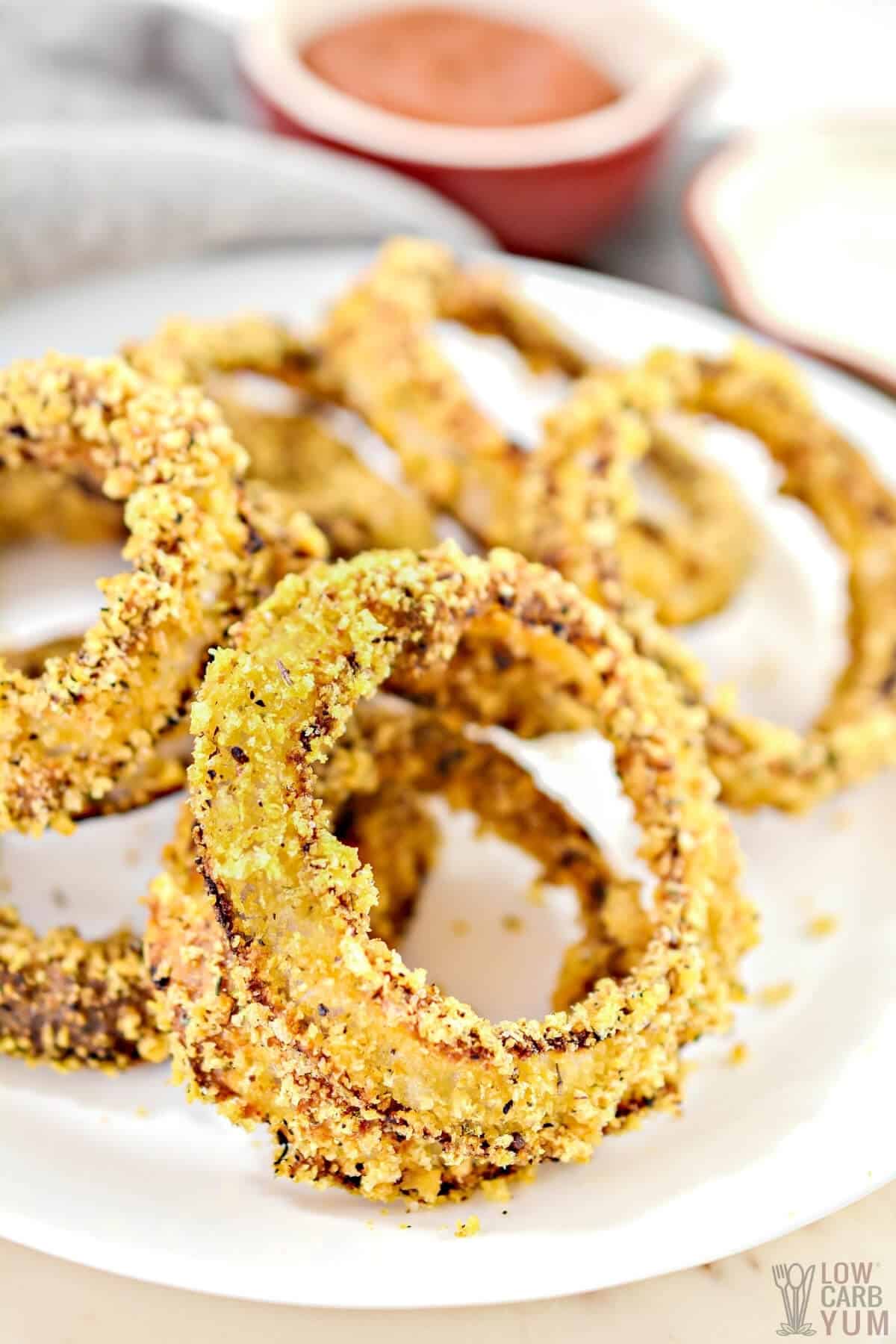 Recipes
Now that you know how onions fit into a keto diet, here are some keto recipes that use onions. They all fit easily into a low-carb lifestyle.
Follow us on FACEBOOK, PINTEREST, and INSTAGRAM for even more tasty keto-friendly recipes!