This post may be sponsored or contain affiliate links, but all opinions are my own. I may earn money if purchases are made through links (at no additional cost to you) which helps support this site and keep the content free.
This easy crock pot chicken kale soup is healthy, hearty and delicious. It's super low carb with plenty of fat and protein to fill to satisfy hunger.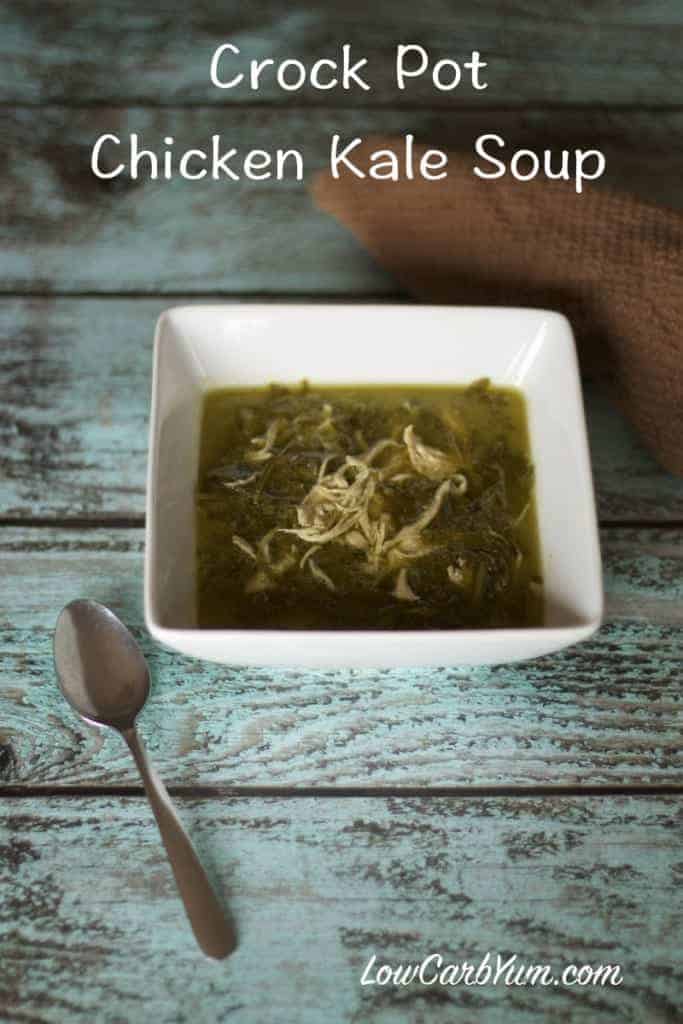 Last weekend, I came down with a mild cold and was looking for a recipe for some comforting low carb chicken soup. I found a recipe for Creamy Crock Pot Chicken Kale Soup at AIP Lifestyle and modified it slightly.
For some reason, my soup did not come out creamy like the original recipe, but it was still very tasty and did comfort my cold. I did not use the full amount of onion so that may be why my soup did not come out creamy, but I wanted to keep carbs low so I added only 1/3 cup instead of a full cup of onions.
I used my NutriBullet to blend the onion, olive oil and chicken broth together. The resulting mixture looked like cream so I was expecting the soup to come out looking creamy. However, as you can tell from the final soup pictures, it didn't stay that way.
I do believe infusing the onion, olive oil, and broth together in the NutriBullet did thicken the soup more than if these ingredients were added separately. I may try this method again with more onion to see if it makes a difference.
FREE eBook!
​LOW CARB TIPS and TRICKS
Subscribe now to receive your free copy of Low Carb Tips and Tricks which includes 20 easy to prepare recipes. Plus, get access to the weekly newsletter and special offers only for subscribers!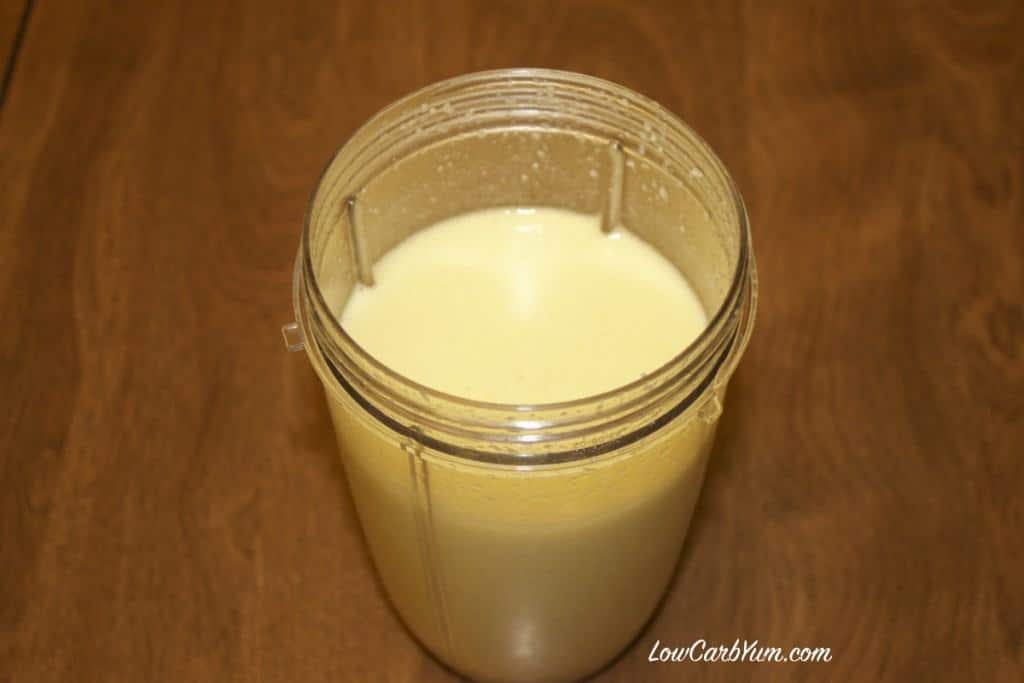 The baby kale leaves kind of took over the crock pot when I added them, but I knew that they would wilt during cooking and reduce down. I used a whole 5 ounce package because the label stated that it contained two servings which seemed to be the right amount to add to this chicken kale soup. The added lemon juice in the soup gives just a hint of lemon flavor and the olive oil provides plenty of fat.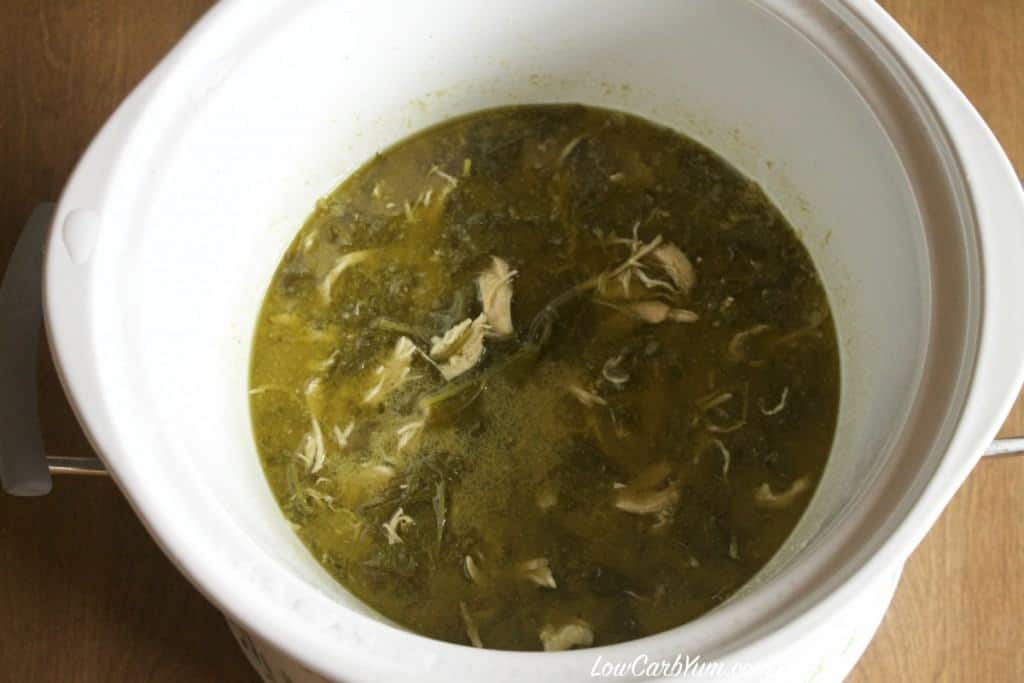 Although you could make this soup on the stove, I started it early on a weekend morning and chose to put it in the crock pot slow cooker so it would be ready for an early afternoon lunch. While cooking, the soup filled the house with a lovely aroma and I knew it was going to be worth the wait. This chicken kale soup is definitely something I would make again.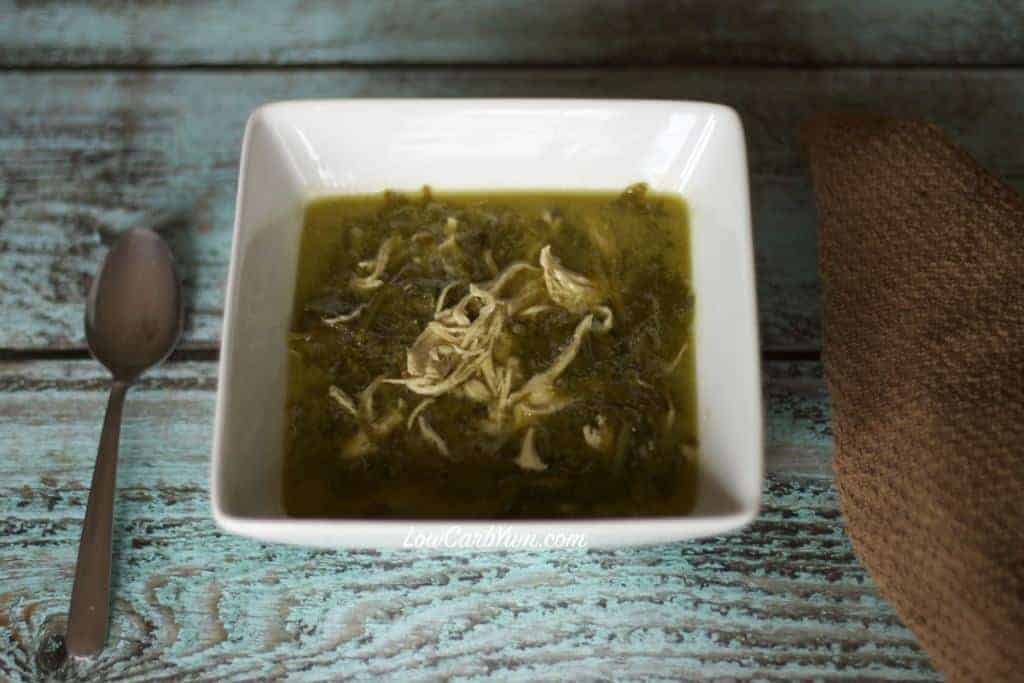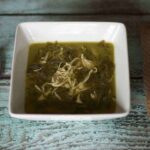 Crockpot Chicken Kale Soup
This easy crock pot chicken kale soup is healthy, hearty and delicious. It's super low carb with plenty of fat and protein to fill to satisfy hunger.
Total Time
6
hours
15
minutes
Ingredients
1

tablespoon

olive oil

2

pounds

chicken breast

about 1.2

14

ounces

chicken broth

1/3

cup

onion

1/2

cup

olive oil

32

ounces

chicken stock

5

ounces

baby kale leaves

1/4

cup

lemon juice

Salt to taste
Instructions
Heat 1 tablespoon olive oil in large skillet over medium heat.

Season chicken with salt and pepper then add to heated skillet.

Lower temperature to medium, cover pan, and cook chicken for about 15 minutes or until internal temperature reaches 165F.

Shred chicken and place in crock pot.

Process the chicken broth, chopped onion and olive oil in blender (I used a NutriBullet) until well combined. Pour into crock pot.

Stir in remaining ingredients into crock pot, cover.

Cook on low about 6 hours, stirring once or twice while cooking.
Recipe Notes
Makes 6 servings

Nutrition per serving: 261 calories, 21g fat, 264mg sodium, 2g carbs, 0.8g fiber, 1.2g net carbs, 14.1g protein
Nutrition Facts
Crockpot Chicken Kale Soup
Amount Per Serving (1 g)
Calories 261
Calories from Fat 189
% Daily Value*
Total Fat 21g 32%
Sodium 264mg 11%
Total Carbohydrates 2g 1%
Protein 14.1g 28%
* Percent Daily Values are based on a 2000 calorie diet.
Related Posts