A sinful but satisfying easy egg free brownies recipe with only 2 grams of net carbs that only takes 5 minutes to prepare. Sounds to good to be true, right?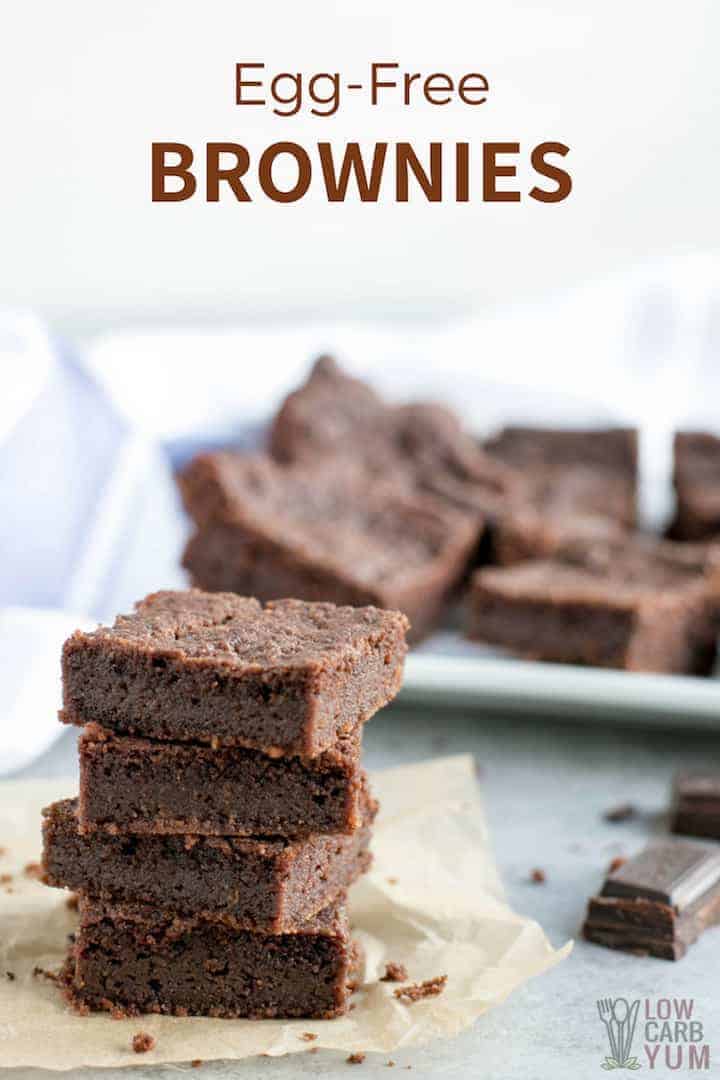 If you need a low carb/Keto friendly treat that's dairy and gluten-free, you'll love this recipe. It's also Paleo friendly.
Now, I'm not one to toot my own horn, but if there's one thing I can say with confidence, it's that I have perfected the art of making healthy brownies.
In fact, this is about my 10th keto brownie recipe on LowCarbYum. And if you're curious how I got into making healthy desserts and other low carb creations, you can read about my story here.
I'll give you a little snippet, though. I had an overactive thyroid gland that had one amazing benefit. I could eat whatever I wanted and not gain any weight.
That includes regular brownies, which per 2-inch square contains about 40 grams of carbs, most of which is from sugar.
But these days, I opt for this easy egg free brownies recipe. It's a treat that I can enjoy without worry of putting on extra pounds.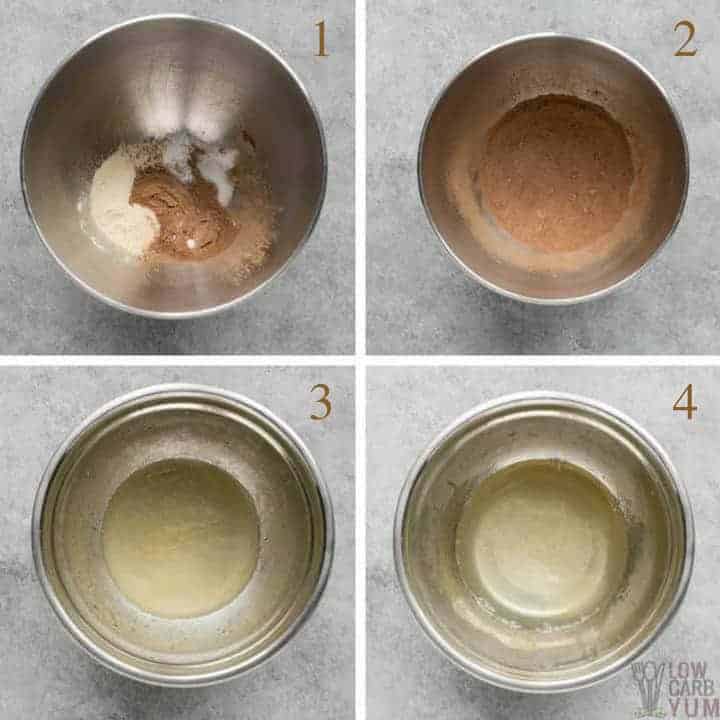 How to make egg free brownies
To get started on the recipe,  I just whisk together coconut flour, cocao powder, baking soda, and sea salt in a mixing bowl. (photos 1 & 2)
Next, I bloom some grass-fed gelatin in water. (photo 3) Then, I dissolve the gelatin completely with warm water. (photo 4)
Granular sweetener is then added to the gelatin and water mixture. (photo 5) Then, the sweetened gelatin blend is whipped up with an electric mixer until it's white and fluffy. (photo 6)
Melted coconut oil, almond butter, vanilla extract and the fluffy gelatin mixture are then added to dry coconut flour and cocao mix. (photos 7 & 8)
An electric mixer is then used to blend all the ingredients together to form the brownie batter. (photo 9) It's then spread into a pan, baked, and then cut into square. (photos 10, 11 & 12)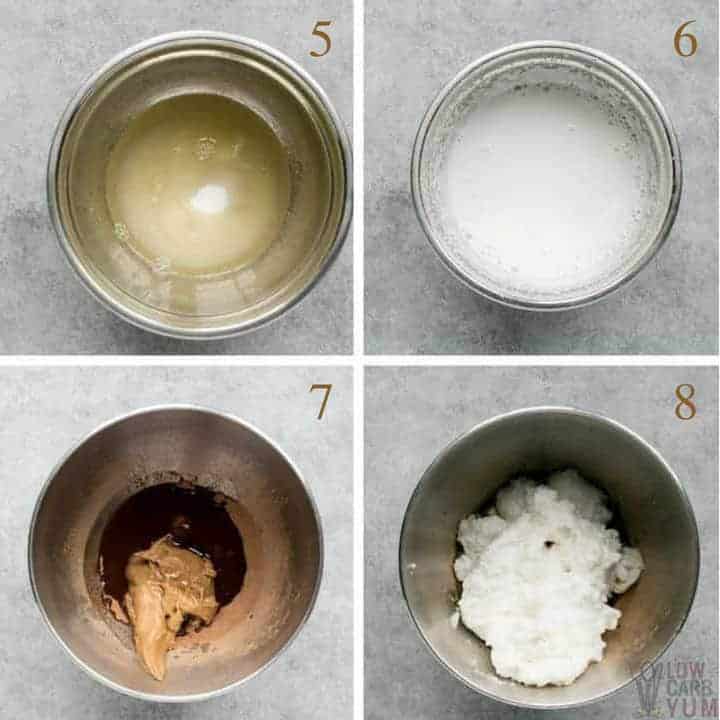 The Best Low Carb Sugar Substitute
Obviously, the most important thing in creating healthy desserts is keeping the sugar count low (and overall net grams of carbs). For this easy egg free brownies recipe, I use Lakanto Monk Fruit.
Never heard of Monk Fruit? There's a good reason you probably never heard of it when you were a young kid. For starters, it's native to Southeast Asia, particularly China and Thailand.
In China, it's known as "luo han guo."
This green, mini-melon looking fruit, is so named because of the ancient monks who used it for therapeutic purposes.
If you've never had monk fruit before, like stevia, the taste may take some getting used.
However, you have to be willing to make some sacrifices if you want a dessert that has only two grams of net carbs.
Some people complain about stevia having a bitter aftertaste. Personally, I don't find it unappetizing, but both stevia and monk fruit are several times sweeter than sugar.
Therefore, if you don't like treats very sweet don't use as much in this easy egg free brownies recipe.
Nonetheless, aren't we lucky to live in an age where we can eat more than one brownie if we want and not worry about our blood sugar level?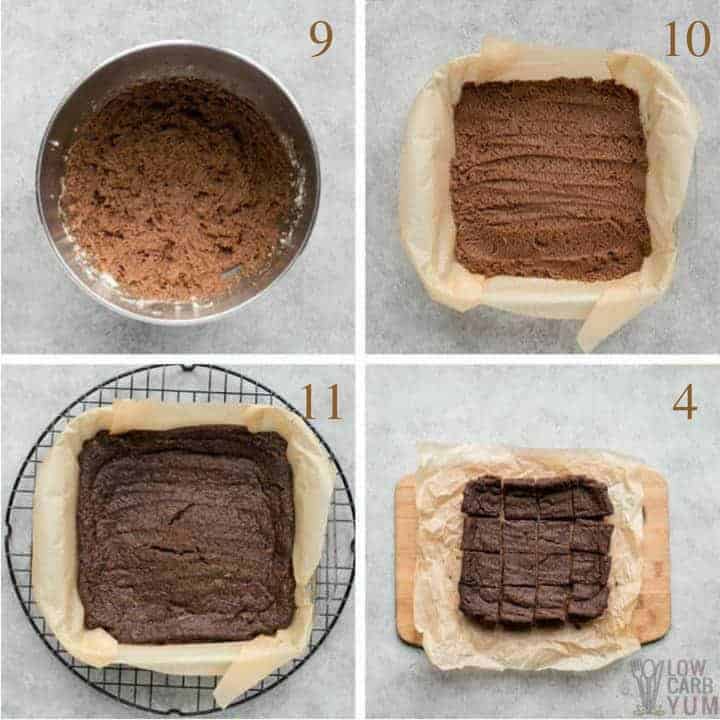 Gelatin Brownies?
As you can see in the list of ingredients below, I include a tablespoon of grass-fed gelatin. Gelatin is a very effective thickening agent and is what's used to replace the eggs in the recipe.
But beyond that, it offers numerous health benefits. For starters, it helps support your body's collagen.
Collagen is the most abundant protein in the human body. Out of the tens of thousands of proteins that make up your body, about a third is collagen.
You can think of collagen as a glue-like support structure. Collagen peptides and bone broth are immensely popular these days.
So you're probably already familiar with how eating foods with collagen can help your skin and joints and digestive system.
Gelatin is basically collagen protein that has been cooled and congealed.
And although the typical American dieter eats plenty of meat, gelatin contains a specific amino acid profile that meat does not offer.
It's because of its high amount of the amino acids such as glycine, glutamic acid, proline and hydroxyproline, that gelatin and collagen are considered nutritional powerhouses.
One serving of gelatin contains about 20 grams of collagen (and nearly that much in protein).
And if you're wondering what the difference between bone broth and collagen is, bone broth contains collagen as well as savory herbs and spices and veggies.
The gelatin I use in my easy egg free brownies recipe is just collagen (which comes from bovine hide) that has been cooled.
There are no veggies or herbs in the gelatin; these would not make the brownies taste so good.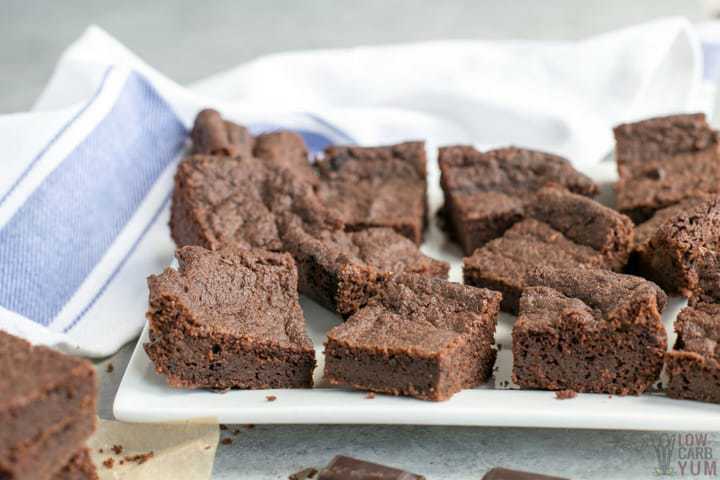 Easy Egg Free Brownies Recipe With Healthy Fats
Take a look at the list of ingredients. It's like a red-carpet A-list who's who of celebrity healthy fats. We've got coconut flour. The organic coconut contains 5 grams of fiber per serving.
Now compare one cup of white flour carbs to coconut flour carbs. The comparison is shocking.
Per one cup, white flour contains almost 100 net grams of carbs. Coconut flour: half that amount.
But in the recipe, I only use one-third cup flour. That means there's only 16 grams of net carbs in a dessert meant for 16 people to share.
One net gram of carbs per person from the main baking flour in the recipe. Not too shabby!
I also use almond butter, which per tablespoon, only has nine grams of fat.
Fat helps keep you full and keeps your blood sugar levels steady. However, some people have concern about the calories in almond butter and fats in general.
But what do food manufacturers add to a recipe when they remove much or all of the fat? Sugar.
Almond butter contains less than one gram of sugar per serving. There's also a decent amount of fiber as well as the mineral, magnesium, in which many people are deficient.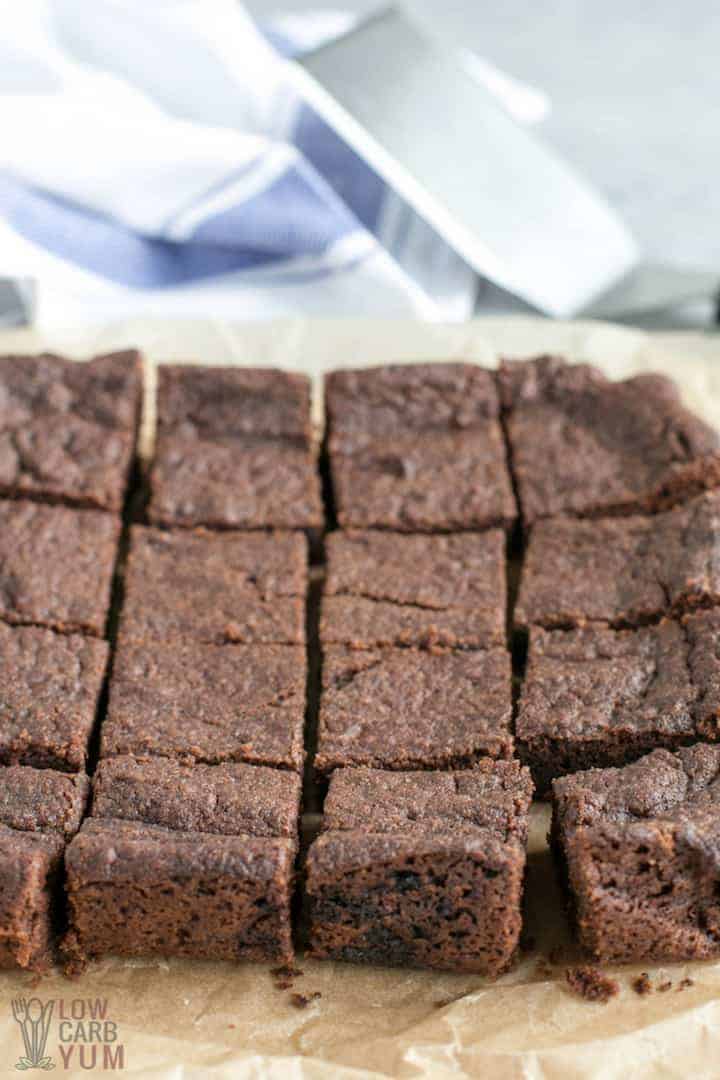 A Dessert You Don't Have To Feel Guilty About
Per square, there's only about 150 calories. And there's only 13 grams of fat, if you're counting your calories.
But if you're checking this recipe out, chances are that you're most concerned with carb count.
You know, when I was younger, I wasn't really concerned with counting carbs.
But if you would have told me back then that I could enjoy a brownie with only two net grams of carbs, I would have thought that was crazy.
I'm here to tell you that this recipe, and my several other brownie creations, are just as enjoyable as their gluttonous high-sugar counterparts … only without the guilt!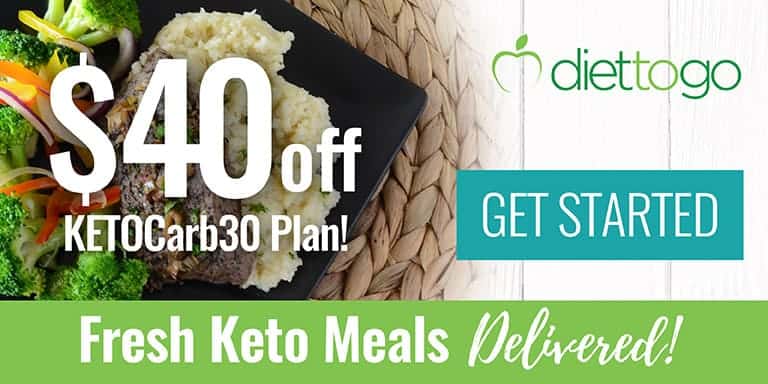 (Gluten-Free, Dairy-Free) Easy Egg Free Brownies Recipe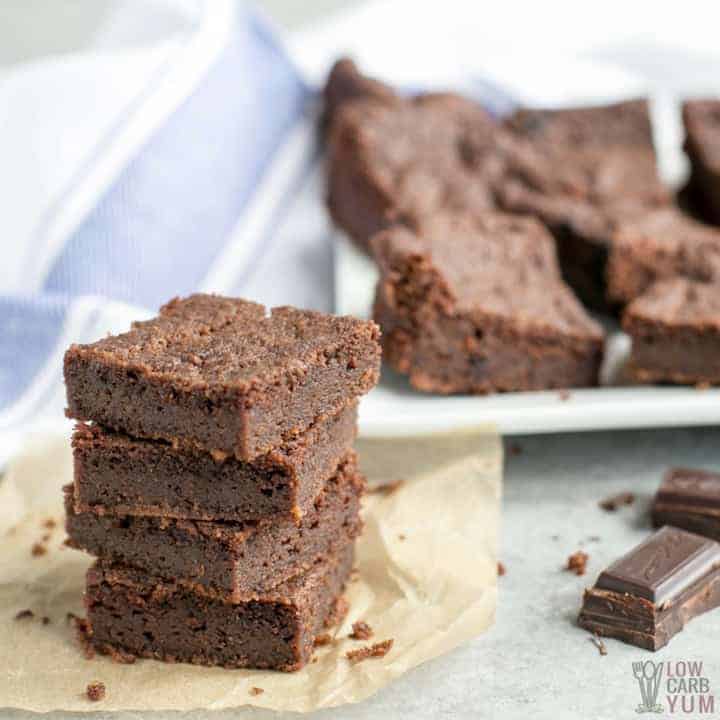 Dig in and enjoy this recipe!
Easy Egg Free Brownies (Dairy-Free, Gluten-Free)
A satisfying dessert with only 2 grams of net carbs that only takes 5 minutes to prepare. These easy to make brownies not only tastes great, they won't spike your blood sugar or bother those with a sensitivity to eggs.
Low Carb Sweeteners | Keto Sweetener Conversion Chart
Instructions
Preheat oven to 350°F and line 8×8-inch baking pan with parchment paper or grease pan.

Whisk together coconut flour, cocao powder, baking soda, and sea salt in mixing bowl.

Place 1/3 cup room temperature water in small mixing bowl and sprinkle gelatin over to soften/bloom. Allow to sit for 5 minutes.

Add 1/3 cup hot water to the gelatin mixture and stir with fork or whisk until gelatin is completely dissolved. Add granular low carb sweetener and beat with electric mixer until mixture is white and fluffy.

Add the fluffy gelatin mixture, almond butter, coconut oil, and vanilla extract into bowl with the dry cocao mix in it. Beat with electric mixer until blended.

Spread into prepared baking pan. Bake at 350°F for 30 minutes or until brownies set in the center. 
Notes
Erythritol in low carb sweetener is not included in the count as it has no impact.
Other nut or seed butters can be used in place of almond butter if desired.
Nutrition
Nutrition Facts
Easy Egg Free Brownies (Dairy-Free, Gluten-Free)
Amount Per Serving (1 square)
Calories 146
Calories from Fat 117
% Daily Value*
Fat 13g20%
Cholesterol 0mg0%
Sodium 114mg5%
Potassium 108mg3%
Carbohydrates 4g1%
Protein 3g6%
Calcium 42mg4%
Iron 0.7mg4%
* Percent Daily Values are based on a 2000 calorie diet.
Additional Info
Net Carbs

2g

% Carbs:

5.8%

% Protein:

8.8%

% Fat:

85.4%
Need Support?
Grab my FREE 3-Day Keto Meal Plan. Or join the Low Carb Yum Facebook Group for help with recipes and weight loss support!
Note on Nutritional Information
Nutritional information for the recipe is provided as a courtesy and is approximate only. We cannot guarantee the accuracy of the nutritional information given for any recipe on this site. Erythritol carbs are not included in carb counts as it has been shown not to impact blood sugar. Net carbs are the total carbs minus fiber.
© LowCarbYum.com
Unauthorized use of this material without written permission from Lisa MarcAurele is strictly prohibited unless for personal offline purposes.
Single photos may be used, provided that full credit is given to LowCarbYum.com along with a link back to the original content.