Just because it's a bakery doesn't mean you have to avoid it. This inclusive guide shows you how to order keto at Panera based on the available menu items. It includes the best low-carb meals for breakfast, lunch, AND dinner!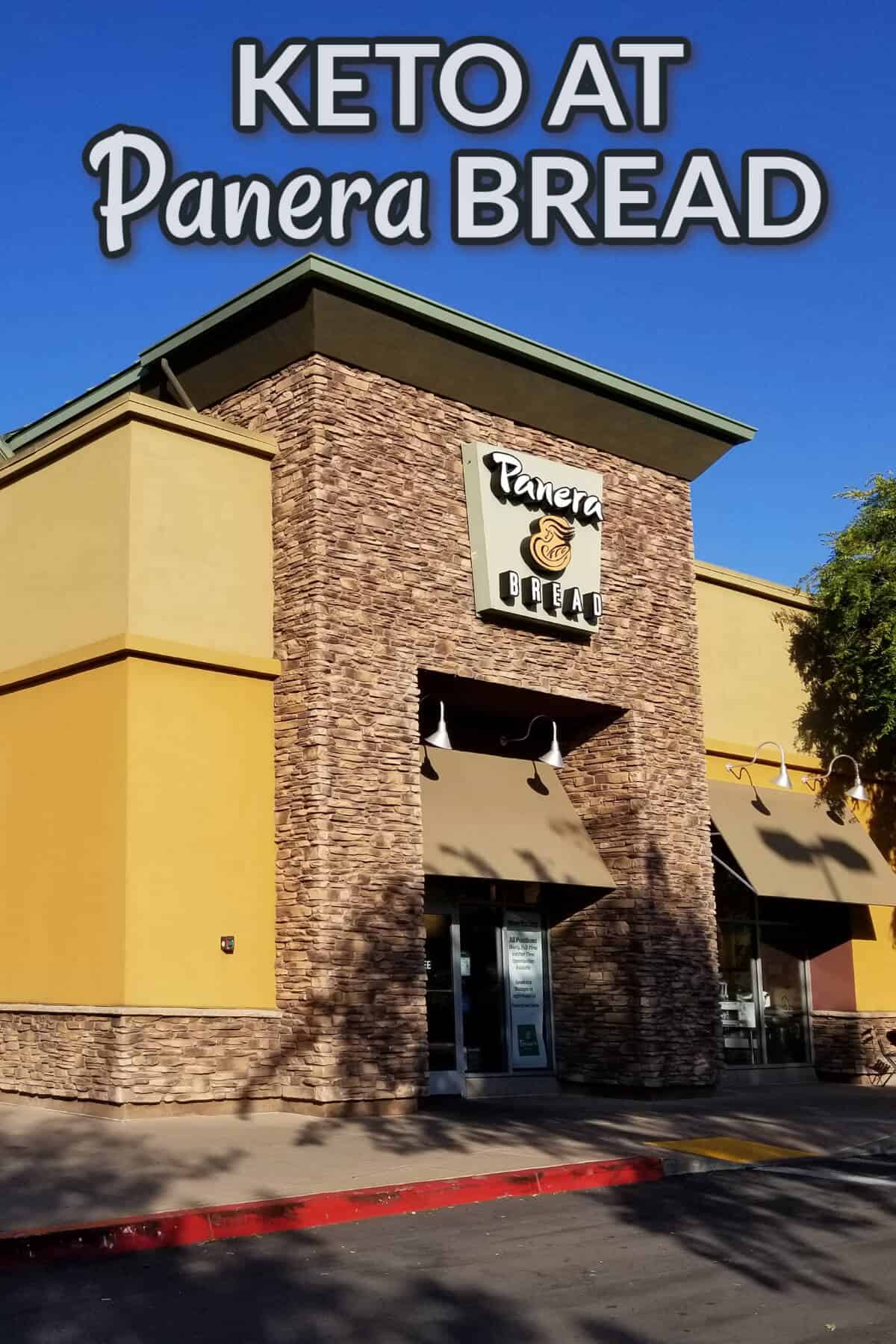 Article Index
We all know it is better to cook your own food at home when you are on a keto diet, but sometimes you just can't avoid the need to eat out. Maybe you are traveling, or maybe you just had a really long day.
No matter what the reason is, Panera Bread has some good low-carb options if you need to stop at a fast food restaurant. They are known for more than their fresh-baked bread and rolls. But, they are also known for being extremely health-conscious too!
Panera is proud to serve "clean, fresh ingredients" in their food. They don't use artificial preservatives, sweeteners, and flavors which are unhealthy ingredients. Plus, they only use meat that was raised without antibiotics.
So, when you are traveling or don't have time to cook, Panera is an appealing option that has some fresh produce items on the menu. Thankfully, there are ways to eat a keto meal at Panera – you just have to be a little creative with a custom order!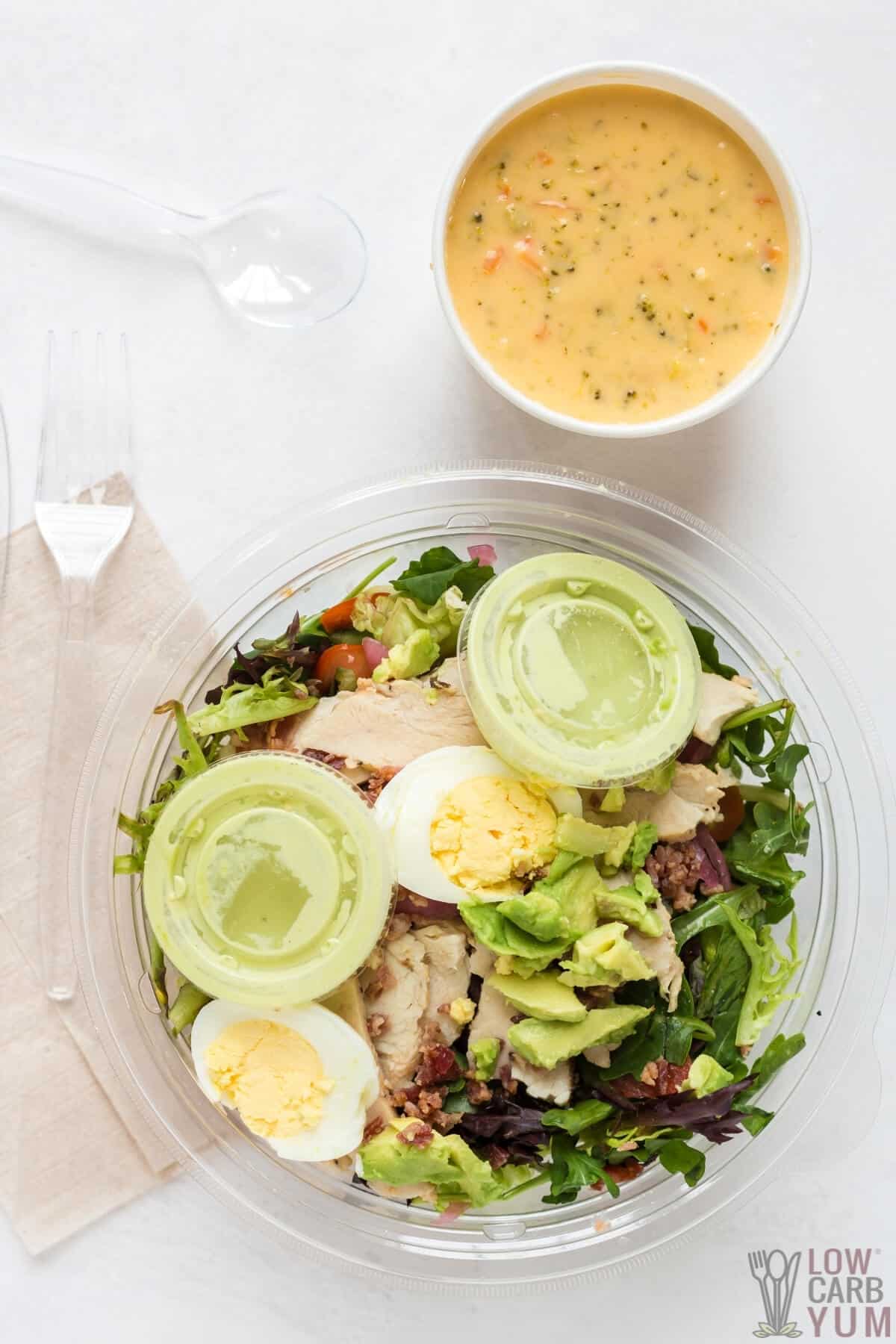 Breakfast
The biggest issue for breakfast at this fast food place is the bakery items. So avoid all the various bread and muffins at Panera. Instead, try some of these healthy and filling keto options to start your day:
Avocado, Egg White, & Spinach: Just order this easy egg dish without the bagel and tomato. (2g net carbs)
Sausage, Scrambled Egg, & Cheese: For a low-carb meal, order it without the ciabatta bread. (3g net carbs)
Chipotle Chicken, Scrambled Egg, & Avocado Wrap: You can order this without the tortilla or ask for a romaine lettuce wrap. (2g net carbs)
Bacon, Egg, & Cheese: Just order this classic cheese sandwich without bread for a healthier option. (2g net carbs)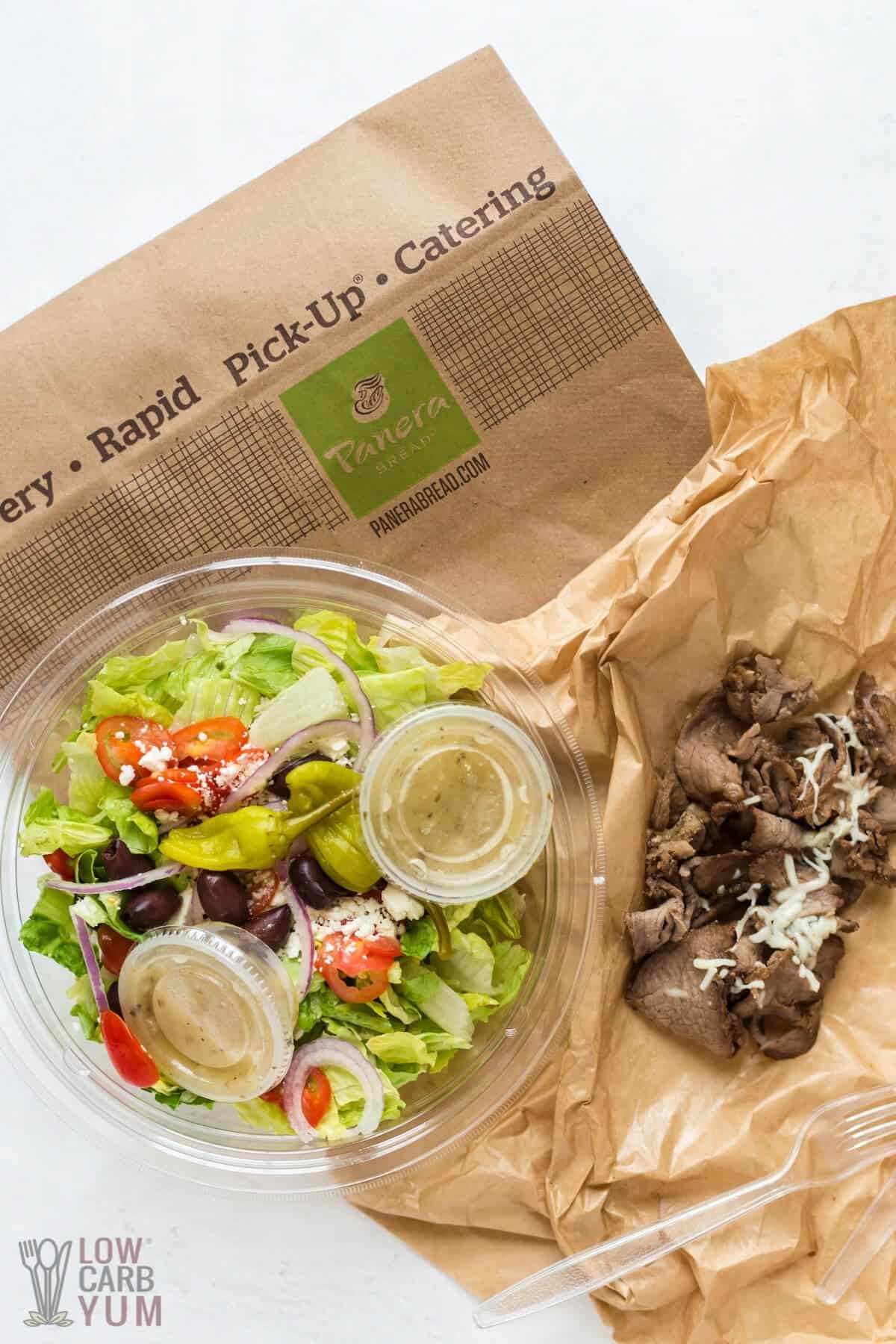 Lunch And Dinner
There are actually quite a few choices for a ketogenic diet when it comes to lunch and dinner options. You just have to be creative and always remember to order things without the bread!
Here are my favorite choices for keto meals:
Roasted Turkey & Avocado BLT: No bread, no tomatoes (2g net carbs)
Heritage Ham & Swiss: No bread (3g net carbs)
Chipotle Chicken Avocado Melt: No bread (7g net carbs)
Bacon Turkey Bravo Sandwich (Whole): No bread – ask for a bed of lettuce instead (8g net carbs)
Green Goddess Cobb Salad with Chicken (whole): No pickled onions, no tomatoes (7g net carbs)
Greek Salad: No pickled onions, no tomatoes, add chicken for protein (7g net carbs)
Tuna Salad: No bread, half size (2g net carbs)
Napa Almond Chicken Salad: No bread, half size (3g net carbs)
You can even add extra cheese or protein to any of these options if you need a more filling meal.
The soups may seem like a good option if you skip the bread bowls. But, all of the soups have higher carbs than you'd think.
Panera's broccoli cheddar soup is my favorite, but it has 19 grams of carbs per cup! That's why I came up with my own broccoli cheese soup recipe.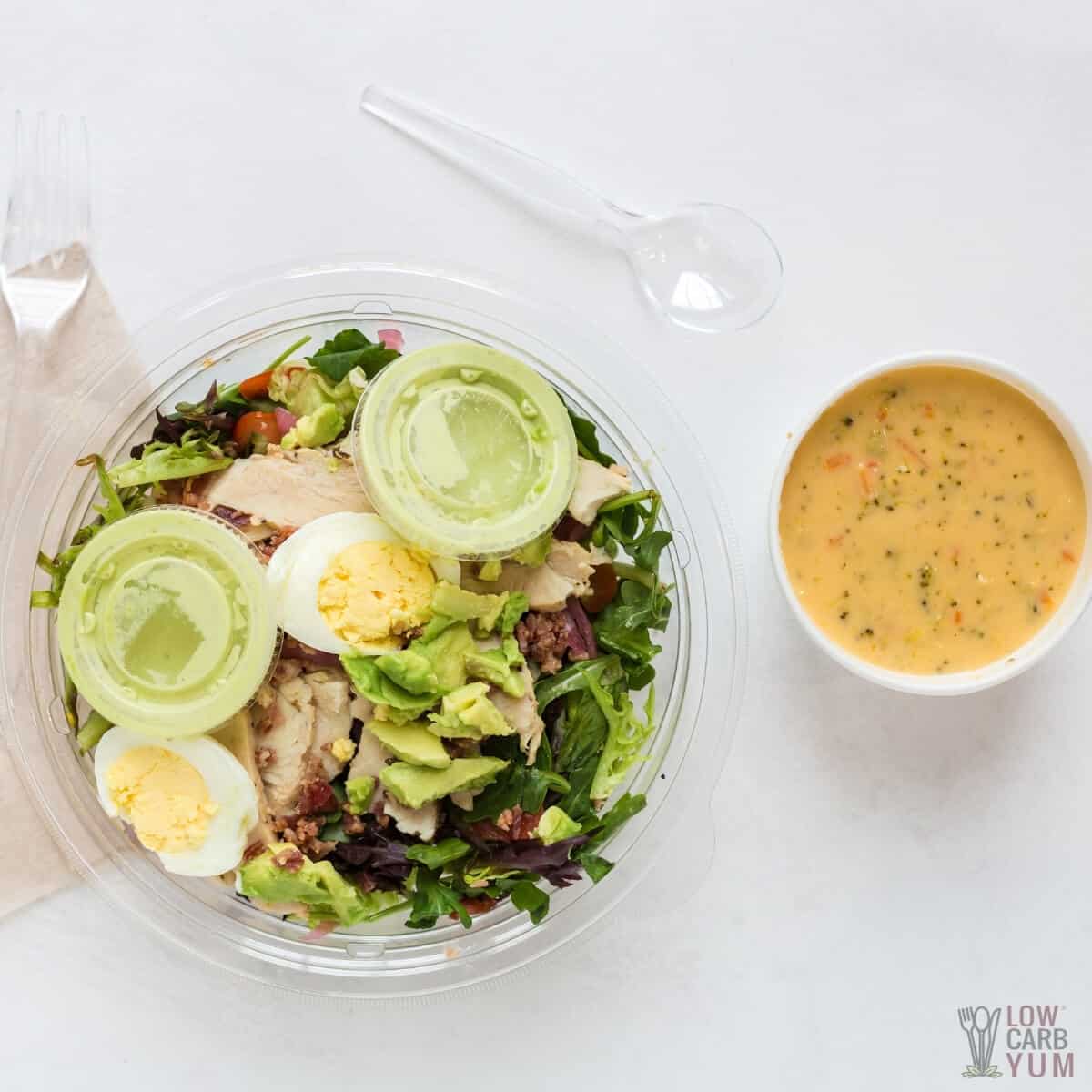 Dressings And Sauces
There are a few keto-friendly salad dressings, and sauces that you can be sure are still low in carbs.
All of these carb counts are for half-size amounts of dressing so you'll consume the lowest carb counts.
Asian Sesame Dressing (2g net carbs)
Caesar Dressing (1g net carbs)
Chili Lime Rojo Ranch (1g net carbs)
Greek Dressing (0g net carbs)
Green Goddess Dressing (1g net carbs)
Poppyseed Dressing (3g net carbs)
Basil Pesto (0g net carbs)
Drinks
Panera is known for its large selection of coffees, teas, and soft drinks. Here are the keto drink options that you can safely order from Panera:
Diet Sugar Free Lemonade
Unsweetened Iced Tea
Coke Zero
Sobe Life Water Yumberry Pomegranate
Plum Ginger Hibiscus Tea
Dark Roast Coffee
Ordering Tips
Since this is a bakery, it might feel like it's difficult to order low-carb options. It does take a bit of creativity and crafting special orders to make sure that you are only ordering options that fit within your diet.
Here are some no-fail rules that you can follow to order keto-friendly foods at Panera:
1. Avoid Anything With Flour
The biggest tip is if it has flour in it, don't order it! That means no wraps, breads, rolls, or muffins. Order sandwiches without the bread and salads without croutons.
You should also avoid soups that are thickened with cornstarch or flour (like stews).
2. Don't Order Dessert
Panera only uses all-purpose flour and real sugar in their desserts. They don't make any keto-friendly desserts, so avoid that entire section of the menu.
If you have enough macros left in your day, you might be able to order some fresh fruit as a dessert. But when it comes to baked desserts, just say no!
3. Refuse Their Side Dish Options
Chips, apple, or baguette? Nope, none of them. All three of their side options are too high in carbs, so it's best to just decline when they offer them.
4. Always Refuse Pickled Onions
You'll find their pickled onions on sandwiches and mixed into their most popular salads (like the Green Goddess Cobb Salad). Ask them to make your order without the pickled onions, and you'll cut the carb amounts down considerably.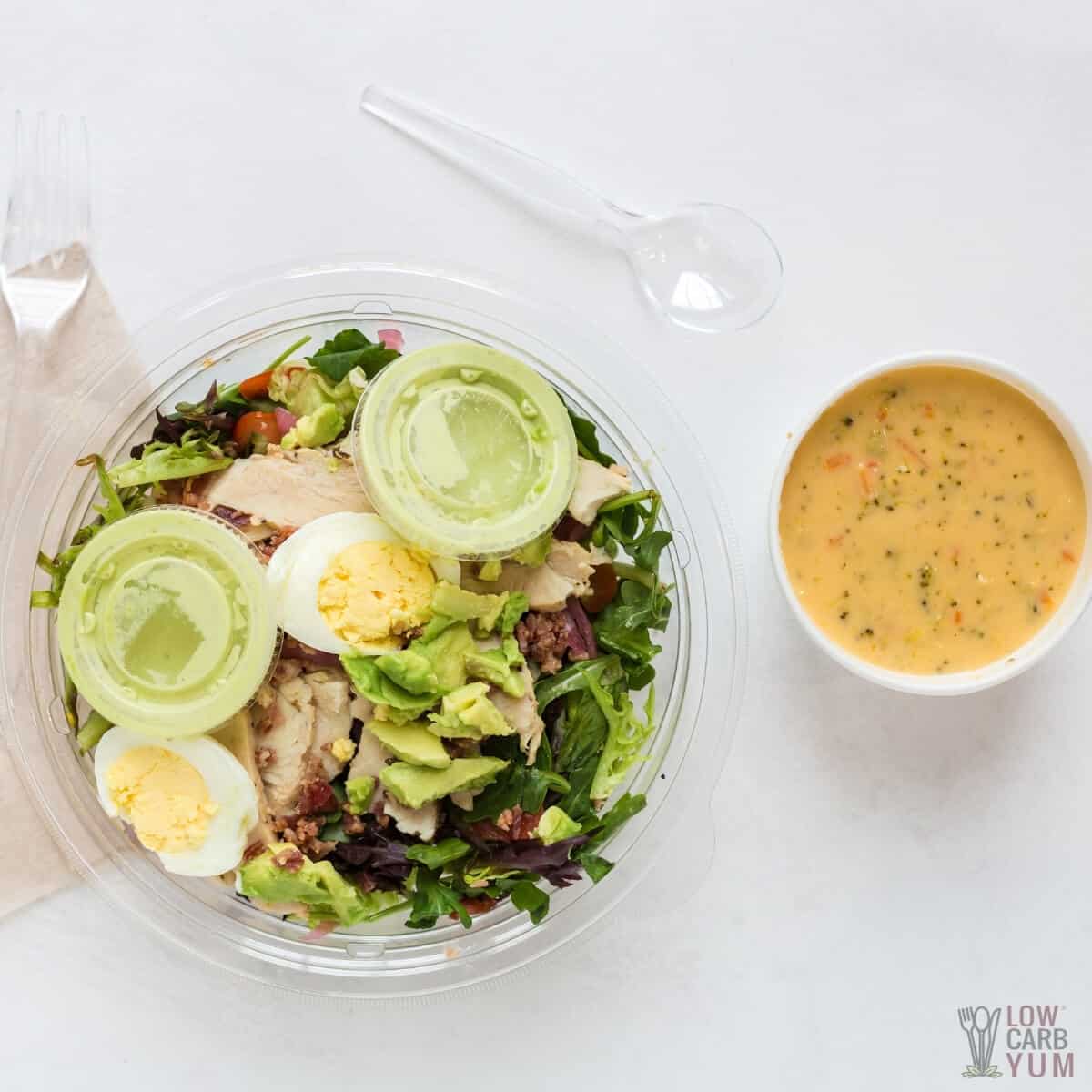 FAQs
Here are a few answers to the most frequently asked questions about ordering keto food at Panera. If you don't see your question in this list, leave it in the comments.
Does Panera Bread have any keto-friendly food?
Panera has lots of keto-friendly options. Remember to order some meat and low-carb vegetables. Your safest options are going to be salads and breadless sandwiches.
Can Panera do lettuce wraps?
Yes, but you have to ask for it as a "power steak lettuce wrap." If the location you are at doesn't recognize this option, then order the ingredients separately - sirloin, giant lettuce leaves, red onions, cucumbers, and basil pesto. Then, add a bit of lemon juice and cilantro for the final touch.
Can you order a Panera sandwich without bread?
You can definitely order a Panera sandwich without bread. In fact, this is the best way to eat keto-friendly foods while you are there.
Can I eat a full meal that is keto at Panera?
A full meal may require a bit of creative ordering. A full-sized salad and a sandwich without bread should fill you up pretty well.
Related Recipes
If this post on eating at Panera has your mouth watering, why not try some of these tasty recipes? They are all quick and delicious and taste just like you ordered them at a restaurant.
Follow us on FACEBOOK, PINTEREST, and INSTAGRAM for even more tasty keto-friendly recipes!