This post may be sponsored or contain affiliate links. We may earn money from purchases made through links mentioned in this post, but all opinions are our own. We are a participant in the Amazon Services LLC Associates Program, an affiliate advertising program designed to provide a means for us to earn fees by linking to Amazon.com and affiliates sites.
A low carb tiramisu gluten free whoopie pies recipe to give you a little pickup during the day. The keto cookies have a creamy filling spiked with espresso and rum.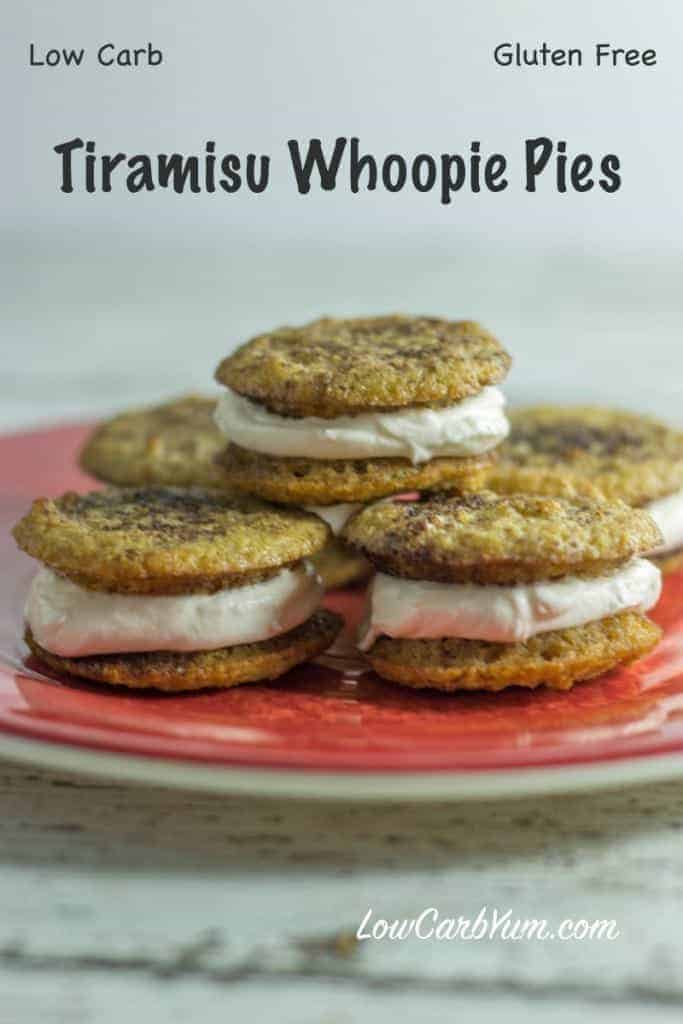 The Italian word tiramisù means "pick me up" and these mini tiramisu whoopie pies are sure to give you a little pickup during a busy day. My older sister, Mary, introduced me to the tasty Italian dessert known as tiramisu many years ago after returning from England where she discovered the tasty treat.
Mary passed away six years ago when she was only 40 years old after a courageous battle with breast cancer. She didn't follow a low carb diet which is now believed to help prevent and fight cancer off since cancer cells feed off sugar.
There are even some oncologists who prescribe a low carb high fat diet to their patients. I wish more studies would be done on the use of a low carb diet against cancer so that other victims like me sister could be saved.
Tiramisu is my all-time favorite dessert and it often brings back memories of when I first made the dessert with my sister. I came up with my own low carb tiramisu recipe to share with my family a few years ago.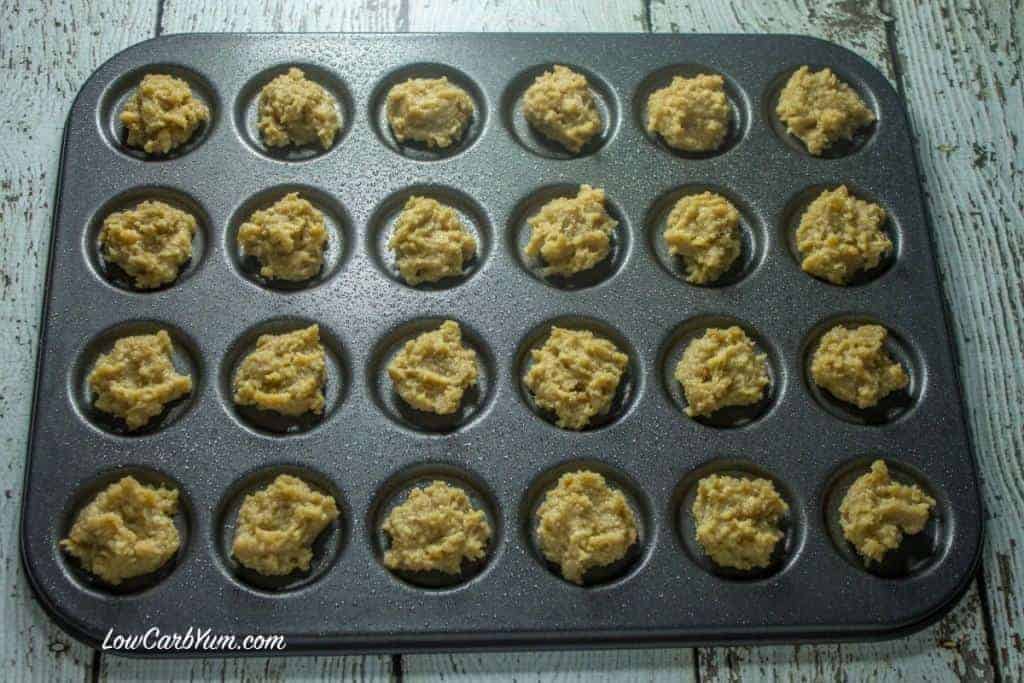 This time, I thought I'd try something a little different and make tiramisu gluten free whoopie pies. To get well formed cookies, you really need to use a whoopie pie pan.
I used a mini sized whoopie pie pan which bakes 24 mini cookies. But a regular size pan could also be used for larger pies.
When using a whoopie pie pan, you want to make sure you don't put too much batter in the molds otherwise it will overflow while baking. I found that filling each cavity about 2/3 full works well.
For this recipe, I sprinkled a little unsweetened cocoa powder on each cookie mound before baking. This gives the traditional cocoa powder coating served on traditional tiramisu.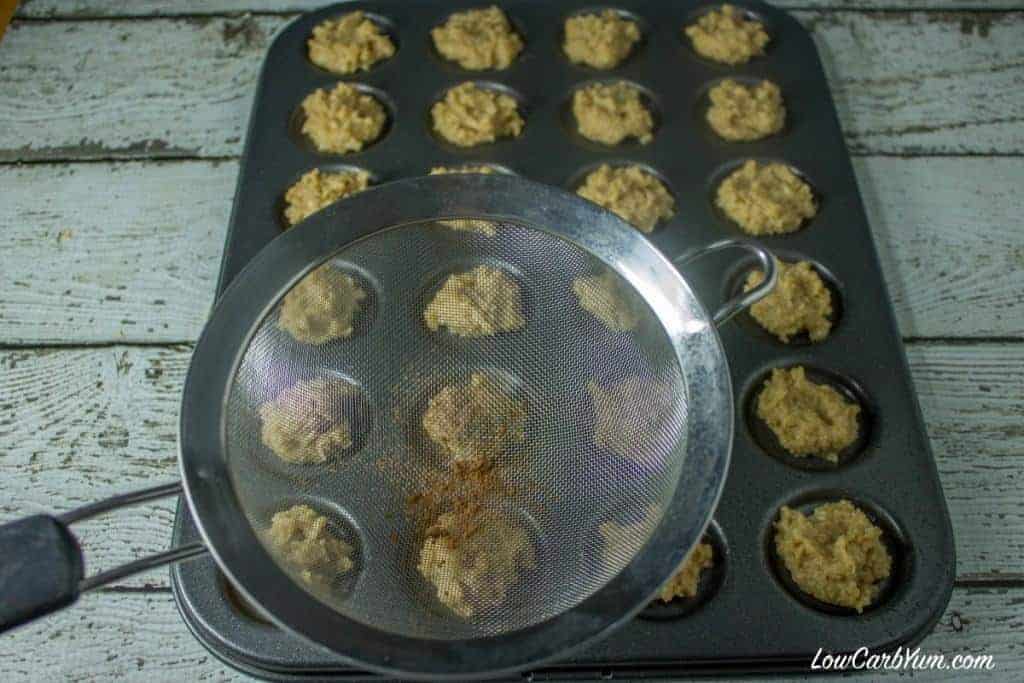 You can see how the batter spread and raised up during baking. A few of the cookies touched, but I was able to easily separate them by cutting through with a plastic fork.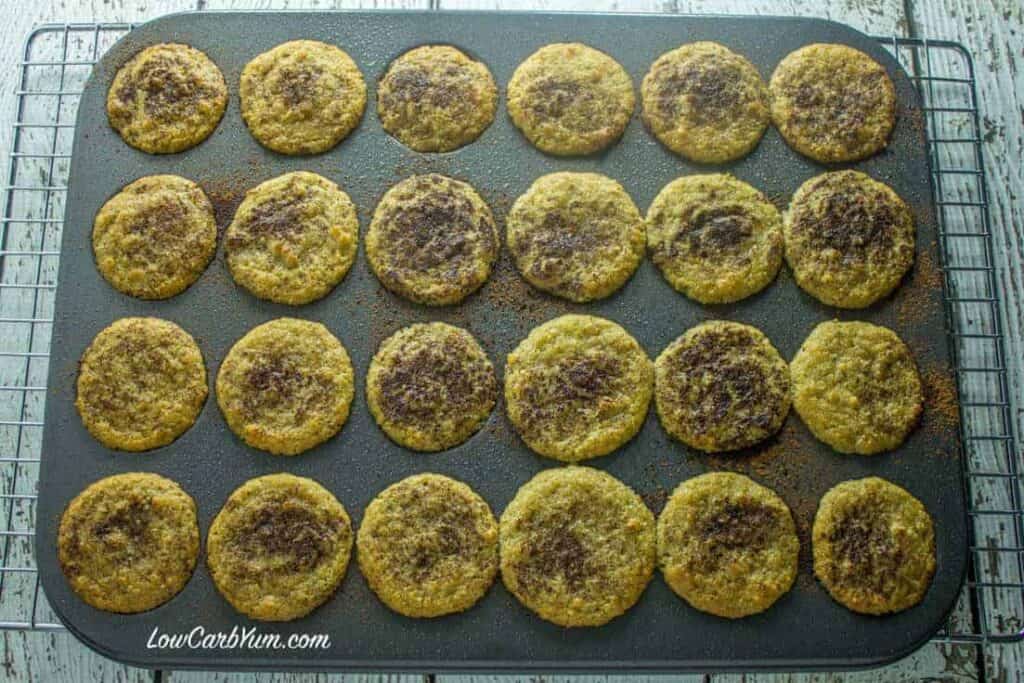 I let the cookies cool in the pan about 10 minutes before transferring then to a rack. The pan is a non-stick, but I also sprayed a little cooking oil to make sure they would release easily.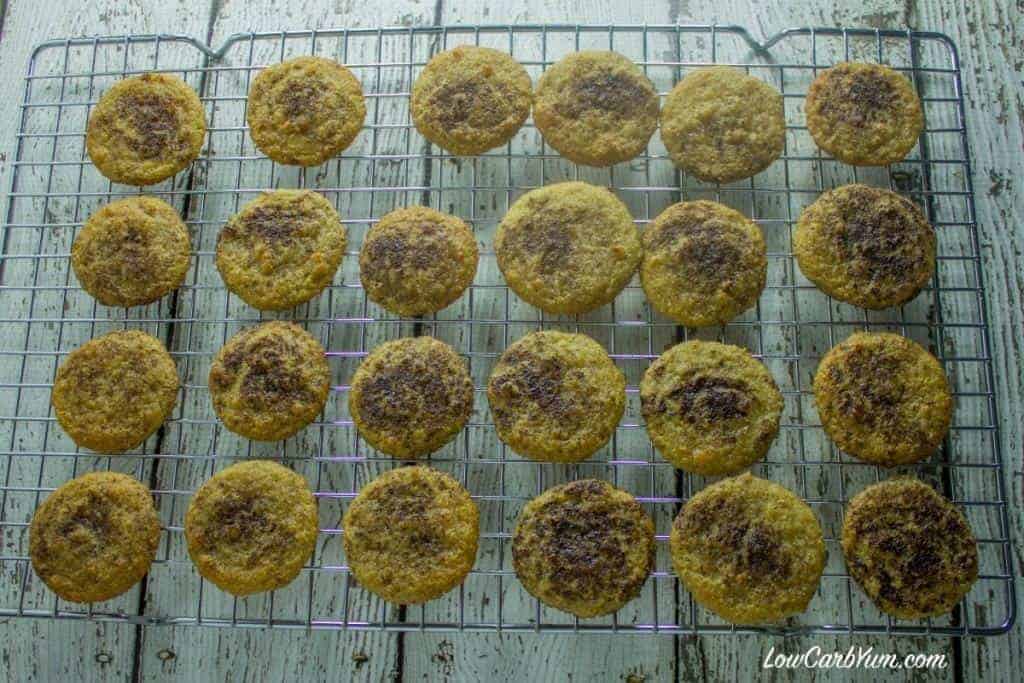 Once the cookies were completely cooled, I flipped them over and poured about 1/4 teaspoon of an espresso/rum liquid over top and allowed the liquid to be absorbed by the cake. This drenches the cookies with coffee and rum flavors similar to how the ladyfingers are usually soaked in a coffee/liquor. You can leave the liquor out if you want because authentic traditional tiramisu doesn't add it.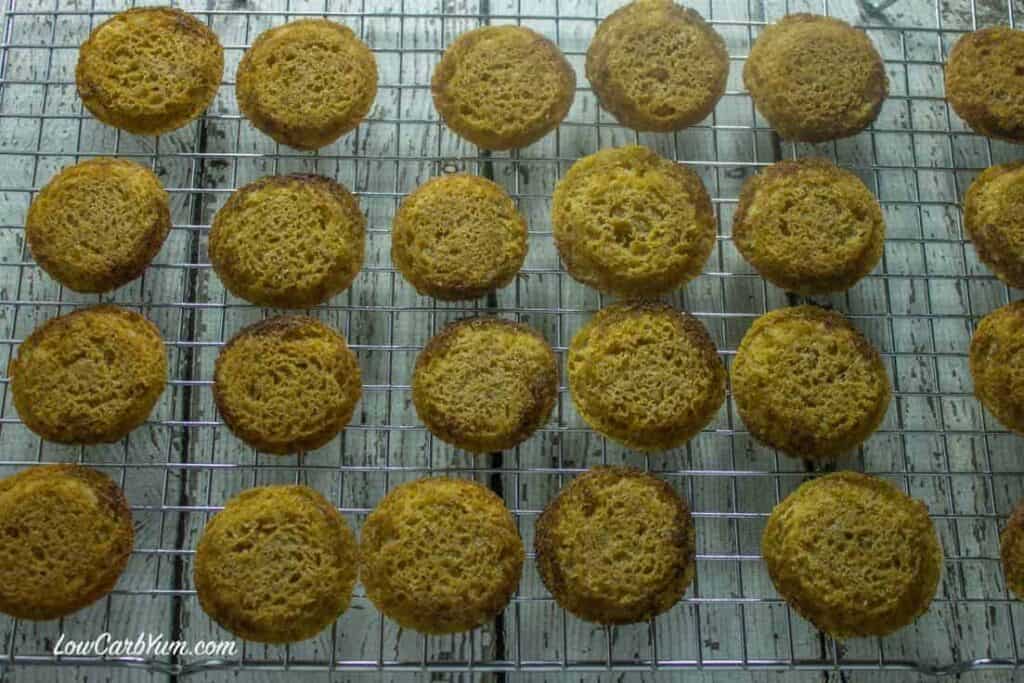 These tiramisu whoopie pies are a nice change from the regular chocolate cookies and cream filling ones. I love the size of the mini whoopie pies because you can just have a little nibble. You can store these whoopie pies in the freezer by individually wrapping each one in plastic wrap and putting them in freezer bag. They should keep for at least 3-6 months.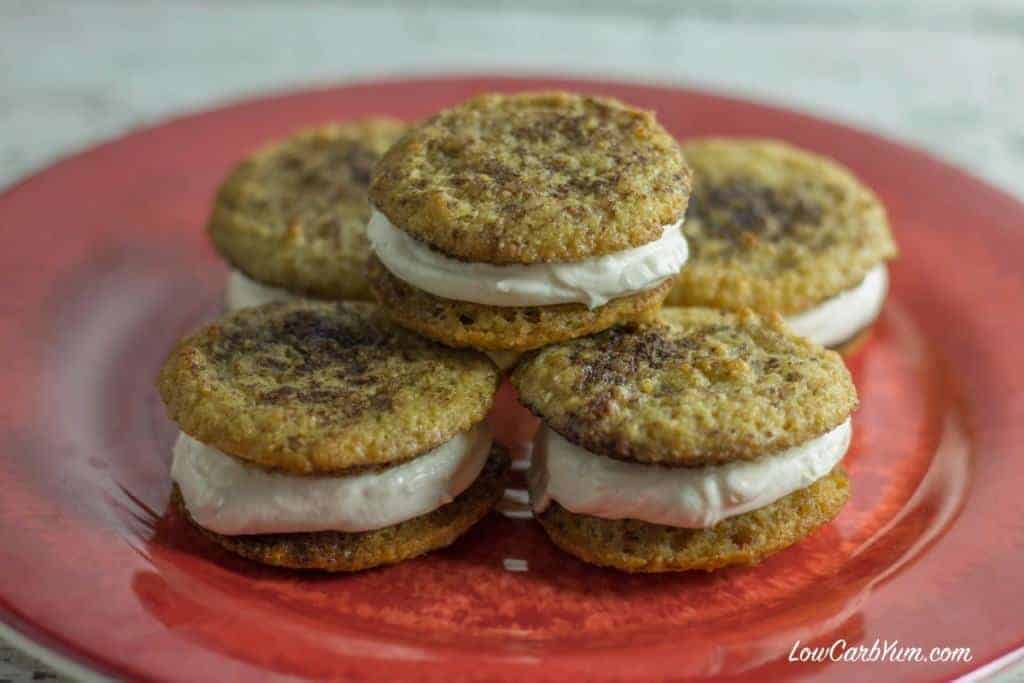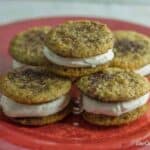 Tiramisu Whoopie Pies - Low Carb & Gluten Free
Mini low carb tiramisu whoopie pies to give you a little pickup during the day. The gluten free cookies have a creamy filling spiked with espresso and rum.
Servings
2
dozen mini whoopie pies
Ingredients
Cookies:
2

cups

almond flour

3

tablespoons

unflavored whey protein

1/2

cup

Sukrin Gold

see note

2

teaspoons

baking powder

1/2

teaspoon

baking soda baking soda

1/2

teaspoon

salt

1/2

cup

butter

cut into small cubes

1/2

cup

Natvia

or 1/2 cup of your favorite low carb sweetener

2

large eggs

1

teaspoon

vanilla extract

1/2

cup

full fat sour cream

cocoa powder

for dusting
Filling:
1/4

cup

cold espresso coffee

or strong coffee

1

tablespoon

dark rum

optional or sub with liquor of your choice

8

ounce

mascarpone cheese

see note

2

tablespoon

Natvia

pinch of salt

1/2

cup

heavy cream

2

teaspoons

vanilla extract

2

teaspoons

dark rum

optional or sub with liquor of your choice
Instructions
Preheat oven to 350 °F. Spray whoopie pie pan with non-stick spray.

Mix almond flour, protein powder, brown sugar sweetener, baking powder, baking soda, and salt into a bowl. Set aside.

Beat butter and sugar with a mixer on medium-high speed, until creamy; about 2 minutes. Add eggs and 1 teaspoon vanilla, beating until incorporated. Scrape down the sides of the bowl. Add sour cream, then dry mixture.

Using a small teaspoon, scoop the batter into each whoopie pie mold, filling about 2/3 of the space. Place some cocoa powder in a small strainer and sprinkle a bit of the cocoa powder on top of each batter scoop.

Bake until edges are golden, about 10-12 minutes.

Cool on wire rack about 10 minutes then remove cookies from pan and allow to cool. (Unfilled cookies can be stored for up to 1 day.)

Once cooled, turn cookies upside-down on rack.

Mix espresso and 3 tablespoons dark rum in small bowl. Spread about 1/4 teaspoon of the espresso liquid on the bottom side of each cookie.

Beat mascarpone cheese, Natvia, salt, heavy cream vanilla and 1 T. dark rum with mixer until smooth. Spoon some of mascarpone cheese mixture onto the chocolate half the cookies. Place the other half of the cookies on top. Serve immediately or place in refrigerator. (These cookies can also be individually wrapped in plastic and kept in the freezer.)
Recipe Notes
The brown sugar sweetener can be replaced with your favorite low carb granular plus a touch of blackstrap molasses.

Good substitutions for rum include brandy or coffee liquor.

8 ounces cream cheese plus 1/4 cup heavy cream and 2 tablespoons sour cream can be used in place of mascarpone cheese.

Makes 24 small whoopie pies

Nutrition per whoopie pie: 167 calories, 15.2g fat, 153mg sodium, 7.2g carb, 2.6g fiber, 2.9g erythritol, 1.7g net carb, 3.8g protein
Nutrition Facts
Tiramisu Whoopie Pies - Low Carb & Gluten Free
Amount Per Serving (2 g)
Calories 334
Calories from Fat 274
% Daily Value*
Total Fat 30.4g 47%
Sodium 153mg 6%
Total Carbohydrates 7.2g 2%
Protein 3.8g 8%
* Percent Daily Values are based on a 2000 calorie diet.
Related Posts