This post may be sponsored or contain affiliate links. We may earn money from purchases made through links mentioned in this post, but all opinions are our own. We are a participant in the Amazon Services LLC Associates Program, an affiliate advertising program designed to provide a means for us to earn fees by linking to Amazon.com and affiliates sites.
This spicy chili pepper chicken can be prepared the night before and slow cooked in the crock pot the next day. A super quick and easy meal to make ahead.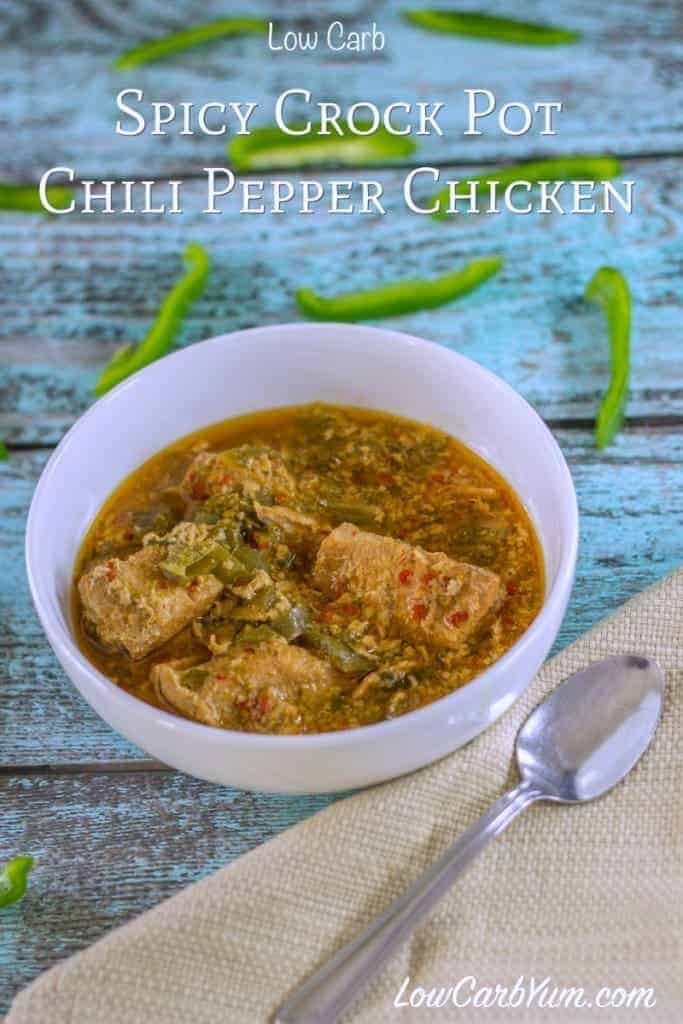 I have been spending some time exploring other cuisines to see what unique low carb dishes I could find. I stumbled upon a Spicy Chilli Chicken recipe by fellow blogger Blessing at Global Food Book. The Global Food Book site has recipes from many different cuisines such as African, American, Asian, Australian, and European.
I was intrigued by the Spicy Chilli Chicken recipe because it called for an ingredient I would not have expected or thought to use in such a recipe. That special ingredient is peanut butter which is hard to detect in the final product.
I chose to modify the original recipe by cooking the dish in a crock pot rather than the oven. I also used cut up skinless chicken breasts instead of cutting up whole chickens into pieces.
Because I was cooking the dish in a crock pot, I decided to make it more of a spicy chicken chili stew. So, I used chicken broth in place of the Knorr cubes which gave me a better stew base. If you'd like more of a baked marinated chili pepper chicken using cut whole chicken, I would recommend baking according to the original recipe after marinating.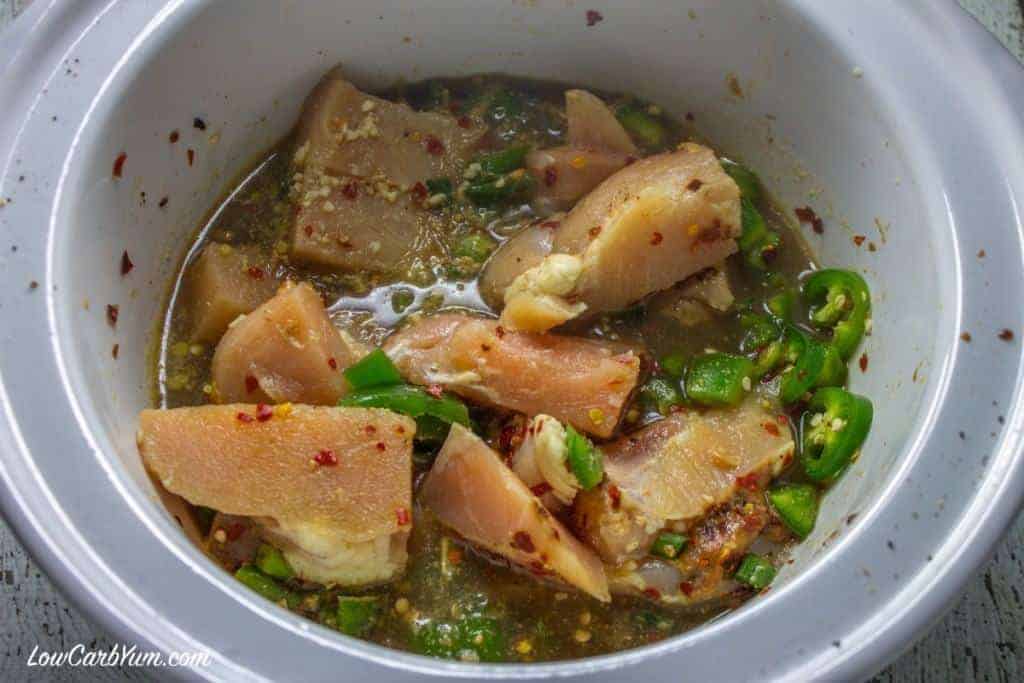 This chili pepper chicken is so simple to throw together. My chicken breasts were still frozen when I cut it into large chunks.
I threw the chicken pieces into the crock along with the chopped peppers, onions, garlic, and other seasonings. The crock was then put in the refrigerator overnight. In the morning, I just took the crock out of the refrigerator and put in on the heated stand. About six hours later, lunch was done.
Looking back, I probably should have cut the chicken up into smaller pieces. I ended up chopping them up with a spoon into bite size pieces as I ate it.
Now I am a fan of hot food, but this dish put my mouth on fire. To put the fire out, I found it best to serve with full fat sour cream.
Two jalapeños were added to the dish with one seeded and the other unseeded. I may seed the second jalapeño pepper next time or only put in one to reduce the heat.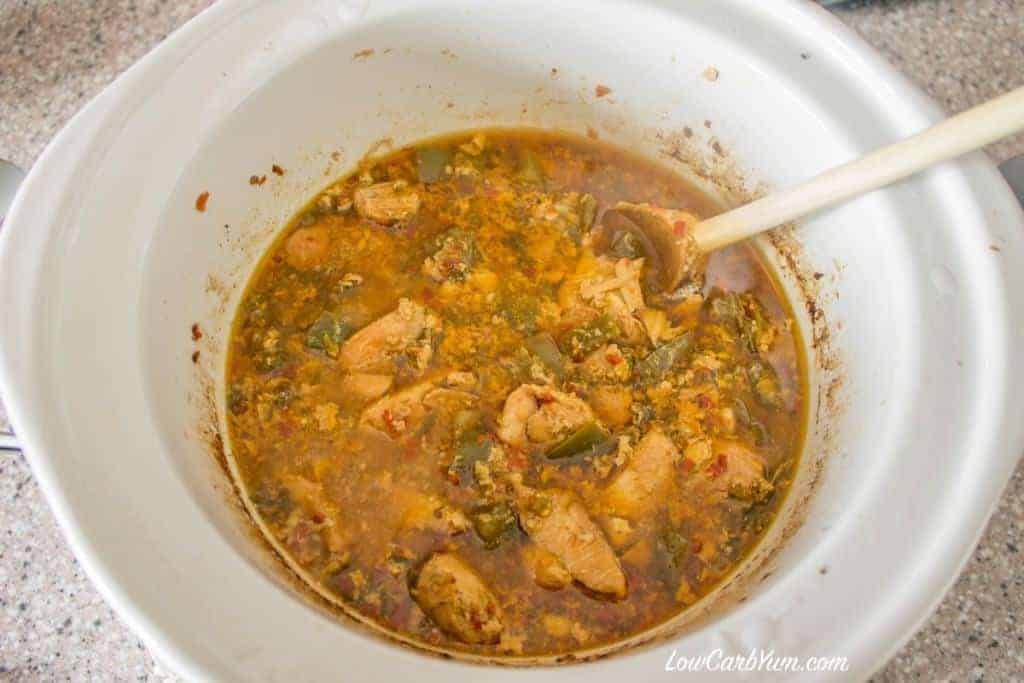 I really enjoyed this spicy chili pepper chicken even though it was a lot hotter than expected. The thing I really like about this dish is how little time it requires for preparation and the fact that it can be easily put together the night before.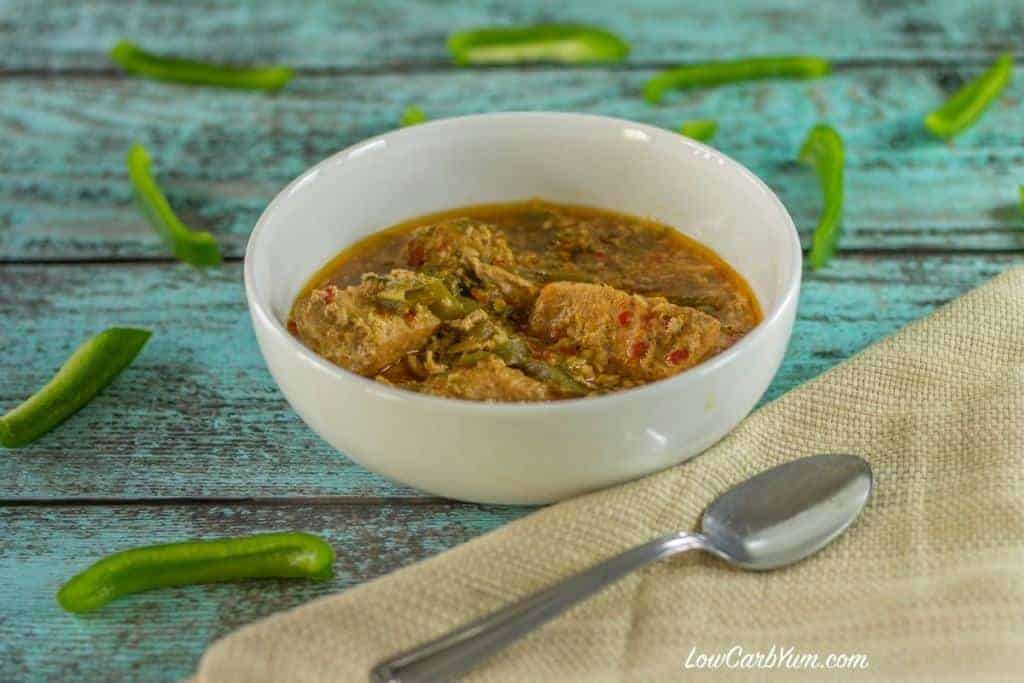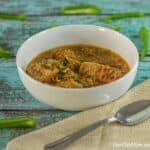 Spicy Crock Pot Chili Pepper Chicken
This spicy chili pepper chicken can be prepared the night before and slow cooked in the crock pot the next day. A super quick and easy meal to make ahead.
Total Time
6
hours
10
minutes
Ingredients
3

pieces

skinless chicken breasts

cut into bite size

2

jalapeno peppers

sliced (seeded if desired)

1

large chili pepper

1

green or red bell pepper

8

ounces

chicken broth

1

tablespoon

crushed red pepper

1/2

cup

chopped green onions

6

teaspoons

peanut butter

4

teaspoons

lemon juice

4

teaspoons

soy sauce

2

teaspoons

olive oil

1

teaspoon

ground ginger

1

teaspoon

minced garlic

1/2

teaspoon

fresh ground black pepper

pinch of salt
Instructions
Place all ingredients into a 4 quart crock pot or larger.

Marinate at least 6 hours or overnight.

Remove crock from refrigerator and allow to sit at room temperature 15-20 minutes to prevent cracking crock.

Place crock on slow cooker stand and turn crock pot on low.

Allow to cook on low setting 6 to 8 hours.
Recipe Notes
Makes 6 servings

Nutrition per serving: 150 calories, 5.3g fat, 386mg sodium, 4.9g carbs, 1.3g fiber, 3.6g net carbs, 20g protein
Nutrition Facts
Spicy Crock Pot Chili Pepper Chicken
Amount Per Serving
Calories 150
Calories from Fat 48
% Daily Value*
Total Fat 5.3g 8%
Sodium 386mg 16%
Total Carbohydrates 4.9g 2%
Protein 20g 40%
* Percent Daily Values are based on a 2000 calorie diet.
Related Posts