[donotprint]
At the beginning of last year, I was experimenting with baking gluten free brownies and cakes using canned beans. During that time, I came up with a decent recipe for rich fudge brownies made with black beans. My family loved them and they would never have guessed that there were beans in it if I hadn't told them.
While I was looking through my old recipe files this past weekend, I found that black bean brownie recipe. I wasn't following a low carb diet when I wrote the recipe so it needed to be tweaked a bit. I know that black soy beans are very similar to black beans without all the carbs so it was an easy substitution.
I also switched out the agave sweetener to something low carb. Other than those changes, the recipe is the same as the original. Based on what I remember the higher carb batch tasting like, this low carb version is almost identical thanks to the sweetening power of stevia and erythritol.
FREE eBook!
​LOW CARB TIPS and TRICKS
Subscribe now to receive your free copy of Low Carb Tips and Tricks which includes 20 easy to prepare recipes. Plus, get access to the weekly newsletter and special offers only for subscribers!
If you like a dense chocolate brownie, you will love this recipe for gluten free black soy bean brownies. It is a moist fudge brownie, not one that is more like cake. The instant coffee that is added to the mix really enhances the chocolate flavor.
The brownie batter is very thick and it will need to be spread in the pan with a rubber spatula. I decided to have a treat and put a scoop of low carb vanilla ice cream on top of a warm brownie square after it came out of the oven. With a little whipped cream on top, it was as good as a hot fudge sundae.
Black Soy Bean Brownies - Gluten Free
Author:
Lisa | Low Carb Yum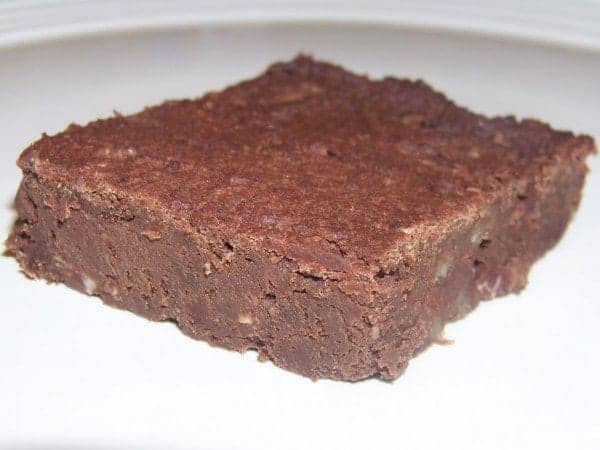 Gluten free brownies made with low carb soy beans. This recipe for black soy bean brownies is quick to prepare and no one will taste the secret ingredient.
Instructions
Preheat oven to 325 degrees F (165 degrees C). Grease an 8×8 or 9×9 inch pan
Place the black beans in the bowl of a food processor; process until smooth. Blend in the butter. Add the 2 eggs, 1 at a time, mixing well after each addition. Mix in vanilla.
In separate bowl, blend erythritol, stevia, cocoa powder, instant coffee, and baking powder.
Stir in cocoa powder mixture, nuts, and chocolate chips into bean mixture. Blend until smooth.
Spread into greased pan and bake 25-30 minutes in the preheated oven, until a toothpick inserted into the center, comes out clean.
Notes
Makes 12 servings

Net carbs per serving: 1.6g
Related Posts