Here's a method to make your own stevia sweetened sugar free low carb chocolate chips. Can be made in large batches and stored in the refrigerator or freezer.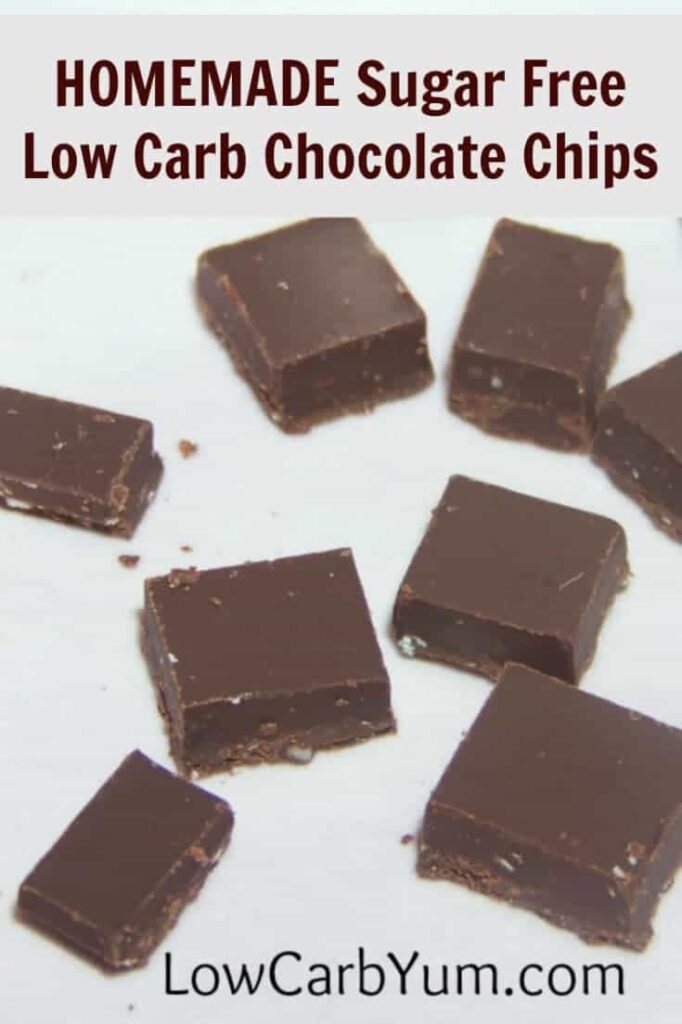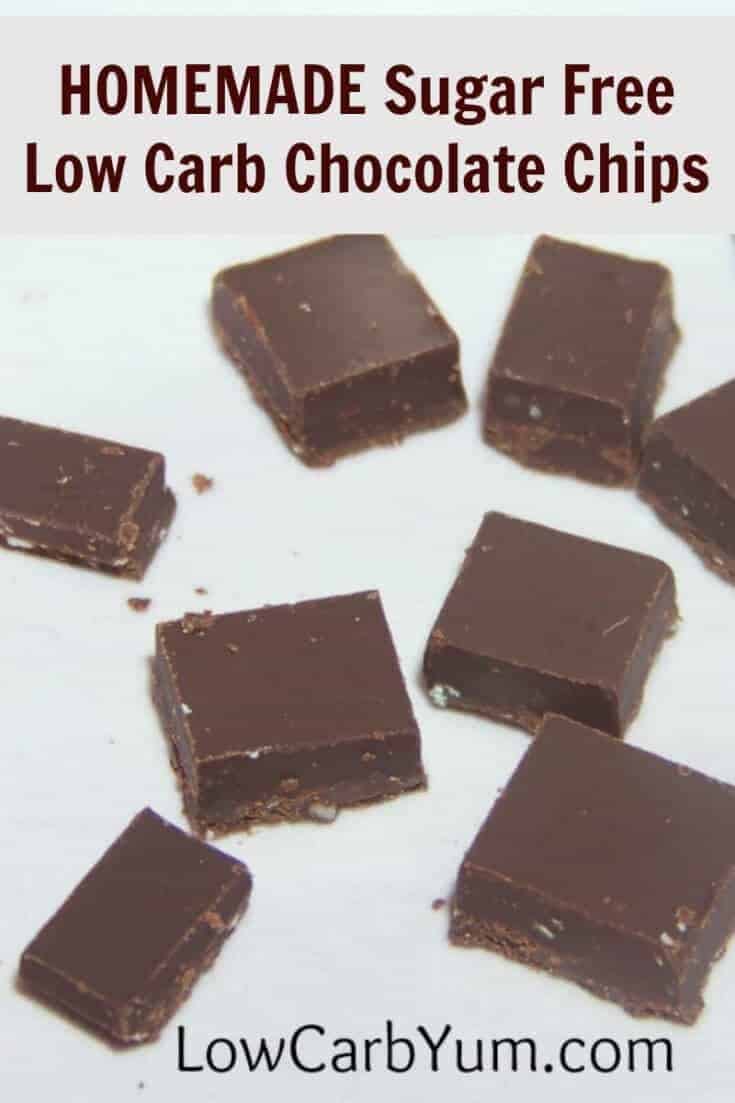 With the discontinuation of ChocoPerfection brand sugar freee chocolate chips, I was forced to come up with a way to make my own low carb chocolate chips.
It sounded like a lot of work, especially since I have always found melting chocolate at the right temperature to be somewhat difficult.
So, I decided to buy a chocolate melter which is much simpler than using a double boiler or a glass bowl over a pot of boiling water. I bought the melter at my local Walmart, but it's also available here at Amazon.
One of the requirements I had for making my own sugar free chocolate chips was that they had to be suitable for storing at room temperature.
A lot of the recipes I've seen online require that the homemade chocolate chunks be stored in the refrigerator or freezer. I've never stored my baking chocolate in the fridge and that seemed odd to me.
Using food grade cocoa butter along with unsweetened baking chocolate keeps these homemade low carb chocolate chips from melting at room temperature.
Although I do like to keep them in the refrigerator, they shouldn't melt at room temperature. They are a bit softer than regular chocolate which is why it's best to store at a cooler temperature.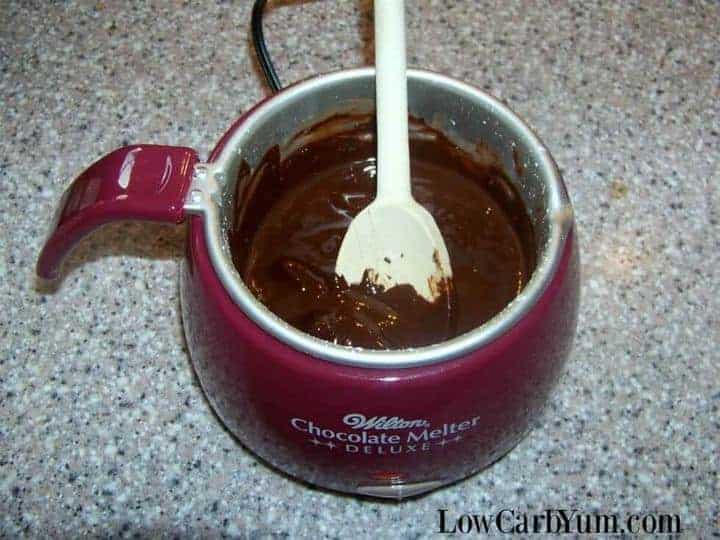 I'm surprised with how easy it was to make these sugar free chocolate chips. The chocolate melter really made a big difference.
Be sure to use food grade cocoa butter. I've been using Eastbluff Trading Co. cocoa butter which I really like because it comes in broken chunks.
The cocoa butter that is sold in jars is difficult to get out because it needs to be broken up in the jar first.
After the chocolate is melted, I pour it out on a rimmed baking pan lined with plastic wrap. To ensure the chocolate releases easily, I put a little water underneath the plastic wrap.
Using a bit of water under the plastic wrap in a trick I learned when making handmade chocolate at a candy shop in the mall.
We always let our chocolate candies set on a plastic wrap lined baking pan with a small amount of water under the plastic sheet.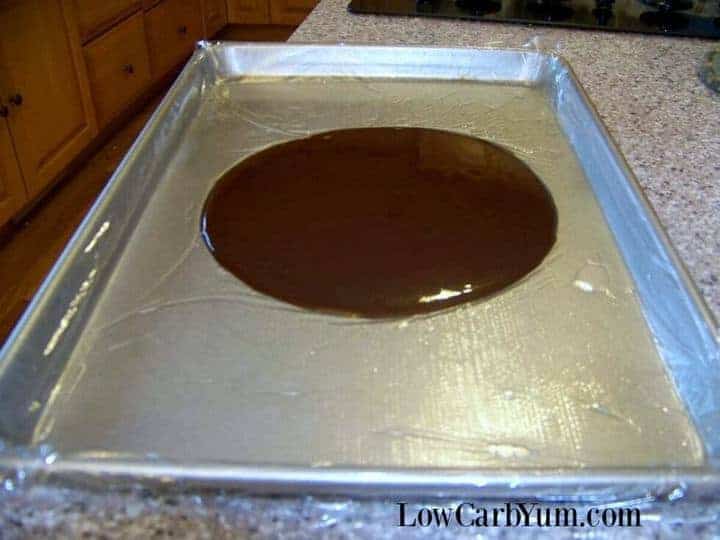 This recipe for low carb chocolate chips can be doubled if needed. I only made a small amount because I was testing out the recipe. The melting pot would have easily fit a double batch.
I used a food scale to weigh out the cocoa butter because it is difficult to measure. Weighing out the amount needed is much easier and it is much more accurate than using a cup or tablespoon measure.
Once your big chocolate blob is set, simply transfer it to a large cutting board. Using a sharp chef knife, you simply cut into thin strips and then again into small rectangular chunks.
Once you make up your batch of low carb chocolate chips, simply put them in a storage container or plastic bag. Keep them handy in your refrigerator so you can make up a batch of yummy chocolate chip cookies.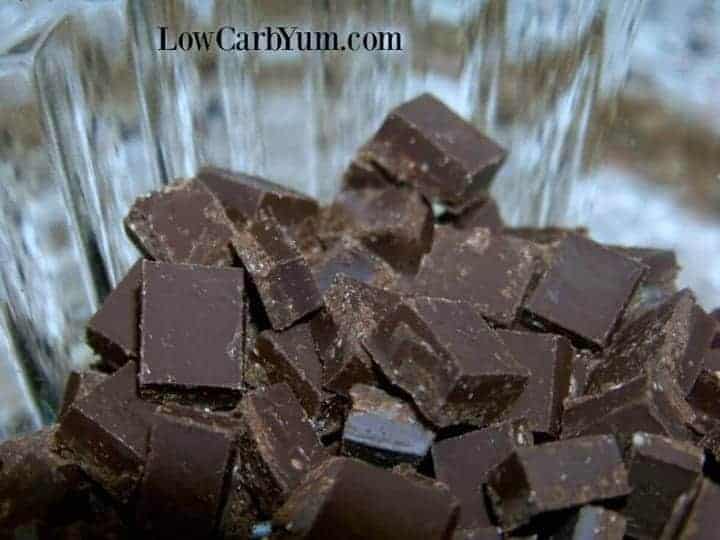 I'm often caught eating these sugar free chocolate chips by the handful for a quick snack. So, you may want to hide them well in the refrigerator so you aren't tempted to eat them all before using them in baking.
Using this same method, I have made up my own peanut butter chocolate chips. You can also make white chocolate chips by simply cutting up the bars from this recipe.
Of course, you can always buy some bars of low carb chocolate such as ChocZero and cut them up. But, it will be a lot more expensive than making your own homemade chocolate.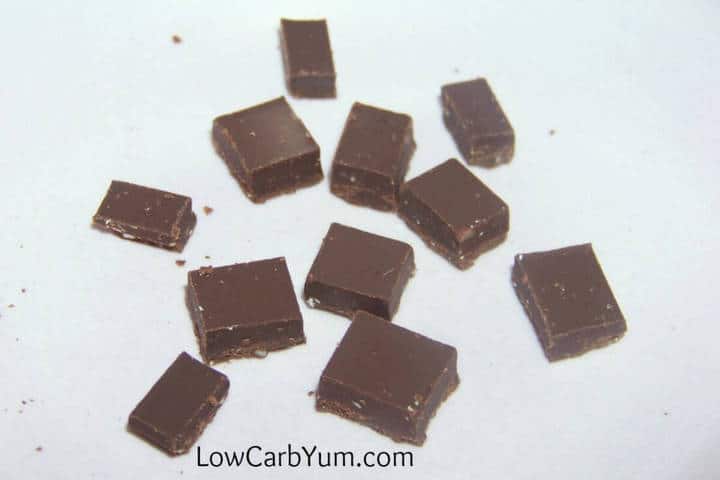 Homemade Sugar Free Low Carb Chocolate Chips Recipe
Stevia Sugar Free Chocolate Chips
Here's a method to make your own stevia sweetened sugar free chocolate chips . Can be made in large batches and stored in the refrigerator or freezer.
Instructions
Drizzle a little water in a jellyroll pan then line with plastic wrap. Or, just line the pan with parchment paper.

Combine chocolate, cocoa butter, powdered sweetener, and stevia extract powder in a double boiler or chocolate melter.

Heat, stirring occasionally, until all the chocolate and cocoa butter is melted and mixture is smooth.

Mix in vanilla extract after removing from heat. Pour melted chocolate into prepared pan.

Let cool at room temperature. Once set, if using plastic wrap, carefully lift plastic and place over a towel to remove any water. If parchment paper was used, just lift off pan. Drop chocolate onto a cutting board and cut into chunks using a sharp knife.

Store in covered container. Can also be stored in refrigerator or freezer, if desired.
Need Support?
Get our FREE Low Carb eBook or join the Low Carb Yum Facebook Group for help with recipes and weight loss support!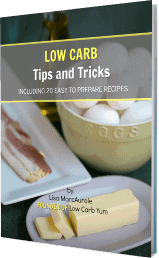 FREE eBook! LOW CARB TIPS and TRICKS
Subscribe now to get a copy of Low Carb Tips and Tricks which includes 20 easy recipes. Plus, get access to the weekly newsletter and special offers only for subscribers!

Notes
Makes a little over 1 cup
Nutrition
Nutrition Facts
Stevia Sugar Free Chocolate Chips
Amount Per Serving (2 tbsp)
Calories 124
Calories from Fat 99
% Daily Value*
Total Fat 11g 17%
Cholesterol 4mg 1%
Sodium 4mg 0%
Potassium 121mg 3%
Total Carbohydrates 4g 1%
Protein 2g 4%
* Percent Daily Values are based on a 2000 calorie diet.
Note on Nutritional Information
Nutritional information for the recipe is provided as a courtesy and is approximate only. We cannot guarantee the accuracy of the nutritional information given for any recipe on this site. Erythritol carbs are not included in carb counts as it has been shown not to impact blood sugar. Net carbs are the total carbs minus fiber.
© LowCarbYum.com
Unauthorized use and/or duplication of this material without express and written permission from this site's owner, Lisa MarcAurele, is strictly prohibited.
Excerpts, single photos, and links may be used, provided that full and clear credit is given to LowCarbYum.com with appropriate and specific link back to the original content.
Related Posts