I wanted to serve my family an alternative potato dish this Thanksgiving. When I used diced daikon radish in a low carb clam chowder, I wondered how it would be in something like scalloped potatoes. Since this Japanese radish has very little flavor, I thought an additional item should be added to the dish.
We have lots of venison sausage in the freezer so it made sense to use some with the daikon. Although I was seeking a scalloped potato dish, the result was more like a casserole.
Daikon and Sausage Casserole
Author:
Lisa | Low Carb Yum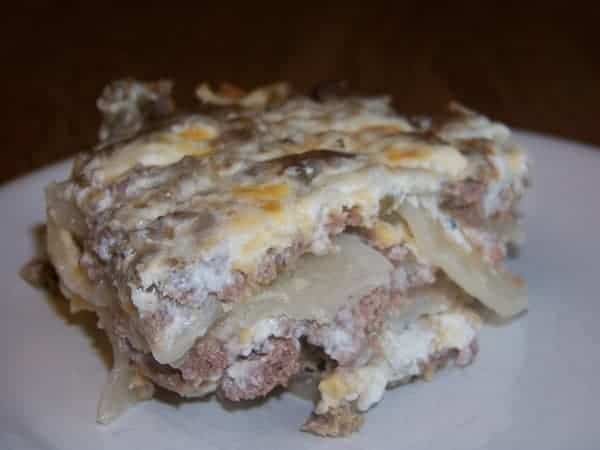 A low carb mock potato and sausage casserole featuring daikon radish. This white Japanese radish has almost no flavor so it can be used as a mock potato.
Ingredients
1 pound bulk sausage
2 teaspoons dried minced onion
2 tablespoons butter
1 teaspoon guar gum or xanthan gum
¾ cup heavy cream
¾ cup coconut milk
salt & pepper, to taste
1 large daikon, thinly sliced
1 cup cheddar cheese, shredded
Instructions
Preheat oven to 350 degrees. Spray or butter a medium baking dish.
Brown sausage in a large skillet with minced onion.
Simmer butter, cream and milk over medium heat until warm, then sprinkle in guar gum. Once thickened, remove from heat. Season with salt and pepper to taste.
Spread a third of the cream sauce at the bottom of the baking dish. Top with half of the sliced daikon. Sprinkle half the sausage over the daikon and top it with half the cheese. Add another third of the sauce then repeat the layers. Top at last with the last of your cream sauce.
Cover baking dish with foil and bake for 30 minutes. Remove the foil and bake for an additional 25-30 minutes until daikon is tender.
FREE eBook!
​LOW CARB TIPS and TRICKS
Subscribe now to receive your free copy of Low Carb Tips and Tricks which includes 20 easy to prepare recipes. Plus, get access to the weekly newsletter and special offers only for subscribers!
Related Posts