These are the best keto chips you can make and eat on a low-carb diet! They are all very different, with bold and unique flavors that you'll love.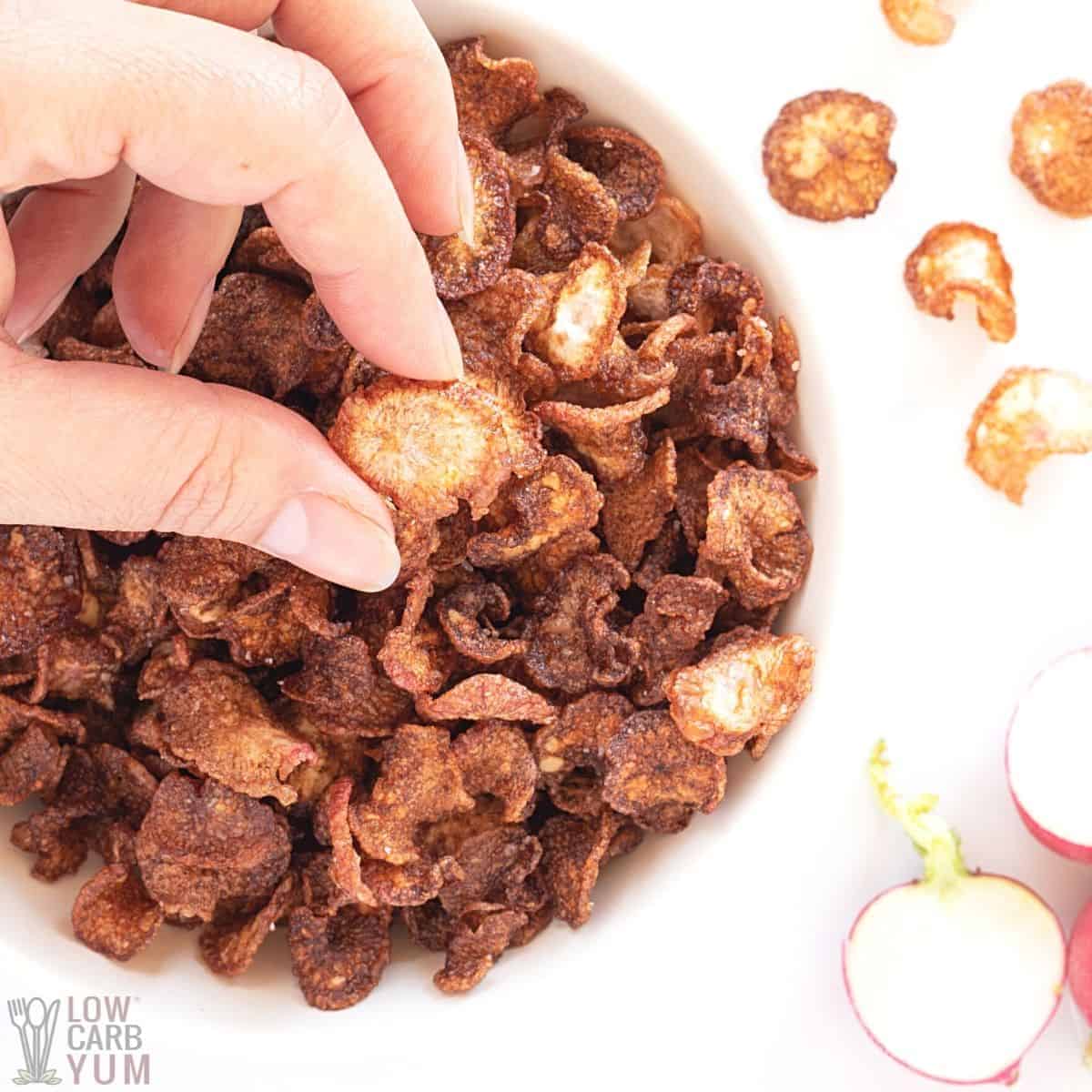 Article Index
Why You'll Love It
Have you ever wondered, are there any low-carb chips recipes I can eat on a low-carb diet? The answer is yes!
It's all about using the right ingredients. Then either baking, deep-frying, or using a dehydrator to help you in the process of making your own low-carb chips at home!
We all crave that salty, crunchy bite from time to time. Denying yourself this popular comfort food item will leave you breaking your low-carb streak and indulging in a bag of carbs.
Stay strong! Here are some of the most popular keto chips you will ever make!
The Best Recipes for Keto Chips
Whether you are looking for some tips for making keto tortilla chips or you want to snack on something that isn't pork rinds, I have a bunch of creative recipes for you.
These range from keto friendly tortilla chips to cheese chips and even a handful made out of low carb vegetables. Vegetables that are low on carbs are fantastic replacements for potato chips, which have too many carbs for a keto diet. When made right, they are perfect snack recipe when you're craving something salty.
1. Baked Cucumber Chips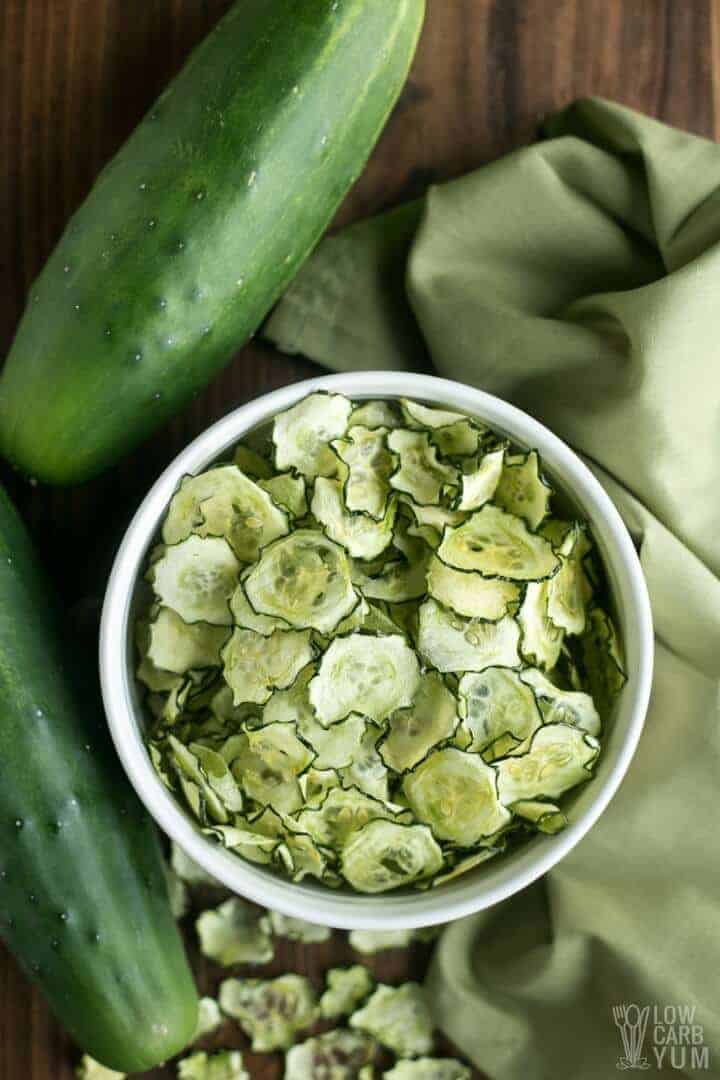 If you enjoy cucumbers and happen to have an abundance from your fruitful garden, making these baked cucumber chips will hit the spot. The key is to salt them and enjoy these low-carb chips without all the guilt!
2. Keto Tortilla Chips Recipe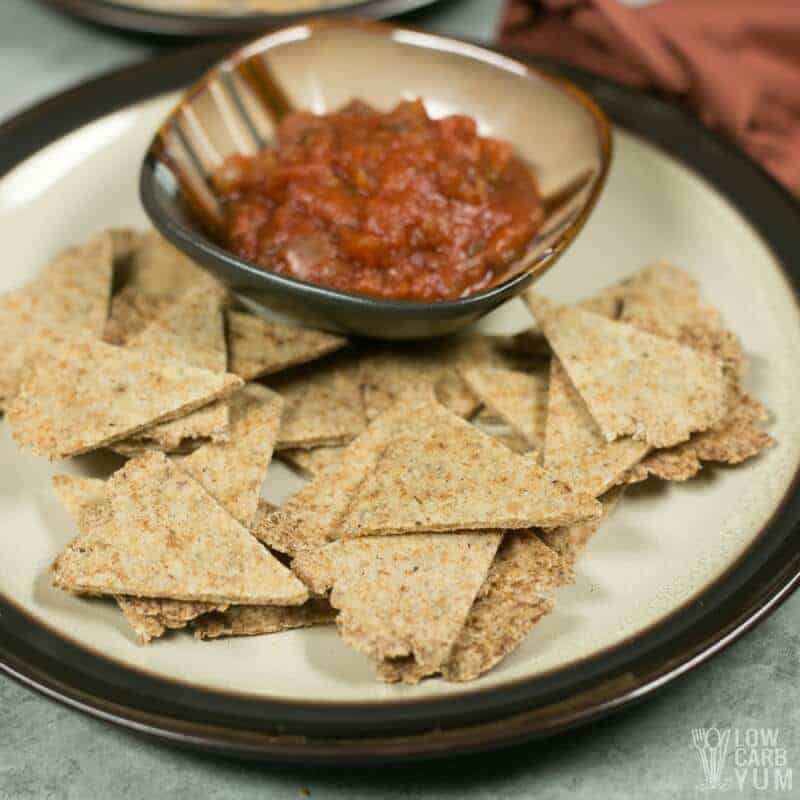 Crunchy keto tortilla chips are the perfect thing to eat with sugar-free salsa. These are simply and quickly made with low-carb tortillas and cut with a pizza cutter.
When you make them, use parchment paper... so they don't stick to your baking sheet.
3. Easy Parmesan Crisps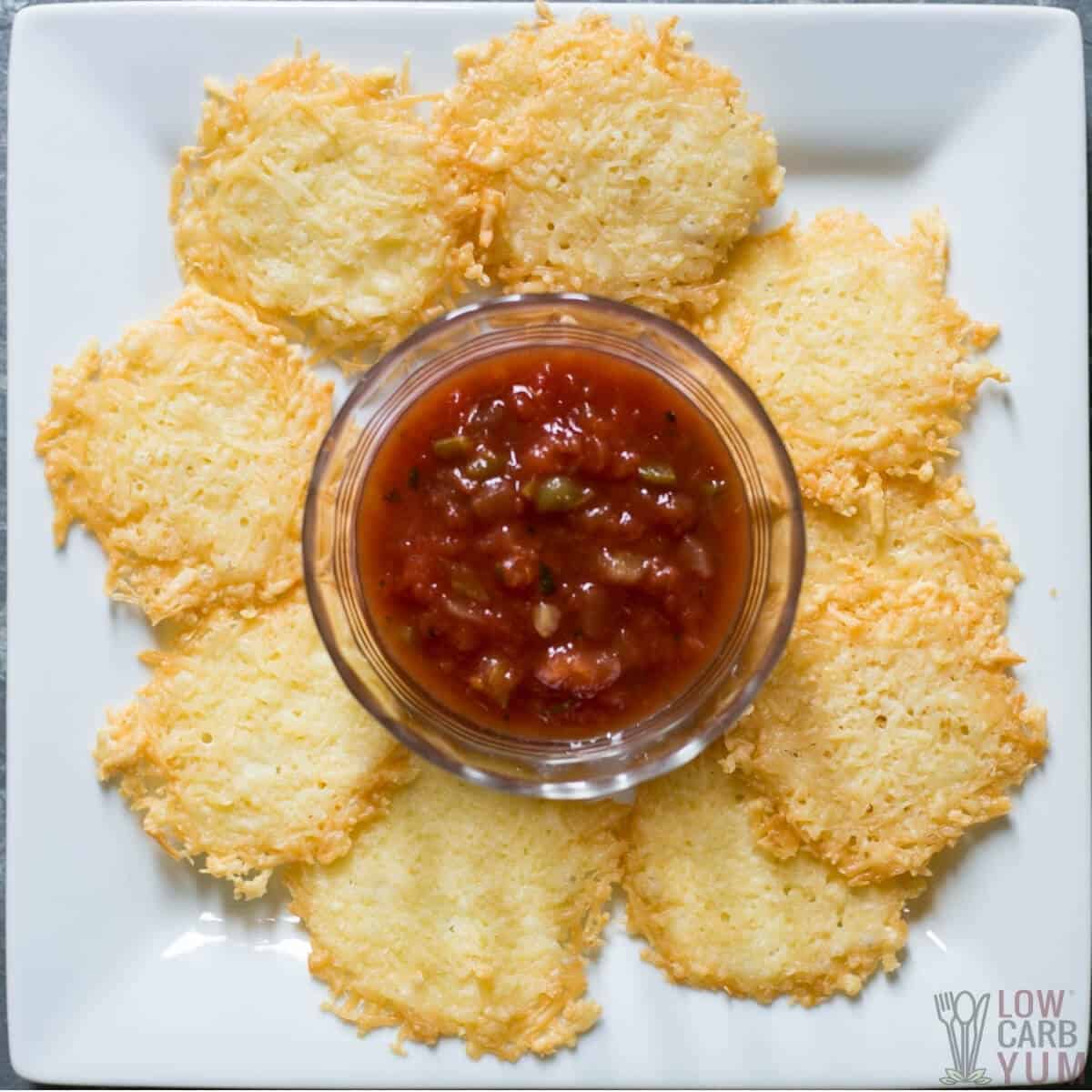 Some of the best chips you'll make on a low-carb diet are these parmesan cheese crisps. With your favorite shredded cheese, sprinkle in your favorite seasoning to create different flavors of crispy parmesan chips.
It's my favorite keto chips recipe because it is so easy and customizable!
4. Radish Chips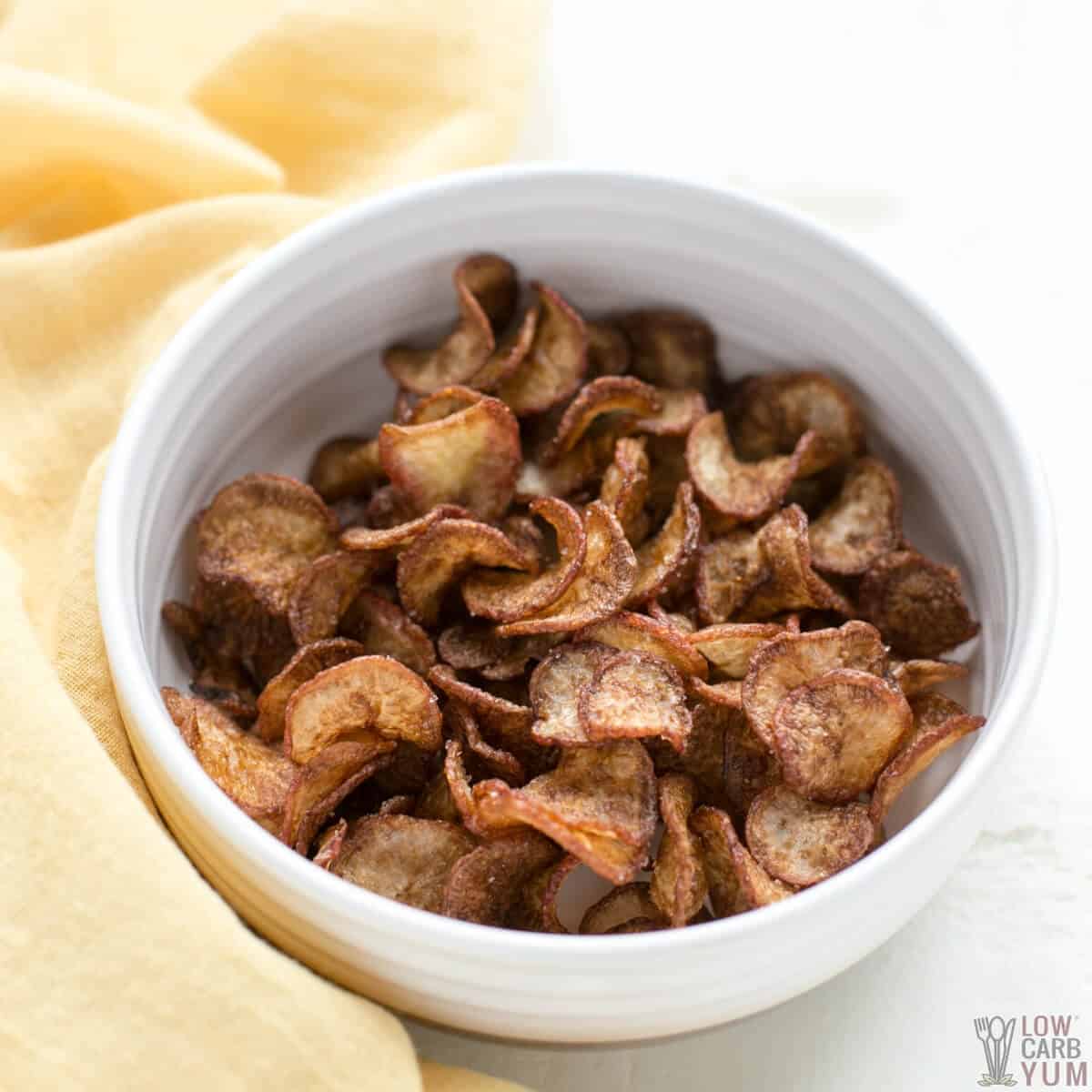 If you want something that is made without melted cheese, try this radish chips recipe.
Thinly slice radishes with a sharp knife or mandolin slicer. Then, simply boil and deep fry them to get crispy, crunchy, low-carb chips that'll feed a crowd of keto dieters.
Add your favorite seasonings to them. Try them with garlic powder, onion powder, or chili powder.
5. Oven Baked Zucchini Chips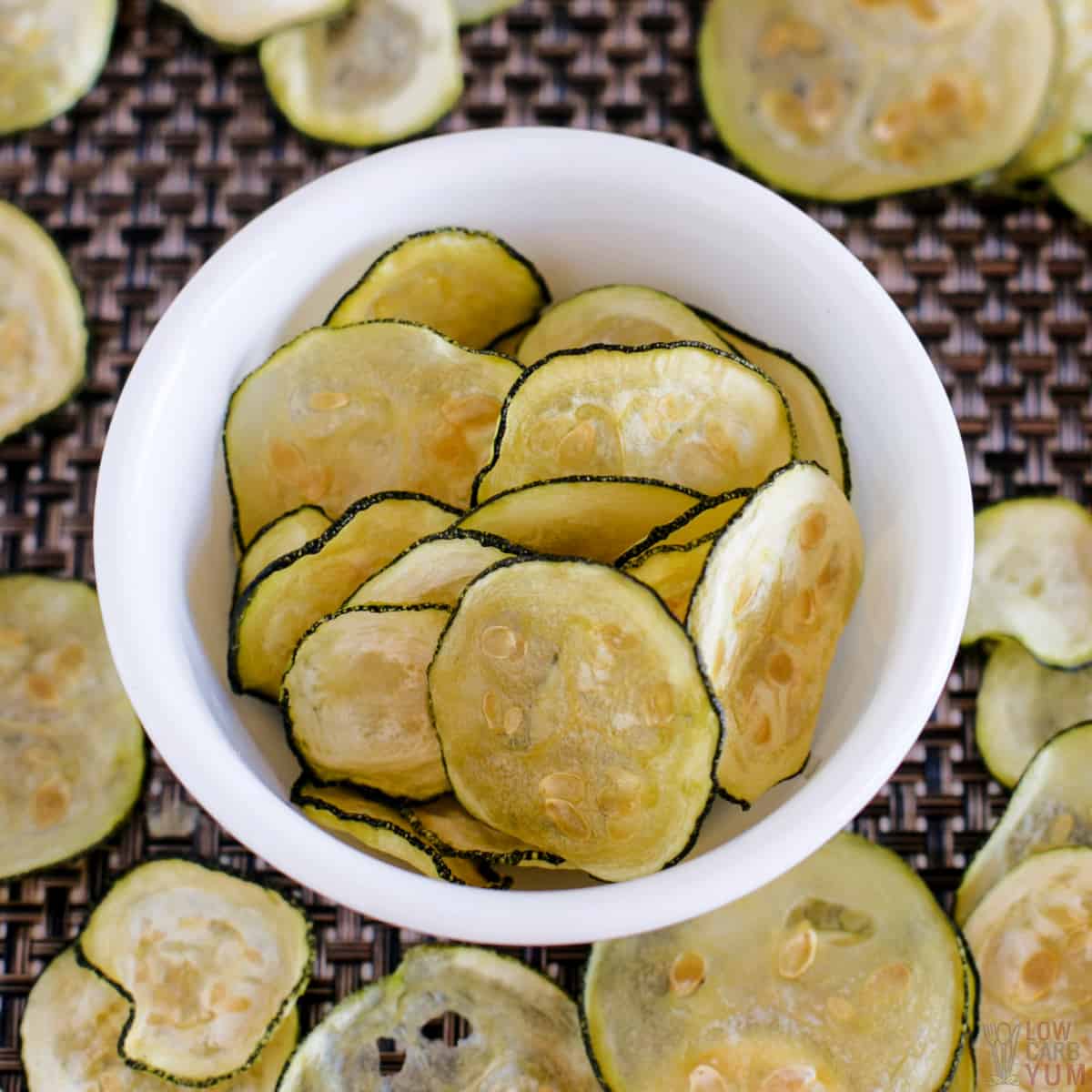 When you think of zucchini on a low-carb diet, you immediately think of zoodles. But we've come up with another way to enjoy zucchini - in chip form!
We can't wait for you to try them. Zucchini chips are a great option to snack on besides keto tortilla chips.
6. Pepperoni Chips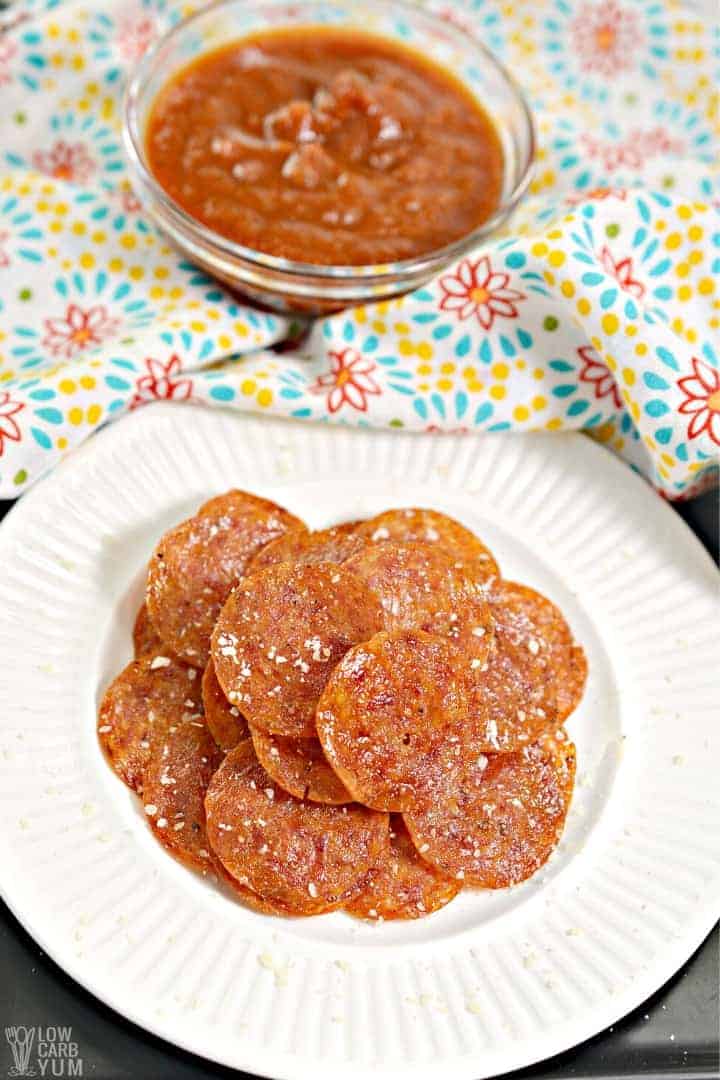 One of the fast snacks you can make are these pepperoni chips. They come out crisp and salty with minimal effort.
7. Cheesy Spinach Nacho Chips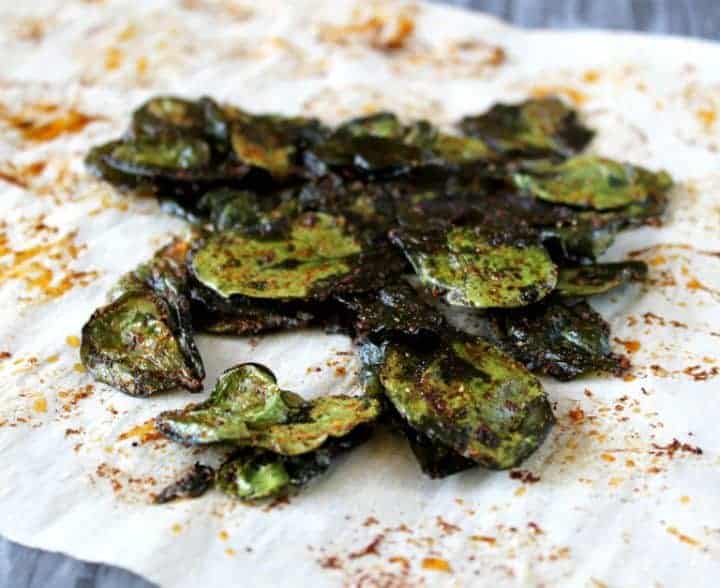 Photo credit: Lost Garden Blog
Who would've thought if you bake spinach leaves in the oven, they could turn into glorious nachos? These little crunchies are sure to please and are super versatile to flavor.
8. Zucchini Nachos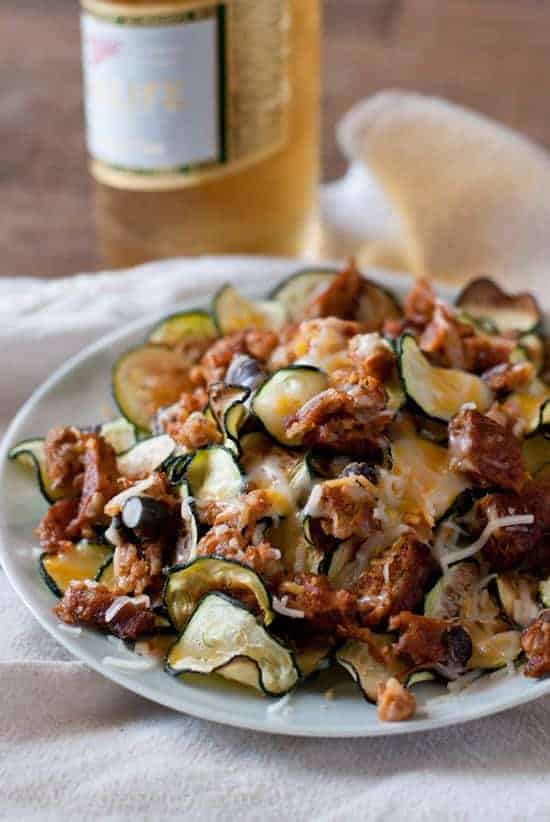 Photo Credit: Betsy Life
Keeping on track with nachos...I mean, who doesn't love a good nacho chip recipe? These zucchini nachos are the perfect addition to any weekend - snuggled up on the couch and still enjoying the guilty pleasure of nacho chips! Layer these new-look nachos with sour cream, cheddar cheese or ground beef!
Tip: Just make sure to use a microwave-safe bowl!
9. Homemade Snap Pea Chips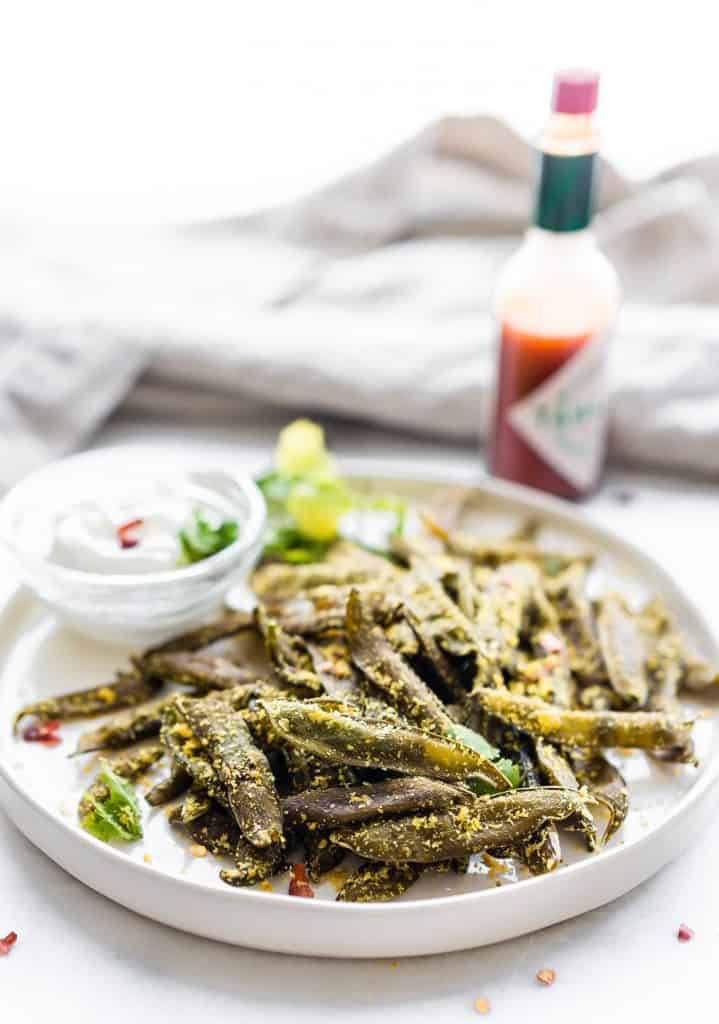 Photo Credit: Cotter Crunch
These crispy little homemade snap pea chips are fun for kids (and adults) of all ages! Whether you sprinkle on hot sauce or prepare a low-carb chip and veggie dip to dunk these beauties in, they are delicious and a "snap" to make!
10. Kale Chips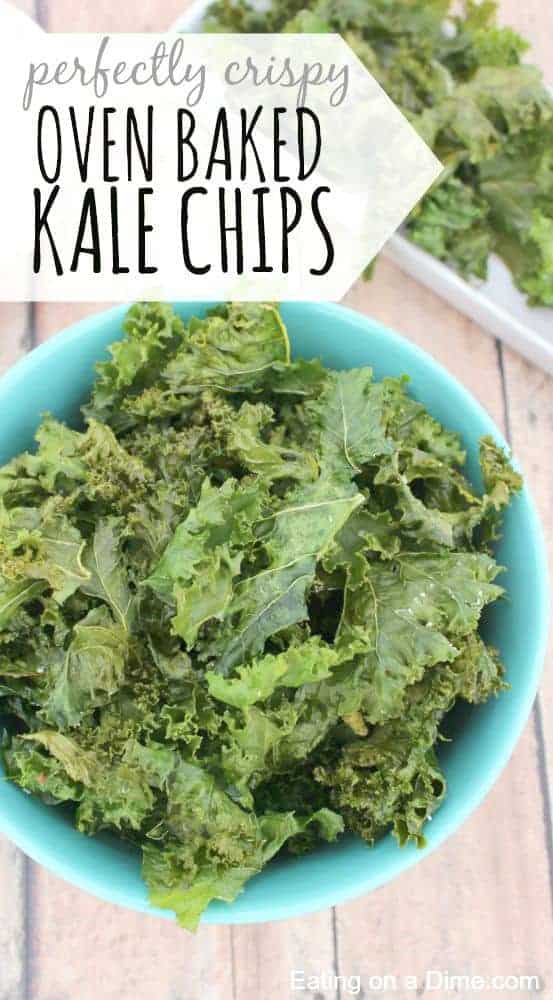 Photo Credit: Eating On A Dime
We couldn't have a low-carb chips recipe roundup and not include a recipe for kale chips! These leafy greens are baked to crunchy perfection and will quickly become a staple in your home.
Even if you don't like kale, you will enjoy this keto chips recipe.
11. Eggplant Chips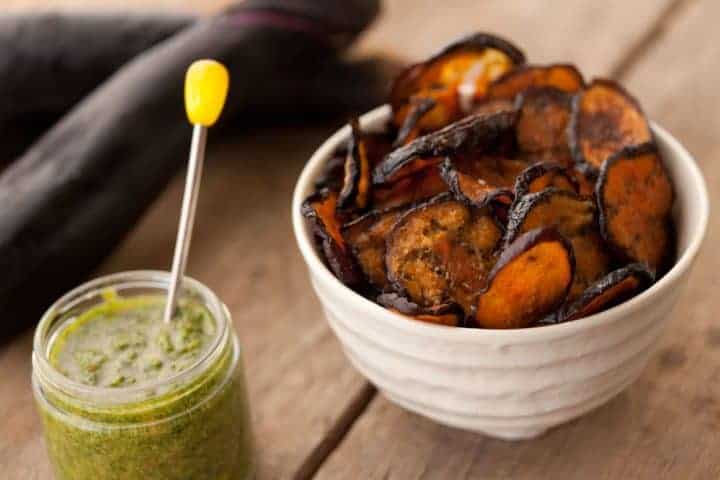 Photo Credit: What's Gaby Cooking
If you are a fan of eggplant, you'll love these eggplant chips and the dip that pairs with them. Make this low-carb recipe ahead of time and enjoy the next day with guests.
These crispy chips have the most delightful crunch and bold flavor.
12. Brussels Sprouts Chips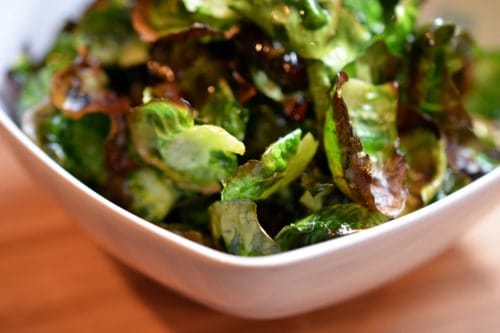 Photo Credit: Nom Nom Paleo
Yup, you can make chips out of Brussels sprouts. We can't forget about turning those little green balls of yummy goodness into low-carb chips that are bite-sized fun!
They are super fun to flavor and perfect for packing in a low-carb lunch. Plus, you will love how crunchy these Brussels sprouts chips are - they might just become your favorite keto-friendly snack.
13. Baked Rosemary Beet Chips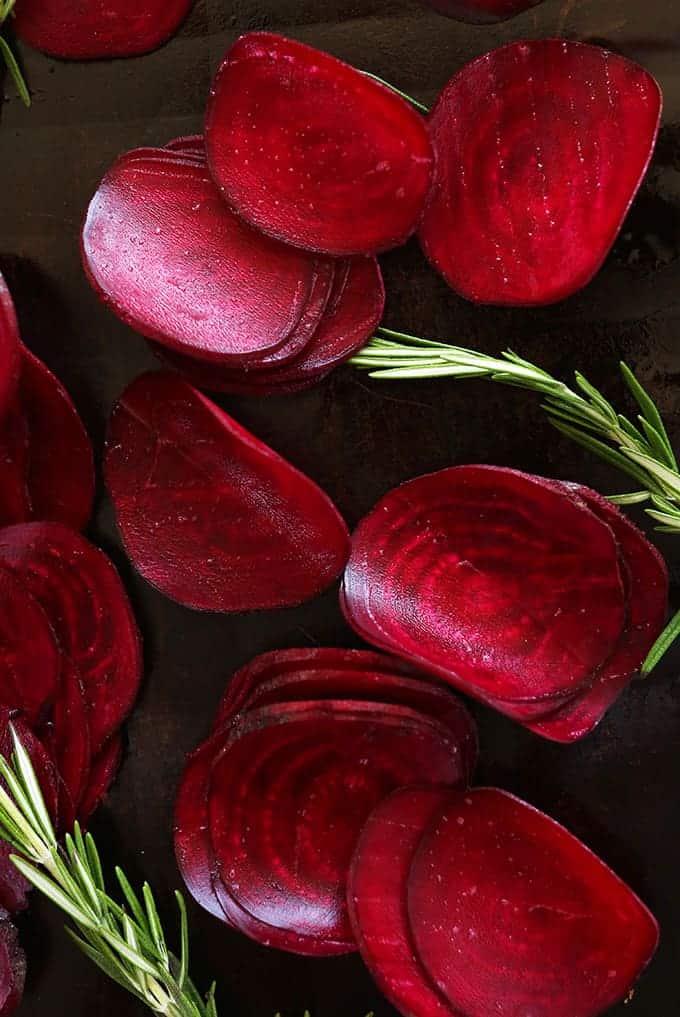 Photo Credit: Minimalist Baker
These rosemary beet chips are almost too pretty to eat! Just 30 minutes, four simple ingredients, and one pan it's all you need to create these beauties in your kitchen.
This keto chips recipe will create conversation among your guests and be a delight when you are feeling snacky.
14. Keto Fathead Tortilla Chips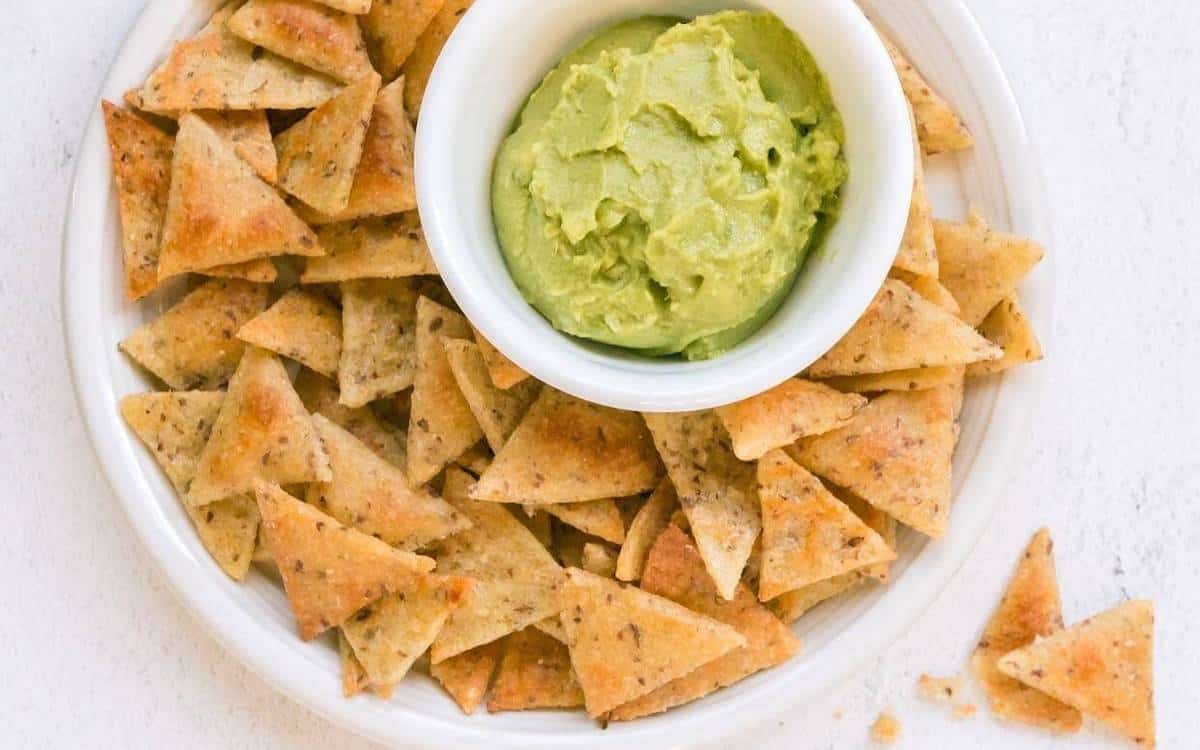 Photo Credit: Lisa MarcAurele for Parade.com
If you love mozzarella dough, you are going to love these seasoned keto tortilla chips. They bake up crisp and brown and are perfect for dipping!
Keto Chips FAQs
Here are some questions people often ask about making and eating keto chips.
Can I eat tortilla chips on a low-carb diet?
The answer is yes, but you should make your own at home to save on carbs. Use this simple recipe for the best homemade low-carb tortilla chips.
What kind of chips can I eat on keto?
You'll definitely want to stay away from store-bought tortilla chips that are made with cornflour. If you are on a low carb diet, make homemade keto friendly chips or buy low-carb chips made from pork rinds, almond flour, coconut flour, or other low-carb ingredients.
Are protein chips keto-friendly?
Yes, protein chips can fit into a keto-friendly diet. You just have to watch the number of net carbs they have and make sure you don't go over your macros.
Are Quest chips keto?
Many people like to make keto nachos with Quest chips. And yes, they are a low-carb option that will fit into a keto diet. However, always pay close attention to the serving size because it can be way too easy to overeat them.
What are the best low-carb flour options on a keto diet?
If you want to make keto chips from scratch, then I suggest using either almond flour or coconut flour, but there are other zero carb flours that exist. Many people like to use a fathead dough recipe which is a combination of eggs, mozzarella cheese, and almond flour.
Are chicken chips keto friendly?
Yes, if you make chicken chips with just chicken and other low-carb ingredients, they can also be just as good for you as homemade cheese crisps.
Follow us on FACEBOOK, PINTEREST, and INSTAGRAM for even more tasty keto-friendly recipes!