White chocolate is a candy I loved as a child. It was probably due to its intense sweetness. Here's a recipe for low carb white chocolate almond bark.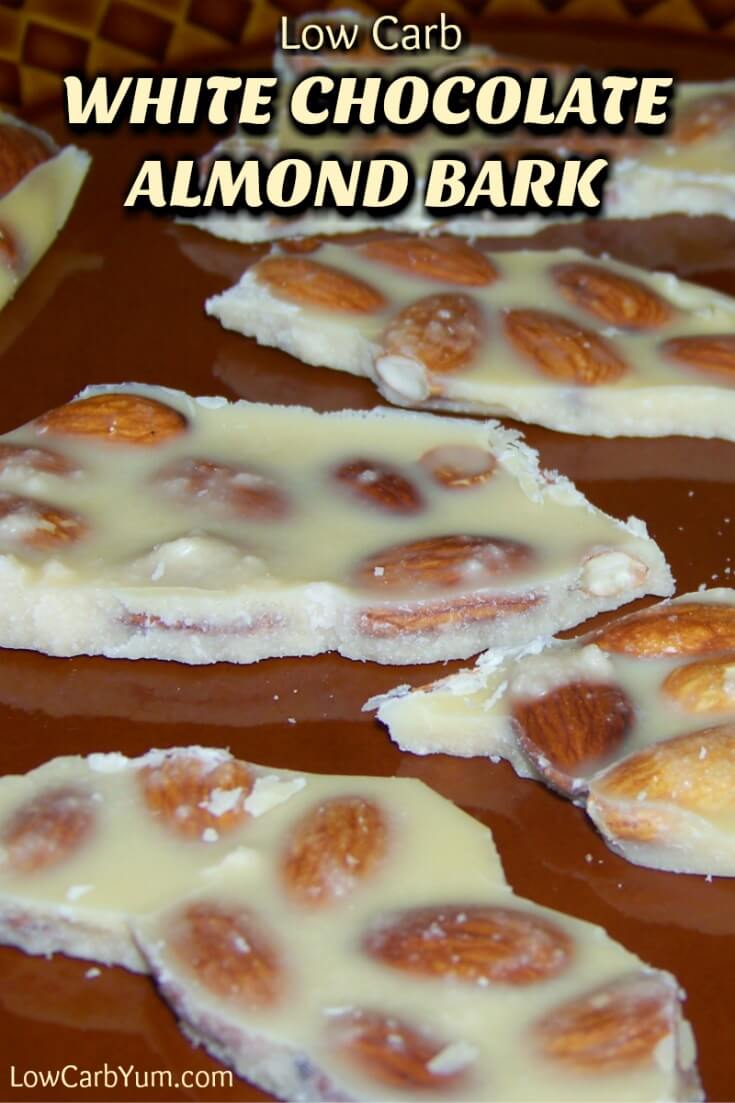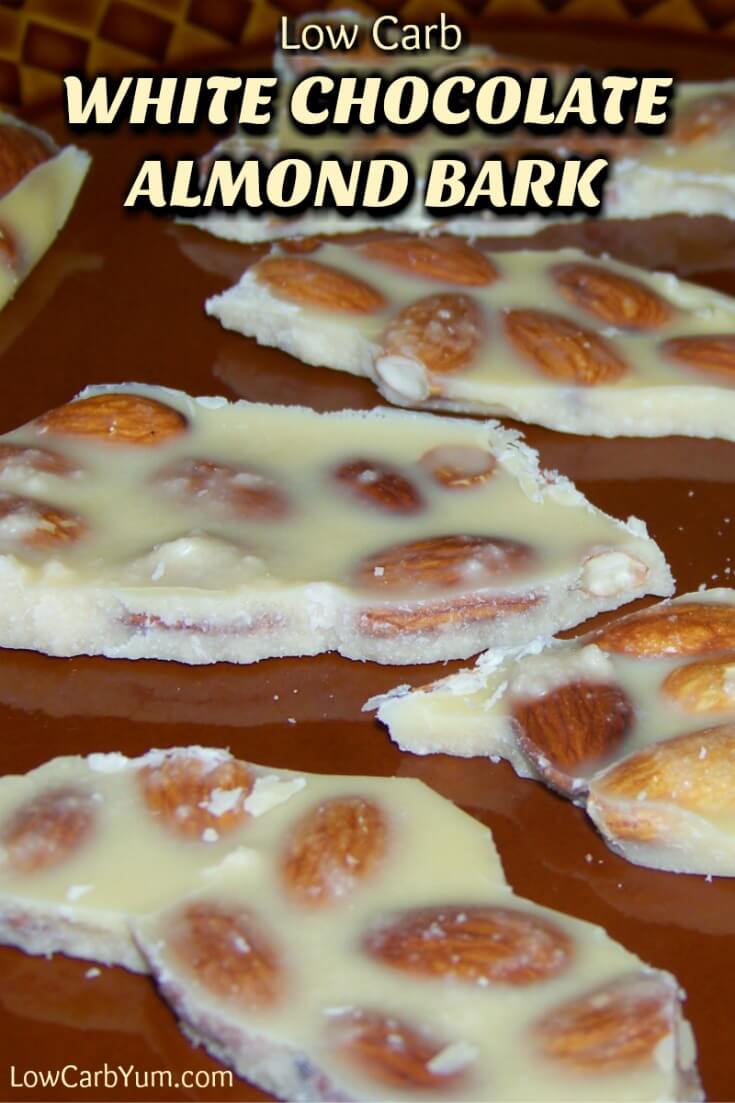 As mentioned in a previous post, I worked in a candy store when I was a teenager where I made hand made candy. So, many could argue that I was once a professional candy maker as we mad treats for the store by hand.
This low carb white chocolate almond bark recipe is another remake of a candy that I used to make and sell. The shop sold both white and regular chocolate almond bark. It was a simple recipe where we had to melt the chocolate disks in the microwave and then mix almonds in and spread it out in a pan to harden.
When it came to almond bark, the white chocolate version was always my favorite. I had been hooked on white chocolate even as a kid. While all my siblings would get the regular chocolate bunnies at Easter, my mother would always get a white chocolate one for me.
FREE eBook!
​LOW CARB TIPS and TRICKS
Subscribe now to receive your free copy of Low Carb Tips and Tricks which includes 20 easy to prepare recipes. Plus, get access to the weekly newsletter and special offers only for subscribers!
White chocolate is basically cocoa butter with milk, sugar and possibly vanilla flavor added. I was able to find food grade cocoa butter for a reasonable price in a natural food store. There's also a great organic cocoa butter made by The Raw Food World that is available here at Amazon.com.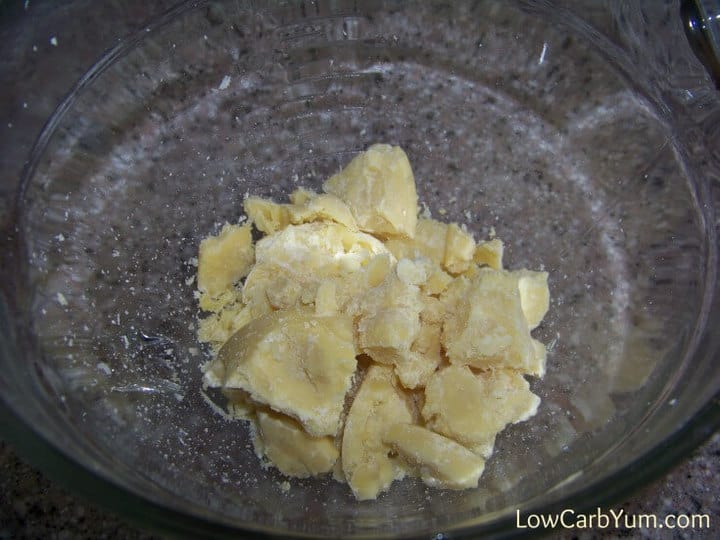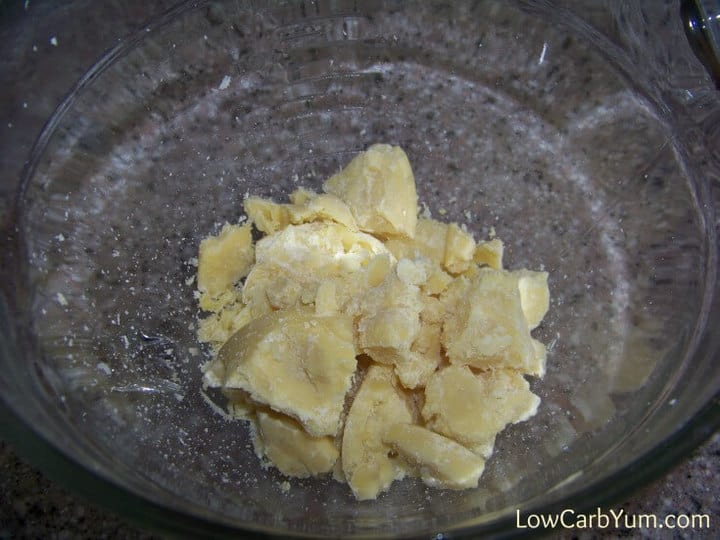 I recently bought some powdered xylitol so I thought I'd try it in this candy. If you don't have xylitol, I'm sure powdered erythritol and/or stevia would also work just fine.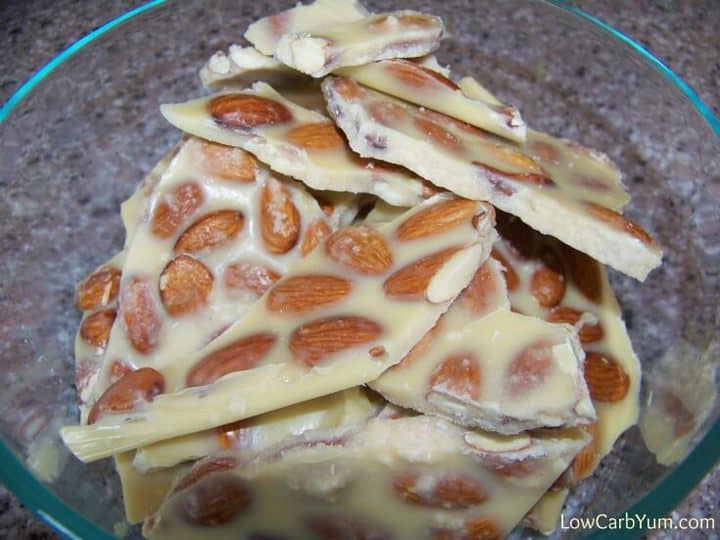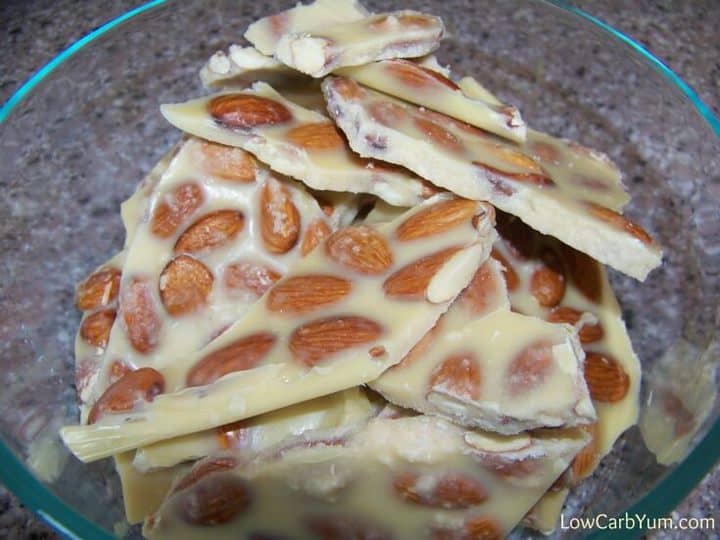 This low carb white chocolate almond bark is fine to store at room temperature, but I like to keep it cold in the refrigerator. If you don't like almonds, you can just leave them out and pour the melted cocoa butter mixture into molds.
UPDATE: I have modified this recipe slightly to make sugar free white chocolate bars. You can view that recipe here.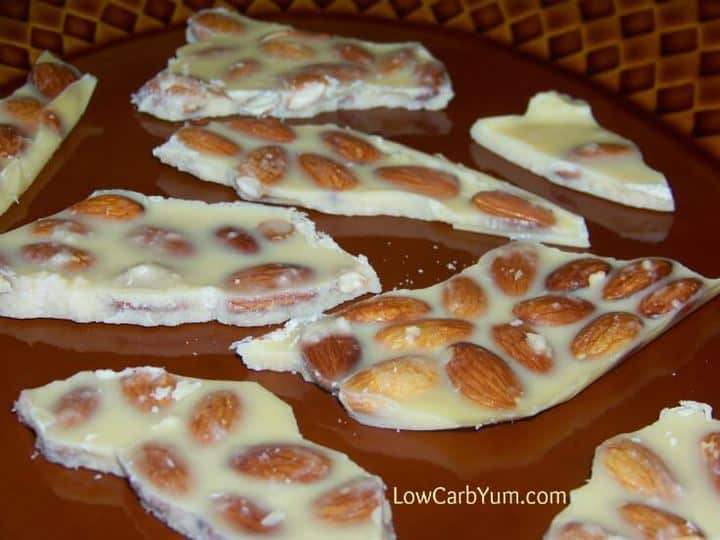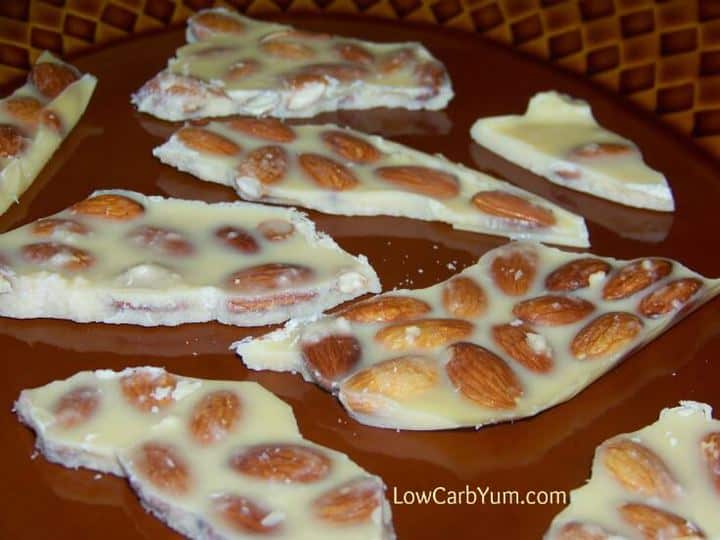 Sugar Free Low Carb White Chocolate Almond Bark
Author:
Lisa | Low Carb Yum
White chocolate is a candy I loved as a child. It was probably due to its intense sweetness. Here's a low carb version I created without all the sugar.
Instructions
Melt cocoa butter and sweetener together in microwave. Once melted, stir in vanilla extract and almonds.
Spread evenly on a jellyroll pan lined with plastic wrap (a little water can be added under the plastic wrap to keep it from sticking to the pan).
Refrigerate (or freeze) for until solid. Break into desired sizes.
Store covered in refrigerator or room temperature.
Notes
* NOTE: Xylitol has been shown to be toxic to pets so keep it away from animals if you have them

For improved texture, add a small amount of whole fat powdered milk (1/4 - 1/2 cup).

Makes 7 servings

Per serving: 386 calories, 32.4g fat, 7g carb, 4.2g fiber, 2.8g net carbs, 7.6g protein
Related Posts