If you are trying to use low-carb flour options, you might be considering the differences between almond meal vs. almond flour. Are they really that distinct, or can they be used in the same ways? Let's find out!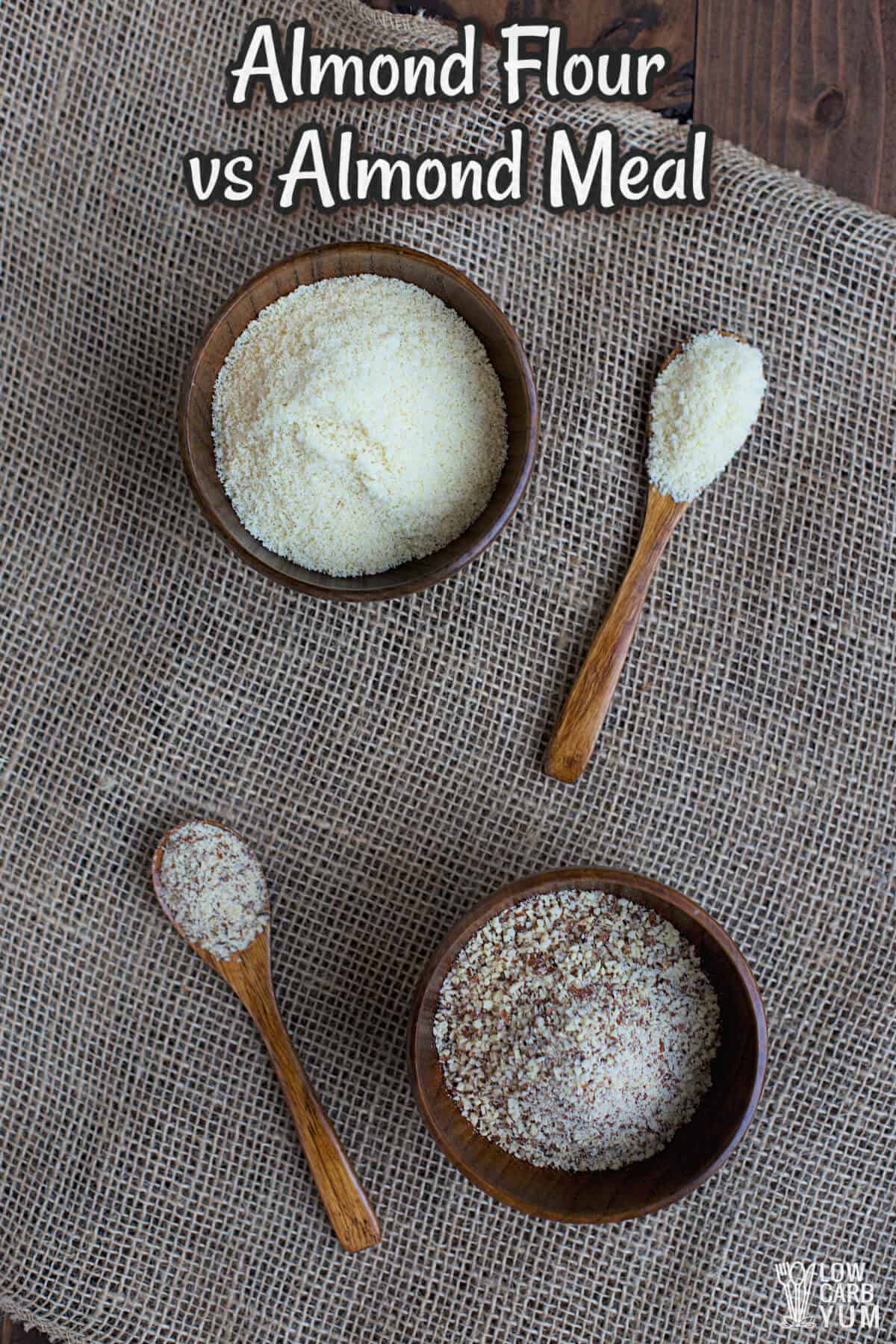 Article Index
Even if you are on the keto diet or are sensitive to grain, you can still enjoy flour-made foods! Both almond flour and meal are great options when it comes to replacing traditional flour. For their own reasons, they are solid alternatives for all kinds of delicious recipes!
Almond meal and almond flour are some of the best keto-friendly flour alternatives. Plus, they are very easy to work with. They aren't fussy like some grain-free flours, and they even taste pretty good too!
If you are looking into almond meal vs almond flour, this article might just be able to help you decide between the two.
Almond Meal vs. Almond Flour
Both almond meal and almond flour are made out of ground almonds - there are only very subtle differences between the two. However, depending on what you are using them for, even these slight differences can make a big impact on your recipes.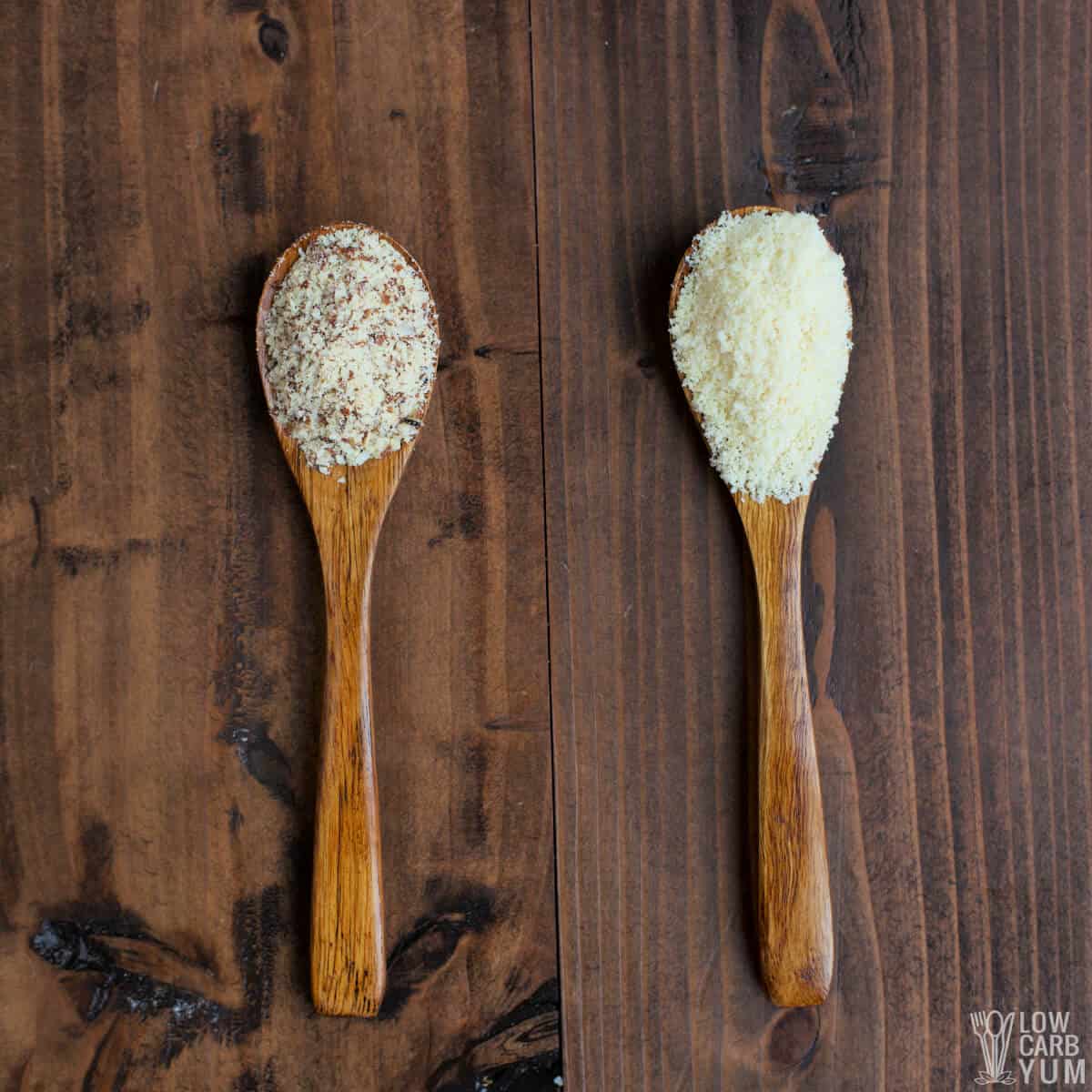 Both almond meal and flour are most often used in the place of flour made of grains. This makes them great for those with grain sensitivities or certain dietary restrictions.
They are also both rich in healthy fats (instead of carbs), which generally makes them a healthier option when it comes to flours.
What Is Almond Meal?
The main difference between almond meal and almond flour is that almond meal is coarser in texture. This gives it a slightly gritty consistency and makes it a rougher flour option.
Almond meal also still contains skins of the nuts, which can add to the texture and also make it appear darker in color than its flour counterpart. This is despite the fact that most of wat you'll find is blanched almond meal.
Like almond flour, almond meal is easy to find in the baking aisle of most stores. However, it is also sometimes also kept with gluten-free products, and away from any of the regular old wheat flour.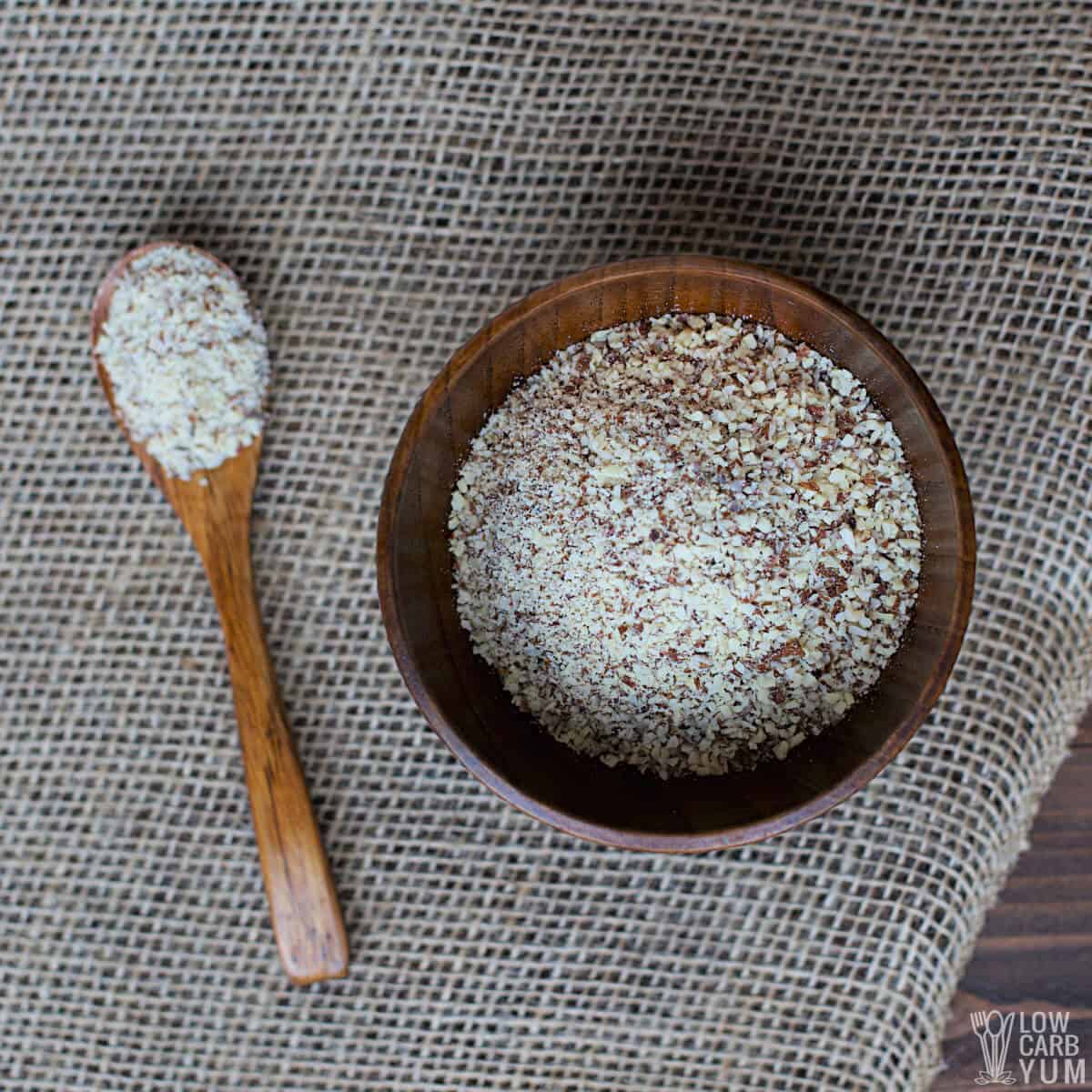 Pros:
Adds texture and bite to foods.
Has a lighter almond flavor.
Can be used in place of grain products, like breadcrumbs.
Cons:
Can make baked goods crumbly.
Has a less pleasing appearance.
Can contain chewy bits of almond skin.
How To Use Almond Meal
Almond meal is often used in baked goods such as cookies, bars, and quick loaves of bread. Because of its coarse texture, it is also used in the place of things like breadcrumbs or cornmeal. Because it is not as fine as flour, you can make almond meal yourself by putting blanched almonds into a food processor.
It adds a nice element of texture to foods that need a little something extra, and it can be used in both sweet and savory dishes.
It is especially good in cookies as it makes them chewy and more textured than plain flour cookies.
What Is Almond Flour?
When it comes to almond meal vs. almond flour, it comes down to a close call, but almond flour has some pretty distinct differences.
This flour is made out of blanched almonds that have usually had the skin removed. This creates a very light-colored flour alternative that blends in well with baked goods. It is processed differently than almond meal, making it a finer ground almond product.
Almond flour has a much lighter texture than the meal, which is more similar to actual flour. This texture specifically is what usually sets these two options apart. Certain foods can be better achieved with almond flour because it is much lighter and finer.
Most stores will carry flour made from almonds, so it's definitely a convenient alternative to grain-based flours.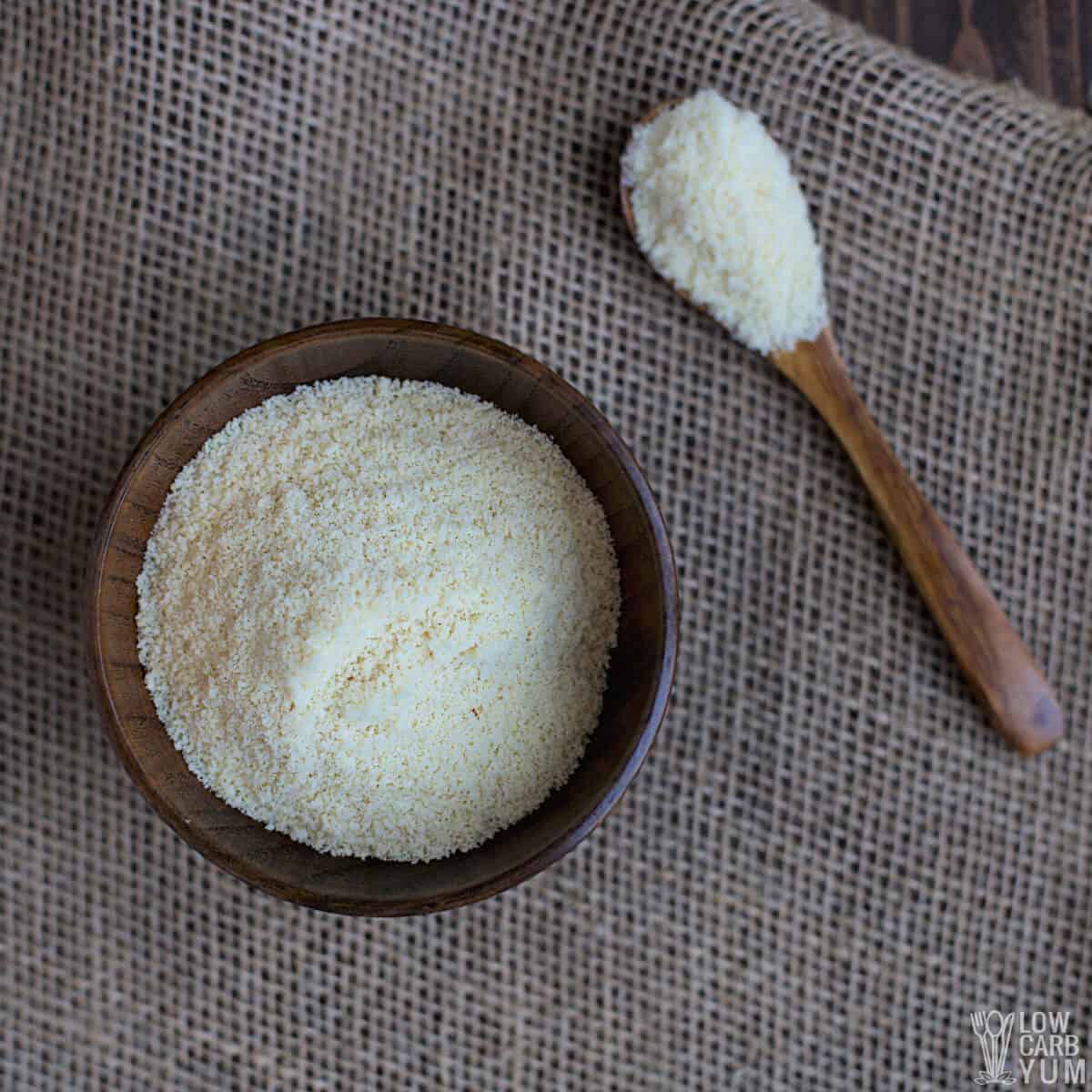 Pros:
Is readily available in most (if not all) stores.
Can be used for delicate and light baked goods.
Has a color similar to grain-based flours.
Cons:
Can have a strong taste of almond.
Is more expensive to buy.
Can't always be replaced with almond meal.
How To Use Almond Flour
Traditionally, almond flour is the main ingredient in french macarons as well as many other classic cookies. The light texture of almond flour makes it easier to work with and produces higher-quality baked goods.
You can create very realistic gluten-free bread with almond flour as well. It is the best alternative of the two for cakes and any kind of baked good that needs to be light and fluffy. Unlike almond meal, this flour does not weigh baked goods down or make them dense.
Almond flour is a great ingredient for making low-carb pancakes and is also a good substitute for cookie recipes as it creates a similar texture to those made with regular flour.
Frequently Asked Questions About Almond Meal vs. Almond Flour
Here are some frequently asked questions about almond meal vs flour. These can help you to better decide between the two options of keto-friendly flour alternatives.
Can I use almond flour in place of almond meal?
For the most part, you can use almond flour and meal interchangeably. Of course, this will depend on what you are using it for. Certain baked goods can substitute almond meal for flour (or vice versa), but sometimes it can change the recipe too much.
Because almond meal is coarser, it can usually be replaced with almond flour for a smoother result. On the other hand, if you replace flour with almond meal, your baked goods might come out dense. It all depends on the recipe itself.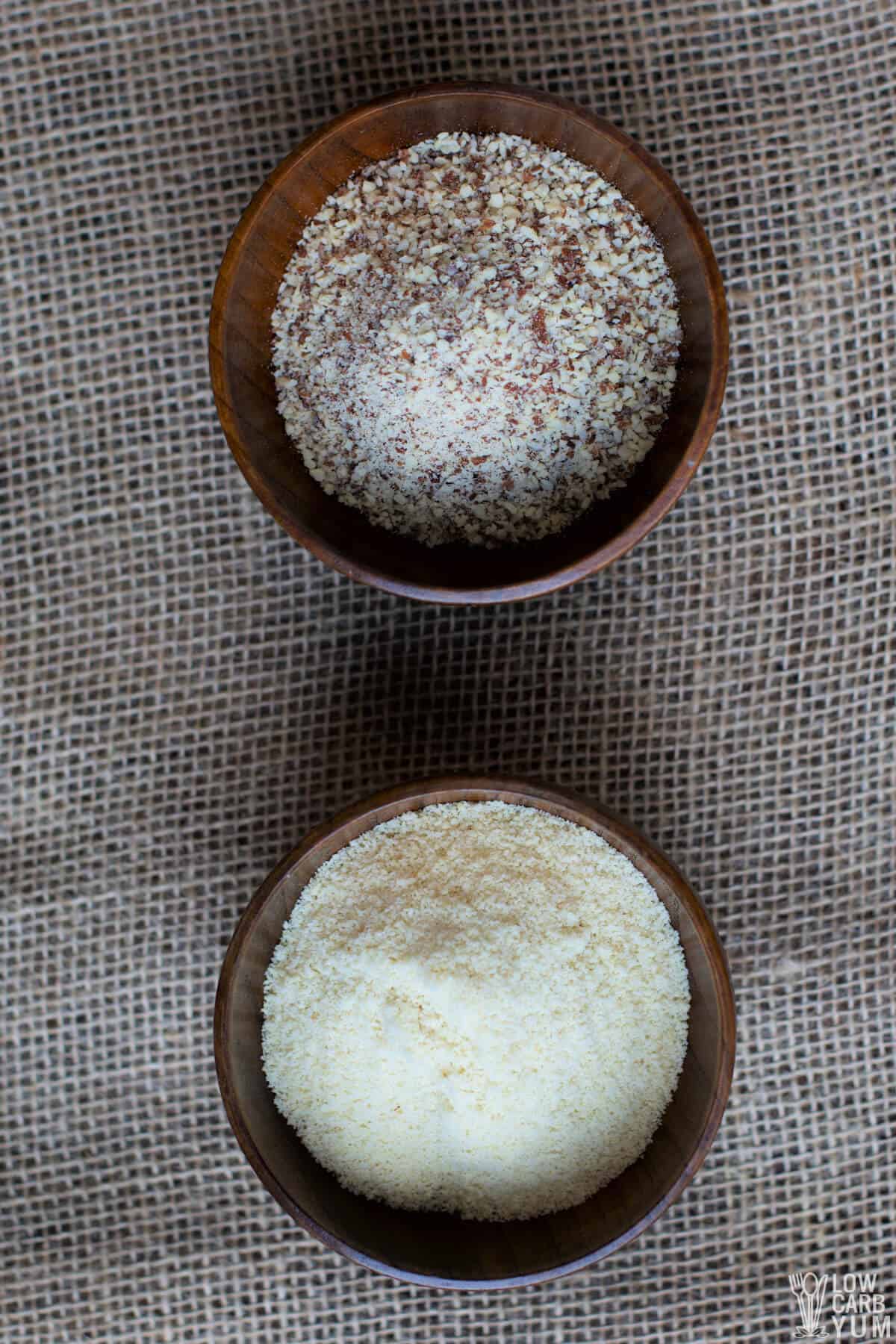 Does almond flour make things taste like almonds?
Since almond flour is literally just ground-up almonds, it does have that nutty flavor. This will often be detectable in recipes made with almond flour to a certain degree.
One way to avoid this is to use almond flour in recipes with strong flavors already. If almond flour is paired with a strong flavor, it will usually become much less noticeable.
However, even if you can taste the almond, it is a very mild flavor that goes well with most recipes.
Is almond flour keto?
Almond flour is one of the best keto options of flour because it is grain-free and low in carbs. Plus, it is high in good fats and contains a good amount of protein.
Almond flour is also a fairly easy alternative to work with and goes well in most recipes.
Is almond meal healthy?
This nut flour is a very healthy alternative. It is a low glycemic index food, grain-free, and full of monosaturated fat (one of the good kinds of fat)! It works well in the place of grain-based flours and tastes very good in many recipes.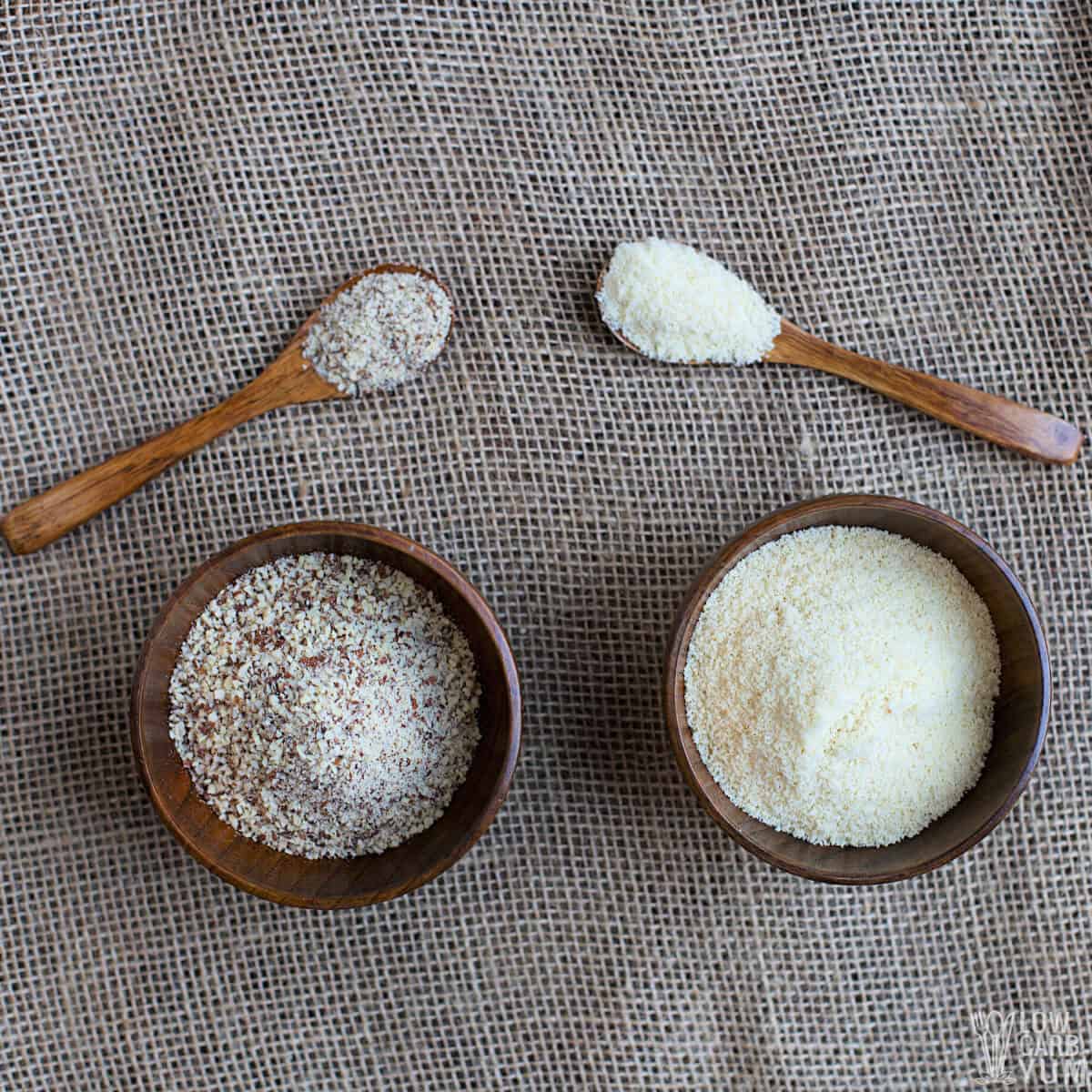 If you enjoyed learning about the differences between almond meal vs almond flour, try your hand out at some recipes that use them! Here are some great ones to choose from.
Almond Flour Recipes
Here are our favorite almond four recipes:
Almond Meal Recipes
Almond meal is not as used as frequently as almond flour. My favorite almond meal recipe is the Oven-Fried Green Beans. They use almond meal in place of breadcrumbs and make veggies so much more enjoyable to eat.
Follow us on FACEBOOK, PINTEREST, and INSTAGRAM for even more tasty keto-friendly recipes!