As you try to add variety to your ketogenic diet, you might wonder, are peas keto-friendly? Keep reading to find out more about these tiny green vegetables.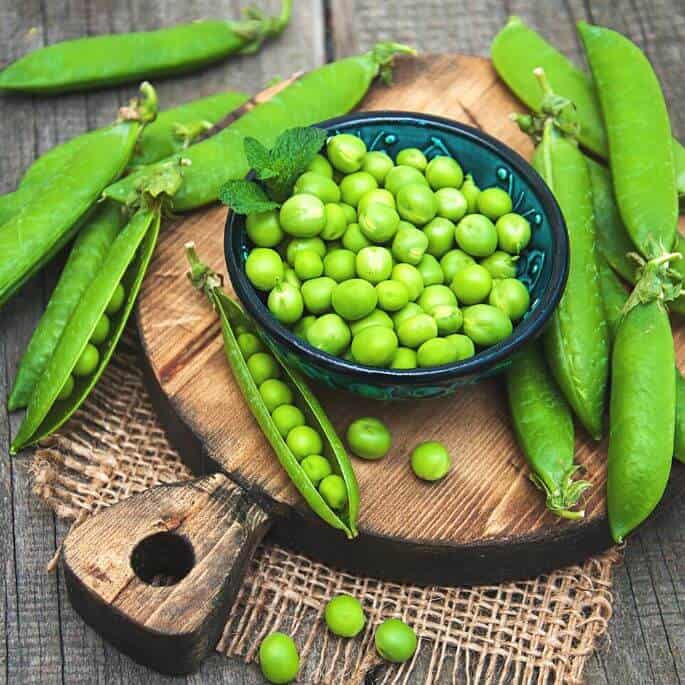 Article Index
When you are on the keto diet, one of the most essential things you pay attention to is the number of net carbs you eat. So let's see where little green peas fall with this in mind.
Green peas are okay on a low-carb diet in moderation. This is a tough decision because it all depends on your macros and how many peas you want to eat.
Generally speaking, peas have too many carbs to be enjoyed without counting your net carbs.
On low-carb diets, the net carb count is more important than the total carb count. To figure this out, you subtract the number of grams of dietary fiber from the total carbs. Many keto dieters only pay attention to net carbs.
So, are peas keto-friendly? In this guide, I'll explain how many net carbs are in peas, the different types of peas, and the different ways you can prepare them.
Note: For more information about keto-friendly vegetables, check out this keto food list. It's perfect for anyone that is starting the keto diet.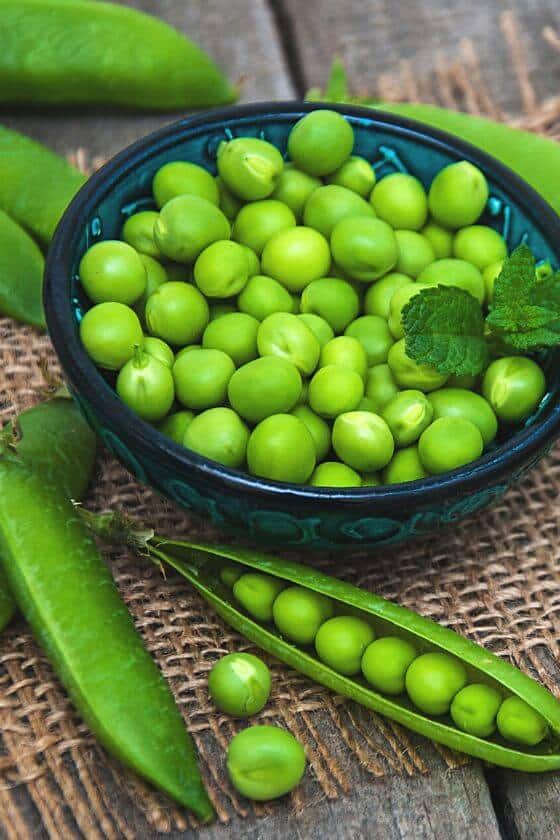 Types of peas
There are three specific types of peas. Most of them have very similar nutrition profiles but unique flavors and textures.
Sugar snap peas
Snap peas are a cross between snow peas and garden peas. They are sweet, and you can eat the entire pod. You can eat them raw or cooked.
There are tough strings outside of the pod that should be removed before you eat them. There are some varieties that you can grow or buy without the strings.
Green peas
Green peas are also called garden peas because they are the kind most commonly grown in people's backyards. Some people may call them sweet peas or English peas.
This variety of pea is the kind that is used in canned peas.
In order to eat green peas, you must remove the firm outer shell. It's safe and delicious to eat these peas raw or cooked.
Snow peas
Snow peas are also commonly called Chinese pea pods. You'll see the flat green veggies in Chinese stir fry recipes.
You can eat the entire pod, and people eat them cooked or raw. Sometimes you'll see them on a raw veggie platter.
Any of these peas can fit into a low-carb lifestyle as long as you control how much you eat!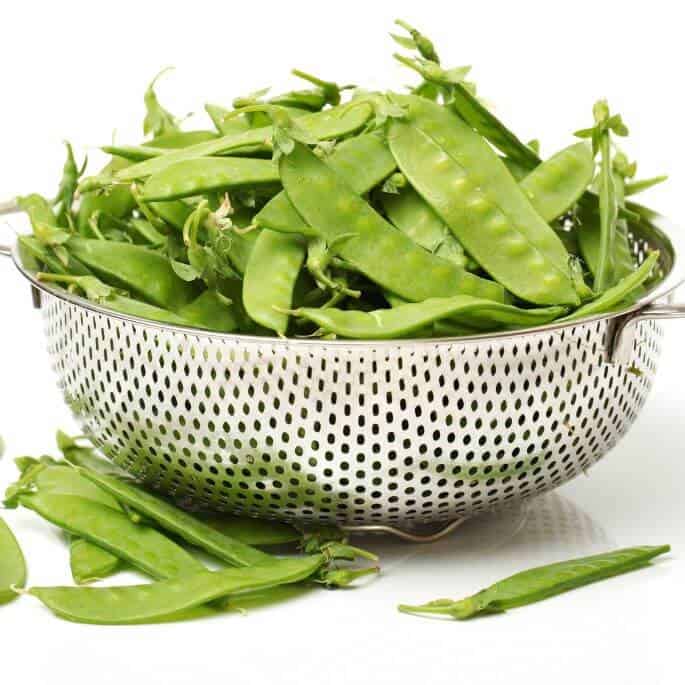 Are they keto?
Unlike some root vegetables (like potatoes), you can enjoy a small amount of peas on the keto diet. Moderate amounts of peas are a good choice for low-carb dieters. Not only this, but they are good for you too.
There are about 8.1 grams net carbs per ½ cup of cooked green peas. Compare that to starchy vegetables like sweet potatoes, which have 21 grams net carbs each!
If that is too many carbs for you, there are just 1.7 grams net carbs in 10 raw snap pea pods.
You'll have to decide whether you indulge in peas or omit them. Since they have quite a bit of carbs, I haven't used them in any of my recipes, but it's a safe option for you if you count your carbs.
The basic nutrition profile of all types of peas might vary a bit but are roughly the same. When it comes to carb intake, remember to track your net carbs, not total carbohydrates.
In a half-cup serving, there are:
11

grams total carbohydrates

4 grams fiber
62 calories
4 grams protein
34% daily value of vitamin A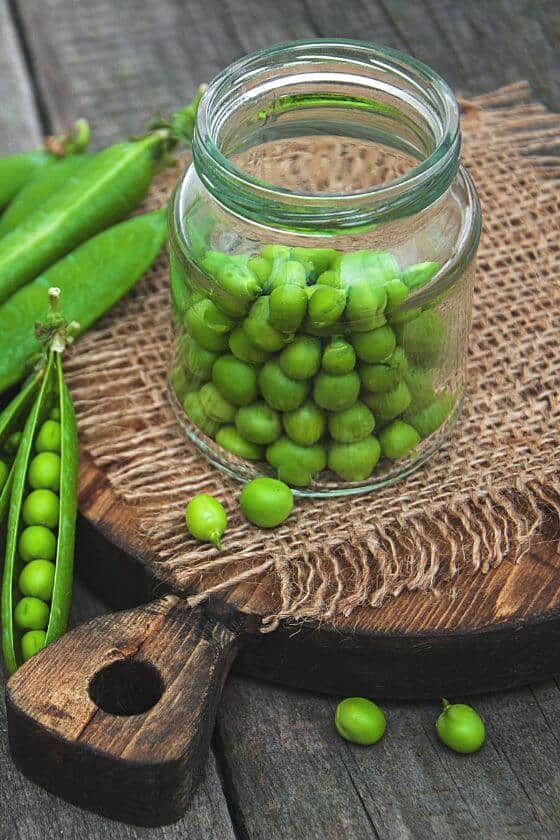 Health benefits
You can't deny the health benefits of green peas when it comes to different types of keto foods.
They are high in soluble fiber. With 4 grams of fiber, it helps keep the net carb amount lower.
Peas are nutrient dense. Vitamin A, K, and C all work together to boost and strengthen your immune system.
Natural source of energy. They are high in B Vitamins.
Ways to prepare peas
There aren't many keto-friendly pea recipes due to their seemingly high carb count compared to other types of vegetables. Even so, eating peas can be a part of a healthy diet.
Here are some of my favorite ways to eat peas in moderation!
Raw
All types of peas are safe to eat raw. When you eat them raw, you are ingesting more soluble fiber, which lowers the overall carb count.
Steamed
Steam some snap peas and sprinkle them with salt. About ¼ a cup of steamed snap peas won't add very many carbs to your meal.
Sprinkled on salad
Take ¼ a cup of raw green peas and sprinkle them on your salad. They will add a touch of sweetness and a different texture to the rest of your leafy greens.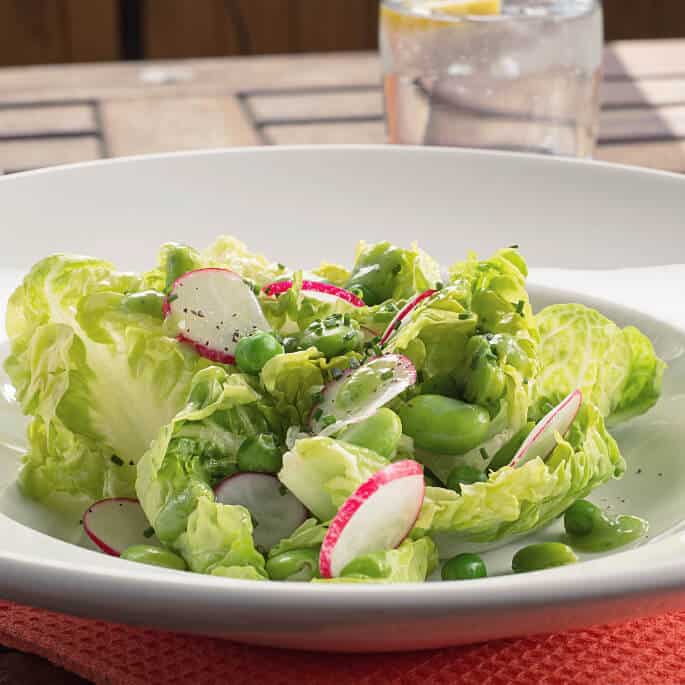 FAQs
Here are some questions people often ask about eating peas on the keto diet. If you don't see your question in this list, please leave it in the comments.
Are green beans and peas the same thing?
No, they are not the same thing. In fact, they aren't even in the same subgroup. According to the USDA, green peas are actually starchy vegetables.
What can I eat instead of peas on the ketogenic diet?
Green bell peppers are my favorite green vegetable to eat on the ketogenic diet.
Are canned peas keto-friendly?
Canned peas can be enjoyed on the keto diet in moderation. They are really high in sodium, so rinse them off before you eat them.
How many carbs are in peas?
There are between 7-8 grams net carbs in peas.
Are black-eyed peas and sweet peas the same thing?
They are not the same thing, but they belong to the same food family. They both belong to the peas and beans family.
Are peas a legume?
Some people think they are technically a fruit, but they belong in the legume family.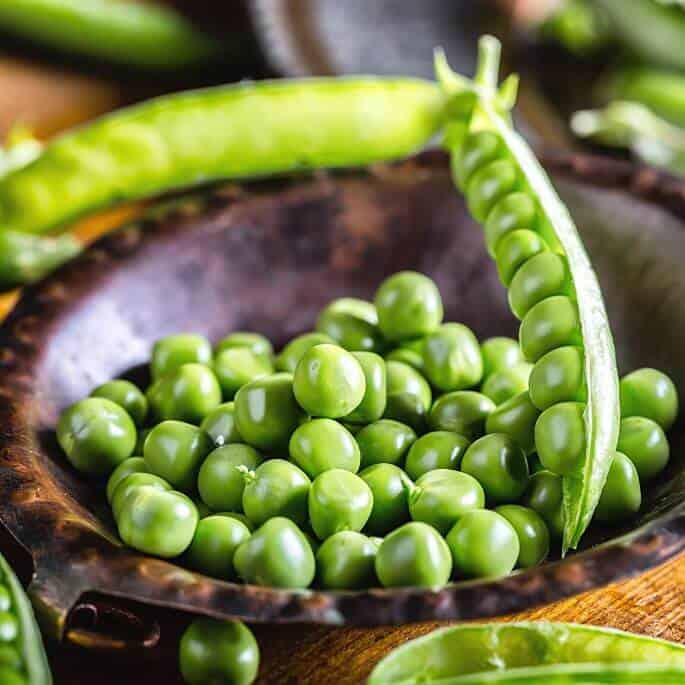 Recipes
Now that you know how peas fit into a keto diet, here are some keto recipes that use other types of vegetables. They all fit easily into a low-carb lifestyle.
Follow us on FACEBOOK, PINTEREST, and INSTAGRAM for even more tasty keto-friendly recipes!