This post may be sponsored or contain affiliate links. We may earn money from purchases made through links mentioned in this post, but all opinions are our own. We are a participant in the Amazon Services LLC Associates Program, an affiliate advertising program designed to provide a means for us to earn fees by linking to Amazon.com and affiliates sites.
A delicious low carb egg casserole with sausage that can make a weeks worth of hot breakfasts. Reheat a square serving for quick breakfasts on the go.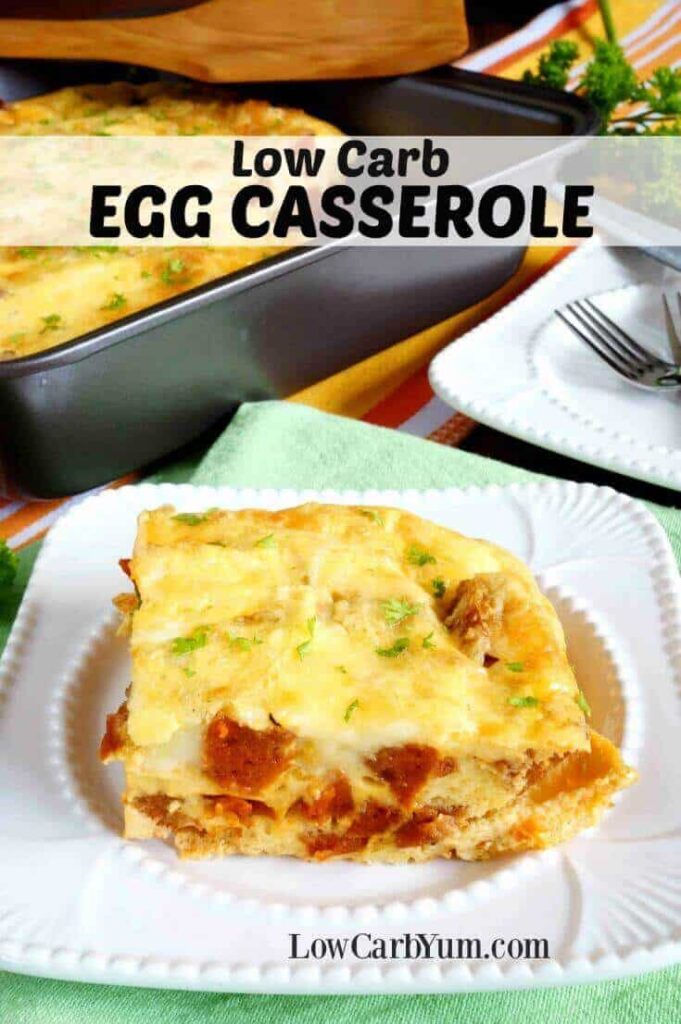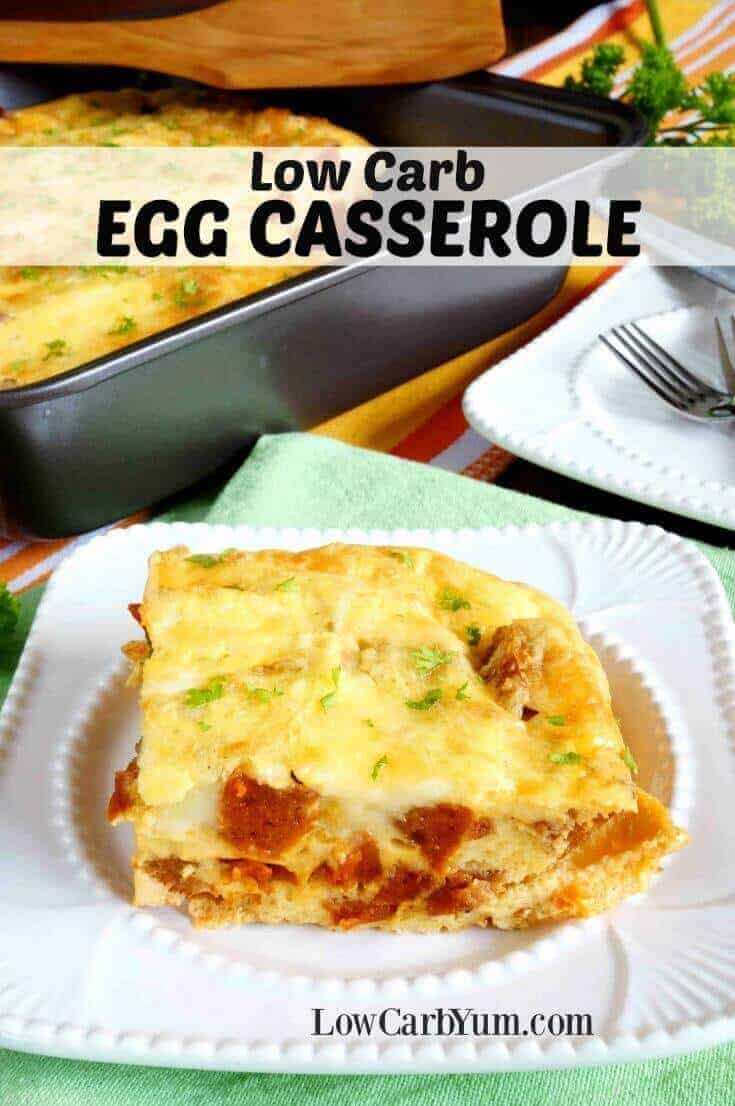 I love eating eggs in the morning, but I usually don't have enough time to cook them up before work. On the weekends, I usually make a plain omelette with cheese and serve it with bacon or sausage when I have time to cook breakfast.
Casseroles are favorites of mine because they make enough to eat leftovers for several days. This week, I made a basic low carb egg casserole that I could reheat for a quick breakfast at work.
I only put sausage and cheese in it along with coconut milk to keep the carbs low. But there are a lot of low carb items that could be added like mushrooms and onions.
So feel free to change up this yummy breakfast casserole to your liking. In fact, you can even omit the sausage and cheese and add in vegetables to make it a meatless paleo friendly meal.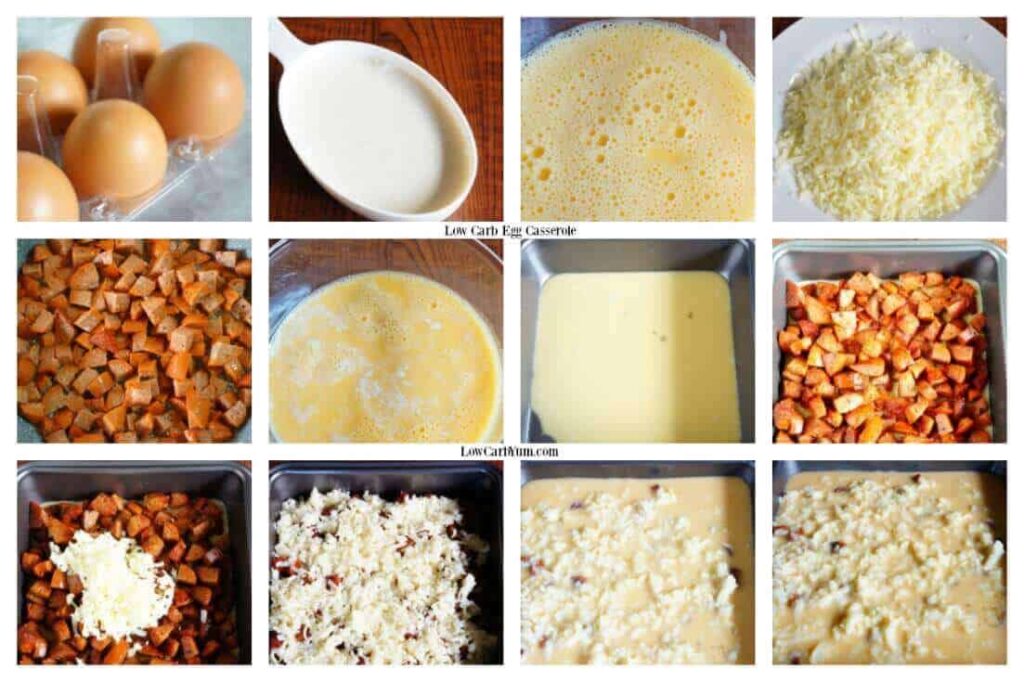 I used a half dozen large eggs in this low carb egg casserole. It was just the right amount to fit into a square 8×8-inch baking pan.
Although I chopped up sausage links, you can use a bulk sausage so yo won't have to chop up the links. I often make this with ground venison sausage made at our local butcher shop.
The breakfast casserole comes together quickly. It's a nice egg and sausage casserole without bread which is unlike many of the higher carb recipes.
You'll love the taste and the convenience of making an entire week's worth of breakfast at once. And, the slices freeze well too so you can have individual servings in the freezer for later.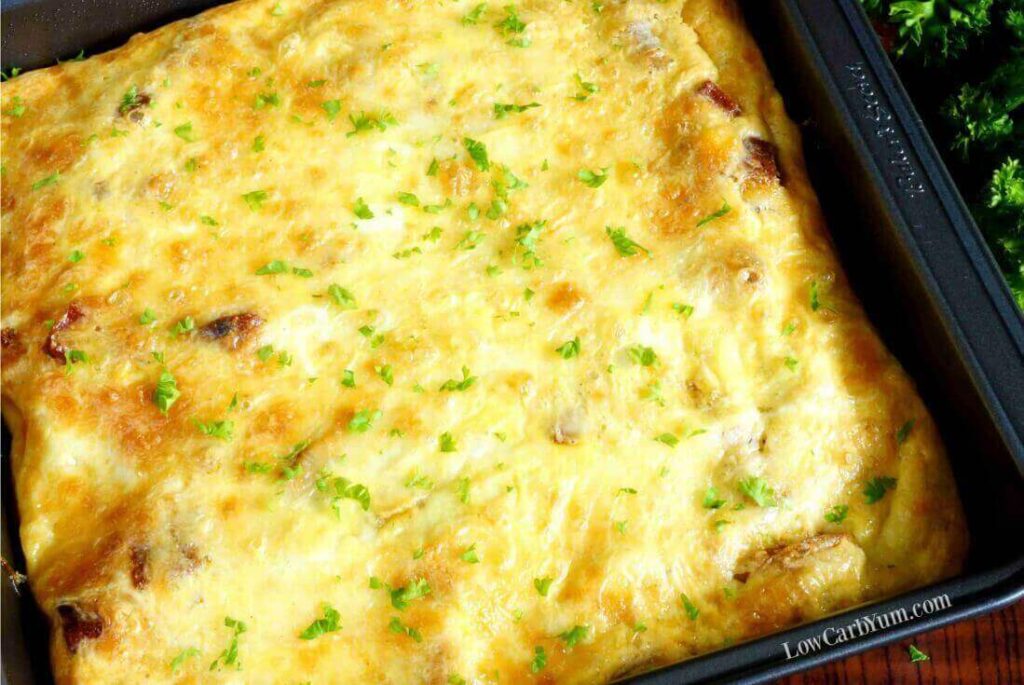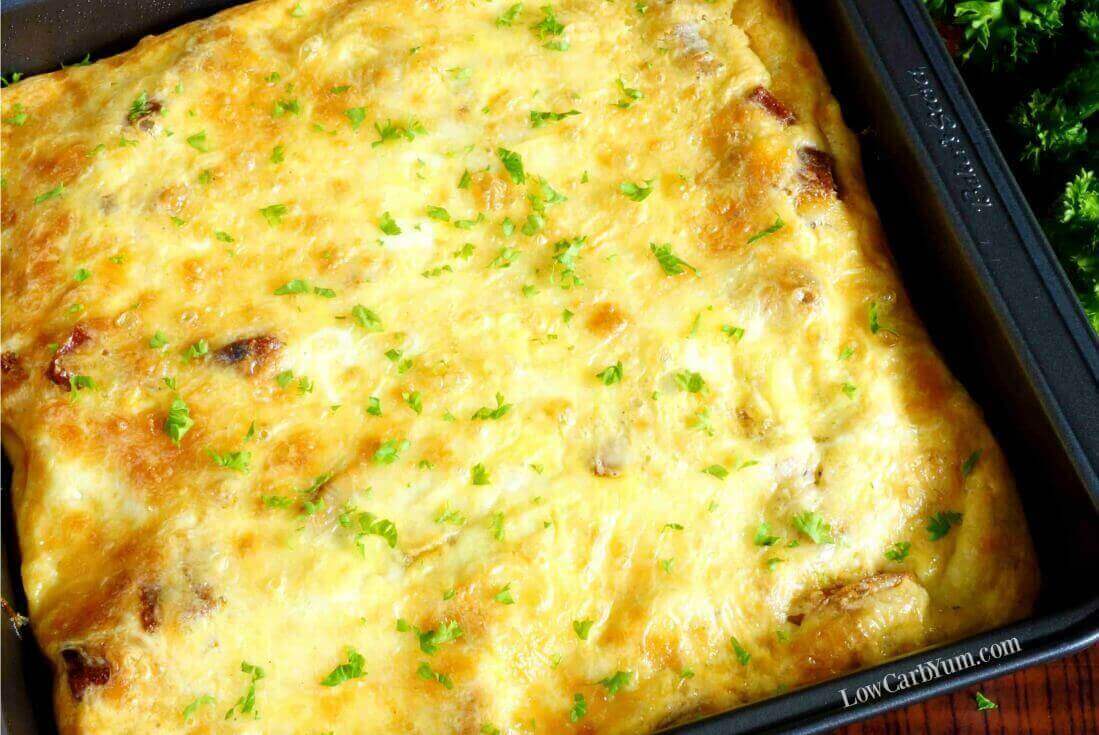 So if you're always on the run or work a lot of hours like I do, you'll love the simplicity of this low carb egg casserole. It's one of my favorite dishes to make up on the weekend.
In fact, this recipe is so easy, I felt a little silly posting it. It's basically just a big omelette mix dumped into a pan and baked. But, since it's a recipe I rely on, I wanted to share it with all of you.
There's really no right or wrong way to make the casserole. It's also a great way to get rid of dinner leftovers because you can just add them right in. I often do that with extra vegetables from the day before.
If you want to make up a larger batch, just double the recipe and cook the low carb egg casserole in a 9×13-inch baking pan. You'll have plenty to share with the rest of the family that way.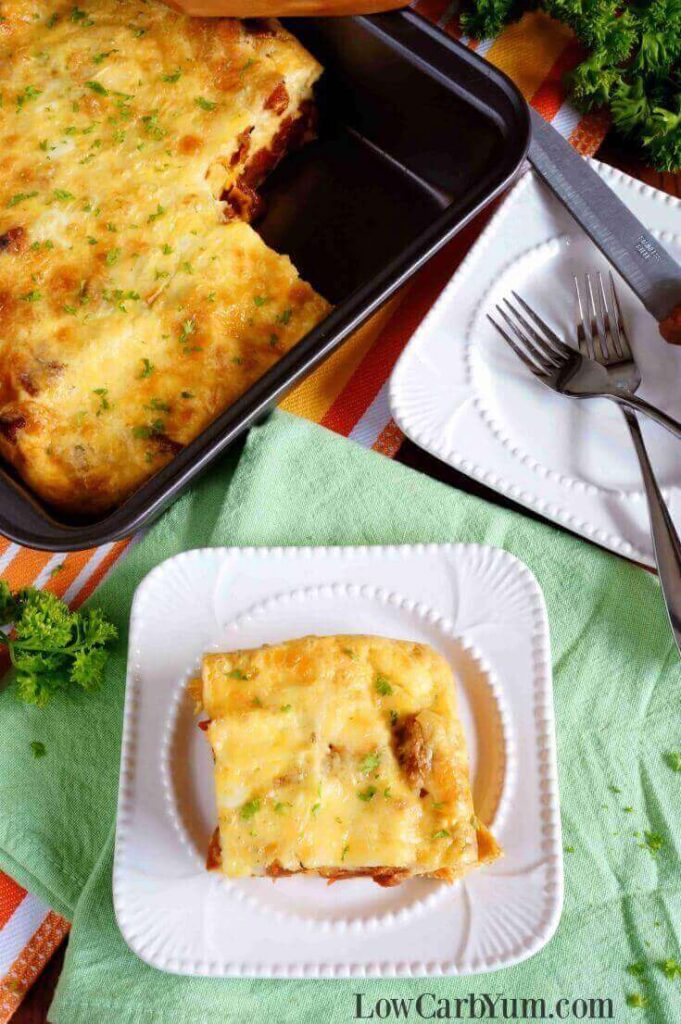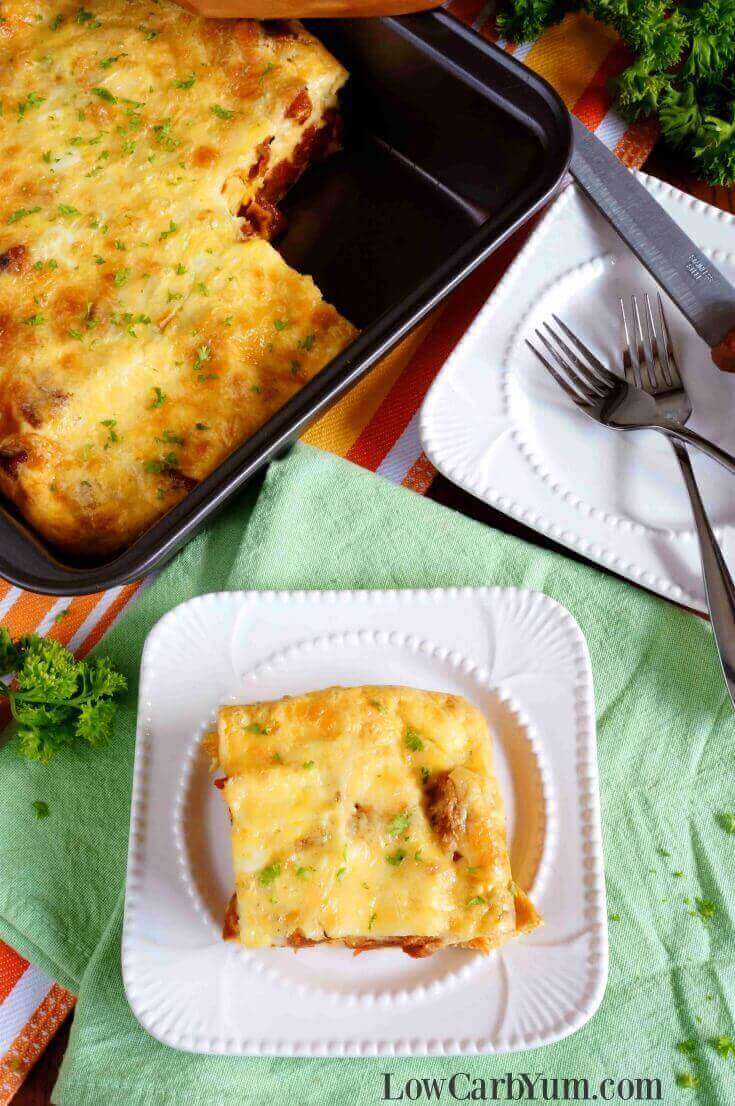 This easy egg and sausage casserole is also a nice dish to make for brunch. You can even slow cook it in a casserole crock pot which will also keep it warm while serving.
The 9×13 crock for my slow cooker is also oven safe. So, I can brown up the cheese with the broiler after it's done cooking if needed.
I hope you enjoy this delicious breakfast casserole as much as I do. For more easy morning meals on the go, try my bacon egg and cheese muffins or broccoli bake.
How to Make a Low Carb Egg Casserole without Bread
Easy Low Carb Egg Casserole Recipe with Sausage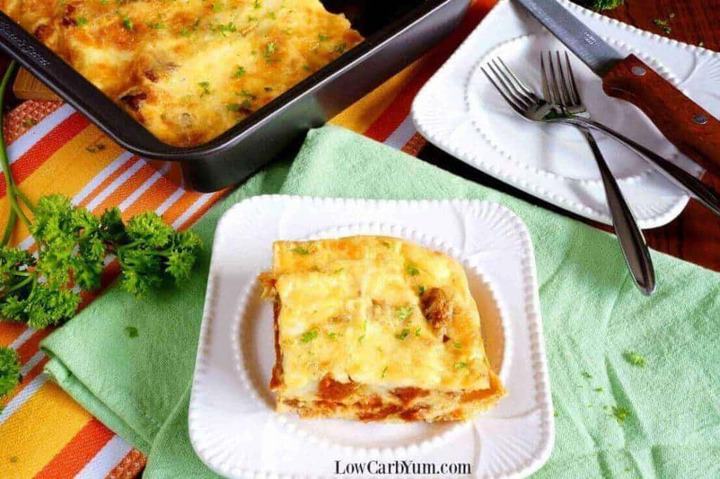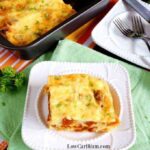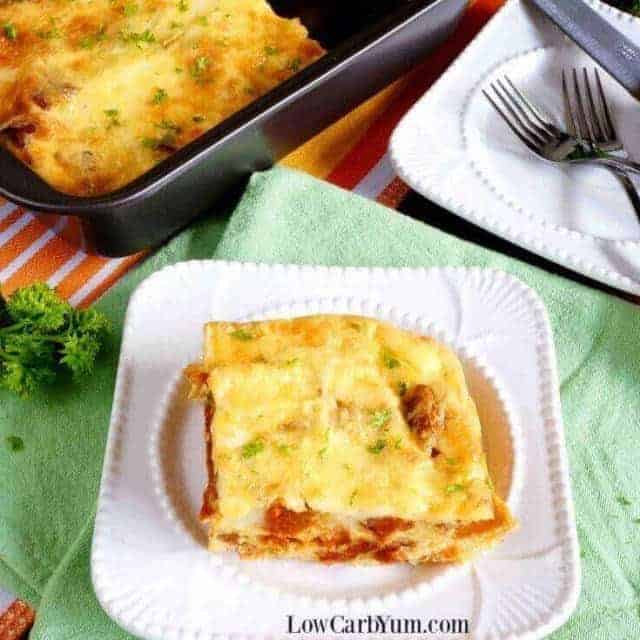 Basic Egg Casserole with Sausage
A delicious low carb sausage egg and cheese casserole that can make a weeks worth of hot breakfasts. Reheat a square serving for quick breakfasts on the go.
Ingredients
1

pound

sausage

bulk or chopped links

1

cup

coconut milk

2

cups

shredded cheese

6

large eggs

non-stick cooking spray

salt

pepper
Instructions
Brown sausage in frying pan until no longer pink.

Beat together eggs and coconut milk. Season with salt and pepper.

Spray 8×8 baking pan with non-stick spray. Pour a thin layer of egg mixture into pan and cover with sausage. Sprinkle with shredded cheese. Pour the rest of the egg mixture evenly over top.

Bake at 350 until brown on top. (about 20-30 minutes)
Recipe Notes
Makes 9 squares
Nutrition Facts
Basic Egg Casserole with Sausage
Amount Per Serving (136 g)
Calories 381
Calories from Fat 291
% Daily Value*
Total Fat 32.3g 50%
Cholesterol 193mg 64%
Sodium 650mg 27%
Total Carbohydrates 2.1g 1%
Protein 20.8g 42%
* Percent Daily Values are based on a 2000 calorie diet.
Related Posts