Many nuts and legumes are high in protein, but when it comes to nut butters, is peanut butter keto? Let's find out! This helpful guide will tell you everything you need to know - including the best alternatives you can eat.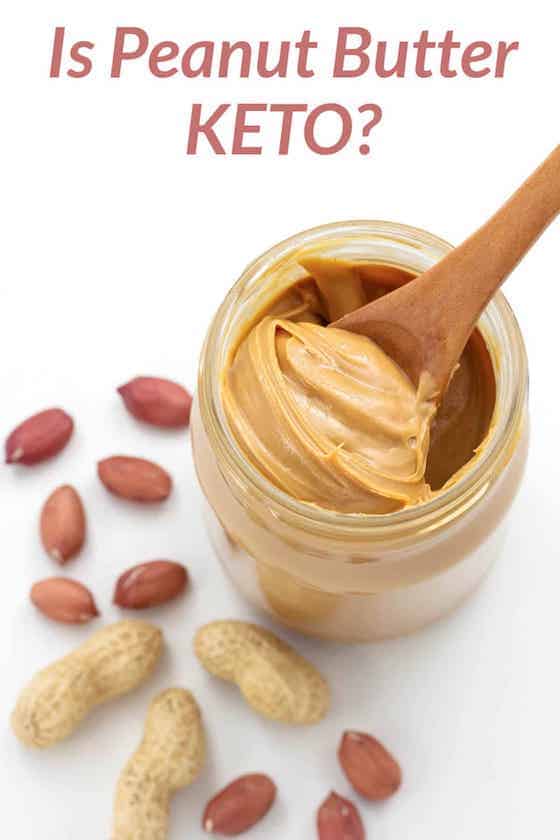 Article Index
It might surprise you that there is debate in the keto community about peanut butter. After all, isn't it a good source of protein?
It is, but unfortunately, it also has a lot of oils and salt. Many people say these other ingredients detract from the other benefits.
And yes, peanut butter is low in carbs, but it can also affect the rest of your macros. Plus, it's technically a legume yet treated as a nut.
In this guide, I'll discuss all the good and bad things about peanut butter so that you can make up your own mind about whether to eat it on a low-carb diet.
Benefits of peanut butter
There is a good bit of nutritional benefit to eating peanut butter. It is rich in essential nutrients such as:
Niacin
Magnesium
Sodium
Potassium
In fact, potassium is amazing for your heart health!
Peanut butter can aid in weight loss because it can be part of a satisfying snack that keeps you full in between meals. This means you will be more likely to stay within your daily carb limit.
It also has quite a few different types of healthy fats! Studies have shown that these types of fats do amazing things for our bodies, like lower blood pressure, decrease the risk of cardiovascular disease, and reduce "bad" LDL cholesterol.
Plus, it has a good source of vitamin E, which is fantastic for your hair, nails, and skin.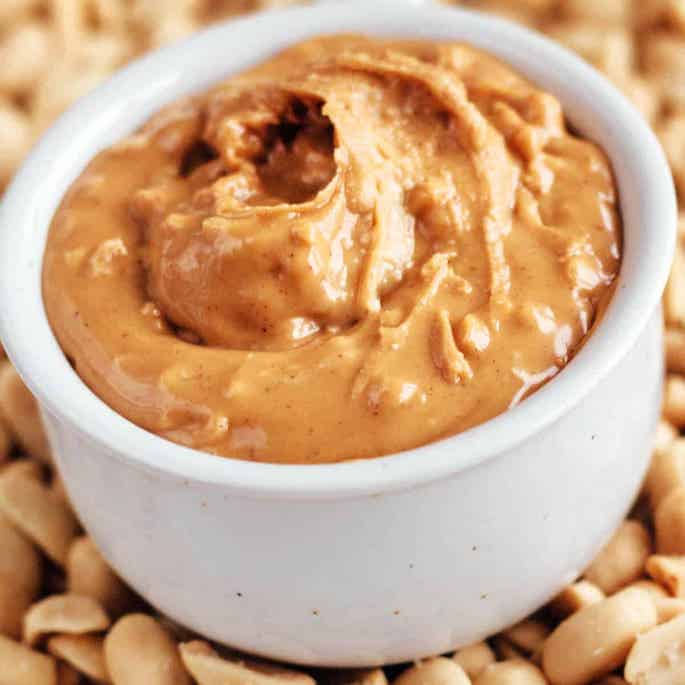 ⚖️ Negatives of peanut butter
As healthy as peanut butter is for you, there are also some downsides to it. This is why there is so much debate about whether it is low-carb!
In addition to the healthy fats, peanut butter also has a lot of hydrogenated oils in it. These are unhealthy fats because, just like trans fats, they are proven to increase the risk of diseases.
If you eat too many hydrogenated oils and trans fats, you are at a higher risk for:
Heart disease
Cancer
Inflammation
Gut issues
Peanut butter is also so delicious that it is easy to eat too much of it!
There are 5 grams of net carbs in 2 tablespoons, so staying within your daily carb limit can be tough if you really love peanut butter.
Finally, it is high in oxalates which are called "anti-nutrients," because too much can actually inhibit the retaining of nutrients. So, if you eat too much peanut butter, the oxalates in it could prevent your body from digesting much-needed nutrition.
Peanut butter carbs and nutrition
This is how many carbs and other macros are in two tablespoons (32 grams) of peanut butter:
Calories: 191
Protein: 7 grams
Fat: 16 grams
Total carbs: 7 grams
Fiber: 2 grams
Net carbs: 5 grams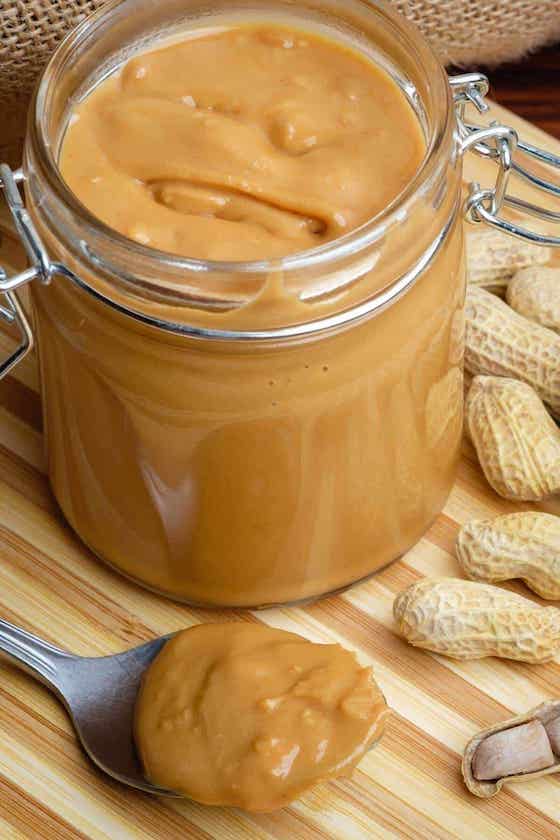 Is peanut butter keto?
Yes, I believe that peanut butter is keto-friendly, as long as you eat it in moderation.
I always try to use natural peanut butter. When the only ingredients are roasted peanuts and salt, you know you have a healthy brand.
You can buy a no-stir variety if you don't like stirring the peanut butter all the time.
The most important thing is buying a type of peanut butter with as few ingredients as possible!
Since there are 5 grams net carbs in 2 tablespoons, I suggest eating peanut butter sparingly. You can incorporate a little into your regular diet so easily. Or, add a spoonful to a smoothie or use it as a minor ingredient in your recipes.
️ Keto peanut butter substitutes
If you want to avoid peanut butter on the keto diet, then here are some other types of nut butters you can use instead. All of them can be used in a simple 1:1 replacement!
Almond Butter
Almond butter is thicker than peanut butter and has a grainier texture.
In 2 tablespoons, there are:
6 grams of total carbs
3 grams of net carbs
6.8 grams of protein
18 grams of fat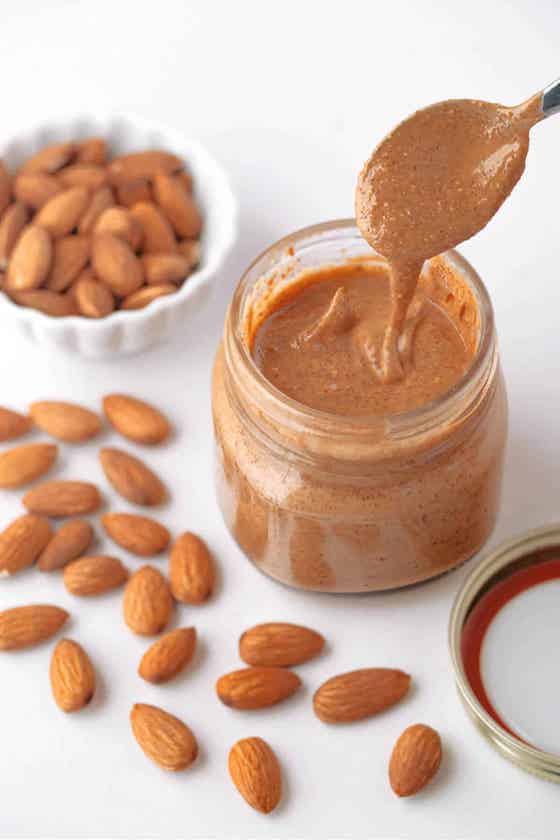 Cashew Butter
Cashew butter has a smoother consistency and a slightly sweeter taste. It is also higher in carbs than peanut butter.
In 2 tablespoons, there are:
10 grams total carbs
9 grams net carbs
6 grams of protein
16 grams of fat
Macadamia Nut Butter
One of the best types of nut butter on a keto diet is macadamia nut butter. In 2 tablespoons, there are:
4 grams of total carbs
2 grams of net carbs
4 grams protein
20 grams fat
Hazelnut Butter
Do not confuse this with Nutella!
Hazelnut butter is basically hazelnuts pureed with oil and salt. In 2 tablespoons, there are:
6 grams of total carbs
3 grams of net carbs
4.4 grams protein
18.2 grams fat
Sunflower Seed Butter
Sunbutter is a delicious peanut butter alternative. In 2 tablespoons, there are:
7.4 grams total carbs
5.4 grams net carbs
5.6 grams of protein
16 grams of fat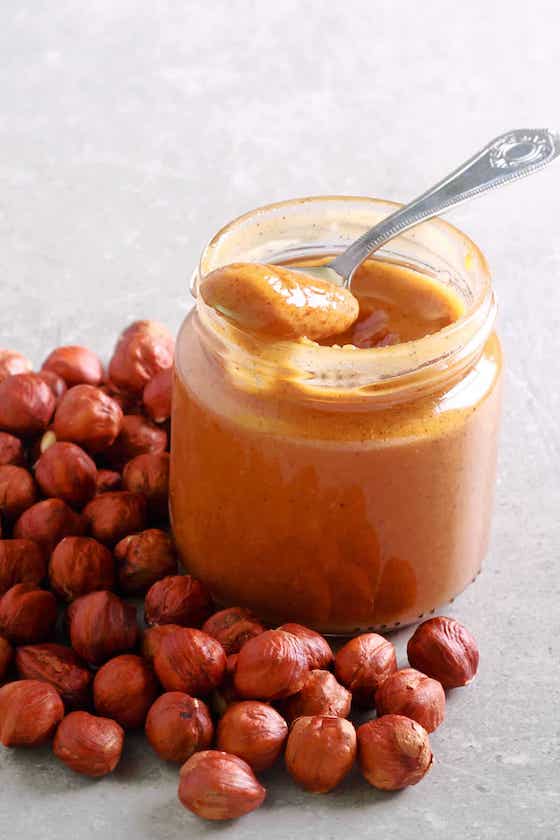 FAQs
Here are some questions people often ask about peanut butter on the keto diet. If you don't see your question in this list, please leave it in the comments.
What brand of peanut butter is best for keto?
My favorite keto peanut butter brands are:

- Teddie All Natural Peanut Butter
- Trader Joe's Peanut Butter
- Smucker's Natural Creamy Peanut Butter
- 365 Everyday Value Creamy Peanut Butter.

Always read the ingredient labels and avoid anything with added sugar.
Is Nutella keto-friendly?
Nutella is a hazelnut spread, not hazelnut butter. It is made with a lot of sugar. So no, Nutella is not keto-friendly!

However, my hazelnut frosting recipe is low-carb and tastes just like Nutella!
What are fat bombs on keto?
Fat bombs are small snacks that have a substantial amount of fat in them. They are used after a workout to repair muscles or in between meals to help people feel full.

Lots of fat bombs are made with peanut butter, nut butter, or cream cheese.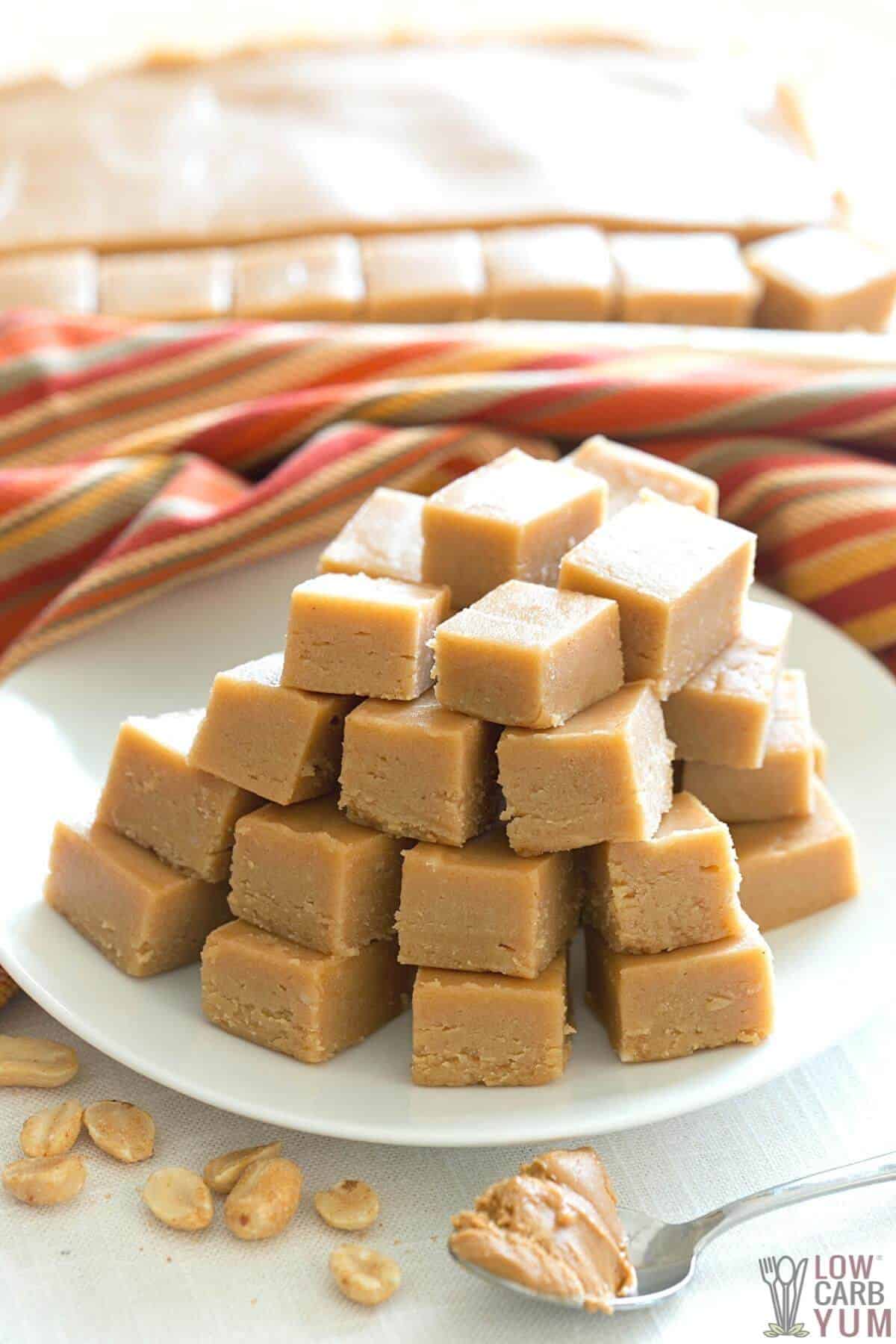 Low-carb peanut butter recipes
Now that you know all about healthy peanut butter on a ketogenic diet, here are some of my favorite low-carb snacks that use it. They are all high-fat and low-carb:
Follow us on FACEBOOK, PINTEREST, and INSTAGRAM for even more tasty keto-friendly recipes!