Low-calorie seafood like shrimp is a favorite for health-conscious eaters. But is shrimp keto diet approved? I'm sharing all you need to know about this yummy crustacean, with macronutrients, health benefits, and low-carb recipes.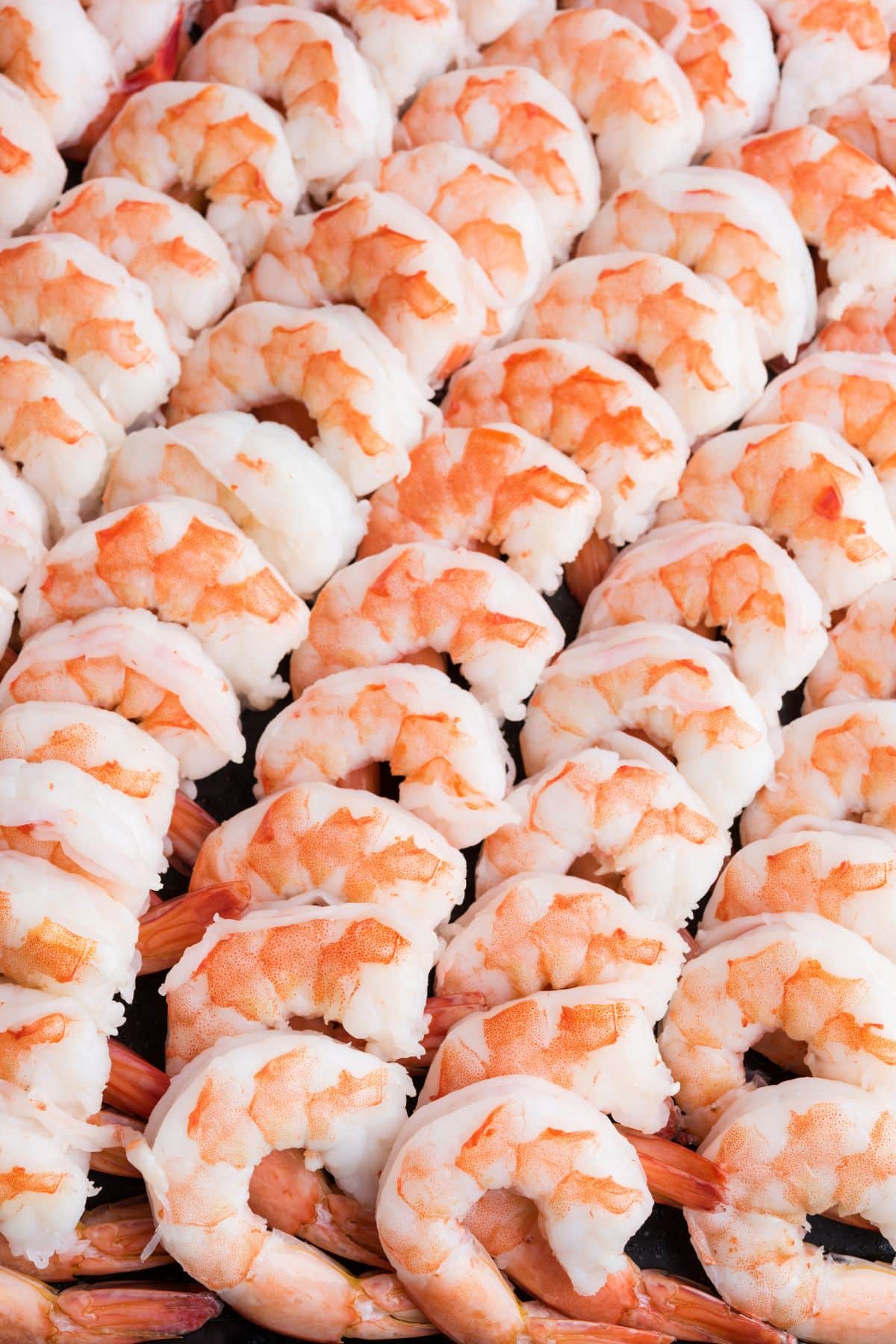 Keto dieters know – "health food" doesn't always equal keto food.
No matter how seemingly healthy a food may be, its macronutrients may not work for a keto diet. We see this often with high-carb fruits and vegetables; just two bananas could kick you out of ketosis!
But what about fan-favorite seafood? Is shrimp a keto food?
Often loved for its low-calorie count, significant protein content, and meal versatility, shrimp can definitely be part of a healthy diet. To see if it can fit into a keto diet, however, we'll need to take a closer look.
In this post, I'm investigating this tasty shellfish to determine whether or not you can eat it on a ketogenic diet. I've also included yummy low-carb recipes and shrimp nutrition facts for you to explore.
Note: To find more keto-approved foods, check out my keto food list. It's perfect for anyone starting the keto diet.
Is shrimp keto diet approved?
Seafood fans can rest easy – shrimp is most definitely keto-approved.
This low-calorie food contains nearly no carbohydrates, with just 0.2g net carbs per 100g serving. In other words, you can eat shrimp freely on a keto diet.
That being said, you should note that shrimp is high in cholesterol. Those watching their cholesterol levels should eat shrimp in moderation!
Try adding yummy shrimp-based recipes to your weekly meal plan like sheet pan shrimp fajitas, chicken and shrimp stir fry, or coconut shrimp.
Shrimp nutrition facts
Shrimp is great for a keto diet because of its macronutrients. Nutrition information for 100g of cooked shrimp includes:
Total carbs – 0.2g
Net carbs – 0.2g
Fat – 0.3g
Protein – 24g
Fiber – 0g
There are also several health benefits to including shrimp in your diet! Reported health advantages of eating shrimp include:
Nutrient-rich in iodine, antioxidants, and omega-3 fatty acids
Good source of protein
May strengthen brain health
May reduce the risk of heart disease
Keto shrimp recipes
Ready to give shrimp a try in your weekly meal rotation? Try any of these delicious shrimp keto meals. Each one is easy to make, nutritious to eat, and low in carbohydrates.
1. Crock-pot shrimp scampi
If you're looking for a super easy "dump and go" meal, you need to try my slow cooker shrimp scampi! Simply "dump" your ingredients into a crock pot, set your timer, and leave it to cook.
This recipe calls for simple, whole ingredients like raw shrimp, chicken broth, and white cooking wine.
Tip – This is a great way to use any frozen shrimp you have on hand!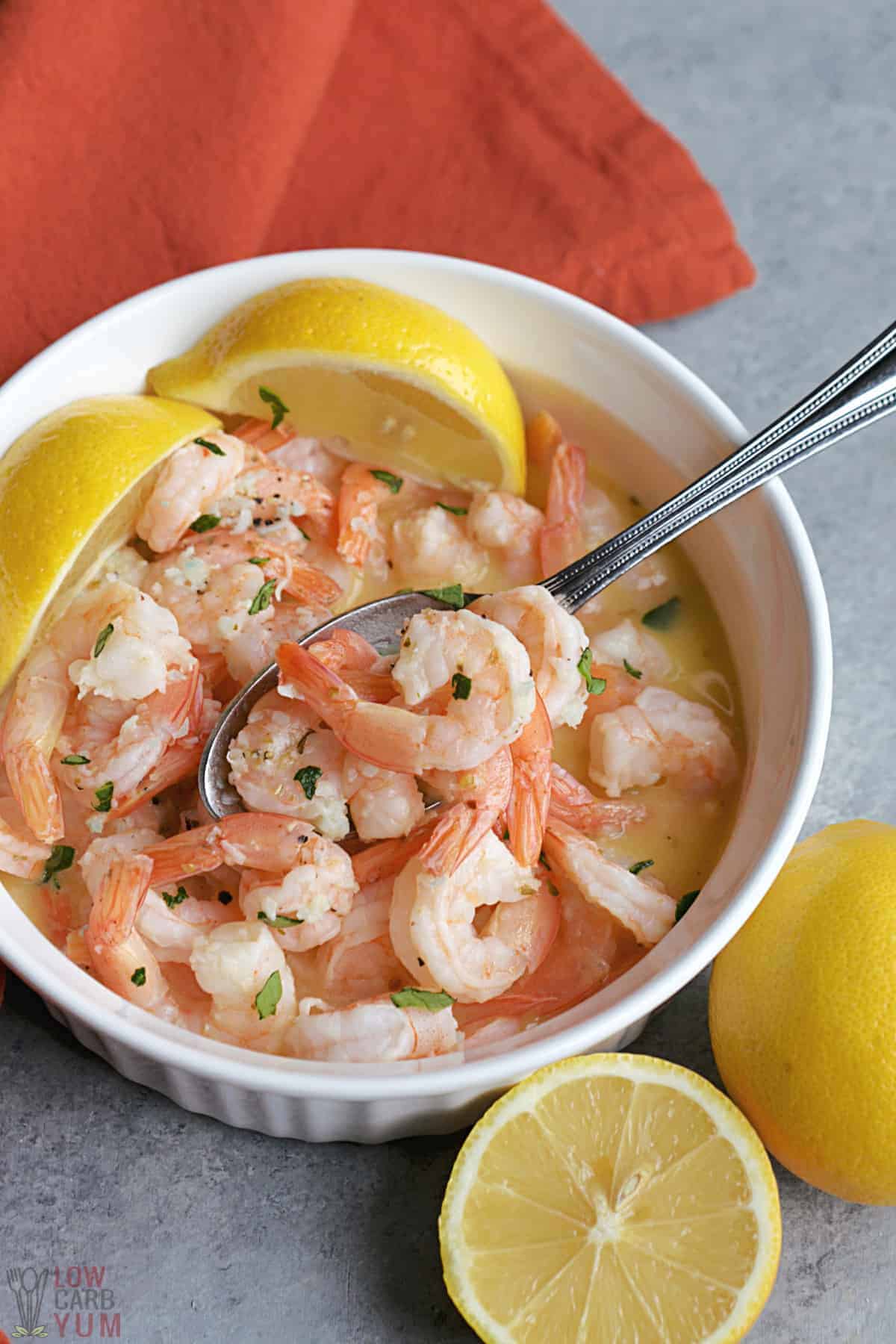 2. Grilled shrimp kabobs
My shrimp kabob recipe is made with fresh additions like lemon juice and olive oil that really let the ingredients shine.
This keto shrimp recipe combines juicy shrimp with low-carb vegetables for an amazing summertime meal.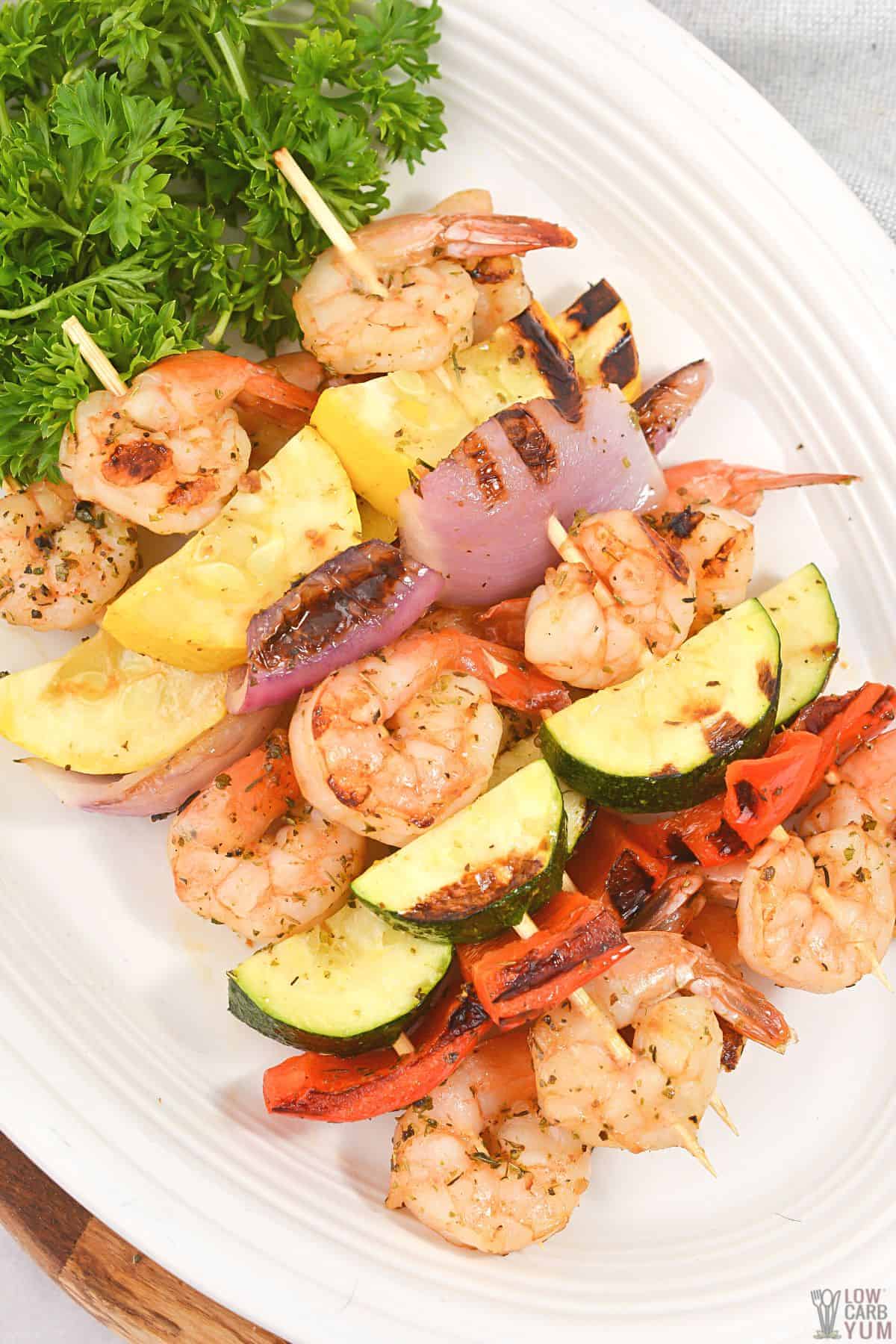 3. Keto bang bang shrimp
This keto-friendly bang bang shrimp recipe is a Bonefish Grill copycat that is even tastier than the original!
And homemade low carb bang bang sauce takes this crispy fried shrimp to new levels.
Tip – Add parmesan cheese to your pork rinds for more flavor and fat content.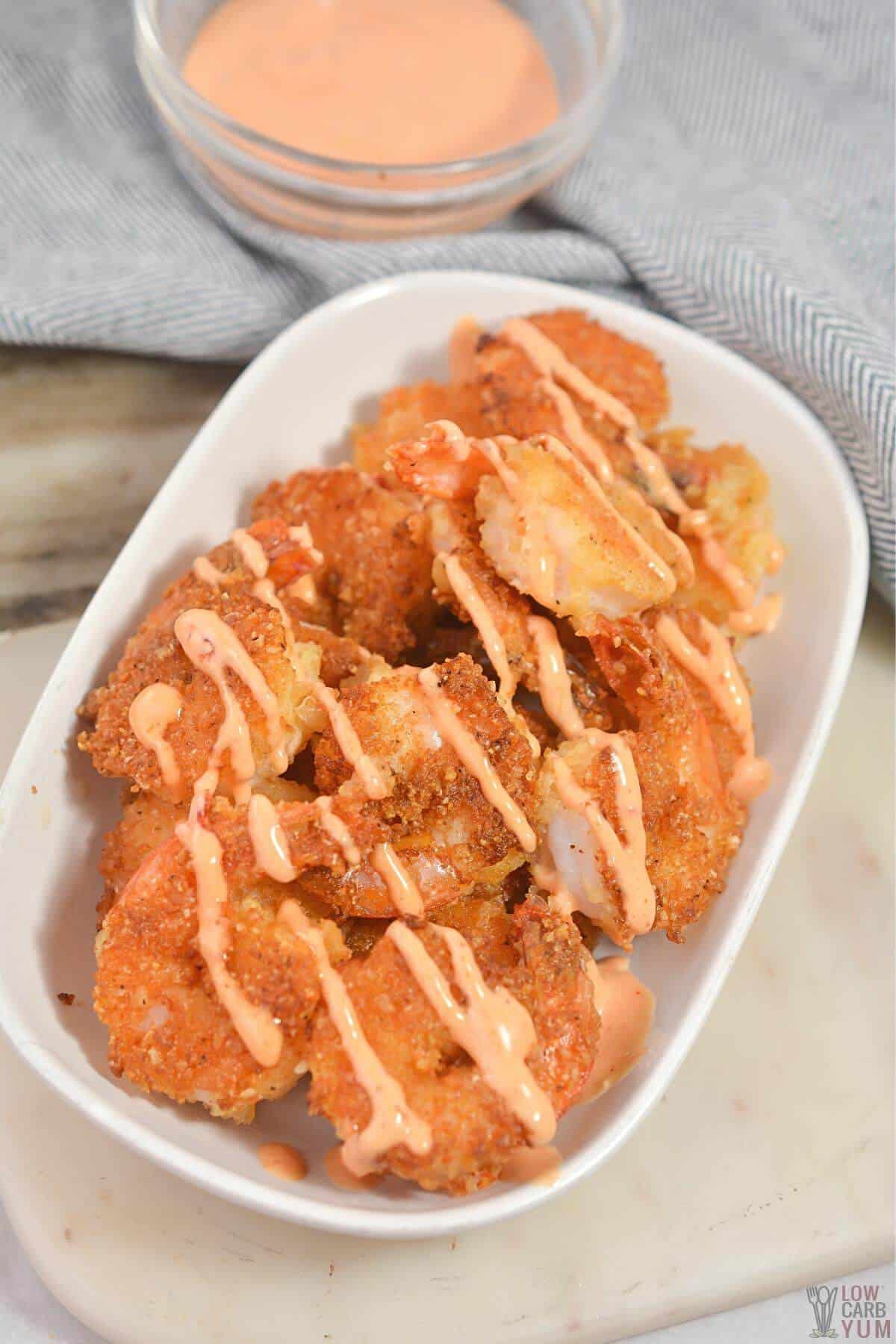 4. Keto gumbo with shrimp and sausage
My shrimp and sausage gumbo is incredibly hearty, with cajun-flavored broth, andouille sausage, and okra.
There's nothing more comforting than a big bowl of this spicy gumbo!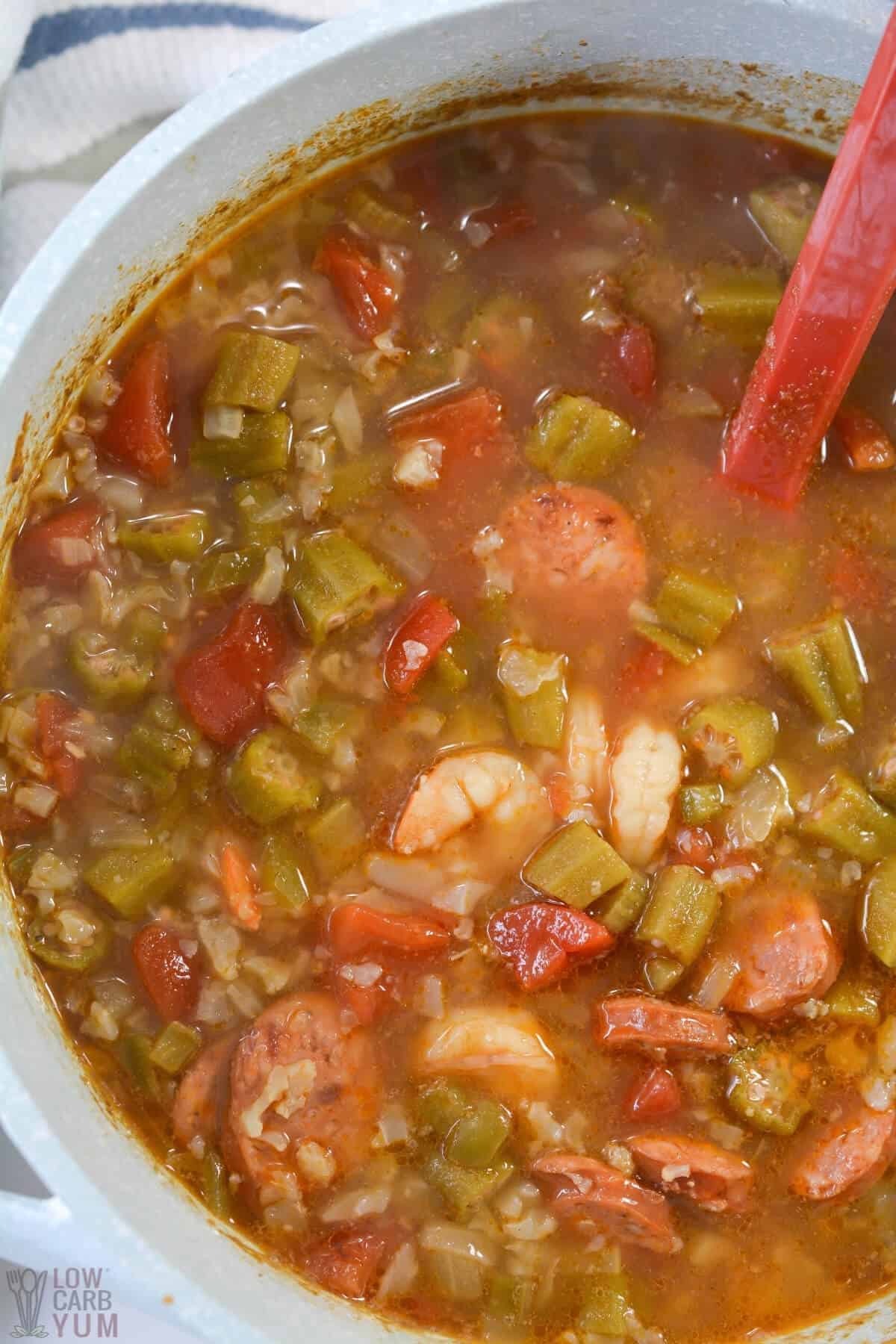 6. Shrimp spaghetti squash alfredo with broccoli
Love pasta but don't love the excess carbohydrates? Try my recipe for shrimp spaghetti squash alfredo!
This low-carb meal contains very little prep work and is super creamy and satisfying to eat.
Decadent additions like parmesan cheese, butter, and cream cheese give this recipe great fat content and tons of flavor.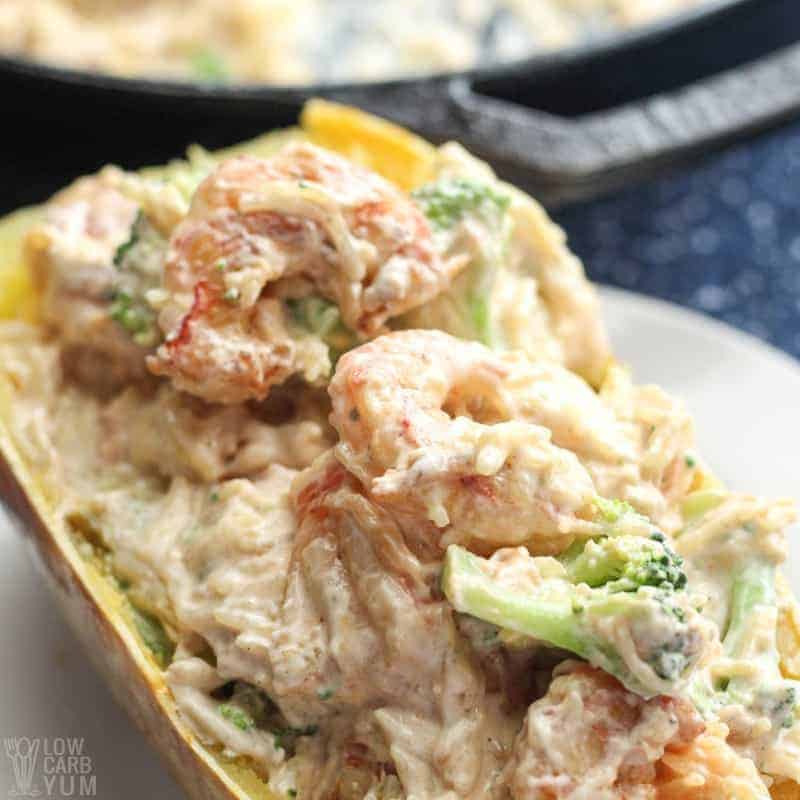 7. Keto shrimp boil
This keto shrimp boil is hearty and delicious, made with low-carb veggies like cauliflower, yellow squash, and onion.
Serve it with a thick piece of buttered keto bread; this combo will make your belly happy!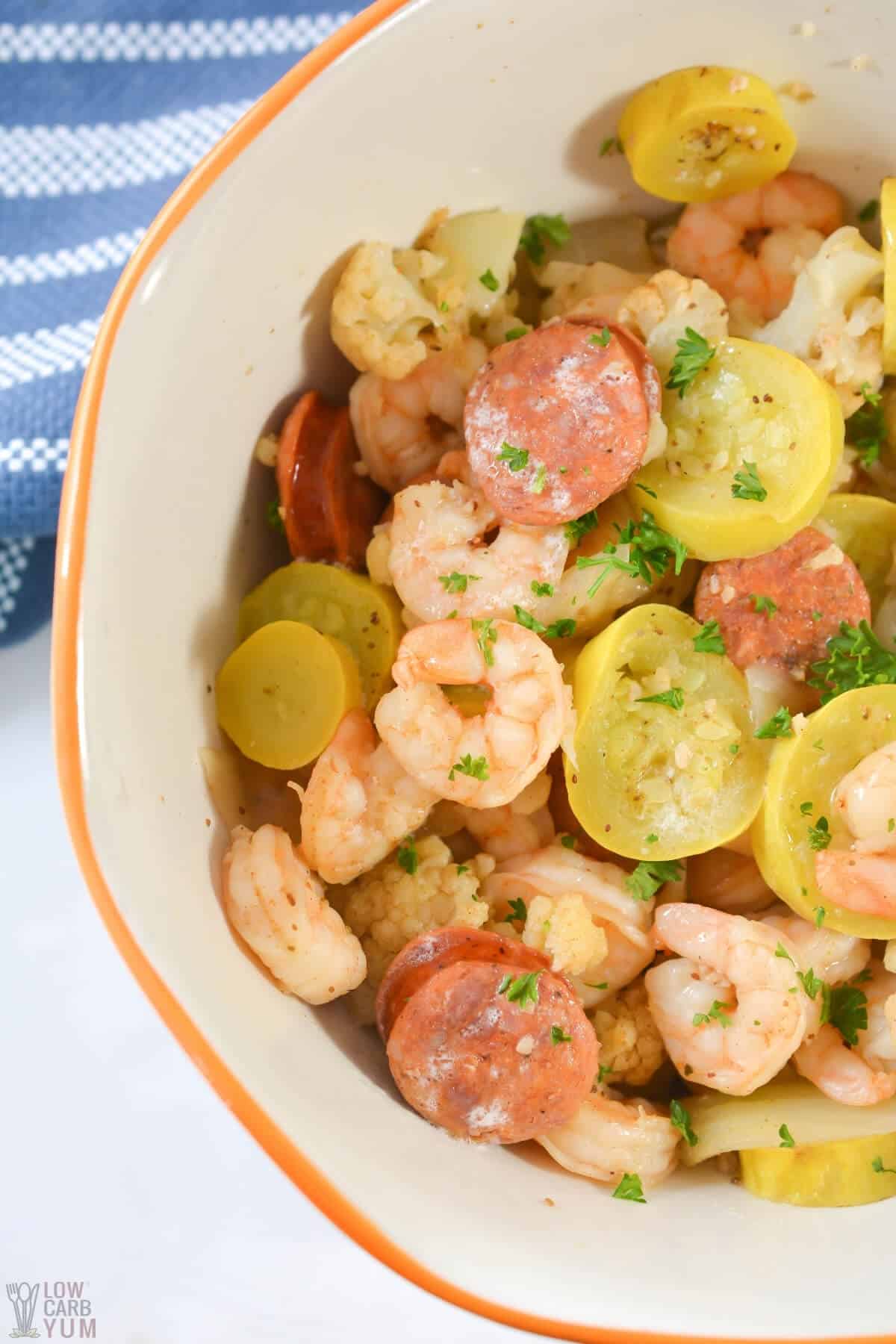 8. Blackened shrimp
My blackened shrimp recipe is super versatile. Add it to cauliflower rice, lettuce wraps, or keto taco shells for a quick and delicious meal.
Cajun shrimp is made so flavorful with spices, oil, and cayenne pepper; they will make any meal taste gourmet!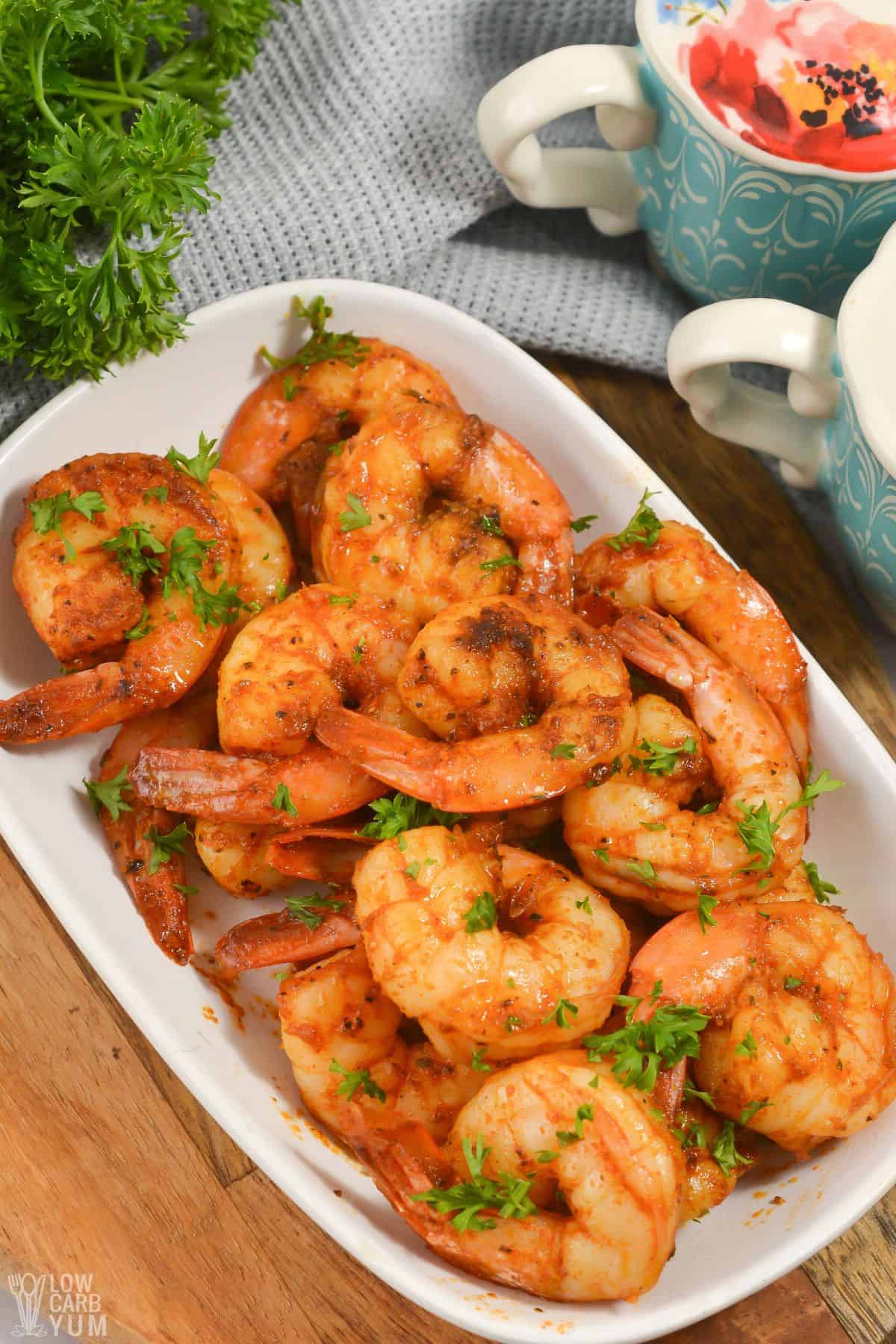 FAQs
Here are some questions people often ask about eating shrimp on a ketogenic diet. If you don't see your question in this list, please leave it in the comments.
Is shrimp low-carb?
Shrimp is a low-carb food, containing just 0.2g net carbs per 100g of cooked shrimp. This ultra-low-carb count makes shrimp a great protein source on a ketogenic diet.
What seafood can I eat on a low-carb diet?
There are so many different types of seafood for you to eat on a keto diet. Some of my top picks include:
- Salmon
- Oysters
- Tuna
- Mahi-mahi
- Shrimp
- Scallops
- Mackerel
- Cod
Is shrimp good for keto?
Like any diet, a healthy keto diet requires good sources of protein. Shrimp is a great protein choice for a ketogenic diet because it's very low in carbohydrates.

With this said, some meats contain better macronutrients for a keto diet because of their high-fat content. Shrimp contains nearly no fat. Fatty cuts of meat like pork belly, chicken thighs, and New York striploin are super keto-friendly.
If you enjoyed this post, check out these!
Now that we've answered "is shrimp keto?", check out these other seafood-focused, low-carb meal ideas:
Follow us on FACEBOOK, PINTEREST, and INSTAGRAM for even more tasty keto-friendly recipes!