It might be known for its pasta, but you can still eat keto at Olive Garden. Keep reading and learn what to order and what to avoid if you are on a low-carb diet.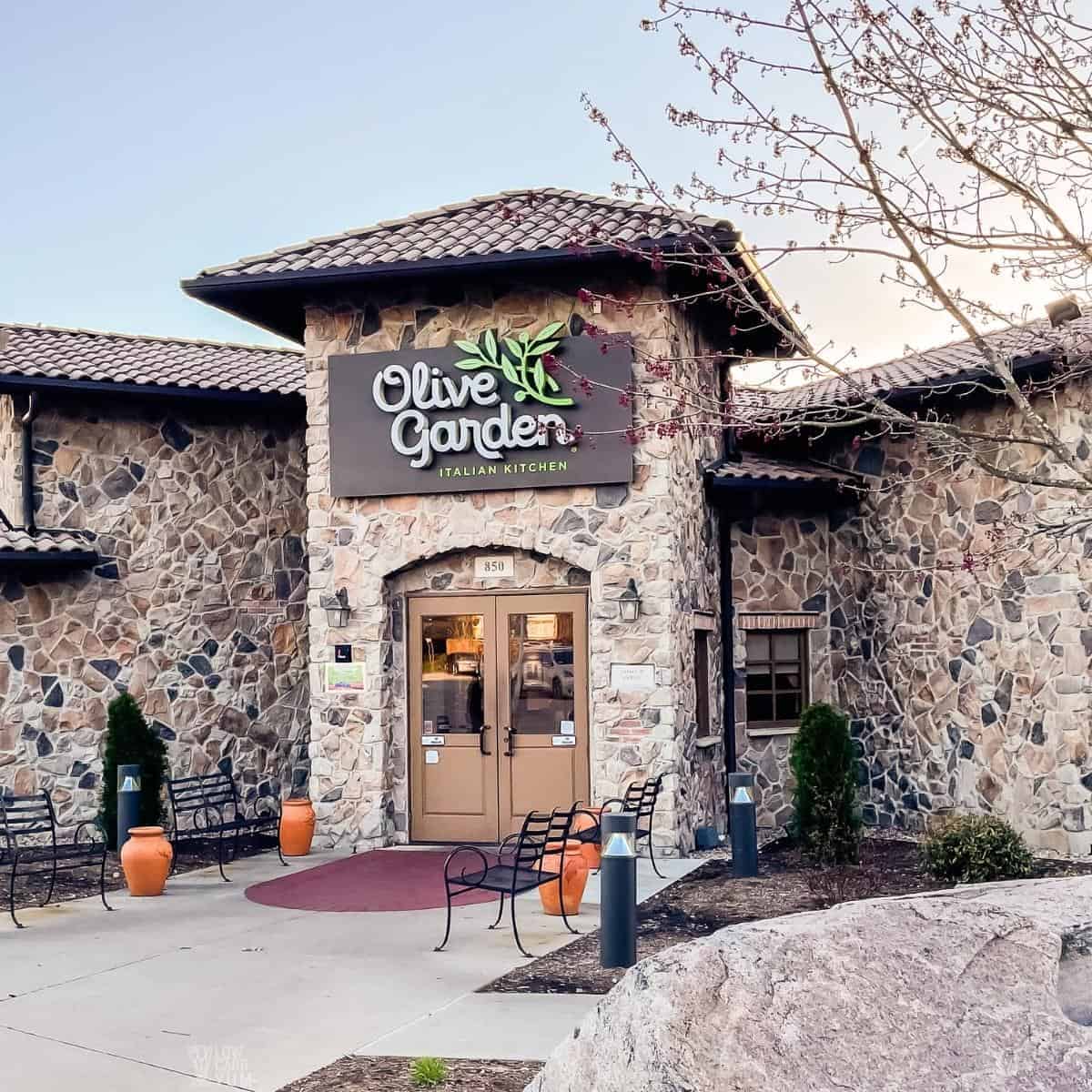 Article Index
There is something so fun about going out to eat. Sure, cooking at home is the healthier option, but it's still a lot of fun to eat out at restaurants.
Whether you are traveling and can't cook or you are celebrating something special with people you love, Olive Garden has some low-carb options that are simply delicious!
They might be known for their endless breadsticks and overflowing plates of pasta, but there are some keto-friendly choices on the menu, too. You just have to know where to look.
Olive Garden is also known for its large portions, so you will have to think ahead before eating everything on your plate.
When you don't have time to cook or just want to dine out, Olive Garden can be an appealing option for people on a ketogenic diet. Thankfully, there are ways to eat a keto meal at Olive Garden – you just have to be a little creative with a custom order!
Main dishes
The biggest keto diet issue with entrées at this Italian restaurant is the abundance of pasta. So avoid all the bread and pasta and instead, try some of these healthy and filling keto options at Olive Garden:
Herb Grilled Salmon: (4g net carbs)
Grilled Chicken: (0g net carbs)
Grilled Chicken Margherita: (6g net carbs)
Salmon Piccata: (9g net carbs)
Tuscan Sirloin: (1g net carbs)
Sweet or Spicy Italian Sausage Links: (1g net carbs)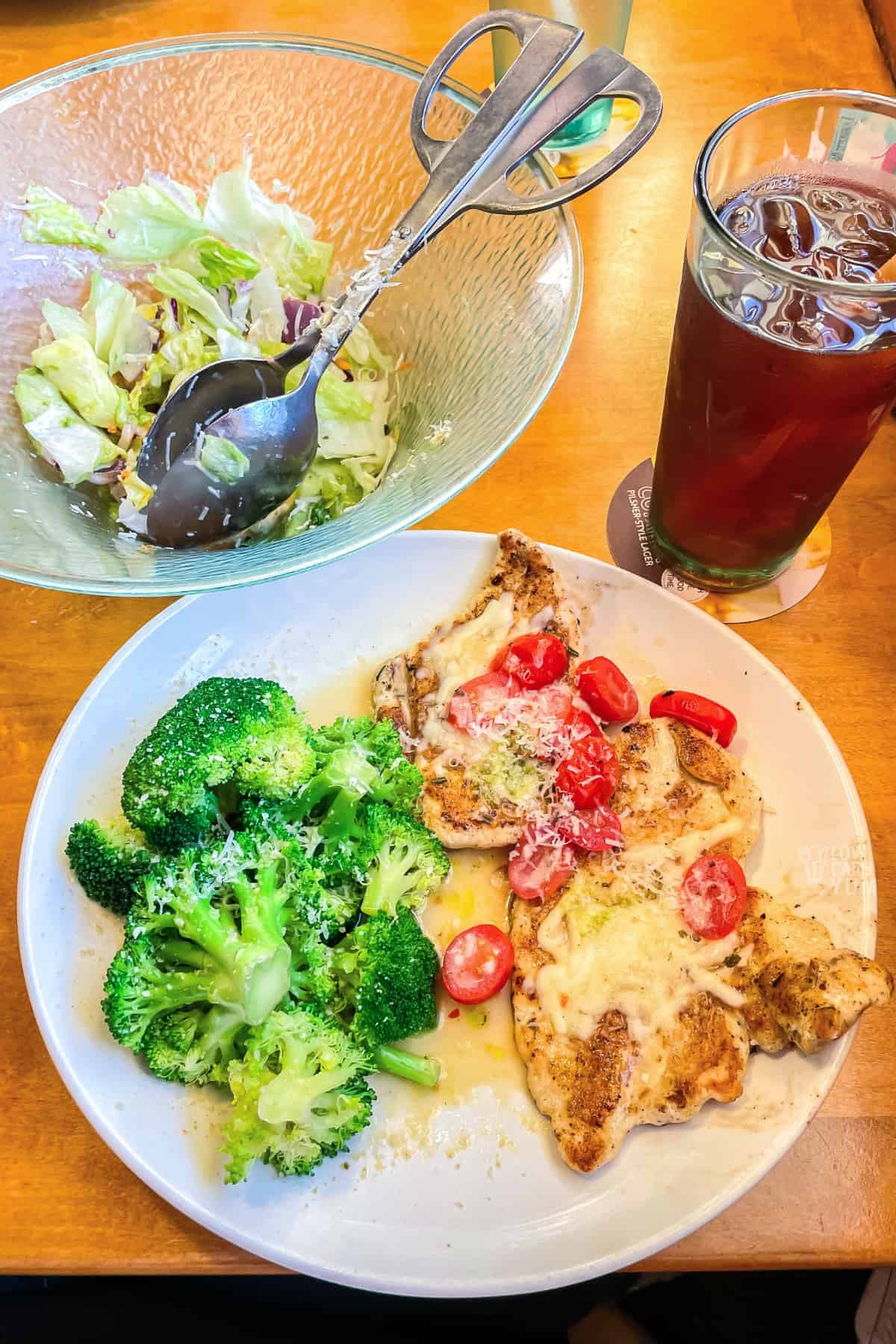 Sides
There are actually quite a few choices for a ketogenic diet when it comes to side dishes. You just have to be creative and always remember to order things without the bread!
Here are my favorite choices for keto sides:
Steamed Broccoli: (0g net carbs)
Side Salad: (1g net carbs)
Parmesan Crusted Zucchini: (4g net carbs)
Parmesan Garlic Broccoli: (4g net carbs)
House Salad: No croutons (1g net carbs)
You can even add extra mozzarella cheese or protein to any of these options if you need a more filling meal!
You might think the Zuppa Toscana soup is okay, but there are 13 grams net carbs in each serving - so nope! Same thing with the Minestrone soup as there are 13 grams net carbs in each serving.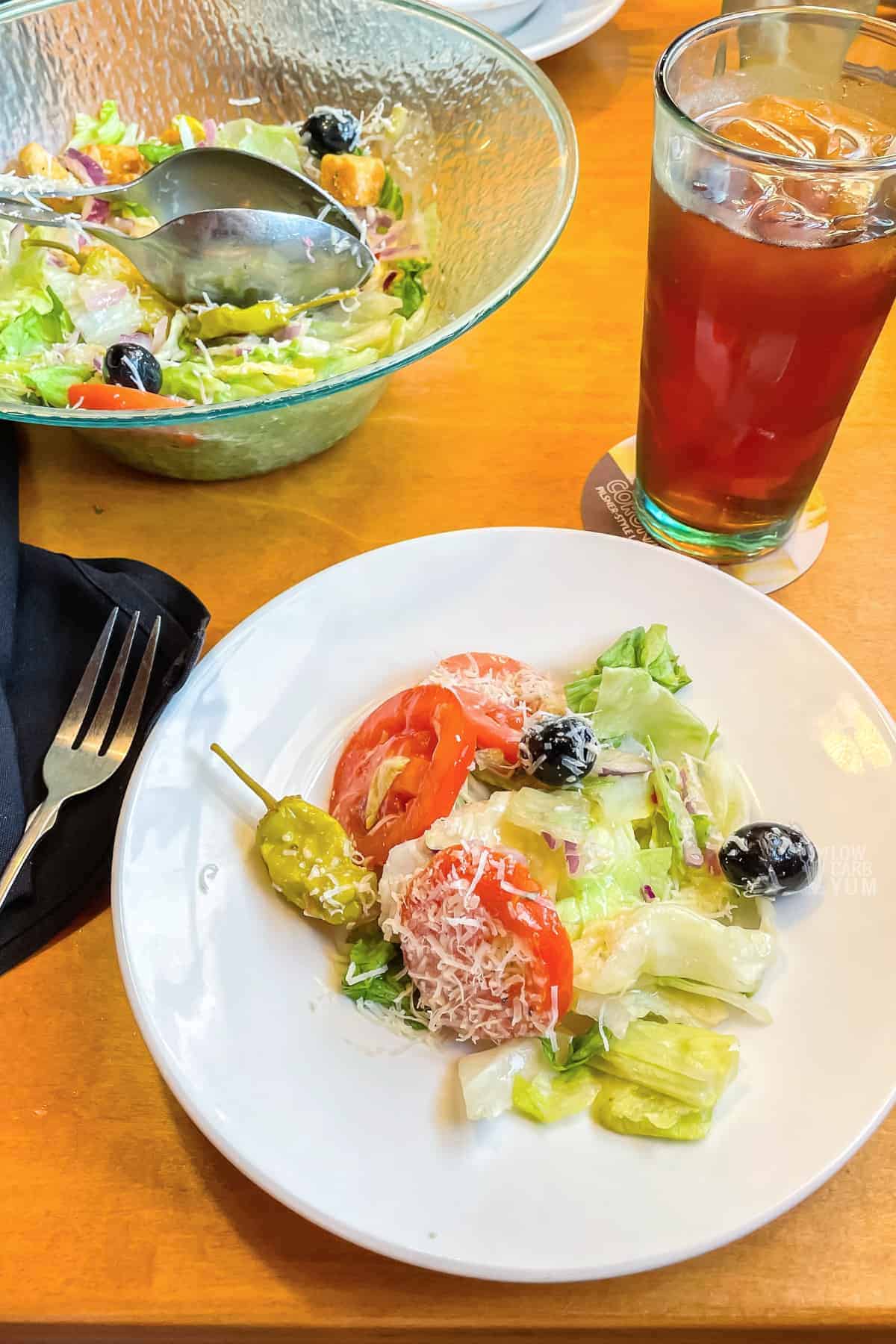 Dressings and sauces
One thing to remember when you eat keto at Olive Garden is to be picky with the sauces and dressings.
These are the best low-carb dressings and sauces at Olive Garden.
Lemon Garlic Sauce
Alfredo Sauce
Garlic Herb Butter
Basil Pesto
The marinara sauce has too much sugar in it.
Drinks
Here are the keto drink options that you can safely order from Olive Garden:
Unsweetened Tea
Coke Zero
Dark Roast Coffee
Ordering tips
Since this is an Italian restaurant, it might feel like it's difficult to order low-carb options. It does take a bit of creativity to craft special orders, but you can be sure to find options that fit your diet.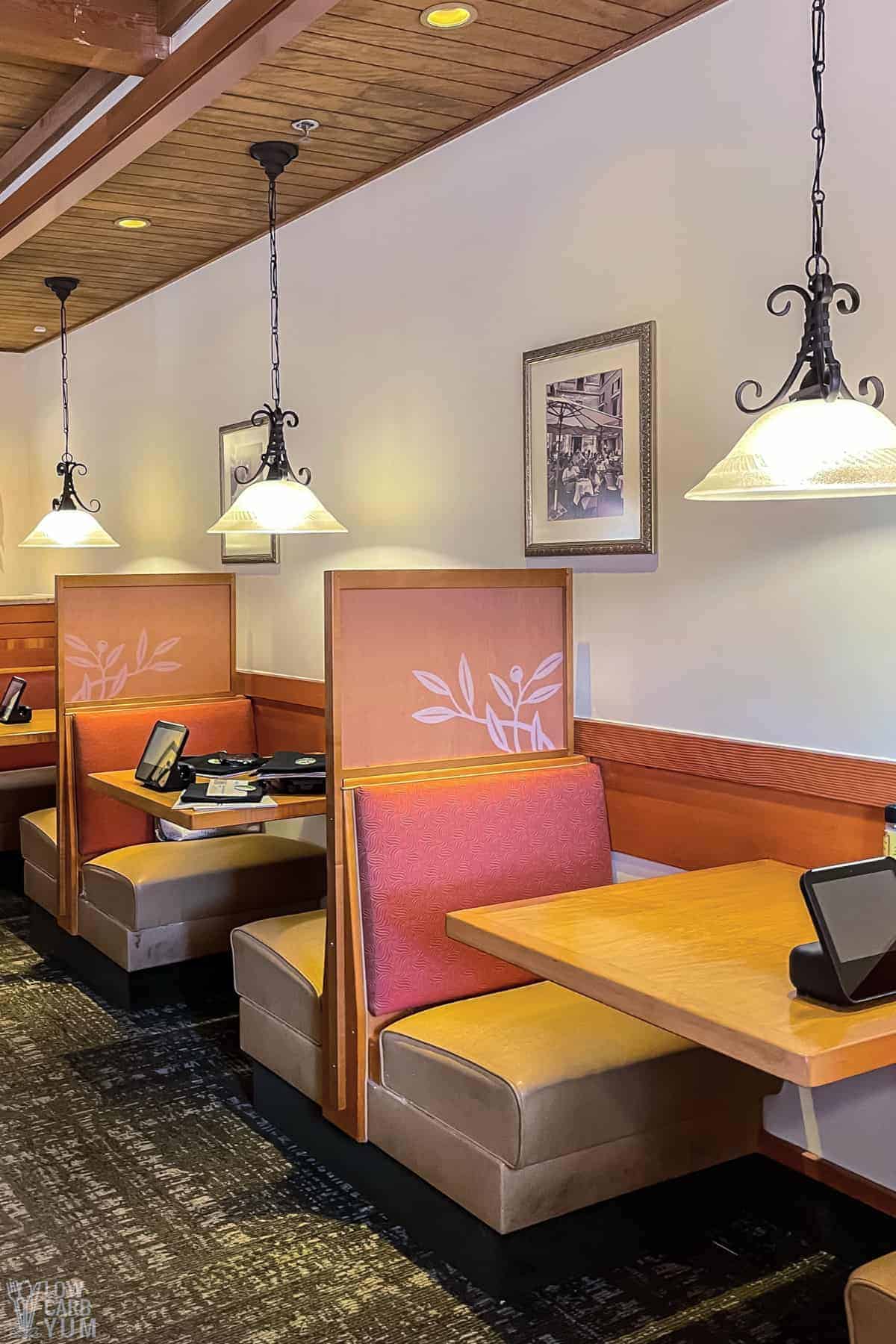 Here are some no-fail rules to follow for how to order keto-friendly foods at Olive Garden:
1. Substitute with zucchini noodles
The biggest tip is if it has flour in it, don't order it! That means no breadsticks or pasta. So, if you are craving pasta, ask them to make zucchini noodles instead.
You should also avoid soups thickened with cornstarch or flour (like stews) or with pasta in them.
2. Order grilled meat
Do not order any kind of meat that is breaded, as Olive Garden does not offer any gluten-free or keto-friendly breading. Hopefully, one day they might add some to the menu!
My two go-tos are two grilled chicken breasts and the grilled salmon fillet.
3. Avoid the desserts
Basically, anything on the dessert menu is off-limits. You might be able to ask for a cup of fruit if you have enough macros in your day.
4. Order a lunch portion
As dinner portion will have way too much food to eat all at once. So, ask your server if you can order a lunch portion instead.
If they are not able to do it, ask for a to-go box in the beginning so that you can just place half of the meal in the box immediately. This will prevent you from overeating, and you can enjoy the rest the next day.
5. Order from the gluten-sensitive menu
This menu will give you more entrée options that are made without wheat or gluten. However, even on this menu, be cautious with what you order.
Just because something is gluten-free, does not mean it is low carb. (i.e., items may contain russet potatoes or other carb-heavy grains).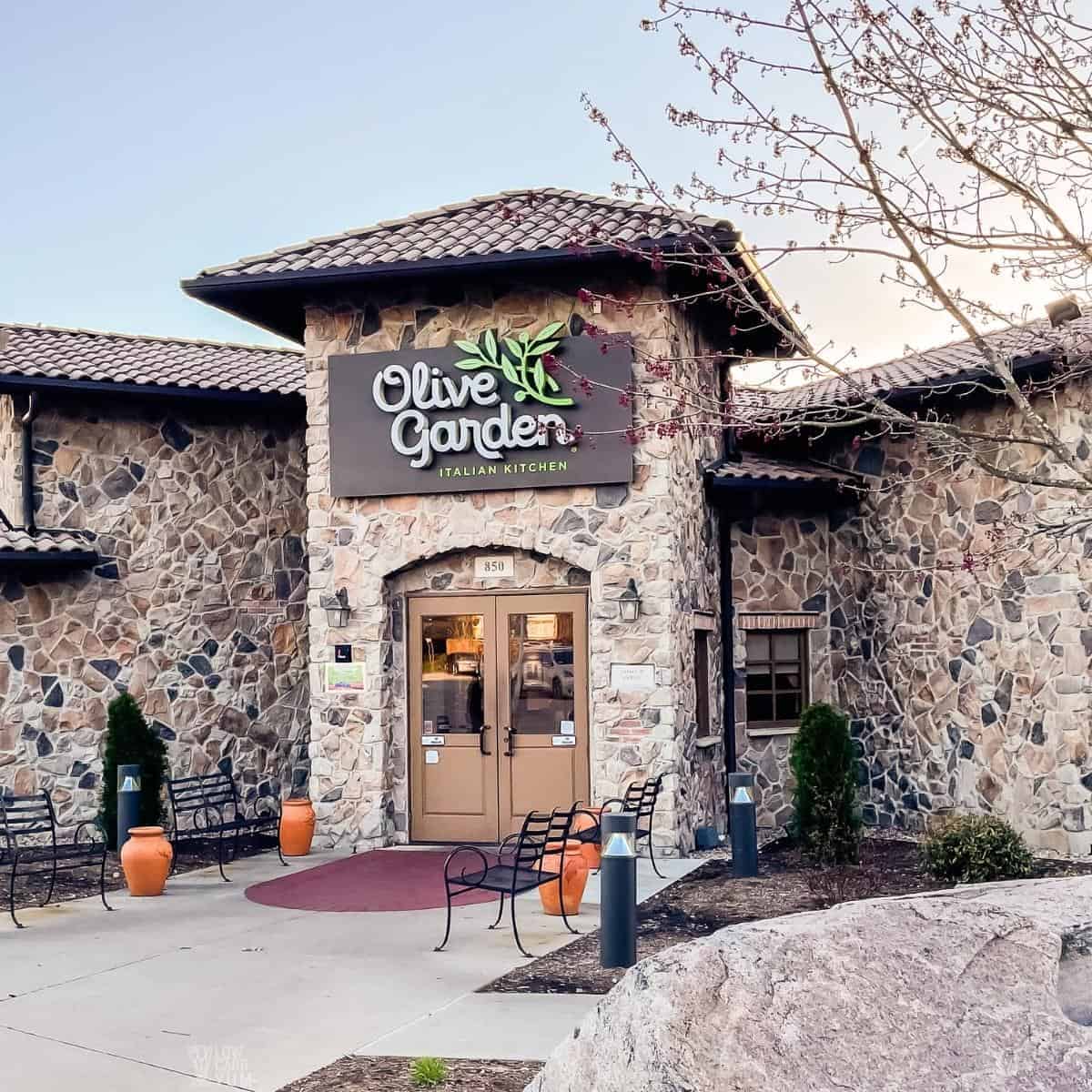 FAQs
Here are a few answers to the most frequently asked questions about ordering keto food at Olive Garden. If you don't see your question in this list, leave it in the comments.
Does Olive Garden have any keto-friendly food?
Yes, Olive Garden has lots of keto-friendly options. Remember to order some meat and low-carb vegetables. Your safest options are going to be salads and grilled meat.
Is the Olive Garden famous house salad keto?
A house salad without croutons is a keto-friendly option. Even with the signature Italian dressing, there are just 5 grams net carbs in one serving.
Is shrimp scampi keto?
Nope, if you order it with pasta, it is not keto-friendly. However, the shrimp in the sauce (without pasta) is keto-friendly.
What is Olive Garden's Pasta Fagioli?
This soup is made with ground beef, beans, tomatoes, and pasta. It has 13 grams net carbs in each serving, so it is not a keto-friendly option.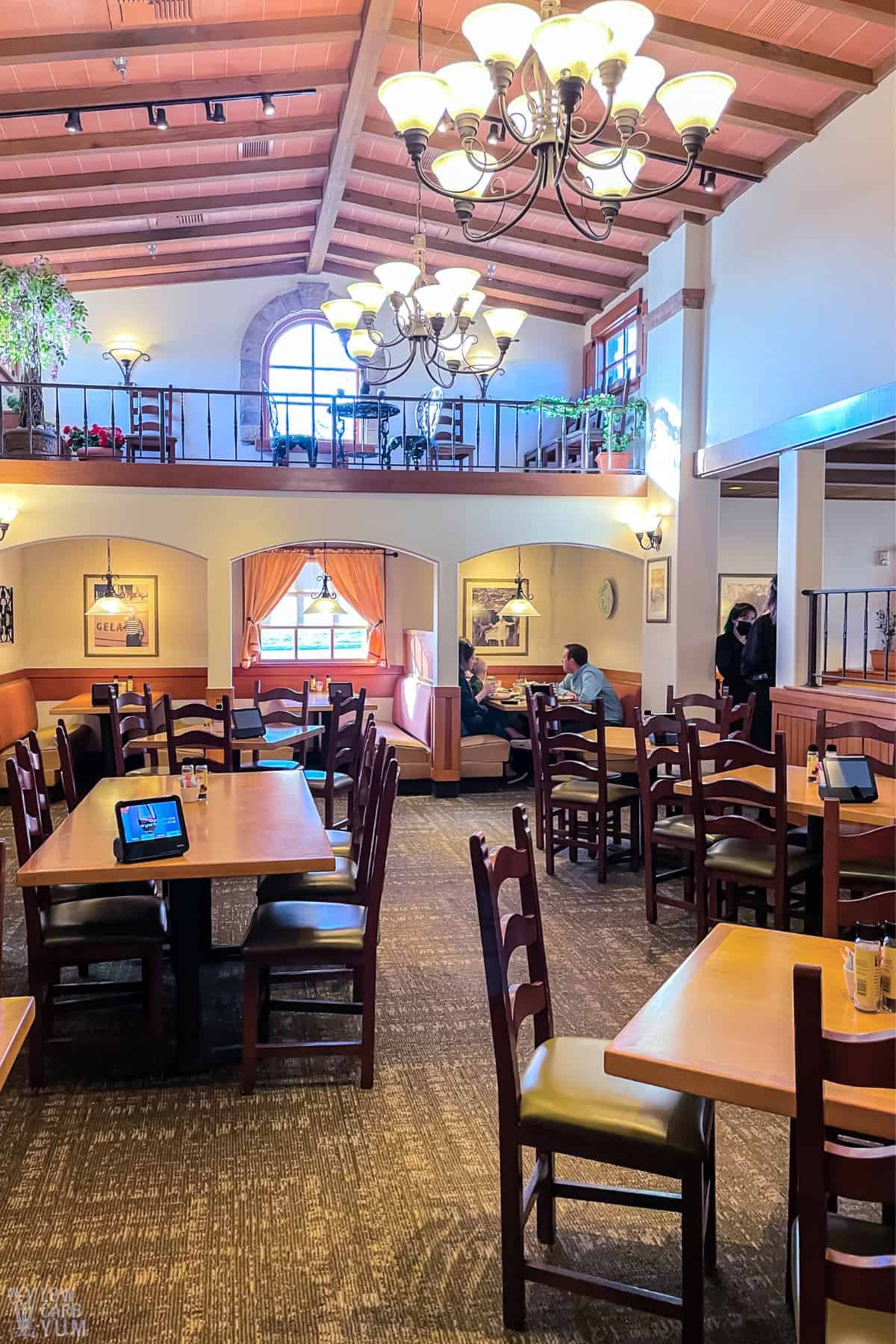 Related recipes
If this post on eating at Olive Garden has your mouth watering, why not try some of these tasty recipes? They are all quick and delicious and taste just like you ordered them at a restaurant.
Follow us on FACEBOOK, PINTEREST, and INSTAGRAM for even more tasty keto-friendly recipes!