If you're in the mood for something sweet and fruity, then check out these keto smoothie options! This is how to eat and drink keto at Smoothie King on a low-carb diet.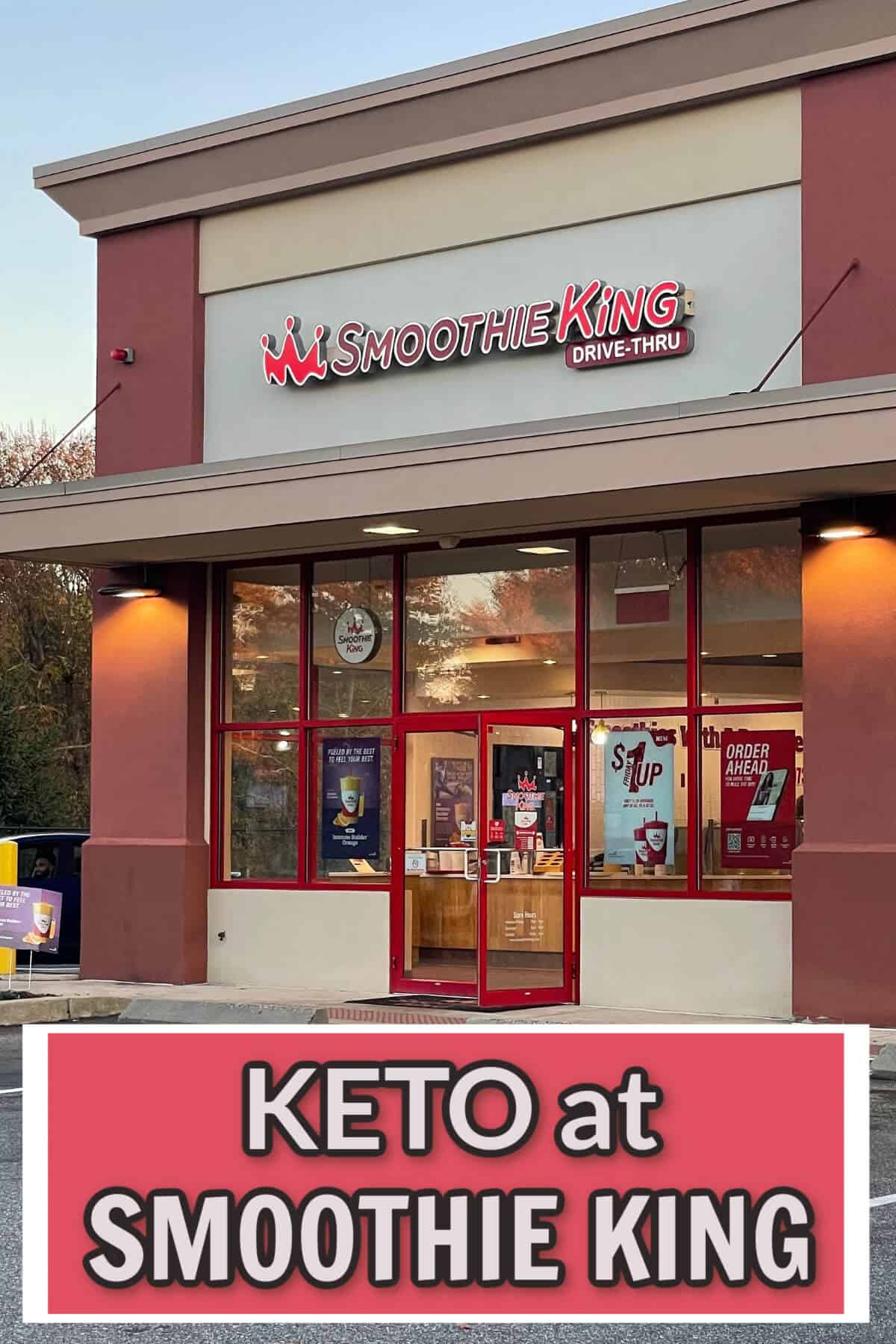 Article Index
Smoothies taste and feel like a wonderful dessert! They are refreshing on a hot day and do double duty, giving you nourishment and hydration at the same time.
Another thing smoothies usually have is lots of sugar and carbs! I mean, it makes sense. Sugar is what you get when you puree fruit and fruit juice. No wonder it tastes so sweet - it's all that sugar and carbs.
Thankfully, even places like Smoothie King are starting to offer keto-friendly options. It used to be a huge pain to try and make up your own low-carb order. Now, it's as easy as ordering the Keto Champ!
There are still items on the menu keto dieters should avoid - and there are items that will keep you in ketosis. This guide will explain all of it so you can order a refreshing smoothie guilt-free.
Smoothies
Save this list because it explains what you can order at Smoothie King, along with how many carbs the smoothie has. The following net carb counts are based on their small 20-ounce smoothie.
Keto Champ Coffee: (7g)
Gladiator Vanilla: (1g)
Lean1 Vanilla: (13g)
Gladiator Strawberry: (1g)
Gladiator Chocolate: (2g)
Keto Champ Chocolate: (11g)
Keto Champ Berry: (9g)
My personal favorite is the Keto Champ Berry Smoothie!
Ordering Tips
Now that you know what to order keto at Smoothie King, let's look at some rules to keep in mind. This way, you can even go off-menu and create your own recipes without stress or worry.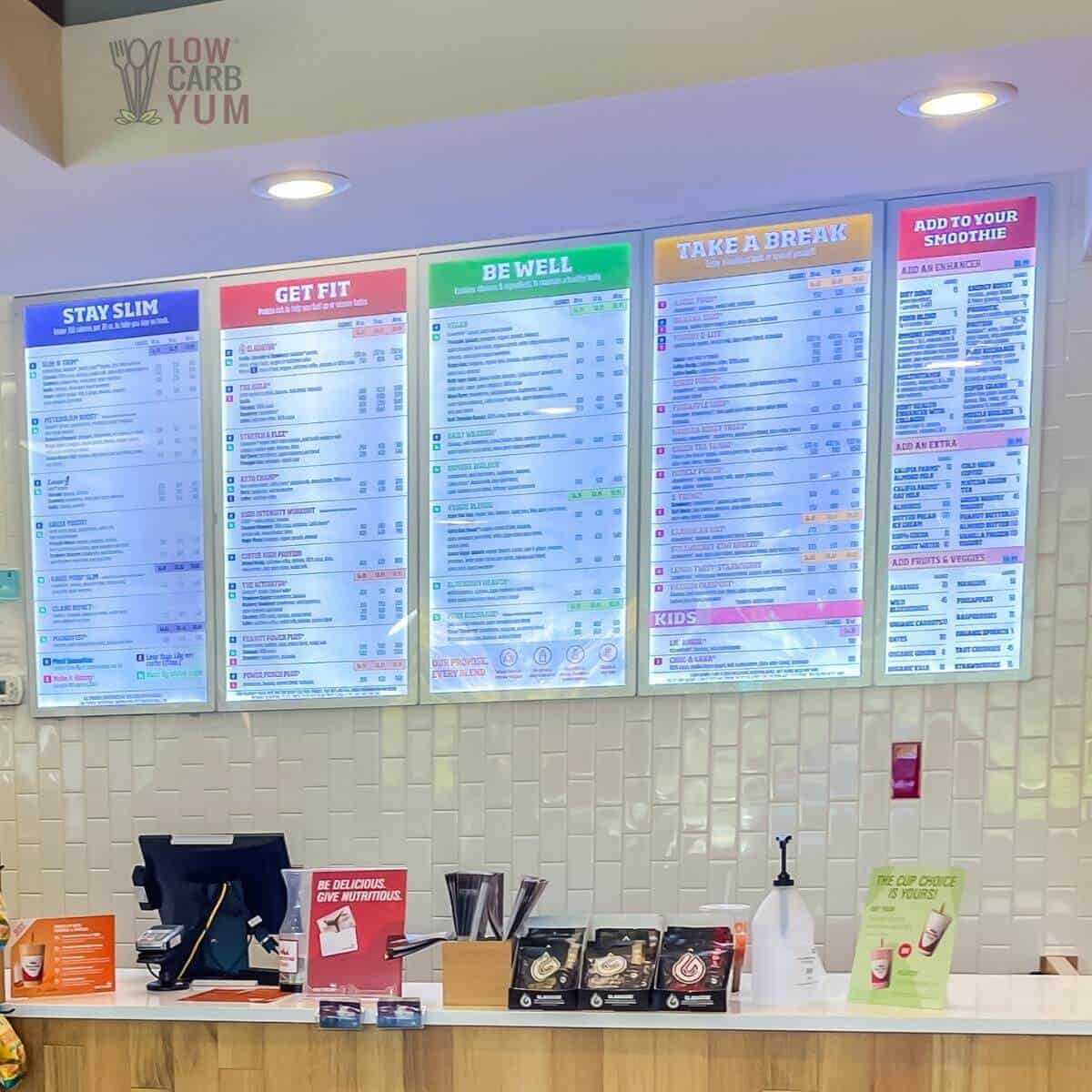 1. Avoid Ordering "The Hulk"
There is a whole line of smoothies that are made specifically to help people bulk up (which is weight-lifting lingo for gaining weight). They are called "The Hulk."
One 20-ounce Hulk Strawberry has 964 calories, 32g of fat, and an astounding 145g of carbs! What gives it all those carbs? Probably the sugary ice cream and something they called a "weight gain blend."
If you're looking to stick to keto at Smoothie King, steer clear of this option.
2. Add A Fiber-Blend Enhancer
Another way to decrease your net carbs is to increase the amount of fiber. Thankfully, Smoothie King has a mixture of fiber you can ask them to add to your smoothie.
One serving of fiber-blend has 6g of dietary fiber and 5g of carbs. Here is what Smoothie King says is in their fiber blend:
Proprietary blend primarily consisting of Apple Pectin, Flax Seed Powder, Oat Fiber, and other ingredients. Please contact Smoothie King Franchises, Inc. with any questions.

Smoothie King nutrition information
3. Try Not To Overdo The Protein
Lots of low-carb smoothies at Smoothie King are also really high in protein. Watch out for anything that is marketed as having extra protein in it. Always monitor your macros - you don't need to eat too much protein, even on the keto diet.
If you eat too much protein, your body might turn the excess into glucose! Yup, which is the opposite of what you want on a keto diet. So track those macros and stay within them.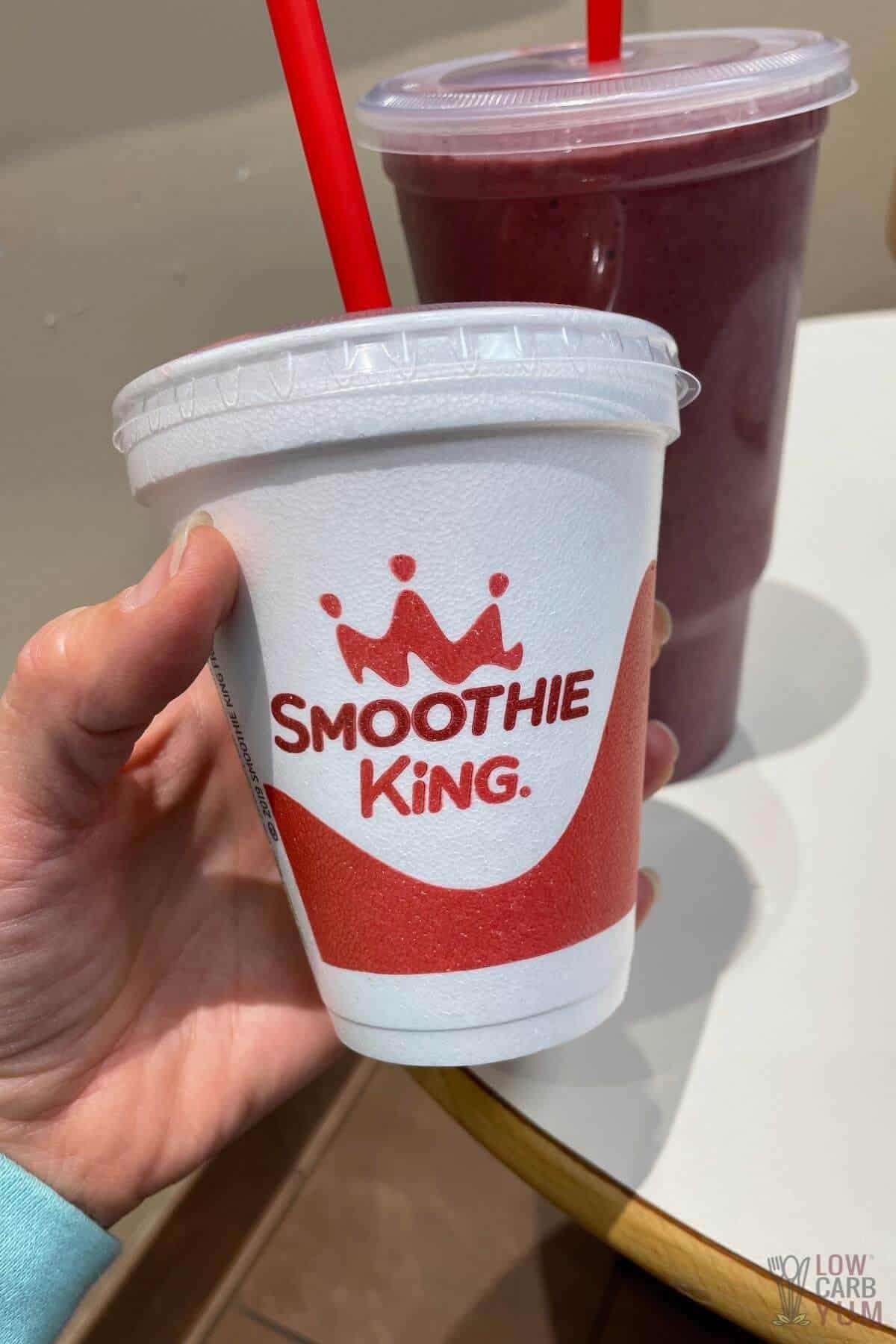 FAQs
Here are a few answers to the most frequently asked questions about ordering keto food at Smoothie King. If you don't see your question in this list, leave it in the comments.
Does Smoothie King have any keto-friendly smoothies?
Yes, Smoothie King has a line of smoothies called Keto Champ™ smoothies. They are made with high-fat, high-protein, and low-carb ingredients.
Depending on the flavor that you order, the smoothie might have almond butter, collage MCT blend, almond milk, or cocoa in it.
Each smoothie in this line has less than 10g net carbs in each 20-ounce drink.
Here is a bit more information about the choices they currently offer:
Keto Champ Berry
The ingredients in this drink include raspberries, blueberries, protein powder, almond milk, almond butter, and cocoa.
Nutrition information for 20 ounces:
430 calories
31g fat
19g carbs
8g fiber
11g net carbs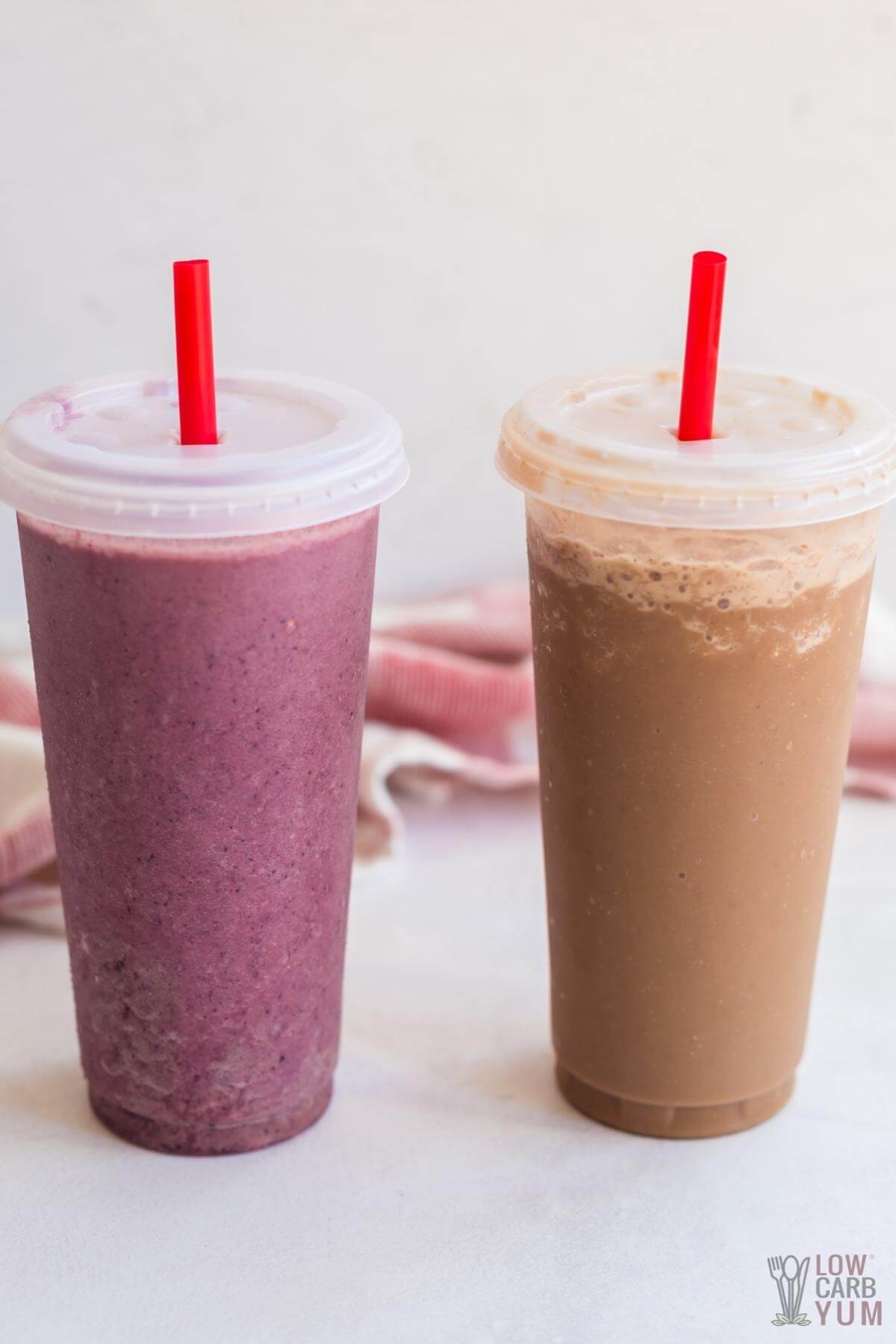 Keto Champ Chocolate
The ingredients in the chocolate version include cocoa, stevia, almond milk, almond butter, and protein powder.
It has a bit more carbs than the berry flavor. This is the nutrition breakdown in 20 ounces:
430 calories
31g fat
18g total carbs
5g fiber
25g protein
13g net carbs
Keto Champ Coffee
This is made a little differently - it has caffeine! It has a combination of cold brew, almond milk, almond butter, protein powder, and cocoa.
It has fewer carbs than the other two. In 20 ounces, there are:
420 calories
31g fat
14g total carbs
5g fiber
24g protein
9g net carbs
Keto Champ Pumpkin
This is a seasonal smoothie, and it's a great way to stay on keto at Smoothie King, even during the holidays.
The smoothie is made with real organic pumpkin, and the other ingredients are almond milk, almond butter, protein, and spices. There are 9g net carbs in a 20-ounce drink and only 10g of protein.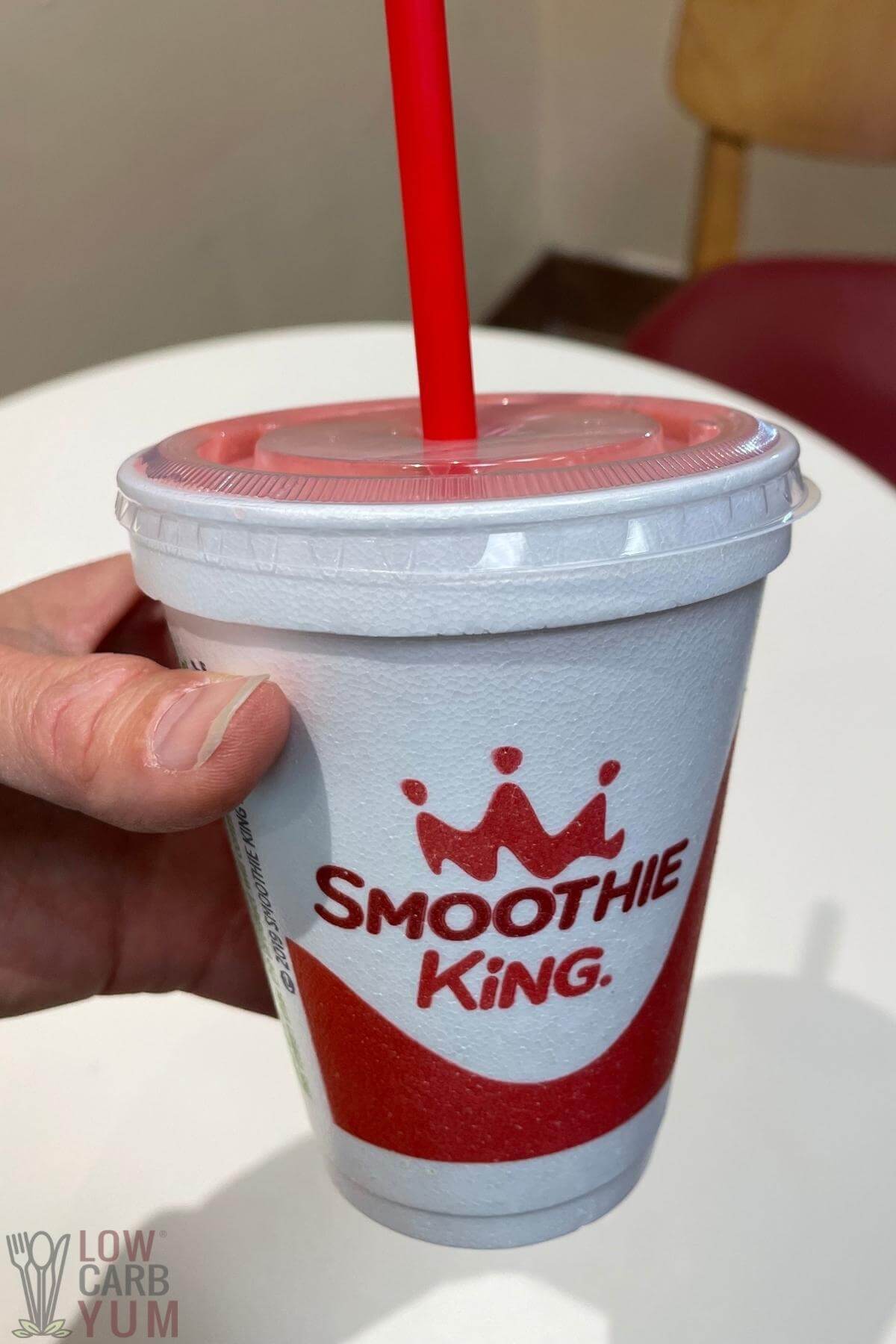 Which types of fruit have the most carbs in a smoothie?
Do not order anything with pineapple, mango, banana, or orange in it. These are the types of fruit that have the most natural sugar and carbs in them.
What are the worst things to order from Smoothie King if you are on a low-carb diet?
There are three options on the menu that you should always avoid if you are on the keto diet. These three choices have the most sugar and carbs and are always a bad choice.
Hulk Chocolate Smoothie: This has 101g net carbs in 20 ounces.
High-Protein Lemon Smoothie: One 20-ounce smoothie has 46g total carbs. It's mostly a juice blend without much fiber.
Peanut Power Plus Chocolate Smoothie: With 77g carbs, it has way too many to be keto-friendly.
Related recipes
If this post on eating at Smoothie King has you really wanting a fruity drink, why not try some of these keto drink recipes? They are all quick and delicious and just as good as the kind you get from a restaurant.
Follow us on FACEBOOK, PINTEREST, and INSTAGRAM for even more tasty keto-friendly recipes!