This post may contain affiliate links which won't change your price but will share some commission.
Full Disclosure
A luscious low carb lemon bars recipe that is very close to the real thing. These yummy treats have a crust made with a low carb baking mix.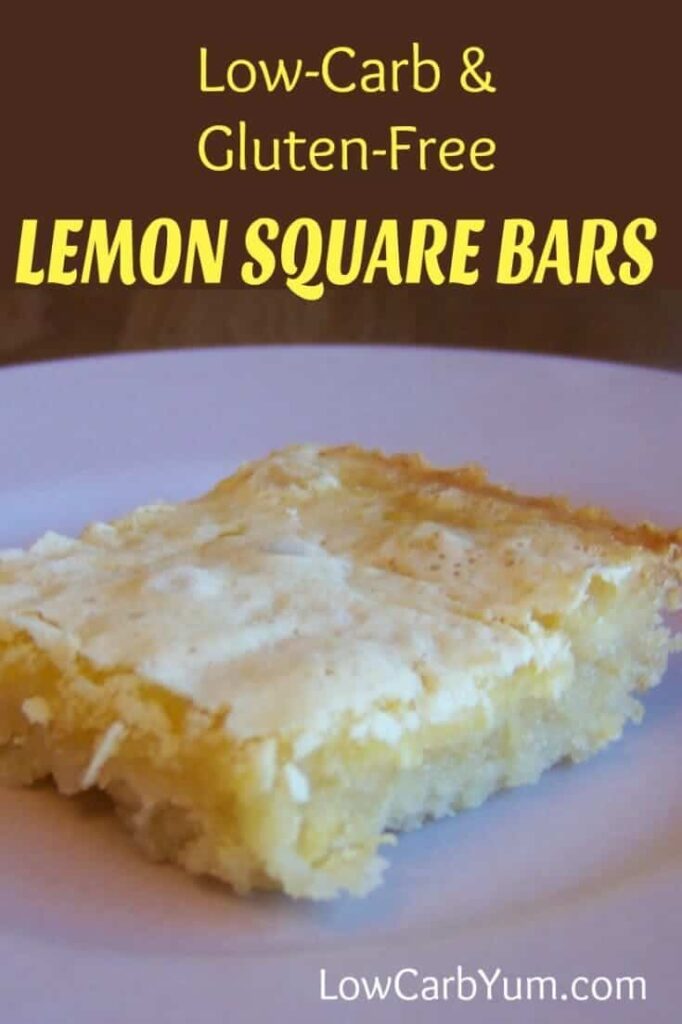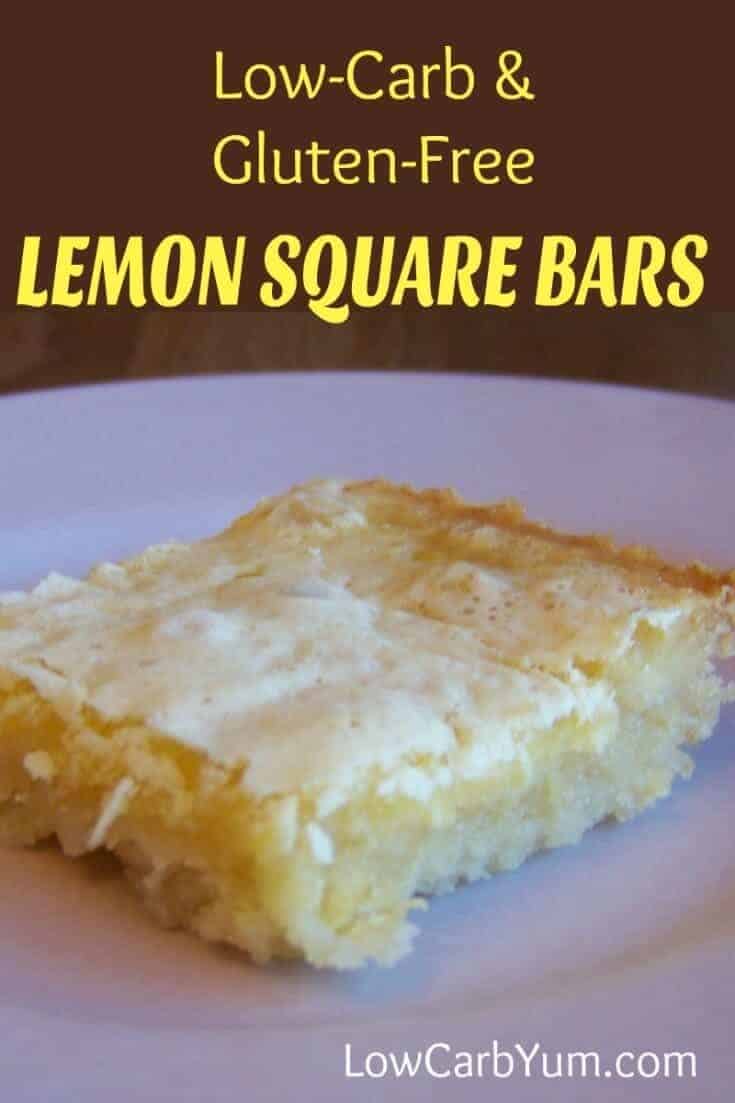 While I was away on a work trip, there were so many sweet temptations. Each day, the company put out morning and afternoon snacks. One of the items that caught my eye were some triangular lemon square bars.
They had a shortbread crust with a thick lemon topping on top. My mind started churning on how I could make my own low carb lemon bars when I got home. I found a couple low carb recipes for lemon square bars on the internet.
Both had a lot more butter in the crust than I wanted to use. I jotted down a new version and tried it this morning. One recipe used all Carbquik for the crust, the other used a blend of almond flour and oat flour.
I thought I'd try a mix of almond flour and Carbquik. After baking, the crust turned a nice golden color. I let it cool a bit before preparing the lemon topping.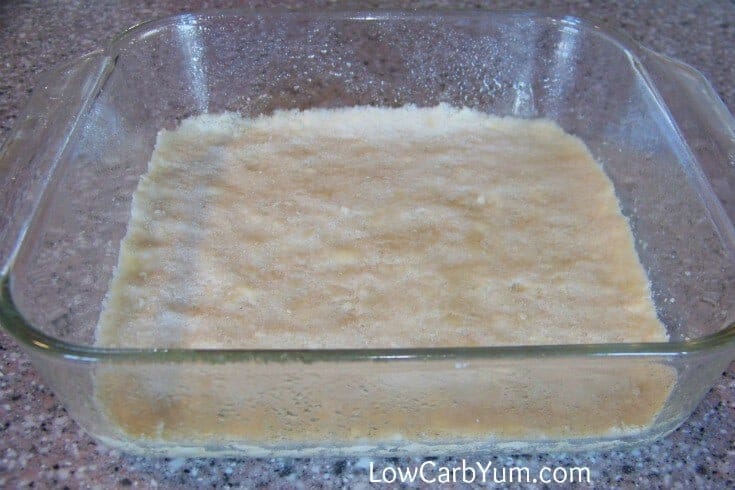 The amount of lemon topping didn't look like a lot, so I may try doubling the amount of topping the next time I make this low carb lemon bars recipe. However, the thin topping on the finished squares was perfect. It was chewy and the crust was similar to a shortbread.
If you are looking for more of a traditional lemon bar with the thicker topping, I would try doubling the amount of topping, using a full packet of gelatin. But, I preferred the thinner lemon layer.
I wonder how a layer of cheesecake would taste. Maybe I'll experiment with low carb lemon cheesecake bars. That does sound tasty, doesn't it?
Overall, these low carb lemon bars were just as I had hoped. I provided a gluten-free option as well as there are many who don't use Carbquik due to the gluten.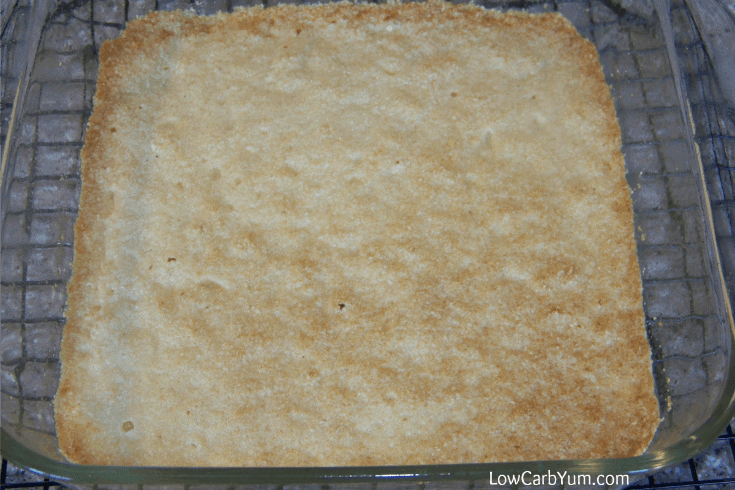 The crust on these lemon bars would be great for other recipes too. I'm thinking it might taste better than the pecan crust I used on my chocolate chip cheesecake bars.
If you try these out, I'd love to know what you thought. What kind of treats have you seen lately that you'd like to see made low carb?

Low Carb Lemon Bars Recipe – Gluten Free Option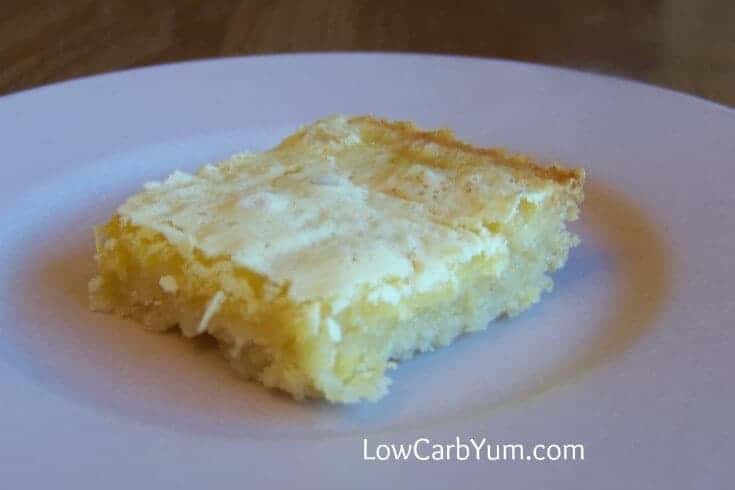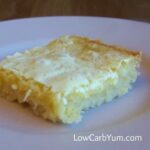 Low Carb Lemon Bars
Luscious low carb lemon square bars that are very close to the real thing. These yummy treats are made with a blend of almond flour and Carbquik.
Instructions
Pre-heat oven to 350 F.

Blend crust ingredients using a pastry cutter. Press crust into a 8 x 8-inch baking pan spayed with non-stick cooking spray.

Bake for about 18 minutes or until lightly browned. Cool slightly.

Beat the ingredients for the filling for about a minute then pour evenly over the baked crust.

Return to oven and bake again for about 15-20 minutes or until set.

Let cool at room temperature, cut into 16 even squares. Keep cool in the refrigerator.
Recipe Notes
For a gluten free crust, replace the Carbquik with 3 tablespoons almond flour and 1 tablespoon coconut flour or us another low carb flour mix that's gluten free.
Net carb per square: about 0.9 g
Nutrition Facts
Low Carb Lemon Bars
Amount Per Serving (1 square)
Calories 71
Calories from Fat 54
% Daily Value*
Total Fat 6g 9%
Cholesterol 31mg 10%
Sodium 94mg 4%
Potassium 12mg 0%
Total Carbohydrates 2g 1%
Protein 2g 4%
* Percent Daily Values are based on a 2000 calorie diet.
Related Posts