Love ginger? These soft ginger cookies are made low carb and gluten free. They are very similar to gingersnaps without the crispness.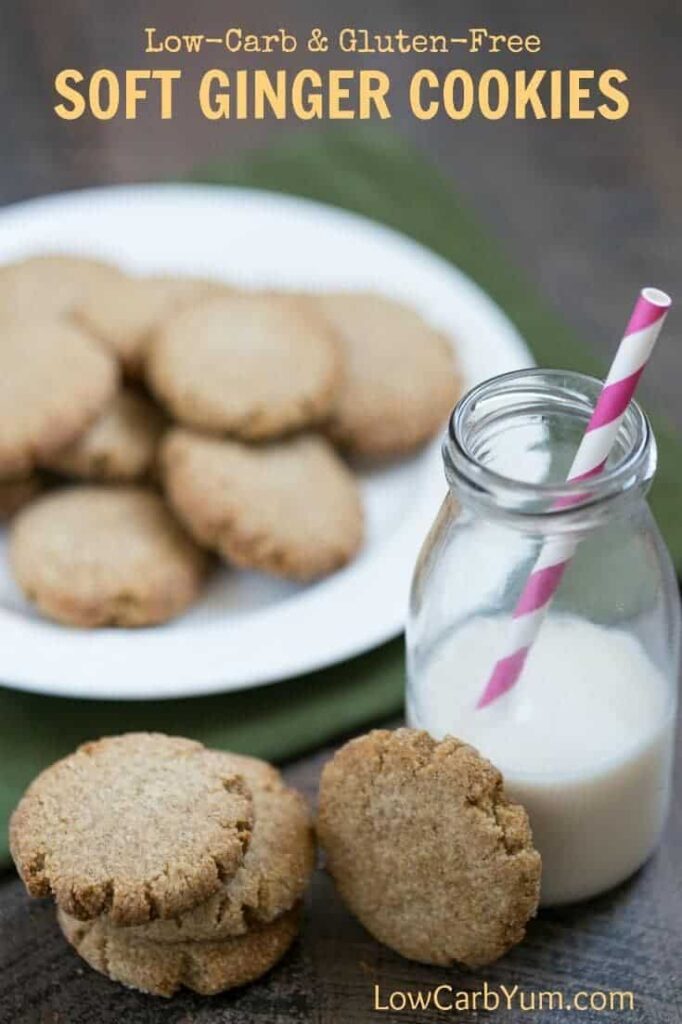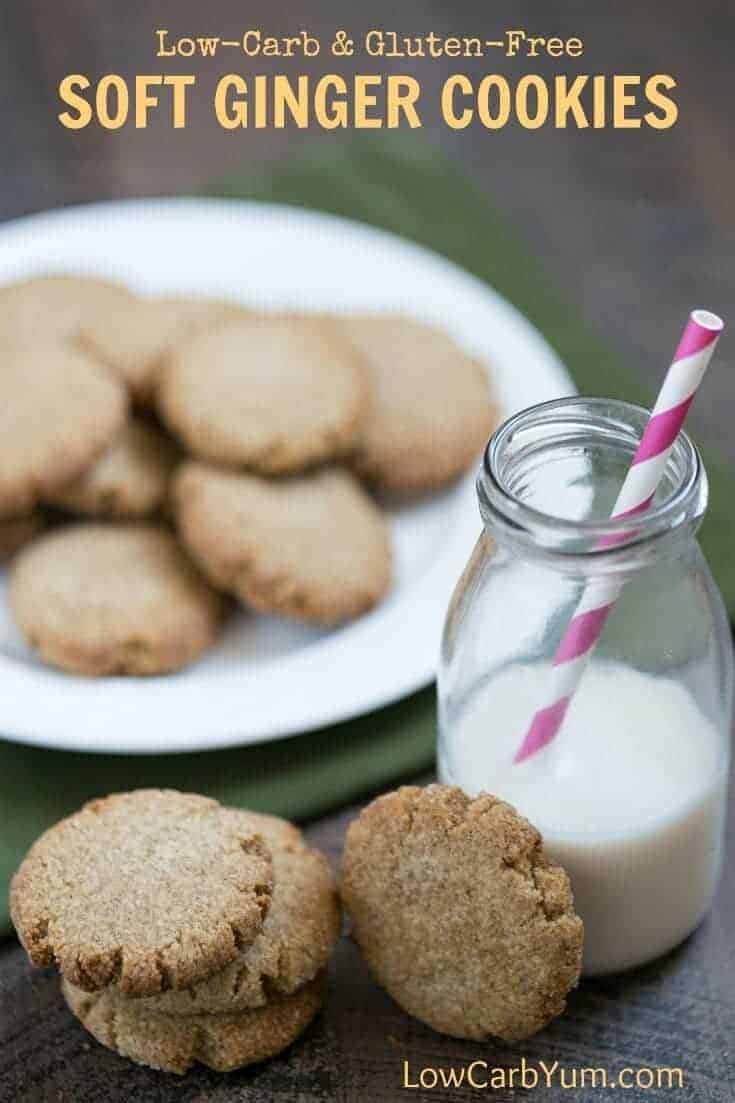 There were very few entries in the recent giveaway. So the odds of winning were extremely good for those who left a comment.
There was one common theme in all the comments regarding the type of low carb recipe they'd like to see… CHOCOLATE. I guess it is true that everyone loves chocolate.
The biggest problems I have in making low carb chocolate sweets is that Splenda doesn't taste good when mixed with chocolate. And, erythritol will often crystallize when used to sweeten chocolate.
If you look at most sugar free chocolate, the common sweetener is maltitol which is hard on the digestive tract. I'm still trying to figure out how to make a decent sugar free chocolate pudding using erythritol.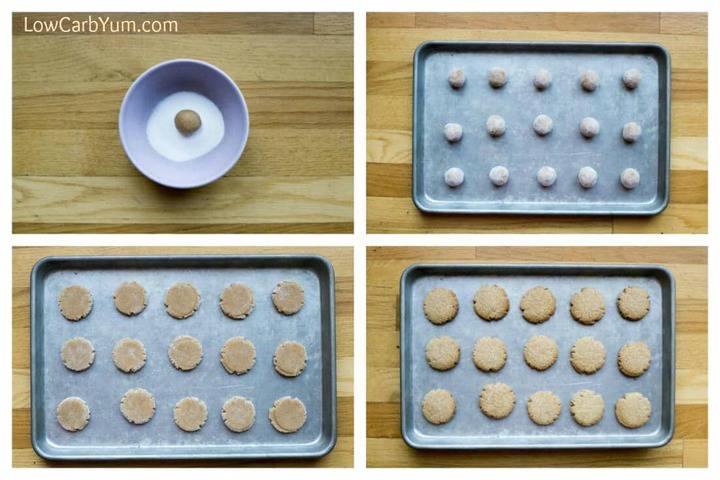 ChocoPerfection is the best low carb chocolate I've found. They use only natural ingredients that don't upset the stomach.
However, this comes at a high price which I have reluctantly been paying for the higher quality low carb chocolate. I just don't have the time to be making my own sugar free chocolate chips and bars.
Getting back to the failed giveaway… Perhaps a $50 gift card giveaway would have brought a better response.
One conclusion I came to after doing the giveaway is that I need to work a little harder on the website and give readers more unique recipes. I'd also like to improve the recipe photos which means I may need to purchase a better camera.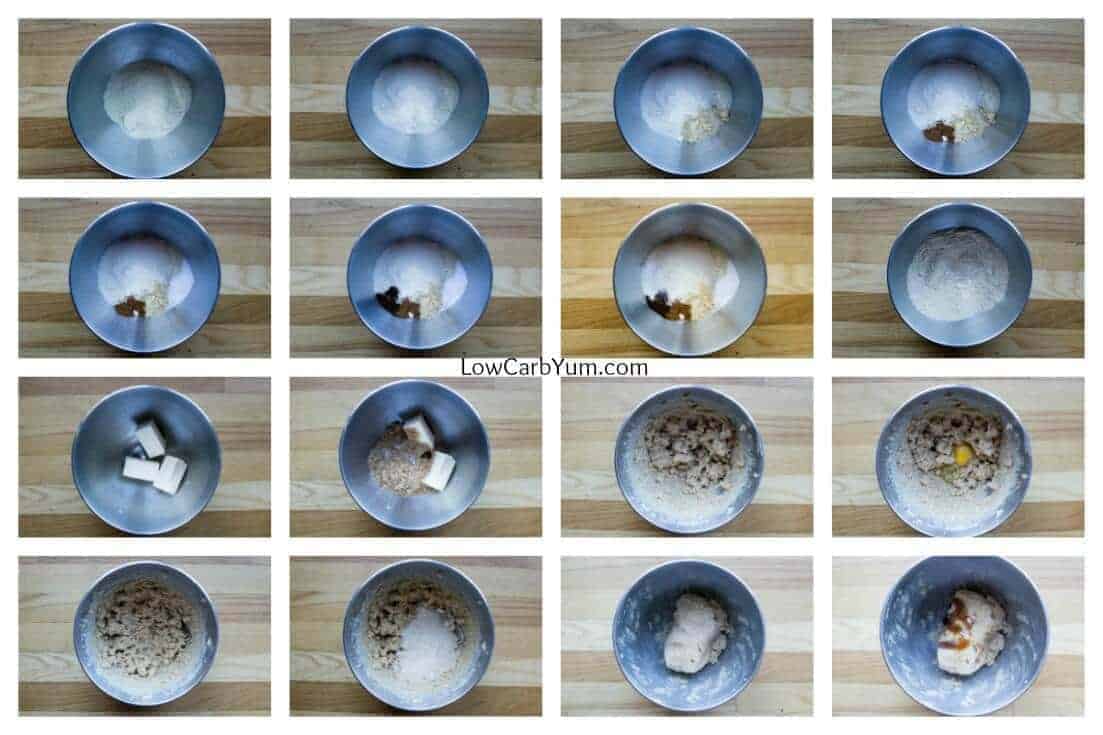 The winner of the giveaway was chosen this morning using the old fashioned method of placing the names in a cup and hand picking one randomly. I'm happy to announce that the winner of the giveaway is "gharkness" who is looking for a fudgey, gooey brownie with a coconut flour base.
It's very difficult to make a fudgey brownie using coconut flour because it is like a sponge soaking up all the liquid. Coconut flour also needs a lot of eggs when substituting in place of wheat flour.
However, I'm up for the challenge and will try to work a little magic into a coconut flour brownie. I'd like to thank all those who entered for giving me some ideas to think about.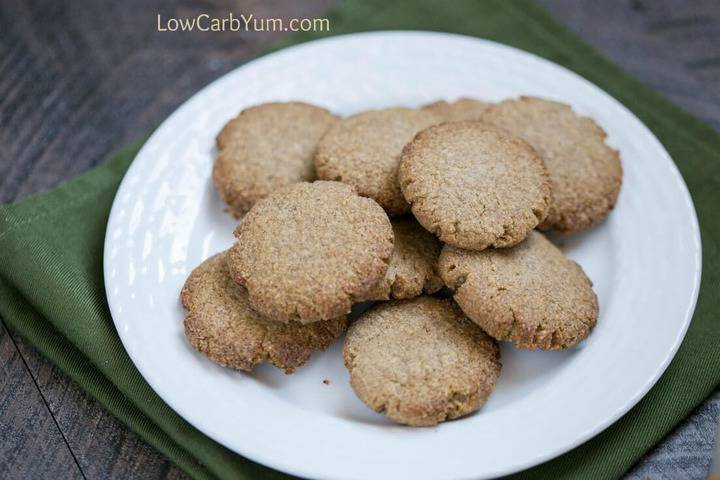 Now on to my soft ginger cookies recipe. Unfortunately, these cookies did not come out crispy and I had hoped.
They were very soft and a bit cake-like. I will need to do a little more tweaking to get them more like the regular gingersnap cookies that I make.
The taste of these soft ginger cookies was very good. So I probably just need to lighten up on the coconut flour. I think using all almond flour will make them more crisp.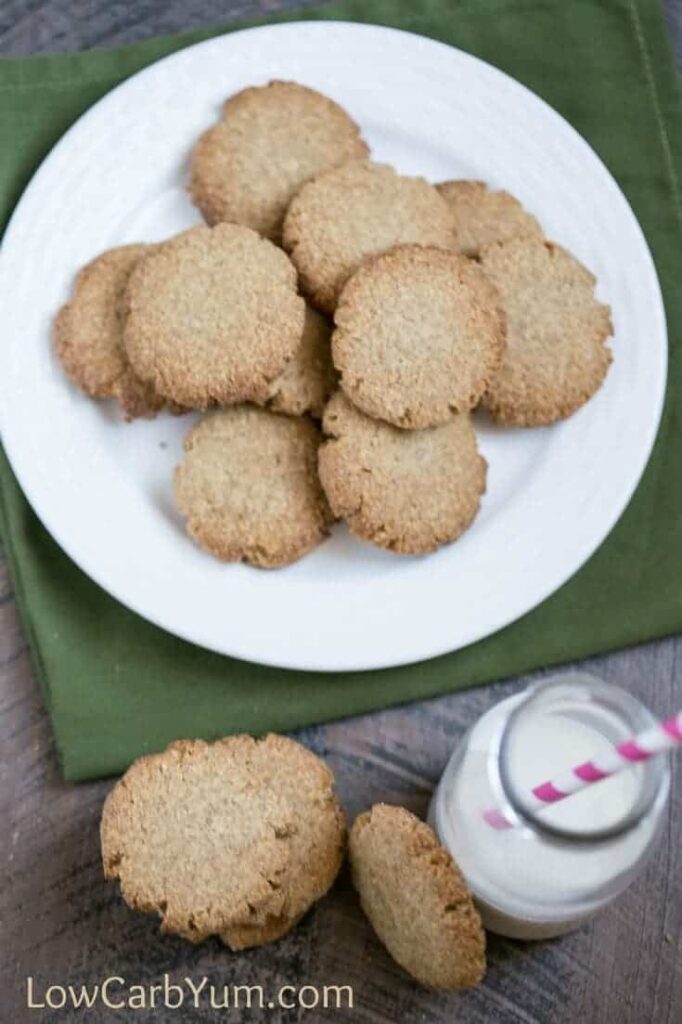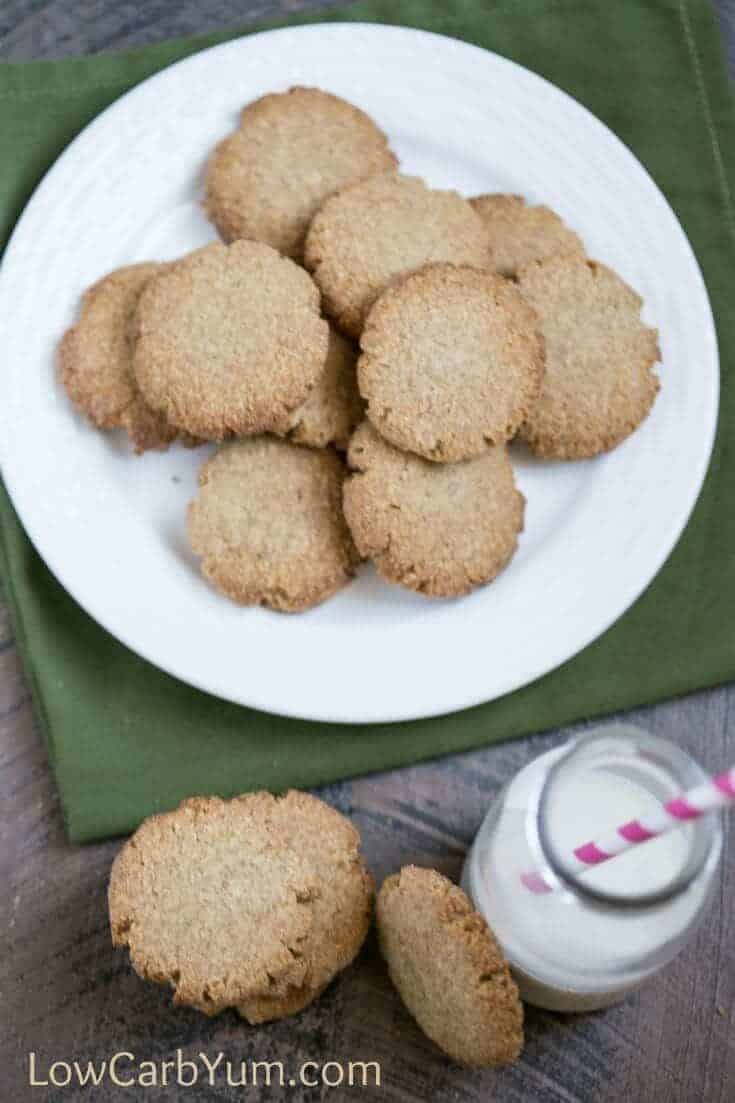 I may also try icing or glazing the tops of the cookies and not rolling is more sweetener. I purposely made the base of the cookies less sweet than most cookies.
This is a great cookie recipe for the holidays. And, it goes well with almond macaroon cookies.

Soft Ginger Cookies Recipe – Low Carb and Gluten Free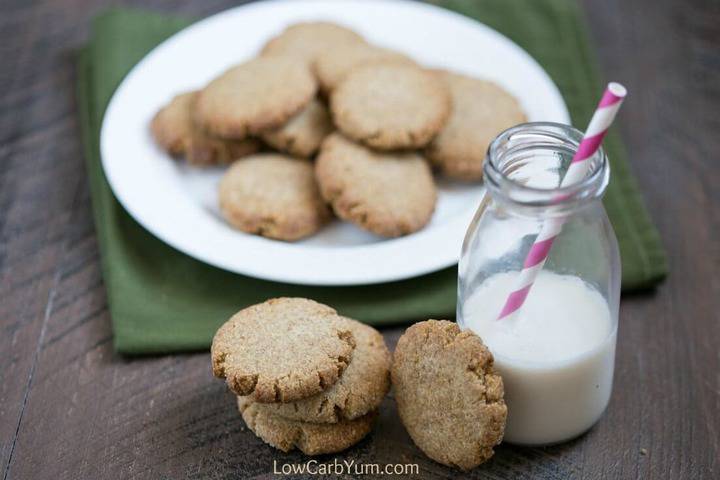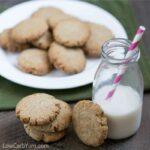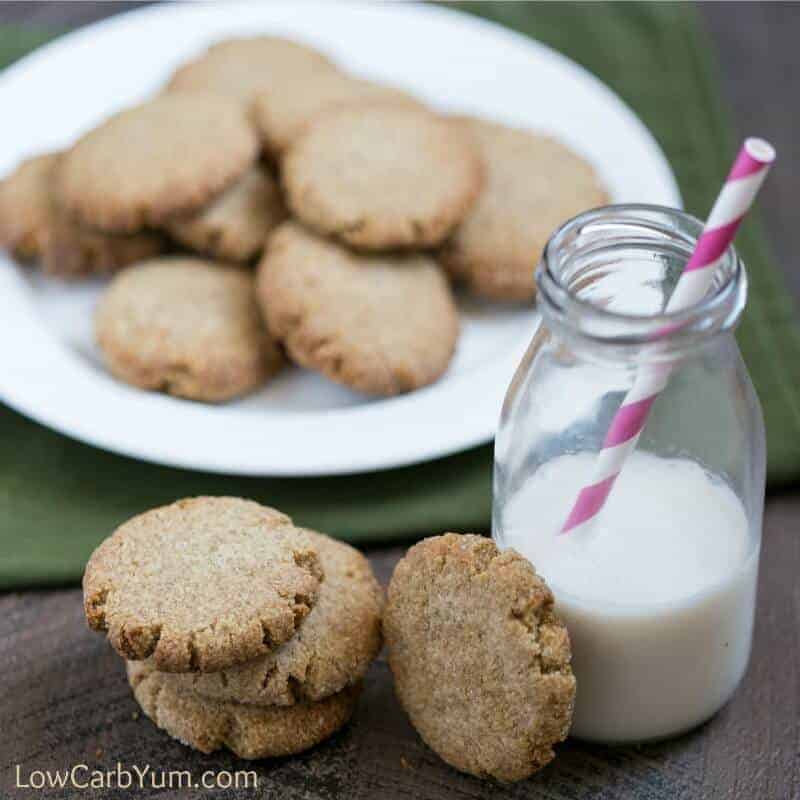 Soft Gluten Free Ginger Cookies
Love ginger? These soft ginger cookies are made low carb and gluten free. They are very similar to gingersnaps without the crispness.

Instructions
In large bowl, combine almond flour, coconut flour, baking powder, ginger, cinnamon, cloves, and salt.

In another large mixing bowl, cream together butter and Sukrin Gold.

Beat egg into butter mixture and Sukrin Gold Fiber Syrup (if using).

Slowly add dry mixture into butter mixture. Knead into a dough.

Scoop into balls and roll in Sukrin:1 if desired. 

Place dough balls or scoops onto parchment paper lined cookie sheet or use non-stick silicon baking sheet leaving with adequate spacing (about 1 1/2 inches). Press each ball down with flat bottom glass.

Bake at 350 F for about 8 to 10 minutes.
Recipe Notes
Makes about 42 cookies
Net carbs per cookie: about 2 g
Nutrition Facts
Soft Gluten Free Ginger Cookies
Amount Per Serving
Calories 128
Calories from Fat 99
% Daily Value*
Total Fat 11g 17%
Cholesterol 25mg 8%
Sodium 98mg 4%
Potassium 59mg 2%
Total Carbohydrates 6g 2%
Protein 2g 4%
* Percent Daily Values are based on a 2000 calorie diet.
Related Posts