This post may contain affiliate links which won't change your price but will share some commission.
Full Disclosure
A low carb pumpkin lasagna with spinach and meatza noodles. The pasta noodles in this dish have been replaced with pre-baked seasoned ground beef.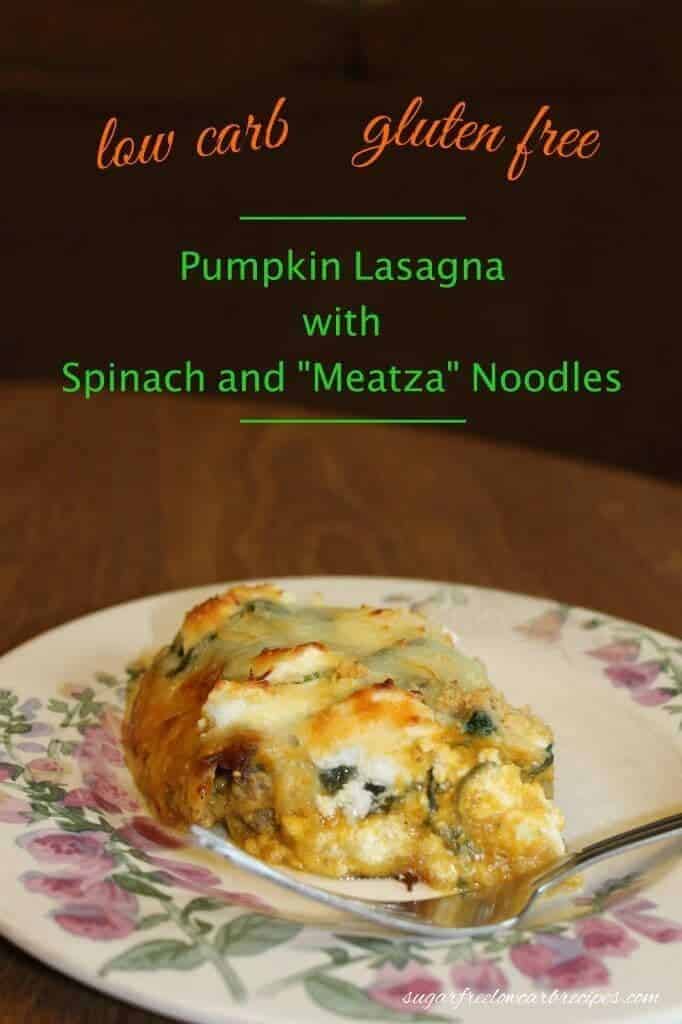 While driving home from work this week, I've noticed that it's really starting to look like fall outside. The leaves on the trees are a multitude of shades from red to green and the leaves are beginning to fall along the road.
I was thinking to myself what a pretty time of year it is right now in New England. I really enjoyed the summer weather, but I am looking forward to the change in season. It's hard to believe that the holidays are fast approaching.
As you may or may not have noticed, I really like pumpkin. We did attempt to grow these gourds one year in the yard, but the plants didn't like the spot we picked out for them.
I think the soil conditions just weren't right as there was plenty of sun in that part of our yard. Maybe we will try planting some pie pumpkins next year so I can freeze a supply for my fall and winter baking.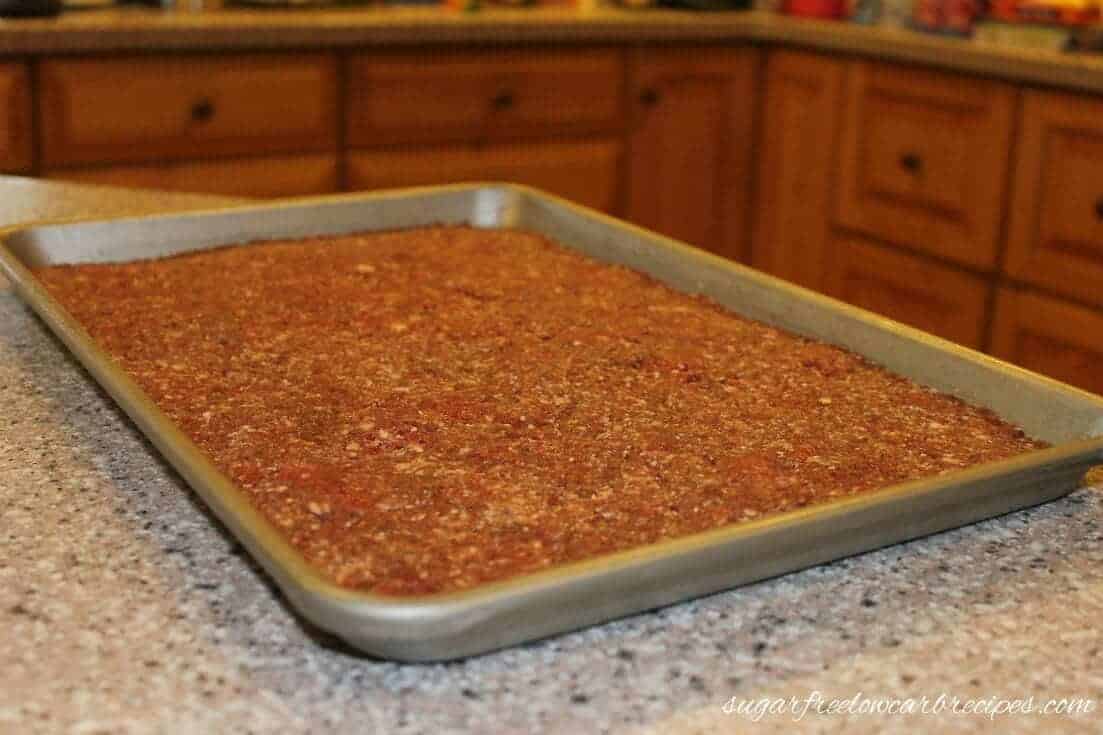 The first thing that comes to mind when you talk about pumpkin as a food is usually pumpkin pie or some other sweet dish. However, I came across a recipe for pumpkin lasagna a couple weeks ago that I really wanted to try.
I have made a pumpkin bean soup previously. But, other than that; I haven't really used pumpkin in a main dish.
Low carb lasagna noodles are available, but I have started to get away from using wheat products as I believe there are many benefits to eating gluten free. Therefore, I decided to try a "meatza" layer in the lasagna in place of the noodles where I used meat part of Spinach Tomato Meatza Pizza Recipe.
I made a few other changes to the original recipe to suit my taste and lower the carbs. Since there aren't any actual lasagna noodles in this dish, some may argue that it's really a casserole versus true lasagna.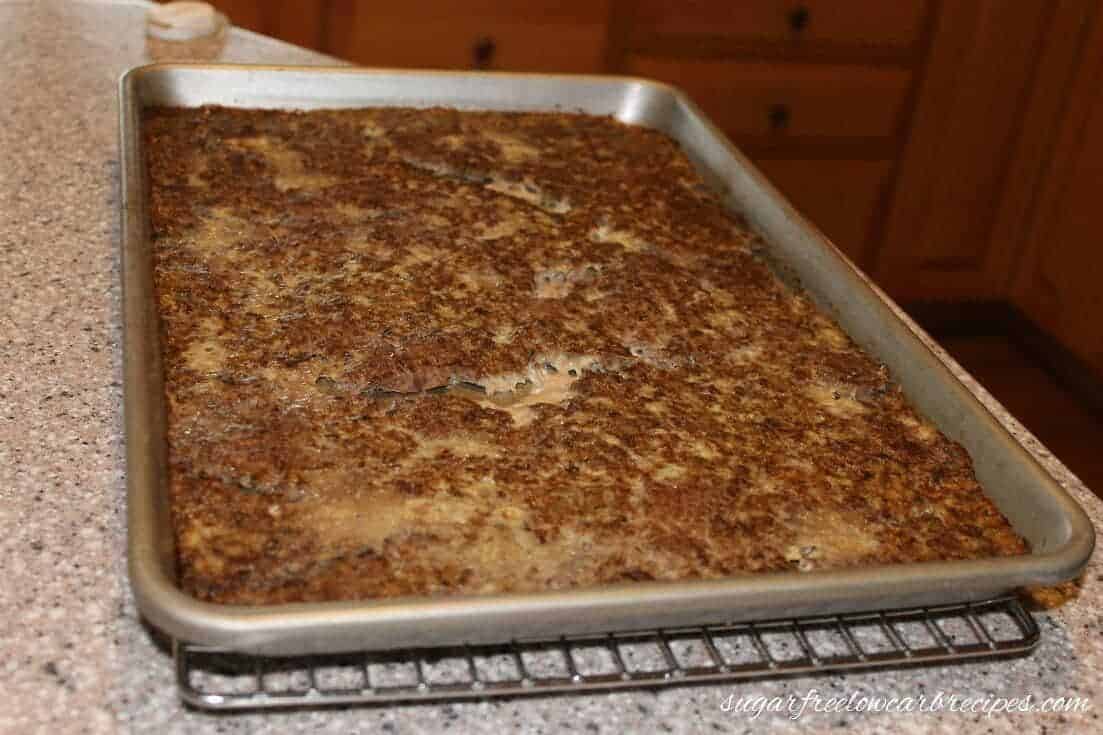 However, it looks and tastes like lasagna using a pumpkin sauce rather than the traditional tomato based sauce. Therefore, I have kept the title of this recipe as a lasagna rather than casserole.
To cook the meatza "noodles", I pressed the raw meat mix into a standard 18×12 jelly roll pan then baked it in the oven for about 20 minutes.
Here is what the meatza looked like after coming out of the oven. I probably could have taken it out a bit earlier.
I cut the cooked meatza up in rectangular pieces which was enough for two layers in my 9×13 baking pan.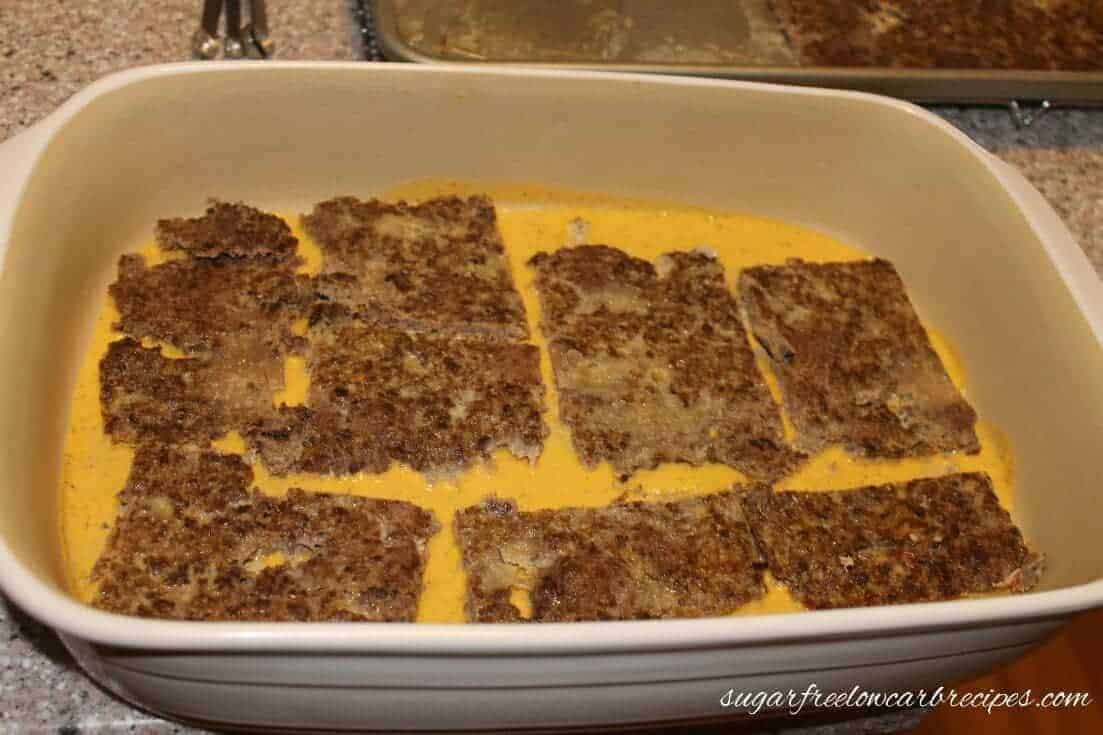 I used a large bowl of washed and dried baby spinach which was about 6 cups fluffed up. It wilted down quite a bit after cooking in the hot olive oil.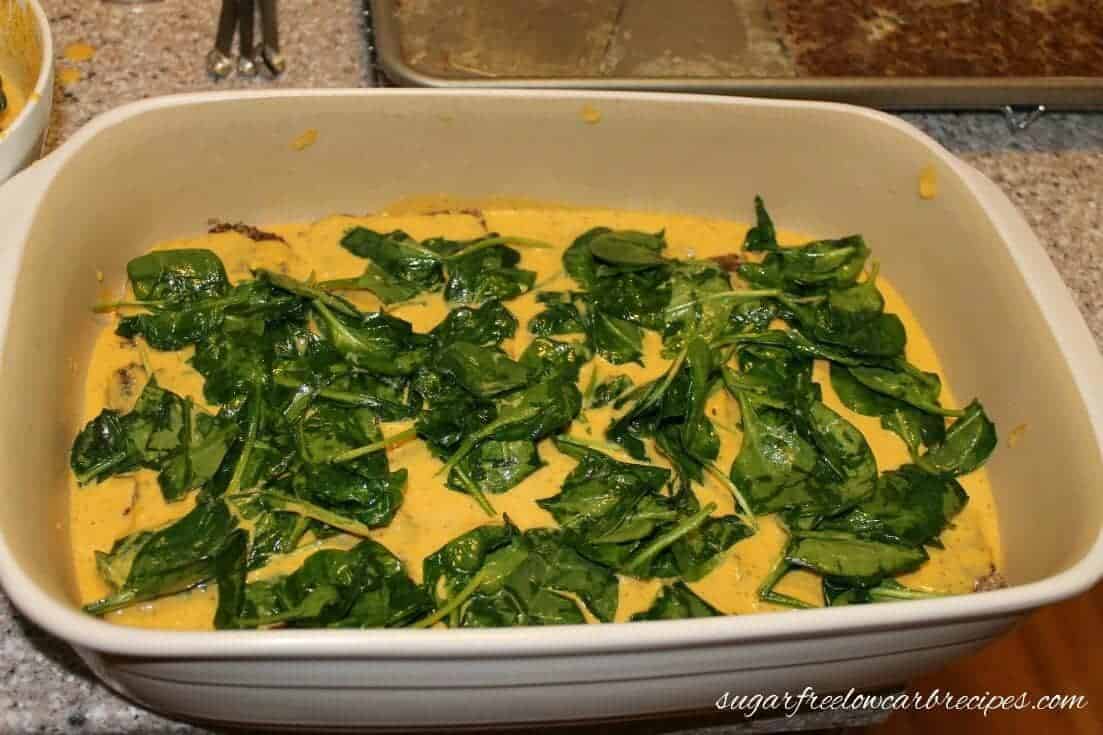 The cheese was quite brown on mine because I did not have it covered at all during baking. I should have only baked it uncovered for about ten minutes at the end.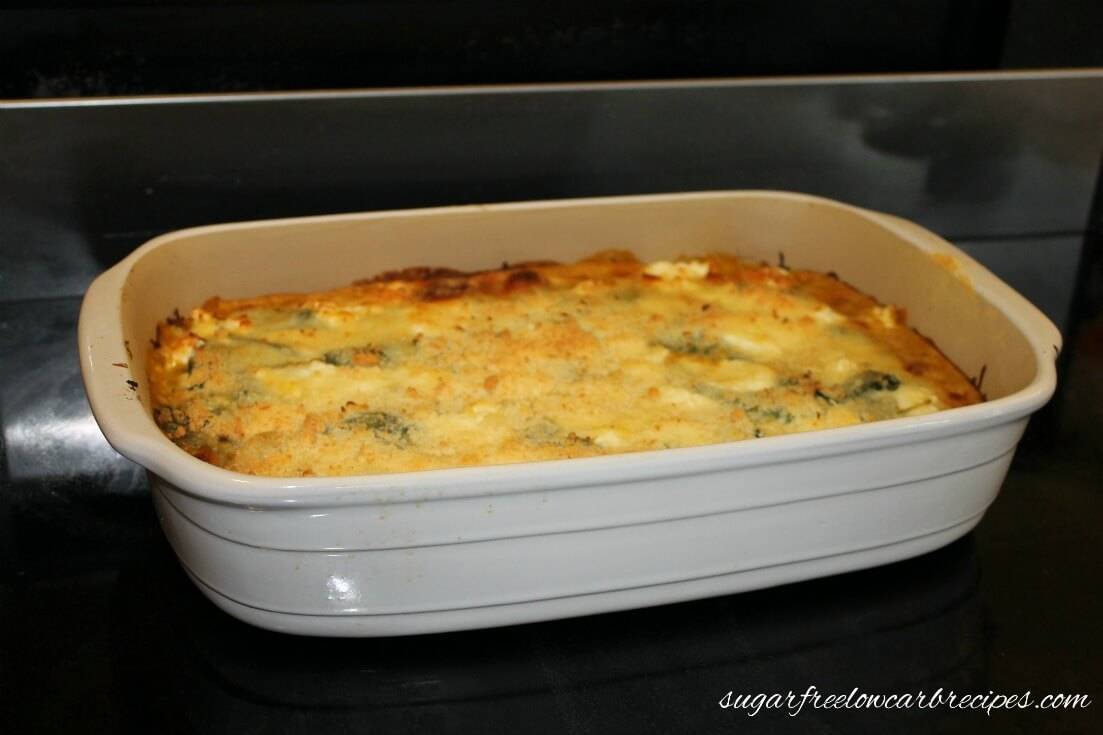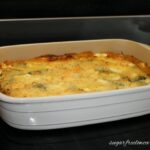 Pumpkin Lasagna with Spinach
A low carb pumpkin lasagna with spinach and meatza noodles. The pasta noodles in this dish have been replaced with pre-baked seasoned ground beef.
Ingredients
Meatza ingredients:
2

eggs

1/2

cup

parmesan cheese

grated

2

teaspoons

Italian seasonings

1

teaspoon

garlic powder

1

teaspoon

salt

2

pounds

ground beef
Lasagna ingredients:
1-2

tablespoon

olive oil

6

cups

fresh baby spinach

15

ounces

canned pumpkin puree

1 1/2

cups

almond milk

or half almond milk half heavy cream

2

teaspoons

dried rubbed sage

1

teaspoon

salt

1/2

teaspoon

ground black pepper

dash

ground nutmeg

15

ounces

whole milk Ricotta cheese

2

cups

mozzarella cheese

shredded

1

cup

parmesan cheese

shredded or grated

Prepared Meatza
Instructions
Prepare the Meatza:
Beat the eggs with the parmesan cheese and all seasonings. Add the ground beef and mix until well combined.

Spread mixture out onto a jelly roll pan. Bake for about 15-20 minutes in a 450°F oven.

Drain off any grease after removing from the oven. Slice into rectangular pieces to fit into lasagna pan.
Lasagna directions:
Heat olive oil in a large pot over medium high heat. Add spinach and stir until spinach is wilted. Remove from heat.

Combine pumpkin, almond milk, sage, salt, pepper and nutmeg in bowl.

Spread ½ cup pumpkin sauce onto bottom of 9×13 baking pan. Top with half of the cut up meatza.

Spread ½ of the remaining pumpkin sauce on top of the meatza layer then cover with spinach. Top with half of the ricotta, half of the mozzarella, and half of the parmesan cheeses. Repeat layers. Cover with foil.

Bake at 375 °F for 30 minutes.

Remove foil and bake uncovered for an additional 10 minutes or until cheese is melted and browned.
Recipe Notes
Makes 12 servings
Approximate values per serving: 406 calories, 26g fat, 6g net carbs, 34g protein
Nutrition Facts
Pumpkin Lasagna with Spinach
Amount Per Serving (1 g)
Calories 406
Calories from Fat 234
% Daily Value*
Total Fat 26g 40%
Total Carbohydrates 8.2g 3%
Protein 34g 68%
* Percent Daily Values are based on a 2000 calorie diet.
Related Posts