Real Good Pizza Co. frozen cauliflower crust pizza is a great option for a convenient low carb pizza. But watch out for other brands as they have just as many carbs as a crust made with wheat flour!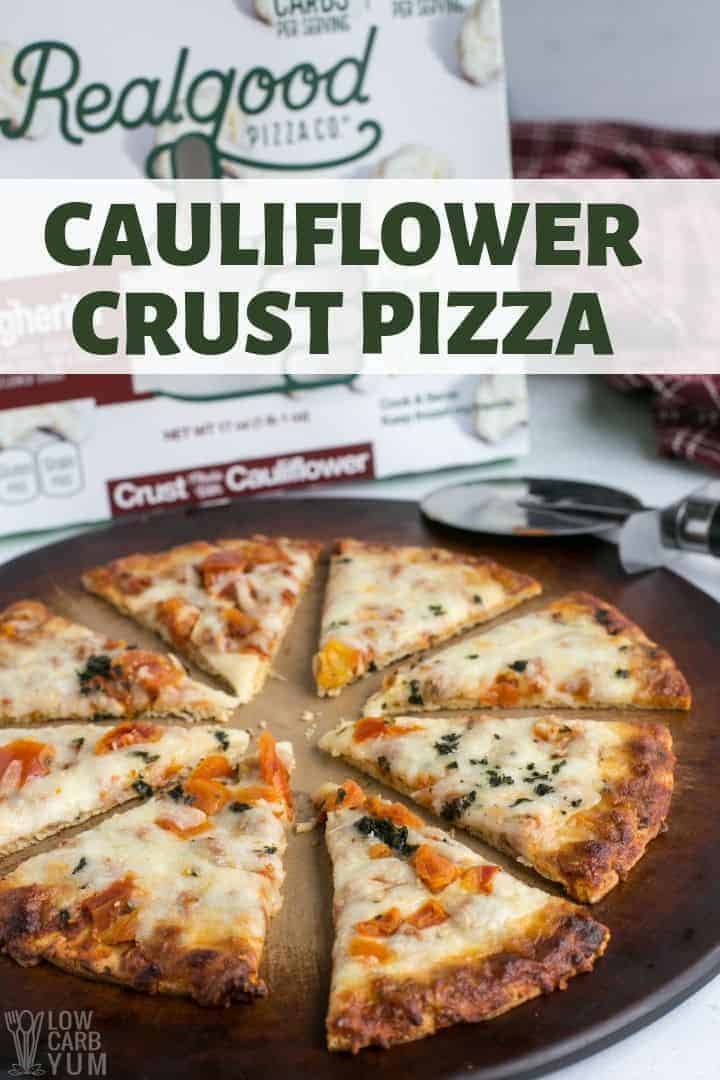 Article Index
Disclaimer: This post has been sponsored by Real Good Foods, but all opinions are my own. Product names, logos, brands, and other trademarks featured or referred to in this post are the property of their respective trademark holders and have no affiliation to the other brands or companies referenced in this post. CauliPower is a registered trademark of CauliPower LLC and DiGiornio is the registered trademark of Nestle.
Are All Frozen Cauliflower Crusts Low Carb?
Still searching for the perfect low carb pizza? Cauliflower crust pizza seems to be all the craze lately… but not all are created the same. So be sure to check the nutrition facts on the label before buying to make sure it's really low in carbs!
Real Good Foods just came out with a new and improved frozen cauliflower pizza that's even better tasting than the original version. And it's a great low carb choice as there's just 9 grams of total carbs per serving. Each serving is a quarter slice of the pizza and with 3 grams of fiber, the net carb count is only 6 grams.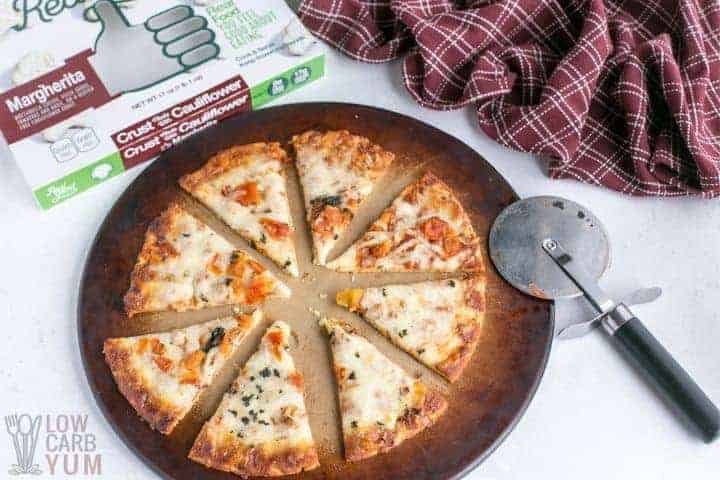 CauliPower makes a cauliflower crust pizza but it's nutritional profile isn't low carb. In fact, CauliPower's has the same/if not worst nutritional profile as DiGiorno's thin and crispy pizza…crazy right? That's because the CauliPower crust contains brown rice flour which isn't keto friendly.
I decided to do a side by side comparison of the two frozen cauliflower crust pizzas so you can really see the difference. Even if you aren't following a low carb eating plan, the Real Good frozen pizza is a better choice in my opinion because the crust has a better taste and texture.
Real Good Pizza Review
For this review, I'm comparing the Real Good Foods Margherita to the Three Cheese pizza by CauliPower. The first noticeable difference is right on the label.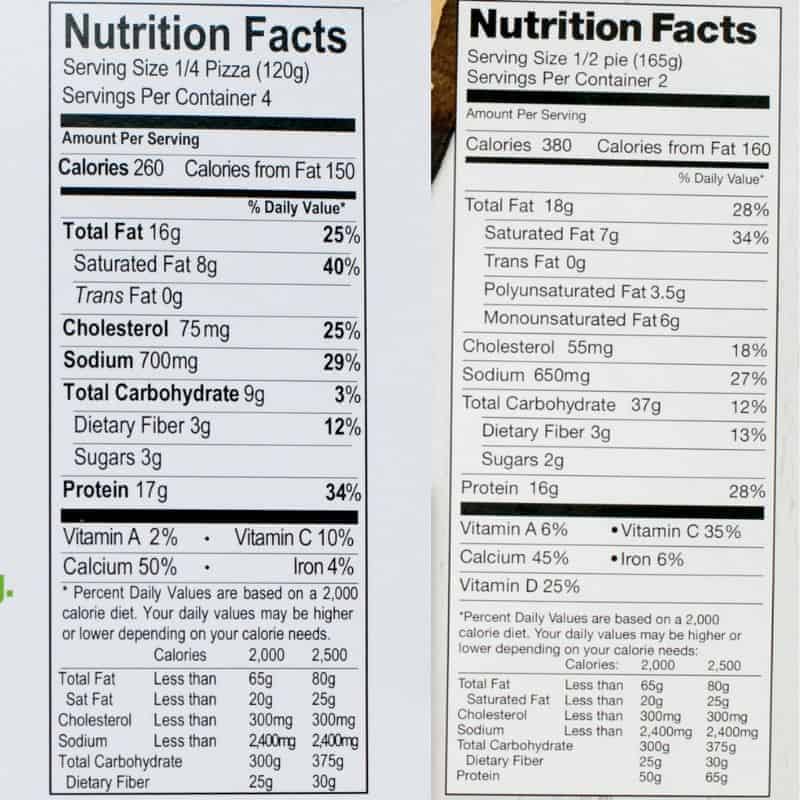 Carbs Per Serving
The serving size of CauliPower is a little larger at ½ the pie versus the ¼ pie for the Real Good Foods one. But even if you compare gram for gram, Real Good still has a lot less carbs than CauliPower. That's because they use keto friendly ingredients without adding any high carb flour.
Just out of the box, both pizzas look fairly similar. But the toppings are a little different as I wasn't able to find a Margherita version of CauliPower. This review is really just a comparison of the crust, anyway.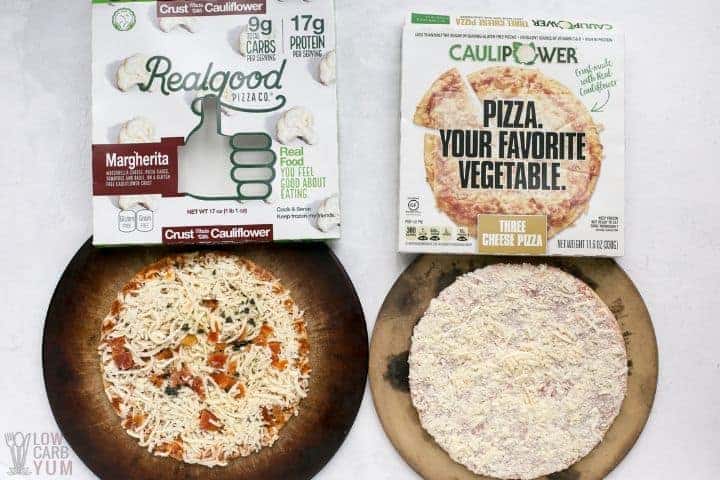 Which Crust Tastes Best?
After baking, the frozen cauliflower crust pizza by Real Good Foods did brown up much better. And although it's not a "cheese" pizza, it does have a much thicker layer of cheese. But like I said, I really wanted to focus on the crust and not the toppings.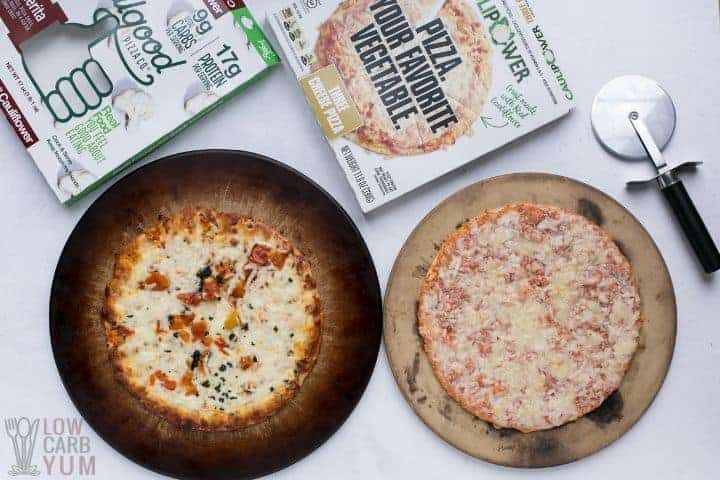 The crust is noticeably different in taste and texture when comparing the two brands. The CauliPower cauliflower pizza crust is thinner and has a somewhat cardboard texture. The Real Good crust is thicker and softer more like a bread. After taking a bite of both, I definitely prefer the taste and texture of the Real Good pizza versus the higher carb one made by Caulipower!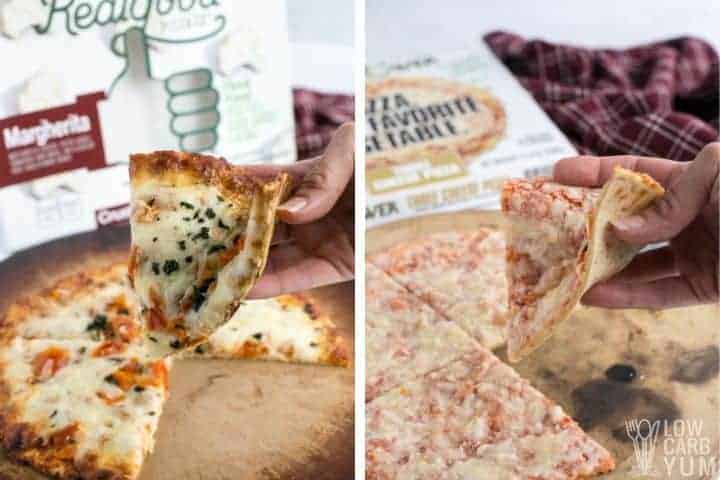 What I love about Real Good Food pizza is that it has a great nutrition profile for those on a low carb keto diet and it's just as delicious as a high carb pizza. Plus, it's convenient and reasonably priced. I also love that the crust is made with some of the same ingredients I'd use myself like cauliflower, egg, and cheese. There's also almond flour and coconut flour added which give the crust a more bread like texture.
At the time of this writing, the Real Good cauliflower crust pizza is available in the following styles:
Cheese
Margherita
Vegetable
Pepperoni
All the pizzas are made with traditional red pizza sauce. If I had to choose which one I like best, it would be the Margherita which has a generous amount of cheese and fresh tomatoes on top. But they all taste great so I like to keep a variety on hand for quick low carb meals.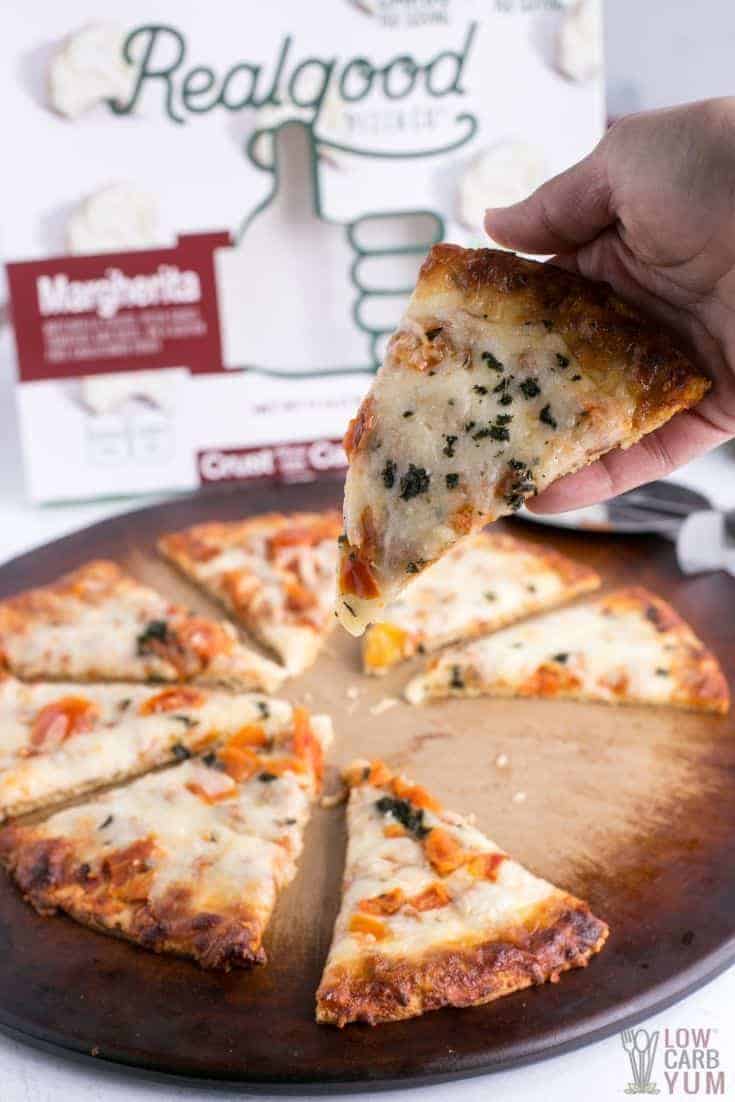 Where to buy this Cauliflower Crust Pizza
A lot of stores across in the continental US carry frozen foods by Real Good Foods. To find one near you, a handy store locator is available on the online store to see where to get the frozen cauliflower crust pizza locally. You can also buy the frozen pizza directly from the Real Good Foods website.
If you can't find the product locally, it wouldn't hurt to ask your favorite store to carry it. That way, you can just pick up one of these delicious keto frozen pizzas any time.
Follow us on FACEBOOK, PINTEREST, and INSTAGRAM for even more tasty keto-friendly recipes!