Now that you've learned everything there is to know about the keto diet (including some delicious recipes to try), let's talk a little more about what NOT to eat on the keto diet! Everything from fruits, veggies, and condiments to avoid.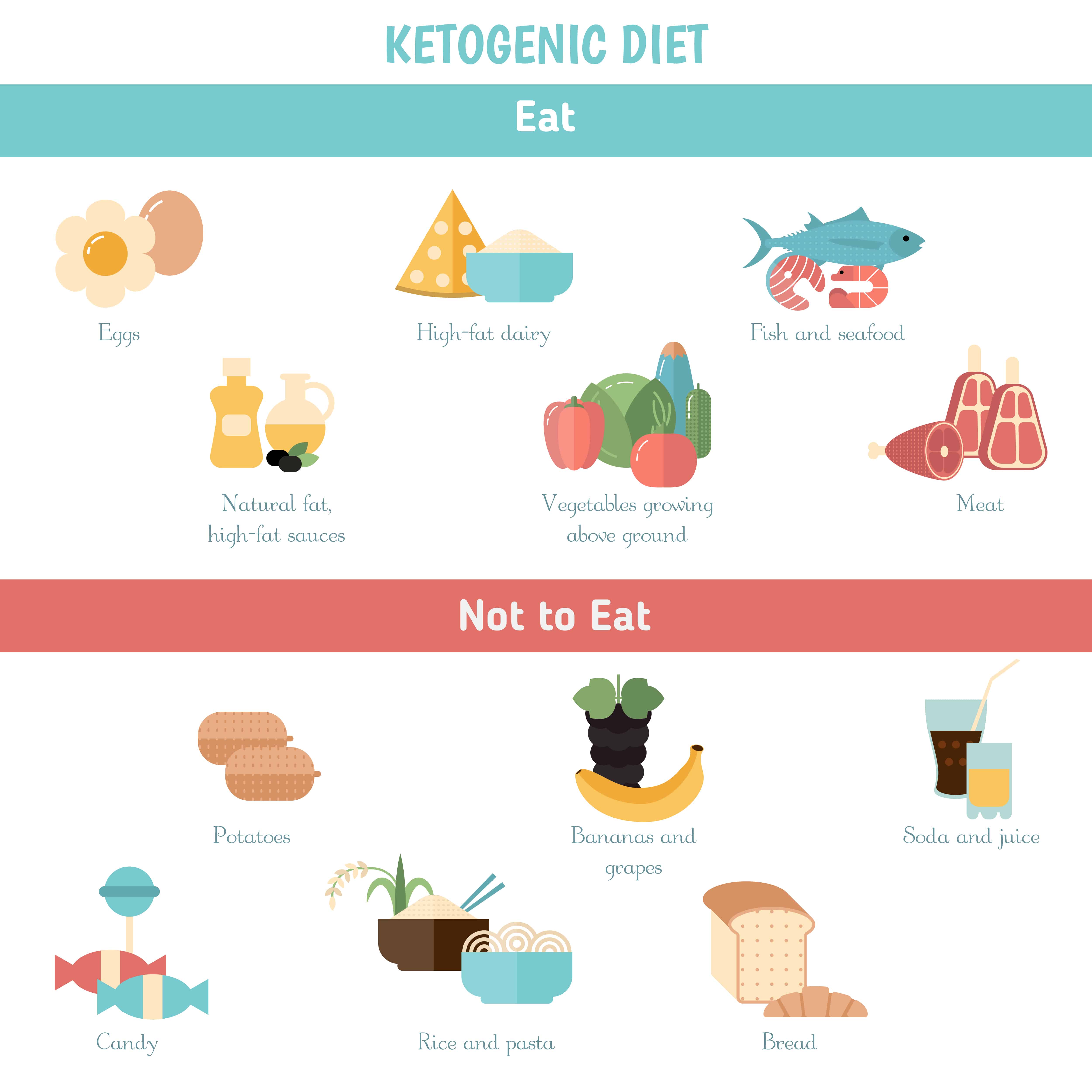 When you are on the keto diet, your main goal is to get into ketosis and stay there so your body will burn stored fat for energy instead of carbs.
Going into ketosis can be a rough transition. As your body switches to eating an extremely low-carb diet, you might experience keto flu symptoms. You might feel tired, get headaches, or deal with an upset stomach.
These are all normal as your body weans off its dependency on sugar. Once you get through the keto flu, you'll feel so much better!
First, you need to know which foods to avoid so that you don't get kicked out of ketosis and make it more difficult to lose weight.
Keto diet foods to avoid
Eating a low-carb diet can be simple, especially once you discover the pattern of foods you should avoid.
If losing weight is your goal, you should put these foods on your "do not eat" list. Plenty of keto foods are tasty and good for you, so avoiding these pitfalls should be no problem.
Obviously, you need to avoid high-carb foods. But what are high-carb foods? Can you eat any vegetables and fruit that you want?
Keep reading and learn which types of food have too many carbs to eat while following the keto diet!
Vegetables to avoid
There are certain starchy vegetables that you should not eat on the keto diet. It seems counterintuitive to avoid vegetables, but if they have too many carbs, they could kick you out of ketosis.
To give you an idea of which veggies to avoid, I'll list them with how many grams of carbs are in each serving:
Black-eyed peas: 1 cup = 100g carbs
Green peas: 1 cup = 120g carbs
Parsnips (sliced): 1 cup = 24g carbs
Potato (diced): 1 cup = 27g carbs
Pumpkin (chopped): 1 cup = 8g carbs
Carrot (chopped): 1 cup = 12g carbs
Butternut squash (chopped): 1 cup = 16g carbs
Sweet potato (chopped): 1 cup = 27g carbs
Plantains (sliced): 1 cup = 47g carbs
Corn: 1 cup = 27g carbs
Fruit to avoid
You should also avoid high-carb fruits on a low-carb diet. Some fruit is made up of almost pure sugar (no wonder we love it so much!). Remember, you can still eat fruit. You just have to pick the kinds with fewer carbs.
These are the types of fruit with the most carbs:
Bananas: 1 banana = 27g carbs
Raisins: 1 box = 34g carbs
Mango: 1 cup = 28g carbs
Pineapple: 1 cup = 22g carbs
Apples: 1 medium apple = 25g carbs
Condiments to avoid
When eating keto, you should always read the ingredients and nutrition labels before adding condiments or sauces to your food. So many of them are high-carb.
These are the best ones to avoid using because they almost always have added sugar:
BBQ Sauce
Ketchup
Maple Syrup
Store-Bought Salad Dressings
Jam
Instead, make your own keto ketchup or BBQ sauce. It tastes even better than storebought too!
Packaged keto snacks to avoid
It's probably best to avoid all packaged snacks on the keto diet. Chips, cookies, crackers, granola bars - they all have lots of sugar and carbs in them.
Be careful with labels on snacks too. Just because it says "low carb" doesn't mean it will be good for you or fit with your macros. Read the ingredients and nutrition labels before you buy them!
Always avoid anything that has trans fats in it. Do not eat any snacks sweetened with fruit juice - even sweetened yogurts have too much sugar if you are on the keto diet.
Check out this post on the best keto snacks to buy at the store!
Nuts to avoid
Since they are high in protein, nuts might seem safe to eat on the ketogenic diet, but some nuts still have too many carbs to be eaten without counting your macros.
These are the nuts with the most carbs:
Roasted Chestnuts: 10 pieces = 44.5g carbs
Pumpkin Seeds: 1 ounce = 15.3g carbs
Cashews: 1 ounce = 9.3g carbs
Pistachios: 1 ounce = 7.7g carbs
Walnuts: 1 cup = 16g carbs
Brazil Nuts: 1 cup = 16g carbs
Macadamia Nuts: 1 cup = 19g carbs
High carb foods
There are also some obvious high-carb foods you should always avoid while on the keto diet. Don't eat anything made with added sugar, flour, corn, or potatoes.
Even whole grains - like barley or oatmeal - can throw you out of ketosis.
Basically, if it has flour, corn, rice, sugar, or other starchy foods, don't touch them!
What you CAN eat
After reading all of that, it might feel like there isn't anything you can eat, but don't fret! There are plenty of different keto diet foods you can eat.
Low-carb fruits and veggies
Fruits and vegetables are an essential part of your keto diet. You need those nutrients and that fiber to aid in digestion. These keto-friendly foods will keep you healthy and give you a natural source of energy.
The best low-carb fruits and veggies include:
Zucchini
Yellow Squash
Broccoli
Cauliflower
Asparagus
Strawberries
Blueberries
High-fat foods
Since you are training your body to burn fat for energy instead of carbs, you need to eat plenty of healthy fat. This comes from healthy oils like olive oil and coconut oil.
You should also eat high-fat dairy. Plain Greek yogurt is a wonderful source of protein and fats. Cottage cheese and cream cheese are also dairy products that are good for you.
If you are lactose intolerant, replace dairy with unsweetened coconut milk. It's also high-fat and will give your body energy.
You can also enjoy chia seeds in moderation. A small amount will give you a boost of protein and healthy fats, but they do have lots of carbs. I've used them to make keto pumpkin chia pudding. It's filling and nourishing!
Snacks on keto
You don't have to give up snacks completely! Instead, you just have to look for carb-free options, like pork rinds.
Of course, making your own snacks is always the safest option. Keto Popcorn Cheese Puffs are addictingly crunchy. Keto Granola Bars are the perfect grab-and-go snack, and Keto Peanut Butter Balls taste like a candy bar!
🙋 FAQs
Here are some questions people often ask about macros on the keto diet. If you don't see your question in this list, please leave them in the comments.
Are processed meats a good idea to eat on keto diets?
It's best to limit processed meats - whether you follow keto diets or not. They are loaded with unhealthy fats and high sodium levels. Read the ingredient labels, too, because some of them even include sugar.
What should my carb intake be if weight loss is my goal?
Most people keep their net carb count below 50 grams a day in order to lose weight. If you're maintaining ketosis, then you should use our keto macro calculator to find out how many carbs you should eat.
What are starchy foods?
Starchy foods are any types of food that have too many carbs in them to be a good idea on the keto diet. This includes potatoes, corn, rice, flour, or anything made with those ingredients.
What are net carbs?
You'll need to track net carbs when you are on the keto diet. To find this number, just take the total carbs minus fiber.

For example, if something has 10 grams of total carbs and 5 grams of fiber, there are 5 grams of net carbs in that item.
How do you fight carb cravings when you eat keto?
The best way to fight carb cravings is to eat more healthy fats. Your body will be satiated, and you won't be hungry enough to eat any high-carb foods.
📚 Related guides
Keep reading and learning about the ketogenic diet. Browse the collection of low-carb and keto diet information that will answer all of your questions about the ketogenic diet.
Follow us on FACEBOOK, PINTEREST, and INSTAGRAM for even more tasty keto-friendly recipes!