An easy recipe for fluffy gluten free low carb coconut flour pancakes. Such a tasty breakfast treat! Enjoy them with your favorite syrup or eat them plain..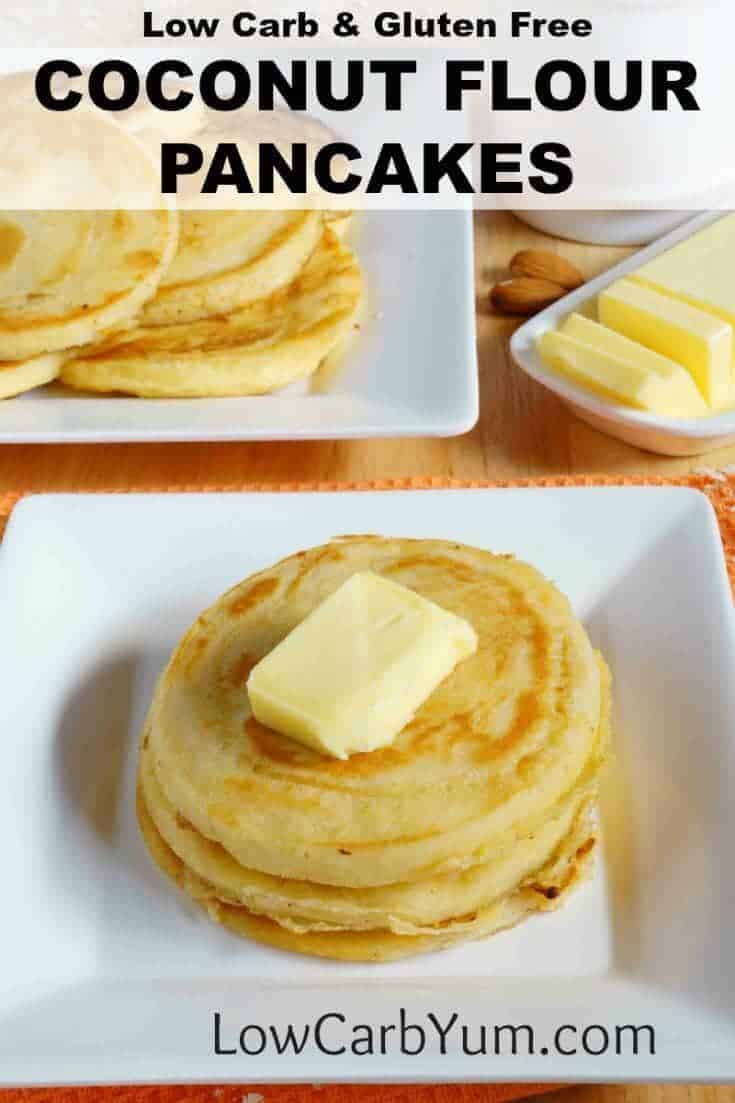 Pancakes are such a great weekend breakfast treat. And, it's great that you don't have to give them up on a low carb diet.
Although I love the pancake recipe I make with almond flour here, I decided to try a recipe for gluten free low carb coconut flour pancakes. There are a lot of people with nut allergies who can't have almonds. Coconut flour is a terrific option for them.
The gluten free pancakes made with coconut flour turned out lighter than the almond flour ones. And, they don't have the nutty flavor of the almonds. I didn't find them to have a strong coconut flavor either.
FREE eBook!
​LOW CARB TIPS and TRICKS
Subscribe now to receive your free copy of Low Carb Tips and Tricks which includes 20 easy to prepare recipes. Plus, get access to the weekly newsletter and special offers only for subscribers!
I may try adding a little xanthan gum next time as it is supposed to make up for the gluten in wheat free breads. However, it's not really needed.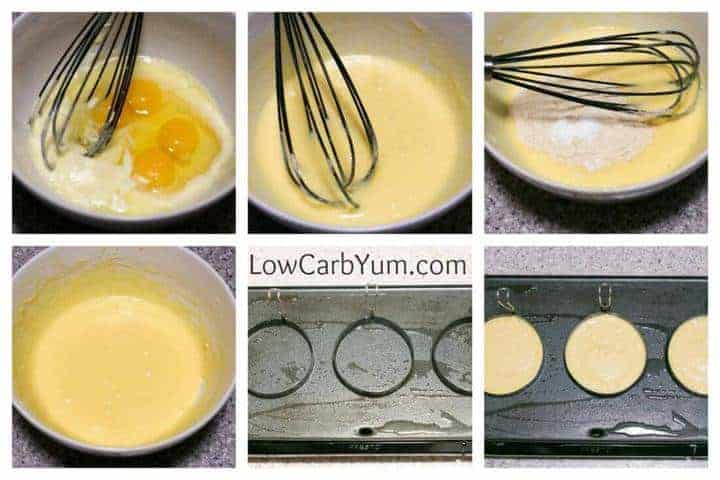 These low carb coconut flour pancakes taste delicious as is. But, I'm always looking for ways to tweak a recipe to make it a little better.
If you want to make a large batch for quick breakfast treats later, go ahead. They freeze very well.
When you are ready to eat them, there's no need to thaw. Just pop a frozen stack of pancakes in the microwave to reheat any time you want!
Want perfectly round pancakes? Then use a round pancake ring. It's ensures that you get a perfect circle!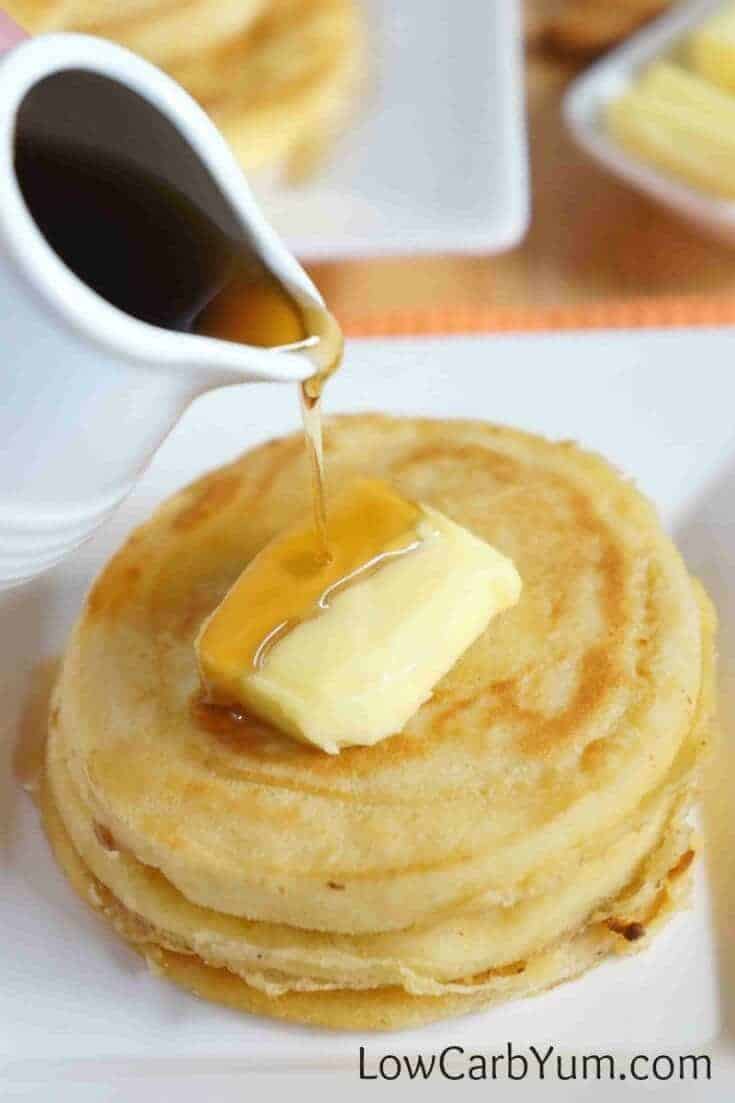 There are also great low carb options when it comes to syrup. You can always make your own.
Don't have time to prepare a homemade pancake syrup? No worries! Walden Farms sells this one that is both calorie and carb free!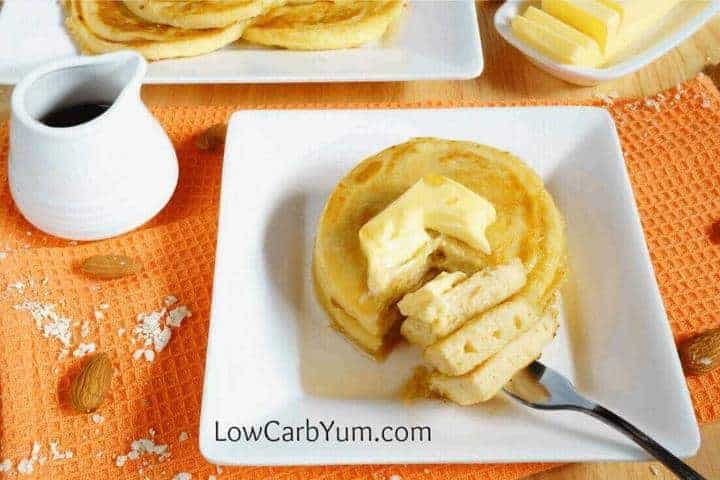 Which low carb flour do you prefer for making pancakes?
Gluten Free Low Carb Coconut Flour Pancakes Recipe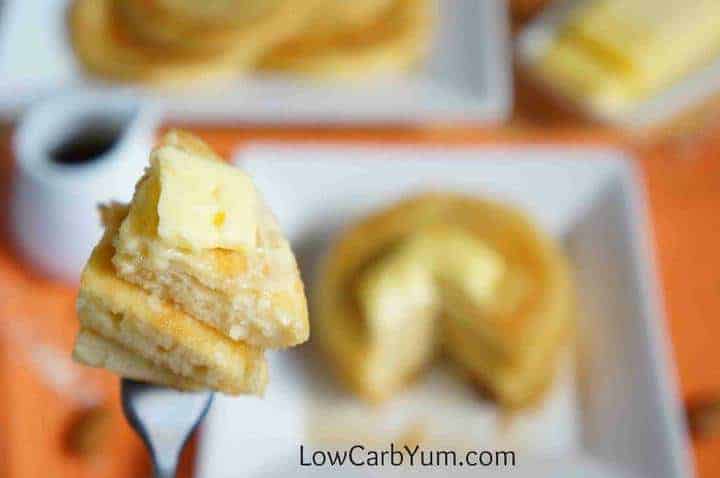 Gluten Free Coconut Flour Pancakes
Author:
Lisa | Low Carb Yum
Nutrition Information
Serving size:

1 pancake (25g)

Calories:

74
Fat:

6.5g

Saturated fat:

3.8g

Carbohydrates:

1.6g

Sugar:

0.2g

Sodium:

151mg

Fiber:

0.8g

Protein:

2.2g

Cholesterol:

68mg
Prep time:
Cook time:
Total time: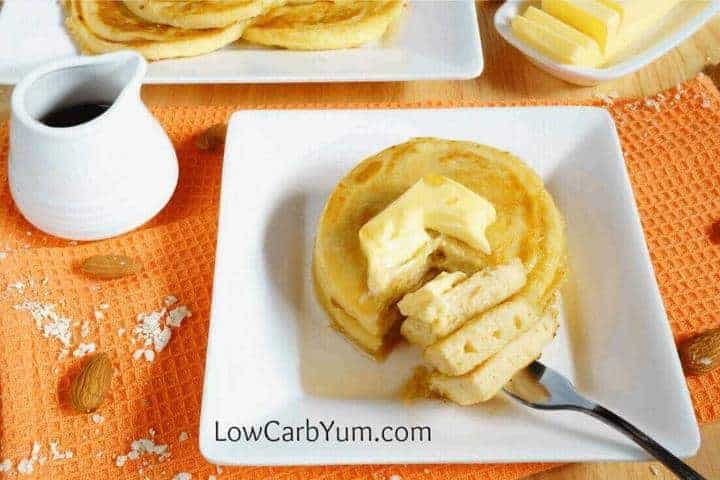 This easy recipe for fluffy gluten free pancakes is a tasty breakfast treat. Enjoy these low carb pancakes with your favorite low carb syrup or eat them plain.
Ingredients
¼ cup butter, melted
¼ cup heavy cream (sour cream works too)
1 packet stevia
½ teaspoon salt
3 eggs
½ teaspoon vanilla extract
¼ cup coconut flour (about 25g)
½ teaspoon baking powder
Instructions
Whisk together butter, cream, stevia, salt, eggs and vanilla extract.
In another bowl, combine coconut flour and baking powder. Mix dry ingredients into the wet ingredients.
Lightly oil skillet and heat over medium heat. Spoon heaping tablespoons of batter onto skillet to make pancakes about 2-3 inches in diameter.
Notes
Original recipe called for 4 eggs, but experience has shown 3 is better and makes the pancakes less eggy.

Makes 12 pancakes
Related Posts