Looking for low carb meals to make in your electric pressure cooker? Here's an easy Instant Pot no noodle lasagna that's a break to make.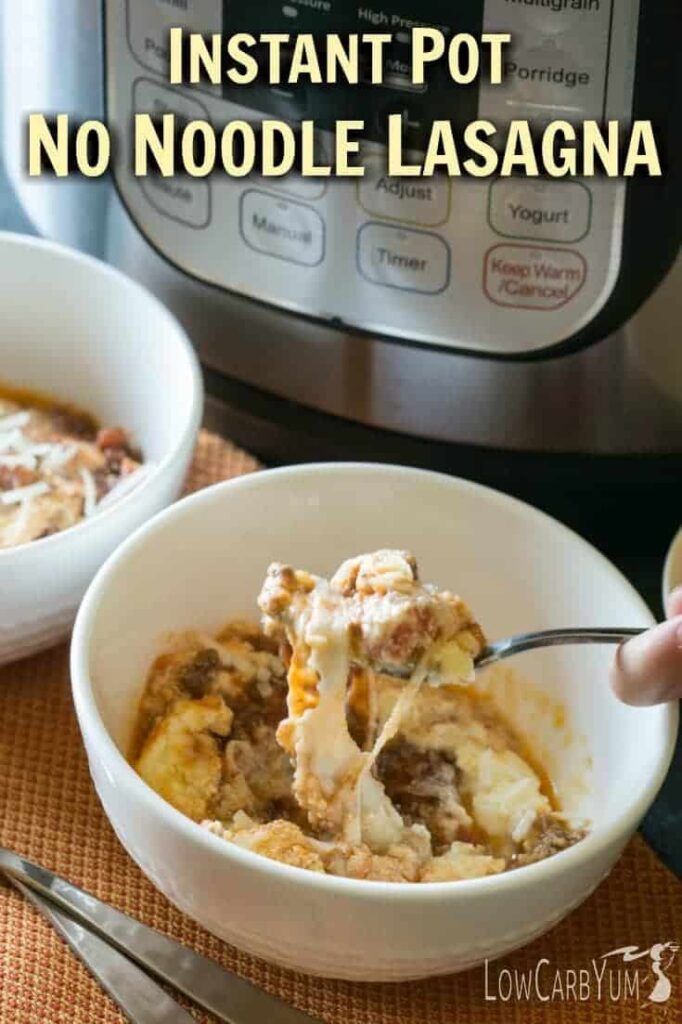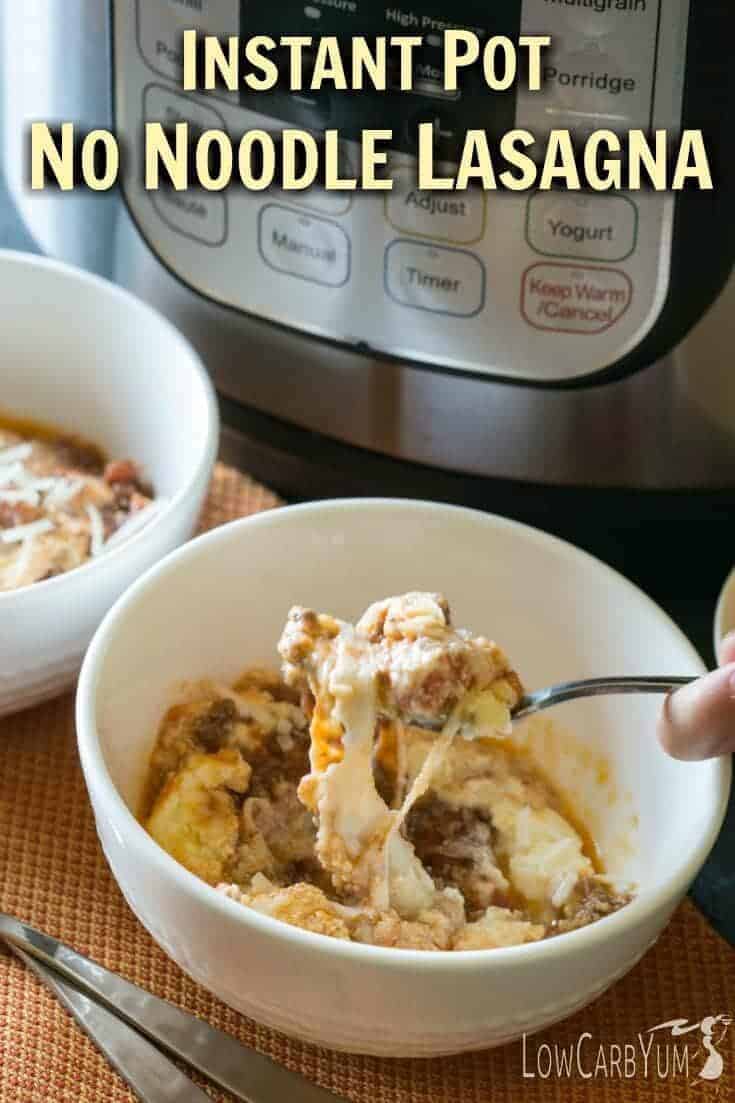 I've been taking it easy lately. The lazy days of summer are here and I'm trying not to do too much. However, it's tough when you work full-time, have a small child, and manage two blogs.
To make meals easier, I'm using my Crock Pot and Instant Pot. The Instant Pot is a fairly new appliance for me, and I am still learning how to best use it. But, it's quickly becoming one of my most favorite kitchen appliances.
Thanks to the multi-functions of the Instant Pot, I've been able to get rid of my steamer and rice cooker. It's also a slow cooker, but I'm keeping my crock pots because you can never have enough slow cookers.
It's been super hot the last few weeks so I'm a bit reluctant to turn on the oven if I don't have to. We do have ice cold central air conditioning, but I don't always like to turn it on. And, when it is on, I like to keep the temperature dial on the high side.
I was craving some lasagna when I got home from a short vacation in upstate New York.
The weather was hot so I didn't want to add heat to the kitchen by turning on the oven.
I could have made a skillet lasagna like the recipe here, but decided to try out a lasagna recipe in the Instant Pot instead.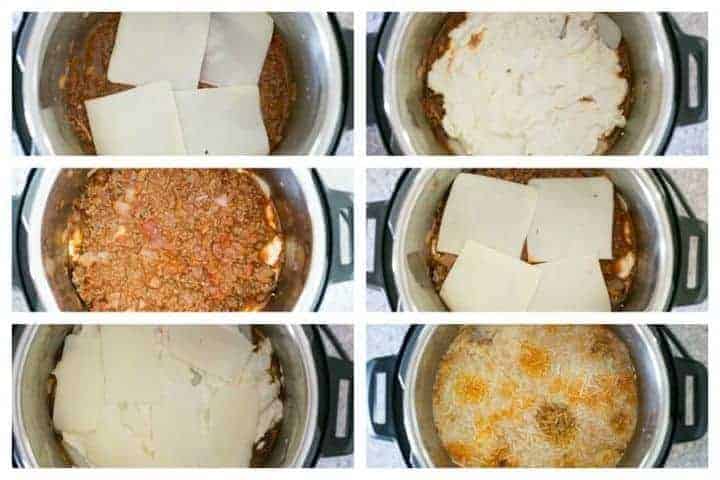 My traditional lasagna recipe uses a ricotta cheese filling in the layers. Some like to use cottage cheese, but I prefer the taste of ricotta.
Which cheese do you prefer?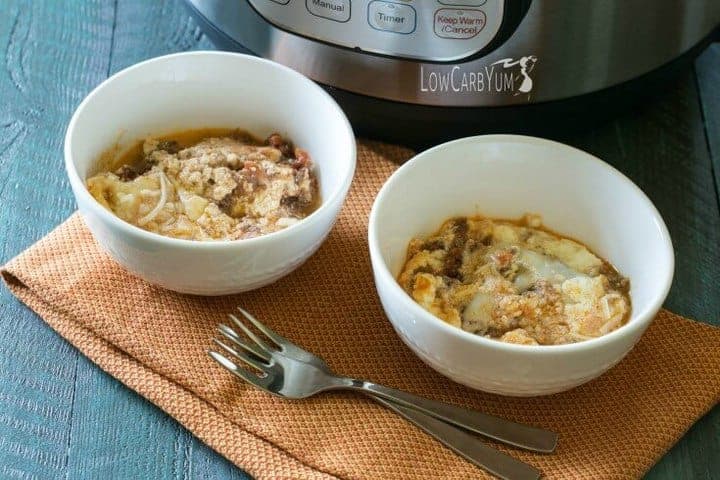 This Instant Pot no noodle lasagna recipe was adapted from my spaghetti squash lasagna recipe here.
I decided to leave out the veggie noodles, though.
I suppose I could have used layers of zucchini to help hold things together. But, I didn't bother to do that.
That's why I call this recipe an Instant Pot no noodle lasagna. There's NO NOODLES, real or faux.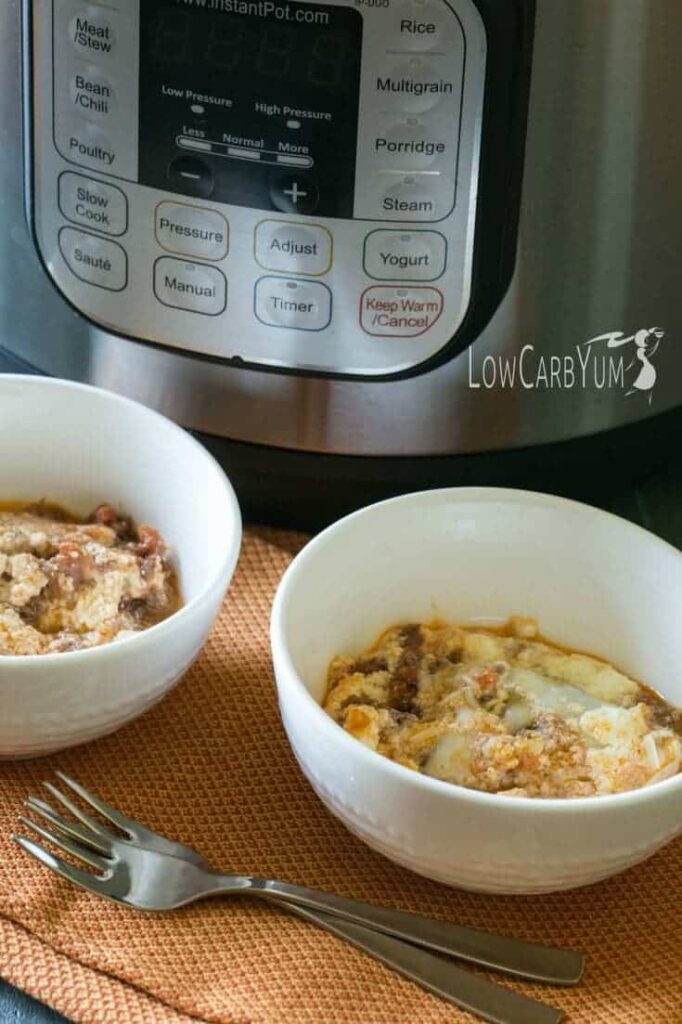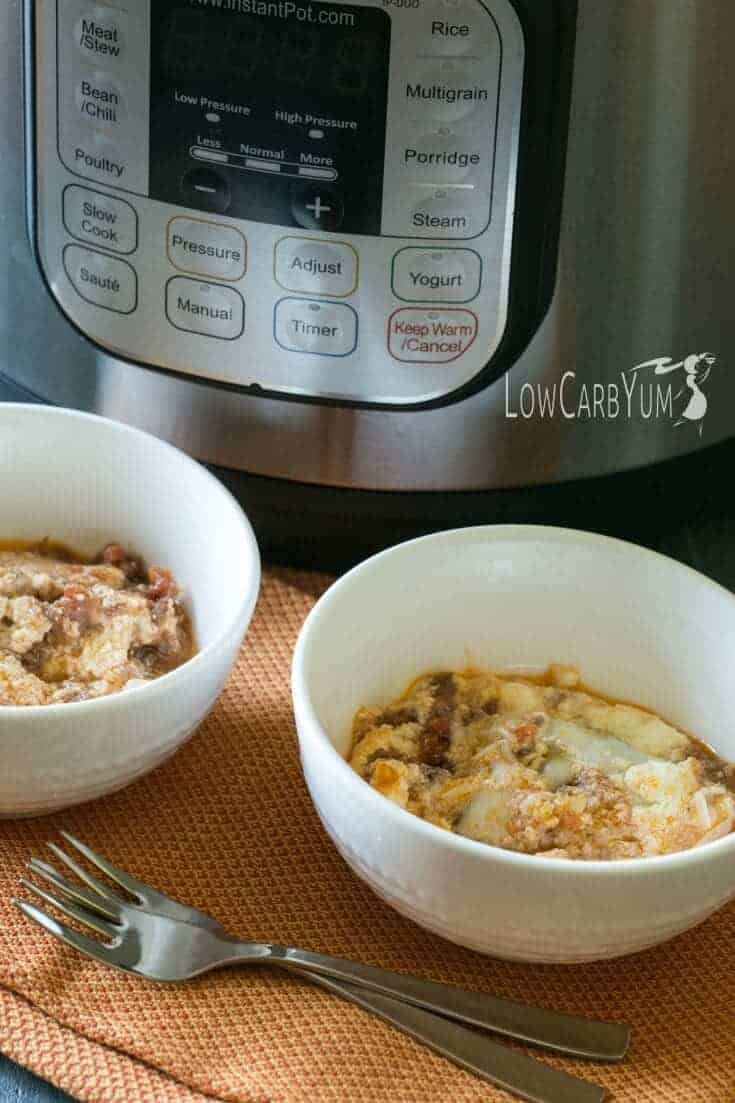 You may want to loosely cover the lasagna with aluminum foil while it's cooking in the Instant Pot. I didn't think of this until after. It would prevent condensation from dripping on top of the cheese.
If you prefer, you could leave the top layer of cheese off during the cooking process. Then, when the time is up, simple add the cheese to the top after depressurizing. Then, put the lid back on and let the heat of the warm cycle melt the cheese.
In any case, this is a super easy recipe that cooks up in the Instant Pot. And, it only dirties one pot since you can brown the meat right in the pot!
I think you'll love this simple Instant Post no noodle lasagna. It's very similar to a skillet lasagna, but skips the pasta.
What's your favorite family meal to cook up in an electric pressure cooker like the Instant Pot?

Low Carb Instant Pot No Noodle Lasagna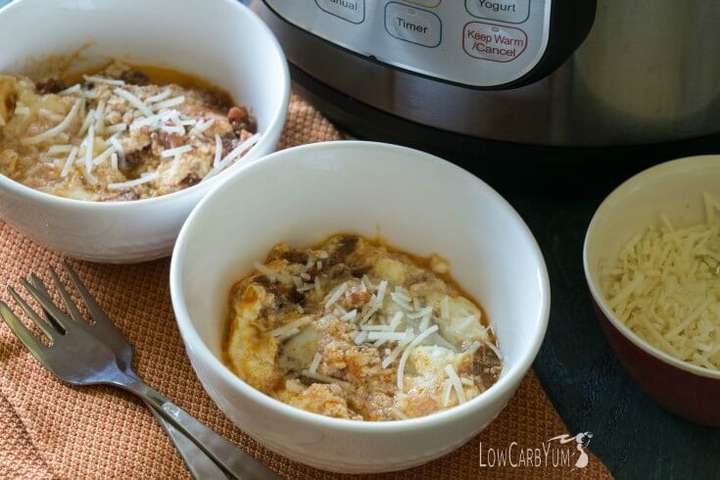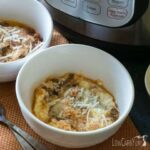 Instant Pot No Noodle Lasagna
Looking for low carb meals to make in your electric pressure cooker? Here's an easy Instant Pot no noodle lasagna that's a break to make.
Ingredients
1

pound

ground beef

2

cloves

garlic

minced

1

small onion

1 1/2

cups

ricotta cheese

1/2

cup

Parmesan cheese

1

large egg

1

jar

marinara sauce

25 ounces

8

ounces

mozzarella

sliced
Instructions
On sauté setting, brown the ground beef with the garlic and onion.

While the meat is browning, combine the ricotta cheese with the Parmesan and egg in a small mixing bowl. 

Drain grease and remove browned beef to a 1 1/2 quart soufflé dish (or similar dish that fits into Instant Pot). Add the marinara sauce to the browned meat and reserve half of the meat sauce. (See Recipe Notes on how to make the lasagna directly in the pot without burning... basically, you'll want to add more sauce so there's plenty of liquid cooking under pressure)

Top the remaining meat sauce with half the mozzarella cheese.

Spread half the ricotta cheese mix on top of the mozzarella layer.

Top with the remaining meat sauce.

Add a layer of mozzarella cheese on top (reserve a few pieces for the final layer).

Spread the remaining ricotta cheese mixture over the mozzarella.

Top with the remaining mozzarella pieces (these can be reserved to top after if desired).

At this point, you may want to cover the lasagna with a loose aluminum foil to prevent condensation dripping on the cheese. I didn't bother to do this. It's not needed if you want to reserve the top layer of cheese to be added after the pressure cycle is over.

(Note, the water and rack is not needed if adding more sauce and cooking directly in the pot) Pour 1 cup water into pot then place soufflé dish on rack over water. You may want to use a sling to easily remove the soufflé dish when done. Cover, and cook at high pressure for 8-10 minutes.

Vent off steam, remove lid and add any reserved cheese on top. I like to sprinkle Parmesan cheese on the very top. Cover and let sit to melt cheese if needed.

Spoon lasagna into bowls to serve.
Recipe Notes
Since so many comments noted that the lasagna burned in their pot, the recipe has changed to use the pot in pot (PIP) method rather than cook directly in the pot. 
However, the issue with burning is if there isn't enough liquid in the pot when cooking under pressure. So a "watery" sauce is what's needed to keep the lasagna from burning if you don't want to use the PIP method. Extra sauce should also prevent burning for those wanting to cook directly into the pot.
Nutrition Facts
Instant Pot No Noodle Lasagna
Amount Per Serving (243 g)
Calories 365
Calories from Fat 225
% Daily Value*
Total Fat 25g 38%
Cholesterol 110mg 37%
Sodium 808mg 34%
Potassium 527mg 15%
Total Carbohydrates 7g 2%
Protein 25g 50%
* Percent Daily Values are based on a 2000 calorie diet.

Related Posts