I picked up some red cabbage to slice into a salad and had half a head left. I found several recipes for sauteed cabbage that were simple and required few ingredients. I've never cooked red cabbage before so I wasn't sure how it would be.
It turned out to be very good. I liked the sweetened vinegar seasoning. It is kind of like a warm cabbage salad with vinegarette dressing.
Low Carb Sauteed Red Cabbage
Author:
Lisa | Low Carb Yum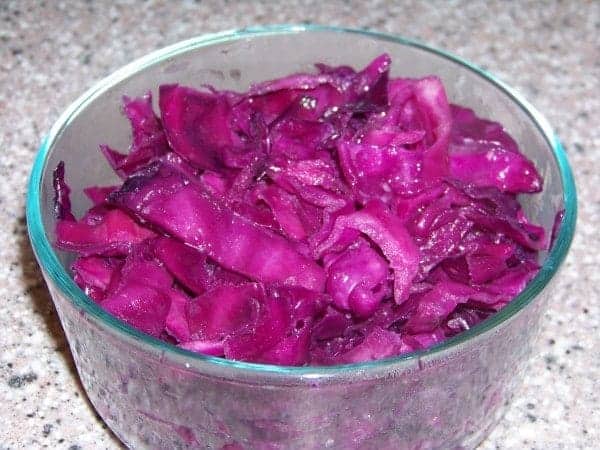 Need a simple low carb vegetable side dish? Try this fabulous sautéed red cabbage with sweet vinegar seasoning. It's a unique side that is sure to please.
Ingredients
2 tablespoons olive oil
1/2 red cabbage, thinly sliced
1/3 cup apple cider vinegar
1 ½ teaspoons Truvia
1 teaspoon mustard seed
Salt and pepper
Instructions
Heat oil in skillet over medium high heat.
Add cabbage and stir in pan until it wilts, about 3 to 5 minutes.
Stir in vinegar. Sprinkle Truvia over cabbage and stir in.
Season with mustard seed, salt and pepper and reduce heat slightly.
Let cabbage continue to cook 10 minutes or until ready to serve, stirring occasionally.
Notes
Makes 4 servings

Carbs per serving: about 3g
FREE eBook!
​LOW CARB TIPS and TRICKS
Subscribe now to receive your free copy of Low Carb Tips and Tricks which includes 20 easy to prepare recipes. Plus, get access to the weekly newsletter and special offers only for subscribers!
Related Posts