A low carb Snickers bar recipe that makes a delicious candy treat that can be enjoyed without guilt. Layering in a baking pan makes it quick and easy.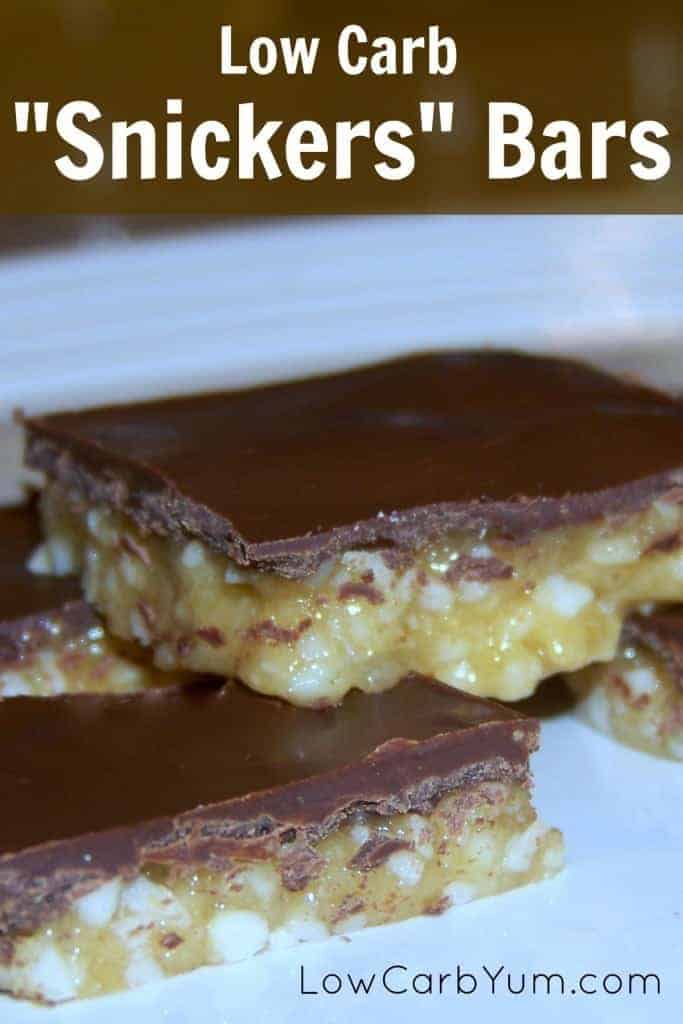 When I posted the giveaway contest asking what kind of low carb food recipes people were looking for, I had to ask myself that same question.
After thinking about the question, the one thing I wanted was a low carb Snickers bar that wouldn't give me digestive distress. Occasionally, I buy the Atkins Caramel Chocolate Peanut Nougat Bar which is the closest low carb substitute I've found for a Snickers candy bar. The only problem with the Atkins bar is that I pay for the snack later because of the sugar alcohols used.
I came up with a low carb peanut butter caramel recipe that tastes just like the inside of a Snickers candy bar. It's sweetened with a mix of stevia and erythritol and it is a soft caramel that keeps best in the refrigerator.
FREE eBook!
​LOW CARB TIPS and TRICKS
Subscribe now to receive your free copy of Low Carb Tips and Tricks which includes 20 easy to prepare recipes. Plus, get access to the weekly newsletter and special offers only for subscribers!
I thought about freezing it and cutting it into squares so that it could be dipped in chocolate, but that seemed like too much work for me.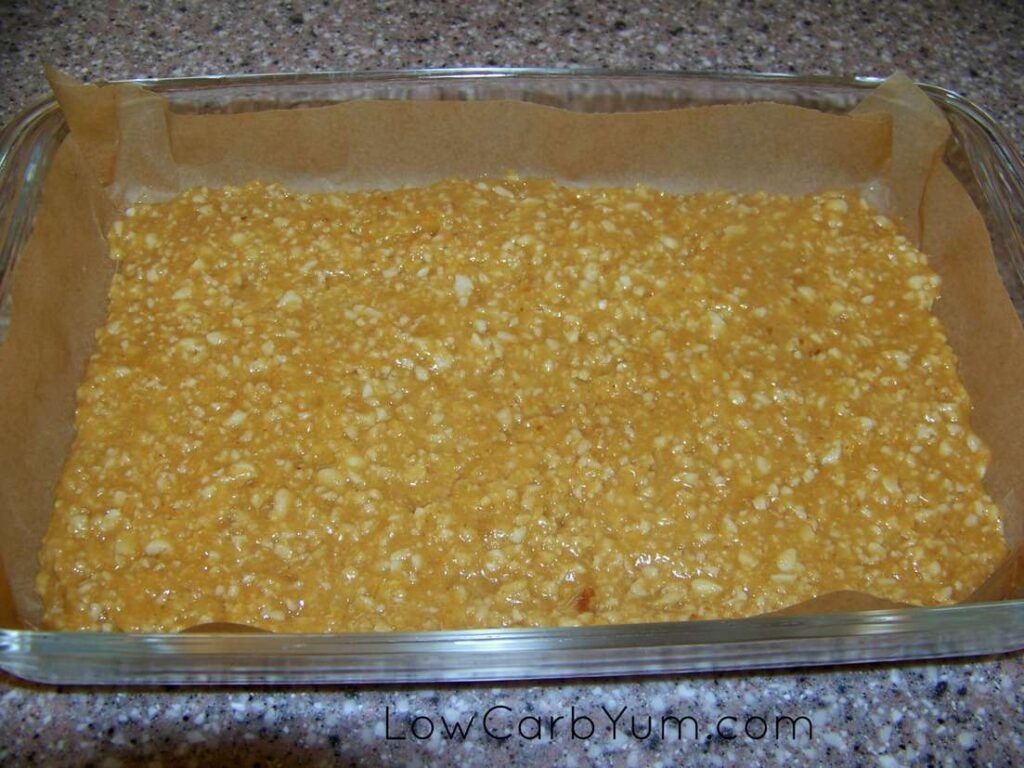 If you are a regular reader of my blog, you know that I like to keep my recipes simple. Therefore, I just used the same chocolate topping from the Peanut Butter Cup Square recipe I posted earlier.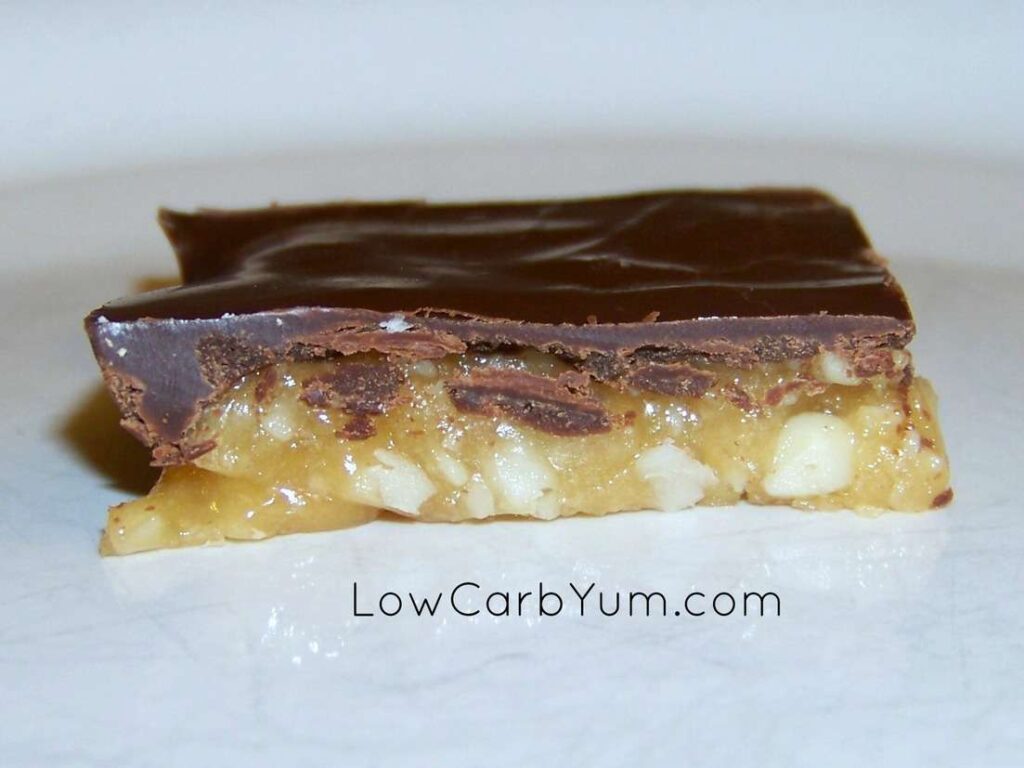 The caramel layer remains soft so cutting the squares will crack the chocolate a little. If you have some experience making hand dipped candies, you may want to try coating small rectangular pieces of the caramel in chocolate to get the real Snickers bar look. Coating the filling completely in chocolate would give it the more authentic candy bar look and taste. And, it would help hold the shape of the caramel filling as well as be pretty enough for gift giving!
Low Carb Snickers Bar Recipe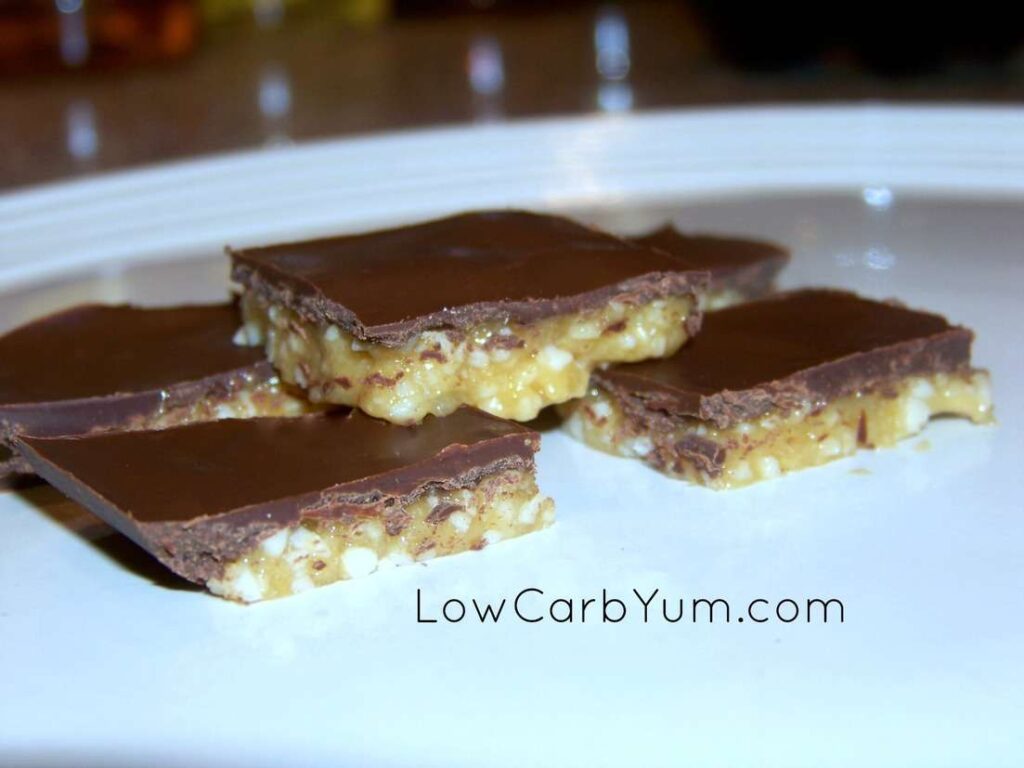 Low Carb "Snickers Bar" Candy
Author:
Lisa | Low Carb Yum
This low carb Snickers bar recipe makes a delicious sweet candy treat that can be enjoyed without guilt. Layering in a baking pan makes it quick and easy.
Ingredients
Peanut Caramel Layer:
Chocolate Layer:
Instructions
Peanut Caramel Layer:
In deep mixing bowl, whisk egg white until soft peaks form. Beat in cream of tartar, xanthan gum, vanilla, and 1 Tablespoon Steviva Blend. Gradually beat in the 3 Tablespoons vanilla whey protein powder. The consistency should be thick and sticky like a marshmallow cream. Set aside.
In medium heavy saucepan, melt butter over medium-high heat. Mix in ¼ cup Steviva Blend and heavy cream. Once it reaches a boil, cook and stir 5 minutes more. Pour into sticky egg white mixture then add in peanut butter and vanilla. Mix until well combined; stir in peanuts. Spread into a 7×11 pan lined with waxed or parchment paper. Cool in refrigerator.
Chocolate Layer:
In Pyrex or metal bowl over pot of simmering water, melt chocolate chips with the peanut butter, stirring until smooth. Pour melted chocolate over peanut butter caramel mixture and spread evenly to cover top.
Refrigerate for at least an hour before cutting into squares. Keep in the refrigerator for snacking.
Notes
Makes 35 squares

Net carbs per square: 1.4 g
Related Posts