There are so many different things you can do with xanthan gum. This guide will show you different xanthan gum uses and substitutions. It's a very important ingredient in lots of low-carb recipes - and this is how to use it.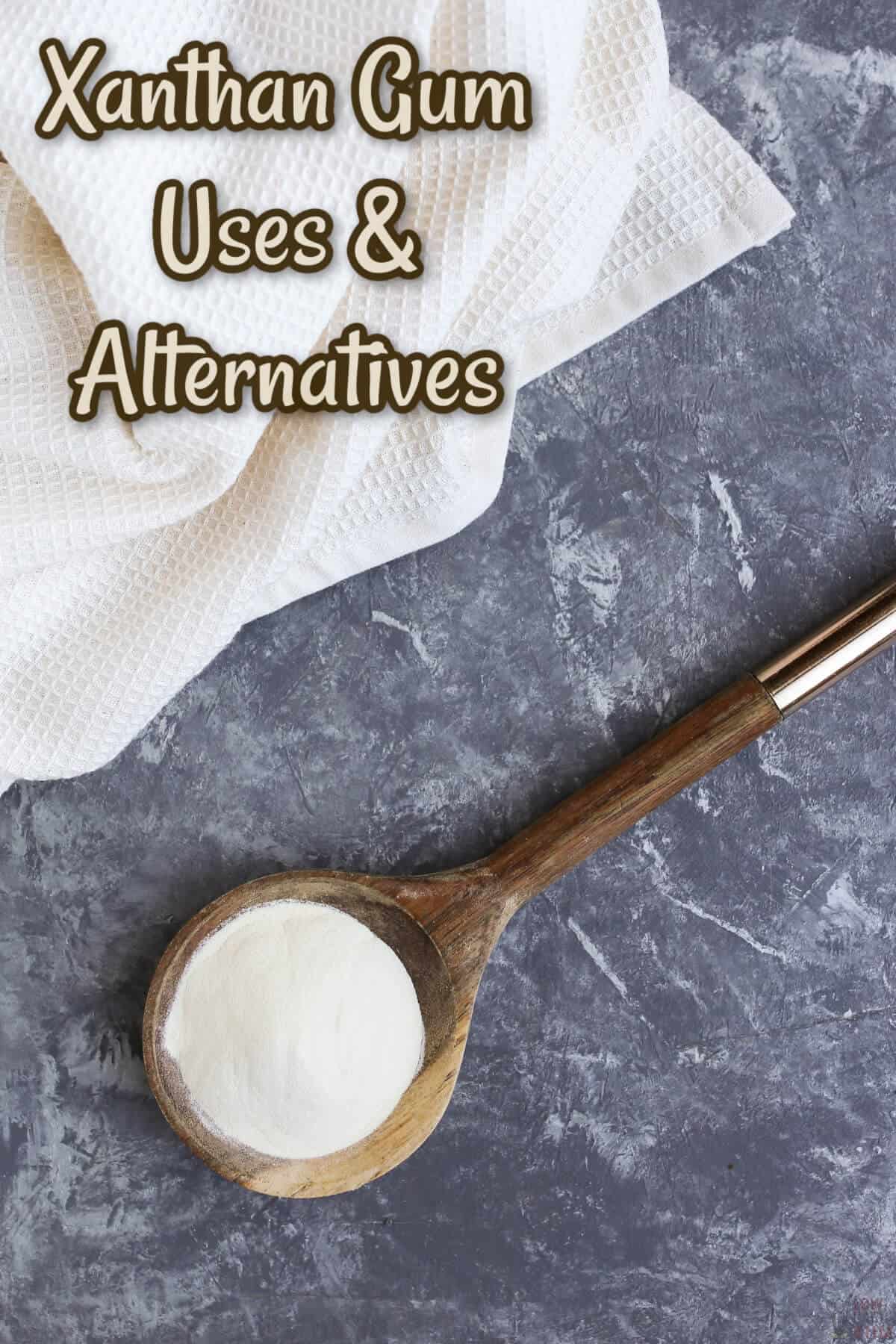 Article Index
Have you ever wondered what exactly xanthan gum does? Well, it's actually a very important ingredient in both low-carb and gluten-free recipes.
This guide is going to explain everything you ever wondered about ingredient!
What Is Xanthan Gum?
The actual scientific definition of xanthan gum might gross you out or surprise you but it's actually a powdered food thickener. It's made from bacteria that commonly infects plants.
When you open a jar of baking ingredient, you wouldn't think it came from plant-infecting bacteria, but it does! Basically, it is a type of sugar that is made from the Xanthomonas campestris bacteria after it goes through fermentation.
Note: The finished product that you buy doesn't contain any viable bacteria and it is calorie-free.
Is Xanthan Gum Good For You?
There are constantly new studies on the potential health benefits of when eating this ingredient. For now, the small amounts that you eat when you bake with it probably won't make a huge difference in your health.
It's still really interesting to hear about the studies and what scientists are learning.
For example, a study in 1987 found that men who consumed xanthan gum for 3 weeks experienced a 10 percent drop in their cholesterol.
Another study shows that it has laxative effects - which can be great if you are feeling kind of irregular.
The largest health benefit of all is that it binds ingredients together and creates delicious recipes that help you stay away from processed sugar.
It's so nice to be able to still enjoy donuts when you are on a keto diet!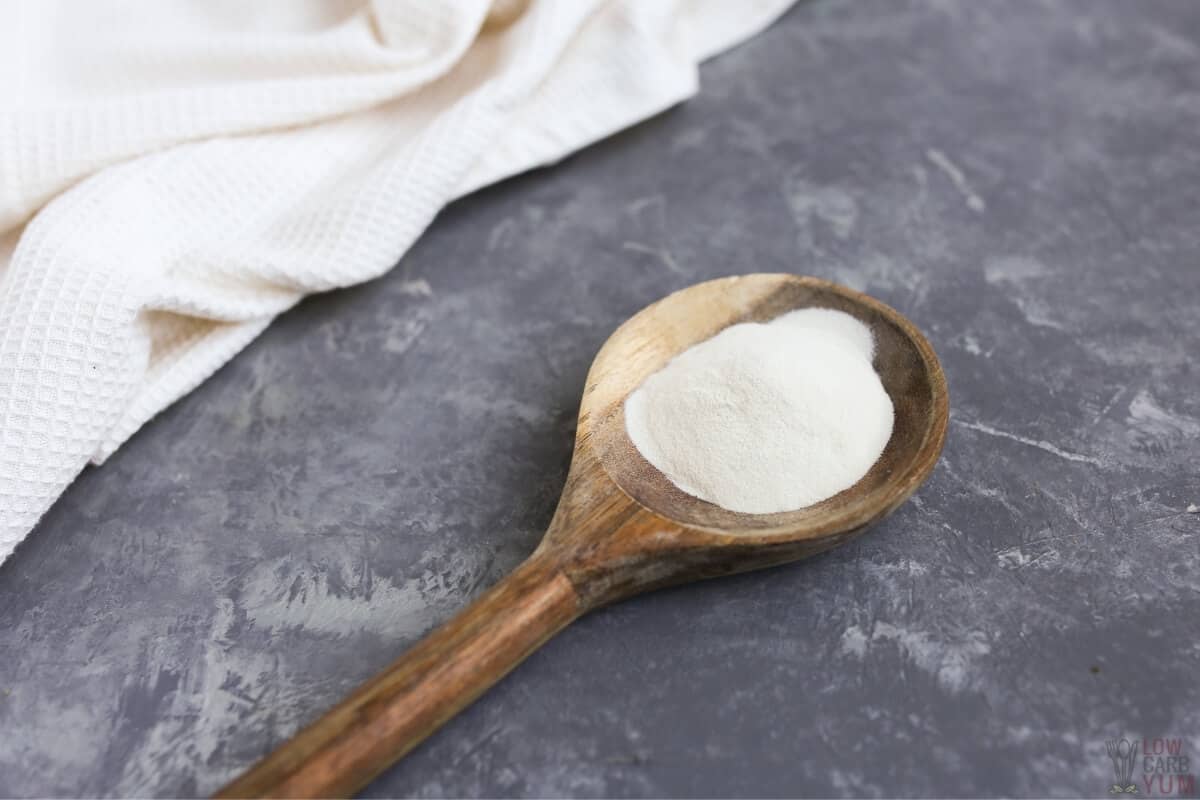 Xanthan Gum Uses
Xanthan gum is used in two specific ways and mostly used in processed foods and recipes:
Thickener - It takes liquids and thickens them. People use it to thicken smoothies, puddings, and keto baking batters.
Emulsifier - It also binds ingredients together and prevents them from separating. This is very important in low-carb and gluten-free baking and in salad dressings.
For keto dieters, we use this binding ingredient in lots of baking recipes. Gluten is found in whole wheat or all-purpose flour and it's this gluten that holds bread together.
When you replace flour with almond or coconut flour, it's best to use xanthan gum (or a substitute) to prevent the bread from falling apart into a crumbly mess.
Xanthan Gum Substitutes
If you don't have xanthan gum, there are a few things you can use as a replacement.
These are the 9 replacements:
Psyllium Husk - Use 2 parts psyllium husk to 1 part xanthan gum when you are substituting with it.
Chia Seeds And Water - Use a ratio of 1:1. Always mix chia seeds with water (2 parts water, 1 part chia seeds).
Ground Flax Seeds And Water - Use a mixture of hot water and flax meal in a ratio of 1:1.
Cornstarch - Do not use on the keto diet. It will throw off your macros too much.
Unflavored Gelatin - Use 2 parts gelatin for every 1 part xanthan gum.
Egg Whites - Use 1 egg white for every tablespoon of xanthan gum. This isn't the best replacement for keto baking.
Agar-Agar - Use this in a 1:1 ratio. There are about 0.7g net carbs in 2 tbsp, so it shouldn't affect the overall recipe's macros.
Guar Gum - Use 3 parts of guar gum for every 2 parts of xanthan gum. This is a keto-friendly ingredient.
Konjac Powder - Use this in a 1:1 ratio. This is made almost completely from fiber so it's known as a "no-carb flour."
Is Xanthan Gum Vegan?
According to The Vegetarian Resource Group, it is vegan! It is produced by bacterial fermentation, so it doesn't use any animal byproducts.
Is Xanthan Gum Gluten-Free?
Yes, it's is completely gluten-free. It's a sugar made from fermentation so it does not contain any gluten. In fact, people frequently use xanthan gum as an emulsifier in gluten-free recipes!
Guar Gum vs. Xanthan Gum
As you bake more gluten-free and keto recipes, chances are you will come across recipes that call for guar gum just as often as recipes that call for xanthan gum. They both have the word gum in their name. So are they the same thing?
They both do the same thing in recipes. They keep your batters mixed and they hold your recipes together.
So, what are the differences between guar gum and xanthan gum?
They come from different places, for one thing. Guar gum is produced from a seed that is native to tropical Asia. Xanthan gum is produced in a lab by microorganisms.
Another big difference is how you use them in your recipes.
Guar gum is used in cold foods like ice cream and pastry fillings.
Xanthan gum is better for baked foods like sweet breads and gluten-free cookies.
Quick Tips:
Never use guar gum in recipes that call for lemon juice. The high acid content will cause it to lose its thickening abilities.
For citrus-based recipes (like key lime bread), use xanthan gum.
Overall, they are very similar. The key differences are very important to know if you are going to try and substitute one for the other.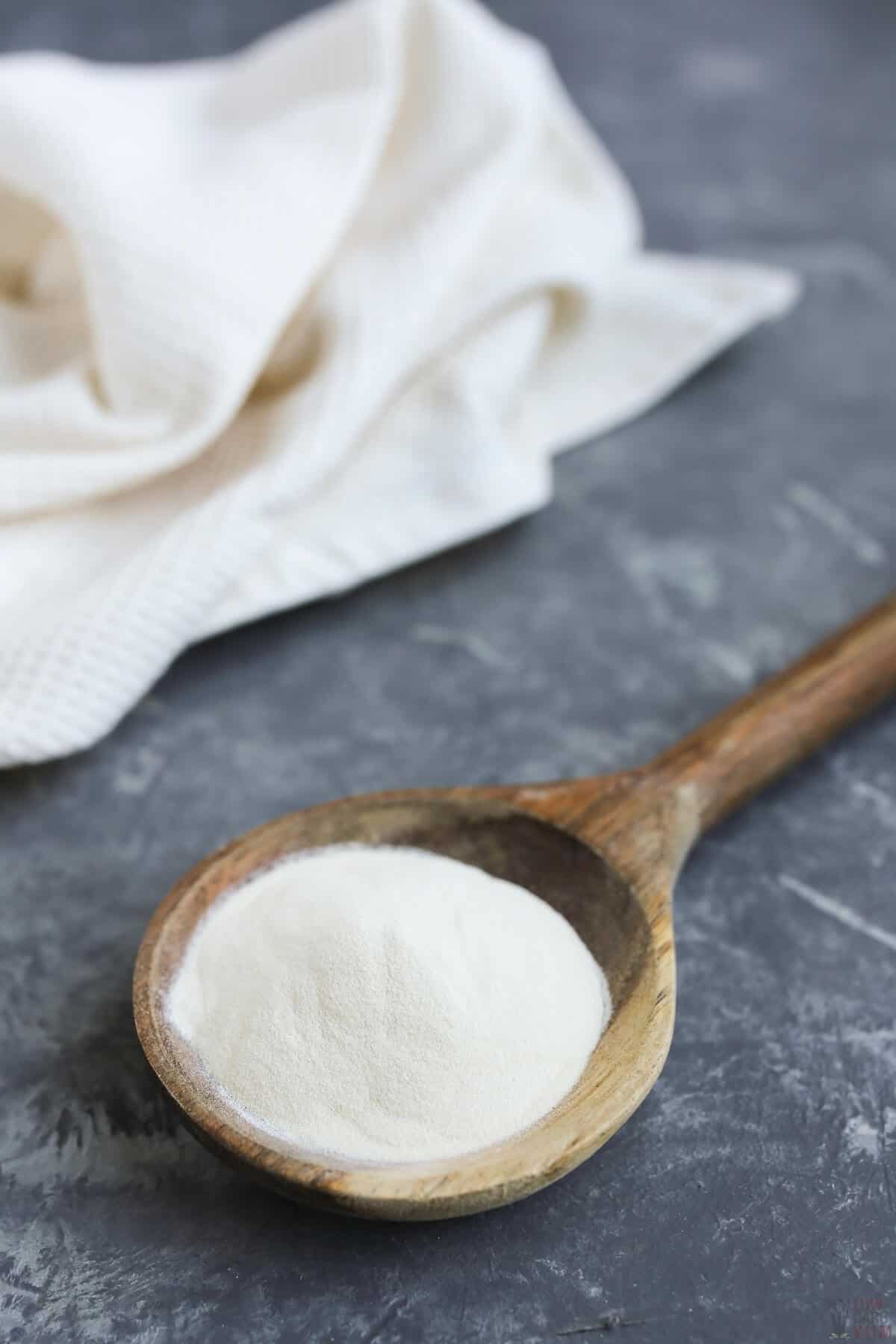 Xanthan Gum: Is It Perfect For Your Keto Recipe?
That is a lot of information to unpack! I hope you understand how important xanthan gum is. Even though it is created in a lab, it's made from bacteria and completely natural.
This ingredient is critical to creating recipes that feel and look just like their gluten-filled counterparts. There are lots of substitutes for this ingredient, but none of them work exactly like it.
It's so easy to use and makes recipes that taste delicious!
More Keto Diet Resources
When you are ready to start a low-carb diet, here are some resources that will help you be successful.
Low-Carb vs. Keto shares the real difference between the two ways of eating - learn what they are and which one is best for you.
A Keto Foods List is very important and will help you understand how many carbs are in your favorite whole foods so you can count your macros.
Low Carb Sweeteners can be very confusing, but this guide breaks down all the most popular ones - when to use them and what their differences are.
Follow us on FACEBOOK, PINTEREST, and INSTAGRAM for even more tasty keto-friendly recipes!