When following a keto diet, there are certain vegetable do's and don'ts. While veggies are an important part of all diets, some varieties have high carb counts that could break your ketosis. So are carrots keto-friendly? Read on to find out!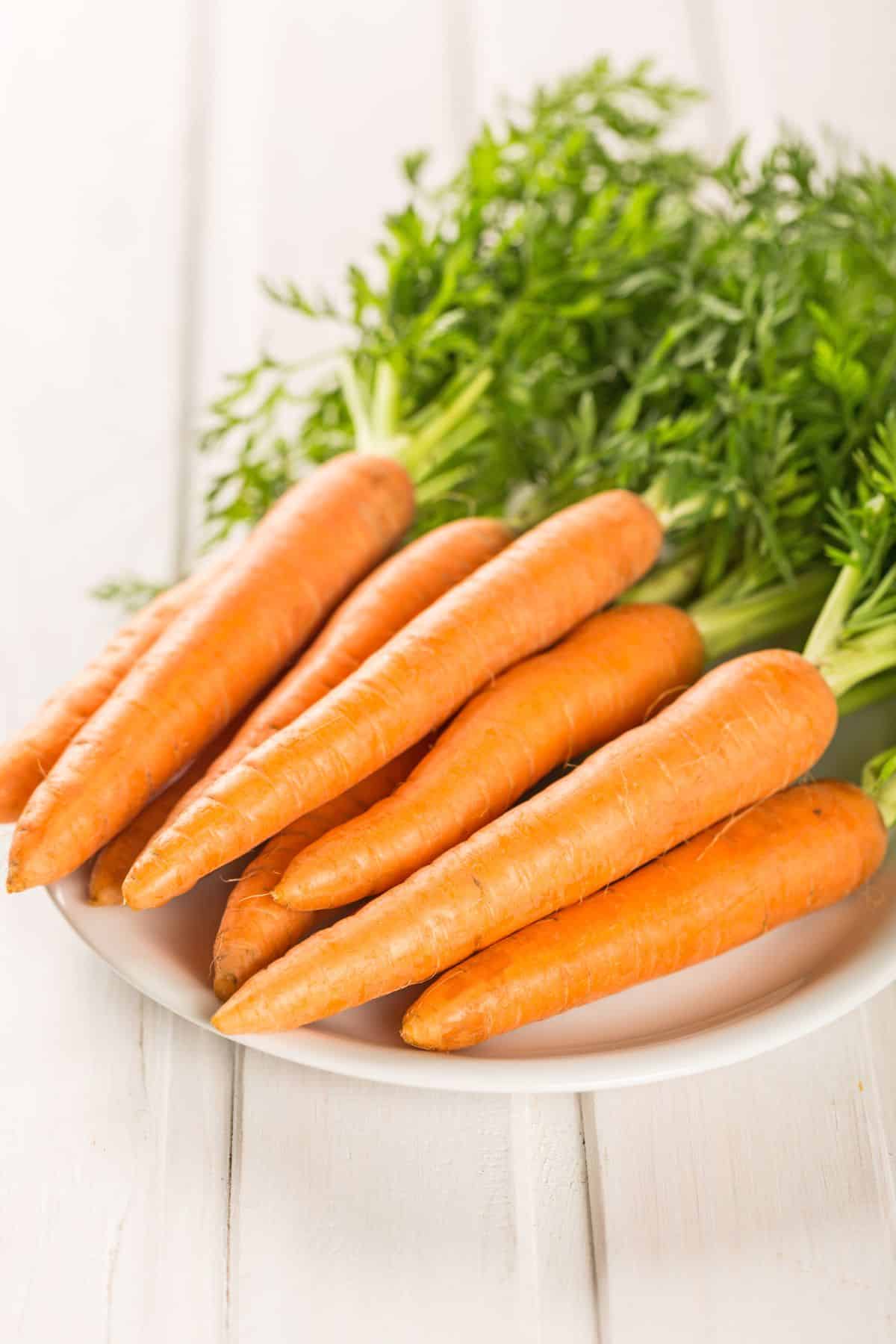 Carrots are an ultra-popular root vegetable featured in a ton of healthy recipes! From carrot cake to sheet pan dishes, carrots are a veggie staple. But are carrots keto?
On most diets, vegetables of all sorts are welcome (and encouraged!). This is because they're filled with essential vitamins and nutrients that benefit your diet.
On the keto diet, however, you need to be a little more careful with your veggies; they're not all built the same!
To reach ketosis, you need to closely monitor your daily carb intake. Most keto diets recommend you limit your carb count to 50g or under per day. Vegetables are no exception to this rule.
Some are high in sugar, starch, and carbs and should be avoided on keto.
In this article, you'll learn if carrots are okay on a keto diet, along with their nutrition facts, carrot recipes, and vegetable substitutes.
Note: Check out the best keto vegetables for more low-carb veggie ideas. For even more food groups, the keto food list is perfect for anyone starting the keto diet.
Are carrots keto?
So are carrots keto? Unfortunately, they're not. While there's no doubt that carrots are nutritious, they are high in carbohydrates and low in protein and fat content.
In a ketogenic diet, you want to give preference to low-carb vegetables; this way, you can eat a more balanced diet without blowing your daily carb content on a single food.
You can, however, still enjoy a small number of carrots on a keto diet.
Just be mindful of your portion size! Try to limit your daily consumption to 1 cup or 100g to easily fit carrots into your daily carb allotment.
Carrot nutrition facts
The nutrition facts for a serving of carrots (100 g) are:
Calories - 41
Protein - 0.9 grams
Carbs - 9.6 grams
Sugar - 4.7 grams
Fiber - 2.8 grams
Fat - 0.2 grams
You can find more carrot nutrition information here.
Keto alternative to carrots
If you have a favorite carrot recipe that you're sad to give up on your low-carb diet, all is not lost! Here are some clever low-carb veggies that you may be able to swap out for carrots:
Turnip
For an easy carrot swap, turnips are among the best root vegetables on a keto diet.
Anytime a recipe calls for roasted carrots, add turnips for a similar crunch! It's one of the carrot's few starchy alternatives.
Summer squash
Enjoy summer squash varieties on a keto diet, like zucchini and yellow squash.
Add them to a sheet pan meal for a bright pop of color.
Zucchini also makes a great substitution for shredded carrots in desserts like carrot cake!
Celery
If you're in search of low-calorie food to enjoy on a healthy diet, celery is your wonder vegetable!
Use it for great flavor in soup stocks, along with onion and garlic.
You can also eat it raw as a crunchy snack as an alternative to carrot sticks with some keto ranch dressing.
Low-carb carrot recipes
While carrots aren't the ideal keto vegetable, they still have numerous health benefits. If you want to incorporate some carrots into your keto diet, try these recipes:
Keto carrot cake recipe
Are you a carrot cake lover? You need to try my keto carrot cake recipe!
I use half-shredded carrots and half-grated zucchini to keep the net carbs low, the batter moist, and the flavor to die for!
With just 4 grams of net carbs per serving, this is one of the best ways to enjoy carrots on keto.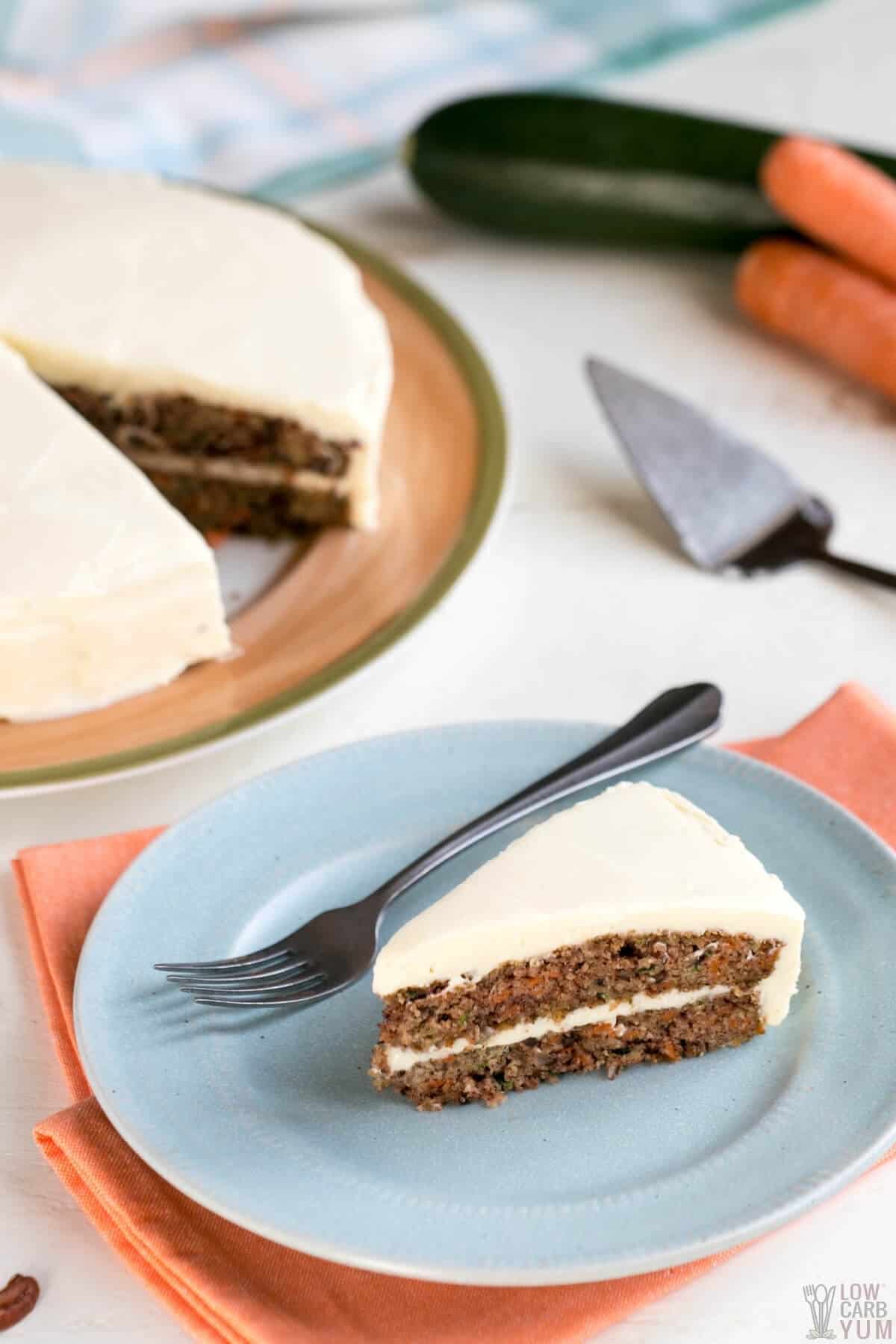 Keto carrot cake muffins with cream cheese filling
For an even more indulgent dessert, choose my keto carrot muffins with cream cheese frosting.
This recipe has 4 grams of net carbs per muffin (and a whole lot of yum).
Filled with decadent cream cheese frosting; just try to stop at one!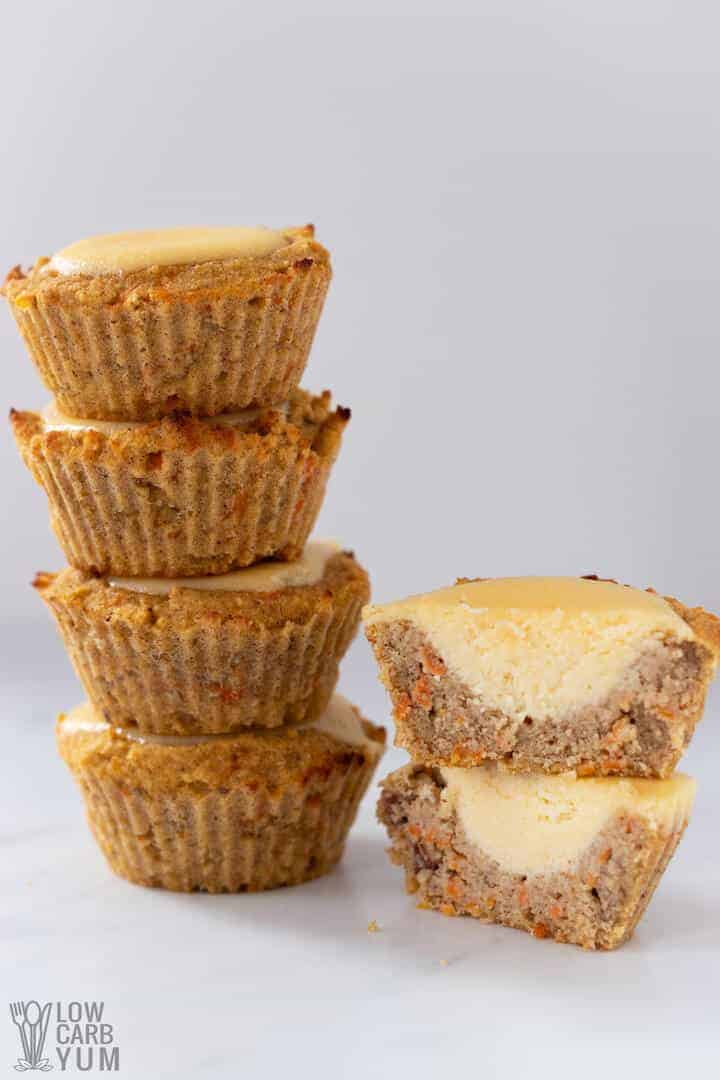 FAQs
Here are some questions people often ask about eating carrots on the keto diet. If you don't see your question in this list, please leave it in the comments.
Can I eat carrots on a keto diet?
Are carrots keto? Well... while you can technically eat carrots on a high-fat keto diet, it isn't exactly recommended. Carrots are high in natural sugars and carbs, meaning they're not the ideal keto vegetable.
How many carrots can you eat on keto?
You can safely eat about 1 cup (or 100g) of carrots a day while maintaining ketosis. This is equal to around 10 grams of carbs or 7 grams of net carbs per cup.
As keto diets recommend you limit your daily net carb allotment to 50 grams, you can safely eat a serving size of carrots per day.
What vegetables are best for keto?
While carrots aren't a keto match, there are a ton of other vegetables you can enjoy! Try integrating leafy greens into your diet, like spinach, kale, mustard greens, and chard. More keto veggies include cauliflower, cabbage, broccoli, zucchini, and radish. You can even eat other root vegetables on a keto diet, like radishes or jicama.
If you're looking for more keto foods, check out my post on the best keto foods to eat.
Are cooked carrots high in carbs?
Cooked carrots are slightly higher in carbs than raw carrots at 8 grams of net carbs. You can still enjoy them in moderation on keto. Eat raw carrots or cooked ones, whichever you prefer!
Related recipes
Looking for some keto-friendly vegetables to enjoy? I have a ton of veggie-focused keto recipes. Here are a few to get you started:
Follow us on FACEBOOK, PINTEREST, and INSTAGRAM for even more tasty keto-friendly recipes!