This post may be sponsored or contain affiliate links. But all opinions are our own.
Full Disclosure
Low carb keto bacon wrapped cheese sticks make a fantastic snack or appetizer. And with only two basic ingredients, they are ready in no time!
I was craving some low carb mozzarella sticks after my daughter ordered some at a restaurant. But, I decided to try something new with the recipe.
Rather than dip the cheese in egg and then a gluten free coating, I just wrapped each in bacon. I used pre-cooked bacon that was baked the day before.
I like to bake bacon in the oven in large batches and keep it in the refrigerator for quick snacks and salad topping. It's also great to use as an ingredient in recipes.
To make the keto bacon wrapped cheese sticks, I simply wrapped each half length mozzarella string cheese with one bacon slice. Then, I fried each in oil until the bacon was crisp.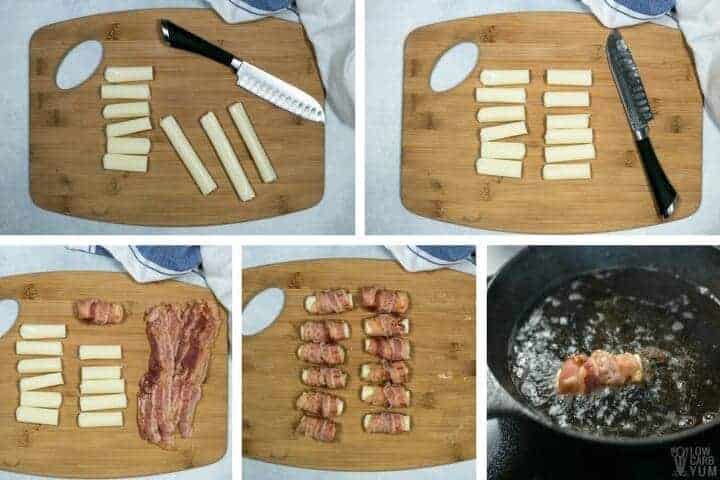 It took only seconds for the bacon to crisp up. And, I was careful not to let the cheese melt into a gooey mess. If you like the cheese super gooey, I recommend finishing in the microwave.
In fact, I thought about cooking the bacon wrapped cheese sticks in the microwave as it only takes seconds to crisp up bacon. But, the bacon gets crispier cooking in oil without over melting the cheese.
I think if you were to do these completely in the microwave, you'd end up with a mess. The bacon wouldn't crisp up before the cheese melts down.
It's doubtful you could get these to come out right in the oven as well. To make them perfectly crispy, you really need to fry the outside.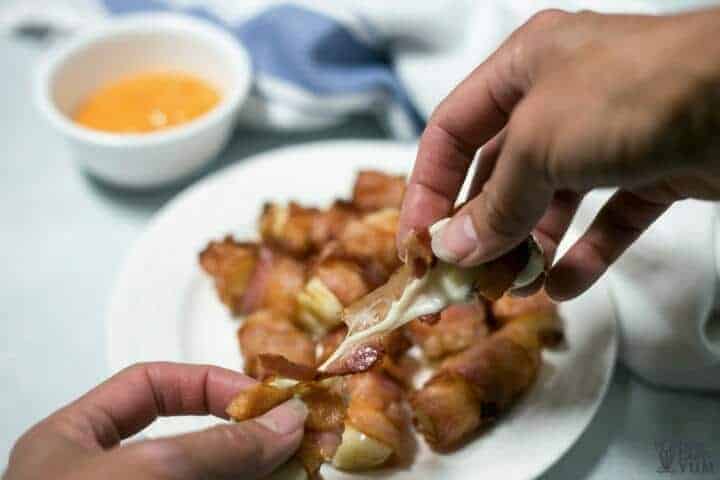 I ended up microwaving a few seconds before servings so the cheese was nice and gooey. However, you do need to be careful that you don't overdo it.
The cheese will melt down quickly when microwaved. To be honest, I enjoyed snacking on these bacon wrapped cheese sticks cold right from the refrigerator.
With to amazing keto foods combined in one, what's not to love? They also taste great with dipping sauce. I had a bottle of Sarayo sauce that I used which added just the right amount of spice.
I suppose you could try using different types of cheese sticks. There's no reason why you have to stick with the mozzarella ones. But, they are the most popular.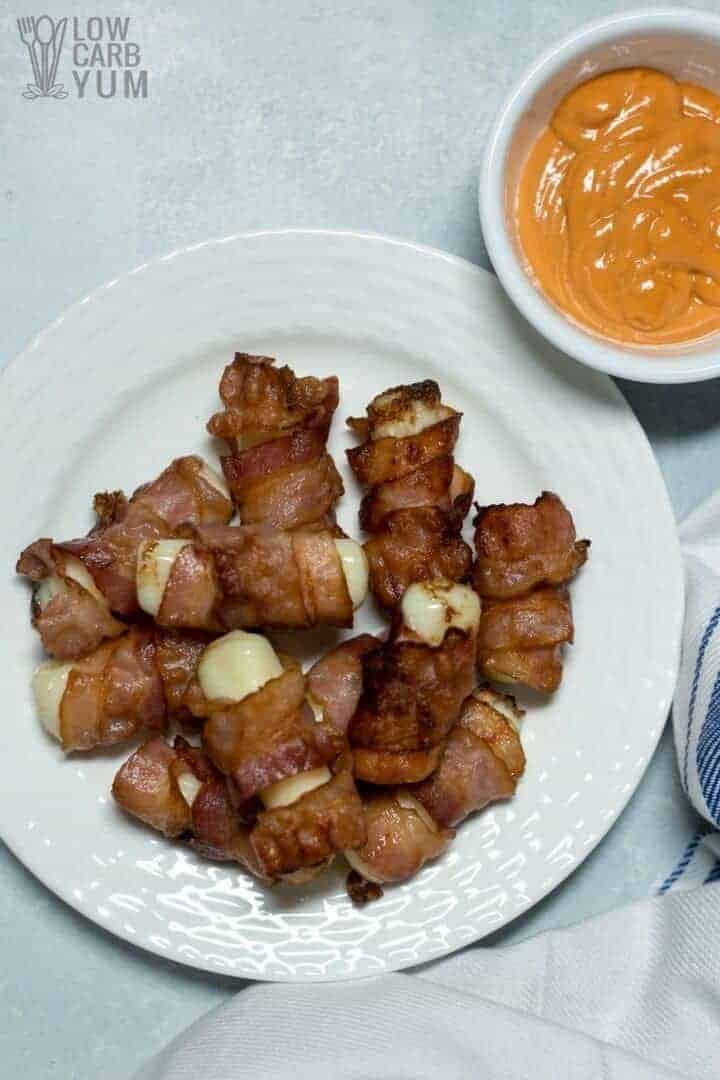 I'm convinced that you can wrap just about anything in bacon to make it taste better. I know that was certainly the case with my bacon wrapped chicken tenders.
I also wrapped up stuffed eggplant rolls with bacon. What would you like to see wrapped in bacon?
Low Carb Keto Bacon Wrapped Cheese Sticks Recipe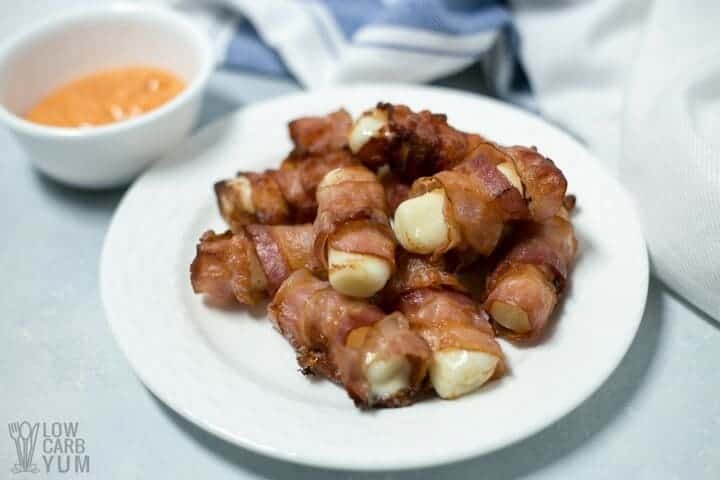 You can see the recipe for these yummy mozzarella sticks in the August 2017 edition of Low Carb Mag

Related Posts