The baking bacon method is much easier than frying it up in a pan. Give it a try and you'll see that it's the best way to cook bacon without the mess, too!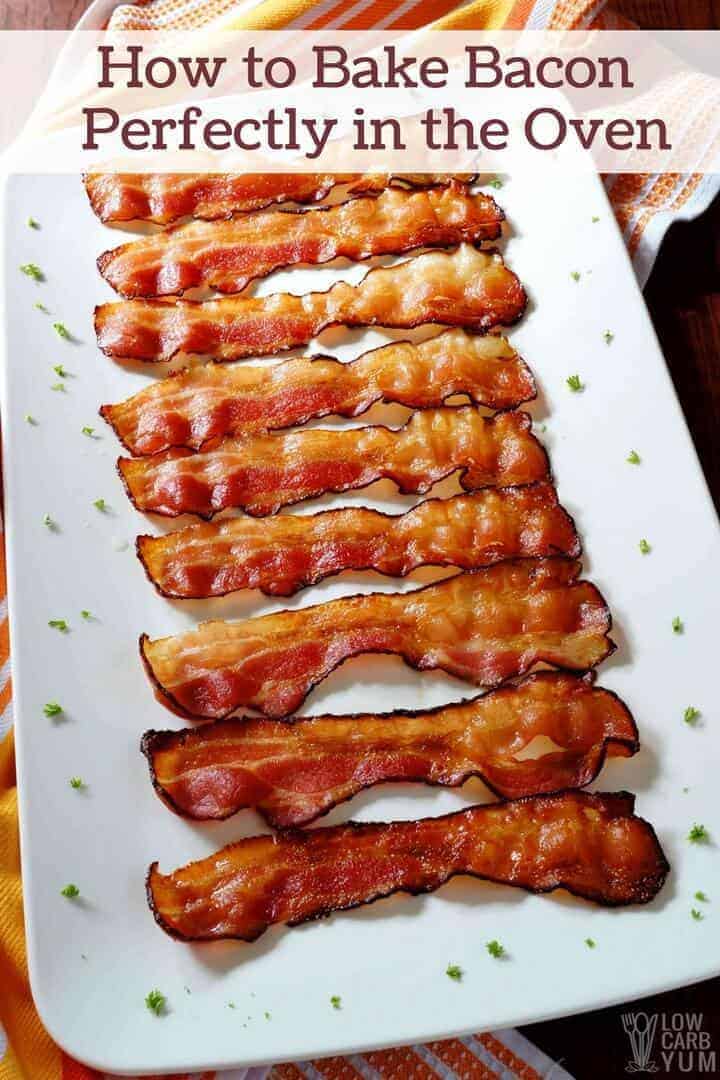 Who doesn't love the delicious taste of freshly criped bacon? Or, adding bacon into recipes like my Bacon Cheeseburger Casserole or even wrapped chicken tenders.
Recently, one of the low carb cookbooks I read suggests cooking bacon in the oven to prevent messy splatters from pan frying. It seemed like such a great way to cook a lot of bacon at once.
I eat a lot of bacon so I was looking for a better way to cook it. And I had never thought of a baking bacon before. But, it sounded like a good idea.
I absolutely hate the mess that results from frying the bacon in a pan. It splatters everywhere and it seems I'm cleaning up grease for years after.
And, I end up spending a long time standing at the cooktop when frying. It's because the whole package of bacon never fits in one pan. Or, if I try to squeeze too much in, they all get shriveled.
If you have not tried the baking bacon method, you must give it a try. I guarantee you will never fry bacon again! It's the easiest way to cook bacon and make it look picture perfect.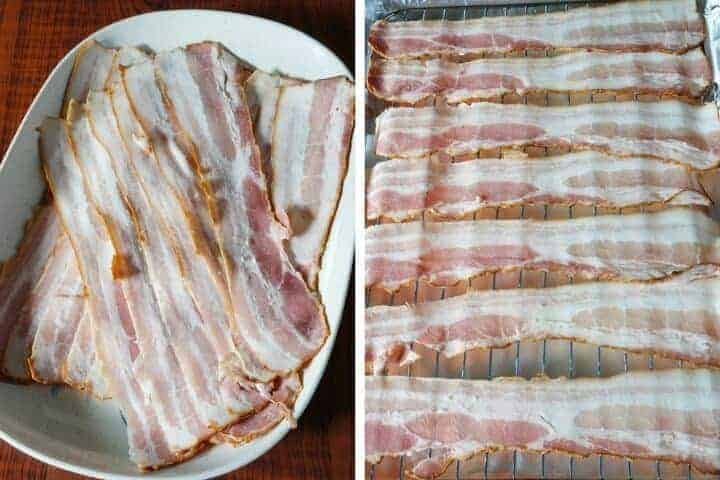 Last week I tried cooking bacon on a rack in the oven for the first time. It was so simple without a big mess. I did line the pan with foil which helps in cleanup.
Personally, I will never go back to frying bacon in a pan ever again. It's just so much easier to do in the oven instead. And, the bacon doesn't get all shriveled up.
The best part is that a whole package of bacon can be cooked at once. And, there's no need to stand over a cooktop with the exhaust fan going.
How to Bake Bacon
All you have to do when baking bacon is to lay all the strips out on a rack in a rimmed pan. Then, you simply put them in the oven and wait for the timer to beep.
I just use two standard sized rimmed jellyroll pans. Then, I put wire baking cooling racks on top. A full package of bacon fits nicely on the two pans.
The bacon is raised up while cooking so it doesn't get soaked in grease. What results is nicely crisped strips without fuss. And, you don't even need to flip the strips.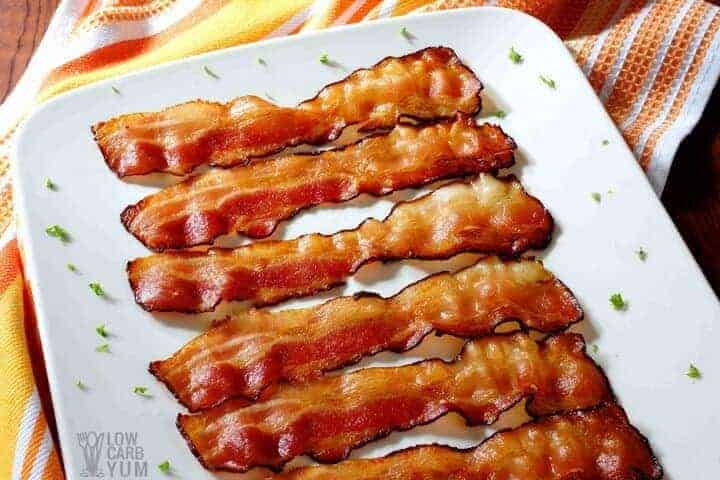 Easy Cleanup After Cooking Bacon in the Oven
The cleanup after baking bacon is so easy as well. You just have to pour off the grease in the pans and scrub down the racks. Even if using a dishwasher, it's best to hand wash first.
You will need a good scrubber to wash the rack off. After the initial scrub,  I put it everything in the dishwasher because I find it's the best way to clean the grease off.
To make cleanup even easier, you can line the pans with aluminum foil. Then, when it's all done, just toss the grease and used foil in the garbage.
It really doesn't get much easier than this. And, you'll get super crisp bacon that isn't all shriveled up. I can't believe it took me so long to discover this method of cooking bacon.
And, the bacon strips come out pretty flat. To make it even crispier, you'll want to blot up the grease from each strip of bacon with a paper towel.
A Word of Caution When Making Bacon in the Oven
There is one bit of caution I should mention. The bacon grease may set off your smoke alarm if it smokes in the oven. But, I've learned a simple trick for that.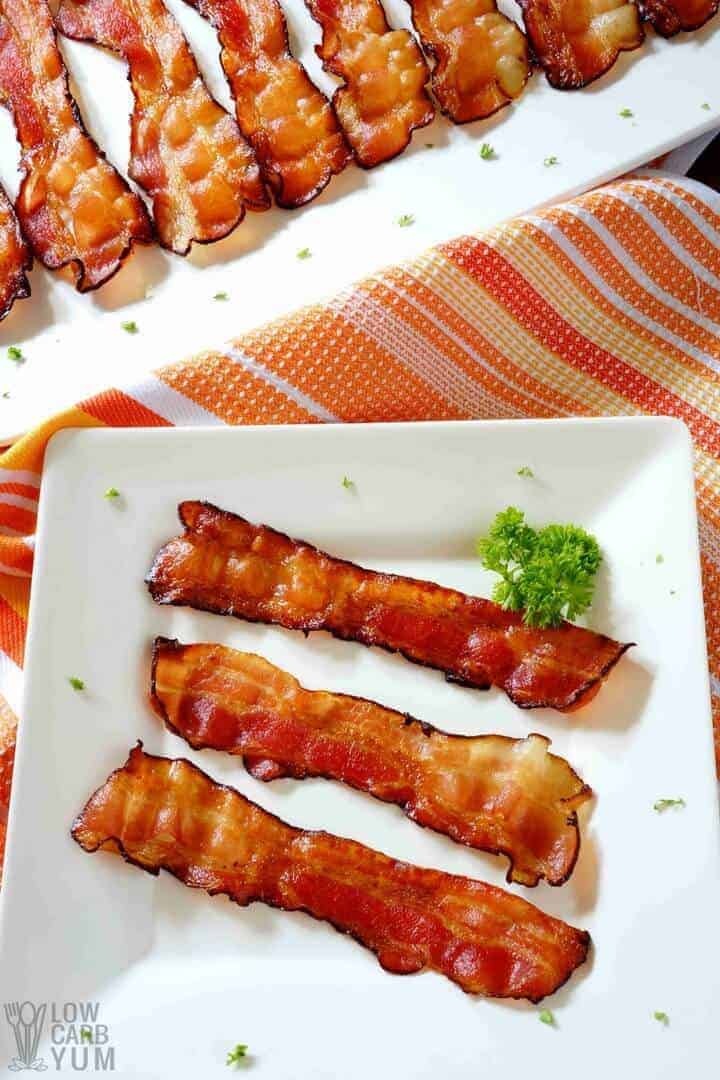 To prevent the grease from smoking when baking bacon, there's one simple thing to do. Place a pan of water on the lower rack. That seems to do the trick!
Why Baking is the Best Way to Cook Bacon
Once you give this method of cooking bacon in the oven a try, you'll never go back to pan frying. You may even want to have separate baking racks just to use for bacon.
Since learning this method, I use racks to cook anything wrapped in bacon like this chicken tenders recipe. It's a great way to bake a lot of things instead of frying.
I love that the bacon isn't drowning in the grease. And,  there's less splattering mess as well. So, the food comes out nice and crisp on the outside.
You do need to watch out for bacon grease dripping off the sides of the pan. It will make a greasy and sticky mess on the bottom of the oven. But, it's quick to remove with a self-cleaning oven.
However, it's best to make sure you have some kind of catch pan underneath if the strips get too close to the edge. The other option is to just keep the bacon away from the edges.
If you're on a ketogenic diet, you'll likely be eating lots of bacon. Some people have actually taken it to the extreme. Take a look at what happens when you eat only bacon for a month!
Printable Instructions for Baking Bacon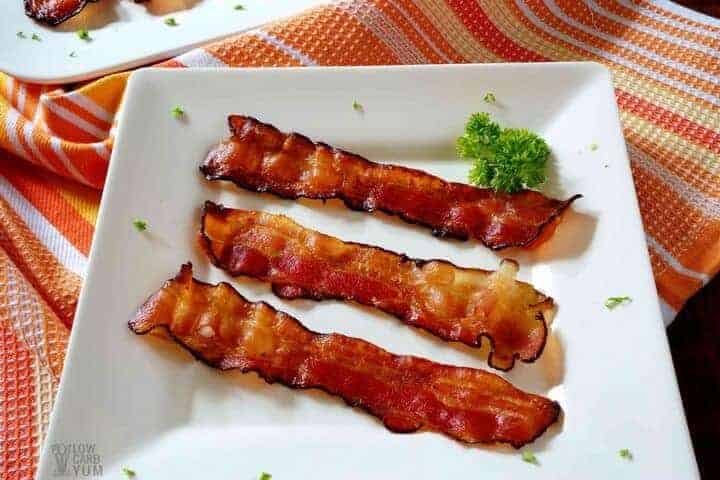 Baking Bacon
Cooking bacon on a rack in the oven is much easier than frying it in a pan. This method raises the meat in the pan so the strips aren't loaded with grease.
Ingredients
Instructions
Preheat oven to 400 degrees F.

Set cooling racks on top of jelly roll pans and spray lightly with non-stick spray.

Line bacon on racks in baking pan. Be careful not to overlap the bacon.

Bake for about 20 minutes.

Transfer cooked slices to paper towels to absorb excess grease.
Need Support?
Get our FREE Low Carb Tips eBook or join the Low Carb Yum Facebook Group for help with recipes and weight loss support!
Notes
There's no need to preheat the oven first. Just add about 5 minutes to the total baking time if placing the pan if starting to bake in a cold oven. To make cleanup even easier, skip the baking rack and crumble foil in strips to raise the bacon off the pan. Alternatively, the bacon can be baked right on the bottom of the pan and cooked in the grease. The bacon grease collected on the bottom of the pan can be saved and used for cooking.
Nutrition
Nutrition Facts
Baking Bacon
Amount Per Serving (1 slice)
Calories 84
Calories from Fat 54
% Daily Value*
Total Fat 6g 9%
Cholesterol 18mg 6%
Sodium 384mg 16%
Potassium 94mg 3%
Protein 6g 12%
* Percent Daily Values are based on a 2000 calorie diet.
Note on Nutritional Information
Nutritional information for the recipe is provided as a courtesy and is approximate only. We cannot guarantee the accuracy of the nutritional information given for any recipe on this site. Erythritol carbs are not included in carb counts as it has been shown not to impact blood sugar. Net carbs are the total carbs minus fiber.
About Lisa
Lisa has been creating low carb recipes for herself and sharing them with others since 2010. She loves to experiment in the kitchen and find new ways to create low sugar foods that taste like high carb favorites! Her recipes have been featured on popular magazine sites including Fitness, Shape, Country Living, Women's Health, and Men's Health. Lisa lives in Southeastern Connecticut. Connect with her and Low Carb Yum at:
© LowCarbYum.com
Unauthorized use and/or duplication of this material without express and written permission from this site's owner, Lisa MarcAurele, is strictly prohibited.
Excerpts, single photos, and links may be used, provided that full and clear credit is given to LowCarbYum.com with appropriate and specific link back to the original content.
Related Posts