This post may be sponsored or contain affiliate links, but all opinions are my own. I may earn money if purchases are made through links (at no additional cost to you) which helps support this site and keep the content free.
Baking bacon is much easier than frying it up in a pan. This method raises the meat in the pan so the strips aren't loaded with grease.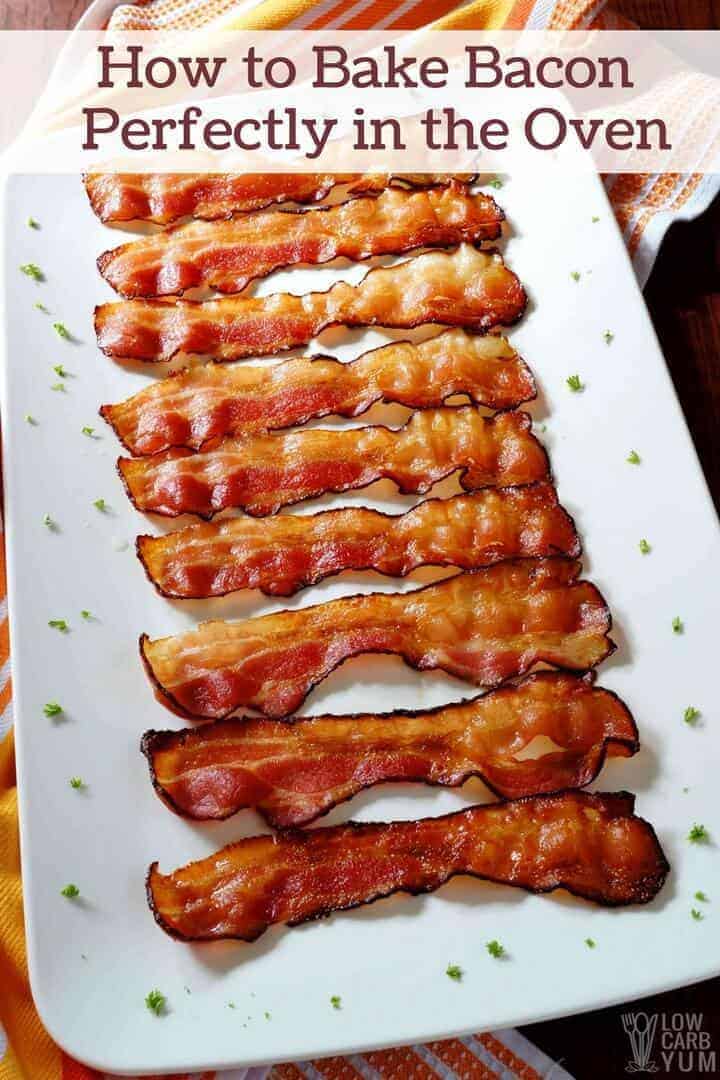 One of the low carb cookbooks I have suggests cooking bacon in the oven to prevent messy splatters from pan frying. I eat a lot of bacon so I was looking for a better way to cook it.
I absolutely hate the mess that results from frying the bacon in a pan. And, I end up spending a long time standing at the cooktop because the whole package of bacon never fits in one pan.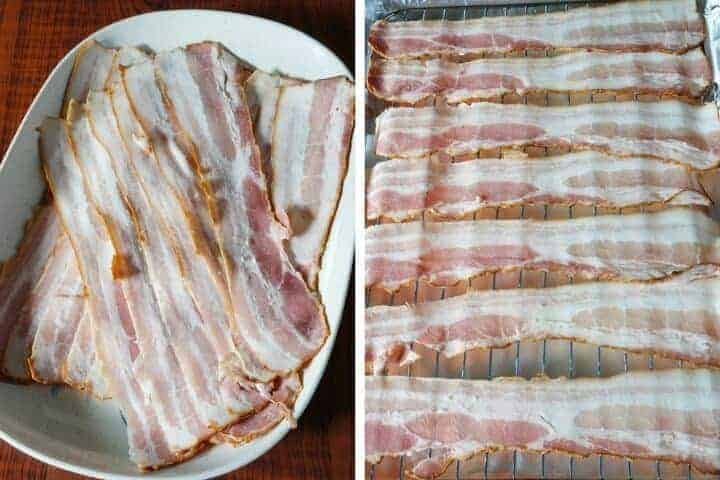 Last week I tried baking bacon on a rack in the oven for the first time. It was so simple without a big mess. I will never go back to frying bacon in a pan ever again!
The best part is that a whole package of bacon can be cooked at once without standing over a cooktop with the exhaust fan going. Just put it in the oven and wait for the timer to beep.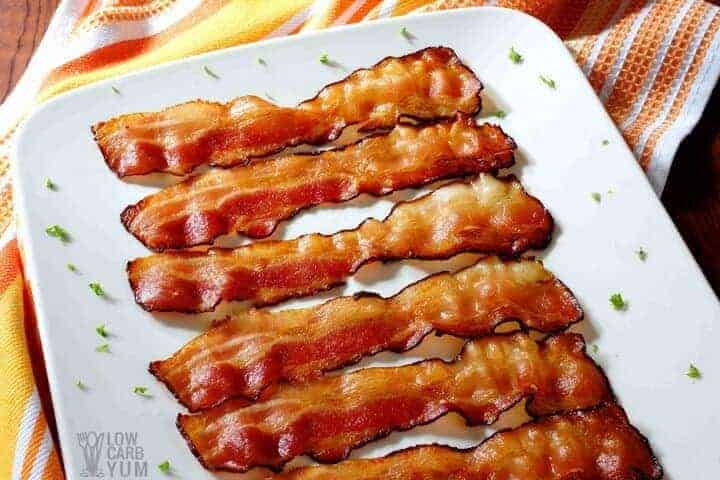 I just used two standard sized rimmed jellyroll pans. Then, I put wire baking cooling racks on top. The bacon is raised up while cooking so it doesn't get soaked in grease.
The cleanup after baking bacon is so easy. You just have to pour off the grease in the pans and scrub down the racks. Then, I put it all in the dishwasher.
To make cleanup even easier, you can line the pans with aluminum foil. Then, when it's all done, just toss the grease and used foil in the garbage.
It really doesn't get much easier than this. And, you'll get super crisp bacon that isn't all shriveled up. It comes out pretty flat. To make it even crispier, you'll want to blot up the grease from each strip of bacon with a paper towel.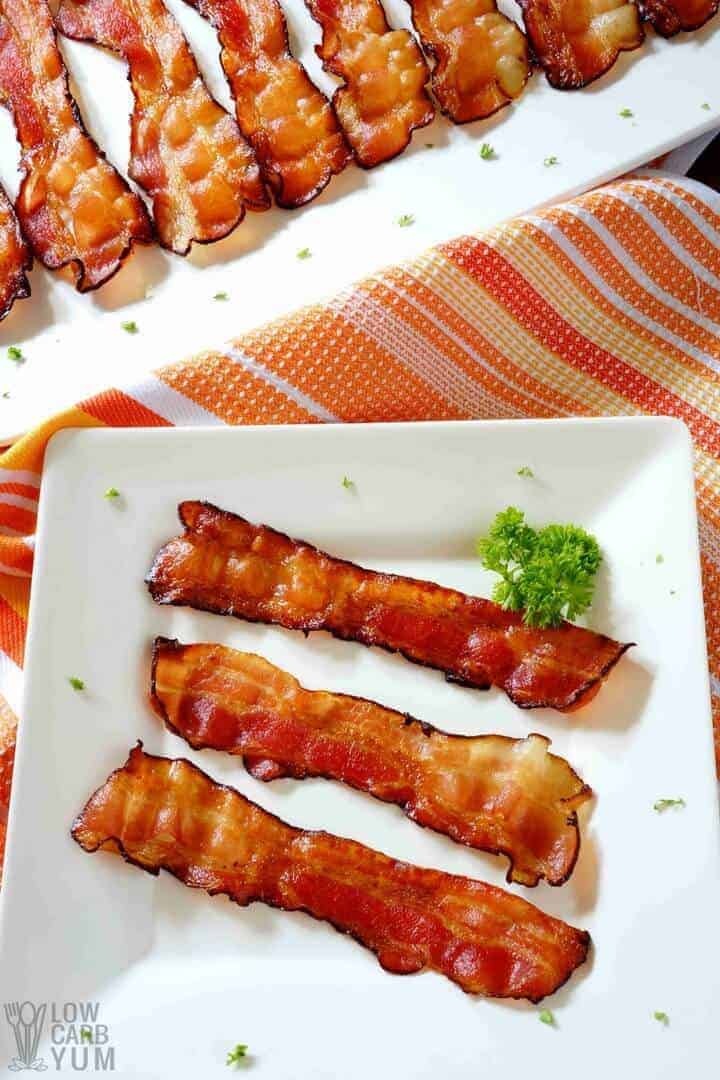 Once you give this method of baking bacon in the oven, you'll never go back to pan frying. You may even want to have separate baking racks just to use for cooking bacon.
Since learning this method, I use racks to cook anything wrapped in bacon like this chicken tenders recipe. Since the bacon isn't drowning in the grease, there's less splattering mess as well.
You do need to watch out for bacon grease dripping off the sides of the pan. I have had my smoke detectors go off more than once when that happens as the grease burns off in the oven.
Baking Bacon in the Oven on Racks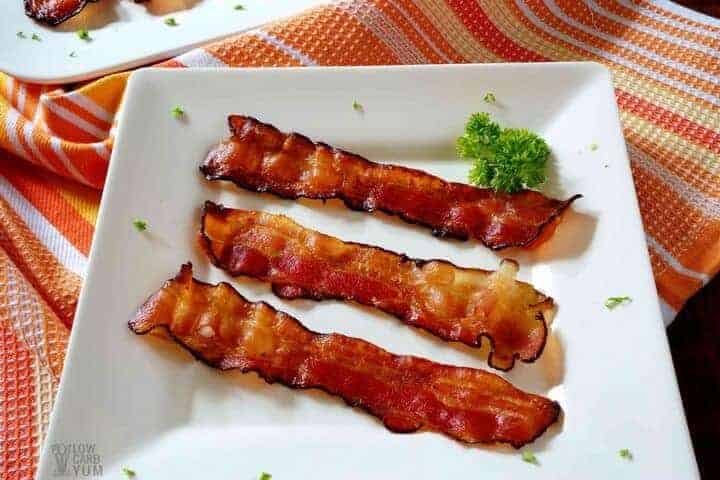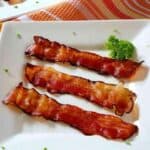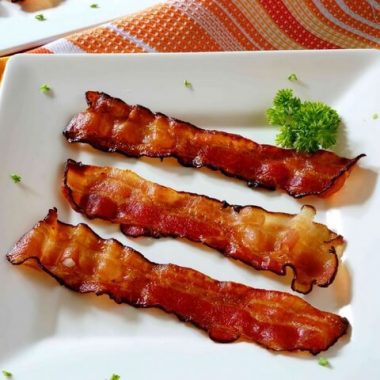 Baking Bacon
Cooking bacon on a rack in the oven is much easier than frying it in a pan. This method raises the meat in the pan so the strips aren't loaded with grease.
Instructions
Preheat oven to 400 degrees F.

Set cooling racks on top of jelly roll pans and spray lightly with non-stick spray.

Line bacon on cooling racks. Be careful not to overlap the bacon.

Bake for about 20 minutes.

Transfer cooked slices to paper towels to absorb excess grease.

For easier cleanup, line pans with aluminum foil and put bacon directly on the foil.
Nutrition Facts
Baking Bacon
Amount Per Serving (1 slice)
Calories 84
Calories from Fat 54
% Daily Value*
Total Fat 6g 9%
Cholesterol 18mg 6%
Sodium 384mg 16%
Potassium 94mg 3%
Protein 6g 12%
* Percent Daily Values are based on a 2000 calorie diet.
Related Posts