Butternut squash is a popular fall vegetable and shows up in a lot of hearty recipes, but is butternut squash keto? Keep reading to learn how healthy it is and whether it qualifies as low-carb!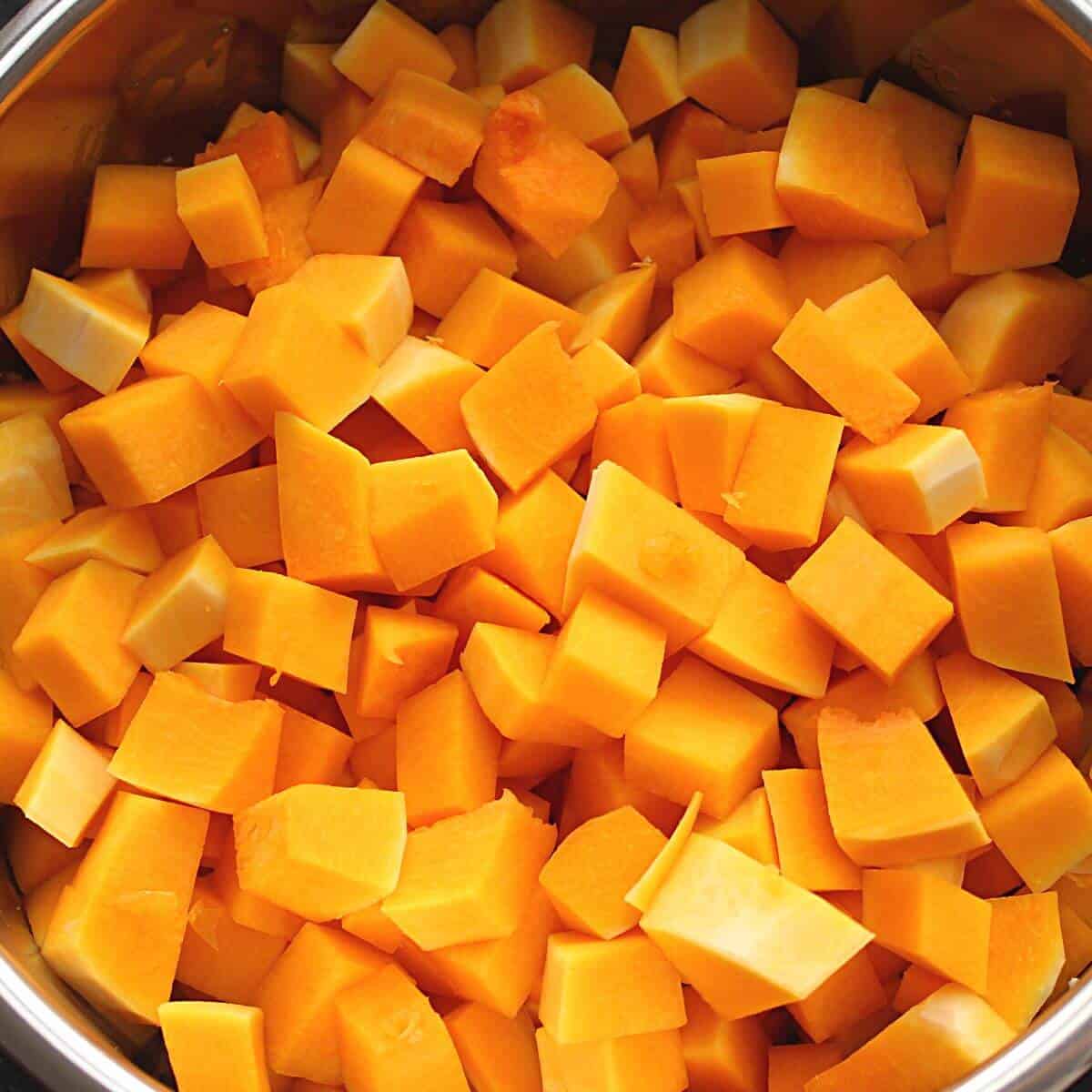 Article Index
Keto dieters know how important it is to count carbs on the keto diet. Will eating butternut squash put you over on your carb limits each day?
Butternut squash has a recognizable oblong shape and soft, orange flesh. Since farmers harvest it in the fall, it is known as a fall and winter gourd, along with pumpkins.
It's incredibly delish and known to have a lot of fiber, but is butternut squash keto-friendly?
Butternut squash is on the edge between being keto-friendly and having too many carbs to fit into the keto diet.
It has more carbs and natural sugars than its cousin, the zucchini. As long as you only eat a small amount of butternut squash, it can fit in with your low-carb diet. You just have to track your net carbs closely!
On low-carb diets, the net carb count is more important than the total carb count. To figure this out, you subtract the number of grams of dietary fiber from the total carbs. Many keto dieters only pay attention to net carbs.
Note: For more information about keto-friendly vegetables, check out this keto food list! It's perfect for anyone that is starting the keto diet.
What is butternut squash
Before we look at the carbs and nutrition in butternut squash, it's important to understand more about what it is.
Butternut squash is a winter squash with an oblong bell shape. It has thin but firm skin that is safe to eat (but most people prefer to remove it). There is also a hollow seed cavity in the bottom that you can easily scoop out before roasting it.
It has a mild squash flavor with a bold golden orange color. Butternut squash is available year-round from grocery stores, but the peak harvesting time is fall through winter.
Butternut squash is closely related to gourds and pumpkins. It grows on a trailing vine, just like pumpkins. And since it grows on a vine, it is classified as a fruit, but many people casually call it a vegetable.
Is it keto-friendly
Different from vegetables like onions, the answer to the question "can you eat butternut squash on the keto diet" is not a simple yes or no.
Yes, you can eat butternut squash on the keto diet, as long as you track your carbs. This is because there are so many net carbs in butternut squash that if you eat too much of it, you might consume too many carbs.
The best way to eat butternut squash on keto is to limit your serving sizes!
When it comes to carb intake, remember to track your net carbs, not total carbohydrates.
So, how many carbs are in butternut squash? There are about 15 grams of net carbs in one cup of cooked butternut squash.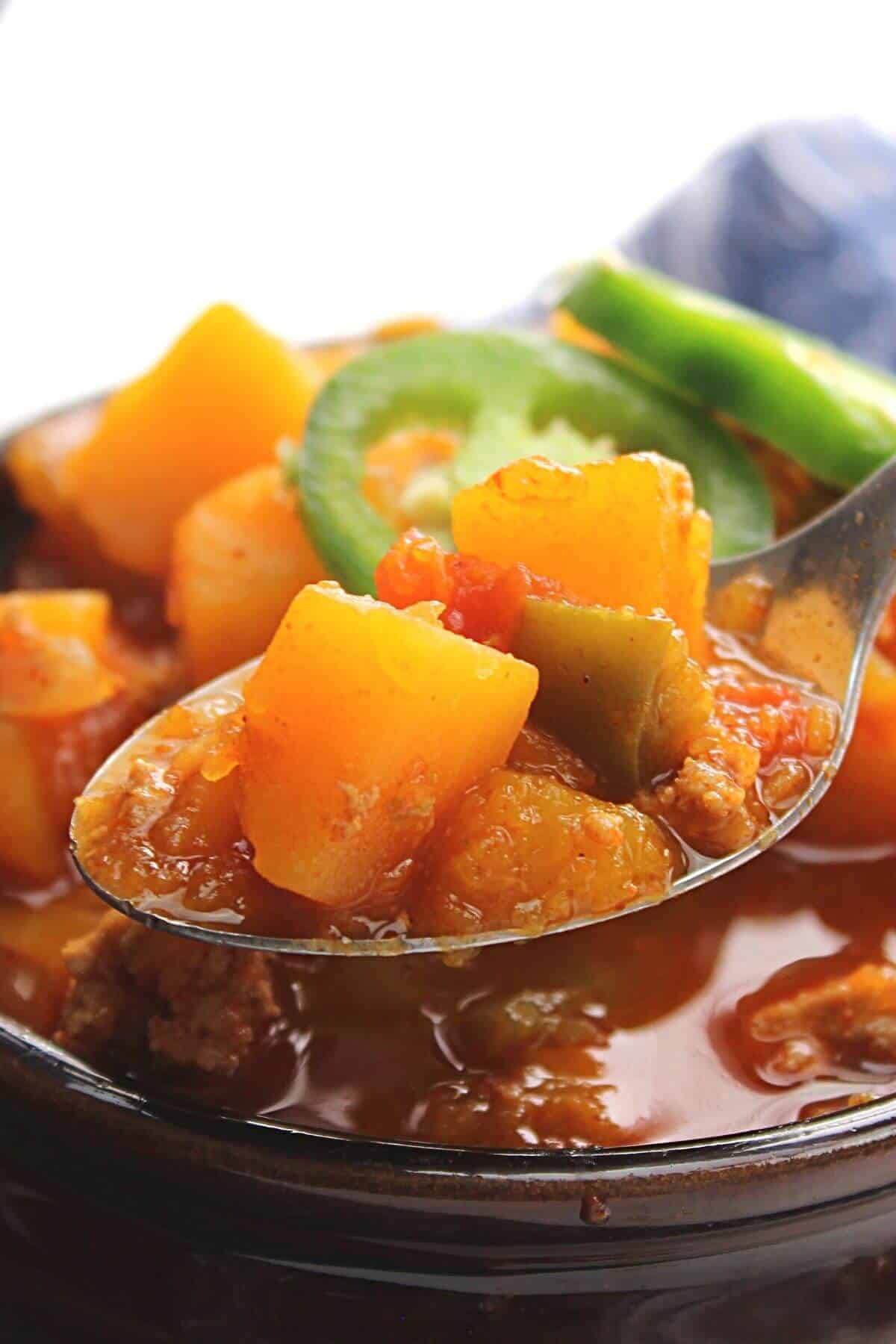 Nutrition profile
A quick glance at the nutritional profile of butternut squash shows you how nutritious it is. You just have to be careful with how much of it you eat when you are on a low-carb diet.
In a one-cup serving, there are:
82 calories
2 grams of protein
7 grams of fiber
457% Referenced Daily Intake (RDI) vitamin A
52% RDI vitamin C
10% RDI folate (B9)
Health benefits
When it comes to different types of keto foods, you can't deny the health benefits of butternut squash.
Boosts your immune system
Butternut squash is rich in vitamin C, which aids in repairing tissue and helping your immune system function properly.
It's also a fantastic source of vitamin A, which supports bone and eye health and immune system function.
Protects cells from damage
Butternut squash is a wonderful source of antioxidants from vitamins C and E and beta-carotene.
Antioxidants fight free radicals. These free radicals are responsible for cell damage (which could lead to common signs of aging or disease).
Promotes fetal growth and development
Butternut squash also contains lots of folates which are responsible for creating DNA when a person is pregnant.
Supports a healthy gut
The soluble fiber in butternut squash aids in digestion and helps you stay regular. This fiber is also what helps butternut squash be somewhat keto-friendly.
Ways to prepare butternut squash
There are a lot of different ways that you can eat butternut squash!
Some of the methods for preparing butternut squash are more keto-friendly than others.
Since this winter squash is so high in carbs, I do not have any keto recipes that use it. However, the following ideas are popular ways to cook butternut squash.
Please continue to track your net carbs so you don't go out of ketosis.
Roasted
Chop it up and roast it in your air fryer or oven. This is a simple way to control serving sizes. Sprinkle it with olive oil and your favorite spices.
Keto roasted butternut squash makes a fantastic choice on Thanksgiving; just be careful not to overeat it!
In a soup
You can also puree it and add it to your favorite bowl of pumpkin soup. It will increase how many carbs it has, but it will also add more flavor complexity too.
Butternut squash soup is a healthy and comforting choice on a cold day.
If you are looking for a keto butternut squash soup recipe, pay attention to the macros and choose one with lots of fiber and other ingredients.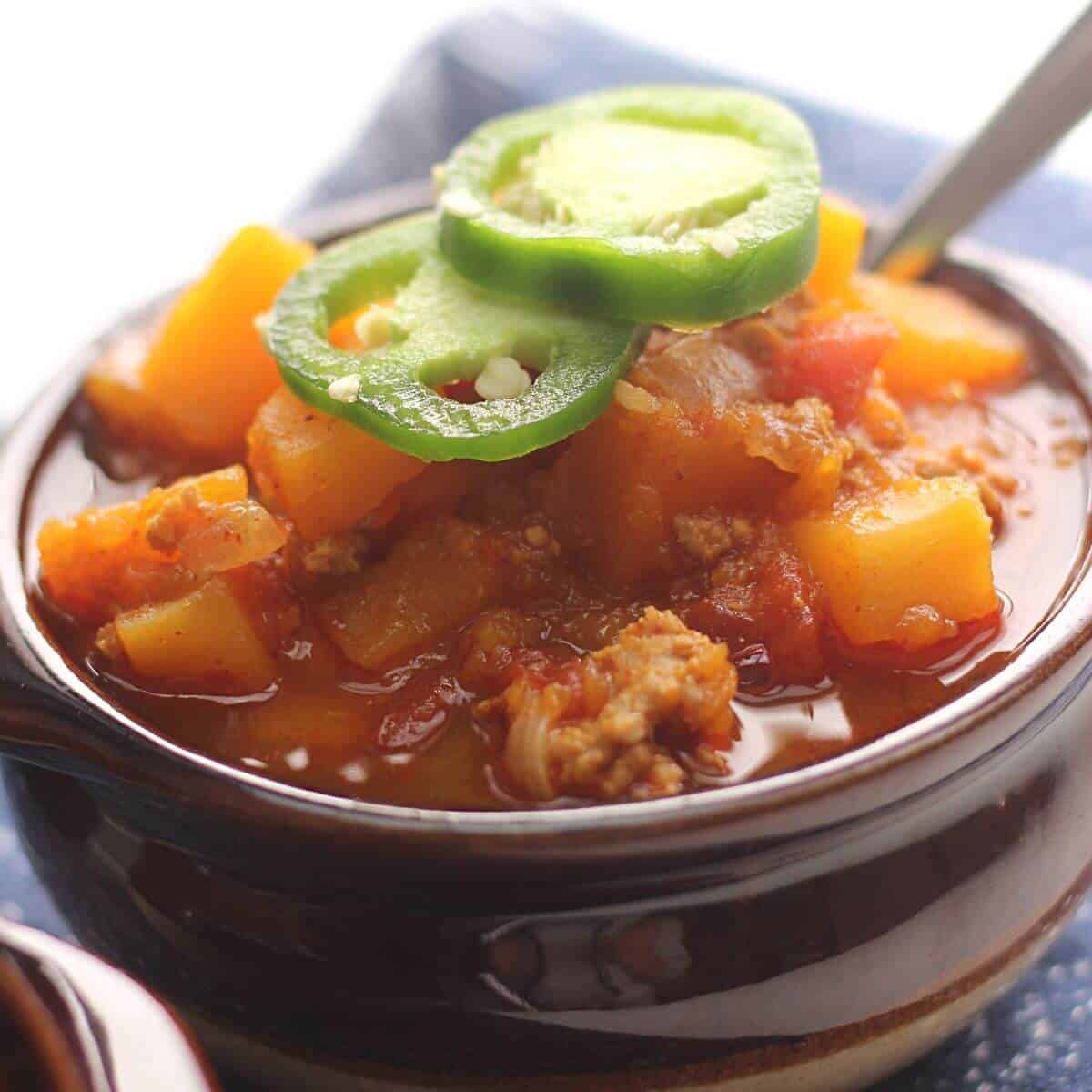 Mashed
Just like mashed cauliflower, you can cook and puree butternut squash. Add butter and cinnamon to make it taste sweeter and warmer.
Look for a mashed butternut squash recipe that has healthy fats in it.
Grilled
Slice the squash, remove the seeds, and add oil and salt on top. Then, grill them. They come out slightly caramelized and with the most incredible flavor!
FAQs
Here are some questions people often ask about eating butternut squash on keto. If you don't see your question in this list, please leave it in the comments.
Is butternut squash considered low-carb?
Since butternut squash has so many net carbs, it is not considered a low-carb squash.
What squashes are keto-friendly?
Summer squash is the kind of squash that is considered to be keto-friendly. Spaghetti squash and pumpkin can also be enjoyed in moderation.
Which squash is lowest in carbs?
Zucchini is the squash with the least amount of carbs. Each serving has only 3 grams net carbs.
How many carbs can you have on keto?
This all depends on your activity level and health goals. Check out this starting keto guide to answer more questions! This keto macro calculator will help you determine how many carbs you can have.
Recipes
Now that you know how butternut squash fits into a keto diet, here are some keto recipes that use different types of squash. They all fit easily into a low-carb lifestyle.
Follow us on FACEBOOK, PINTEREST, and INSTAGRAM for even more tasty keto-friendly recipes!