With the rich flavors that everyone loves, is dark chocolate keto? How much chocolate can you eat on the keto diet? Keep reading to learn more!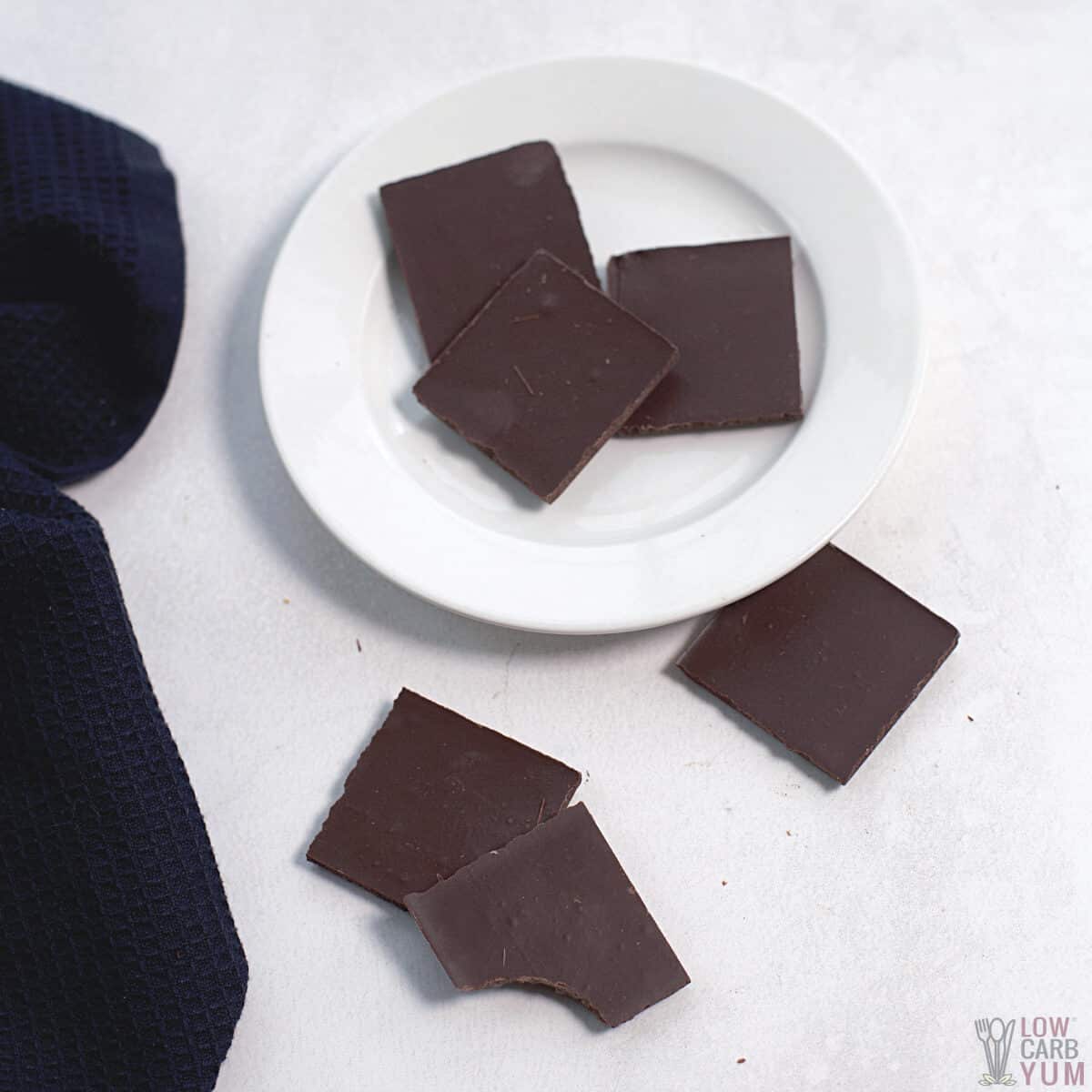 Article Index
When you are on the keto diet, it can feel restrictive, like all you eat is meat and veggies. Thankfully, that is so far from the truth!
If you have a sweet tooth, you can keep within strict carb intake limits and still enjoy dark chocolate at the same time.
Yes, you can eat dark chocolate while staying in ketosis! There are just some things you should still keep in mind.
There are types of keto dark chocolate that will still keep you below your daily macros and even lots of sugar-free desserts you can make with it.
When you are looking for a dark chocolate bar, always read the nutrition and ingredients labels. Just because something says it is gluten-free and sugar-free doesn't mean it will be keto-friendly.
In this guide, I'll answer all of your questions about dark chocolate and the keto diet.
Note: For more information about keto-friendly desserts, check out this keto food list. It's perfect for anyone that is starting the keto diet.
What is dark chocolate?
The term dark chocolate refers to how much cocoa solids are in it. Dark chocolate ranges from 50-90% cocoa solids, cocoa butter, and sugar.
To give you something to compare it to, milk chocolate only has 10-50% cocoa solids.
Dark chocolate often has a less sweet and more bitter flavor.
Is Dark Chocolate keto?
Since dark chocolate typically has less sugar in it than sweetened milk chocolate, it can fit into a keto diet.
But, you still have to pay close attention to the number of net carbs in the dark chocolate you are eating. Each bar or type of dark chocolate might have a different amount.
Yes, you can have dark chocolate that doesn't have added sugar in it. In fact, there are many chocolate keto recipes that you can follow!
One ounce of 70-85% dark chocolate typically has about 10-15 grams net carbs.
In a 1-ounce serving, there are:
14 grams sugar
17 grams carbohydrates
2 grams fiber
1.4 grams protein
8.9 grams fat
155 calories
Keto Dark Chocolate Brands
There are a lot of keto chocolate brands and products out there, and I will list some of my favorite ones down below!
Remember to eat sugar-free dark chocolate that has as few net carbs as possible. It's always best to buy high-quality dark chocolate because it will have the fullest and richest flavor.
You can also make your own homemade dark chocolate with monk fruit and it's cheaper than buying pre-made bars.
Check out these keto-friendly chocolate brands when you are craving something sweet:
The Good Chocolate
For those who want a premium chocolate make with natural keto-friendly sweetener, The Good Chocolate delivers. It's sweetened with erythritol, stevia, and mesquite powder.
The Signature Dark Chocolate by The Good Chocolate has just 1g net carb for a 2.5 square serving size.
ChocZero
ChocZero makes both unsweetened chocolate chips and 70% dark chocolate squares. These are fantastically keto-friendly and sweetened with monk fruit extract!
There are only 1 gram net carbs in each square of chocolate.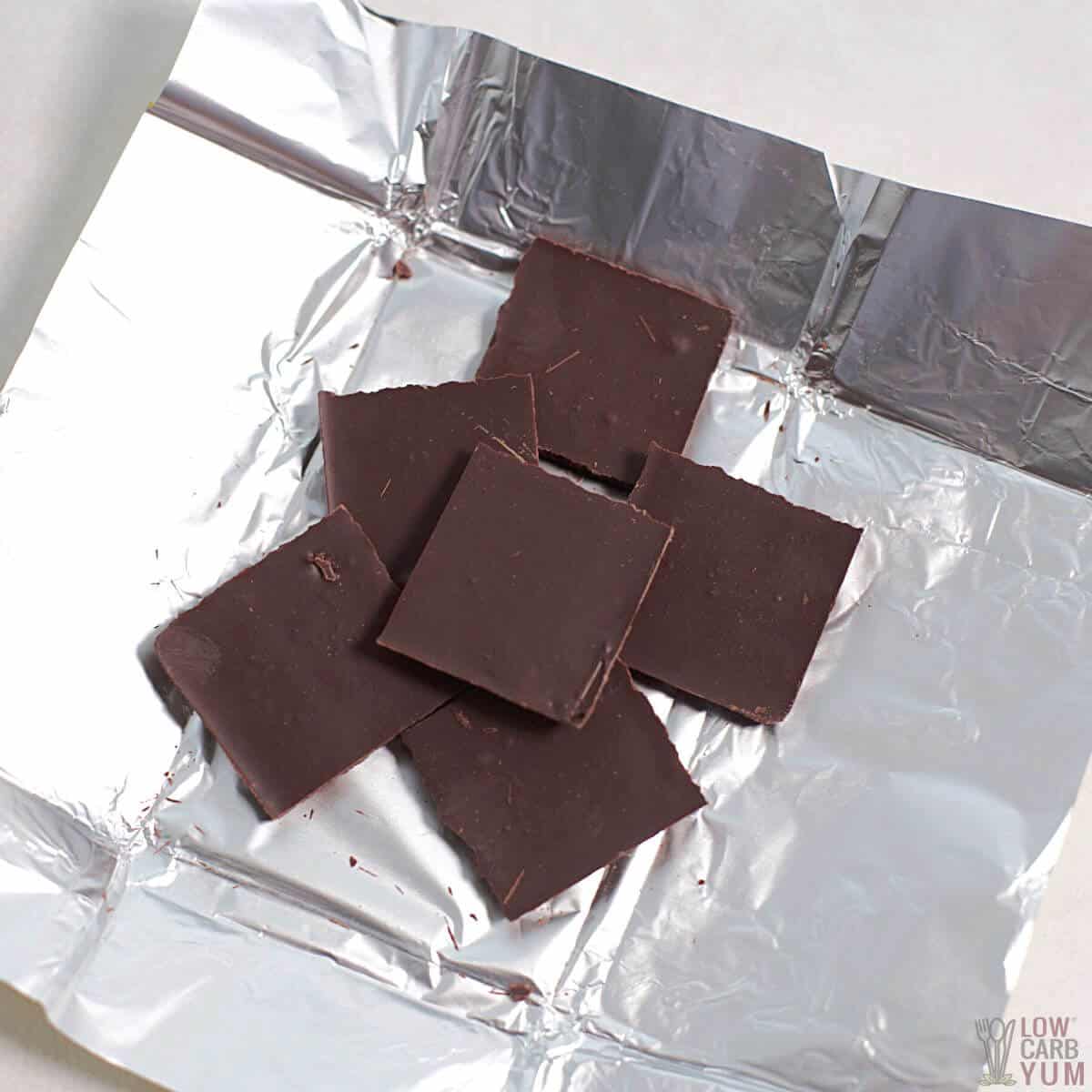 Alter Eco Deep Dark Blackout
The Alter Eco products are organic, fair trade, and wrapped in recyclable packaging. They are made with organic raw cane sugar but still remain very low in carbs.
In fact, in one serving (4 squares of a bar), there are only 5 grams net carbs! This is a fantastic product to indulge in.
Zenevo Fit Dark Chocolate
Zenevo Chocolate makes a fit line for a nutrition and energy boost that will satiate your chocolate cravings.
It is made with green coffee bean extract and raspberry ketones, but there are still just 5.25 grams net carbs in each square of chocolate.
The Health Benefits of Dark Chocolate
Dark chocolate actually has a range of health benefits. Check out how good it is for you!
Is a fantastic source of antioxidants. It helps fight free radicals that could cause damage to your cells.
Lowers blood pressure. The flavonoids in dark chocolate (the things that make it taste so good) actually send signals to your arteries to relax and lower your blood pressure.
Reduces the risk of heart disease. Since it has so many properties that lower bad cholesterol and your blood pressure, it can actually decrease your risk of heart disease.
Improves brain function. Dark chocolate can also improve blood flow to the brain in young adults.
Ways to Use Keto Dark Chocolate
There are a lot of different ways to eat low-carb dark chocolate too. Try adding dark chocolate to some of your favorite sugar-free keto desserts whenever you want to eat chocolate.
In a Pie
Use dark chocolate in a cheesecake or rich pie. In fact, sugar-free keto chocolate pie has an incredible meringue topping!
In Bark
Chocolate bark is a delicious way to enjoy chocolate on the keto diet. It saves really well and tastes like a chocolate candy bar.
Dark chocolate almond bark is high in protein and healthy fats and has the most incredible crunch!
With Cakes & Cupcakes
You can use dark cocoa powder to make a keto chocolate cake. Or add dark chocolate to the fudgy filling of a keto chocolate molten lava cake.
Add dark chocolate to your favorite frosting and make some keto chocolate cupcakes with it.
Chocolate Chip Cookies
Add some dark chocolate chips to your favorite chocolate cookies recipe. They are one of the easiest desserts you will ever make.
Dark Chocolate Keto FAQs
Here are some questions people often ask when wondering is dark chocolate keto. If you don't see your question in this list, please leave it in the comments.
What is the difference between milk chocolate and dark chocolate?
The biggest difference between the two of them is that dark chocolate doesn't have any added milk solids. Dark chocolate will also have a higher amount or concentration of cocoa.
Is 85% dark chocolate keto?
Yes, this delicious treat is often low in net carbs. However, you will still have to watch how much of it you eat.
How is dark chocolate sweetened?
Some types of dark chocolate are sweetened with cane sugar. Others will have monk fruit extract. The best way to tell is to read the ingredients label.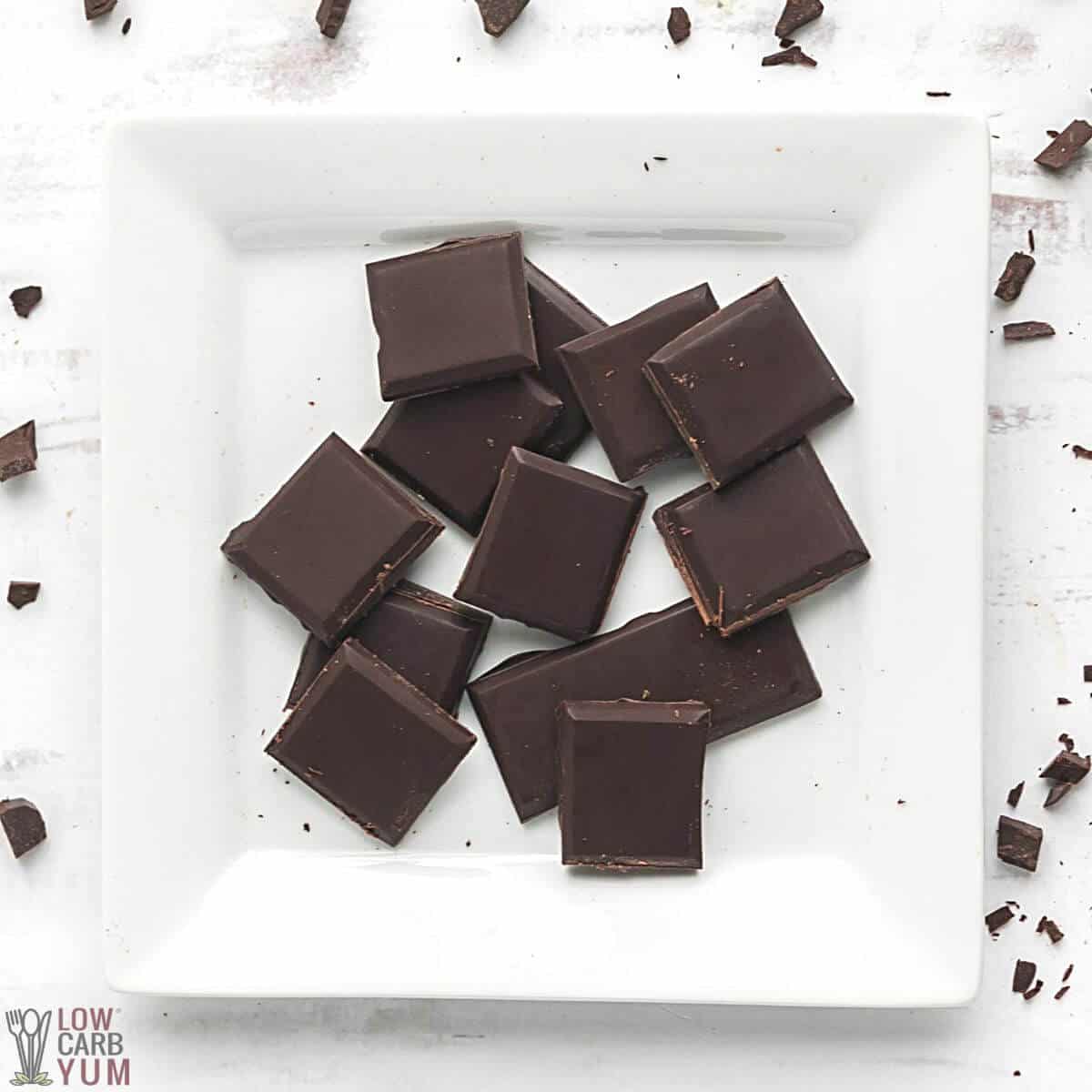 Other Chocolate Recipes
Now that you know how dark chocolate fits into a keto diet, here are some more low-carb dark chocolate recipes. All of these desserts fit easily into a keto lifestyle.
Follow us on FACEBOOK, PINTEREST, and INSTAGRAM for even more tasty keto-friendly recipes!