This post may be sponsored or contain affiliate links. But all opinions are our own.
Full Disclosure
A delicious low carb chocolate pie topped with sweetened whipped cream that's been stabilized. The crust is made from ground almonds.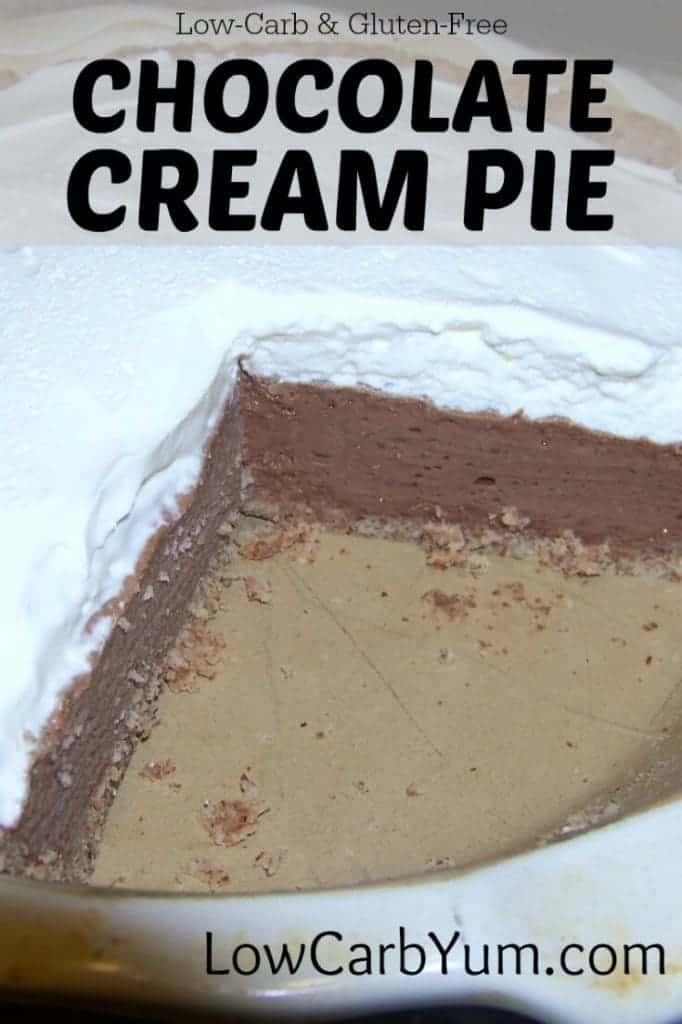 I thought I'd try another pie recipe using a basic low carb nut based pie crust. Unfortunately, I lost most of the photos I took while making this pie. For some reason, my memory card became unreadable and had to be reformatted.
This low carb chocolate pie was okay. I was looking for a way to use up some unblanched almond flour. I didn't really care for the crust, but it wasn't terrible. Blanched almond flour would certainly taste much better.
The whipped cream topping was perfect and it stayed that way for over a week. Adding gelatin to regular whipped heavy cream is a great substitute for cool whip which has ingredients I prefer to avoid.
For this low carb chocolate pie recipe, the total carbs in each 1/8 pie slice is about 6 grams. You could also use a thickened chocolate pudding for the filling if desired. This recipe for cream low carb chocolate pudding would make a nice filling for any pie.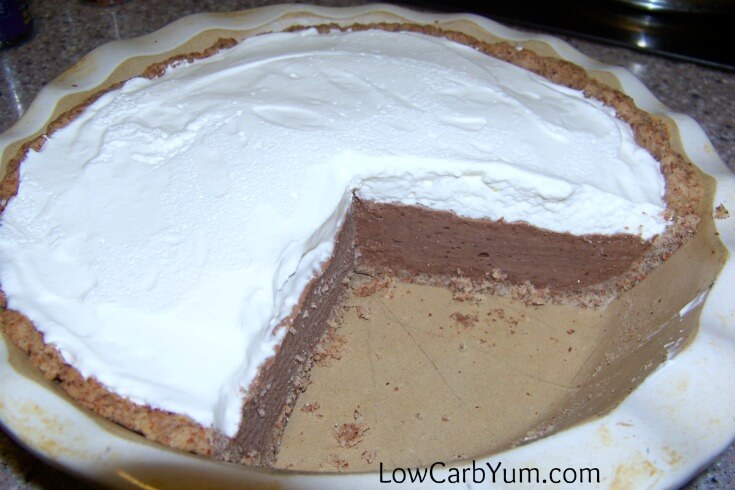 I may try reworking this recipe with a better crust and a modified chocolate pudding filling. I think it would have a better texture and flavor. If you have any ideas for improving this low carb chocolate cream pie, let me know in the comments.
Low Carb Chocolate Pie Recipe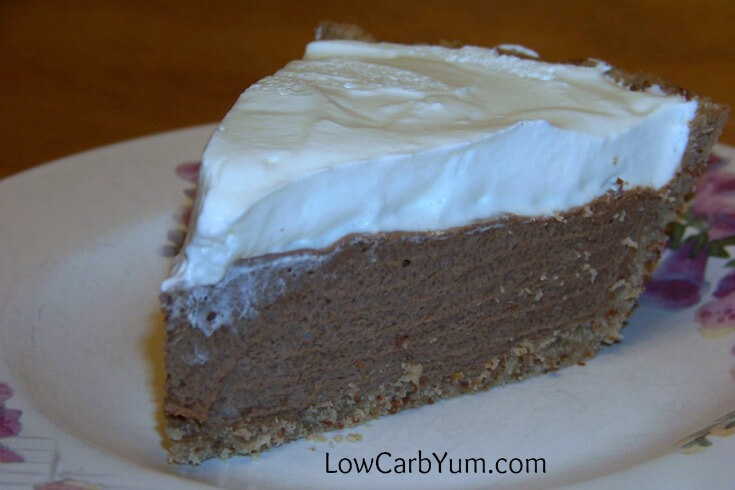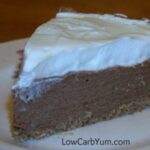 Low Carb Chocolate Pie Topped with Whipped Cream
A delicious low carb chocolate cream pie sweetened with natural sweeteners. The crust is made from ground almonds and the top is a stabilized whipped cream.
Ingredients
Instructions
CRUST
Preheat oven to 350F. Grease pie pan.

Mix the almonds with the melted butter, erythritol, stevia, and vanilla extract until well combined.

Whip the egg whites and xanthan gum until frothy, beginning on low speed, slowly working up to the highest speed. Add the nut mixture to the egg whites and mix on low setting until thoroughly blended.

Press mixture into a pie pan. Bake at 350F for 15 minutes. Allow to cool before filling.
FILLING:
Place cream, coconut milk and egg yolks in saucepan and mix well. Add xylitol, stevia, salt, and gelatin. Stir in chocolate. Slowly add the xanthan gum while whisking constantly over medium low heat. Bring to a boil and let boil one minute. Remove from heat. Stir in butter and vanilla. Let cool to room temperature. Pour into prepared pie shell.
CREAM TOPPING:
Soften gelatin in cold water for 5 minutes. Dissolve gelatin by placing it over a small pot of simmering water.

Whip the cream until barely stiff. Add the melted gelatin, stevia and vanilla extract to the cream. Continue whipping until soft peaks form.
Recipe Notes
* NOTE: Xylitol has been shown to be toxic to pets so keep it away from animals if you have them
Carbs per serving crust: about 1 g
Carbs per serving filling: about 4.2 g
Carbs per serving cream topping: about 0.8 g
Nutrition Facts
Low Carb Chocolate Pie Topped with Whipped Cream
Amount Per Serving
Calories 473
Calories from Fat 333
% Daily Value*
Total Fat 37g 57%
Cholesterol 141mg 47%
Sodium 159mg 7%
Potassium 126mg 4%
Total Carbohydrates 9g 3%
Protein 11g 22%
* Percent Daily Values are based on a 2000 calorie diet.
Related Posts