These are the best things you can order when you are eating keto at Panda Express. Enjoy this fast-food Asian restaurant even when you are on a low-carb diet!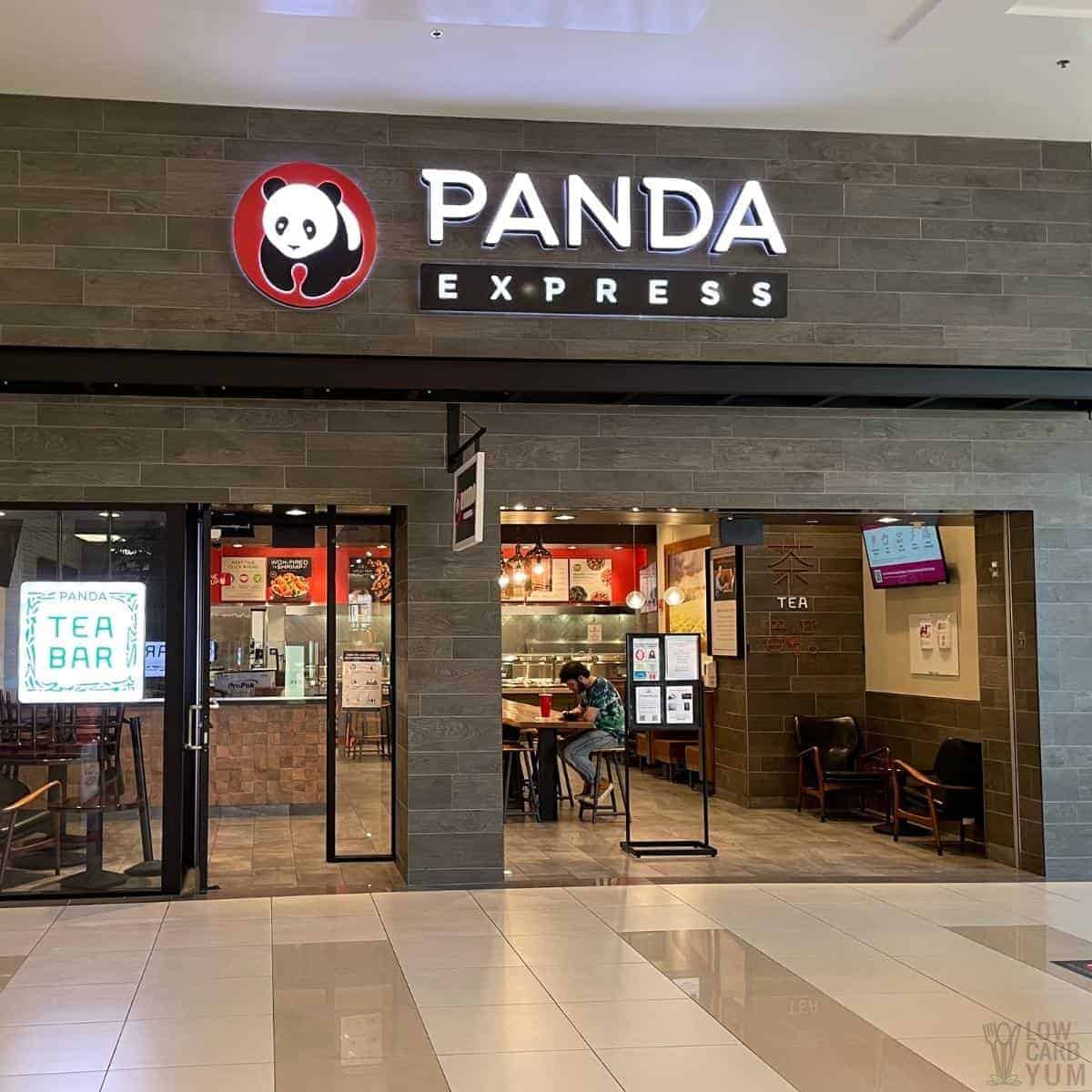 It might seem impossible to eat keto at Panda Express. After all, they are known for their super-sweet sauces, marinated chicken, rice, and lo mein. (Not to mention the fortune cookies and fried goodies too!)
Panda Express is just like any other Chinese restaurant. If you are on a low-carb diet, the options are pretty similar.
After you start understanding how to hack the menu at Panda Express, this restaurant won't be off-limits to people on the ketogenic diet anymore.
Lunch and dinner
There are a bunch of different things you can eat at Panda Express when you are on the keto diet. I'll break the options down, so you know exactly what to order.
Keep in mind that some of these menu items might have more carbs in them than you are comfortable eating. I'm including as many choices as possible, but you should pick what works with your macros!
I'll split these options up by category to make it simple to build a meal.
Entrees
Grilled Teriyaki Chicken (8g net carbs)
String Bean Chicken Breast (9g net carbs)
Mushroom Chicken (9g net carbs)
Black Pepper Angus Steak (9g net carbs)
Kung Pao Chicken (12g net carbs)
Grilled Asian Chicken (8g net carbs)
Steamed Ginger Fish (8g net carbs)
Broccoli Beef (11g net carbs)
Firecracker Shrimp (6g net carbs)
Sides
For a keto-friendly side option at Panda Express, try:
Super Greens (5g net carbs)
Unfortunately, they do not offer cauliflower rice at Panda Express. You'll need to avoid rice and noodles when you are on the ketogenic diet.
Sauces
There are a few different sauce options at Panda Express that are low in carbs. These are the best ones:
Hot Mustard Sauce (0g net carbs)
Black Pepper Sauce (5g net carbs)
Soy Sauce (0g net carbs)
Drinks
The best thing to drink will always be water. If you want something else, these are the keto-friendly drinks at Panda Express (some are subject to availability per location).
Diet Lemonade
Unsweetened Iced Tea
Coke Zero
Sprite Zero
Black Tea
Passion Mango Black Tea
Lemon Green Tea
Vitamin Water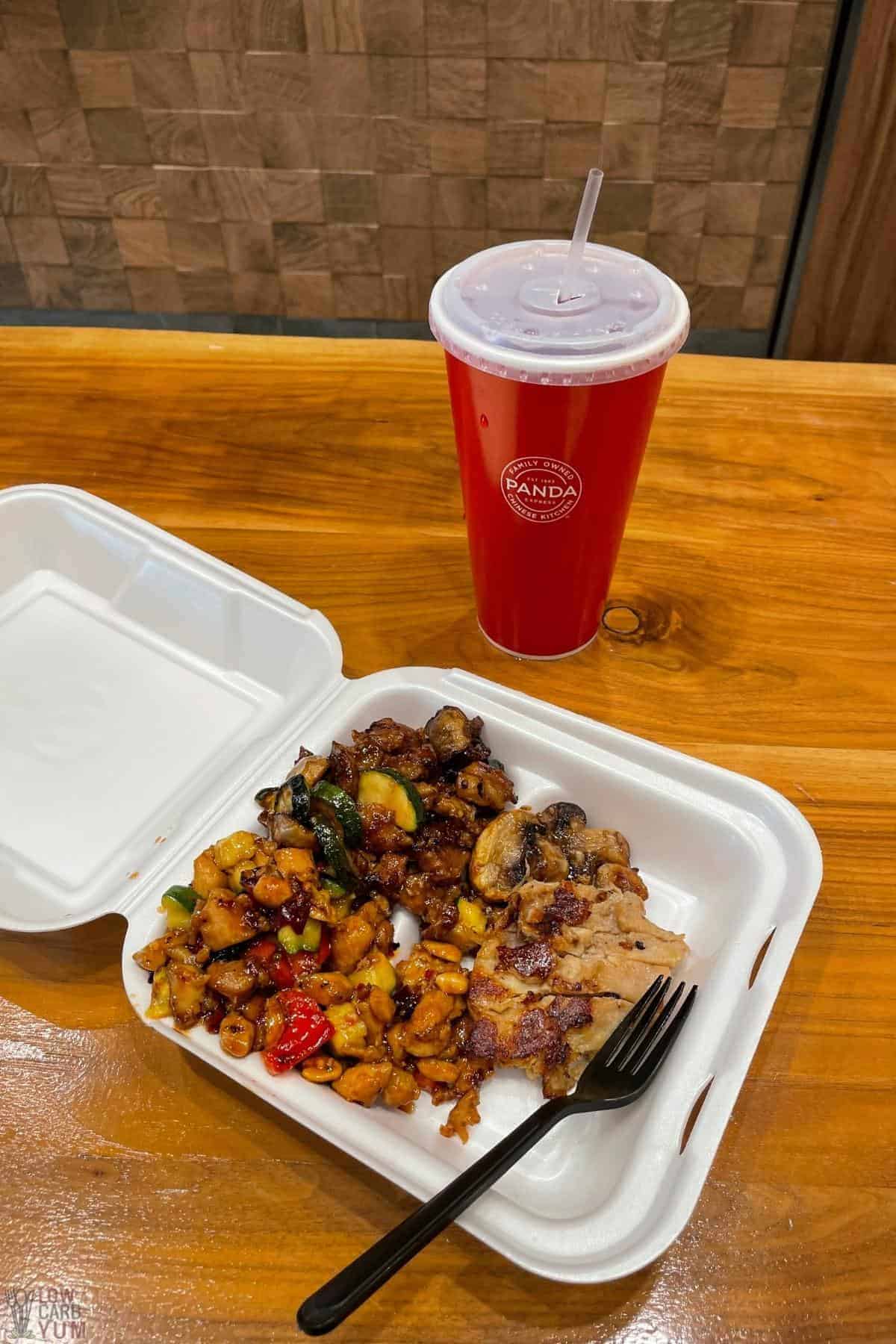 Ordering tips
It might feel a little challenging to eat keto Panda Express. Unfortunately, the low-carb options aren't as easy to find as all the high-sugar and high-carb options.
But thankfully, I have some tips that will help you hack the menu and be able to stay within your macros, even if you have to eat here.
Here are some really simple rules to follow to stay on track:
1. Avoid sugary sauces or entrees
I was only able to find a few sauce options that fit a low-carb diet. For this reason, I suggest just avoiding anything that is tossed or covered in one of their sauces.
Here are the carb counts for some of the most popular sauces:
Teriyaki Sauce - 5.2 grams carbs per tablespoon
Plum Sauce - 8 grams carbs per tablespoon
Potsticker Sauce - 3.1 grams carbs per tablespoon
You should also avoid anything that has honey or sweet in the name because it will definitely have way too many carbs in it.
These are the things you should avoid from Panda Express if you are on the keto diet:
Honey Sesame Chicken Breast
Honey Walnut Shrimp
Sweet and Sour Chicken Breast
Orange Chicken
Beijing Beef
Marinated Chicken
Shanghai Angus Steak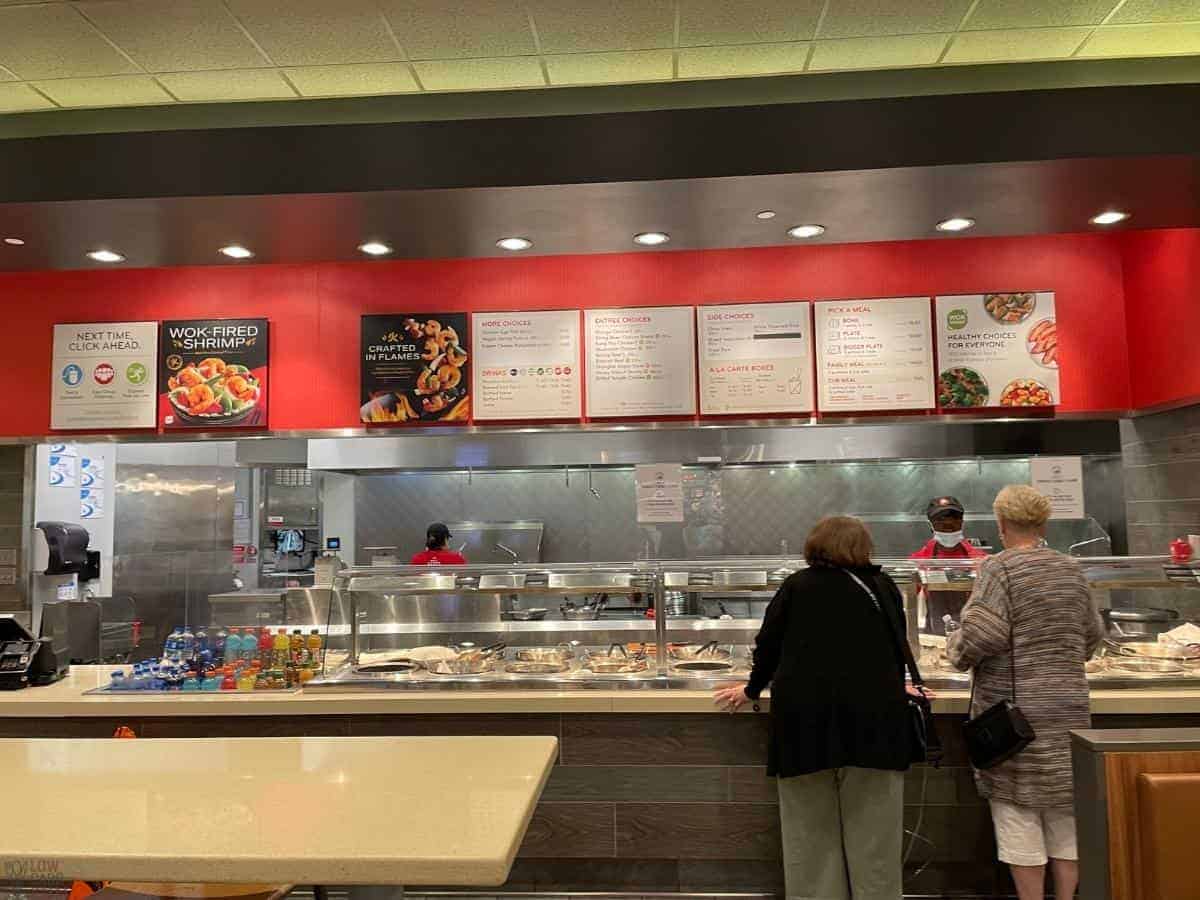 2. Pay attention to serving sizes
You might be able to order only one dish and stay within your macros, but pay close attention to the serving sizes.
For example, the black pepper Angus steak has 10 grams of carbs in it. If you only eat ½ a serving, that's just 5 grams of carbs. That is a lot easier to fit within your macros.
Tip: Add up the carbs before you eat, and then decide whether to eat it all or save half of it for later.
3. Mix and match the meat with veggies
When it comes to low-carb eating, you are better off mixing some grilled meat with veggies. Maybe order some tender beef or grilled chicken with red bell peppers.
If you are feeling really hungry (and have the macros to spare), then ask for double the meat.
Some other popular vegetables to order include:
Green Beans / String Beans
Super Greens
Fresh Broccoli
Mixed Vegetables
4. Spice it up
Making your meat or vegetables spicier is a keto-friendly way to enjoy your meal without feeling like you are missing out.
Add chili peppers to some chicken breast at Panda Express and enjoy the increased flavor!
5. Do not order noodles
Panda Express does not have low-carb options if you like pasta. Chow mein or lo mein are both too high in carbs for low-carb dieters.
In fact, there are an astounding 74 grams of net carbs in one order of chow mein.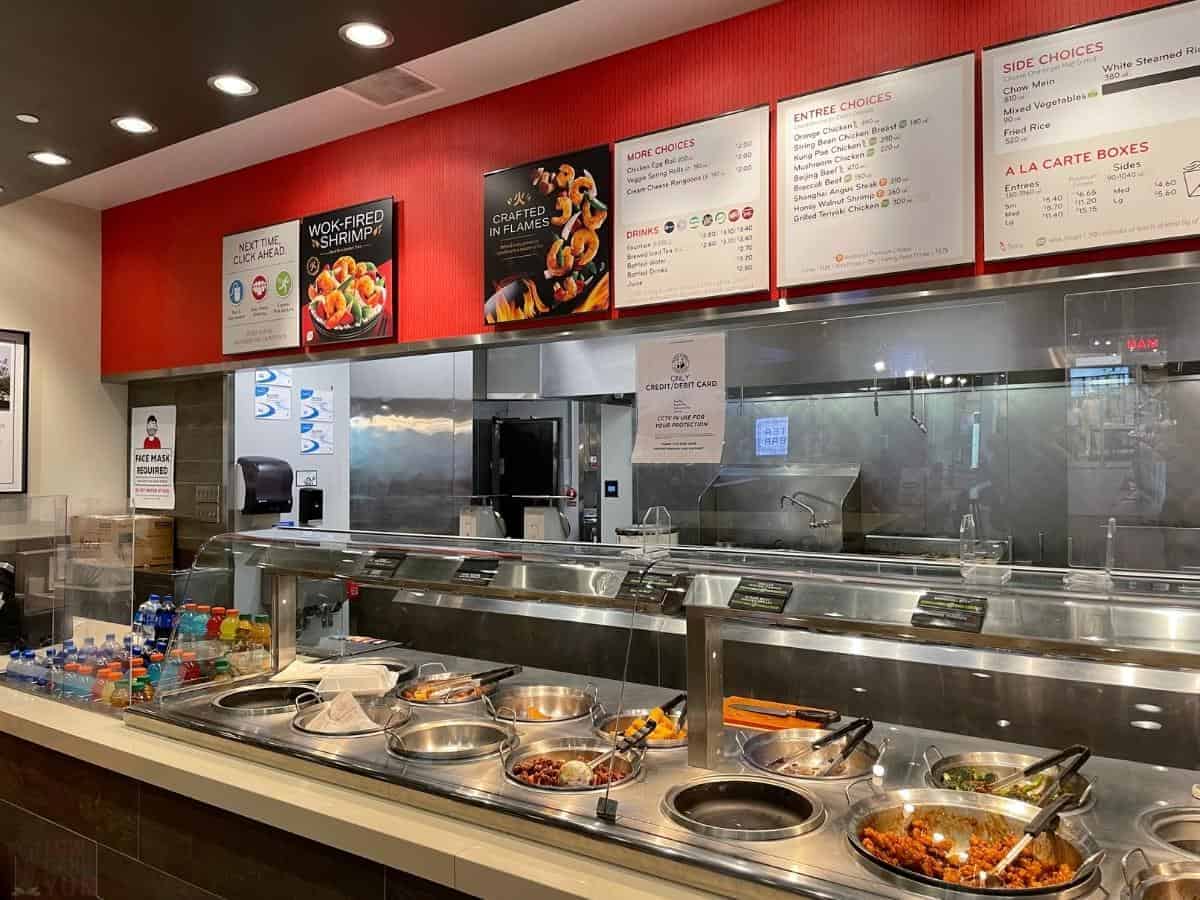 FAQs
Here are a few answers to the most frequently asked questions about ordering keto food at Panda Express! If you don't see your question in this list, please leave it in the comments.
Is Panda Express keto-friendly?
Honestly, Panda Express is not the most keto-friendly place to eat. There are quite a few low-carb options, but they are more difficult to find and aren't as well advertised.
They do have an online nutrition menu you can browse. The only low-carb side dish on the menu is the super greens.
Is the sweetfire chicken breast keto?
The word sweet should be a red flag. Sweetfire chicken is not a keto-friendly entree. One order contains 47 grams net carbs.
Are egg rolls at Panda Express keto?
No, neither the spring rolls nor the egg rolls are a good idea on the keto diet. They are made with high-carb wrappers and deep-fried.
Is black pepper chicken at Panda Express keto?
No, one Panda bowl with mixed veggies contains 20 grams net carbs. This entree will be challenging to eat on the keto diet and fit into your daily macros.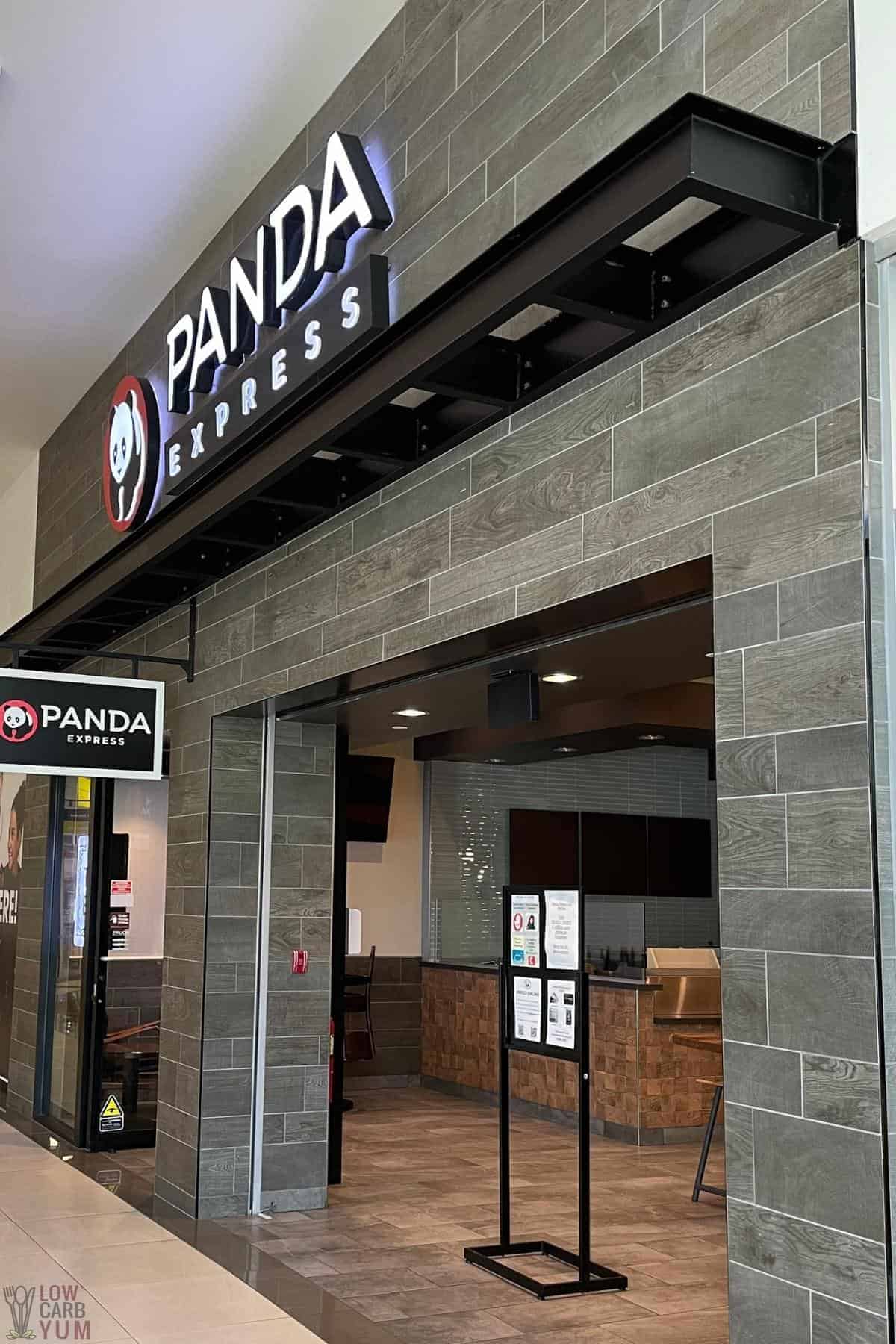 Related recipes
If this post on eating at Panda Express has you craving Chinese food, why not try some of these Asian-inspired recipes at home? They are all low-carb and delicious and taste just like you ordered them at a restaurant!
Follow us on FACEBOOK, PINTEREST, and INSTAGRAM for even more tasty keto-friendly recipes!