Low-carb McDonald's options are available to suit a keto diet when for a quick bite on the road! You'll just need to know what to order off the menu.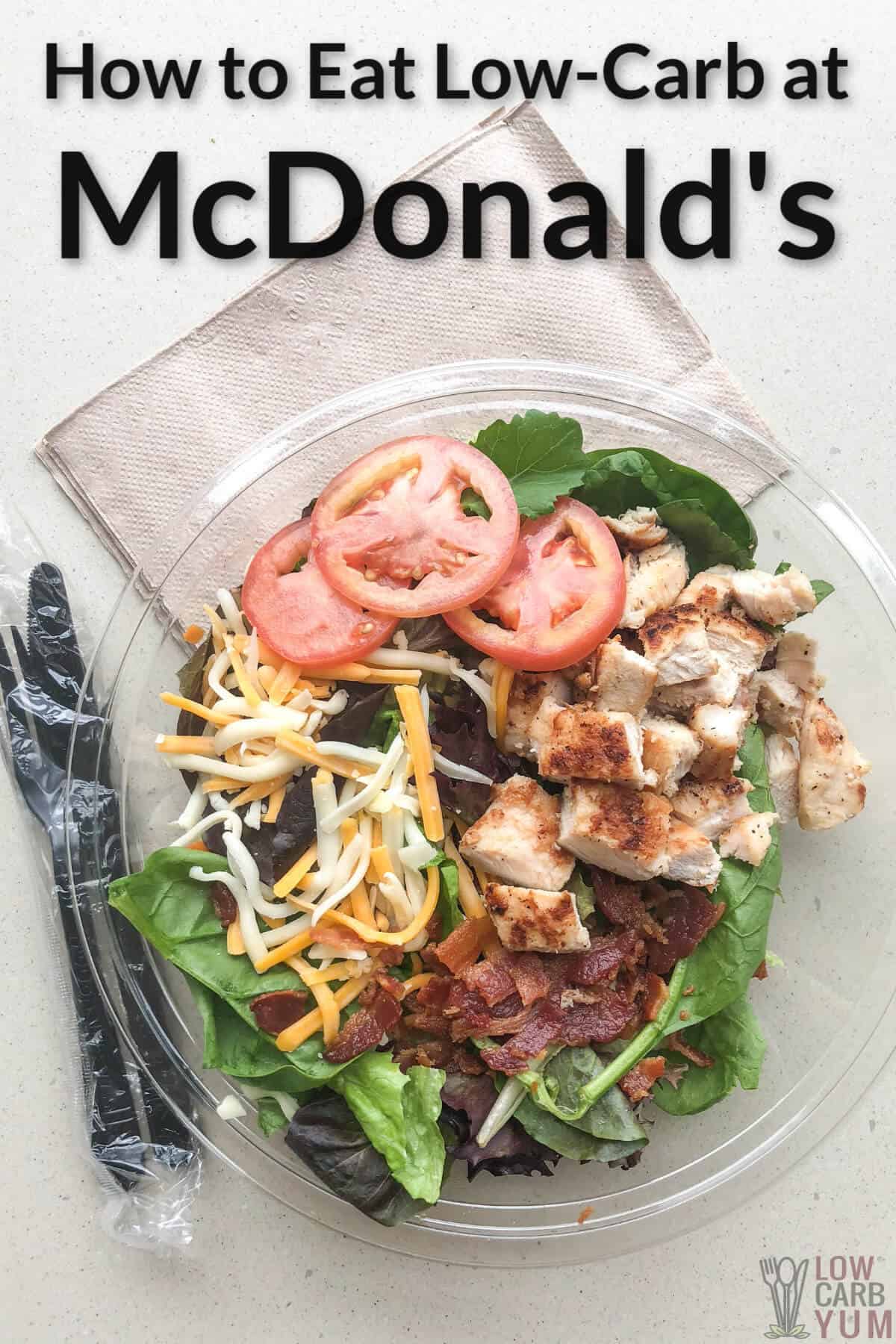 Article Index
Are Low Carb McDonald's Options Healthy?
Let me just get this out there.
The answer is no.
Just because they are low in carbs does not mean these options are healthy.
Sometimes when you're traveling and you don't have many options to choose from and the kids are getting cranky, eating McDonald's will have to do. It's a quick option when you haven't packed enough low carb snacks.
I'm by no means suggesting that eating at any fast food restaurant is healthy. And, there are reasons to limit fast food even if it's keto-friendly.
Why You Should Limit Eating Low Carb Fast Food
Many of the menu items are cooked in processed vegetable oil. Soybean oil is the most prevalent oil McDonalds uses. It contains a lot of omega-6 fatty acids, which contributes to inflammation in the body.
But, once in a blue moon, eating a fast-food keto meal won't likely harm your health. And, on those rare occasions when you find yourself with no other options but McDonald's, here's how to stay on track with low carb.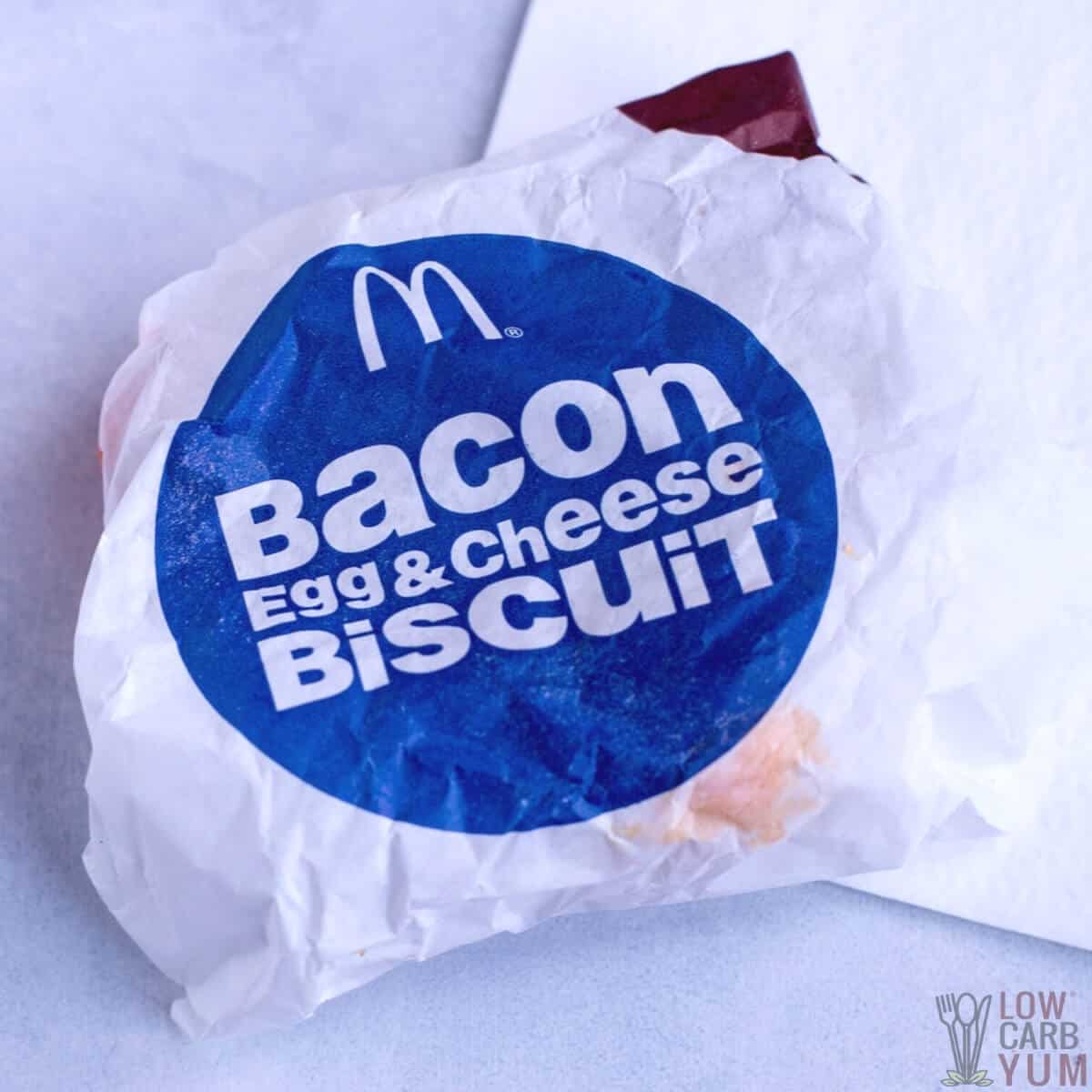 Low-Carb McDonald's Options For Breakfast
Let's take a look at some of the McDonald's low carb options for breakfast. I used the food chain's handy online calculator to determine which foods you can safely eat if you're keeping carbs low to lose weight.
McDonald's Breakfast Foods To Avoid On Keto
There are a few breakfast foods which you should avoid.
They are:
Fruit & Maple Oatmeal: It contains 62 grams of carbs (What would be left if you told the cashier to hold the fruit and oatmeal?)
Fruit 'N Yogurt Parfait: Even removing strawberries and granola from the equation still yields 20 grams of carbs.
Hotcakes & Sausage: You can just ask for the sausage if you're craving processed breakfast meat.
Egg McMuffin On Keto
Currently, there are quite a few breakfast sandwiches on the menu. I'm not going to go through all of them but, I will highlight the best-selling option: the iconic Egg McMuffin!
With all the ingredients in the Egg McMuffin, the sandwich contains 27 grams of net carbs. However, after removing the muffin, the sandwich has 3 grams of net carbs.
In fact, taking away the muffin or biscuit (or bagel, in the case of Bacon, Cheese and Egg Bagel Sandwich) brings the net carb total down to 3 grams.
This makes the breakfast sandwiches good low carb McDonald's options if you remove the bread!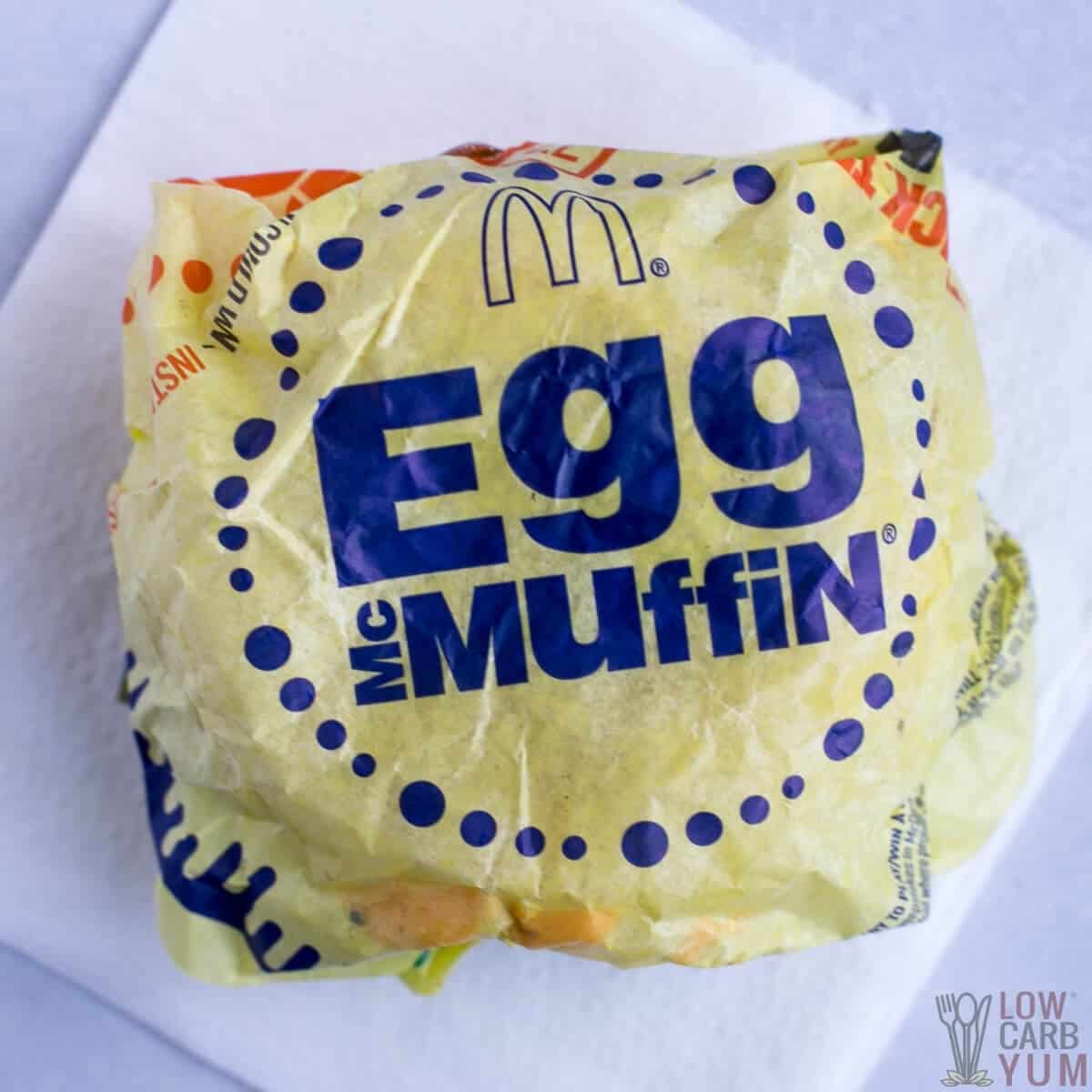 Best Keto Breakfast Food at McDonald's
In addition, when it comes to breakfast food, you can keep the carb count low by sticking with meat (sausage patty or bacon) and eggs.
You can order these items individually and on a platter. Or, you can take it home and plop it on top of a toasted homemade English muffin to really enjoy a delicious breakfast sandwich!
On a side note: I was shocked to learn that the Parfait contains konjac flour. Konjac flour is a good substitute for white flour in keto desserts!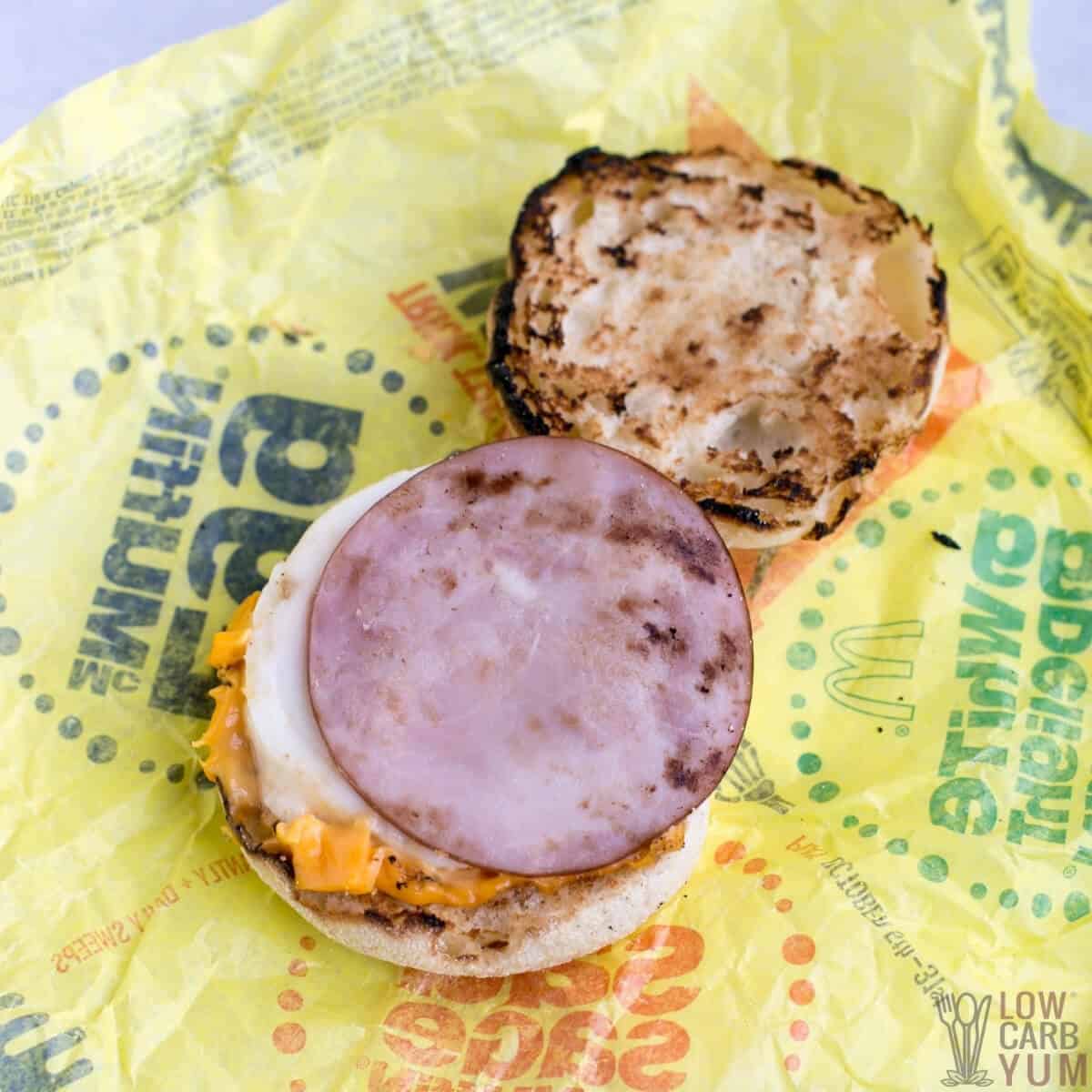 Bunless Burgers At McDonald's
Obviously, just as with breakfast sandwiches, you can drastically cut the carb count by removing the buns.
Let's use an example of another iconic menu item: the Quarter Pounder with Cheese.
With the bun, there are almost 40 grams of carbs! Don't want a high carb burger? Of course, you don't.
Tips To Enjoy A Low Carb Burger At McDonald's
But, if you still want to have your burger and eat it too, you have 3 options:
As for the first keto McDonald's option, that's not enjoying the full experience of having a burger. And hey, you're only doing this once in a blue moon, right? So, at least have a lettuce wrap burger.
I prefer the third option. I might not always think ahead to bring my own wraps or buns, but I think this is the most enjoyable option.
What does removing the bun do as far as the carb count? It deletes 30 grams of carbs. You're now at only 9 grams of carbs for a quarter pounder with cheese.
Want to get it down to 5 grams? Tell them to hold the ketchup and sub in your own sugar-free ketchup!
Is the Big Mac a low carb fast food option?
A regular Big Mac contains 25 grams of protein. That's a nice dose of protein if you're a bodybuilder. But, with the protein comes a whopping 46 grams of carbs. Ok, technically with the 3 grams of fiber the Big Mac has, it's only 43 grams of net carbs.
Obviously, if you're on a ketogenic diet, eating a regular Big Mac is sure to kick you out of ketosis. In fact, some people following keto try to stay as low as 12 grams a day.
But, ditching that bun, as I did in my version of the Big Mac Salad, the carb count drops dramatically.
Just by removing the buns brings it down to 7 carbs. Saying no to the special sauce yields 5 grams. You can shed even one more gram by holding the pickles.
The good news about McD's beef patties are that they use 100% pure USDA-inspected beef patties with no fillers and no extenders. However, the meat isn't 100% grass-fed organic as that would significantly increase the cost.
And, if you're curious how the American cheese looks so yellow on its burgers, yes, color is added (along with soy lecithin and other additives.)
But hey, you gotta pick your battles, right?
McDonald's Keto Menu: Salads
NOTE: Salads were removed from the menu due to the COVID-19 pandemic to simplify and speed up drive-through operations. It's unknown when and if they will return.
If you're not looking for a gourmet meal and don't mind keeping it bland, you can always order a few side salads. A side salad here contains:
Romaine lettuce (and/or up-to 5 different kinds of lettuce)
Baby spinach
Carrots
Baby kale
Grape tomatoes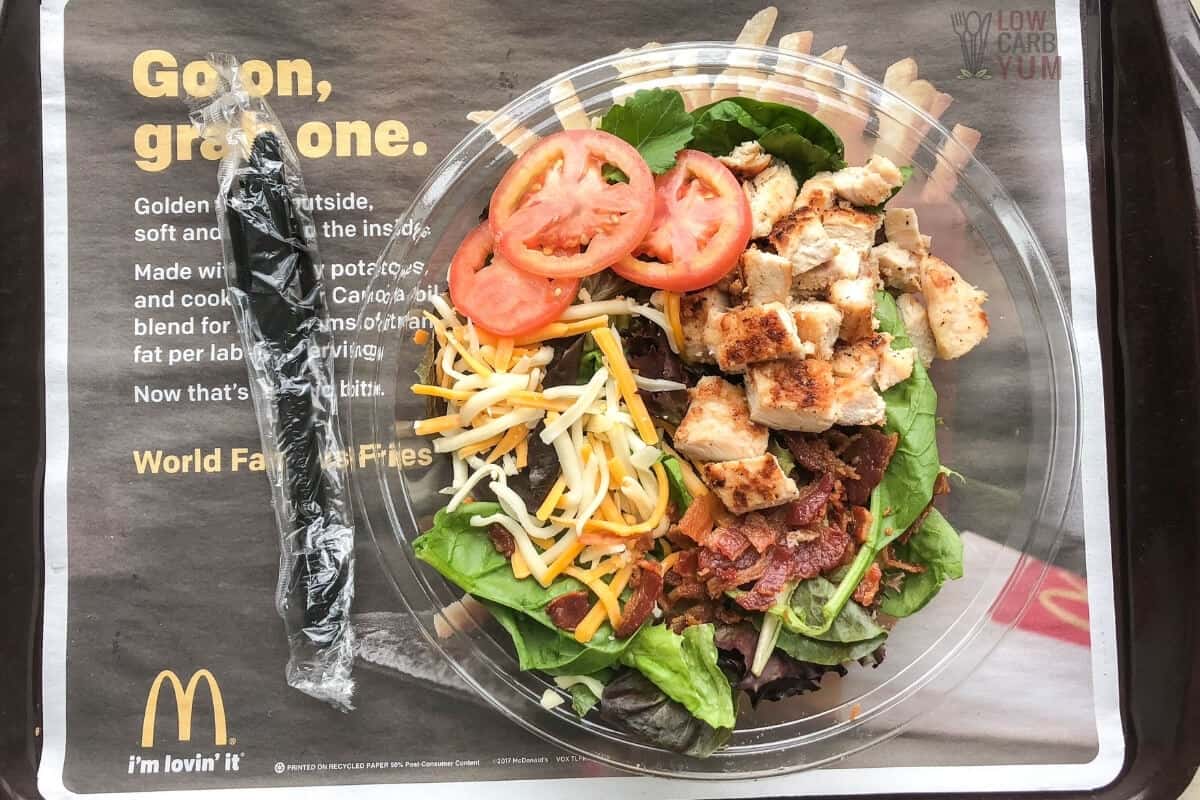 Carbs In McDonald's Side Salads
Side salads only contain 3 grams of net carbs. If you're looking to stick to 12 grams, you could still order a few side salads. Remove the grape tomatoes and it's only 2 grams of carbs per side salad!
If it's the Southwest Grilled Chicken Salad you prefer, there are 37 grams of protein (mostly of course from the chicken). But, if you order off the menu as is, there are 27 grams of carbs.
Removing the tortilla strips 22 grams carbs. Ditch the lime glaze dressing and you're now down to 15 carbs.
(Interestingly, the chicken is grilled with clarified butter, which is on my best keto foods for fat burning list.)
Bacon Ranch Grilled Chicken Salad
A healthier low carb McDonald's option is the Bacon Ranch Grilled Chicken Salad (pictured above). It contains only 9 grams of carbs. Remove the tomatoes and there are only 7 grams of carbs.
This one is my favorite low carb McDonald's meal option!
And, make sure you don't add the ranch dressing. It has 11 grams of carbs and contains ingredients you want to avoid like corn syrup and sugar!
If you are eating it at home, try using a simple olive oil and balsamic vinegar dressing or making your own batch of keto ranch dressing to have on hand.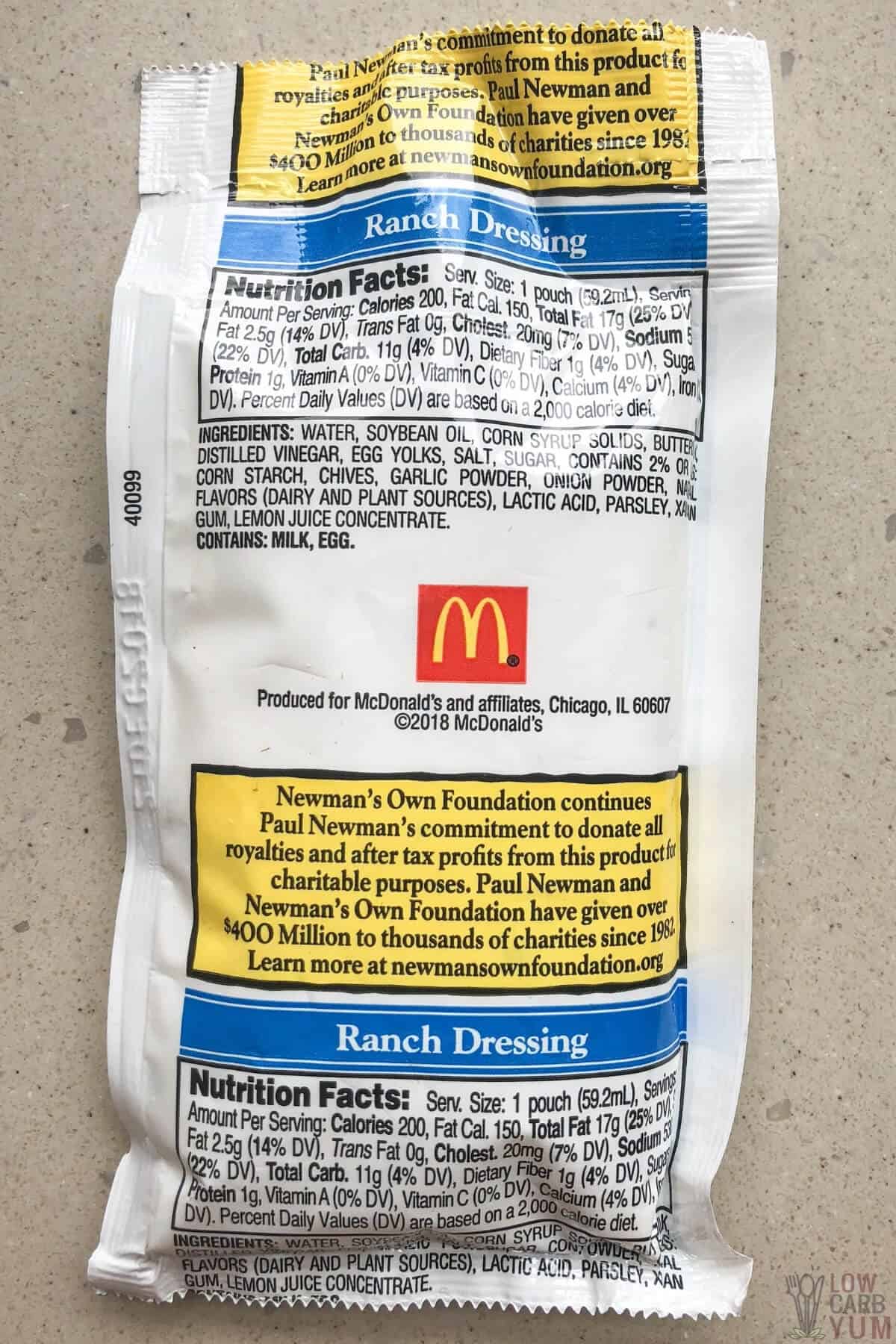 Is Crispy Chicken Low Carb at McDonald's?
No, the crispy chicken at McDonald's is definitely not low-carb.
It doesn't matter what kind of chicken sandwich you have. Remove the bun and the carb count plummets. However, if you're closely monitoring net carbs, the crispy chicken contains more carbs.
The buttermilk crispy chicken sandwich contain 18 net carbs and the buttermilk chicken tenders contains 13 total carbs. Avoid the chicken nuggets too as the breading isn't a good choice for a keto meal plan. Instead, make your own low carb chicken nuggets at home.
Your best bet is to go with the artisan grilled chicken sandwich. With no bun, it contains zero carbs!
If you're craving something more flavorful and don't mind a little more carbs, the pico guacamole grilled chicken contains only 6 net carbs.
Fast Food Low Carb Drinks and Sides
Obviously, the healthiest thing to drink is water. But, if you must have something else, you can order unsweetened iced tea. These two are the best keto McDonald's options.
And, if you are in the mood for a healthy snack, most Mickey D's have apple slices and mandarin oranges (Cuties). But, there is natural fruit sugar in those choices so they aren't the best low carb foods.
Low-Carb McDonald's: Final Thoughts
In conclusion, when your dining options are limited and fast food is the only way to curb your hunger, you can make it low carb by:
Removing the bun, biscuit, or bread
Ordering with no ketchup
Not using the salad dressing (bring your own bottle of olive oil in the car)
Removing croutons and tomatoes from salads
No matter how hard, avoid french fries and shakes
Only drink water or unsweetened iced tea
Want more insights on what to eat at these restaurant chains? Check out the Keto Fast Food Survival Guide by Mr. Skinnypants! And if you want a healthier option on the road, take a look at my guide to ordering keto at Panera.
Copycat Fast Food Recipes
The best way to enjoy fast food on the keto diet is to make it at home. These are some of my favorite kid-friendly recipes.
Follow us on FACEBOOK, PINTEREST, and INSTAGRAM for even more tasty keto-friendly recipes!