Ditch the Chinese takeout menu!
These keto Chinese food ideas are perfect for lunch, dinner, and even dessert. When you learn to make Chinese food yourself, you not only get a new skill, but you end up knowing exactly what is in the food you're eating.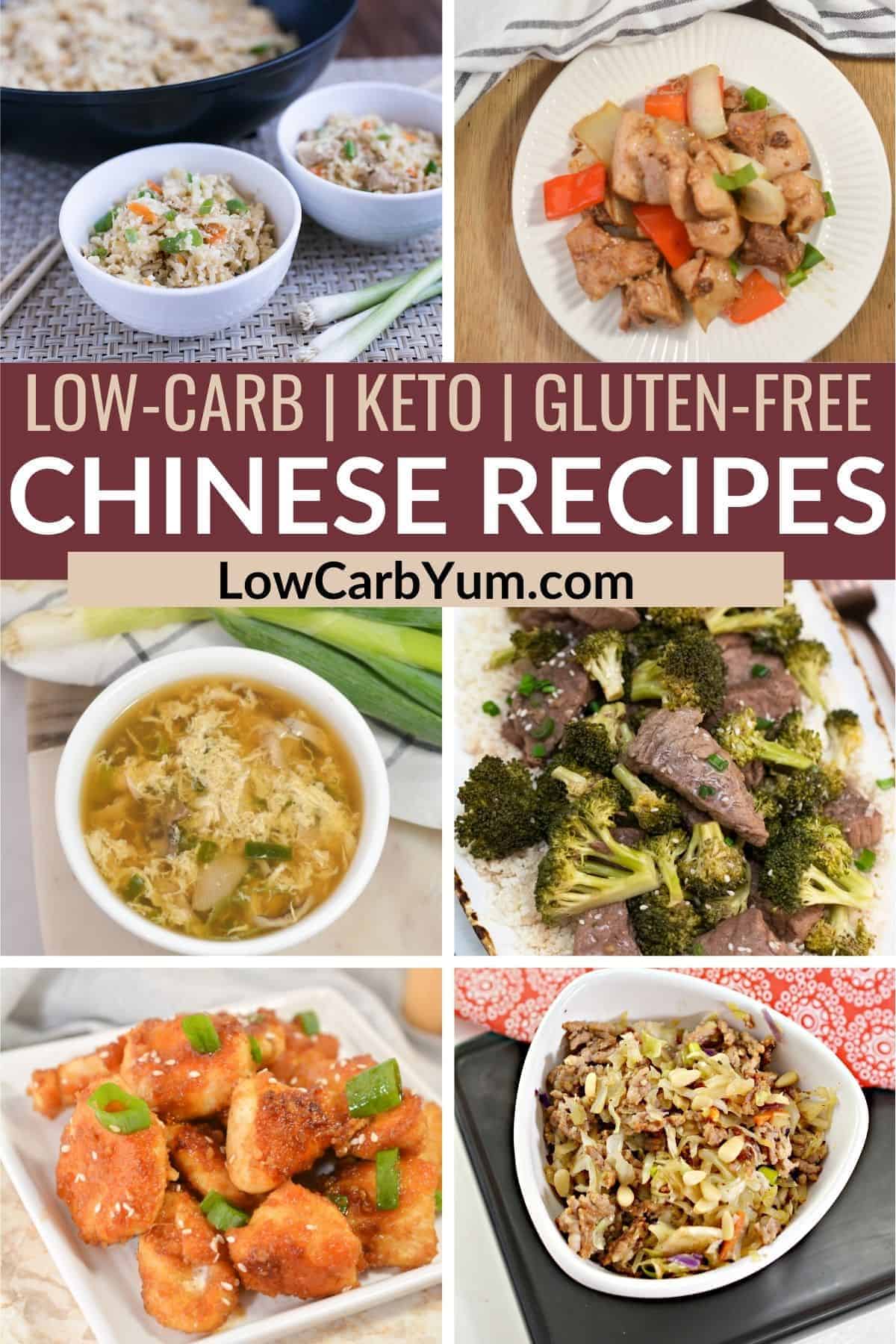 Article Index
Whenever I can try to make authentic Chinese food, I take the chance. Not only does it save me time and money, when compared to takeout, but when I make keto Chinese food at home, I know exactly what is in it.
Unfortunately, ordering from restaurants is always a gamble. Did they use soy sauce that has gluten in it? Do they have any low-carb substitutions for noodles or rice? Was the chicken cooked with sugar? Many times you'll have no idea.
Since you may never know, I always opt to make it at home!
Keto Chinese Food
All of the keto Asian food ideas on this list will give you enough recipes to fill up your menu for the entire month - without any repeats.
There are chicken, eggs, pork, and even beef recipes on this list. They all taste just like you ate at a Chinese restaurant, but they are low-carb and keto-friendly. They use low carb noodles, sugar free sweeteners, and create a breading that is gluten free.
21 Keto Friendly Chinese Food Recipes
All of these keto China food options will satisfy your cravings, no matter what they are. They are all very different from each other, and they're great to include in your meal prep for the week.
From sweet teriyaki to mild soups, there is something for every person and every meal on this list.
Psst... my personal favorite is the boneless pork ribs!
1. Keto Teriyaki Chicken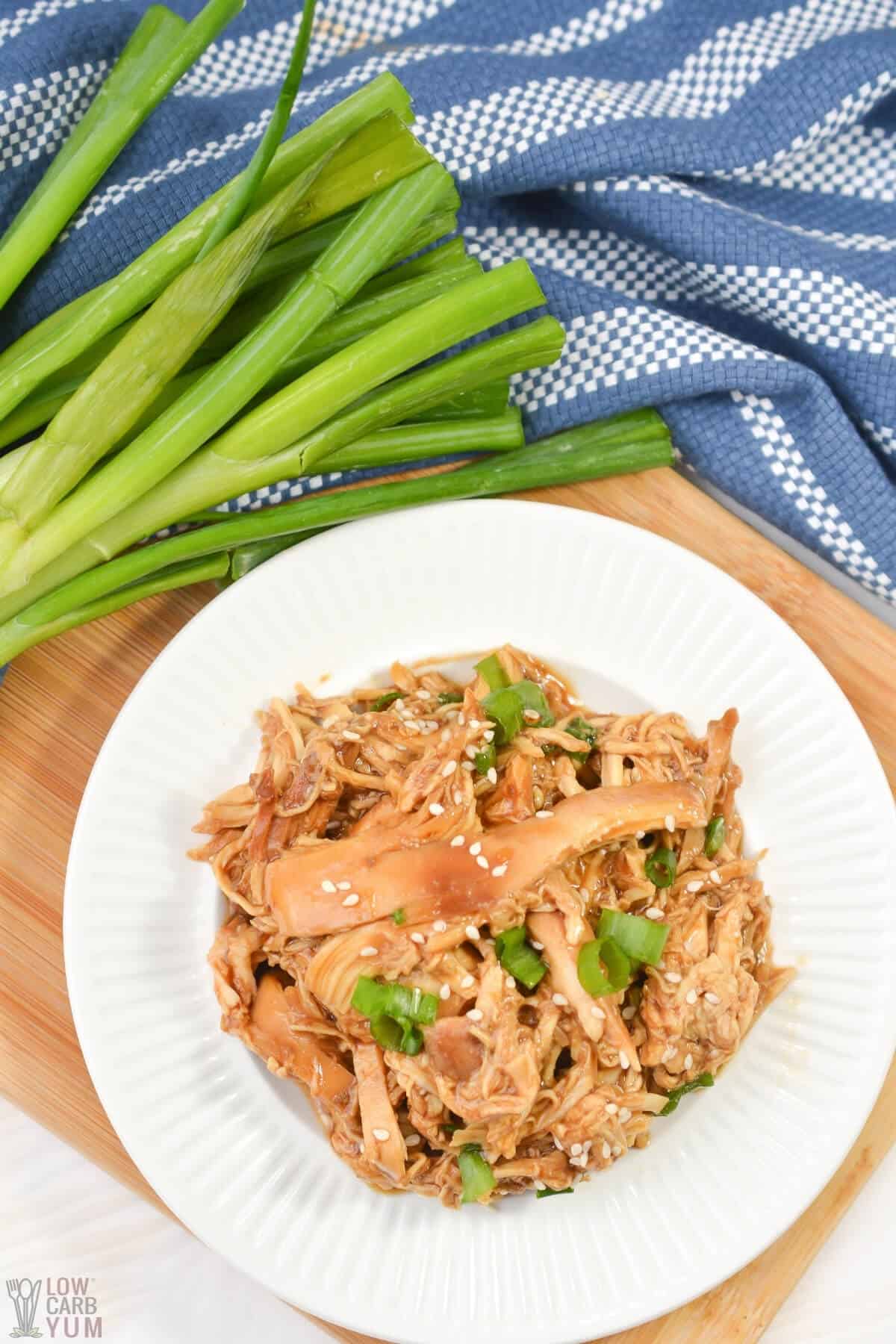 This tangy teriyaki chicken recipe falls apart on your fork. The secret ingredient is a homemade teriyaki sauce that uses gluten-free soy sauce.
For a quick lunch, add this shredded chicken to your favorite lettuce wraps.
2. Chinese Salt & Pepper Chicken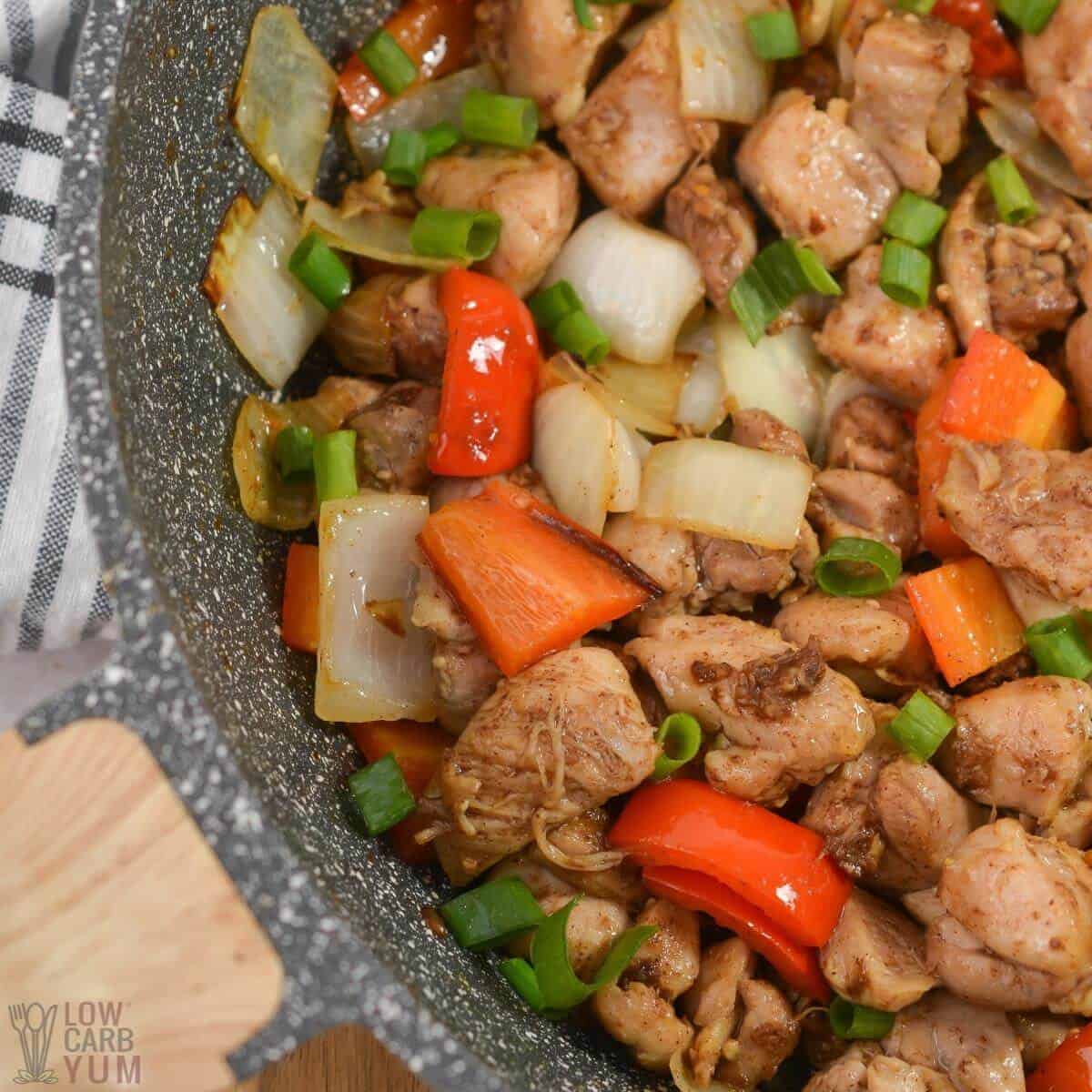 For a simple skillet recipe, make this chicken dish in brown sauce! Crispy red bell peppers and fresh onions add nutrition and flavor to this incredible meal. It's the perfect thing to eat on the keto diet.
3. Chinese Pork Stir Fry with Broccoli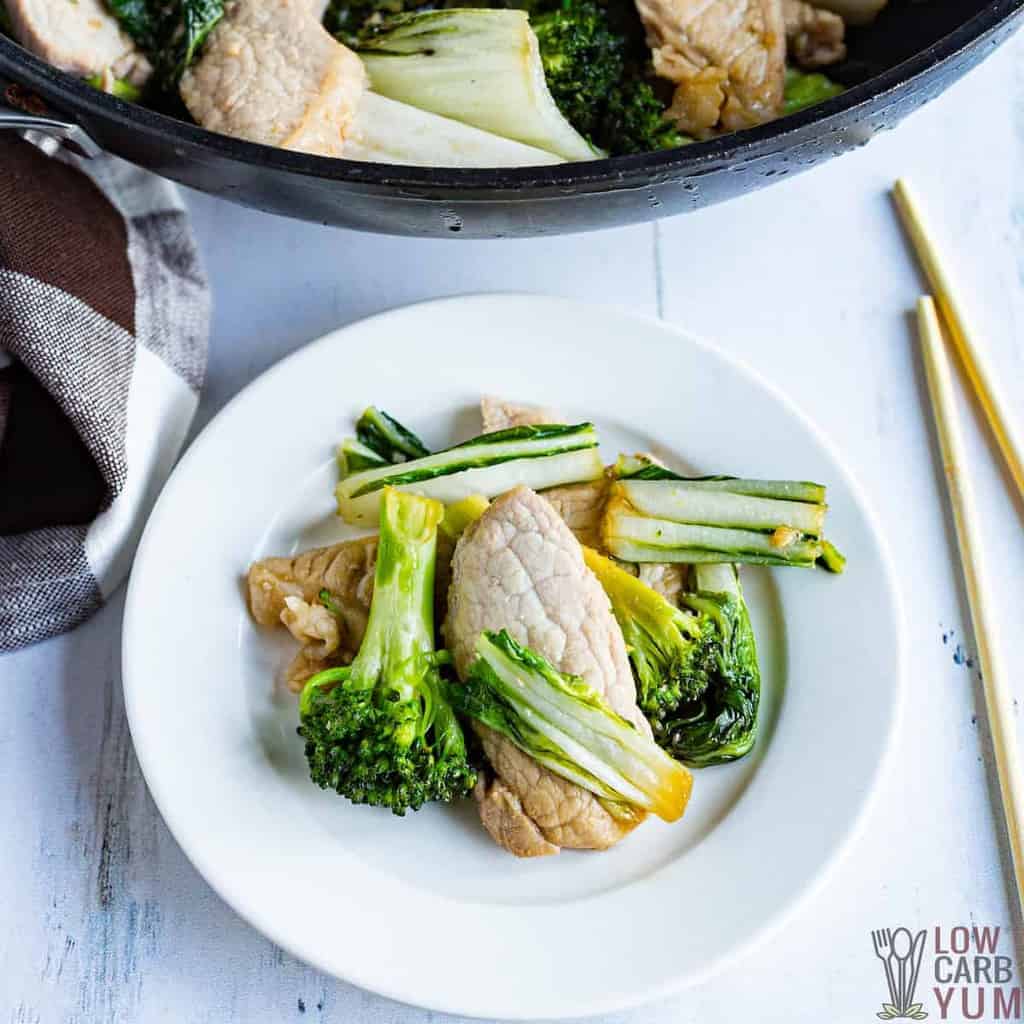 This easy stir fry is another one of my favorite keto-friendly Chinese food recipes. Tender pork is perfect with crispy broccoli.
4. Keto Egg Drop Soup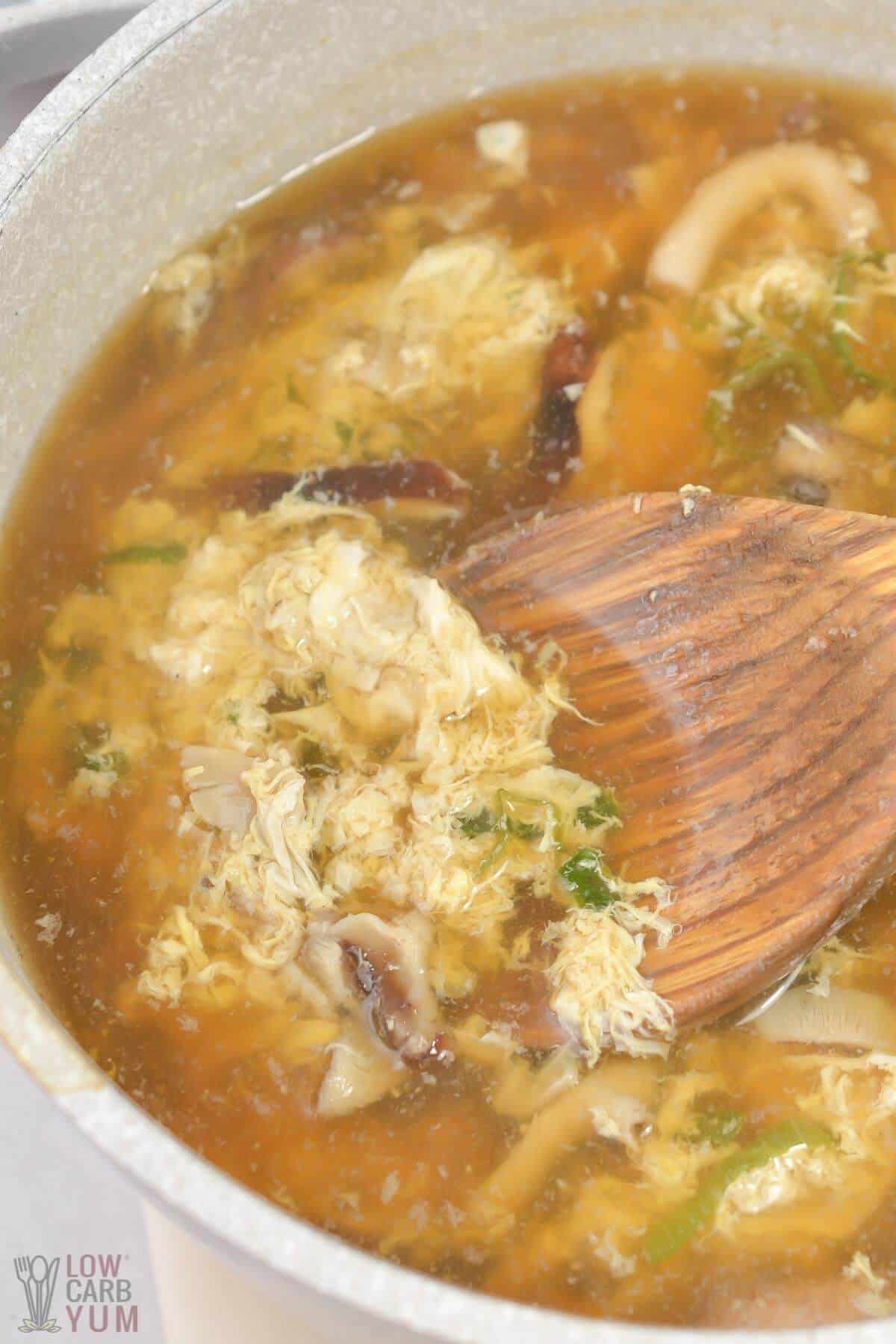 On the low-carb diet, you can't go wrong with a warm bowl of egg drop soup! It's mild and light and won't fill you up, so it is the perfect appetizer before a big meal.
5. Char Siu Chinese BBQ Pork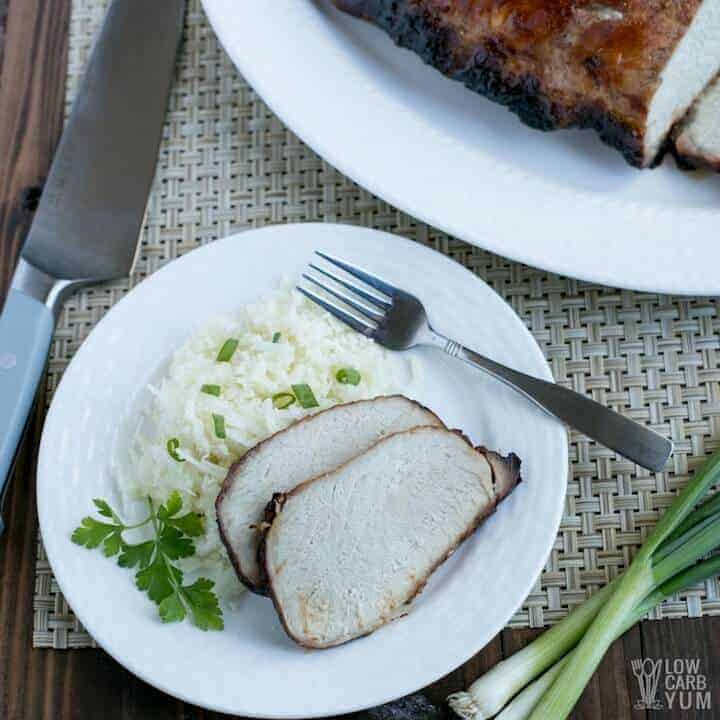 Make this simple BBQ pork recipe in the oven. It has an intoxicating blend of unique spices that are mouth-watering and delicious.
6. Baked Sweet & Sour Chicken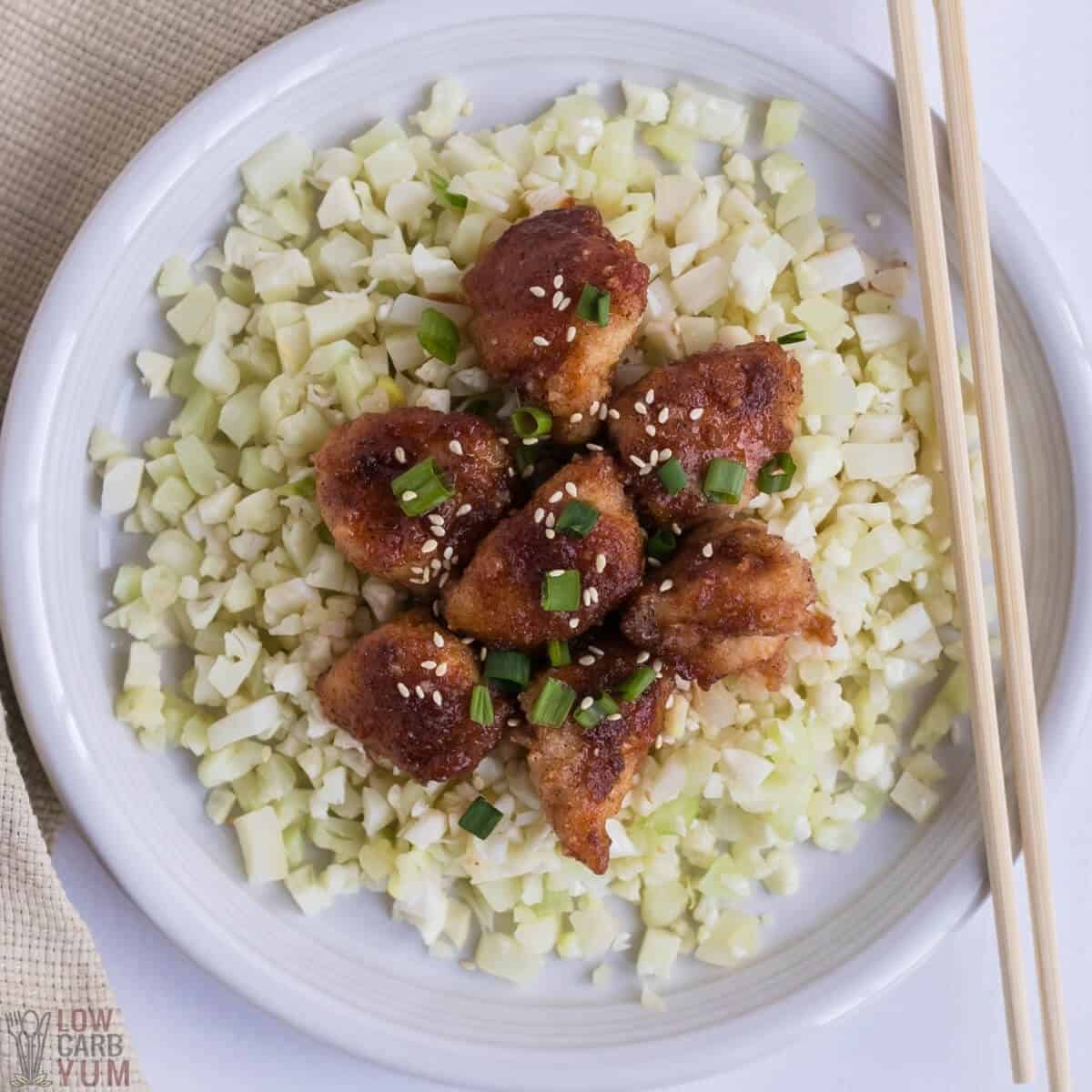 Everyone loves this oven-baked sweet and sour chicken recipe. Add it to your plate if you have some keto sweet and sour sauce!
7. Kelp Noodles with Spicy Pork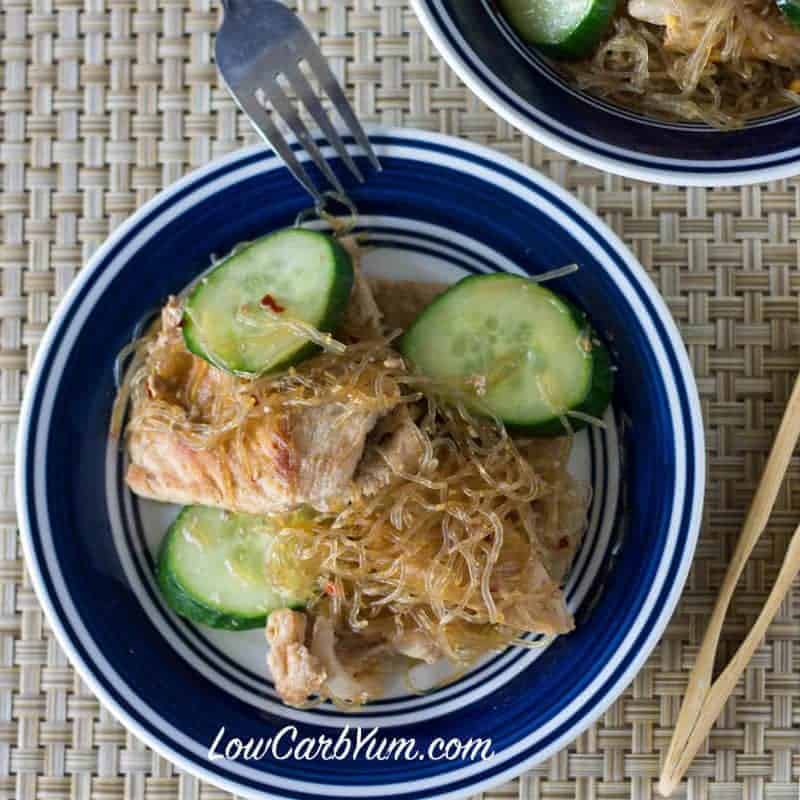 Homemade keto Chinese food is on the menu this week with this super-spicy pork recipe. The kelp noodles are naturally low in carbs, and they melt in your mouth.
8. Spaghetti Squash Pad Thai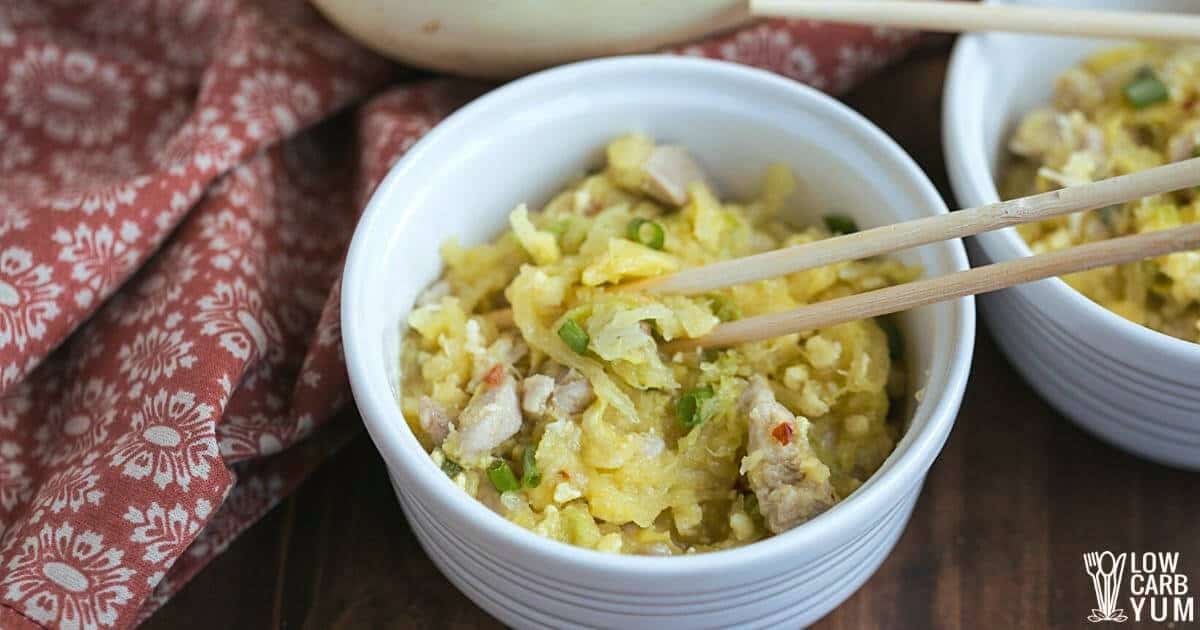 Pad Thai is technically from Thailand, but I had to include it because this recipe is so popular.
It tastes delicious with steamed fish on the side too!
9. Cauliflower Rice Stir Fry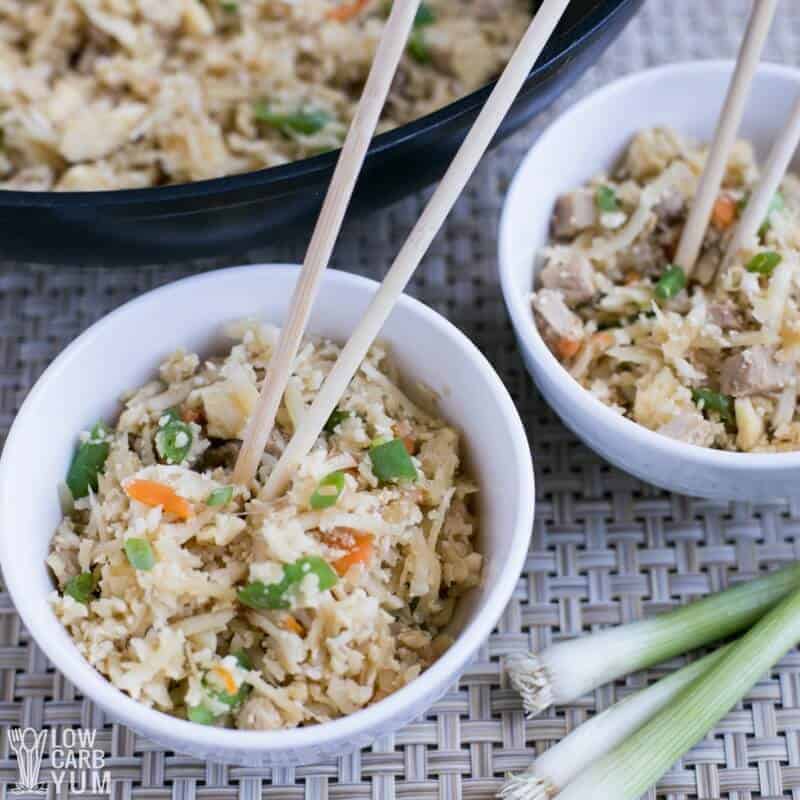 You will love this cauliflower fried rice. Top with some pork belly and fresh chopped green scallions. It's awesome as a side dish or the main course.
10. Easy Keto Vegetable Beef Soup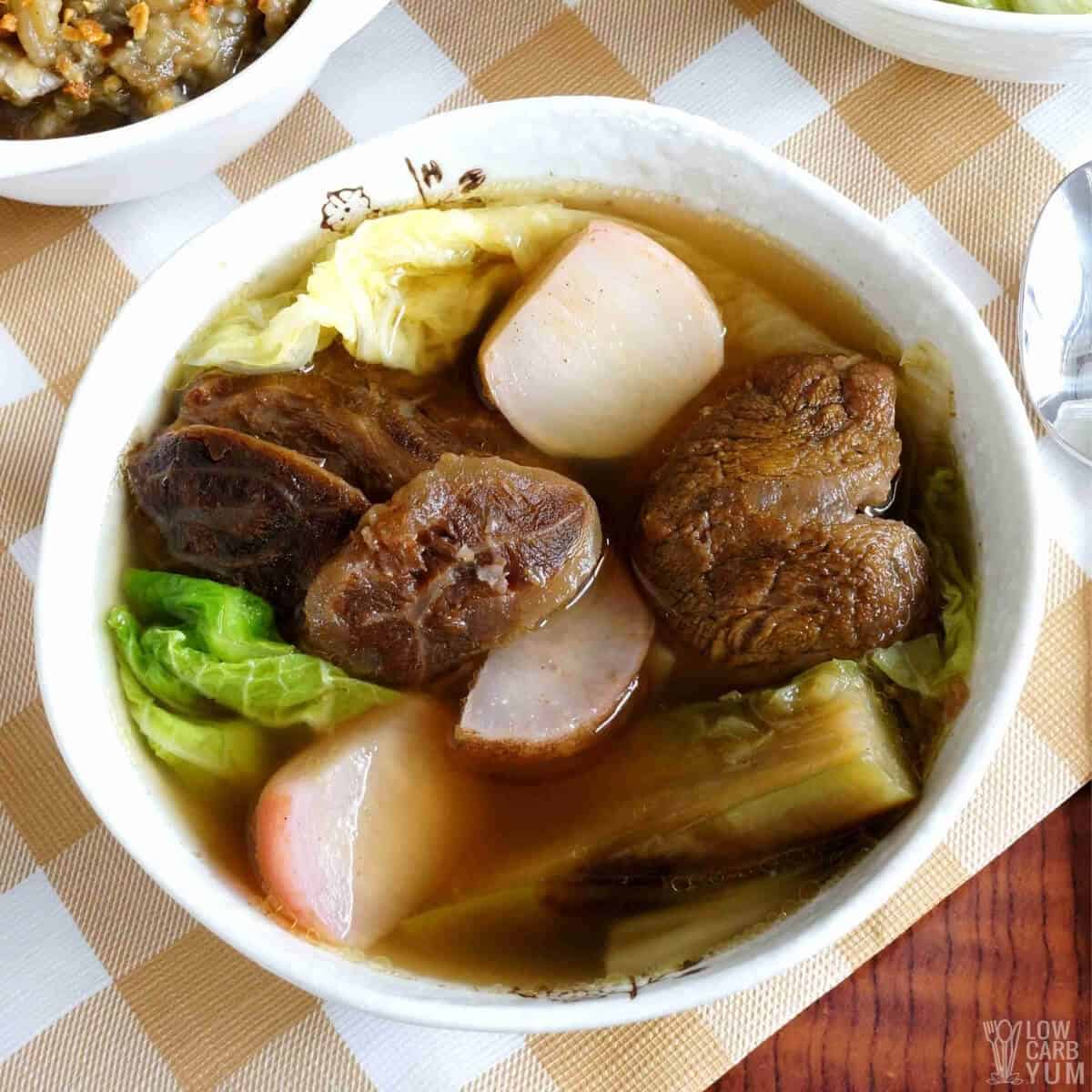 This keto-friendly vegetable beef soup has huge pieces of veggies swimming in a savory broth. Add some bean sprouts for a little extra taste and color!
11. Keto Ramen Shirataki Noodle Soup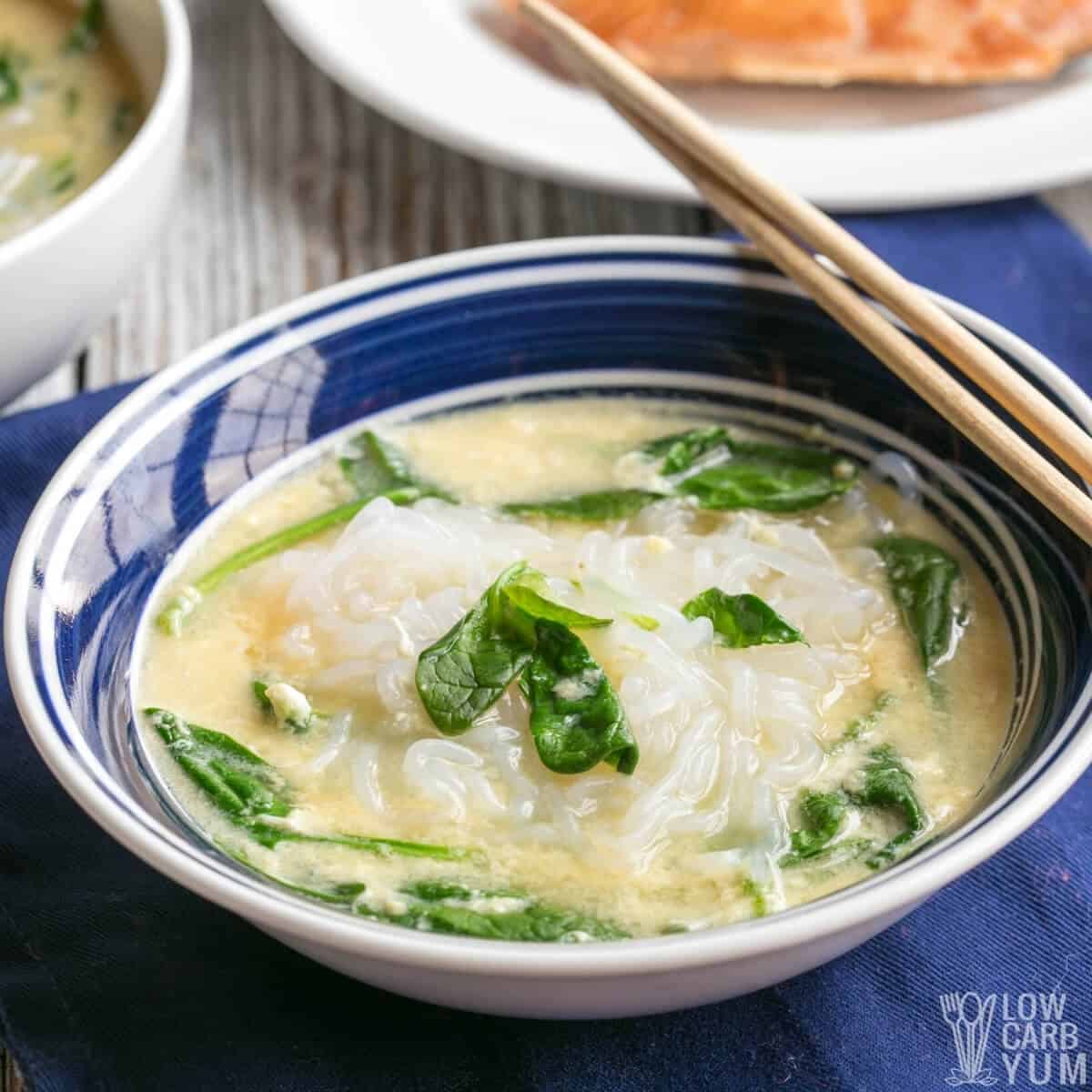 This savory ramen tastes just like Chinese takeout. There are so many different ways to make this keto ramen soup too. Add your favorite vegetables and garnishes.
12. Keto Orange Chicken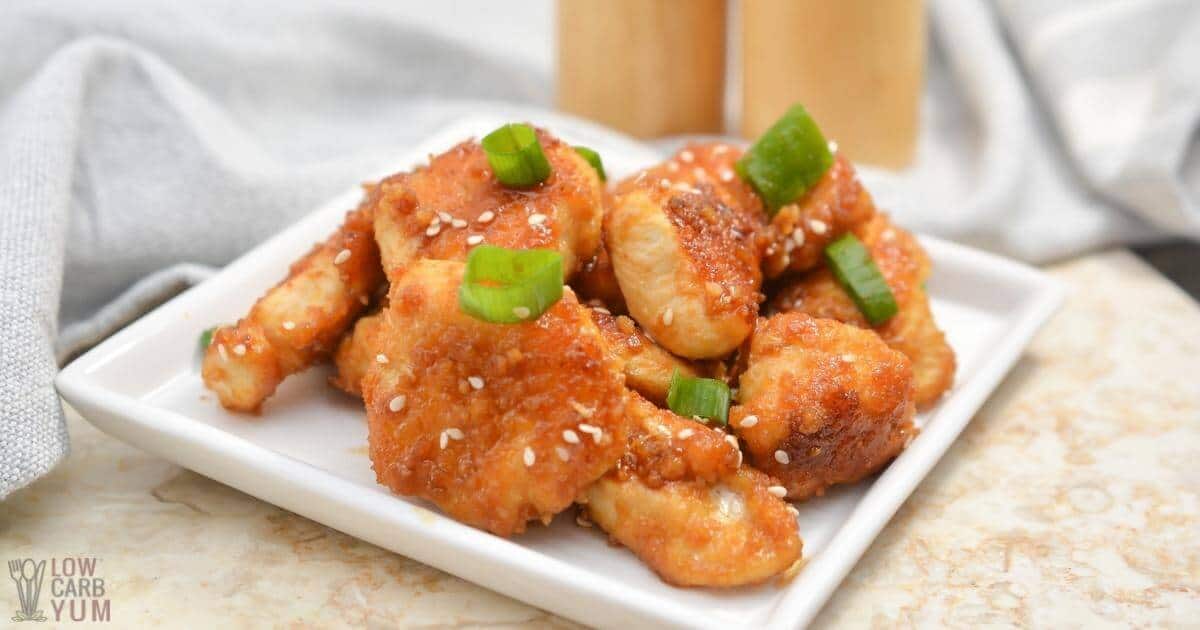 If you like kung pao chicken, then you will love this sweet orange chicken recipe! It is made with the same flavors as Chinese buffets but with fewer carbs.
13. Low Carb Crockpot Chicken Lo Mein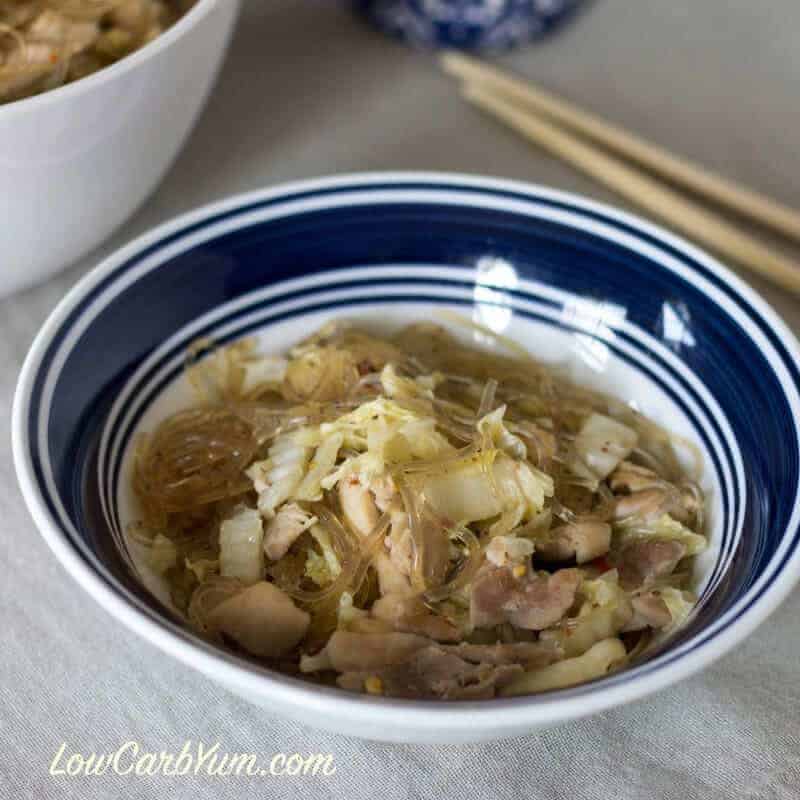 This chicken lo mein recipe uses Konaberry noodles, but you could also use zucchini noodles instead. I used chicken, but you could make it with beef or without meat instead.
14. Asian Spiralized Zucchini Noodle Salad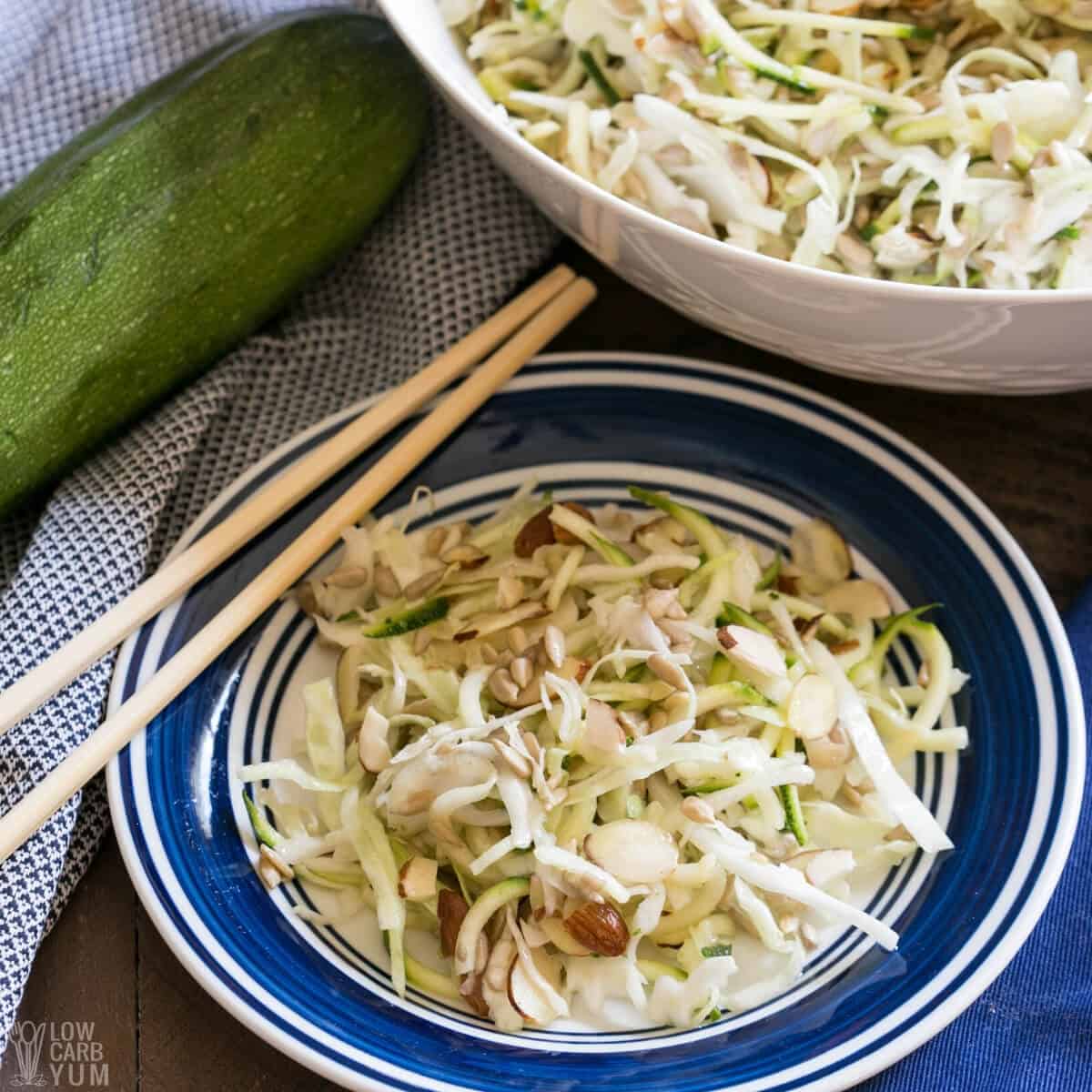 How about a really quick salad you can make in no time? This zucchini noodle salad is full of flavor and is the perfect side dish.
Add some steamed vegetables and chili peppers for some heat to the side.
15. Chicken, Shrimp, and Broccoli Stir Fry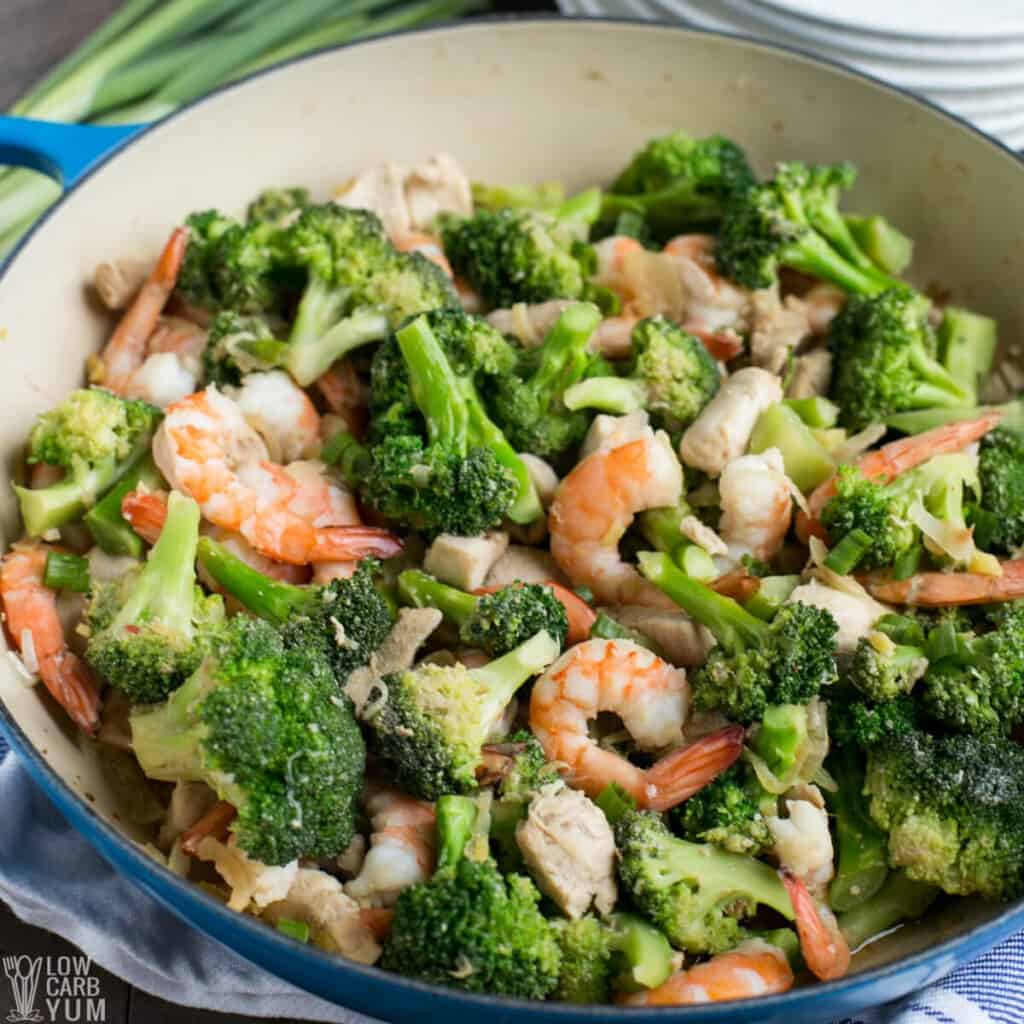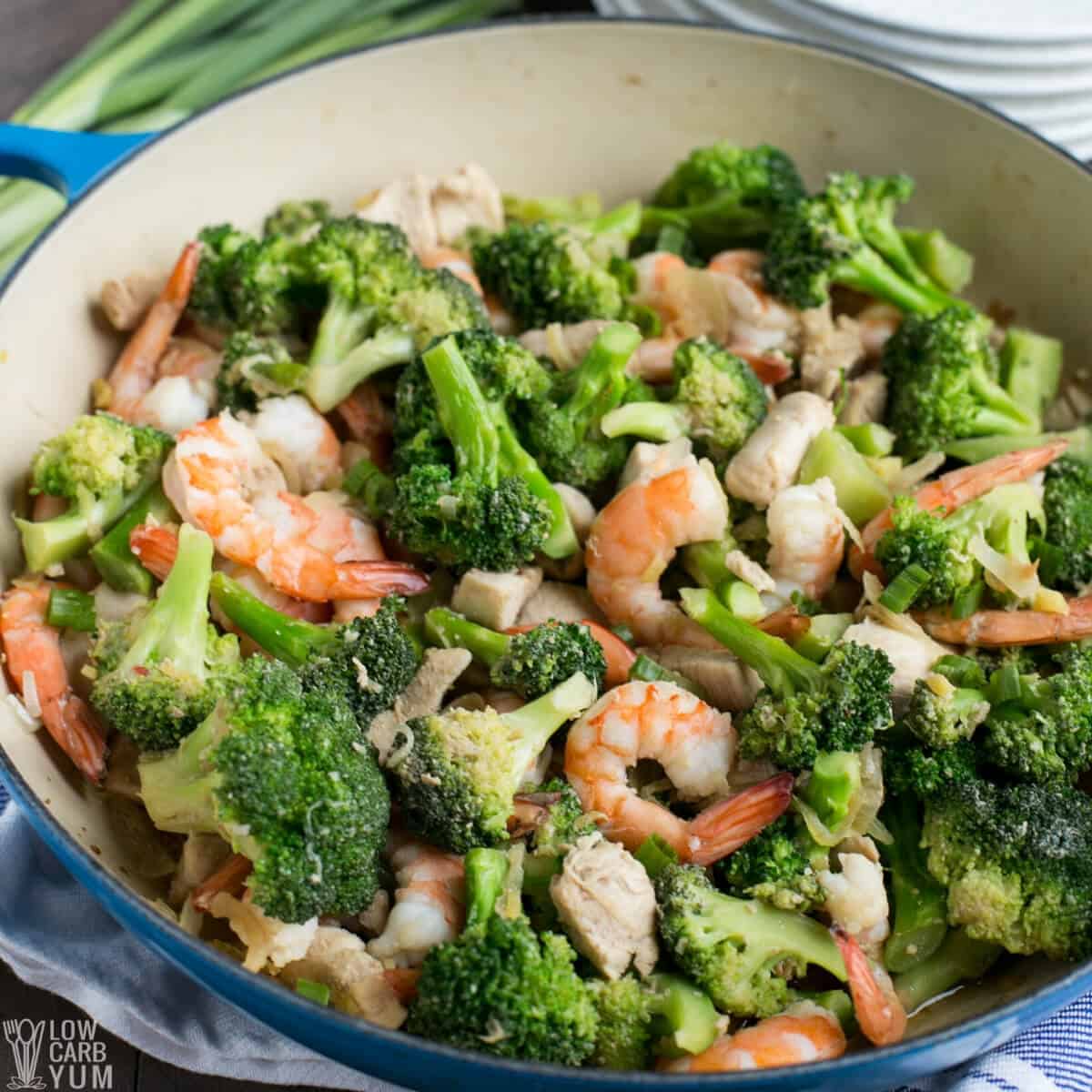 If you like kung pao shrimp, then you will love this shrimp and broccoli stir fry! It's easy to eat low-carb when you make this shrimp recipe because it tastes so good that you won't even realize it is sugar-free.
16. Sausage Egg Roll in a Bowl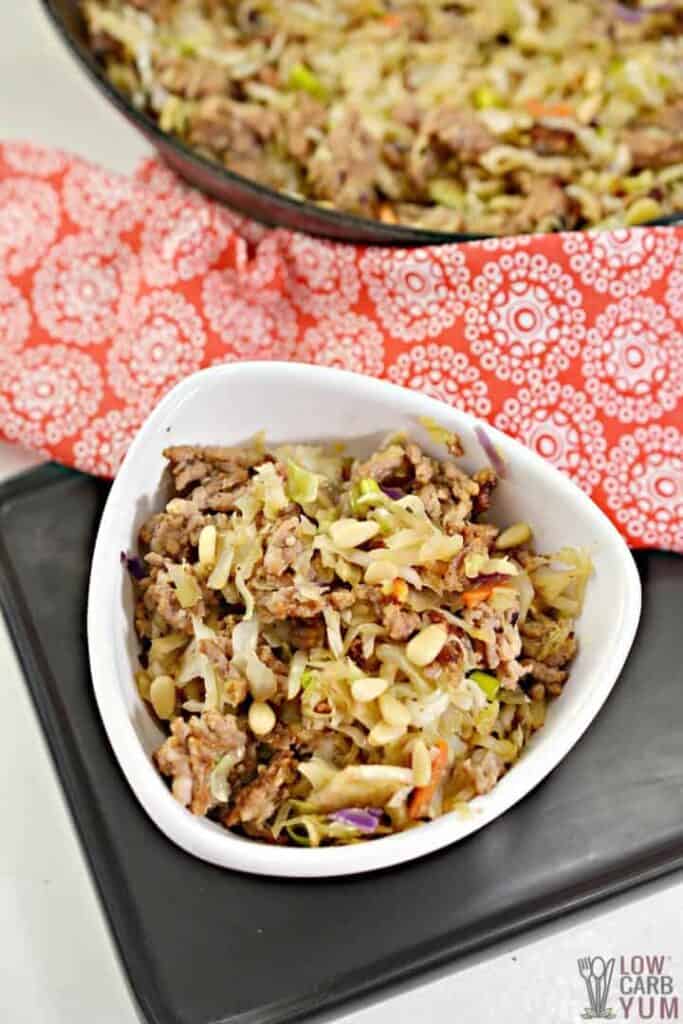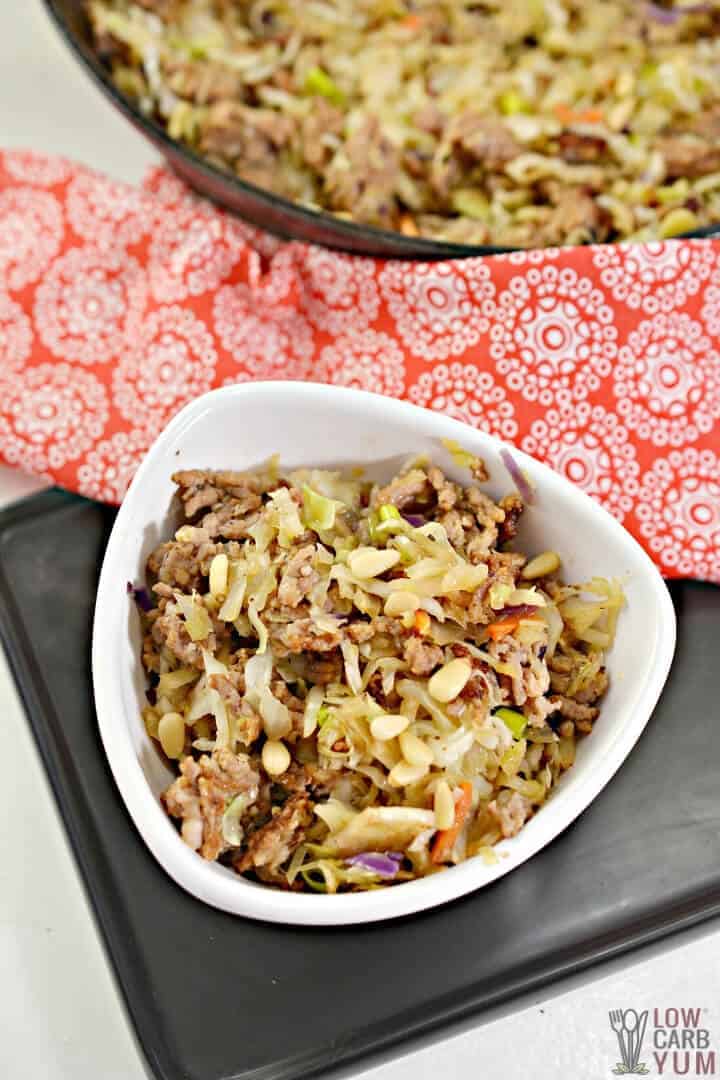 Avoid the high-carb wrappers and eat the delicious egg-roll filling instead. Since this doesn't have a sugary sauce, this pork recipe is deliciously low-carb. Tastes just like your favorite egg rolls!
17. Ground Beef Green Bean Stir Fry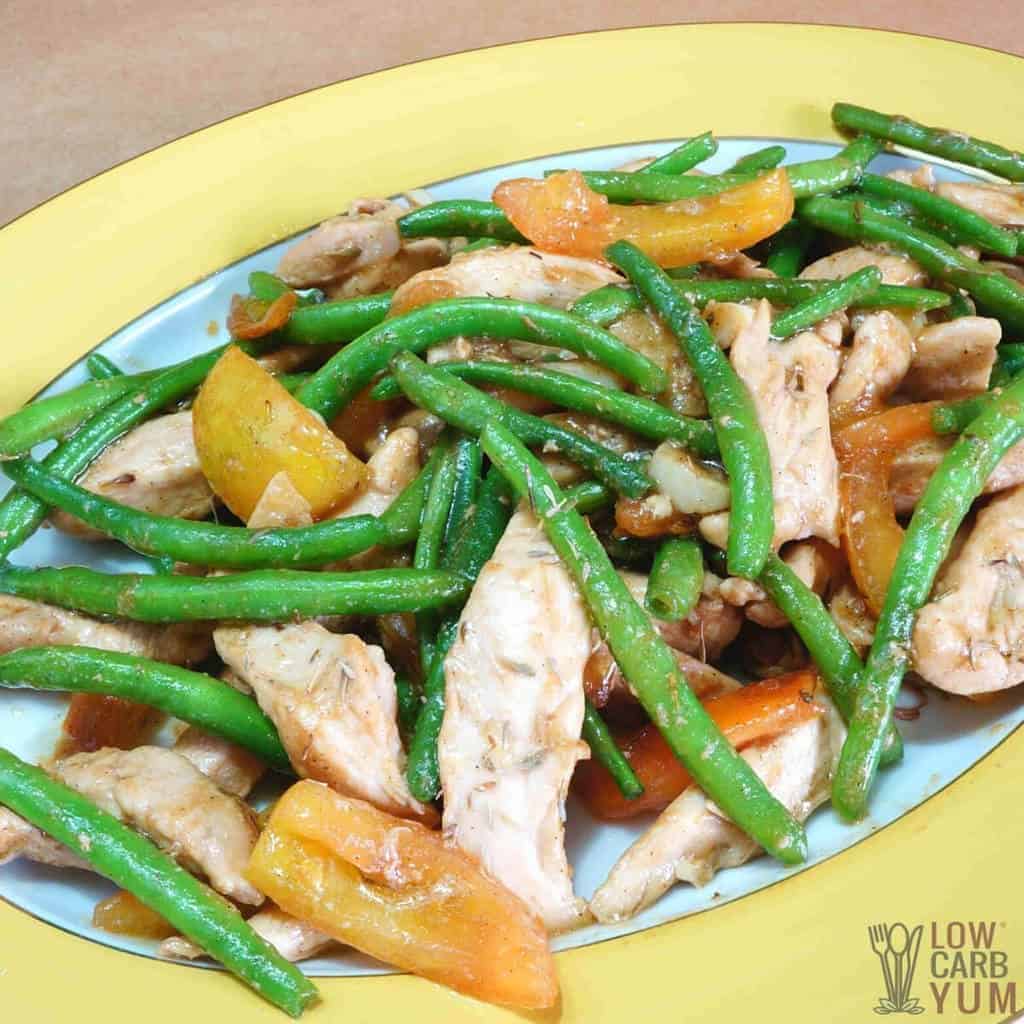 Keto Chinese food is super-easy to make with this one-pan recipe. Make this stir fry as spicy or mild as you like it.
18. Chicken Egg Foo Young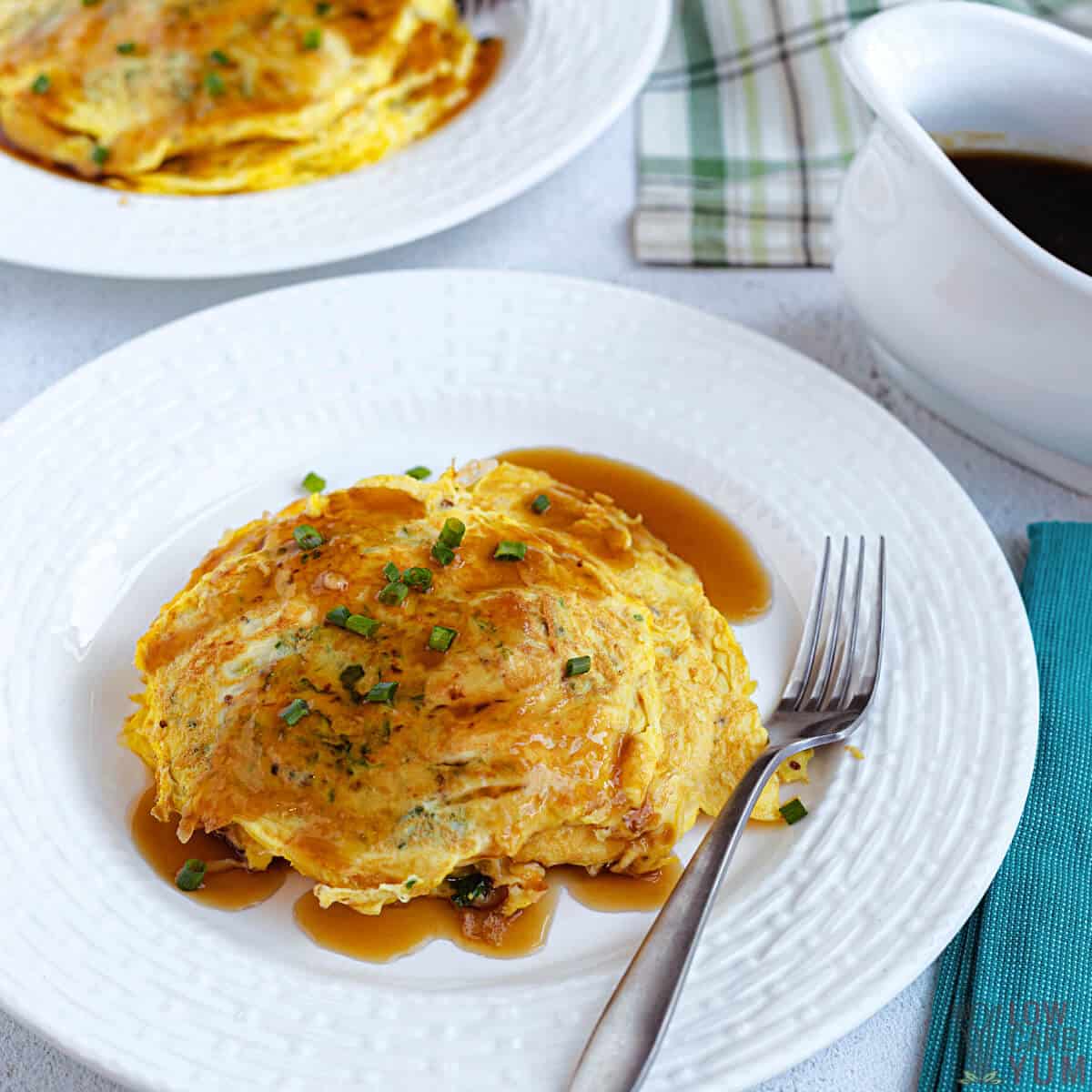 This easy chicken egg foo young recipe is the ideal alternative to General Tso's chicken. Only 3 grams net carbs in each serving!
19. Slow Cooker Beef & Broccoli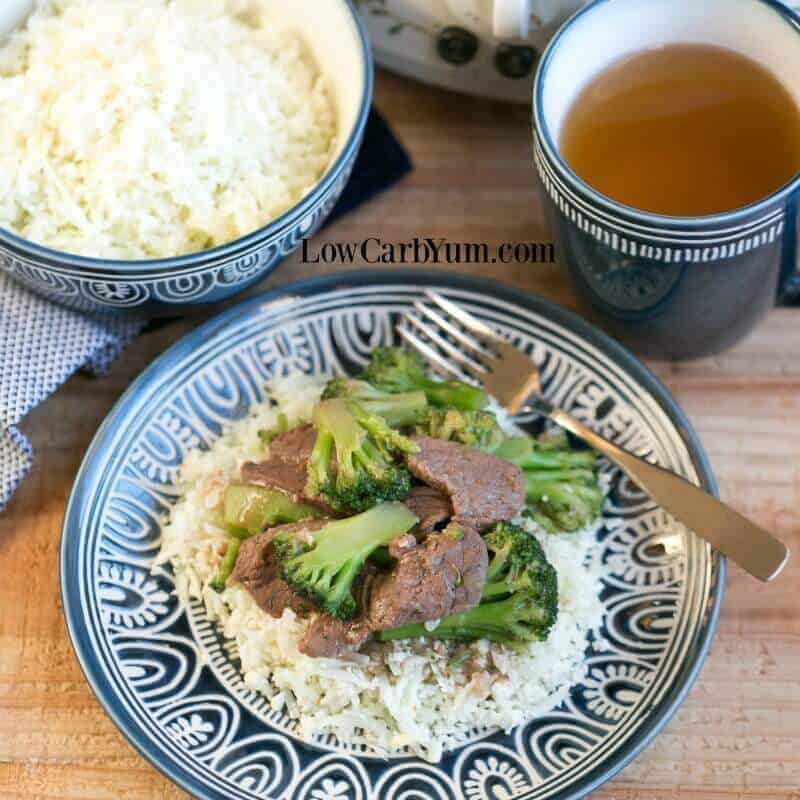 Use thinly sliced beef in this stir fry to enjoy the best of Chinese dishes. This beef and broccoli recipe is so simple. Set it in the morning and have dinner ready when you get home. In place of the fried rice, it uses cauliflower rice instead!
20. Chicken Bok Choy Stir Fry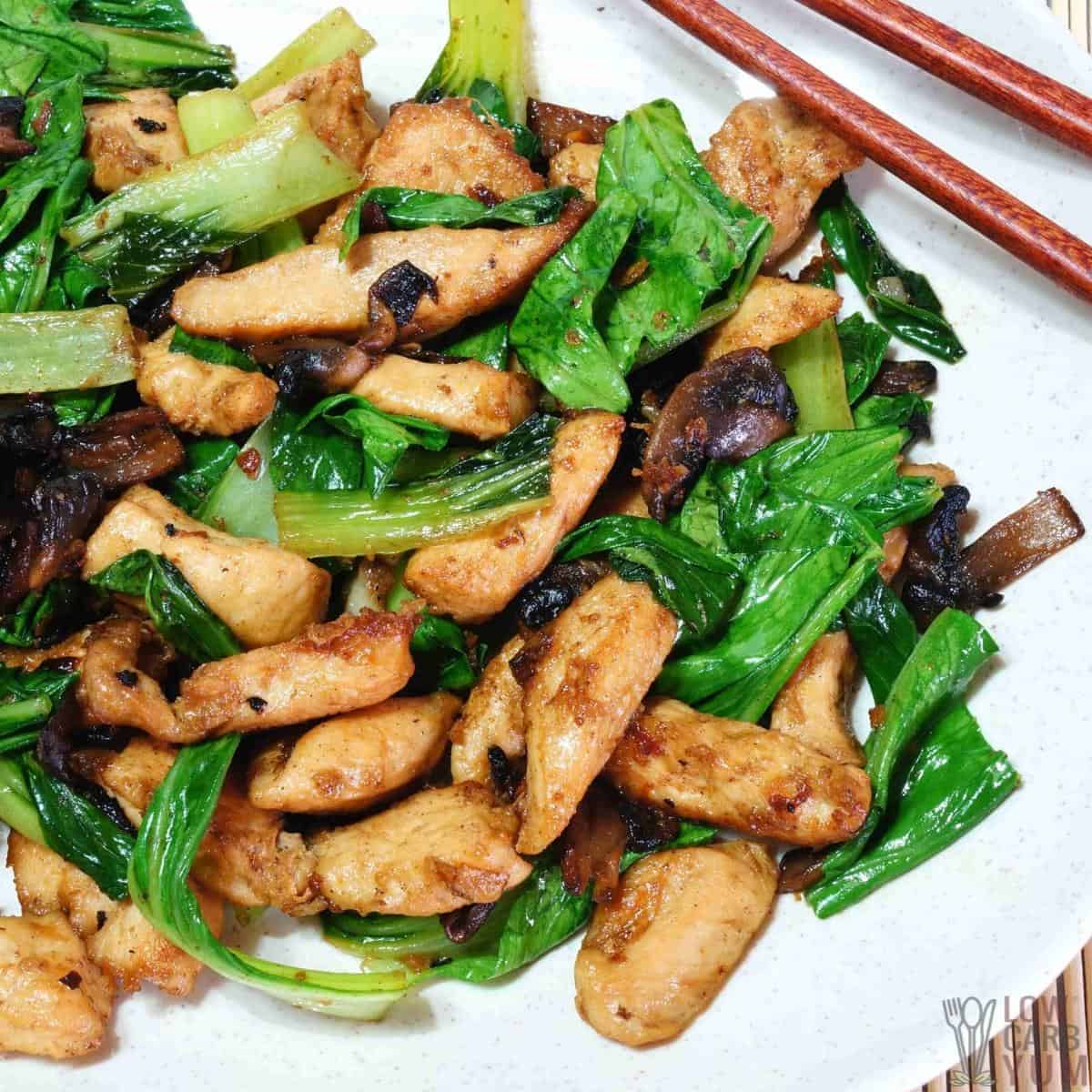 This keto and gluten-free chicken bok choy stir fry takes only 20 minutes to make. Bok choy has a unique flavor that you'll fall in love with.
21. Bonus Dessert: Easy Green Tea Ice Cream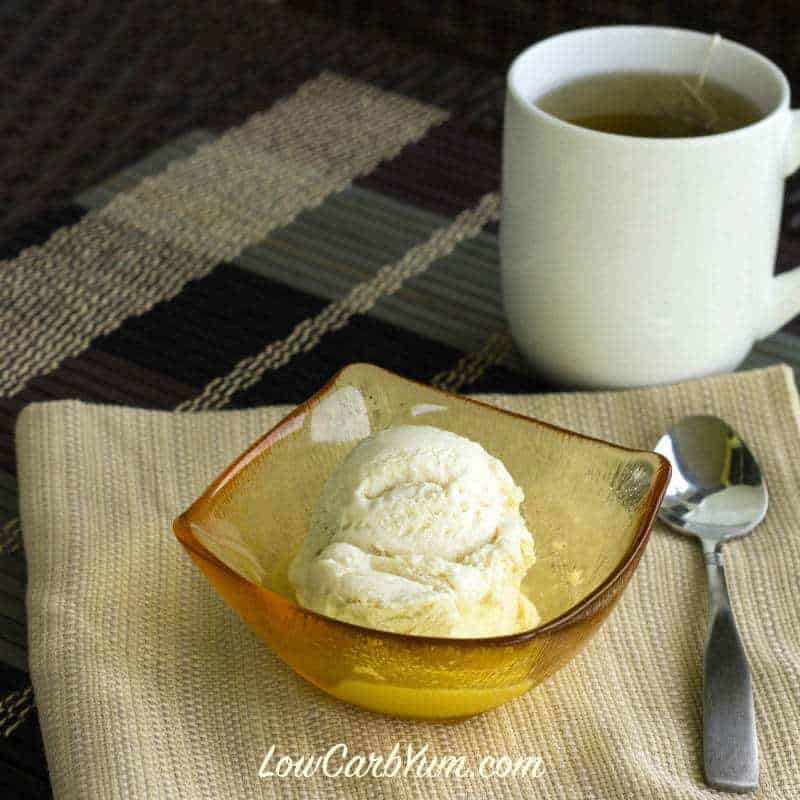 Enjoy dessert on the ketogenic diet too! This green tea ice cream is the perfect way to finish a keto Chinese food meal.
FAQs
Here are some questions people often ask about keto Chinese food recipes. If you don't see your question in this list, please leave it in the comments.
How do you eat keto at Chinese restaurants?
Ordering keto Chinese food is tricky. Hot and sour soup is always a safe choice. So is egg drop soup. You can also safely stick with steamed options that aren't covered in sauce.
What Chinese takeout should I avoid on ketogenic diet?
Always avoid ordering breading and sugary sauces - which eliminates so many choices. You should also stay away from white rice.
Is hoisin sauce keto-friendly?
The kind you buy in the store or in a restaurant will have too many carbs - I prefer to make my own. It's basically a combination of soy sauce, sesame oil, rice vinegar, garlic, peanut butter, and keto-friendly sweetener.
Follow us on FACEBOOK, PINTEREST, and INSTAGRAM for even more tasty keto-friendly recipes!