This is the best list of keto chili recipes! It answers all your questions and gives you a ton of creative and easy dinner recipes.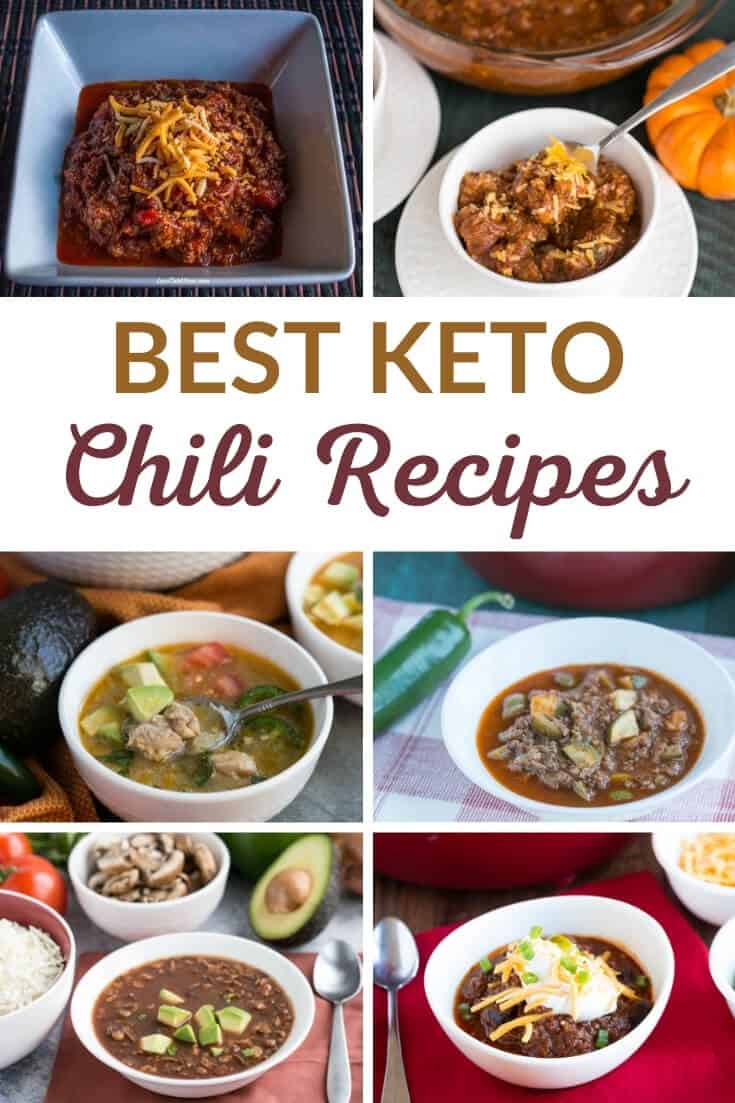 Article Index
When the weather is blustery and cold, the best meal you can make is a hearty bowl of chili. The aromas from the stove will make everyone in your house hungry!
There are so many different ways you can make low-carb chili - and I found the best of the best recipes.
Browse this list and make your favorite recipes. You are going to love them!
23 Keto Chili Recipes For Busy Weeknights
What is your favorite thing about chili? Is it the spice of the peppers? Maybe it is the taste of the melted cheese on top. No matter what you like most about chili, I found some of the best low-carb chili recipes.
All of them will fit nicely within your macros!
Some of them cut carbs by not using any tomatoes. Others made chili without beans. There are lots of creative ideas on this list - and no two recipes are alike.
1. Easy Keto Low-Carb Chili
This keto chili recipe is made completely without beans. You can leave it mild or spice it up with more chili peppers. This recipe includes steps for making it on the stove, in a slow cooker, or the pressure cooker.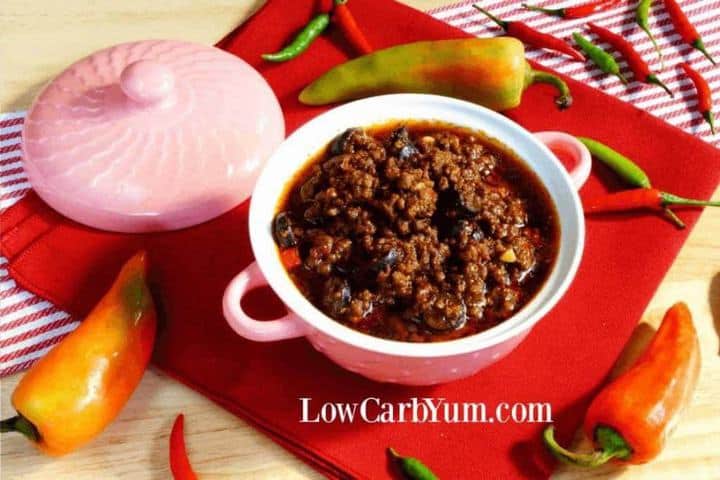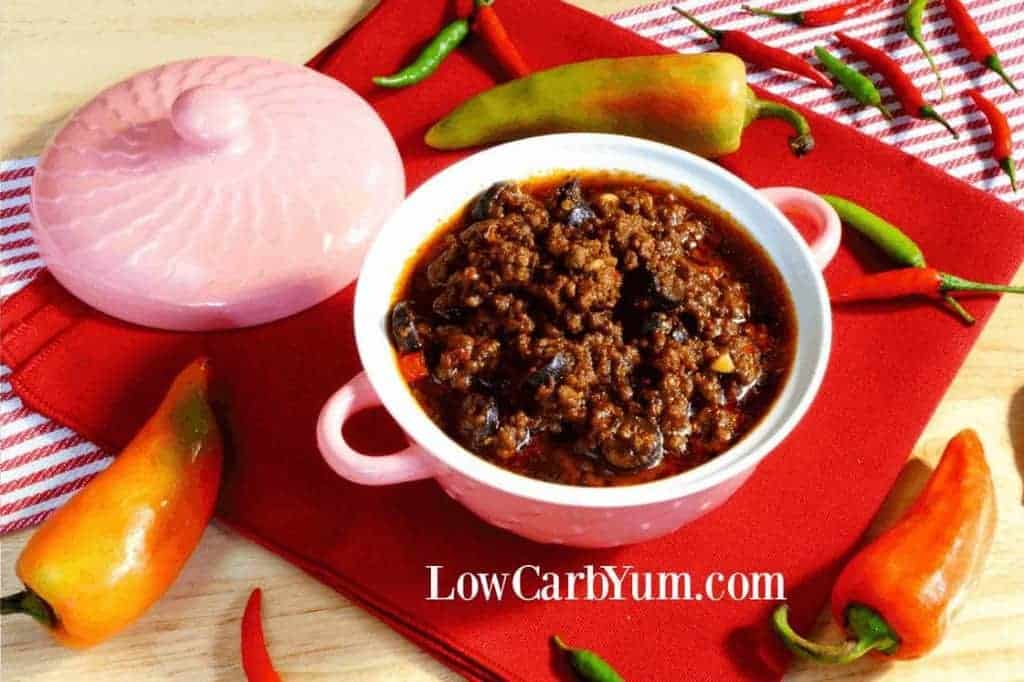 2. White Chicken Chili
Not really into red chili? You can make white chicken chili on the stove or in a pressure cooker! My recipe shows you how to make it in both of them. This soup is also full of high-protein and high-fiber!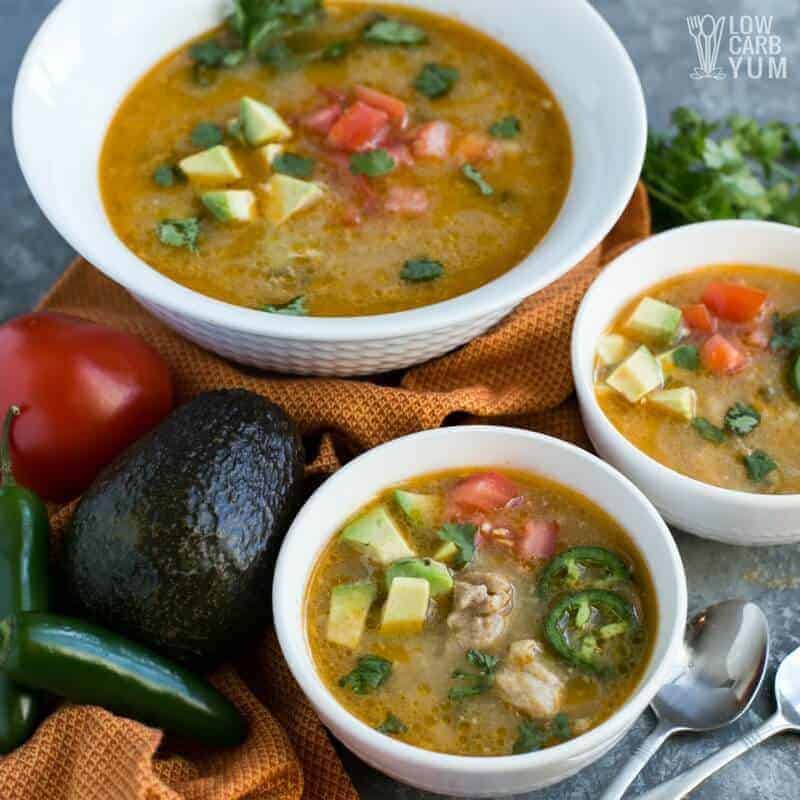 3. Vegan Slow Cooker Chili
Put all the ingredients in your slow cooker and this homemade vegan chili will be ready by dinner time. This recipe is made without any meat or animal products - a completely plant-based meal!
You can top it off with some shredded vegan cheese and some avocado slices for some extra fattiness and flavor.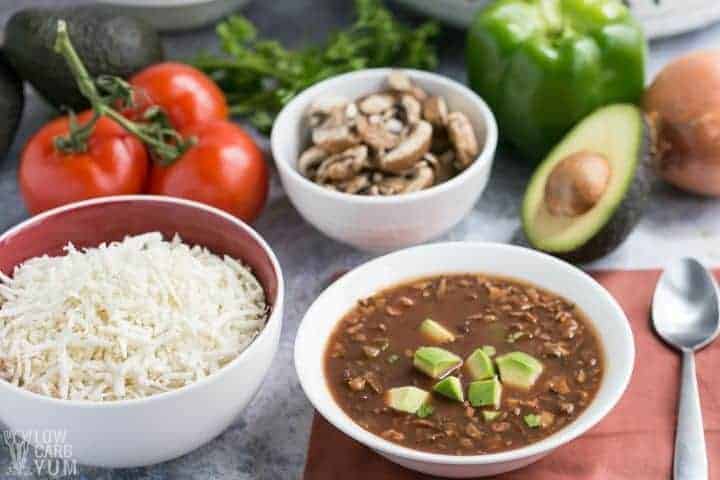 4. Venison Chili
If you know anyone that hunts during deer season, you will appreciate this venison chili recipe. I share instructions for making it in both a slow cooker or on the stove.
And don't throw those scraps out- make some venison jerky with it!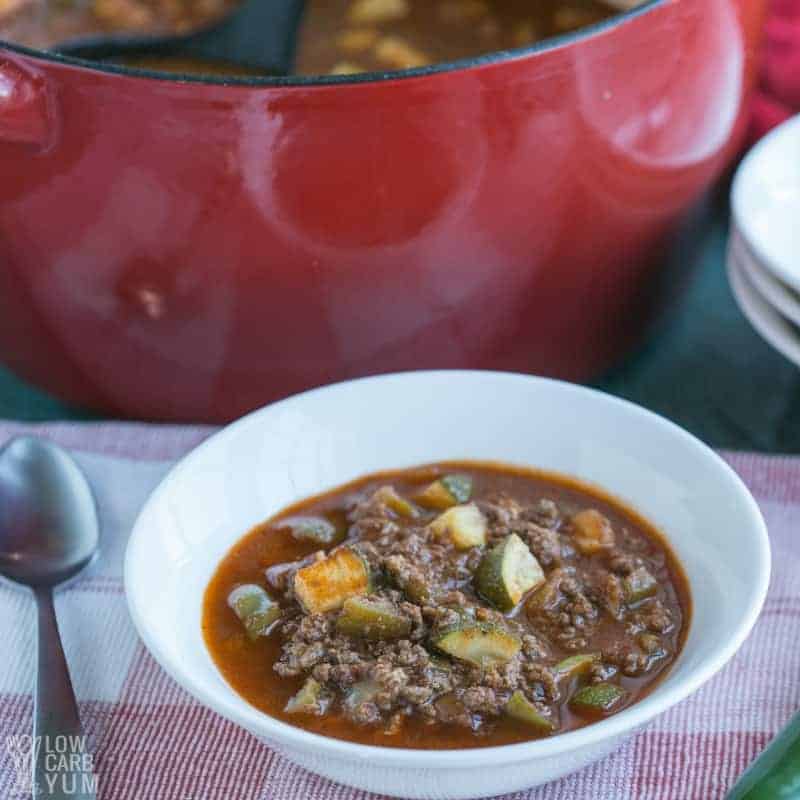 5. White Turkey Chili Without Beans
Instead of using beans, use cauliflower. That's how I made this white turkey chili recipe! The best part is that you can make it in your slow cooker.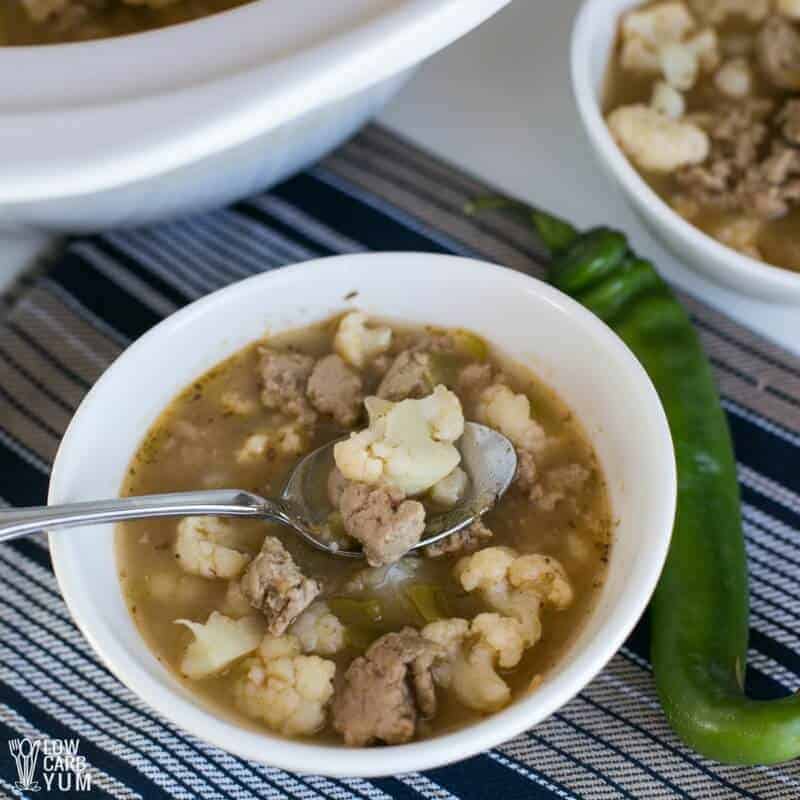 6. Turkey Pumpkin Chili
When you are in the mood for something that really tastes like fall, make a batch of this turkey pumpkin chili. It is incredibly filling and hearty.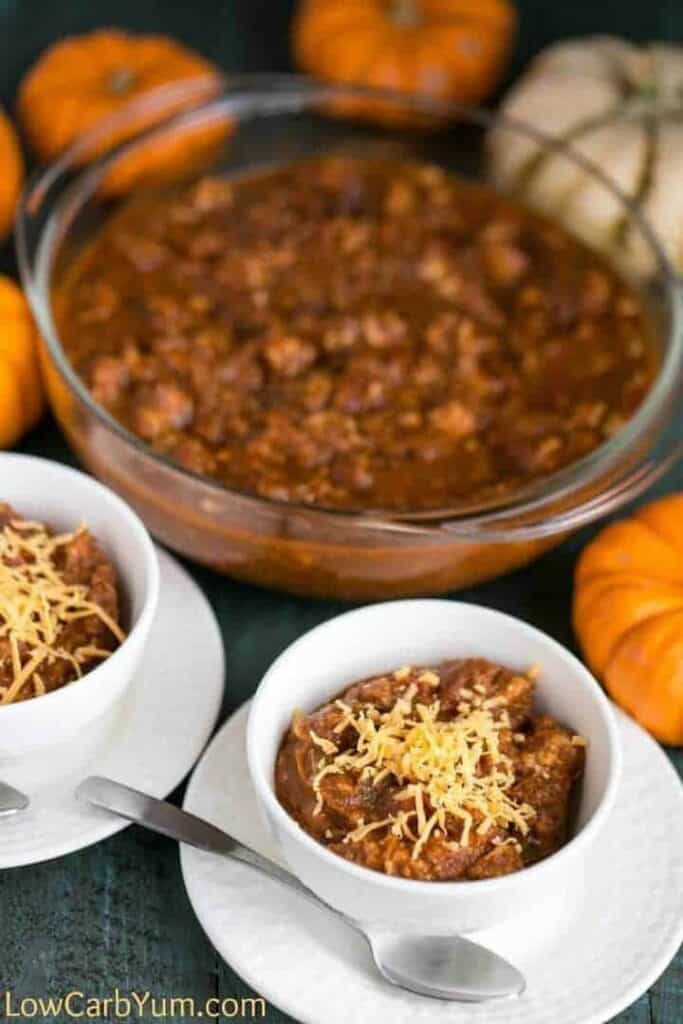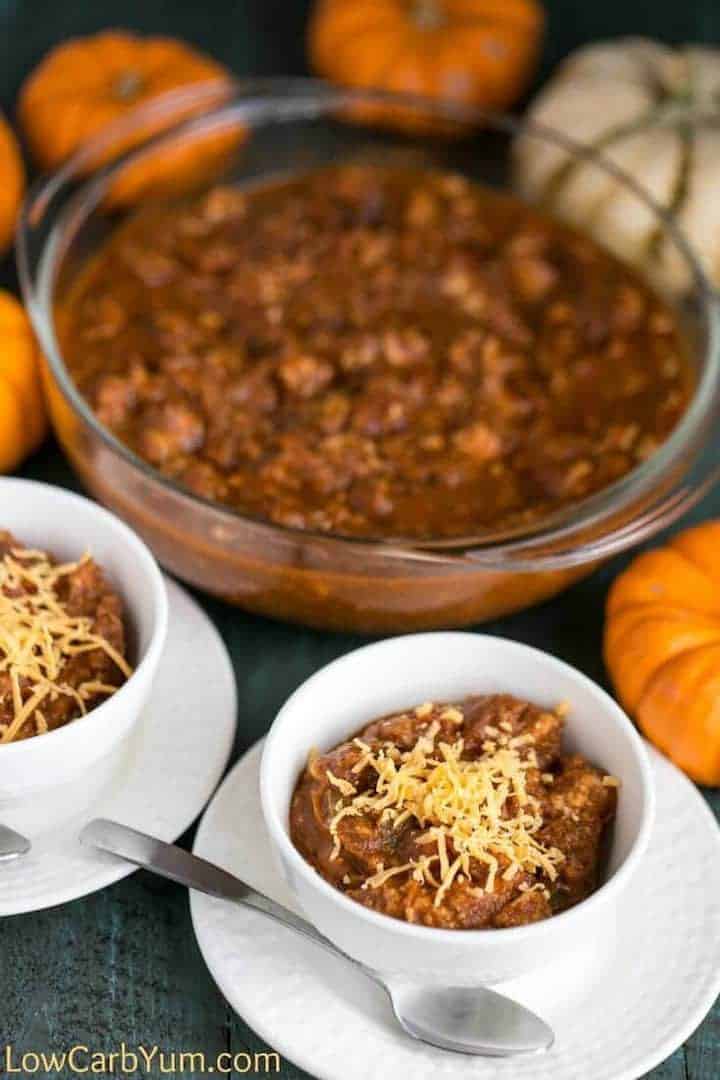 7. Chunky 'No Bean' Chili
Save time and make this freezer-friendly no-bean chili. This is a tomato-heavy recipe with both crushed and diced tomatoes. Even so, there is only 8.4g net carbs in each cup.
8. Keto Instant Pot Chili
Photo Credit: DitchTheCarbs.com
When you make this low-carb chili in your Instant Pot, the flavors from the spices infuse every bite. It's packed with lots of low-carb vegetables to fill you up.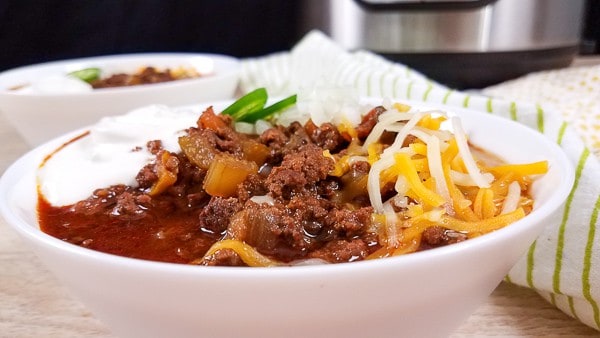 9. Instant Pot No Bean Chili
Photo Credit: OneWholesomeLife.com
With peppers, celery, green onions, and fresh tomatoes, this chili doesn't even need the beans! It's a high-fiber meal that makes you feel really full.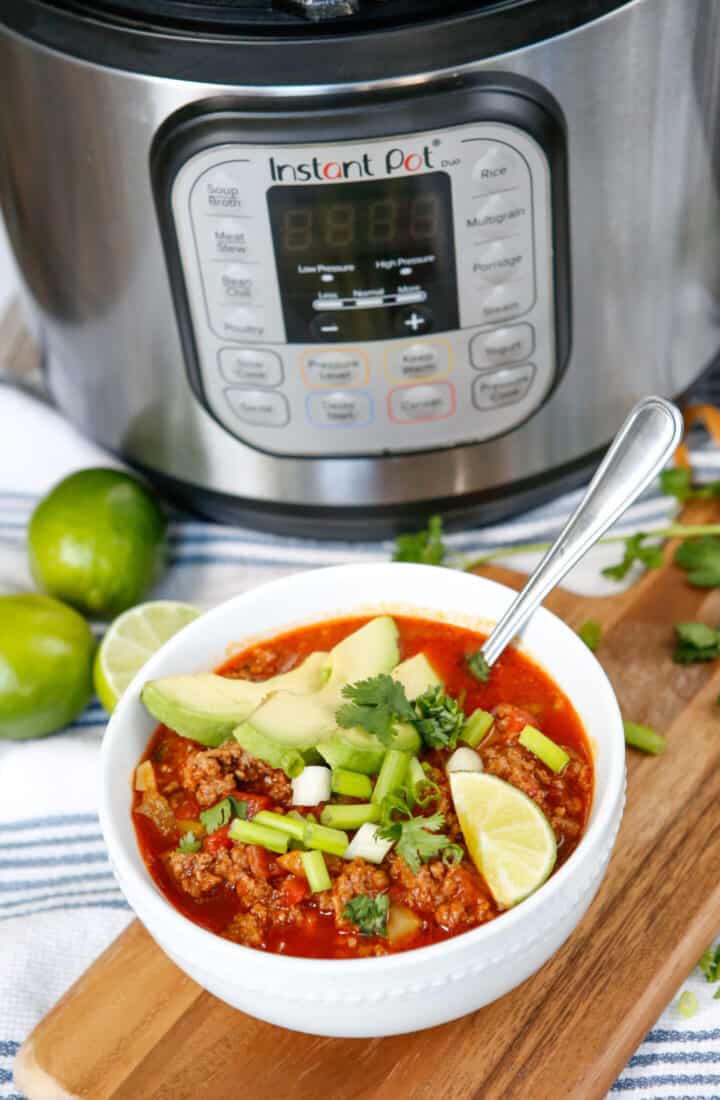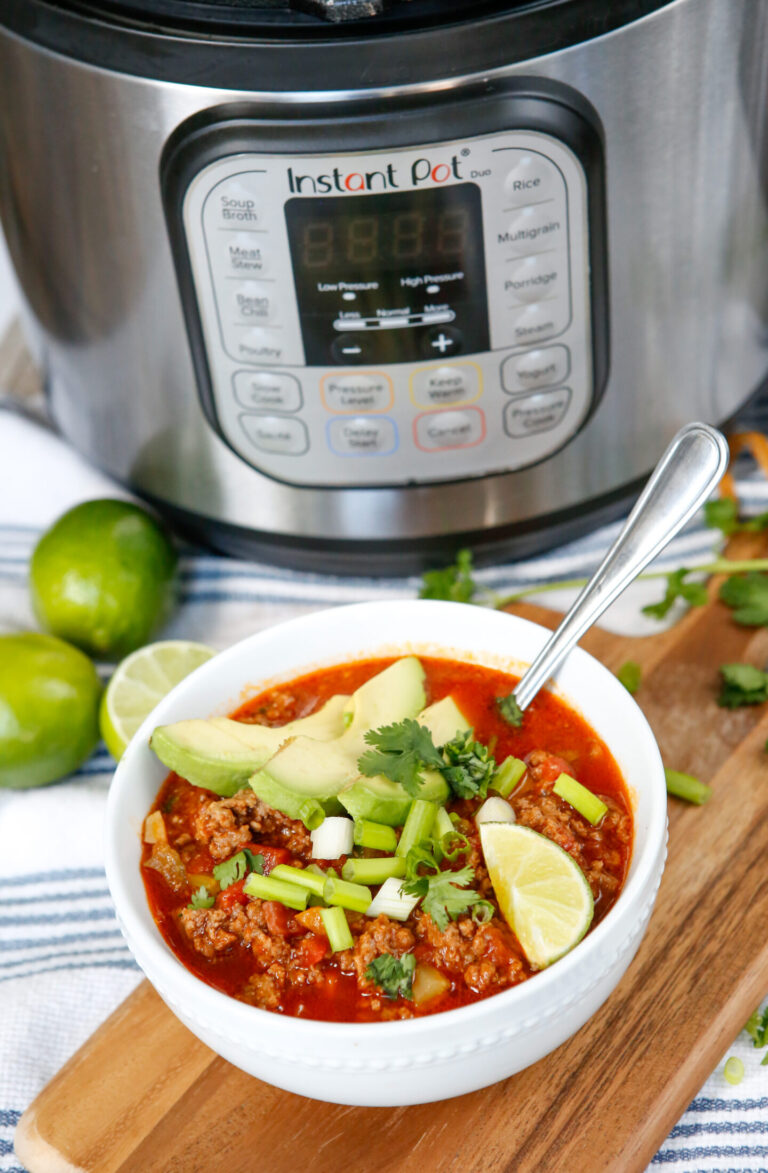 10. Butternut Squash Chili
Photo Credit: WholesomeFamilyLiving.com
Butternut squash is a little on the higher side when it comes to net carbs, but this butternut squash chili is worth every single bite! It even has cauliflower rice for a unique texture.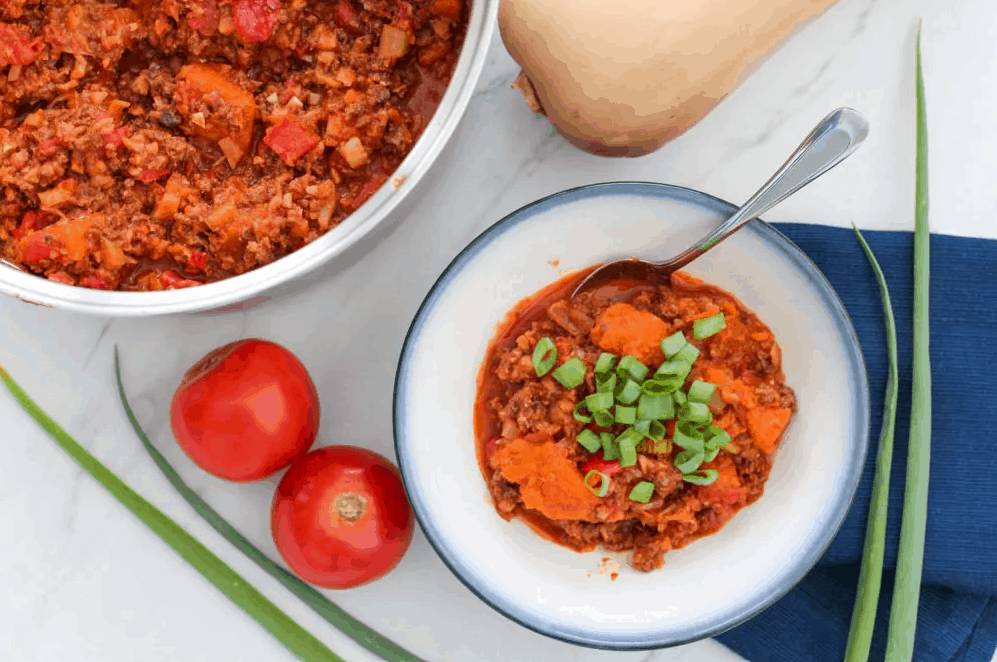 11. Spicy Pumpkin Chili
Photo Credit: MomJunky.com
How about something with some spice? This spicy pumpkin chili features cayenne pepper and real pumpkin puree. The combination of chili powder, paprika, cumin and cayenne pepper really make this recipe pop!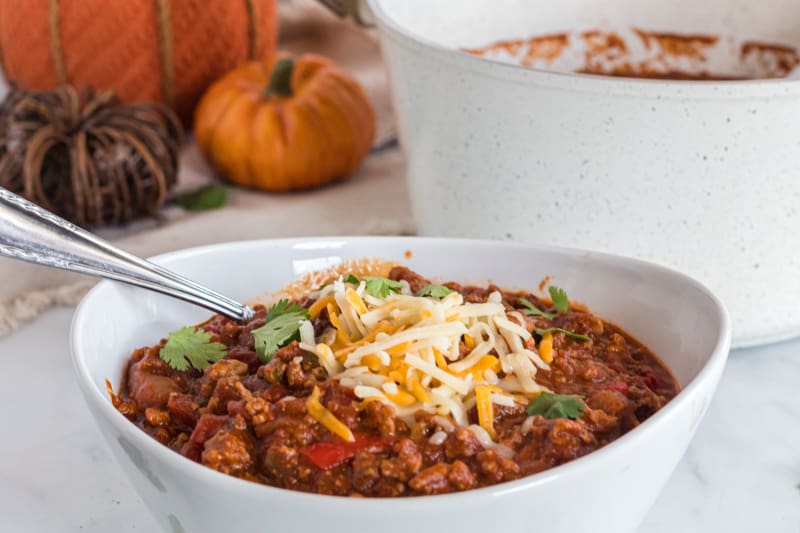 12. Best No-Tomato Chili
Photo Credit: AGirlWorthSaving.com
Tomatoes are a fruit that have quite a few natural sugars and carbs. This no-tomato chili cuts the carbs by replacing the tomatoes with a surprising ingredient!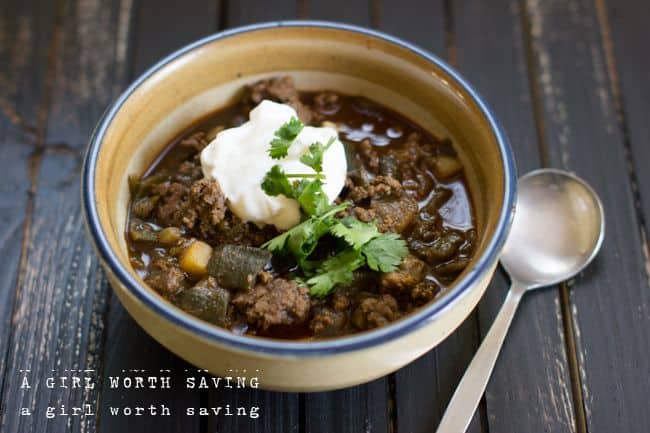 13. Stovetop No-Bean Chili
Photo Credit: HereToCook.com
Another way to cut carbs is to make a stovetop 'no bean' chili. This is a great recipe to follow if you don't have a slow cooker or an Instant Pot. Garnish it with lots of cheese and sour cream and you have a meal you'll remember.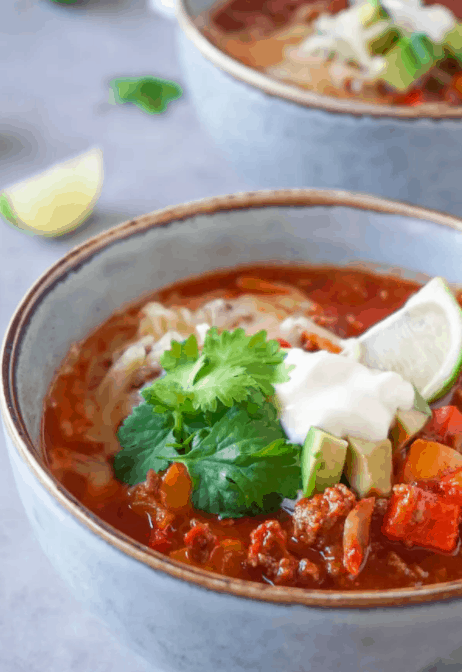 14. Easy Peasy Keto Chili
Photo Credit: EasyLowCarbLife.com
This is such an easy keto chili recipe that anyone can make it. It includes a recipe for keto cornbread that you won't want to miss!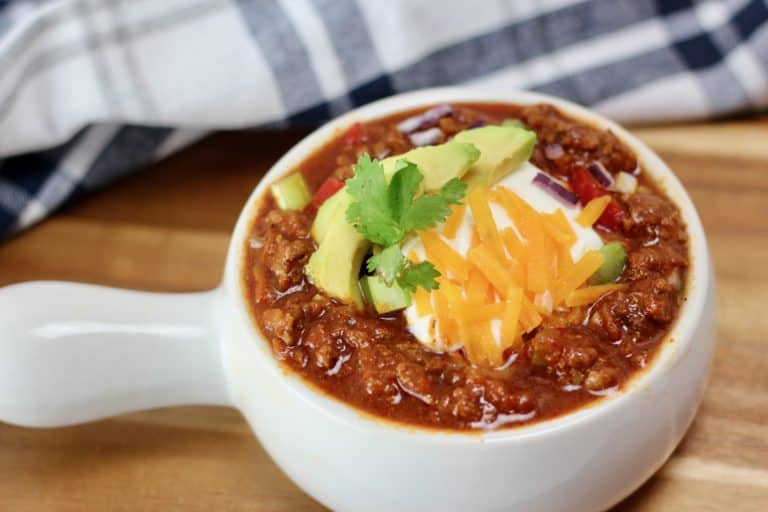 15. Tangy Keto Chili
Photo Credit: MelanieCooks.com
Adding a dash of Worcestershire sauce to this tangy chili makes it taste completely different. When you top it with some fresh avocado slices, you add a fun southwest flair to it.
You can make your own low-carb Worcestershire sauce if you can't find it at any local stores!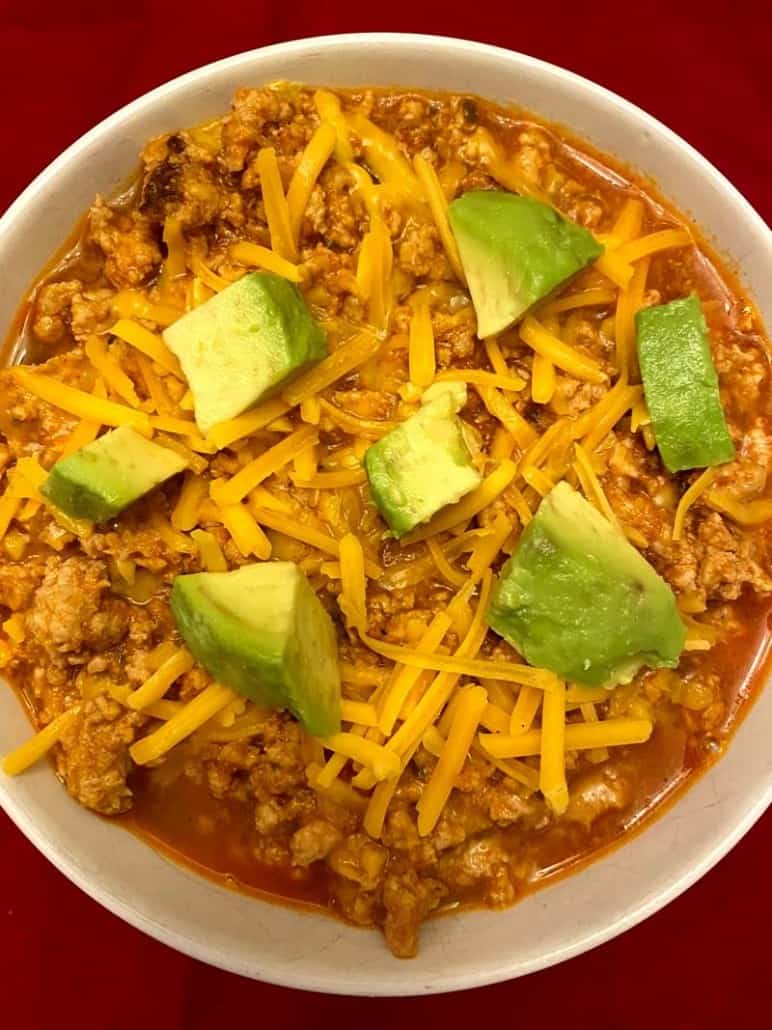 16. Slow Cooker Keto White Chicken Chili
Photo Credit: EatingOnADime.com
Throw all the ingredients for this slow cooker white chicken chili recipe in your crockpot and it will be ready by dinner time! The salsa verde in this chili makes it taste unbelievable.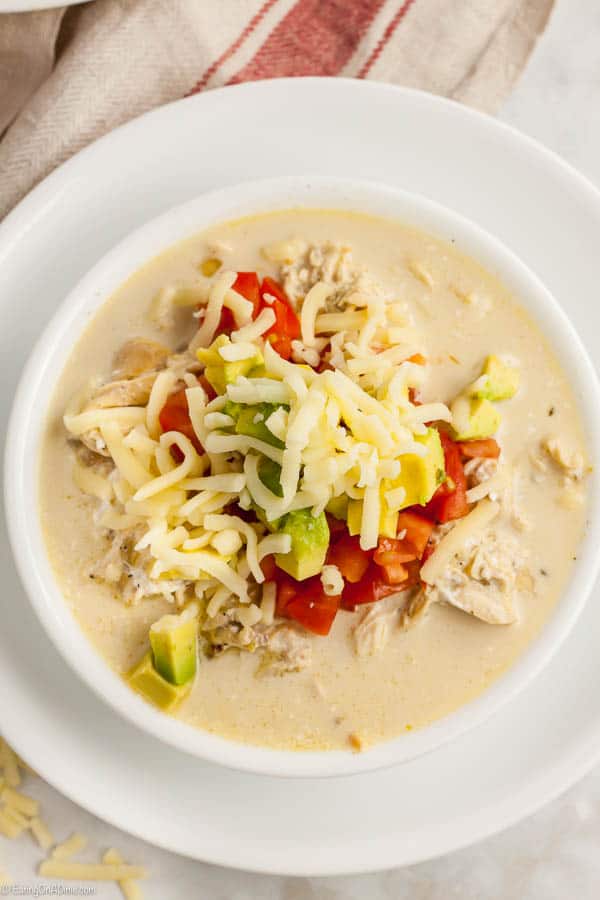 17. Keto Beef Chili With A Kick
Photo Credit: KetoFocus.com
The combination of garlic cloves and fresh jalapenos make this keto beef chili absolutely burst with flavor. It doesn't even require a long list of ingredients.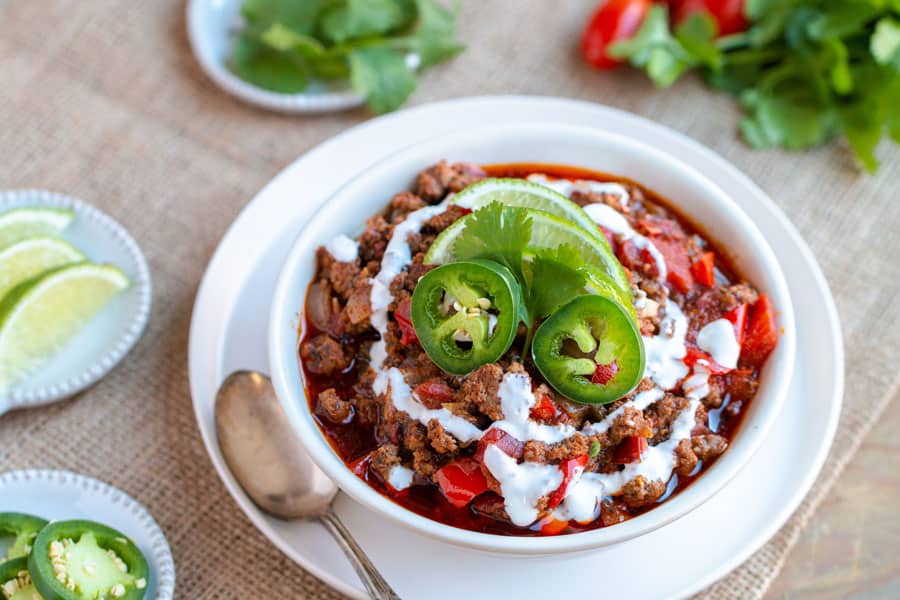 18. Low-Carb Stovetop Chili
Photo Credit: KimSpiredDIY.com
You will love how adding some beef broth to this low-carb stovetop chili completely enhances the entire recipe. The cilantro is optional - but, for those of us that like it, it really adds flavor to the chili.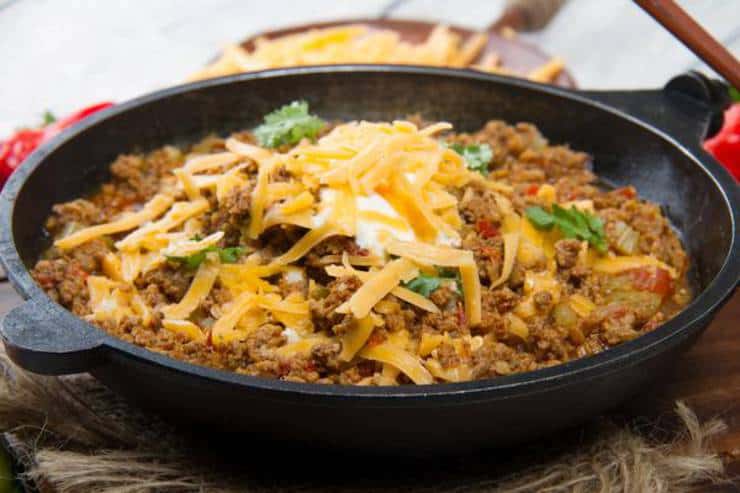 19. Slow Cooker Beef and Bacon Chili
Photo Credit: TheShortOrderCook.com
This beef chili recipe has bacon in it! That's enough to make you want to try it. We all know that bacon makes everything taste better. Plus, it uses dried minced onion instead of fresh for easier meal prep.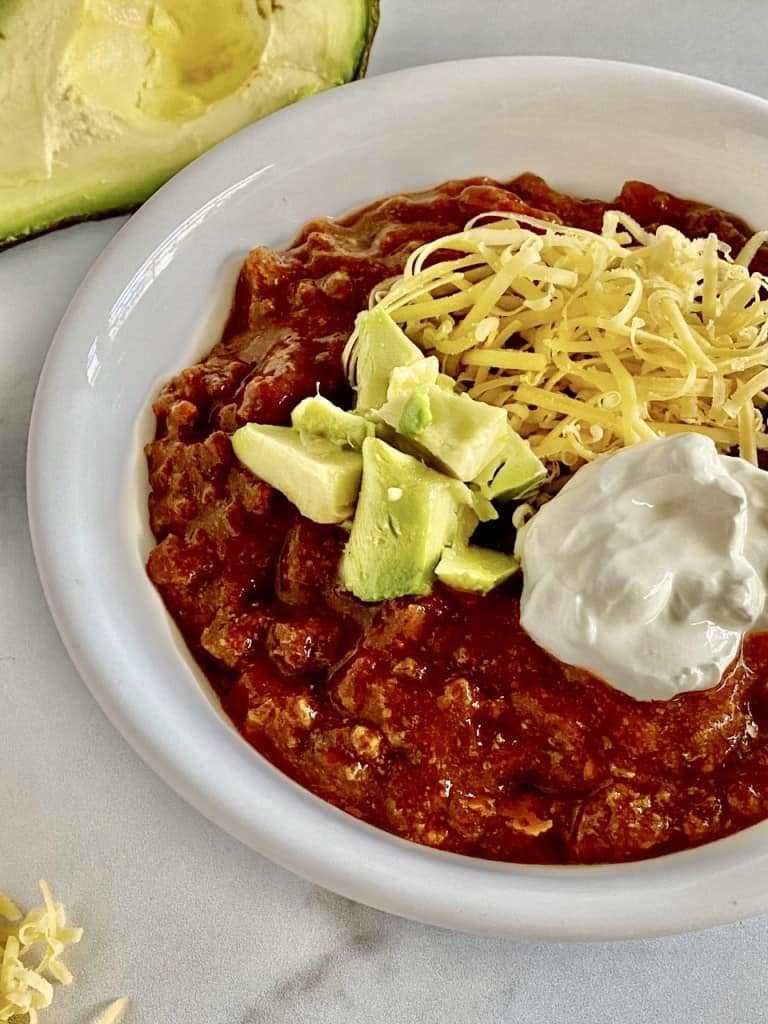 20. Keto Chili Without Beans Or Tomatoes
Photo Credit: HomeMadeInterest.com
This keto chili without beans or tomatoes uses lots of peppers, beef broth, and some red wine vinegar. The result is pretty addicting.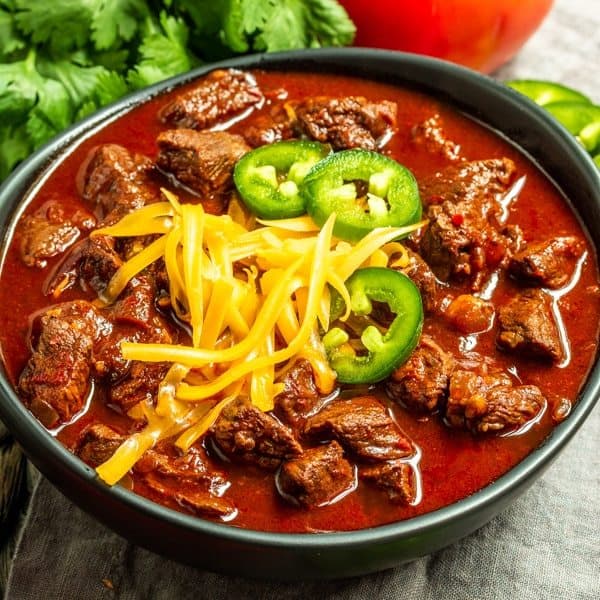 21. Keto Turkey and Beef Chili
Photo Credit: TrinaKrug.com
You will really like how well ground turkey and ground beef go together. Mix this turkey and beef chili together with some beef broth and peppers and you have a really filling meal.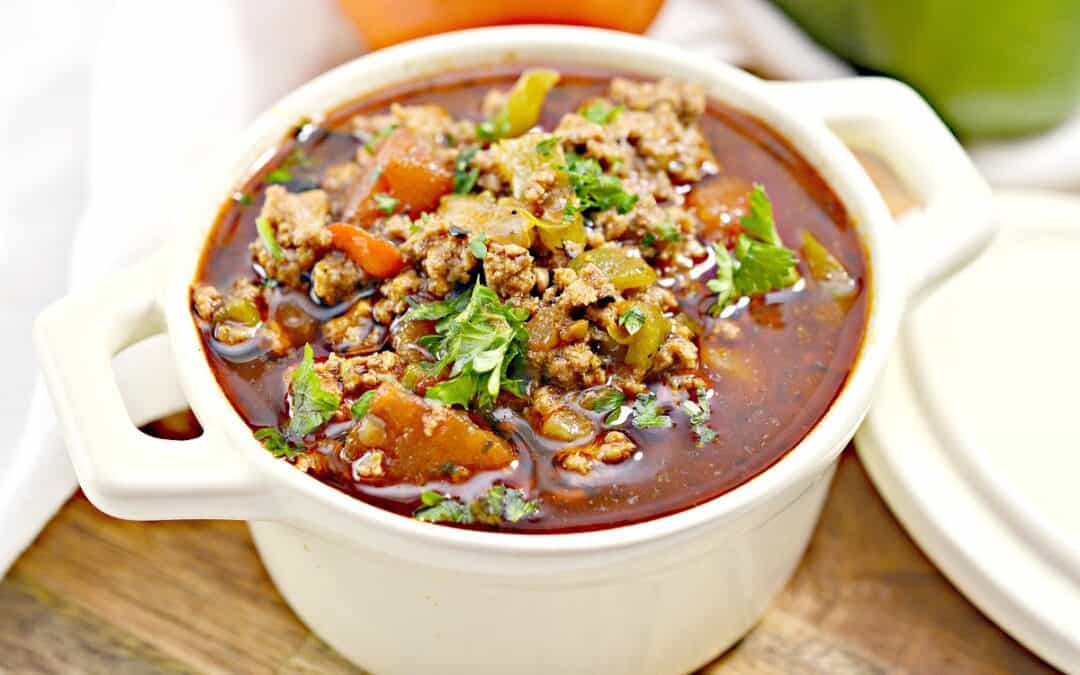 22. Keto Chili
Photo Credit: HealthyWithJamie.com
Instead of beef broth, this grass-fed beef chili uses chicken broth. You can also make it ahead of time and use it in your meal prep later on during the week.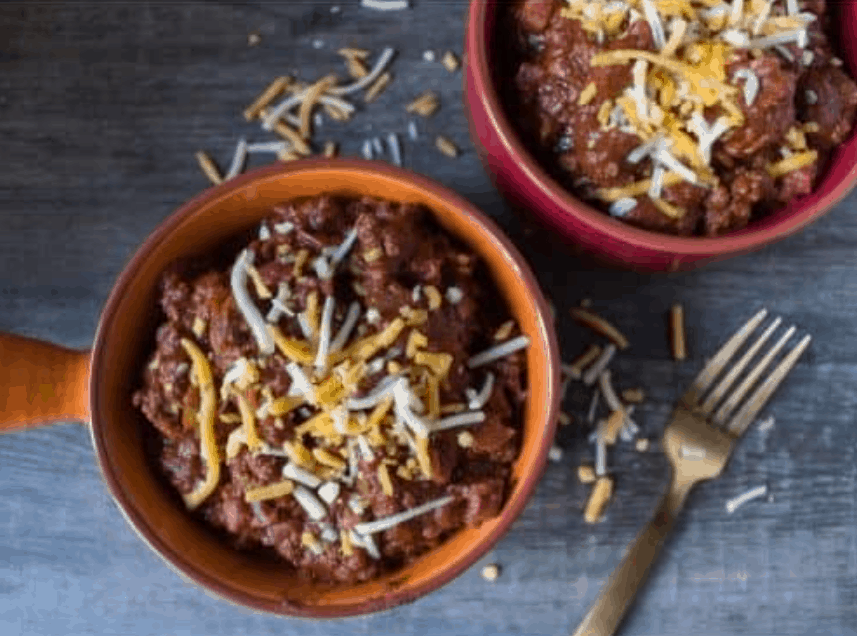 23. Keto Instant Pot Chili Recipe
Photo Credit: KetoCookingChristian.com
With chicken stock, Swerve brown sugar substitute, and Worcestershire sauce, this Instant Pot low-carb chili recipe is a must! Don't forget to add the chopped jalapenos for the zesty bite.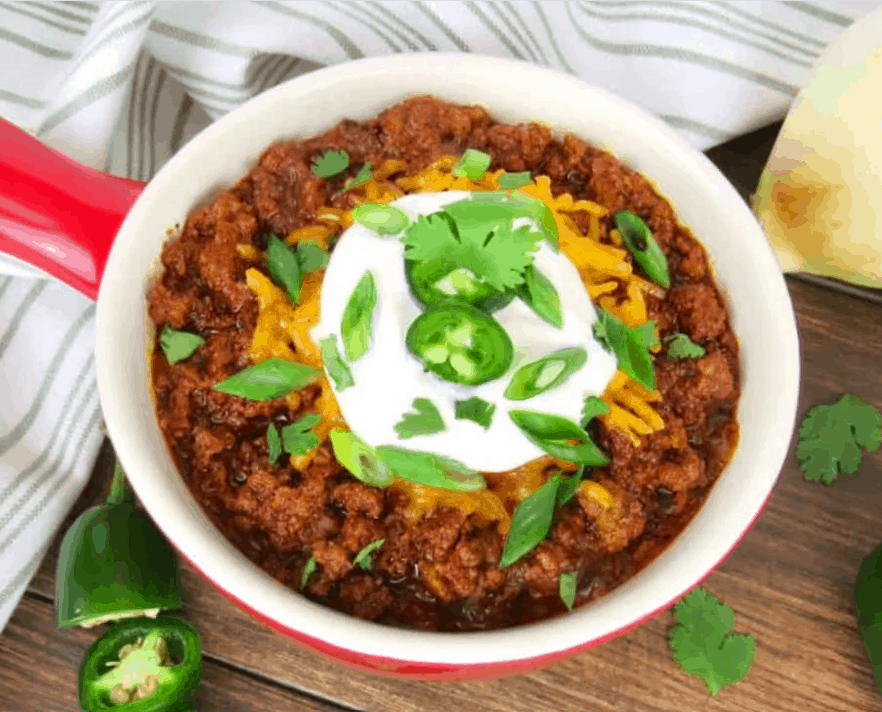 Frequently Asked Questions About Chili
Are you ready to make some chili? I know I am! Here are some questions people ask about chili.
How do you store chili?
The best way to store chili is in the refrigerator in an airtight container. Chili will last about 4-5 days in the fridge.
Can you freeze chili?
Yes, you can freeze chili and then reheat it for a meal later! The texture will change slightly, but not too much. Just keep it in a freezer-safe container. It will last about 3-4 months in the freezer.
Is chili keto-friendly?
Yes, chili can be a keto-friendly food. It all depends on the ingredients in the chili!
After you know your macros and limits, you can make smart decisions about the types of chili you can eat and how much of it you can indulge in.
Things like tomatoes and beans have more carbs in them than others (like meat and cauliflower).
I hope you enjoy this round-up of keto chili recipes and find one that you love. If you do, let me know in the comments down below!
Follow us on FACEBOOK, PINTEREST, and INSTAGRAM for even more tasty keto-friendly recipes!