This post may be sponsored or contain affiliate links, but all opinions are my own. I may earn money if purchases are made through links (at no additional cost to you) which helps support this site and keep the content free.
Many commercially prepared meat jerky contain sugar in the marinade. Making your own beef or venison jerky in the oven or dehydrator is well worth it.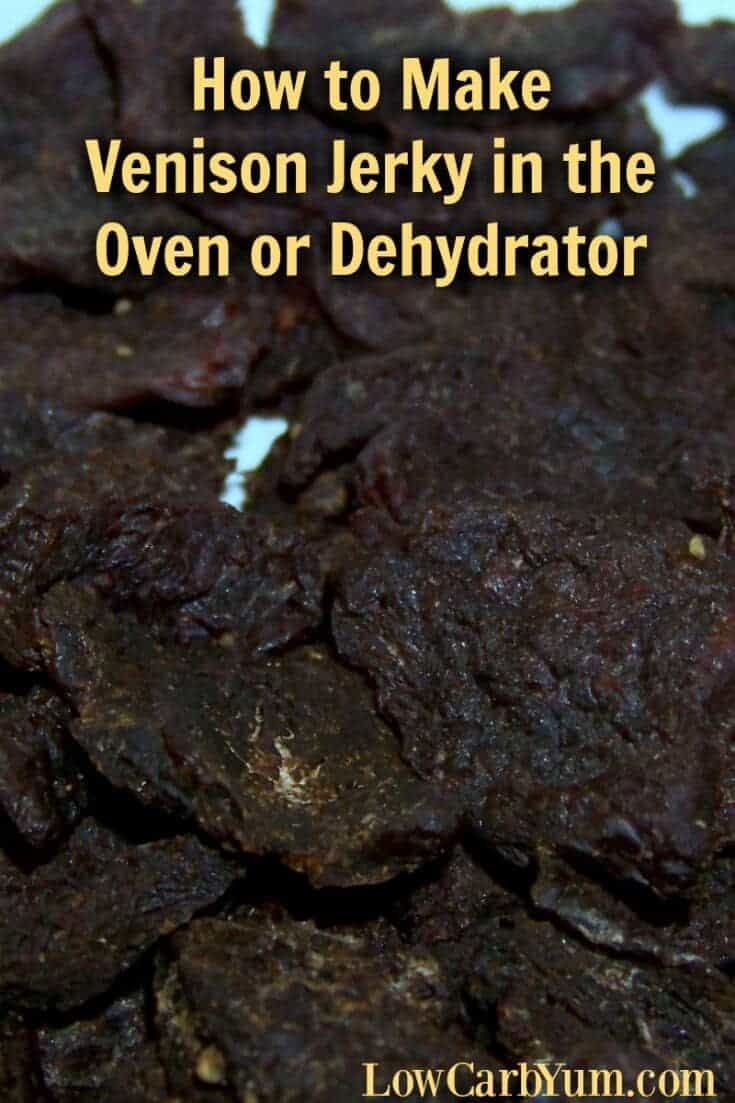 As I've been going through the freezers, I realized that either I have to donate the deer meat or make something that will get eaten quickly. My husband and my son love jerky and I probably don't make it often enough.
I found some time to make a quick batch this past weekend and it was devoured within a day. Although I always make my deer jerky using a big dehydrator, making venison jerky in the oven uses the same process.
For this recent batch, I cut the pieces thin and small so it would be done a lot faster. If you cut it into regular long thin strips, it will take longer. Usually, it takes 10 to 12 hours for my jerky to finish, but this time most pieces were done within 6 hours.
FREE eBook!
​LOW CARB TIPS and TRICKS
Subscribe now to receive your free copy of Low Carb Tips and Tricks which includes 20 easy to prepare recipes. Plus, get access to the weekly newsletter and special offers only for subscribers!
I also thought the smaller pieces were easier to eat. And, the guys did too because this batch of deer beef jerky was gone before I could hide some. So, I'll need to make more venison jerky in the oven next week.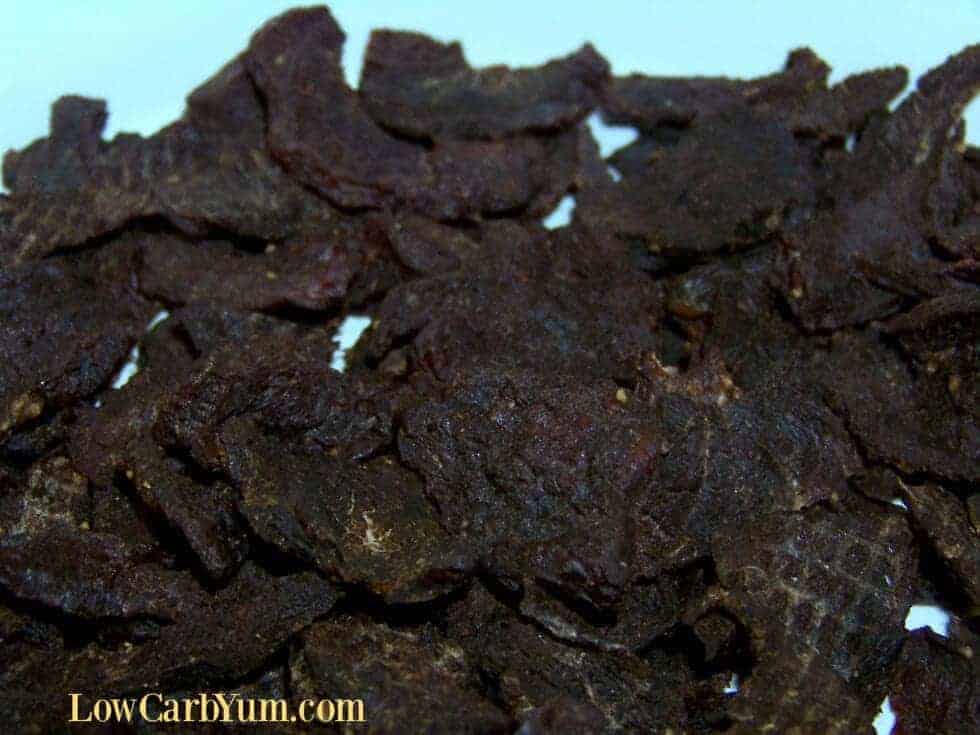 If you don't have any venison meat, you can use regular beef for the recipe. Or, you can try my beef jerky recipe made with ground beef.
How to Make Venison Jerky in the Oven or Dehydrator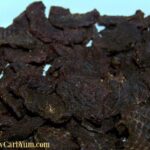 Basic Venison or Beef Jerky
Many commercially prepared meat jerky contain sugar in the marinade. Making your own venison or beef jerky takes a bit of time but it is well worth it.
Total Time
8
hours
10
minutes
Ingredients
1

pound

boneless venison or beef

4

tablespoons

soy sauce

2

tablespoons

Worcestershire sauce

1

tablespoon

liquid smoke flavoring

1/4

teaspoon

pepper

1/4

teaspoon

garlic powder

1/4

teaspoon

onion powder

1

teaspoon

salt
Instructions
Slice meat into thin pieces (this is easiest to do if meat is still frozen).

In a large releasable plastic bag, combine soy sauce, Worcestershire sauce, liquid smoke, pepper, garlic powder, onion powder and salt.

Place meat in, and close bag.

Refrigerate overnight. Knead occasionally, to evenly distribute marinade.

Preheat oven or dehydrator anywhere between 145 to 155 degrees F. If using regular oven, place a pan on the bottom of oven to catch drips, or line with aluminum foil.

Place meat on racks so that they do not touch each other, and dehydrate for 6 to 8 hours or until meat breaks when trying to bend.
Recipe Notes
Makes 5-6 servings

Net carbs per serving: < 1g
Nutrition Facts
Basic Venison or Beef Jerky
Amount Per Serving
Calories 183
Calories from Fat 51
% Daily Value*
Total Fat 5.7g 9%
Cholesterol 81mg 27%
Sodium 1313mg 55%
Potassium 398mg 11%
Total Carbohydrates 2.5g 1%
Protein 28.4g 57%
* Percent Daily Values are based on a 2000 calorie diet.
Related Posts