A delicious recipe for Paleo cupcakes with almond flour and raspberry frosting. It's low-carb, dairy-free, and gluten-free. So go ahead and treat yourself; you deserve it!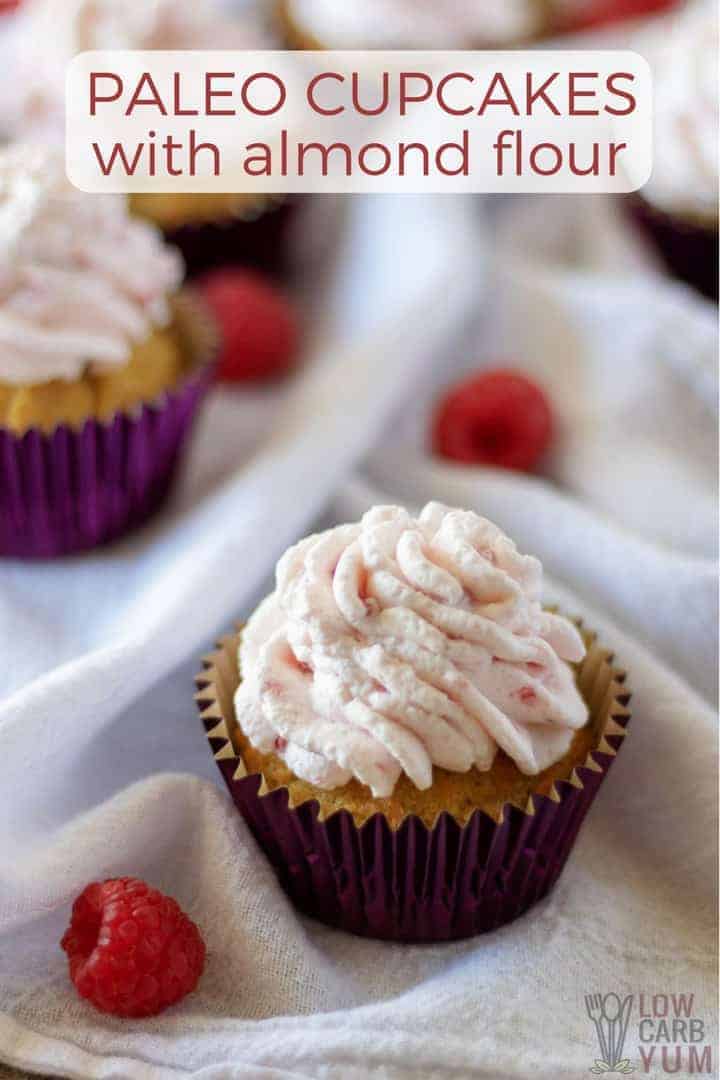 To all the Paleo purists out there, let me just get this out of the way….
Yes, I realize that the term "Paleo desserts" is somewhat of an oxymoron. After all, other than a handful of berries, there was likely no such thing as dessert during the Paleolithic age.
Certainly not cupcakes.
But I'm not here to debate nutritional theocracy.
Rather, my mission with this low carb recipe resource includes teaching my followers how to create healthy desserts. And these desserts are meant to be enjoyed on special occasions.
And this Paleo cupcakes with almond flour recipe is no different. I'm not intending for anybody to have these cupcakes for lunch instead of a salad with leafy greens, smart fats and lean protein.
Following an authentically Paleo diet is virtually impossible anyways.
If you think eating grass-fed beef is true Paleo, consider that cattle wasn't domesticated until approximately 10,000 years ago. That's roughly 10,000 years after the Paleolithic age ended.
Anyways, I digress and will now step off my nutritional lecturing soapbox. Actually, before I do, allow me to make one more point….
And that is that the true purpose of Paleo is eliminating all foods that can potentially trigger inflammation in the body.
Ok, I'm stepping off now….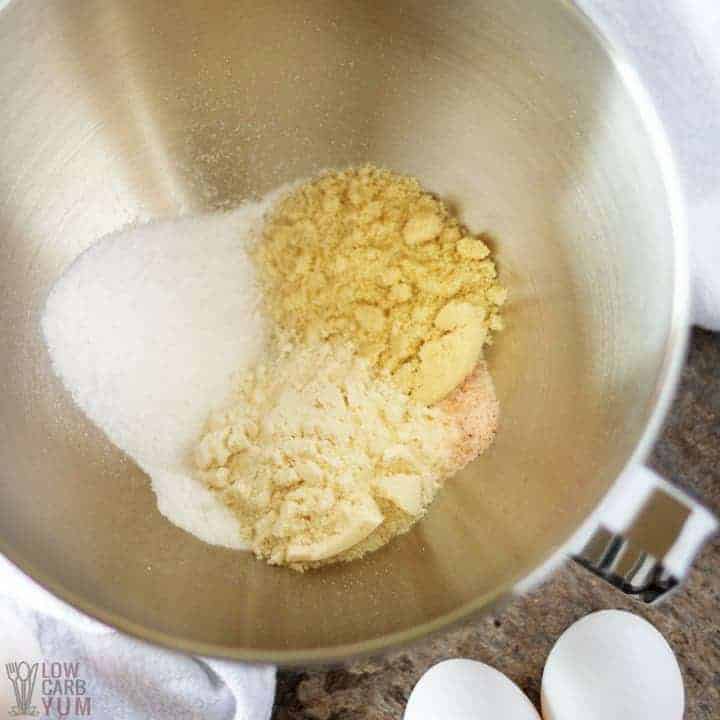 Best Paleo Baking Flours
Wheat flour is a cardinal sin in Paleo baking. The overwhelming majority of wheat is heavily processed.
Consequently, the nutritious part of ancient wheat is stripped. Processed wheat lacks the bran and germ, which are two of the three most nutritious parts of whole grain kernel.
But even ancient wheat runs contradictory to Paleo principles. It's a grain, so it's best avoided to reduce the potential for leaky gut.
The two most popular Paleo-friendly flours to bake desserts with are coconut and almond. I feature both in my paleo cupcakes with almond flour recipe.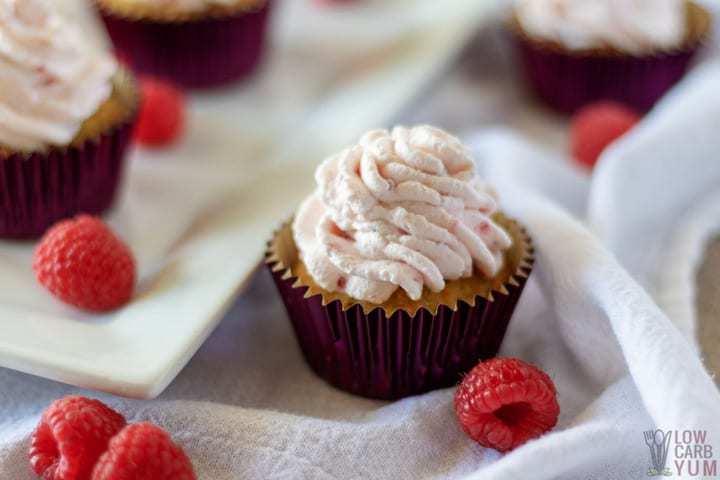 Coconut Flour: Go Easy!
If you've never used coconut flour before, let me caution you. Use too much of it and your dessert will taste like the Atacama desert–the driest place on Earth (fun fact #1).
(Fun fact #2: you can easily remember the difference in spelling between "desert" and "dessert" by associating the double "s" in 'dessert' with 'strawberry shortcake.')
You see, coconut flour has the potential to suck every ounce of moisture in the wet ingredients. That's why I recommend using only 1/4 to 1/3 cup of coconut flour to replace 1 cup of regular flour.
In addition, also increase how many eggs as well as the amount of liquid you would use in a non-Paleo recipe. This is why I'm using three eggs here. (Make sure they're organic pasture-raised eggs to keep them more Paleo-friendly.)
[For more tips on using coconut flour as well as recipes, click here.] 
If you're eating ultra low-carb, keep in mind that coconut flour contains 16 grams of carbs per quarter cup. However, there's 10 grams of fiber, too, per that serving, which means there's only 6 grams of net carbs.
And if you don't like a super coco-nutty taste, you can buy refined coconut oil. Normally, I don't like to use anything that's been excessively refined.
Refined coconut oil still possesses some health benefits. However, in the high-heat processing, some of the medium chain fatty acid content might become denatured.
But one advantage of refined coconut oil in addition to the less coco-nutty taste is that it has a high smoke point for cooking.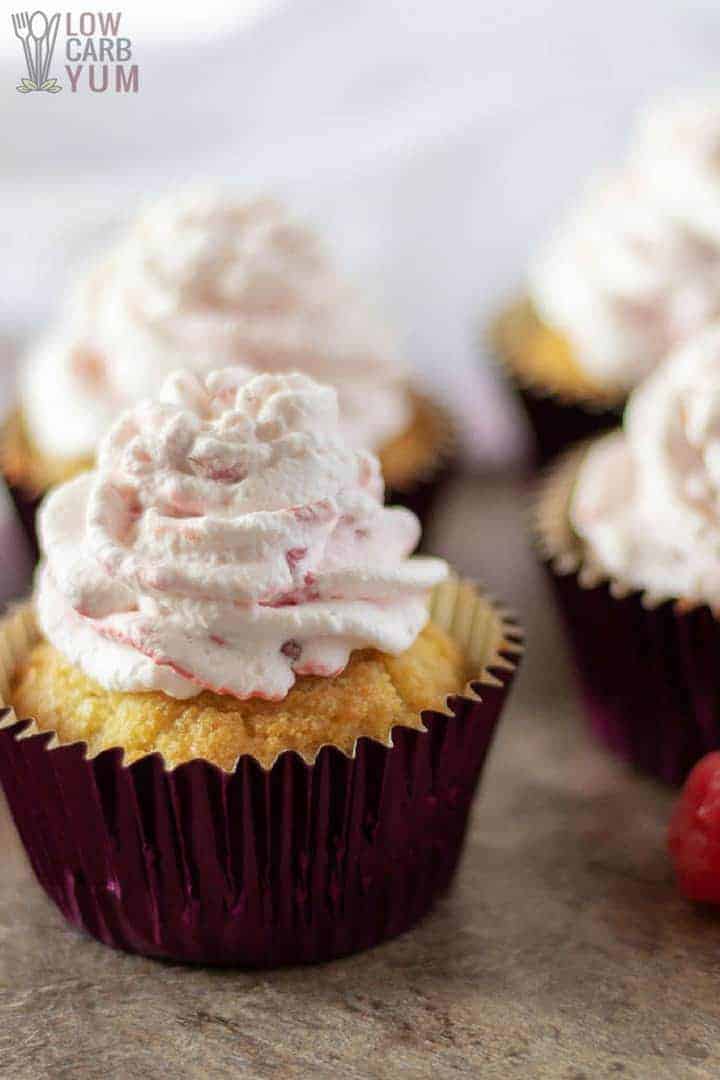 Almond Flour: More Fat, Less Carbs Than Coconut
Why should there be a debate as to whether coconut or almond flour is the best for Paleo? In my opinion, the two have a prominent place in any healthy kitchen. (Unless you're allergic to almonds; I don't know anybody who is allergic to coconuts.)
In this Paleo cupcakes with almond flour recipe, I use equal amounts of the two. But in general, if you're wondering which of the two contains more fat, it's almond flour.
Almond flour contains 14 grams of fat per quarter cup. Another health benefit is it only contains 3 grams of net carbs per that amount.
For baking purposes, many people prefer blanched almonds instead of preparing the flour with almonds with the skin.
My favorite health benefit of almonds is the high content of vitamin E, which is great for your skin and hair.
I go through a lot of almond flour. That's why I buy it in bulk from Amazon.
Please note that in this Paleo cupcake recipe, if you're following a stricter version of the diet, you can use slightly more coconut flour to replace the tapioca flour.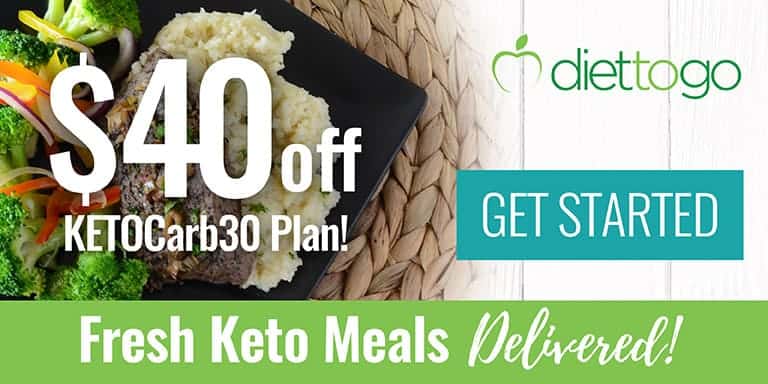 Enjoy (from time to time)!
Paleo Cupcakes with Almond Flour Recipe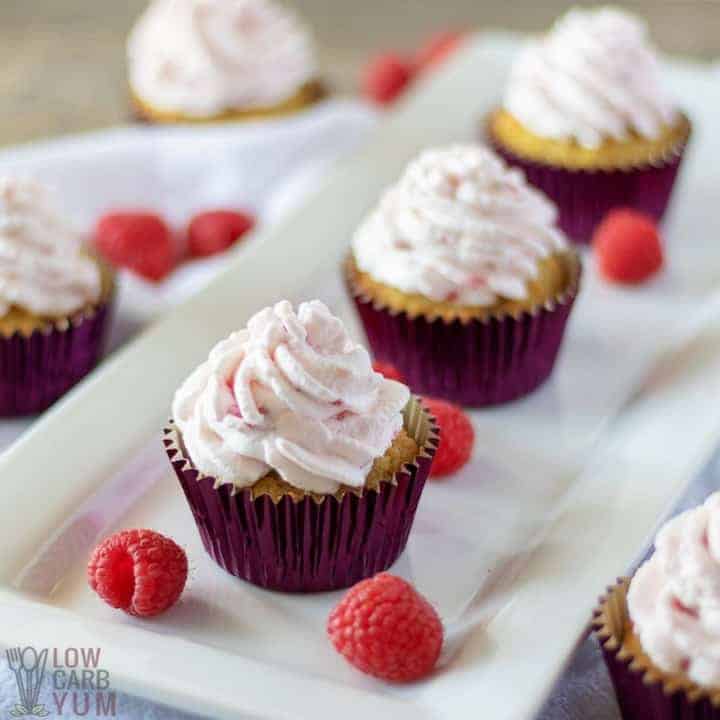 Paleo Cupcakes with Almond Flour and Raspberry Frosting
Easy cupcakes made with almond flour and raspberry frosting. It's low-carb, dairy-free, paleo, and gluten-free. So go ahead and treat yourself; you deserve it!
Low Carb Sweeteners | Keto Sweetener Conversion Chart
Instructions
Preheat your oven to 350 degrees F. In large mixing bowl with a hand mixer or using a stand mixer, combine the flours, sea salt, and baking soda. Give them a quick whisk.

Start adding the eggs, coconut oil, stevia, and vanilla extract one at a time, mixing between each ingredient.

Place six cupcake liners into a cupcake pan and fill each liner ¾ full with batter and bake them for 20-25 minutes.

While the cupcakes bake, remove the coconut cream for the fridge and separate the water from the fat. Place the coconut fat into a medium mixing bowl. Save the water to drink or for another recipe.

Add the tapioca flour (or coconut flour) and stevia to the coconut cream and whip everything together until it forms stiff peaks.

Use a food processor or blender to crush the raspberries and fold the fruit mixture into the frosting.

Once the cupcakes have been cooked and have cooled for at least an hour, frost the cupcakes using a pastry bag or spoon. Serve and enjoy.
Notes
Chill the coconut cream in your fridge so the fat and water separates!! Only use the coconut fat for the frosting, the water won't whip. Strain raspberry puree to remove seeds from the frosting. If you aren't paleo then try using two cups of heavy cream in the frosting.
Nutrition
Nutrition Facts
Paleo Cupcakes with Almond Flour and Raspberry Frosting
Amount Per Serving (1 cupcake)
Calories 349
Calories from Fat 306
% Daily Value*
Total Fat 34g 52%
Cholesterol 1mg 0%
Sodium 156mg 7%
Potassium 222mg 6%
Total Carbohydrates 9g 3%
Protein 4g 8%
* Percent Daily Values are based on a 2000 calorie diet.
Additional Info
Net Carbs

5g

% Carbs:

5.8%

% Protein:

4.7%

% Fat:

89.5%
Need Support?
Get a FREE 3-Day Keto Meal Plan or join the Low Carb Yum Facebook Group for help with recipes and weight loss support!
Note on Nutritional Information
Nutritional information for the recipe is provided as a courtesy and is approximate only. We cannot guarantee the accuracy of the nutritional information given for any recipe on this site. Erythritol carbs are not included in carb counts as it has been shown not to impact blood sugar. Net carbs are the total carbs minus fiber.
© LowCarbYum.com
Unauthorized use and/or duplication of this material without written permission from this site's owner, Lisa MarcAurele, is strictly prohibited unless for personal offline purposes.
Excerpts, single photos, and links may be used, provided that full and clear credit is given to LowCarbYum.com with appropriate and specific link back to the original content.