This post may be sponsored or contain affiliate links. We may earn money from purchases made through links mentioned in this post, but all opinions are our own. We are a participant in the Amazon Services LLC Associates Program, an affiliate advertising program designed to provide a means for us to earn fees by linking to Amazon.com and affiliates sites.
Have you tried the reverse sear steak oven to cast iron cooking method? It results in a perfectly cooked medium rare ribeye steak every time.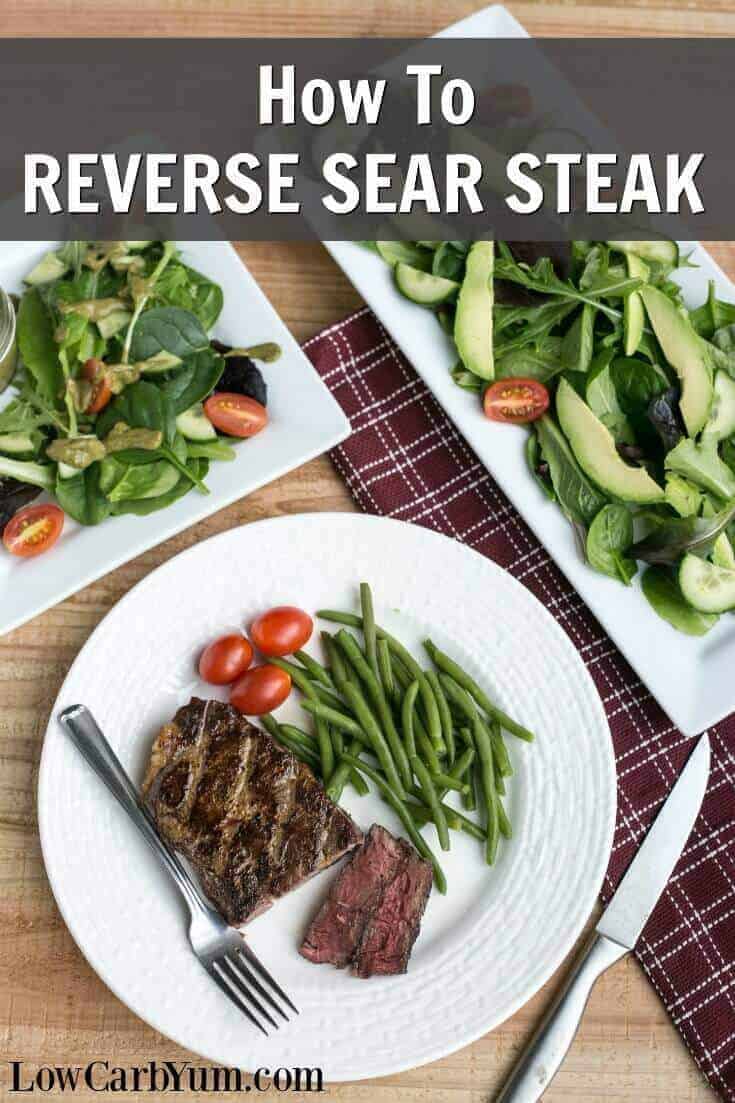 Disclaimer: I was provided with sample products for an honest review of ButcherBox. All opinions are my own. This post contains affiliate links which helps keep this site free with no extra cost to you!
I've got a special deal in store for all of you! ButcherBox is offering $10 off along with two FREE 10 oz ribeye steaks. But, you'll need to act fast as it's only available for a very limited time. To be more specific, the offer expires on March 7, 2017 at midnight PST.
I recently received a sample delivery of Butcher Box. What did my box include? Just look at the list below!
Two 10 oz ribeye steaks
Two 1 lb packages of ground beef
One package of smoked uncured bacon with no sugar added,
Two 12 ounces packages of thin sliced beef,
Two packages of 12 oz beef top sirloins,
One pork sirloin roast
One 10 ounce package of organic chicken thighs.
And, one large cooler bag to keep it all frozen during shipment.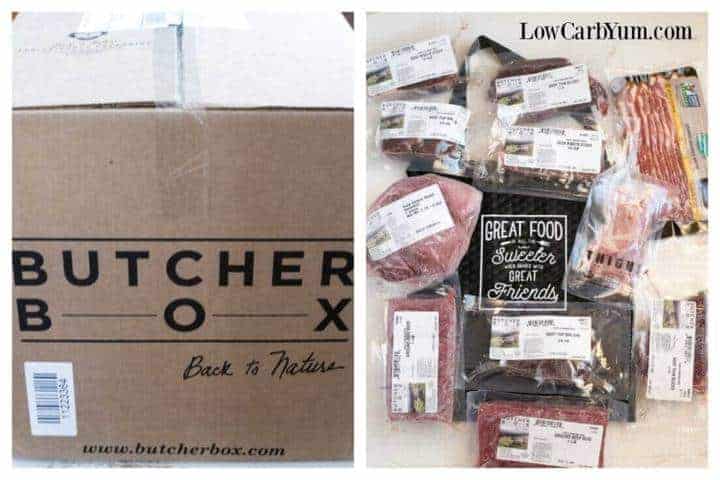 I was pretty excited to give the meat a try. So after thawing a ribeye, I used the reverse sear steak method to cook it. It's a method that I've been wanting to try.
If you like your steak medium rare, you must give this cooking method a try. It worked perfectly for cooking the grass fed ribeye steak I received from ButcherBox.
I don't eat steak as much as I'd like to because I prefer to eat only grass fed which is pretty expensive at my local grocer. But, the folks at ButcherBox make it much more affordable.
When you order meat from ButcherBox you'll get 100% grass fed Beef plus organic/pastured chicken and heritage breed pork for a price less than local markets. The best part? You don't even need to leave your home!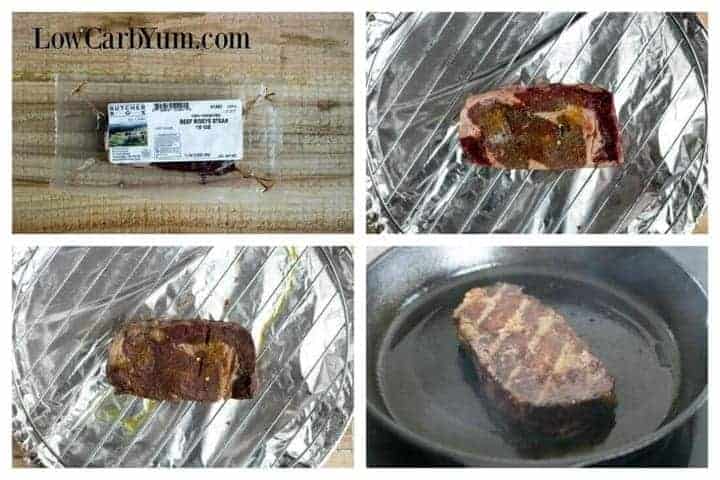 You might be thinking that such convenience would come at a high price. But, it doesn't with ButcherBox. It works out to be about $6.50 per meal.
So, be sure to check out the special limited time offer so you can try this reverse sear steak method on a high quality grass fed piece of beef. I can tell you that the taste of the ribeye I got from ButcherBox was better than anything I've gotten locally.
Now that I've been moving away from sweet recipes, I can't wait to use these high quality meats in new savory recipes. And, once I finish the supply of meat I got in my first shipment, I'll be signing up for more.
I also got a chance to try out the organic chicken in my family's favorite recipe. Everyone loved the Filipino adobo chicken that I made with chicken thigh meat I received from ButcherBox.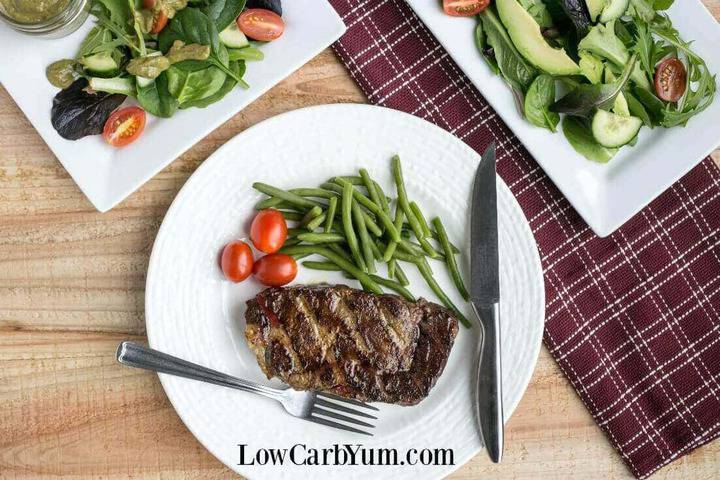 You may be wondering why you should move to grass fed beef. Is there grass fed meat benefits? Low carbers know grains fatten us up. Well, this happens with livestock too!
The meat from animals that are allowed to feed on grass end up with better nutrient content. Specifically, there's a higher amount of omega-3 fatty acids although grass fed beef is more lean.
Because there's less fat in grass fed meats, the calories are lower. My reverse sear steak had just the right amount of fat and the flavor was so much better than what I get with a regular ribeye cut of beef.
The 12 ounce steak that I cooked was way too big for one serving, so I saved half for a beef topped salad. I'll share that recipe with you next.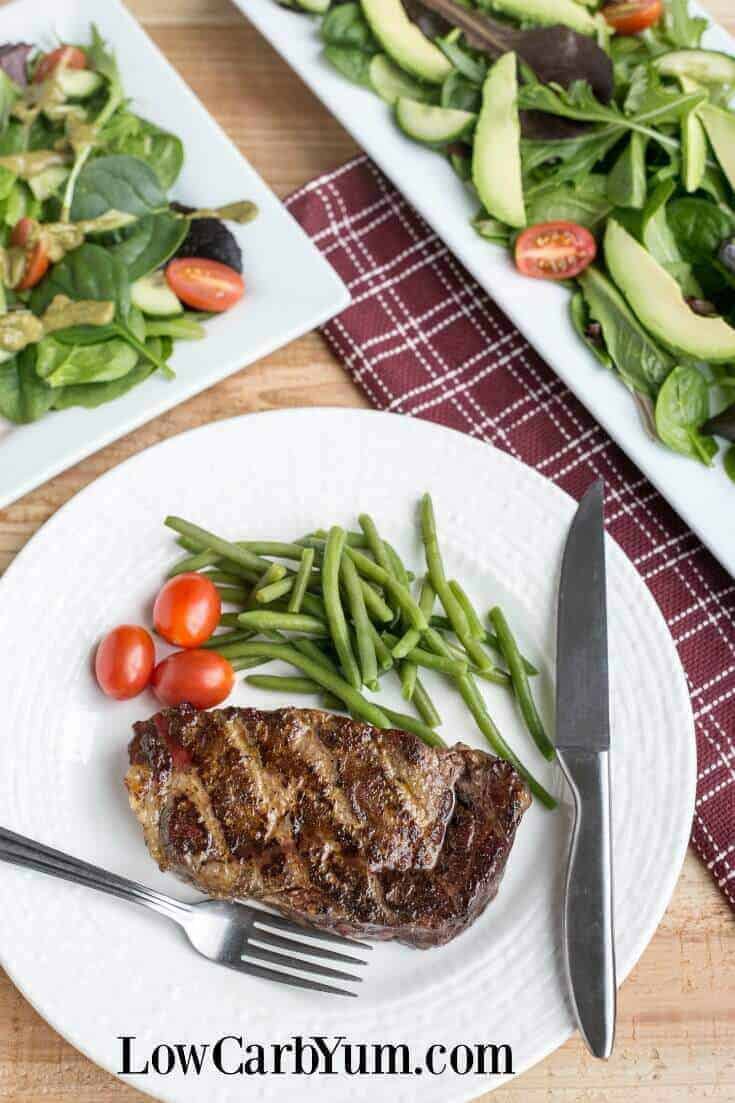 So, the next time you're getting ready to cook up some steaks, consider the reverse sear steak cooking method. It' probably the best way to make a perfectly cooked medium rare steak.
I don't know how anyone could be a vegetarian. I really enjoy eating my meat. That's why I'm so glad there's companies like ButcherBox who make it so easy to get quality meats conveniently shipped to my home.
Are you ready to try ButcherBox? Now's a great time to get in on the 2 FREE 10 ounce Ribeye steaks and $10 off deal that's only being offered to Low Carb Yum readers. But, you'll need to hurry because the special ends on March 7, 2017 at midnight PST!
How to Reverse Sear Steak in Oven and Cast Iron Pan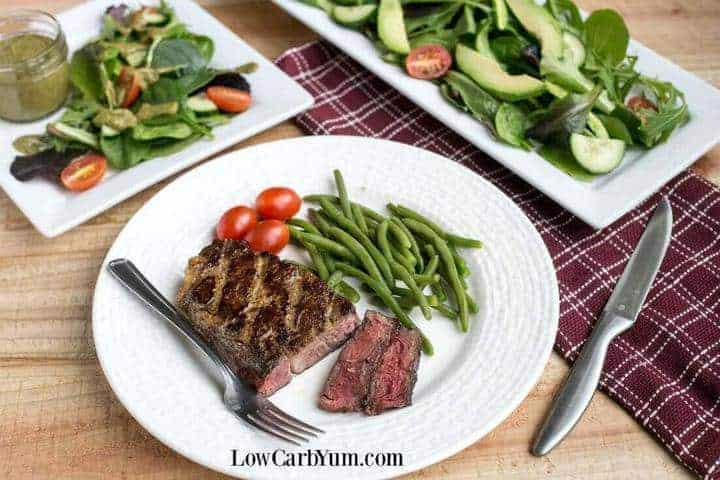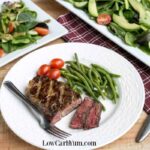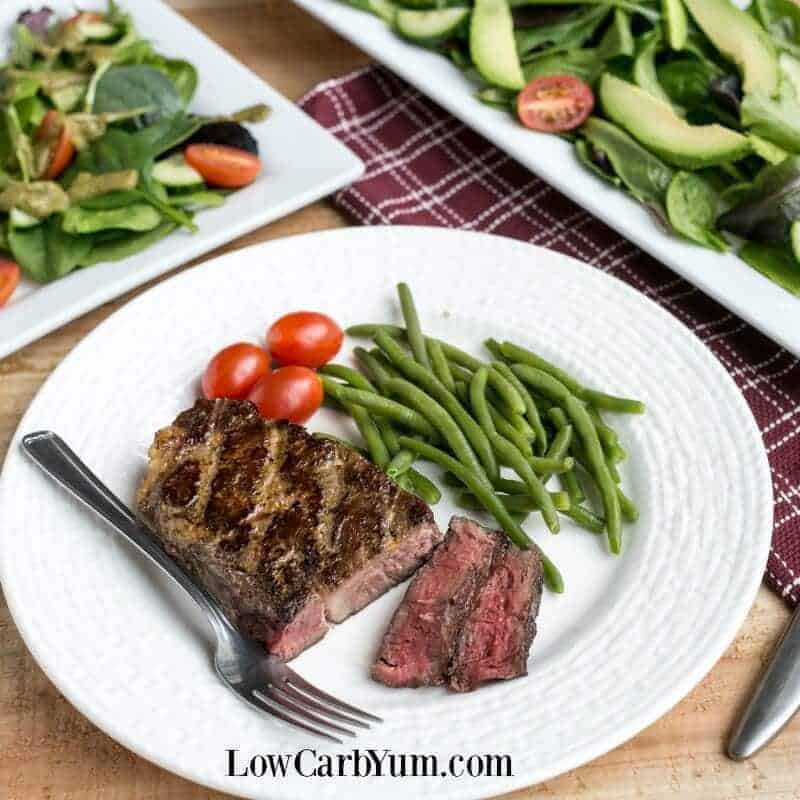 How to Reverse Sear Steak
Have you tried the reverse sear method to cook a steak? It results in a perfectly cooked medium rare steak every time.
Ingredients
12

ounce

ribeye steak

salt

to taste

pepper

to taste

paprika

to taste

onion powder

to taste

garlic powder

to taste

1

tablespoon

cooking oil

I used avocado
Instructions
Cover baking tray with foil and top off with a metal rack.

Sprinkle seasonings on steak to taste. Then place meat on rack.

Bake steak in 275°F preheated oven until meat reaches a temperature of 125°F in the center. (about 40-50 minutes)


Remove the steak from the oven, cover with foil and let sit 5-10 minutes while heating oiled cast iron pan on high.

Sear the steak for one minute on each side.
Nutrition Facts
How to Reverse Sear Steak
Amount Per Serving (170 g)
Calories 557
Calories from Fat 396
% Daily Value*
Total Fat 44g 68%
Cholesterol 136mg 45%
Sodium 236mg 10%
Potassium 443mg 13%
Total Carbohydrates 0.7g 0%
Protein 41g 82%
* Percent Daily Values are based on a 2000 calorie diet.
Related Posts