This post may be sponsored or contain affiliate links. But all opinions are our own.
Full Disclosure
Filipino pancit is a stir-fry of meat and vegetables with noodles mixed in. This low carb spaghetti squash pancit is a great keto option.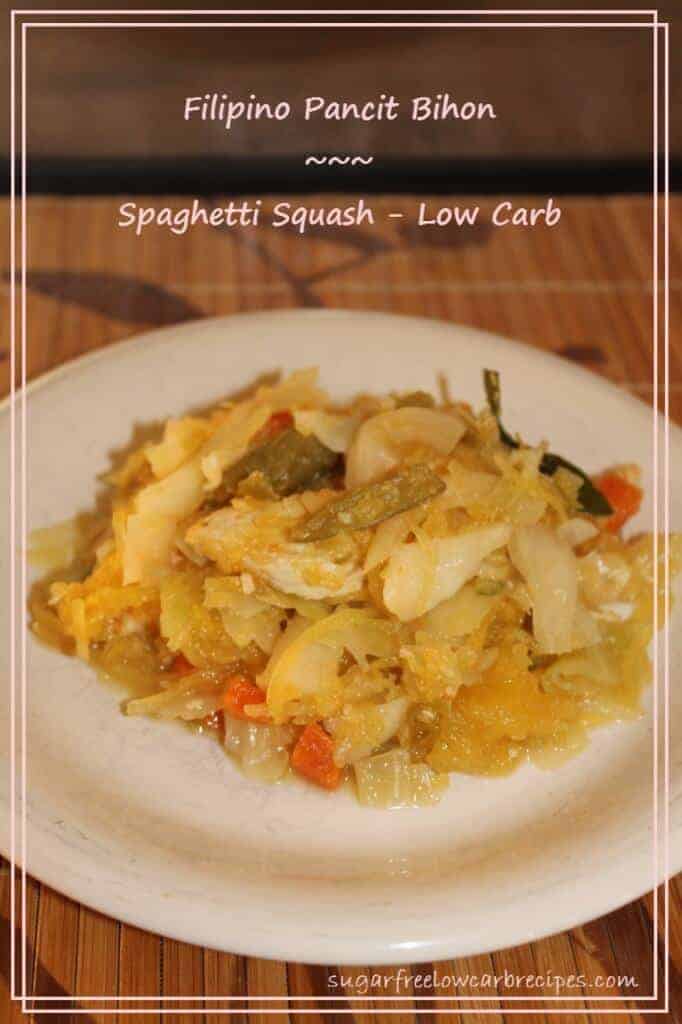 There are certain family dishes that one misses when staying away from things like rice and potatoes. Pancit, a delicious Filipino dish typically made with rice noodles, is usually prepared by my father whenever my family gets together.
My dad has a pot which is likely older than me which my siblings and I refer to as the "pancit pot." My father has been making his signature dish in that pot for well over forty years and everyone looks forward to having his pancit at our family gatherings.
After seeing a Thai noodle dish made using spaghetti squash, I wondered how the squash would taste as a pancit noodle. I have tried spaghetti squash as a replacement for wheat pasta in Italian style dishes with tomato sauce.
It was okay, but the taste and texture was off. Pancit, on the other hand is a stir-fry type of dish that mixes cooked noodles into a stir fry of meat and vegetables. And, the color and texture of spaghetti squash is very similar to the thin firm rice noodles used in pancit.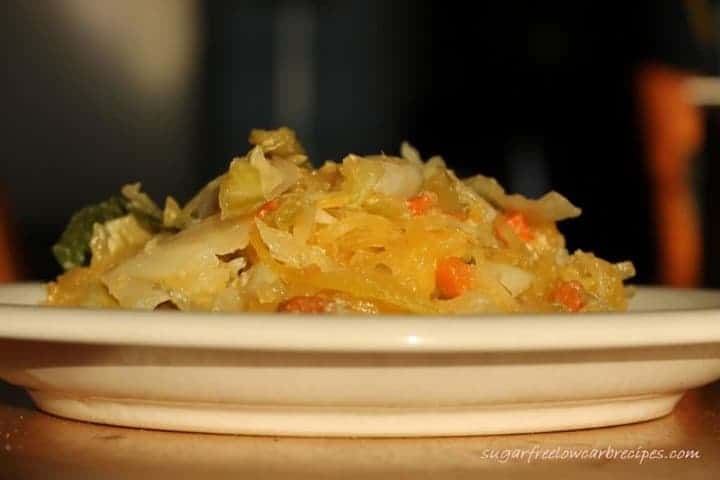 I decided to give it a try. My father always makes his Filipino pancit with pork, but I used chicken as that is what I had. The dish is usually made with pork, chicken, shrimp or a combination of these meats.
I must say that spaghetti squash worked quite well in place of the rice noodles. The squash complimented the cabbage perfectly.
In fact, it's hard to tell the difference unless one takes a close look. Although it has a different flavor, I actually prefer the squash because rice is very bland.
If you've never had pancit, I'd highly recommend giving it a try. Chances are high that you'll be hooked on it.
Low Carb Spaghetti Squash Pancit (Filipino Lo Mein) Recipe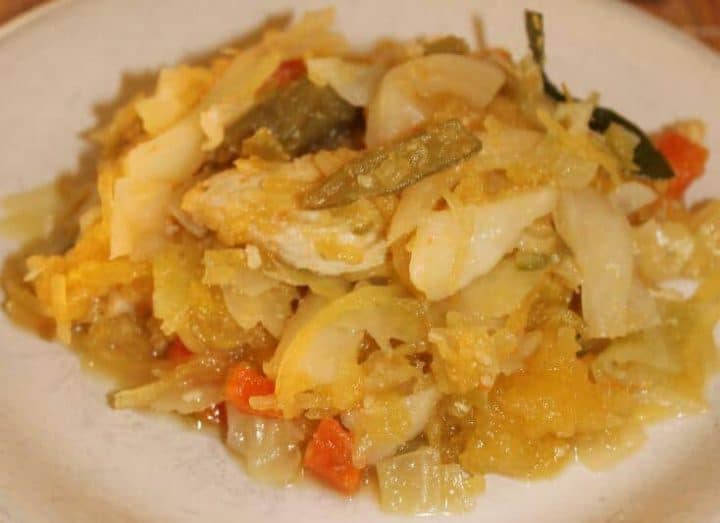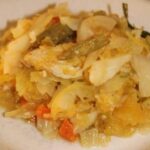 Spaghetti Squash Filipino Pancit Bihon – Low Carb
Filipino pancit is a stir-fry of meat and vegetables with noodles mixed in. This low carb chicken version replaces the rice noodles with spaghetti squash.
Ingredients
1

medium spaghetti squash

1

tablespoon

olive oil

1

onion

finely diced

3

cloves

garlic

minced

2

pounds

chicken breast

sliced thin

1

small head cabbage

sliced thinly

1

small carrot

cut into small pieces

1

cup

green beans

cut

¼

cup

soy sauce

or tamari, or coconut aminos

lemon

optional
Instructions
Roast the spaghetti squash in the oven: Pre-heat oven to 400°F. Cut the spaghetti squash in half lengthwise and scrape out the seeds with a spoon. Lay the two halves skin side up on a baking sheet lined with aluminum foil. Cook in the oven for about 30-40 minutes or until the squash is cooked but still a bit firm. Flip each squash half and let it sit flesh side up until cool enough to handle. Using a fork, scrape the flesh lengthwise to strip it into thin strands. Put the strands in a bowl and set aside. (I actually cooked the squash the night before and refrigerated it so the "noodles" were ready to put into the pancit the next evening.)

Heat oil in a wok or large skillet over medium heat. Saute chicken with onion and garlic until chicken is no longer pink.

Stir in cabbage, carrots, green beans and soy sauce. Cook until cabbage begins to soften.

Toss in spaghetti squash "noodles" and cook until heated through, stirring constantly.

Transfer to a serving dish and garnish with cut lemon (we usually squeeze the lemon juice onto our pancit).
Recipe Notes
Nutrition per serving:
148 calories, 3g fat, 13g carbs, 5g fiber, 8g NET carbs, 15g protein
Nutrition Facts
Spaghetti Squash Filipino Pancit Bihon – Low Carb
Amount Per Serving
Calories 148
Calories from Fat 27
% Daily Value*
Total Fat 3g 5%
Total Carbohydrates 13g 4%
Protein 15g 30%
* Percent Daily Values are based on a 2000 calorie diet.
Related Posts