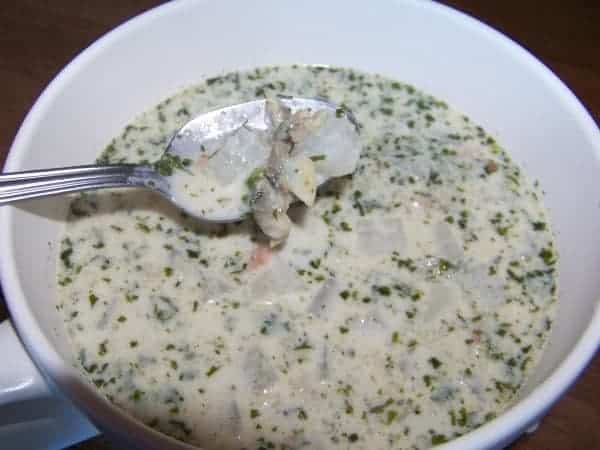 The white New England clam chowder with the milk base is a favorite of mine. It's usually made with a mixture of cream and milk as well as a bunch of diced potatoes. In this low carb version, I used coconut milk instead of regular milk and daikon radish in place of the potatoes.
One cup of daikon has about 4.3 grams effective carbs compared to one cup of potatoes which has about 31 grams. The taste and consistency of this type of radish is very similar to potatoes. While grocery shopping last week, I saw that the store had unsweetened coconut milk by the carton in the organic milk section.
The brand is So Delicious and the label states that there are only 1 g carbs per 1 cup serving. I figured I'd buy some and use it as a milk substitute is some of my low carb recipes.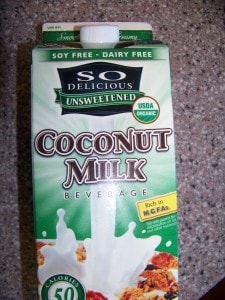 FREE eBook!
​LOW CARB TIPS and TRICKS
Subscribe now to receive your free copy of Low Carb Tips and Tricks which includes 20 easy to prepare recipes. Plus, get access to the weekly newsletter and special offers only for subscribers!
Coconut milk has many benefits. It has been shown to help reduce blood pressure and blood sugar as well as improve bone and dental health. Coconut milk can also boost the immune system and fight off infections. It contains lauric acid which has anti-bacterial, anti-microbial, anti-fungal and anti-viral properties.
Overall, I was very pleased with how this New England clam chowder made with coconut milk came out. I used small whole baby clams, but chopped clams could also be used. Others may want to change the seasonings a bit.
The coconut milk did not give any hint of coconut that I could detect. It wasn't a very thick soup so those who like it thicker may want to add more guar or xanthan gum.
New England Clam Chowder
This low carb New England clam chowder replaces the high carb potatoes with daikon radish and lower carb coconut milk replaces the regular milk.
Ingredients
3 cups daikon radish, cut in small cubes
8 pieces no sugar bacon
4 cloves garlic, minced
2 celery stalks, diced
2 teaspoons onion powder
1 teaspoon celery salt
¼ teaspoon black pepper
¼ teaspoon cayenne pepper
1 teaspoon guar gum or xanthan gum
1½ cups heavy cream
1½ cups unsweetened coconut milk
2 oz. bottles clam juice
2 10 oz cans whole baby clams
1 tablespoon dried parsley
Instructions
Steam the daikon for about 40 minutes or until tender. Set aside.
Chop bacon into small pieces and cook until crisp. Reserve 2 tablespoons of bacon grease. Drain bacon pieces and set aside on paper towels.
Fry celery in bacon grease until it starts to become soft. Add the garlic and spices. Stir and cook for about a minute. Stir in the liquid ingredients. Sprinkle in the guar gum. Cook until the mixture begins to simmer.
Add clams, daikon, bacon, and parsley. Heat again until just at a simmer.
Notes
Makes 12 servings

Carbs per serving: about 3g
Related Posts