Make your own gourmet soup at home with this easy lobster bisque recipe. And, this homemade version is low carb and gluten free!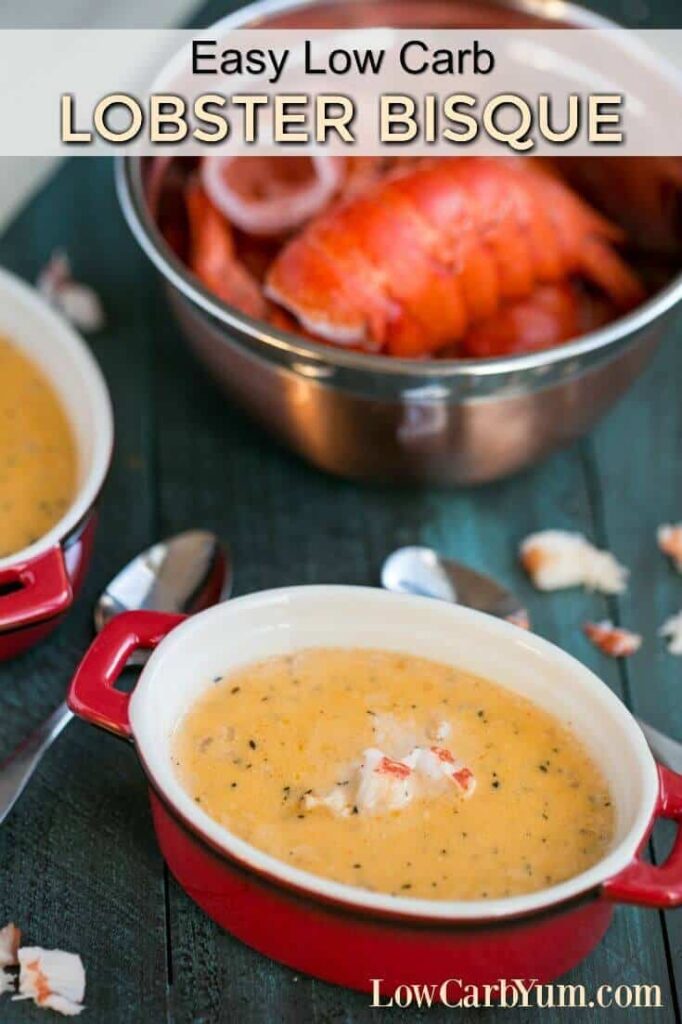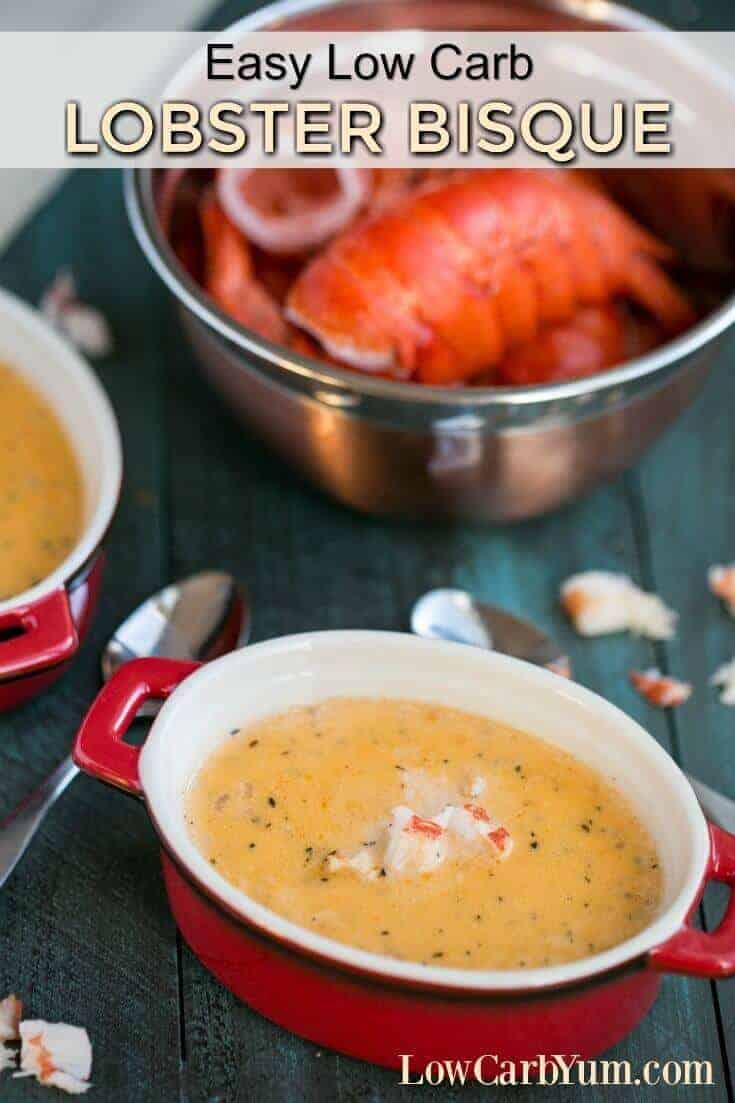 We had a break from the cold winter weather this weekend. The temperatures actually got close to 60°F on Sunday, and it did feel warmer in the sun.
I enjoyed spending time outdoors and it was nice to see all the kids out in the playground. Also, it was great to let my youngest run around outside to burn some energy.
But today the winter weather returns. And we are going to have some rain/snow mix as a storm moves through. So, it's nice to have some soup heating up in my lunch crock.
Over the weekend, I made an easy lobster bisque soup with frozen Main lobster tails I bought at ALDI. They are a special item that was available at ALDI over the holidays.
Main lobster is readily available off the shores of Connecticut, so this is the first time I've bought frozen tails. Usually, I buy live lobsters which are always discounted in the summer.
I dislike cooking them live, so I sometimes order them to be cooked. But, for the best taste, it's always best to enjoy them freshly cooked after boiling live.
When prices are good, I'll cook up a bunch and save the meat for salads or dipping in butter later. And it's not that difficult to make a lobster soup which is another way to enjoy this tasty seafood.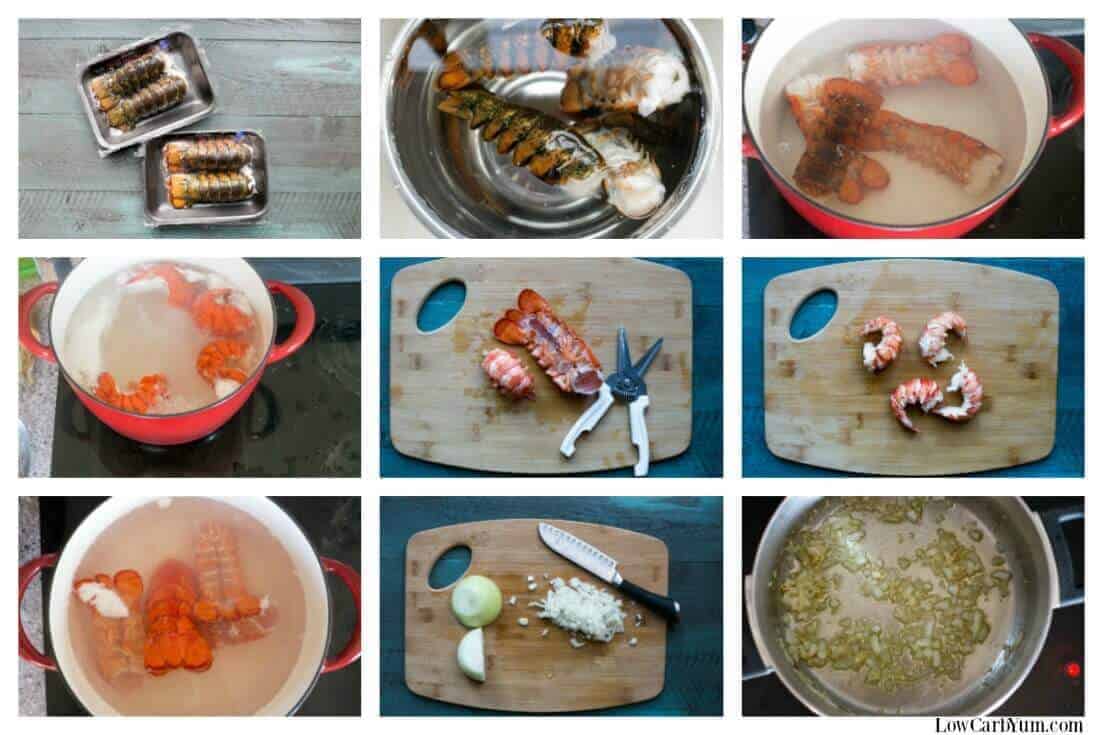 What is Bisque?
Bisque is a creamy soup that's usually made with seafood. And it's somewhat similar to chowder.
However, chowder is typically thicker and full of chunky pieces of meat and vegetables. Bisque has a smooth texture that contains a blend of wine and cream.
To get the smooth texture, the soup base is puréed before adding in the seafood meat. Shrimp, crab, and scallops can be added. But my favorite is lobster bisque.
In addition to cream, butter is often added. And a bit of tomato is added which gives bisque a pinkish color.
How to Reduce Carbs in Lobster Bisque
Unfortunately, most bisque soups are thickened with flour or rice. It's not a lot, but since going low-carb and gluten-free, I avoid any questionable foods at restaurants.
I've read that some of the more traditional bisques actually contain ground up the seafood shells made into a paste which is used to thicken the soup.
To be honest, I didn't think the soup was that thin without adding a thickener. However, since I'm used to seeing it really thick, I sprinkled in some glucomannan powder.
If you aren't opposed to xanthan gum or guar gum, you could always sprinkle in a little of either or both to thicken it up. But, just using a large amount of cream in this easy lobster bisque recipe tends thicken the soup base.
And, you always have the option to puree some of the lobster shells and use those as a thickener.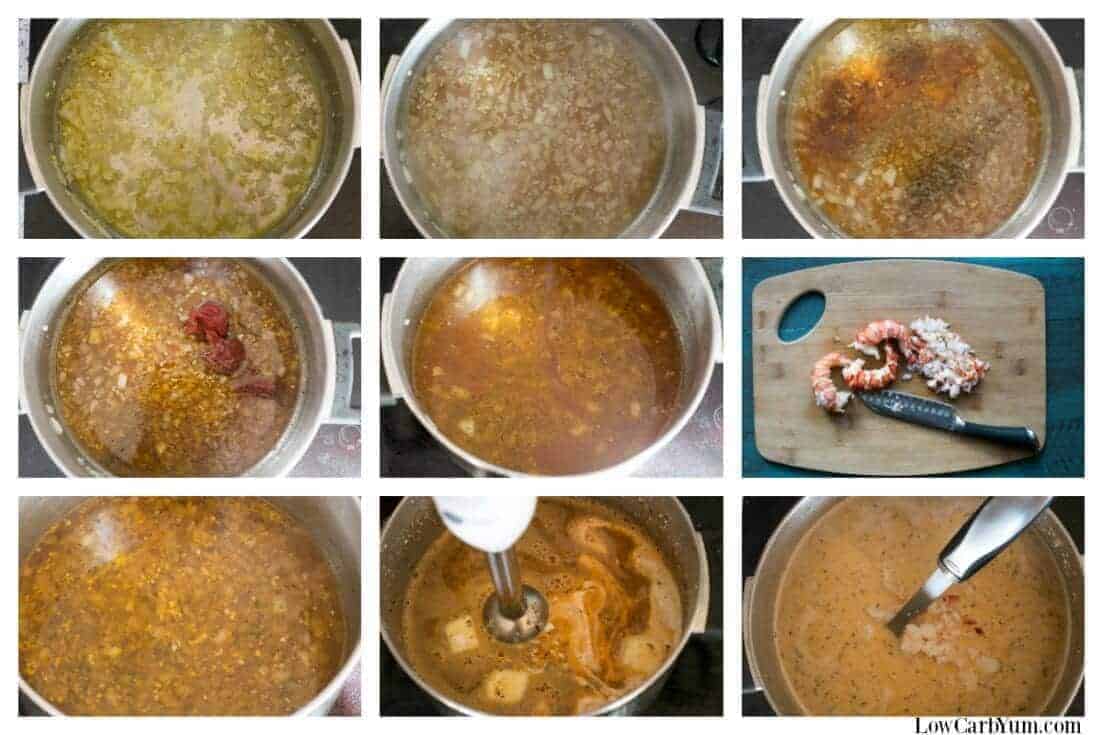 How to Make Lobster Bisque
To start a bisque, vegetables are sautéed in oil or butter. Because I like to make my soup simple, I only used a little onion and garlic.
However, celery and carrots are often used so you can add a little of those if desired. Then, wine is slowly added to deglaze the pan followed by the addition of the seasonings.
The stock and a bit of tomato paste is added then allowed to simmer for about ten minutes. A blender or food processor is then used to make the soup base smooth.
It's best to use a stick blender so you can puree the mixture right in the pot. This works well for other soups like roasted Brussels sprout soup too.
I add in cream and butter after the base has been blended. If needed, I'll adjust the seasonings to taste. Finally, the lobster is added and the lobster bisque soup is simmered a bit longer.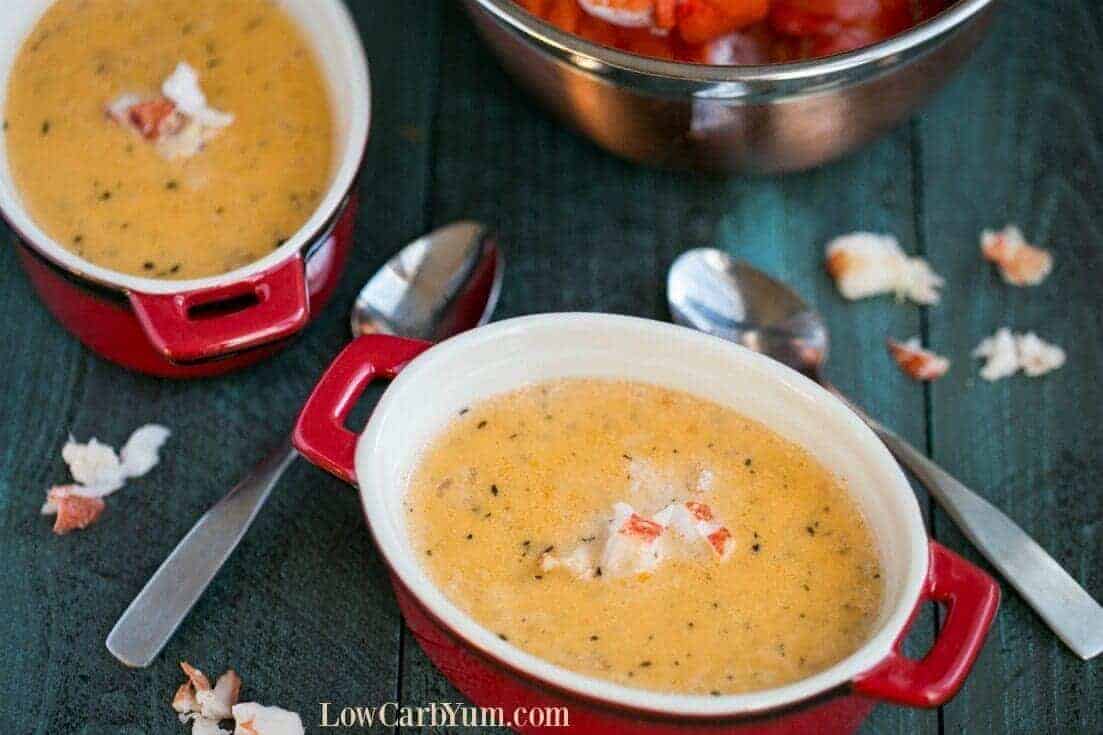 The Best Lobster to Use
I grew up in an area where Maine lobsters are plentiful so it often surprises me that so many people have never tried them.
Because they tend to be expensive in places where these lobsters aren't native, a lot of people can't justify the cost of the seafood.
I remember ordering lobster when I was in college in Florida. But the restaurants only offered rock lobster which I didn't find as tasty as the Maine lobster I'm used to.
Maine lobster has a somewhat sweeter taste and firmer texture. And, you get the nice claw meat with the lobster from the colder northeast waters.
When I do get lobster, I always try to find one with good sized claws. Because the claw meat is always what I dig into first. And the meat is perfect for making your best lobster bisque recipe.
Lobsters are pretty messy to eat whole. And, I always have trouble getting the claws cracked open.
The tails are a bit easier to break open, especially if you use kitchen shears. But it is a lot of work to eat shelled lobster.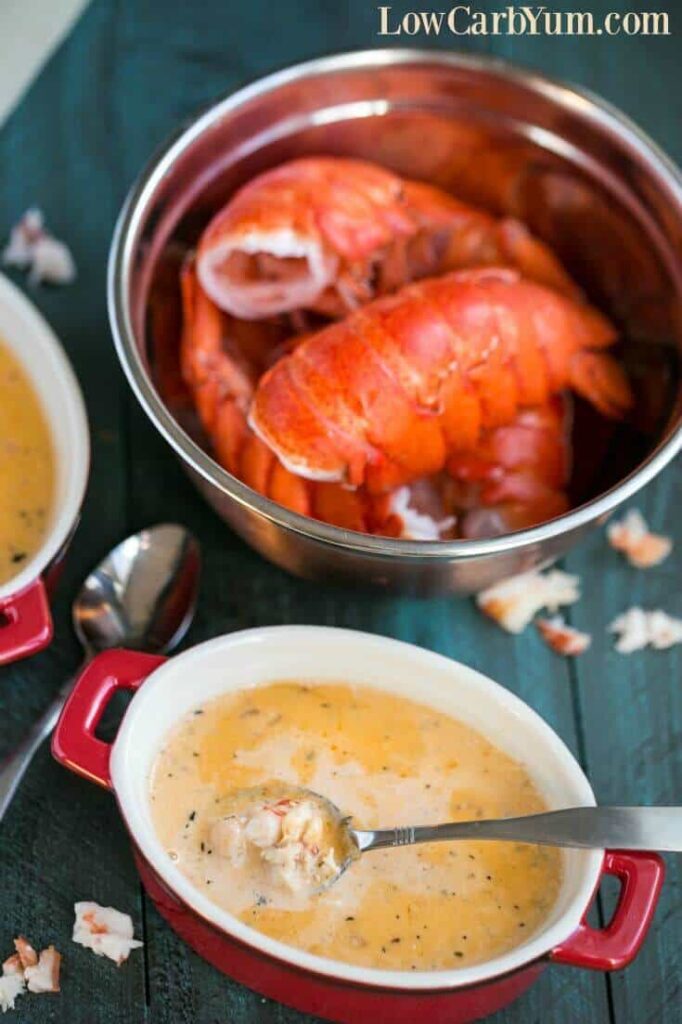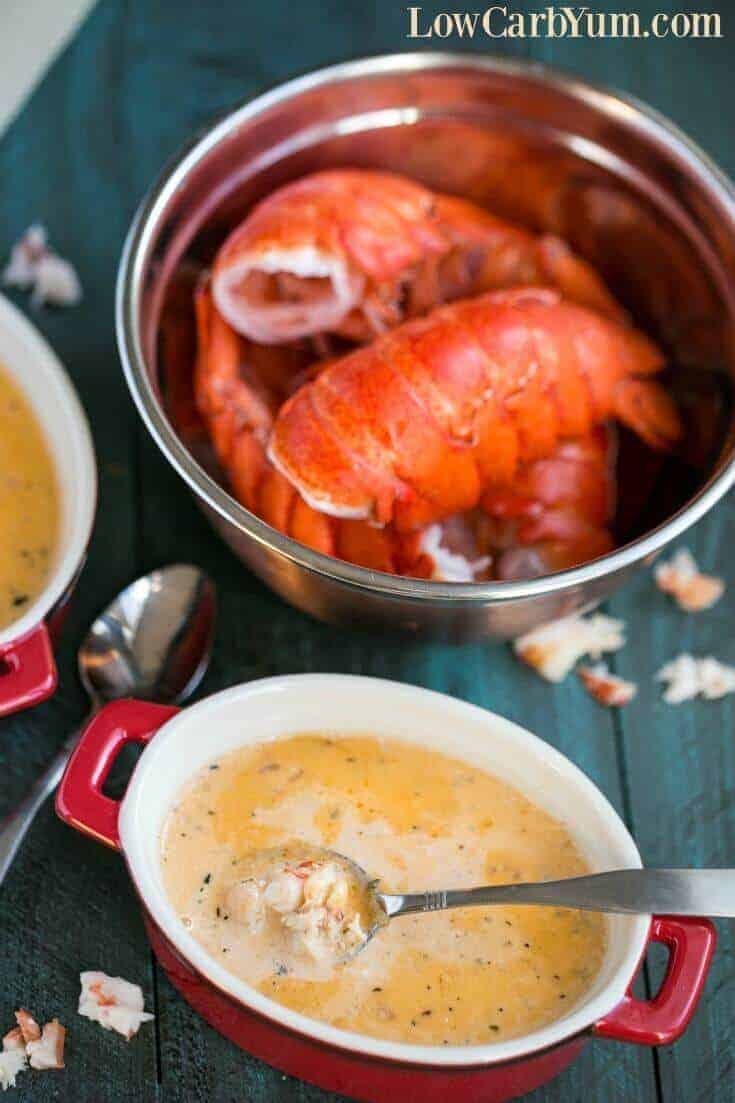 If you've never tried Maine lobster, you are missing out. It's definitely my favorite seafood. And I eat it regularly over the summer here in Southern New England.
Although you may be put off by the cost, it's certainly worth the price. Also it's nice to indulge in this amazing seafood as a one in a while treat.
Last year, my husband ordered a whole lobster fresh from the tank at a local restaurant that was over fifty dollars. So it's sometimes pricey here too even though Maine lobsters are native.
After making this yummy bisque, I'm in need of a few more low carb lobster recipes. What's your favorite thing to do with lobster meat?
Other Low Carb Soups to Try
Since soup is such an easy dish to prepare, you may want to give some my other soup recipes a try.
Here's a list of some of my other favorites:

Easy Lobster Bisque Soup Recipe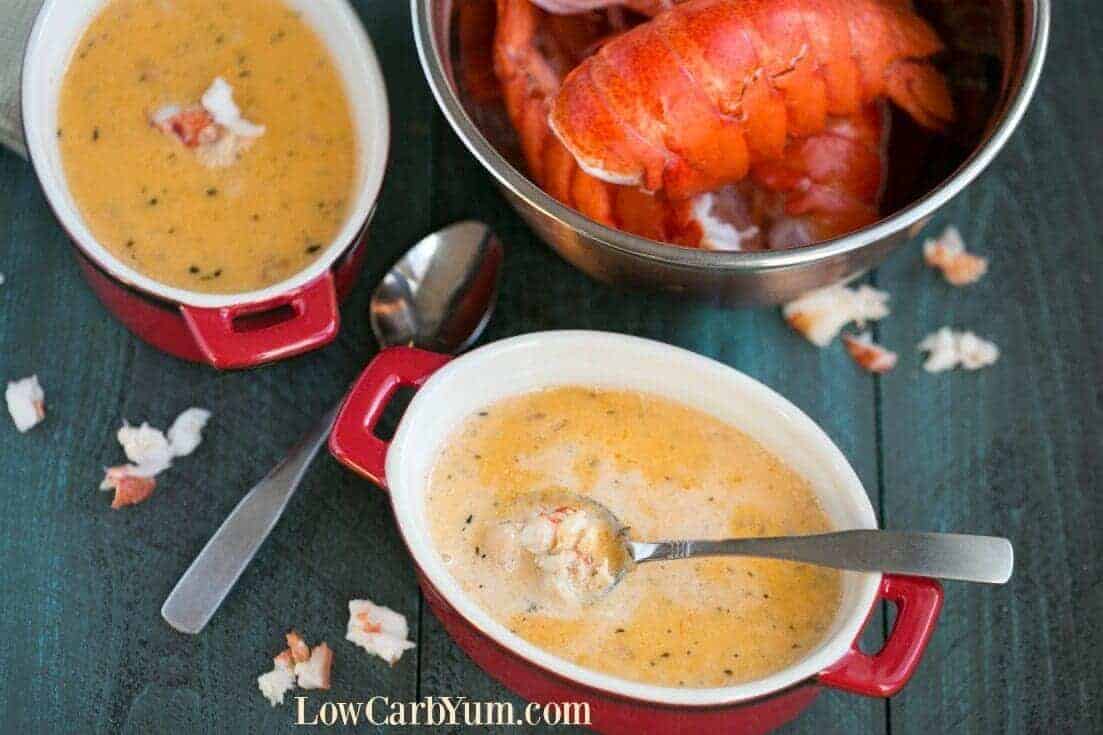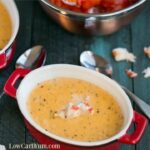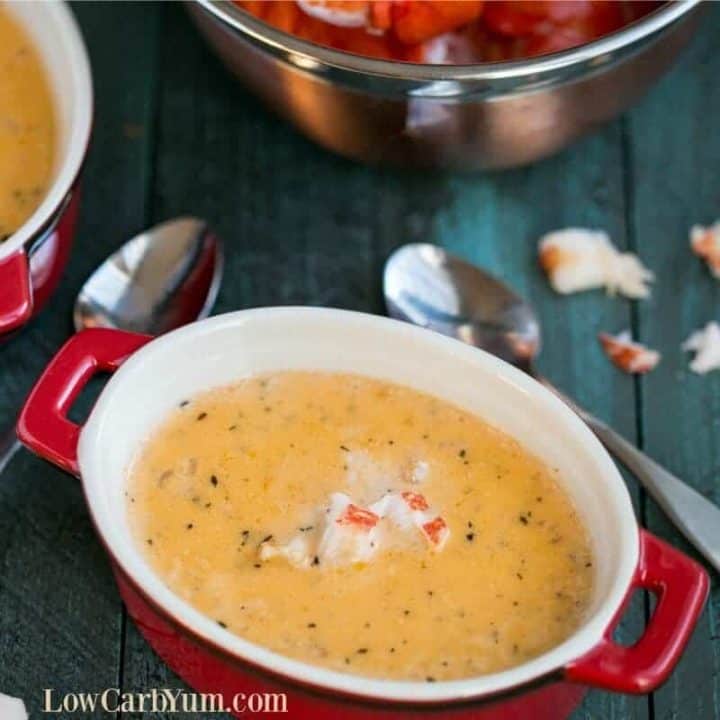 Easy Lobster Bisque
Make your own gourmet soup at home with this simple smooth and creamy lobster soup. And, this homemade bisque is low carb and gluten free!
Ingredients
4

lobster tails

frozen in shells (or fresh)

2

tablespoons

olive oil

extra virgin

1/2

cup

onion

chopped

1 1/2

teaspoons

garlic

minced

1

cup

dry white wine

2

teaspoons

Worcestershire sauce

1

teaspoon

celery salt

1

teaspoon

dried thyme

1/2

teaspoon

paprika

1/2

teaspoon

ground cayenne pepper

1/4

teaspoon

ground black pepper

1

tablespoon

tomato paste

increase to 2 tablespoons for more tomato flavor

2

cups

lobster stock

2

cups

heavy cream

4

tablespoons

butter
Instructions
Boil lobster tails for 6-8 minutes or until shells are bright red. Remove tails to cool and reserve water.

Remove meat from shells then return the shell to water and boil for another 10 minutes. Using fine mesh strainer, strain lobster stock and reserve 2 cups.

Chop lobster meat into bite sized pieces. Set aside.

Add olive oil to medium sized sauce pan and heat over medium high heat. Saute onion and garlic and cook for about 5 minutes.

Slowly add the wine, then stir in the Worcestershire, celery salt, thyme, paprika, cayenne pepper, and black pepper. 

Stir in the tomato paste and reserved lobster stock. Simmer about 10 minutes.

Puree mixture in blender or use a stick blender in the pot until smooth.

Return mixture to pot, if needed, and add in the heavy cream and butter. Add additional salt if needed.

Add lobster meat and continue to simmer for another 5-10 minutes.
Nutrition Facts
Easy Lobster Bisque
Amount Per Serving (302 g)
Calories 390
Calories from Fat 254
% Daily Value*
Total Fat 28.2g 43%
Cholesterol 241mg 80%
Sodium 649mg 27%
Potassium 389mg 11%
Total Carbohydrates 4.5g 2%
Protein 22.8g 46%
* Percent Daily Values are based on a 2000 calorie diet.

Related Posts