Lovely pumpkin spice snack cake bars topped with sweet cream frosting. These low carb frosted pumpkin bars are a delicious snack that all will enjoy.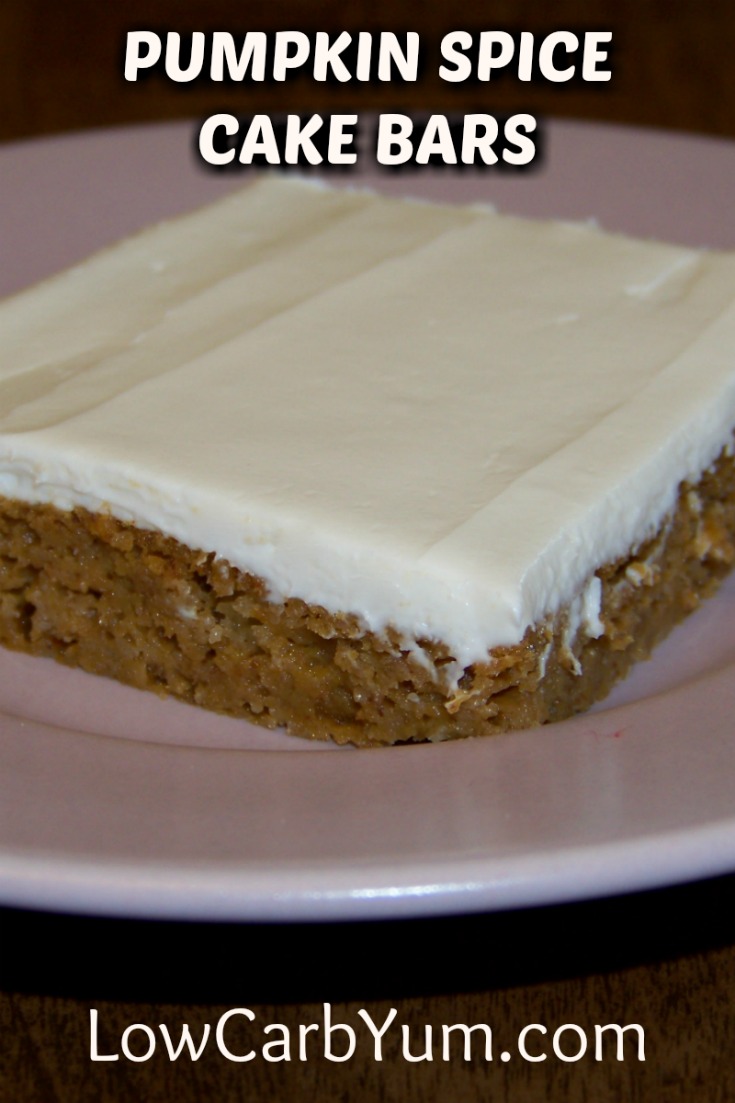 When the weather got cooler and it began to feel like autumn, I started craving some pumpkin. However, all the grocery stores I shopped at were out of canned pumpkin.
I discovered that the canned pumpkin shortage was due to bad growing conditions in the state of Illinois where the Libby brand of pumpkins are grown. I figured I better stock up so I ordered a case of 12 organic cans of pumpkin online which was cheaper than going to one of the local nature food stores.
The grocery stores are hoping to have plenty of canned pumpkin back on the shelves for the holidays since the weather was better this year. I wish I had planted my own sugar pumpkins in the yard this year. Pumpkins will certainly be planted next year!
FREE eBook!
​LOW CARB TIPS and TRICKS
Subscribe now to receive your free copy of Low Carb Tips and Tricks which includes 20 easy to prepare recipes. Plus, get access to the weekly newsletter and special offers only for subscribers!
This is the first year that I've had trouble getting canned pumpkin. It's amazing how much the weather in one state can have such a huge effect. Maybe the farms need to be a bit more spread out!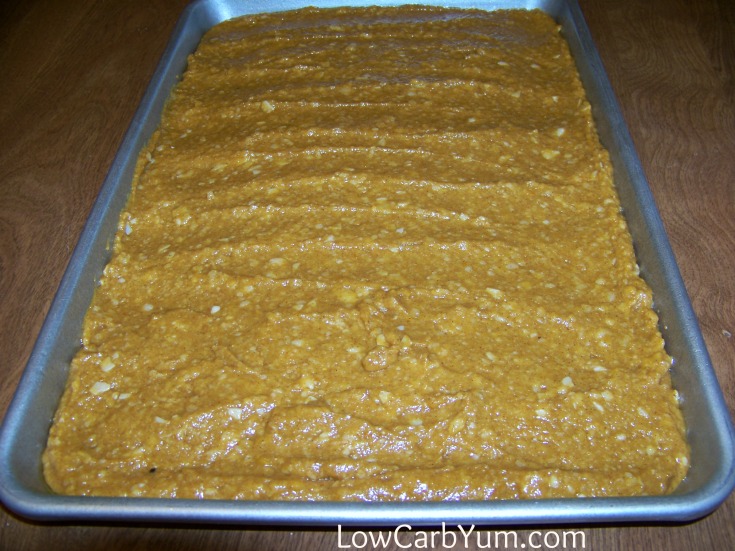 I chose to make the cake in a jelly roll pan because I'd like to make a pumpkin roll for Thanksgiving and wanted to see if this cake would work for that. I think it would, but the pan would have to be lined with parchment or something nonstick so that the cake would be easier to take out of the pan and roll. I only sprayed the pan with oil and the cake did stick a little, but not a problem with the small squares that I cut it into.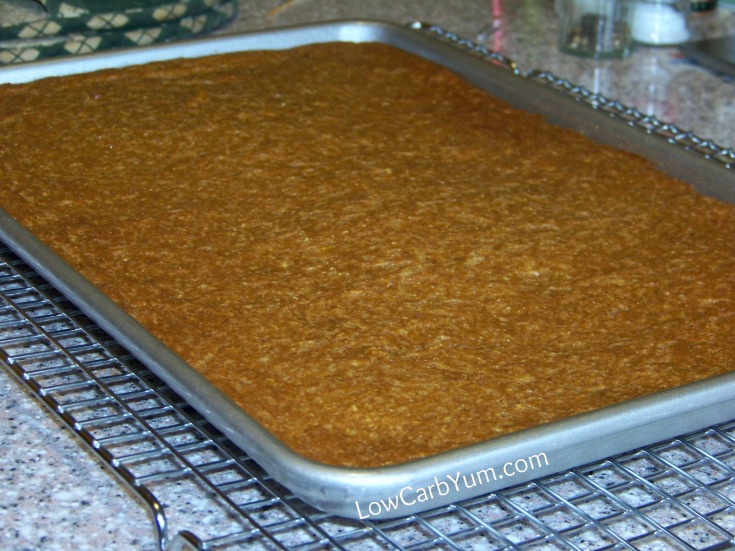 I frosted the pumpkin spice snack cake bars with a stevia sweetened cream cheese frosting, but the cake is moist and delicious as is. It's also wonderful topped with stevia sweetened whipped cream. The recipe for the cream cheese frosting I used is right below the cake recipe in this post. If you like spiced pumpkin, you are sure to love this one!
Do you love pumpkin? I sure do. Want some more low carb pumpkin recipes? Check out this collection!
Low Carb Pumpkin Spice Snack Cake Bars Recipe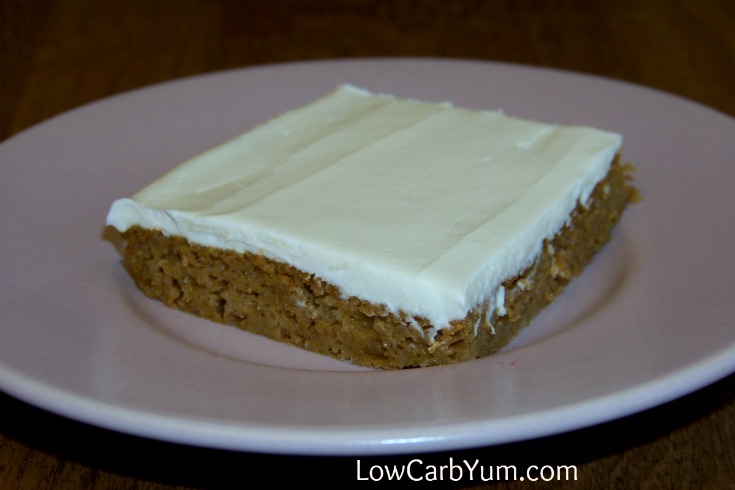 Pumpkin Spice Snack Cake Bars
Author:
Lisa | Low Carb Yum
A lovely pumpkin spice cake topped with sweet cream frosting. This low carb snack cake is sure to please.
Ingredients
CAKE:
FROSTING:
Instructions
CAKE:
Preheat oven to 350°F.
Mix dry ingredients in large mixing bowl. Set aside.
In medium bowl, mix together eggs, pumpkin, molasses, extract, and oil. Add to dry ingredients and mix well.
Pour into greased jellyroll pan (15x10x1) and bake for about 25-30 minutes. Cool on rack.
Cooled cake can be topped with whipped cream, frosted with cream cheese, or eaten as snack cake squares.
FROSTING:
Beat cream cheese with an electric mixer on medium speed until fluffy. Add stevia, heavy cream and vanilla, beat until light and fluffy.
Notes
Carquik may be substituted with any low carb baking mix or use a mix of 3/4 almond flour and 1/4 coconut flour. Xanthan gum can be added to improve texture.

Makes 24 squares

Carbs per square for cake: about 2.2g carbs

About 15 g carbs in entire frosting recipe
Related Posts