A delicious gluten free tiramisu made low carb. The cake layer is made using almond flour and the dessert is sweetened with stevia and erythritol.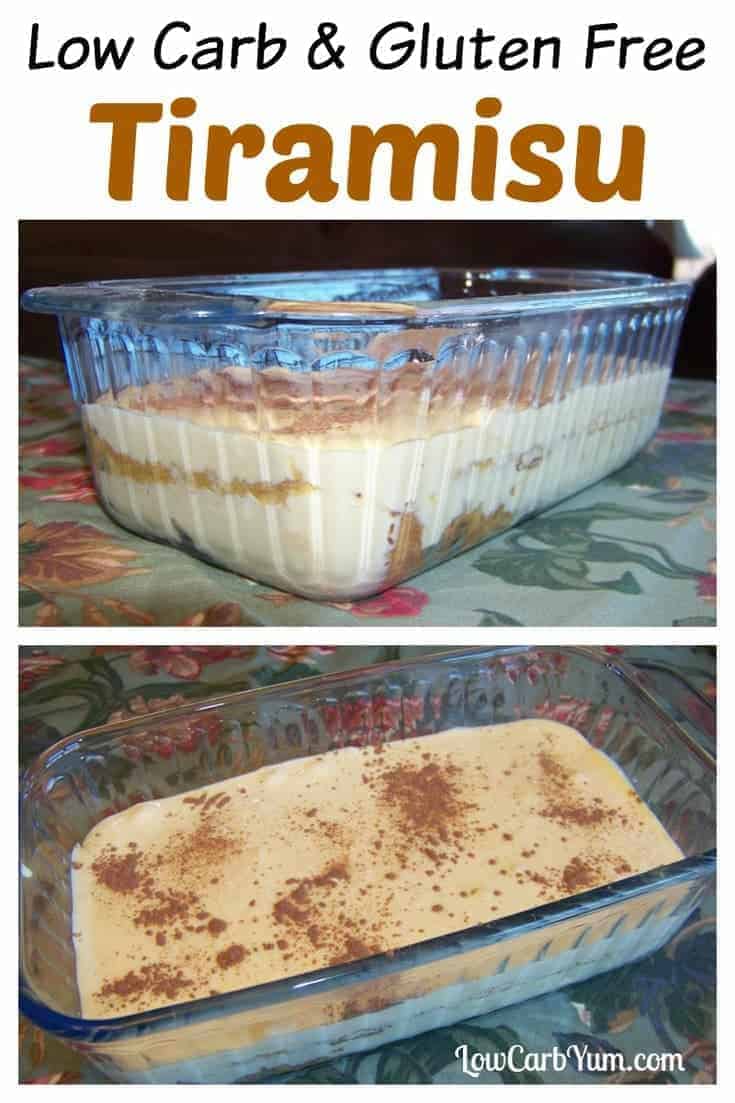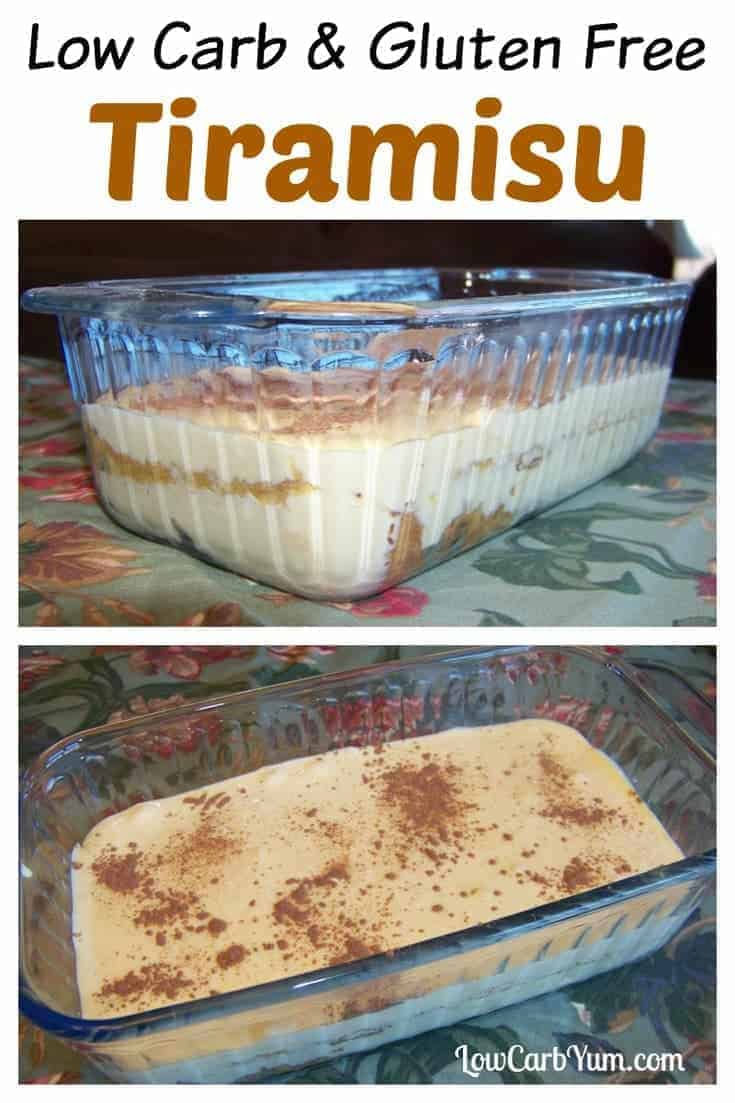 Everyone has a favorite dessert. Mine happens to be tiramisu.
I was first introduced to this Italian dessert after my sister came back from a trip to England. She raved about a dessert she had over there made with lady fingers and custard.
I was dying to try tiramisu after my sister told me about it. So, we managed to find a recipe and made it at our parent's house together. This was back in the 1990s, before the internet was readily available in homes so it wasn't that easy to get information.
FREE eBook!
​LOW CARB TIPS and TRICKS
Subscribe now to receive your free copy of Low Carb Tips and Tricks which includes 20 easy to prepare recipes. Plus, get access to the weekly newsletter and special offers only for subscribers!
My sister and I couldn't get our hands on the mascarpone cheese so we made a substitute with cream cheese, sour cream and heavy cream. It was love at first bite!
These days, it's much easier to find mascarpone cheese. Most of the grocery stores have a specialty cheese section which is where I buy mine.
Other than the lady fingers and sugar, tiramisu is relatively low carb. A delicious gluten free tiramisu made low carb is easy to do. The key is to find a great low carb gluten free substitute for the lady fingers.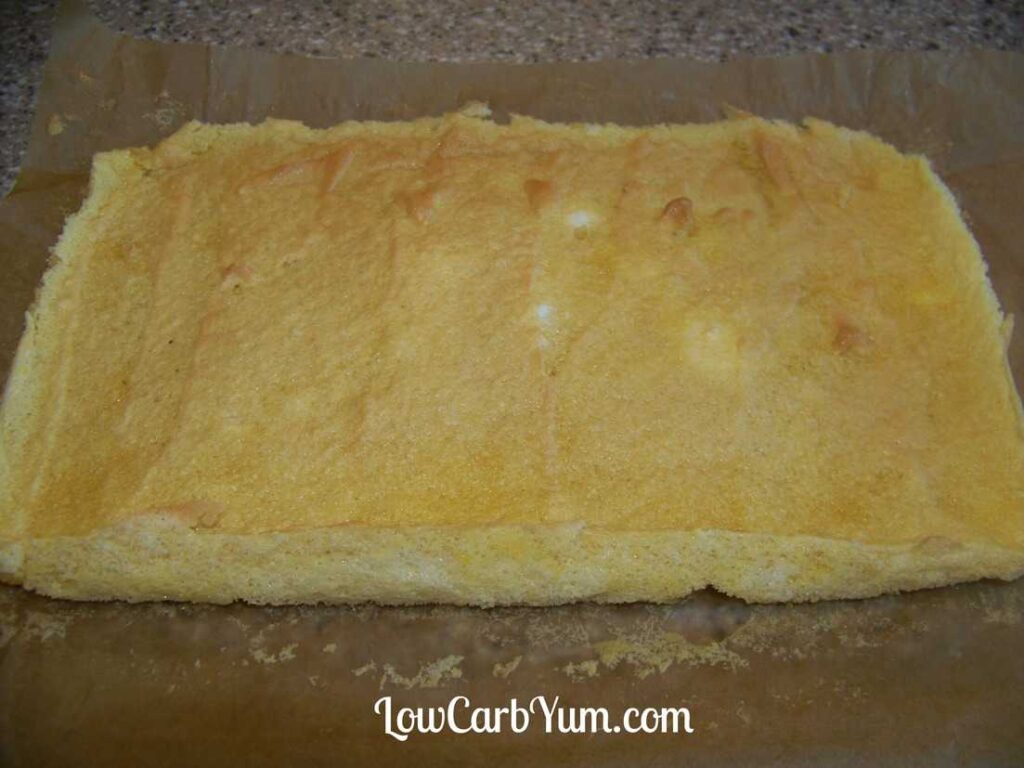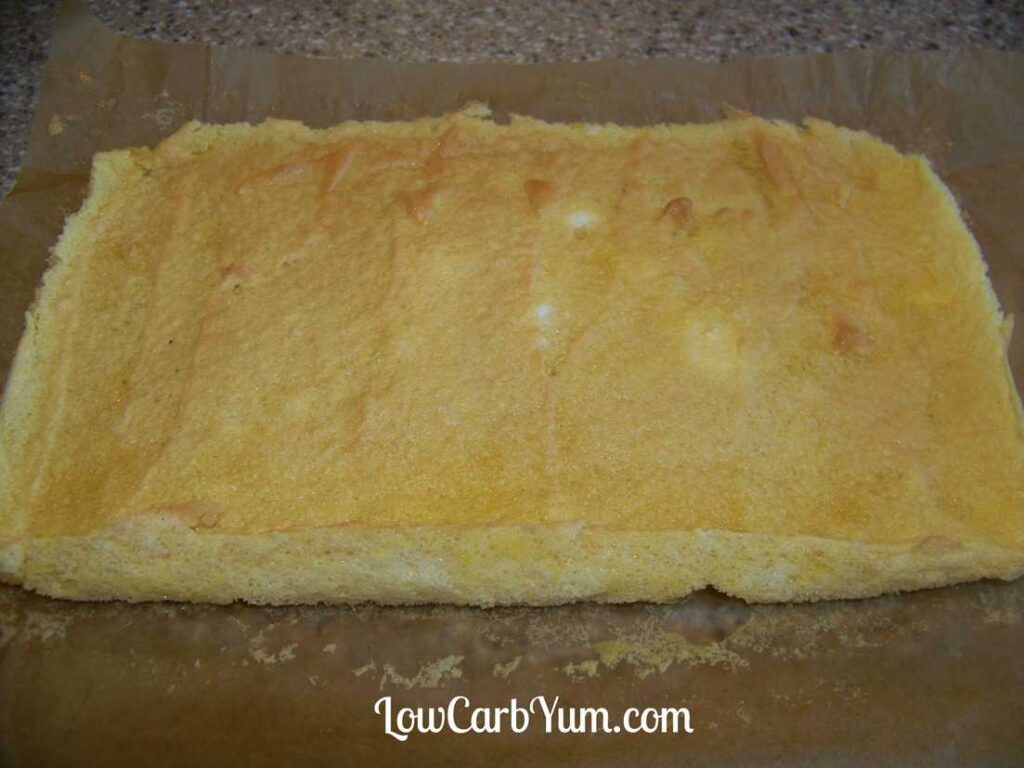 The low carb sponge cake recipe I use for the lady fingers is based on a recipe by Karen Barnaby. It is a very light and spongy cake made with almond flour so this is also a gluten free tiramisu made low carb.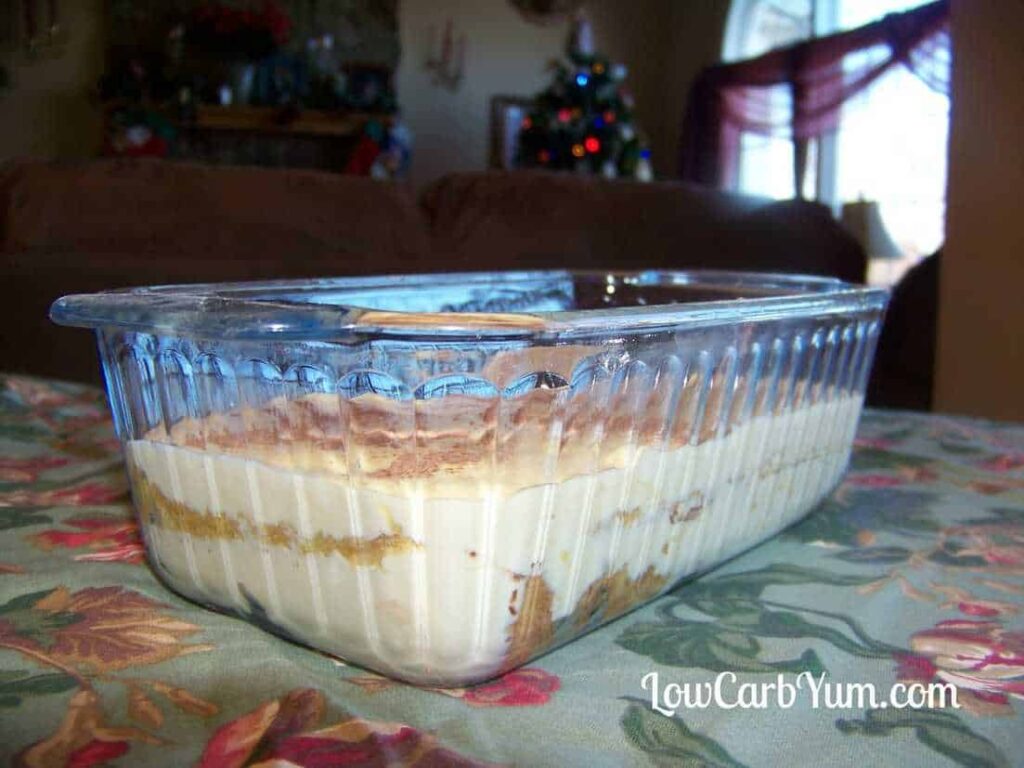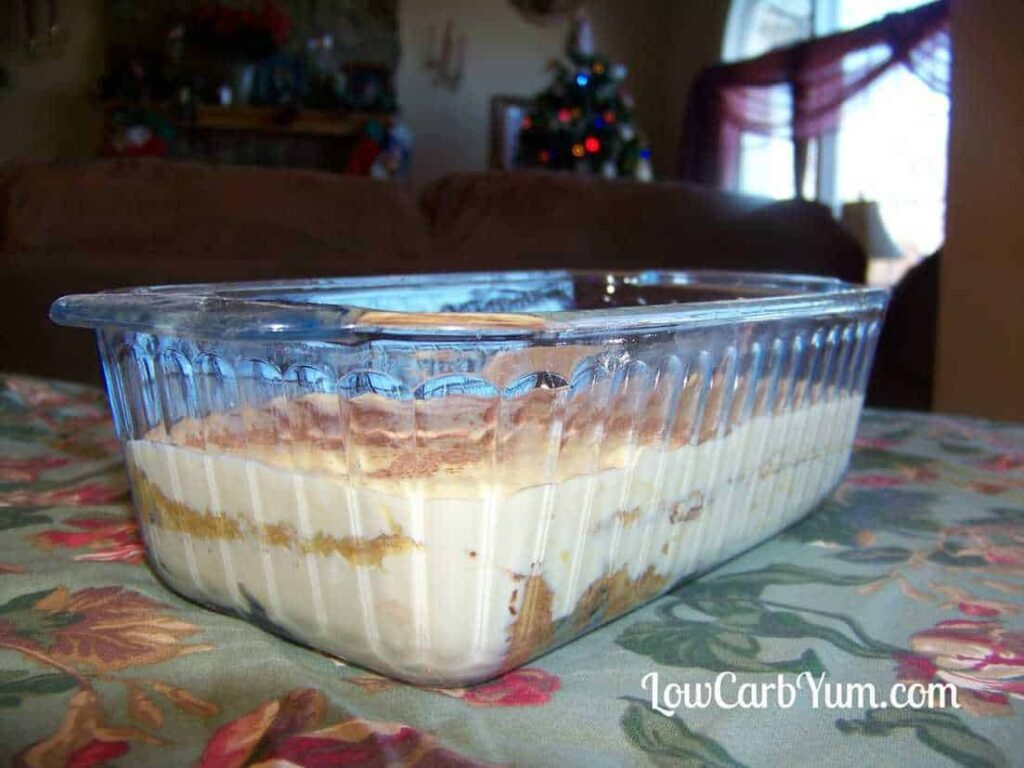 Very strong coffee or espresso is needed when making tiramisu. I like to use espresso with a little spiced rum added. I have an Aerobie AeroPress which is an inexpensive manual coffee maker that also does espresso. The custard that I used is based on a traditional tiramisu recipe that I've had for years.
Tiramisu Made Low Carb and Gluten Free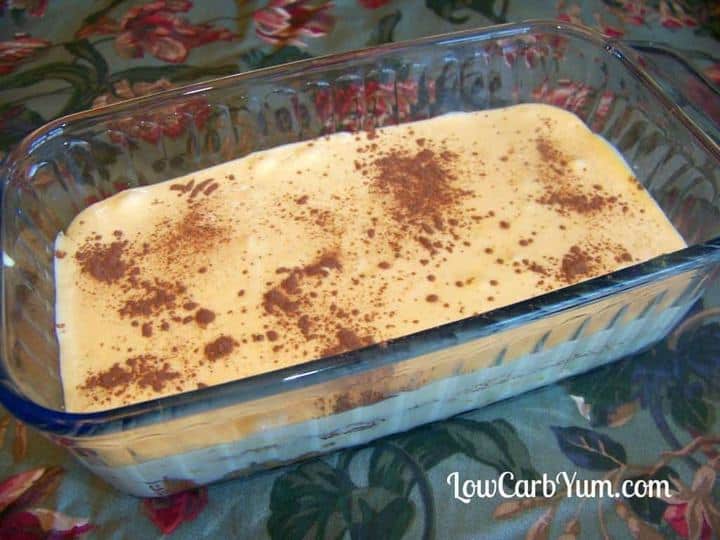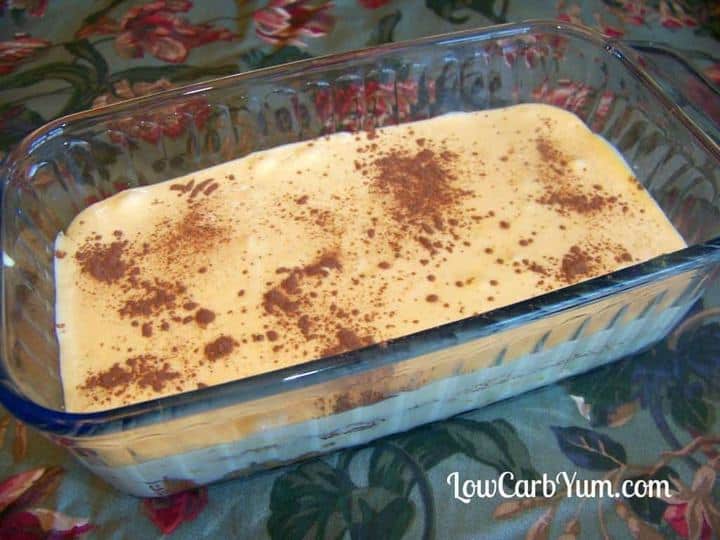 Traditional Tiramisu - Low Carb & Gluten Free
Author:
Lisa | Low Carb Yum
Prep time:
Cook time:
Total time:
A delicious gluten free tiramisu made low carb. The cake layer is made using almond flour and the dessert is sweetened with stevia and erythritol.
Ingredients
Cake:
Custard:
6 egg yolks
2 Tablespoon powdered erythritol or Swerve
1-2 drops stevia glycerite
8 ounces mascarpone cheese
1 ¾ cups heavy or whipping cream
1/4 cup strong coffee or espresso
1-2 Tablespoons rum or brandy
Instructions
Cake:
Grease a 11×7 inch pan with butter. Line with parchment paper and grease with butter again. Preheat the oven to 350° F.
Combine the almond flour, baking powder and salt.
Separate the eggs. With an electric mixer, beat the yolks and Truvia until thick and lemon colored. Beat in the vanilla, almond extract and cream of tartar. Fold in the almond flour.
With a clean bowl and beaters, beat the egg whites to firm peaks. Stir 1/4 into the almond mixture. Fold in 1/2 of the remaining whites until barely combined and then the remaining 1/2 until thoroughly combined. Spread evenly into the prepared pan.
Bake for 15-20 minutes until the top springs back when pressed lightly. Let cool.
Custard:
In small mixing bowl, beat egg yolks, erythritol and stevia until thick and lemon colored.
Place mixture in top of a double boiler over boiling water. Reduce heat to low. Cook 8-10 minutes, stirring constantly. Remove from heat. Add mascarpone cheese, beating well.
In a small mixing bowl, beat heavy or whipping cream until stiff peaks form. Fold into egg yolk mixture; set aside.
Assembly:
Cut the almond cake into 16 fingers.
Combine the rum and espresso in a small bowl.
Sprinkle the bottom of a 9×5 bread pan lightly with cocoa then line with half the almond cake fingers.
Using a brush, lightly coat the cake fingers with the espresso mix being careful not to get them too wet. Spread on 1/2 of the mascarpone mixture and dust the top with cocoa. Repeat the layers. End with a sprinkling of cocoa.
Cover and refrigerate overnight.
Notes
Makes 8 servings

Net carbs per serving: about 3g
Related Posts