Save money and eat better! This guide shows you how to shop at ALDI on the keto diet, including my favorite keto foods there.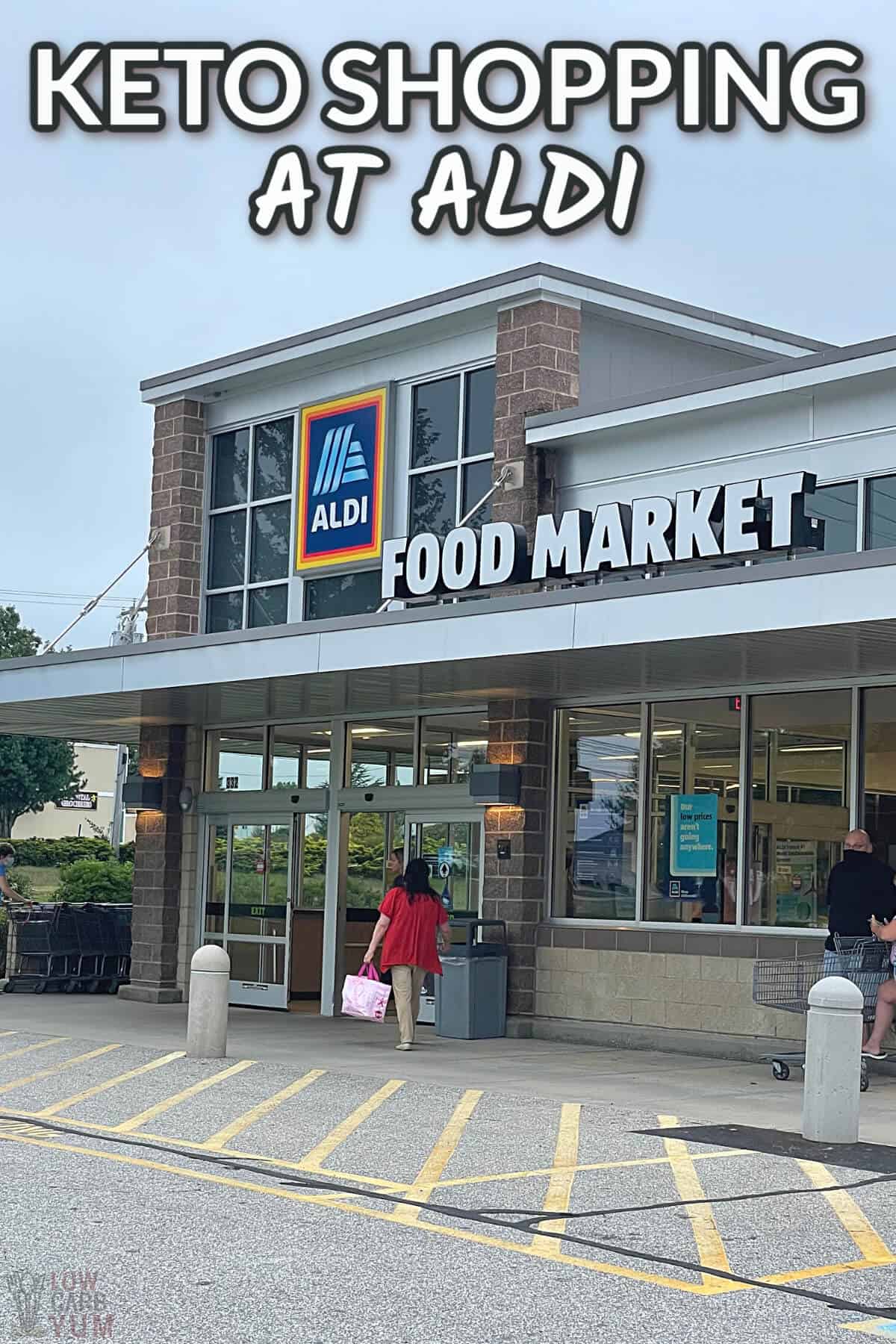 Article Index
It's tough to find a store with better prices on food than ALDI. Even though they've been around for decades, it wasn't until recently that they started to carry more health-conscious food choices.
It's really unfortunate that "cheap food" is often equated with "unhealthy food." They don't have to be separate things! You really can save a ton of money on food and eat keto-friendly at the same time.
If you love to shop at ALDI - or you are curious and haven't tried yet - then let me tell you all about the best keto foods at ALDI.
Save this article so that you can reference it before your next shopping trip.
️ How to shop
It's really easy to be so amazed by the low prices at ALDI that you forget why you went there in the first place. It really is one of my favorite stores.
That's why it is so important to do a little bit of research before you go!
Honestly, it's just a good idea, in general, to write a list and know what the store has before you show up.
When you know which keto-friendly brands and products to look for at ALDI, you'll have a quicker shopping trip. Plus, the entire experience will be so effortless that it might become your favorite grocery store too.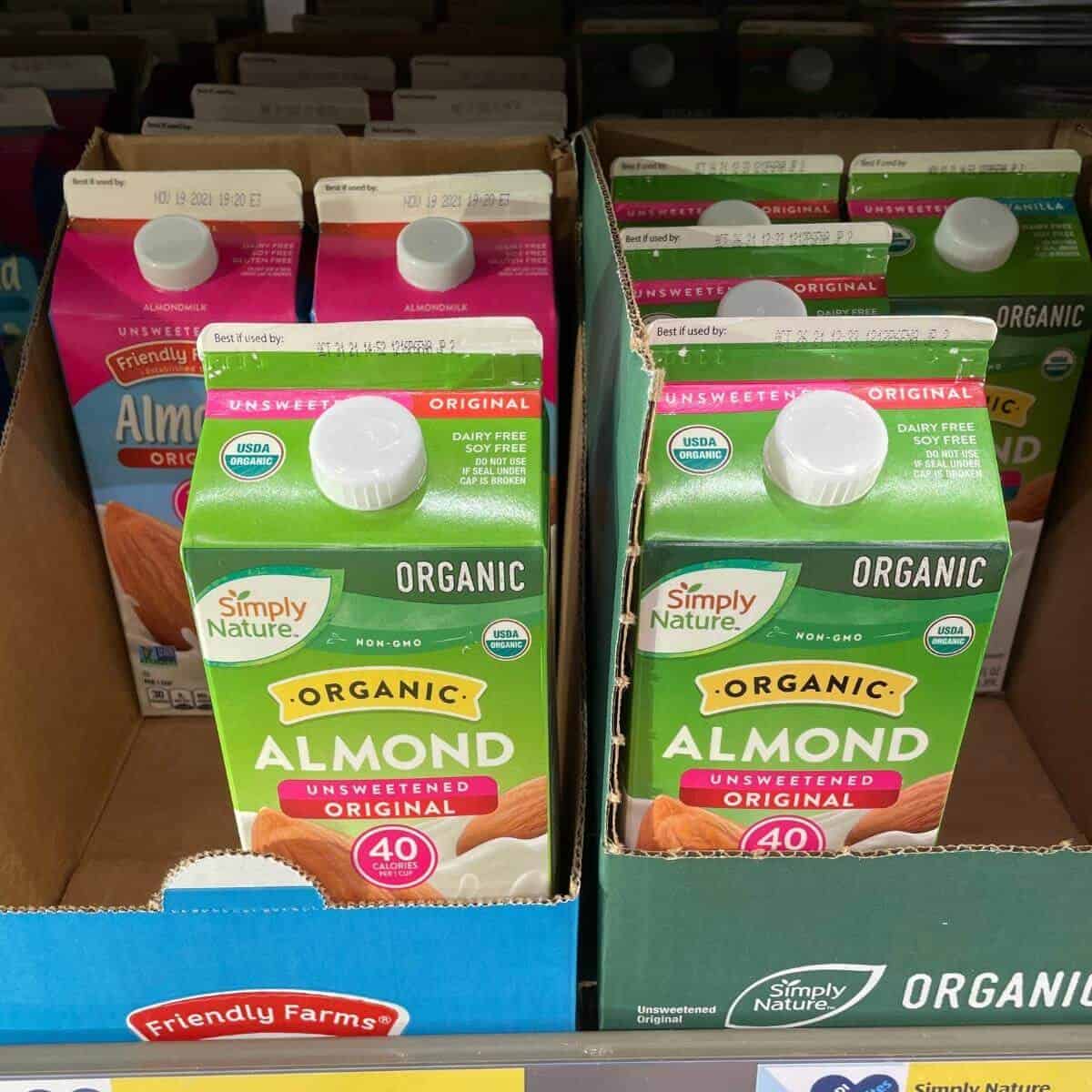 Top picks
Here you go! These are all of the best low-carb options that you'll find at ALDI. I split this up into sections so that you can scroll down to exactly what you need.
One quick note - selections might vary by location. Not all stores across the entire United States carry the same items.
Keto Snacks
When it comes to low-carb snacks, you want things that are high in fats, low in carbs, and high in protein. These are my favorite keto snacks at ALDI!
Savoritz Parmesan Crisps (Cheddar or Original)
MIXADE Unsweetened Drink Mixes (like Kool-Aid)
Clancy's Original Pork Rinds
Unsweetened Turkey Sausage (or Jerky)
Prosciutto Italiano
Chunky Guacamole
Flavored Seltzer Water
Cauliflower Dip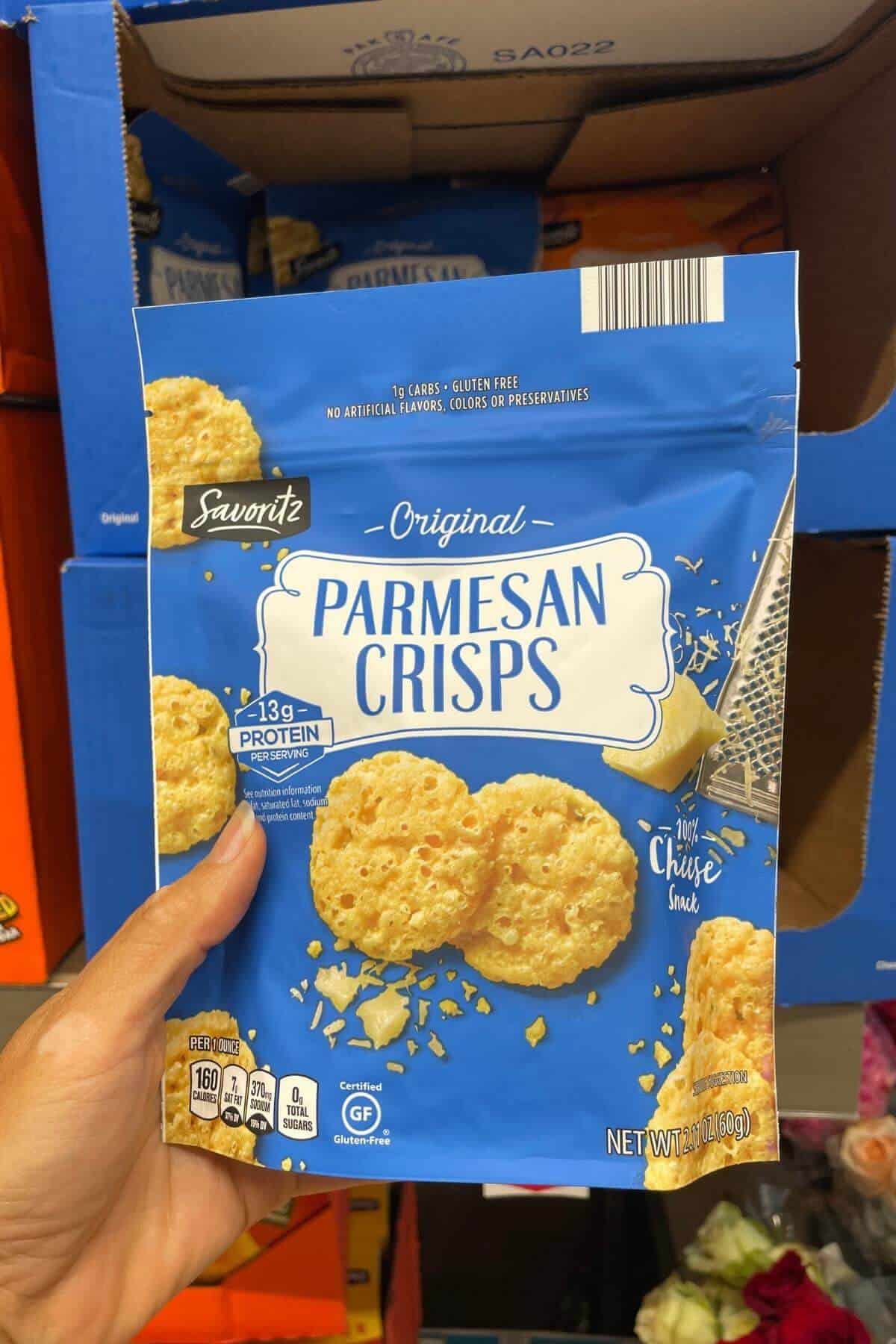 Frozen Food
I'm all about using fresh, whole foods whenever you can. There is nothing wrong with stocking up on frozen foods, though. They can save you lots of time and money.
These are the best selections of low-carb frozen foods at ALDI.
Riced Cauliflower
Cooked In Shell Shrimp
Steamable Broccoli
Wild Caught Shrimp Fajita Mix
Season's Choice Avocado Chunks
Earth Grown Flame Grilled Veggie Burger With Cheese
Cattlemen's Ranch Black Angus Beef Patties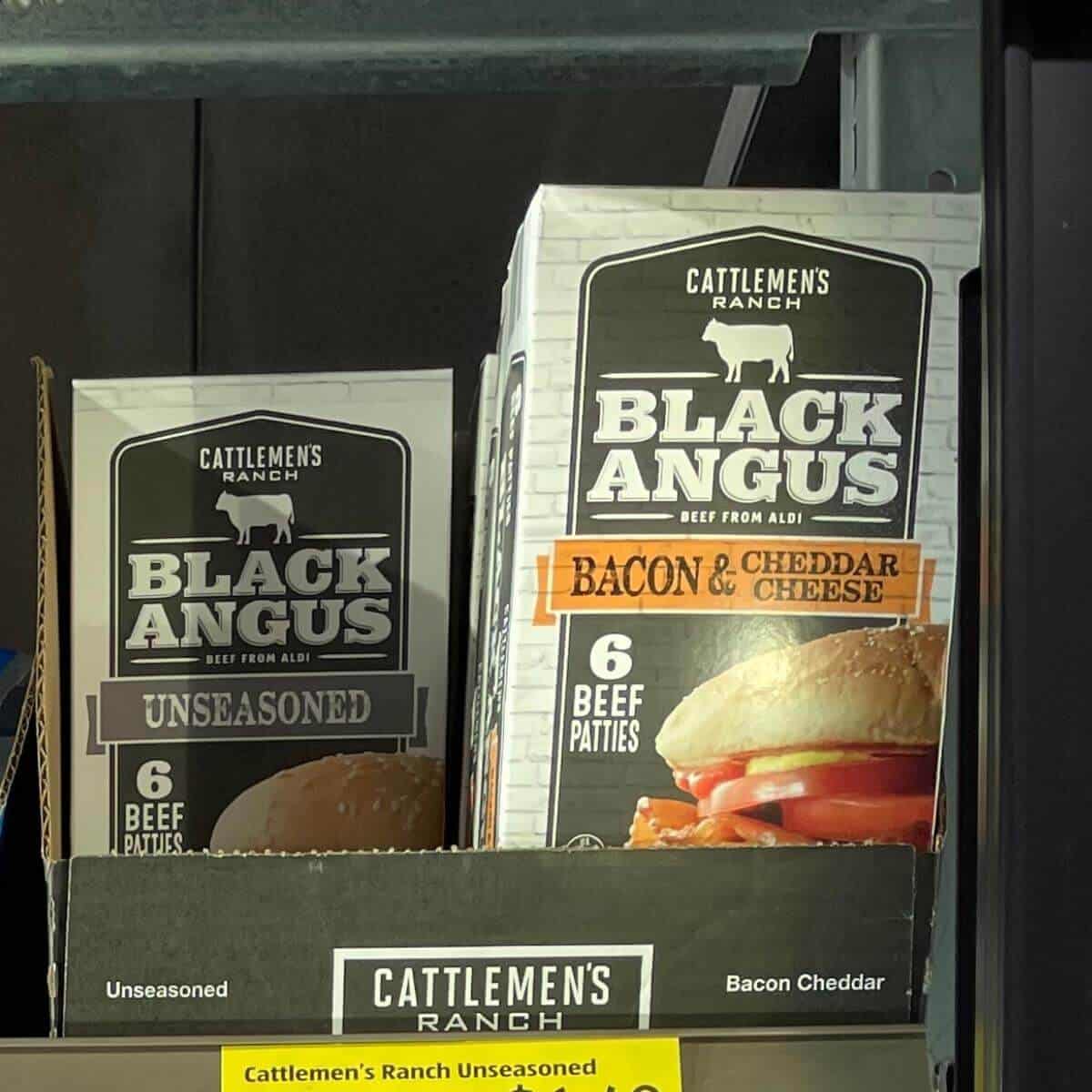 ALDI Keto Bread
Yes, ALDI does have keto-friendly bread. Try it for yourself - the brands they sell have mixed reviews. It's a wonderful choice when you are craving a sandwich and want to stay within your macros.
Keto-Friendly Bagels
Birch Benders Chocolate Chip Keto Pancake Mix
L'Oven Fresh Keto-Friendly Sandwich Bread
L'Oven Fresh Keto Friendly Hamburger Buns
Fit & Active Low-Carb Tortillas
Low-Carb Basics At ALDI
When you are on a low-carb diet, you need to have a handful of basics on hand. With the following pantry staples, you'll be able to make a lot of the recipes found right here on Low Carb Yum.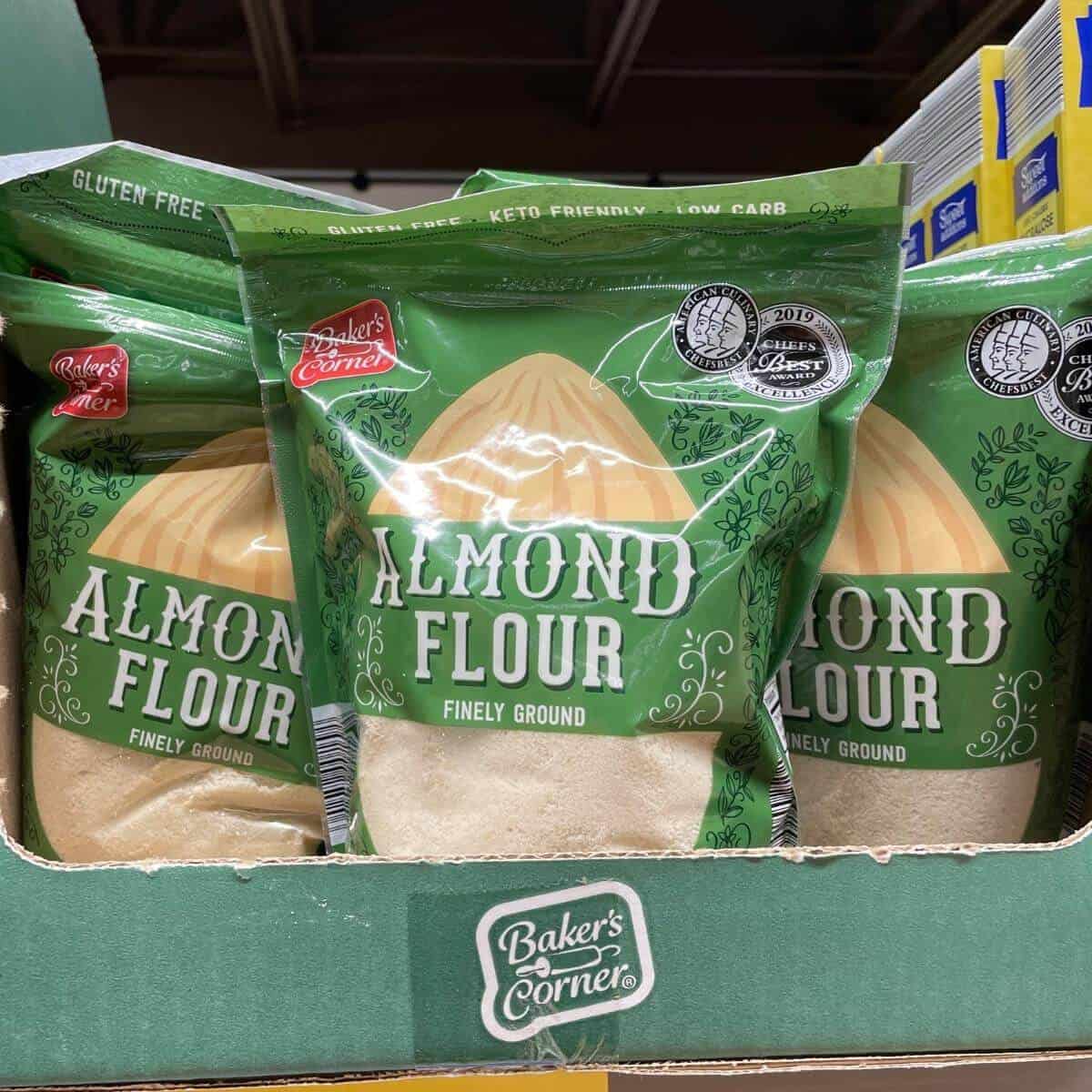 These are some of the every day items I like to buy:
Almond Flour
Almond Milk
Butter
Heavy Cream
Berries
Low-Carb Vegetables And Salad Greens
Olive Oil
Coconut Oil
Canned Meats, Fruit, And Vegetables
Pickles
Nuts And Seeds
Eggs
Stevia
Keto Sweets And Treats
One thing that the store is known for is its ALDI keto ice cream. Beyond just the ice cream, there are lots of other low-carb treats you can get there too.
When you don't have time to make your own keto desserts, try one of these:
Sundae Shoppe Keto Ice Cream
Benton's Keto Cookies (Chocolate Chip and Snickerdoodle)
TruWhip Keto (may be a seasonal item)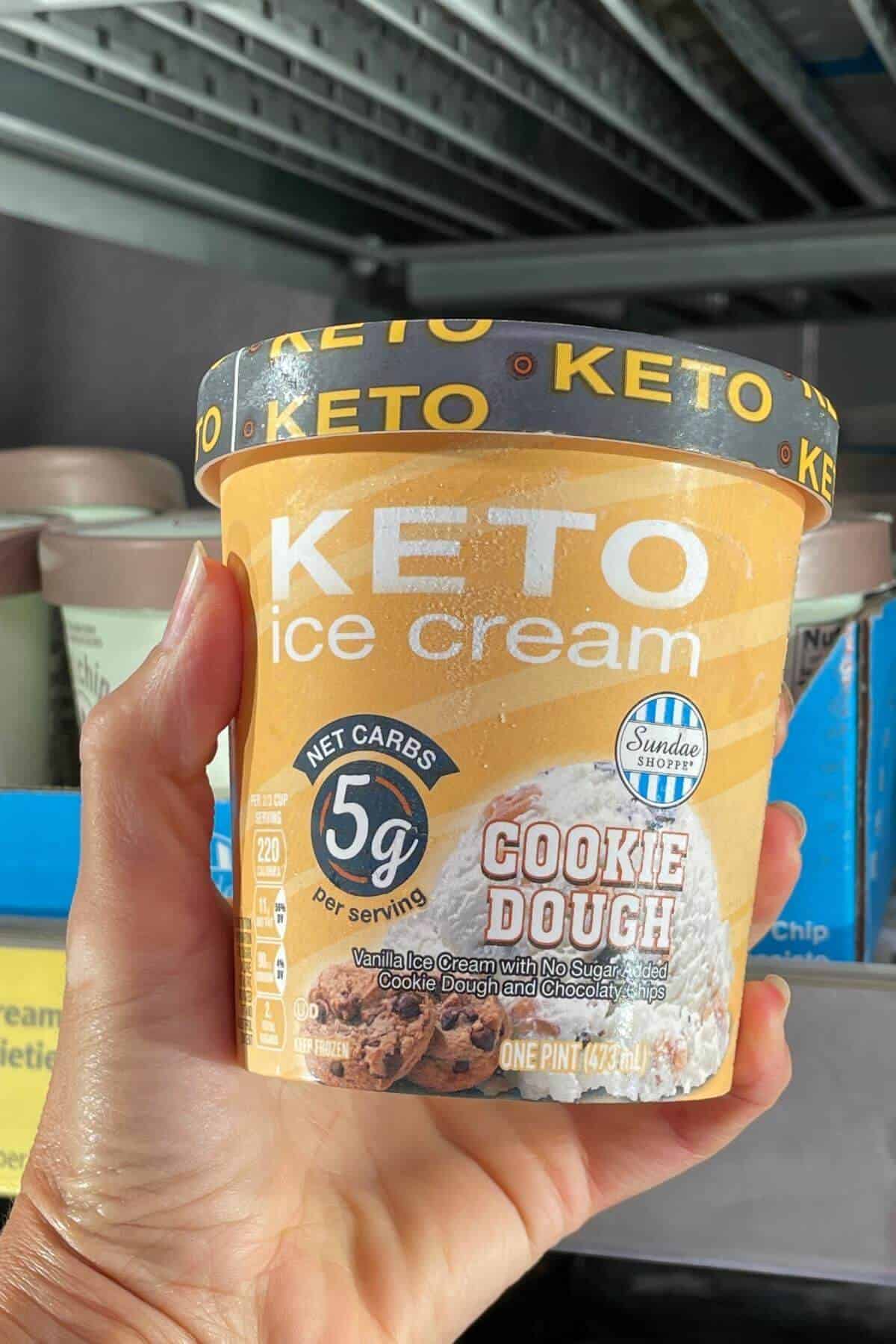 Tips
There are a few things you need to know before you shop at ALDI. If you've shopped there before, you might already know these little tips. If not, keep reading.
Bring a quarter. You'll use it to rent a shopping cart. If you return the cart, you get your quarter back.
Grocery bags are not free. Bring your own or know that you'll have to purchase them. Another option is to grab empty cardboard boxes.
Sales are updated every Wednesday. Grab a circular before you walk in and look at it to find the hottest deals that week.
ALDI is on InstaCart. If you ever want your groceries delivered, shop through the app!
They have a double-guarantee. If you are not satisfied with a food product, then take it back, along with your receipt. Read all the details about this guarantee on their website.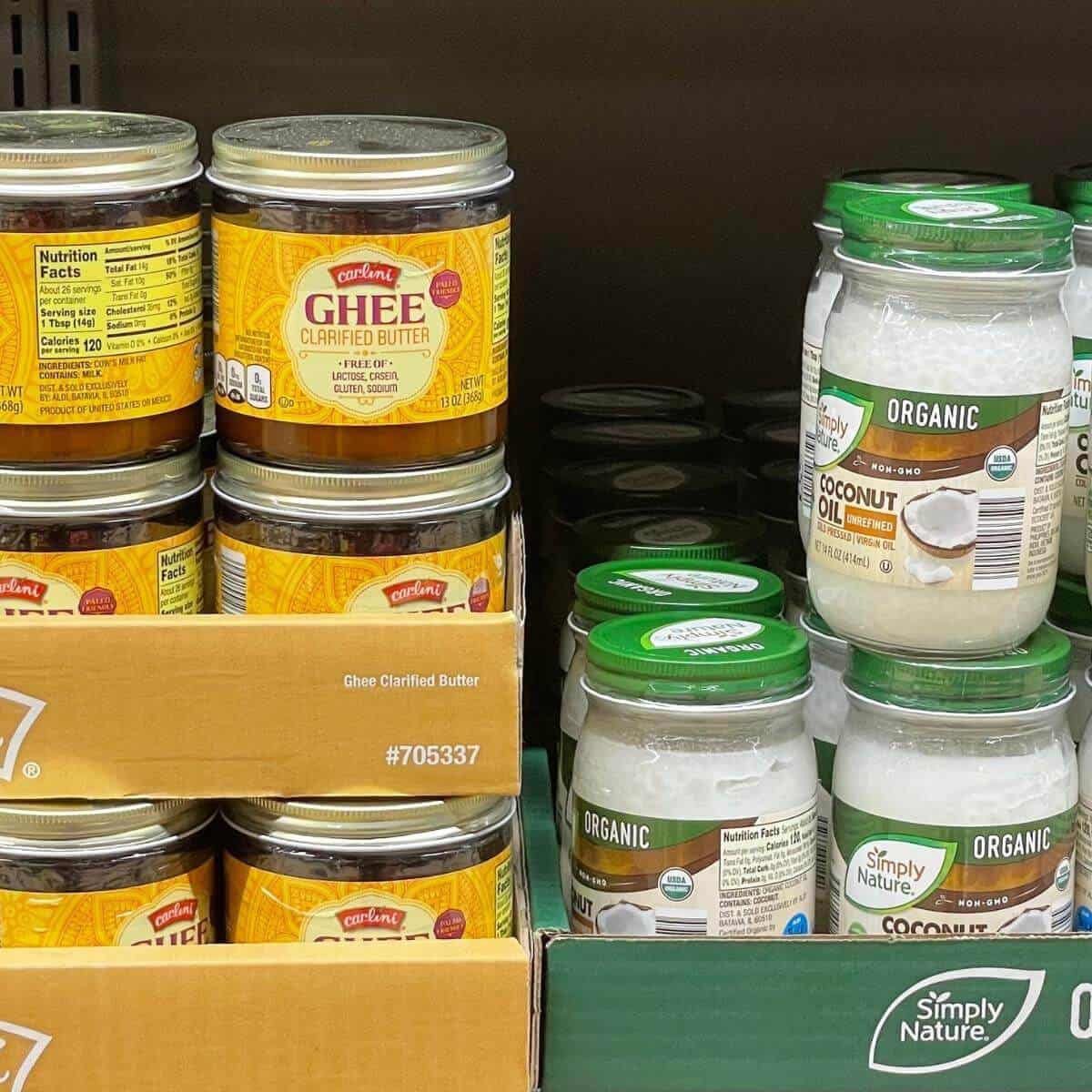 FAQs
Here are my answers to some of the biggest questions I get about shopping for low-carb items at ALDI. If you don't see your question in this list, please leave it in the comments.
What does ALDI have that's keto?
You'll actually find quite a few amazing things at ALDI that are keto. They have a nice selection of fruits, vegetables, and meats. Plus, you'll find even more low-carb snack items there now than ever before to add to your keto grocery list.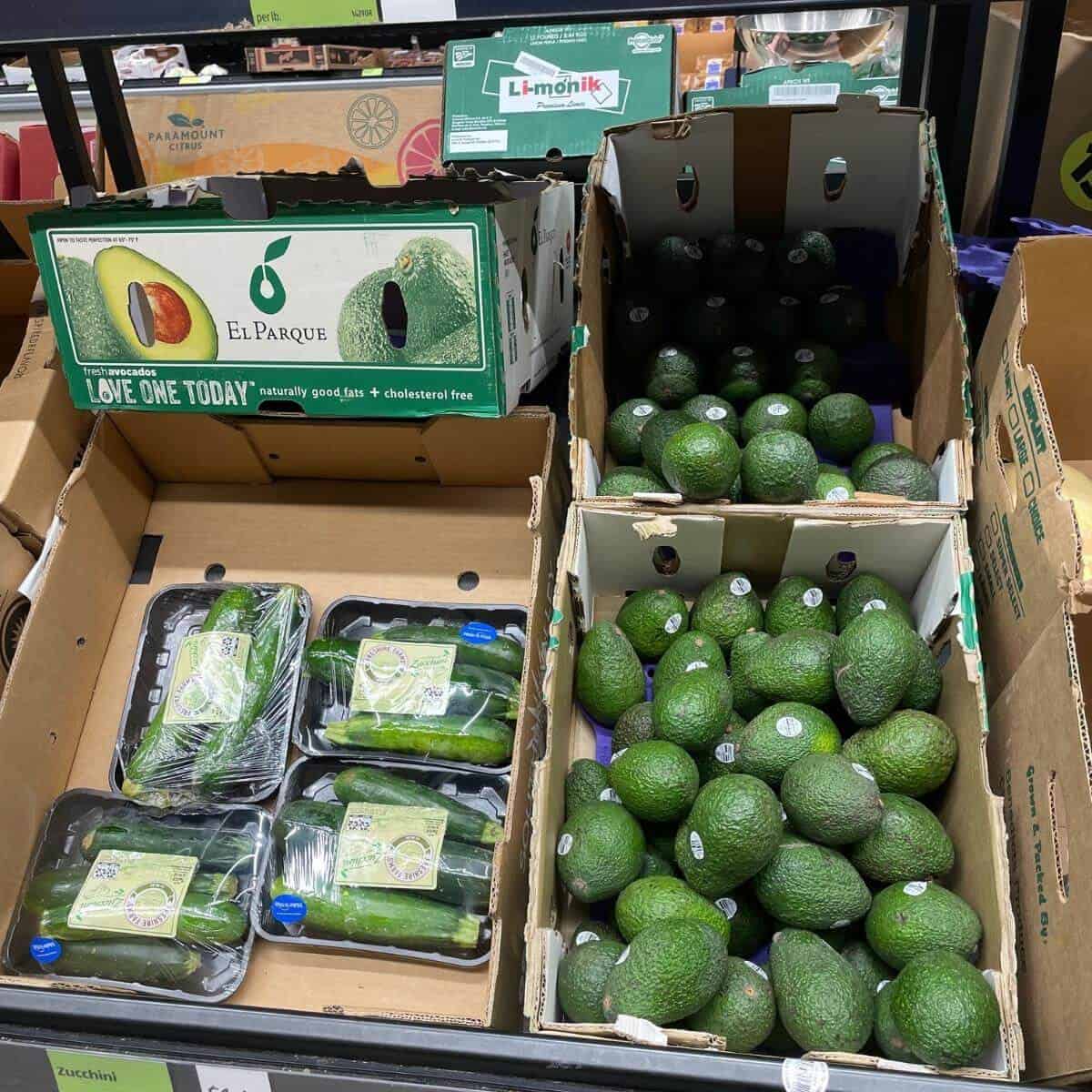 Does ALDI have keto substitutes?
Yes, ALDI has a pretty nice selection of keto substitutes. They have low-carb flour, keto bread, and sugar substitutes too.
I love buying things like almond flour at ALDI because it's cheaper here than at other grocery stores.
Does ALDI sell low-carb bread?
Yes, ALDI does sell keto-friendly bread. They have white, wheat, wraps - even cheese wraps!
It's a good idea to always read the product's nutritional information before you buy it. Don't rely on the word "keto" on the label - it might be misleading.
Is ALDI cauliflower pizza keto?
No, Mama Cozzi's cauliflower crust pizza might be marketed as low-carb, but it isn't. It has 25g net carbs per ⅓ pizza. You'll use up almost an entire day's worth of macros on ⅓ of the pizza.
If you want a keto-friendly pizza, make this coconut flour pizza crust. It only has 3g net carbs in each serving.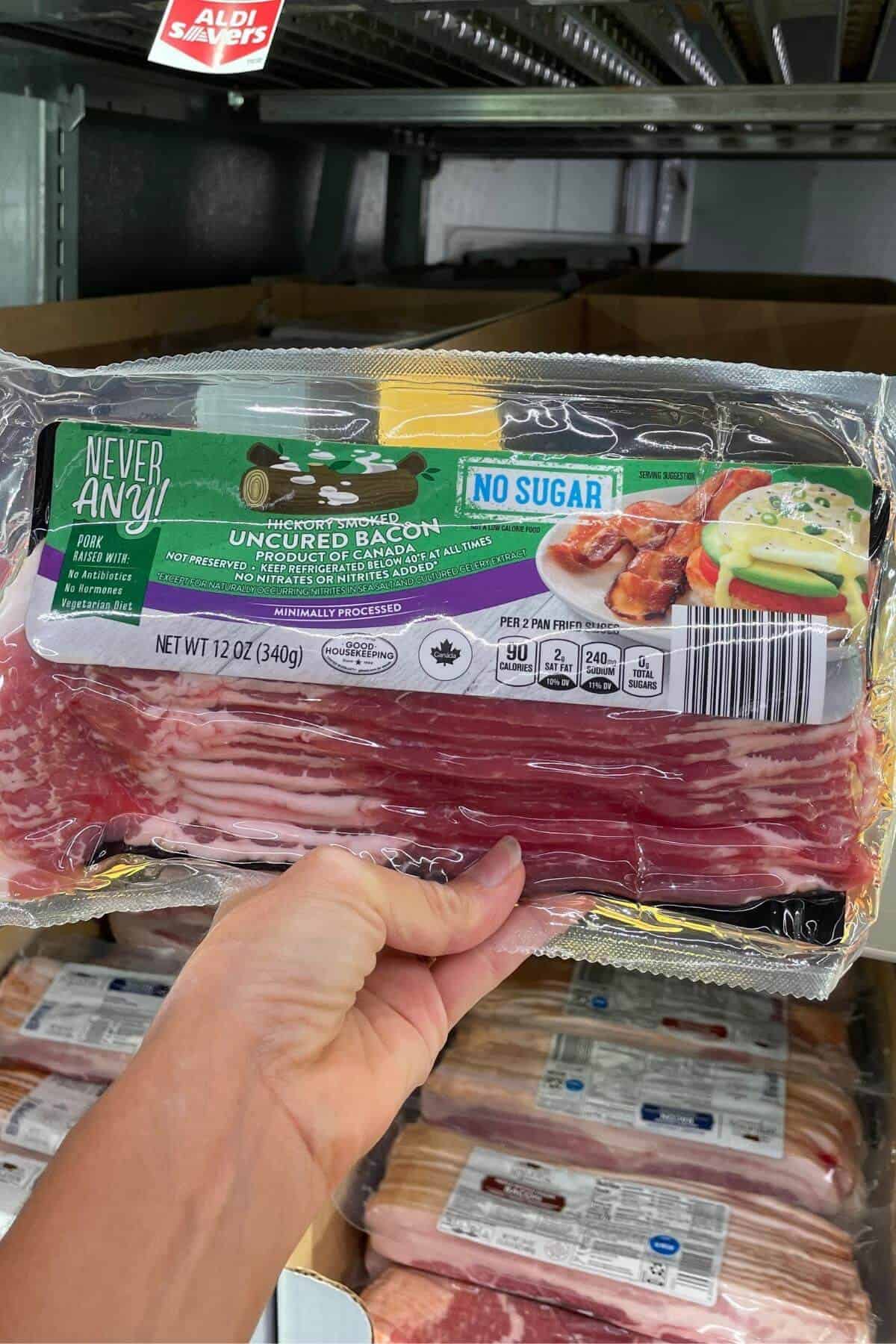 Save money!
As you can see, it's easy to stay on budget for your most common grocery items at ALDI. Make a list, take a look around, and enjoy saving yourself money!
Related shopping guides
If you enjoyed this ALDI keto guide, here are some more guides about staying on your low-carb diet at popular restaurants and stores.
Follow us on FACEBOOK, PINTEREST, and INSTAGRAM for even more tasty keto-friendly recipes!