This post may be sponsored or contain affiliate links. We may earn money from purchases made through links mentioned in this post, but all opinions are our own. We are a participant in the Amazon Services LLC Associates Program, an affiliate advertising program designed to provide a means for us to earn fees by linking to Amazon.com and affiliates sites.
Need a personal sized cake for someone special that takes minutes to make? Try this low carb and gluten free birthday mug cake. It bakes in only 2 minutes.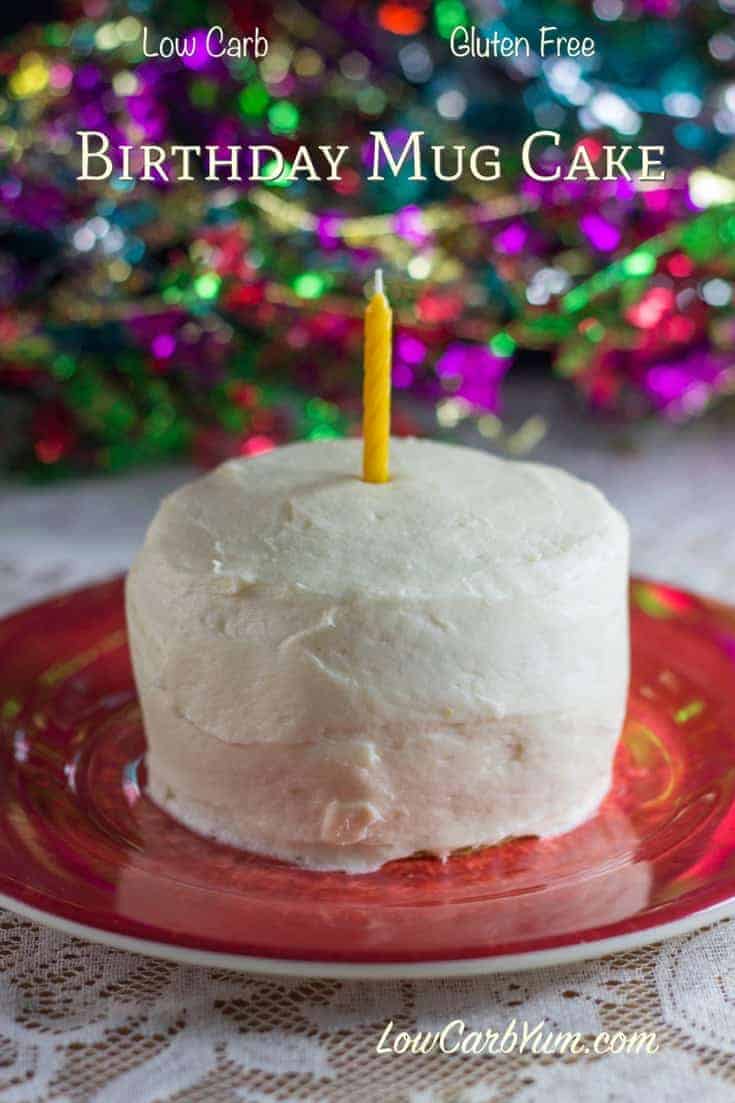 Today is the income tax due date in the US, but it's also a special day for me. I'm another year older and celebrating with a low carb and gluten free birthday mug cake that took two minutes to bake in the microwave.
I admit that this cake baking thing in the microwave didn't really appeal to me at first, but after seeing a lovely Valentine's Day mug cake at SugarFreeMom.com, I was sold on the idea. So, I want to thank my fellow low carb blogger Brenda for turning me around.
I didn't want to spend a lot of time baking a cake for my birthday and I especially didn't want to have leftovers that I'd be eating after. I'm the only one in the family who follows a low carb diet so this personal sized birthday mug cake was perfect for me. It makes 4 cute sized slices!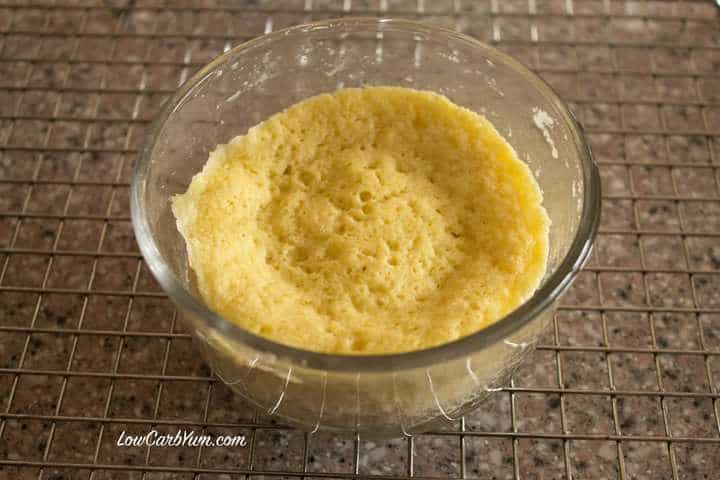 I had planned to dress up the cake a little more with decorative frosting, but the batch of frosting I made was just enough to frost the cake without any left to decorate. Had I planned things better, I would have made a double batch of frosting so I could do the traditional birthday cake frills. Oh well. Maybe next year.
Mug cakes are typically baked in a cup and left in there. Since I wanted this to be a miniature double layer frosted birthday cake, I used a 2-cup round Pyrex storage container for each cake layer.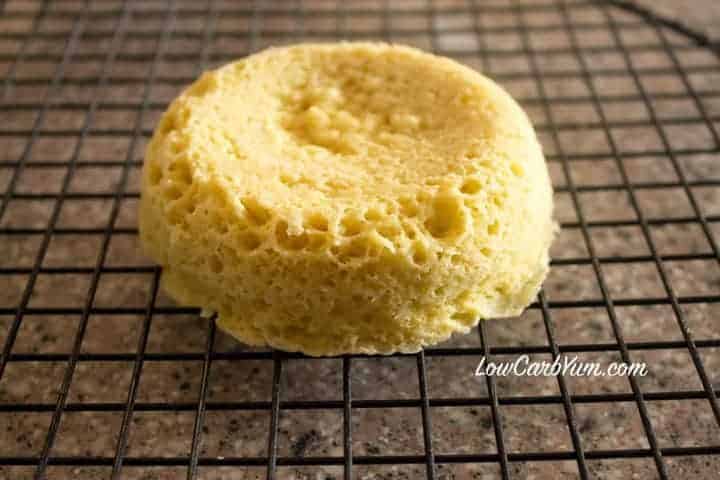 A regular ramekin is another great dish for baking these cake layers. If you have a wide mug, that would probably work as well. You just want to make sure whatever you use is microwaveable.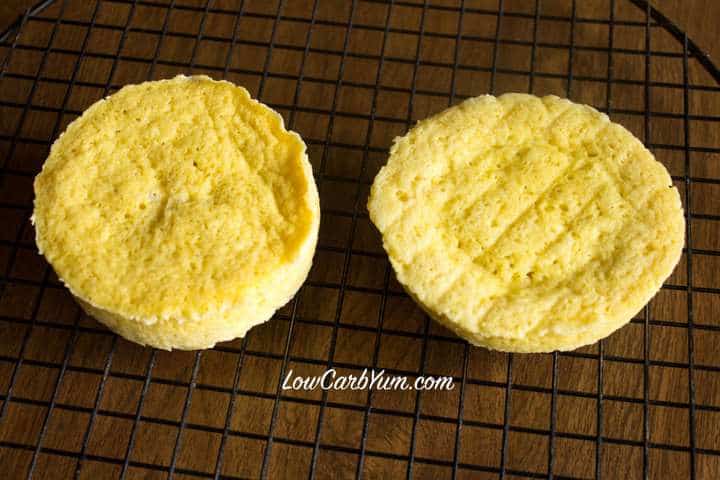 I'm not a fan of plastics or using them in the microwave so I don't recommend baking these cake layers in plastic dishes. My Pyrex container was pretty hot taking it out of the microwave so use caution in removing the hot cakes. I used pot holders.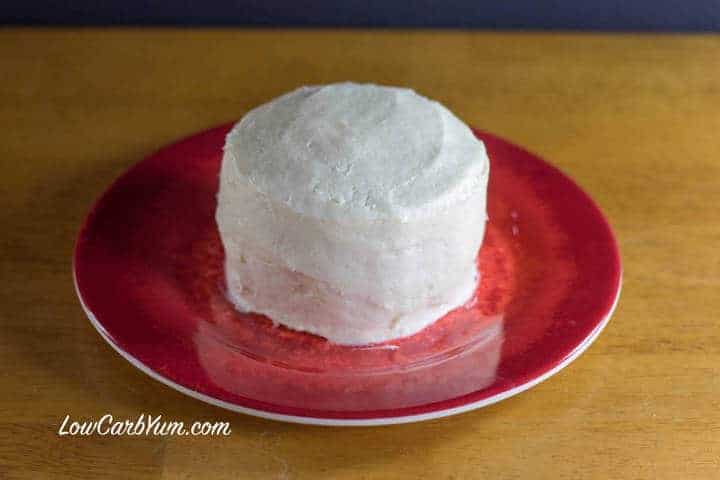 This is a yellow gluten free cake that bakes up nicely in the microwave. I suppose the cakes could also be cooked in an oven if you don't mind waiting a little longer for them to be done.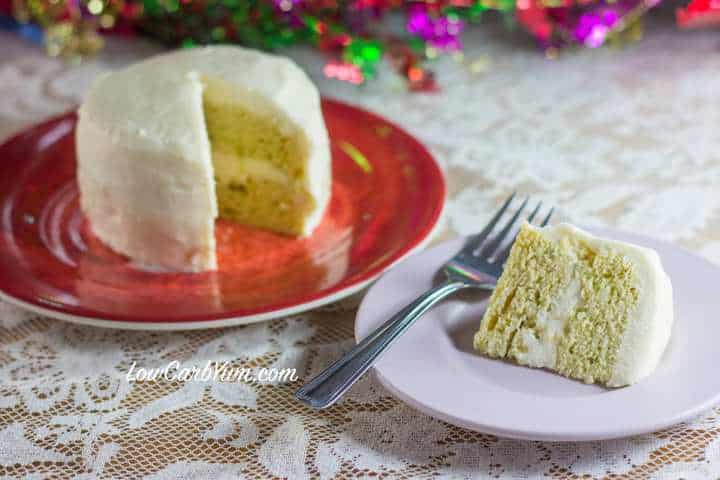 The frosting I used was the recipe from my gluten free coconut cupcakes. The amounts given in that recipe were just enough to frost this two layer mug cake.
If you prefer chocolate frosting, there's a great recipe listed on my chocolate frosted zucchini brownies. This is the perfect cake to bake up when you are craving something sweet but don't want a lot of servings.
It could also be a fun activity to do with the kids. The size kind of reminds me of the cakes from the Easy Bake Oven that I used to make with my older daughter. Of course, this is a much healthier cake than the mixes we used back then.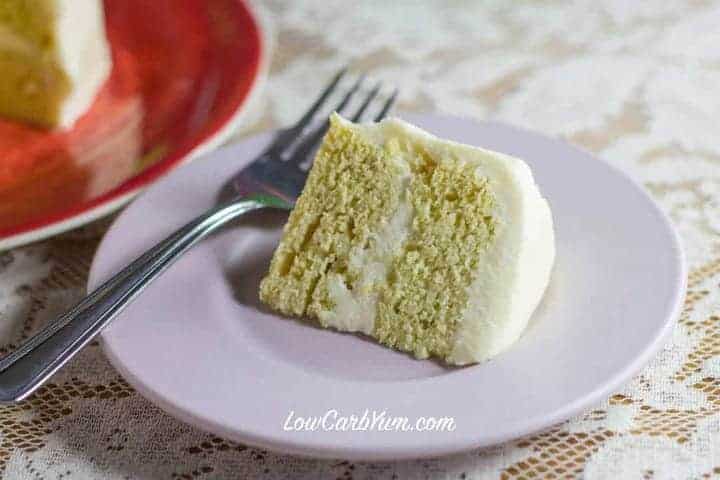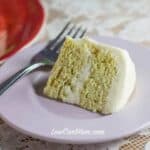 Birthday Mug Cake in Minutes
Need a personal sized cake for someone special that takes minutes to make? Try this low carb and gluten free birthday mug cake. It bakes in only 2 minutes.
Ingredients
Each Cake Layer:
2

tablespoons

almond flour

1

tablespoon

coconut flour

1/4

teaspoon

baking powder

dash salt

1

tablespoon

coconut oil

melted

2

tablespoons plus 1 teaspoon

almond milk

1

egg

1

tablespoons

Natvia

1/2

teaspoon

vanilla extract
Instructions
Mix together almond flour, coconut flour, baking powder, and salt in small bowl. Set aside.

Melt coconut oil in small round microwavable cup that will be used to bake cake. You can use a ramkin or 2-cup Pyrex storage container.

With fork, stir almond milk, egg, sweetener and vanilla extract into melted coconut oil.

Beat dry ingredients into liquid ingredients with fork until well combined.

Microwave from 1 1/2 to 2 minutes or until cake is no longer wet. It took 2 minutes to bake in my 900 watt microwave.

Remove cake layer from pan and cool on rack.

Repeat steps for each cake layer.

Frost with icing if desired.
Recipe Notes
Chocolate Frosting can be used.

Each cake layer is two servings. So, four servings all together.

Nutrition per serving (half cake layer): 2.3g erythritol, 1.8g net carbs
Nutrition Facts
Birthday Mug Cake in Minutes
Amount Per Serving (0.5 cake)
Calories 132
Calories from Fat 100
% Daily Value*
Total Fat 11.1g 17%
Total Carbohydrates 6.2g 2%
Protein 5.2g 10%
* Percent Daily Values are based on a 2000 calorie diet.
Related Posts