Eating keto at Chick-Fil-A can seem like a daunting task since they don't have a huge amount of options. But, actually, it is really very easy to order keto-friendly foods at this fast-food chain! Let's see what you can eat.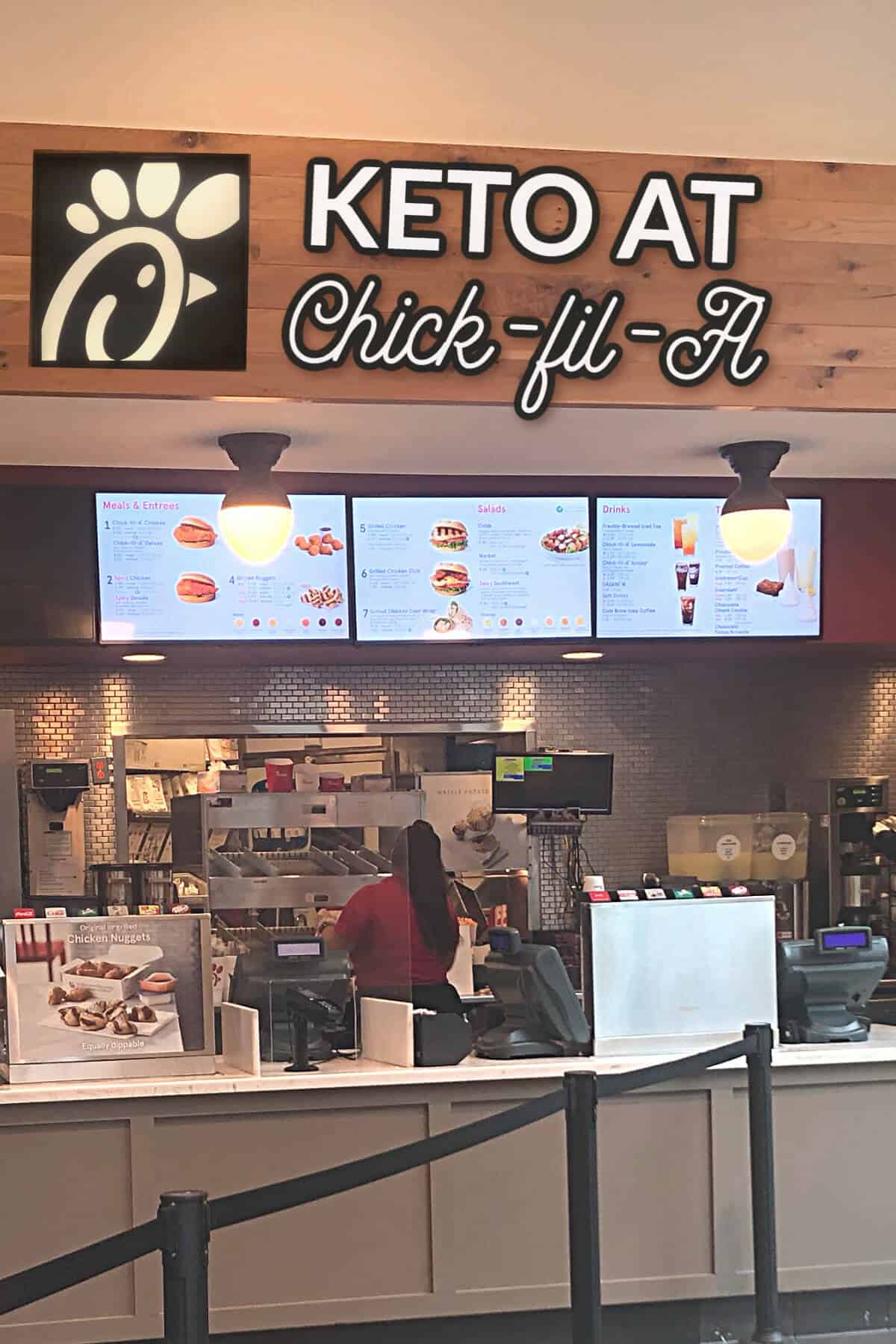 Article Index
Chick-Fil-A is a popular fast food option and is readily available. For this reason, it can come in handy to know whether or not they offer keto options on the menu. I enjoy eating at this restaurant and find their low-carb items to taste pretty amazing!
They may not offer many options, but what they do have available is delicious and satisfying. Also, you can have some fun combining different sides to create a filling meal that is keto-friendly too.
Chick-Fil-A is the perfect place to go when you are eating with people who are not on the keto diet because there are great options for everyone!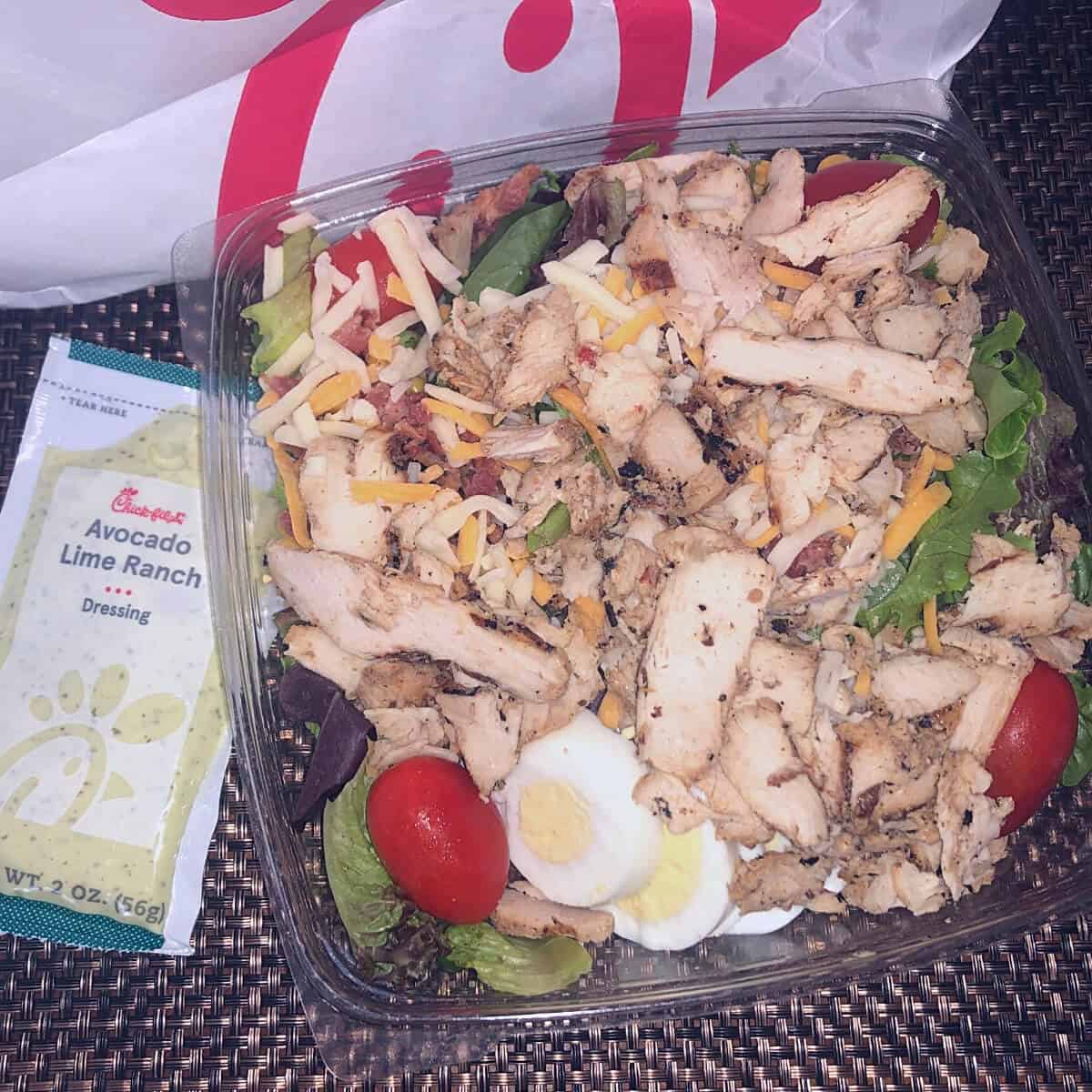 Breakfast
Want to go to Chick-Fil-A for a fast and easy breakfast? Here are their keto breakfast options.
Hash Brown Scramble Bowl: Ask for no hashbrowns to make this breakfast option keto-friendly. (1g net carb)
Hash Brown Scramble Bowl with Sausage: Ask for either sausage or fried nuggets without hash browns. (0g net carb)
Egg White Grill: (1g net carbs, without English muffin)
Grilled Breakfast Fillet
Bacon, Egg, and Cheese Biscuit: Ask for no biscuit to be added. (1g net carbs)
Sausage Patty
Side of Bacon
American Cheese Slice
Side of Eggs
Lunch and dinner
The lunch and dinner options at Chick-Fil-A are a bit minimal, but you still have some tasty things to work with!
Grilled Chicken Nuggets (2g net carbs)
Grilled Chicken Fillet (3g net carbs without bun)
Side Salad (9g net carbs)
Grilled Chicken Club: (3g net carbs without bun)
Grilled Cobb Salad: Ask for no corn. (10g net carbs)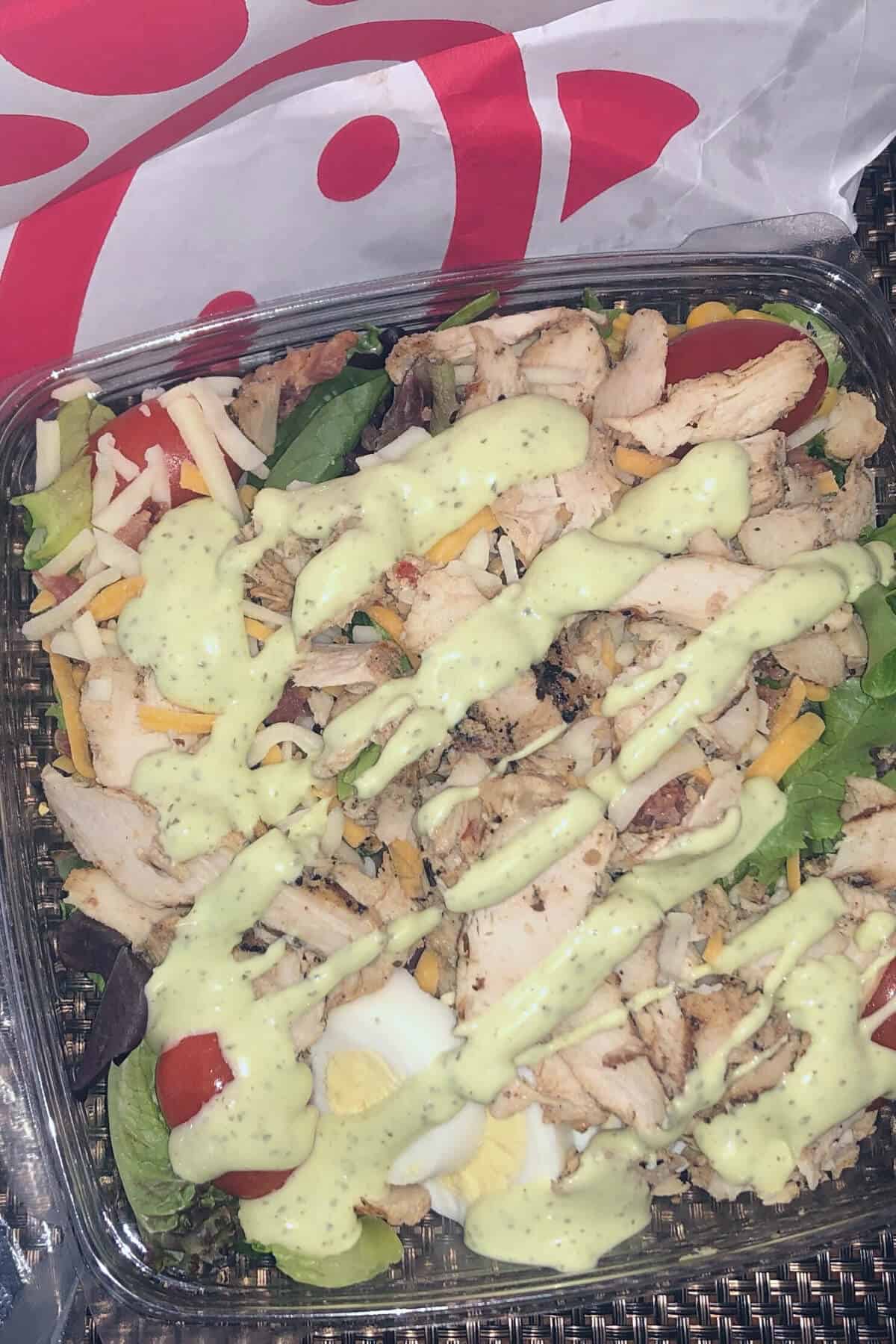 Dressings And Sauces
If there is one thing you can count on to be keto-friendly at Chick Fil A, it's their dressings and sauces! They have a bunch of amazing options to pair with your meal.
Garlic And Herb Ranch Sauce (1g net carb)
Zesty Buffalo Sauce (0g net carbs)
Honey Roasted BBQ Sauce
Jalapeno Salsa
Creamy Salsa Dressing (2g net carbs)
Light Italian Dressing (3g net carbs)
Garden Herb Ranch Dressing (2g net carbs)
Avocado Lime Ranch Dressing (2g net carbs)
Drinks
Want to pair a cold and refreshing drink with your meal? Here are the keto drink options that you can safely order at Chick-Fil-A.
Diet Lemonade
Unsweetened Iced Tea
Coke Zero
Coffee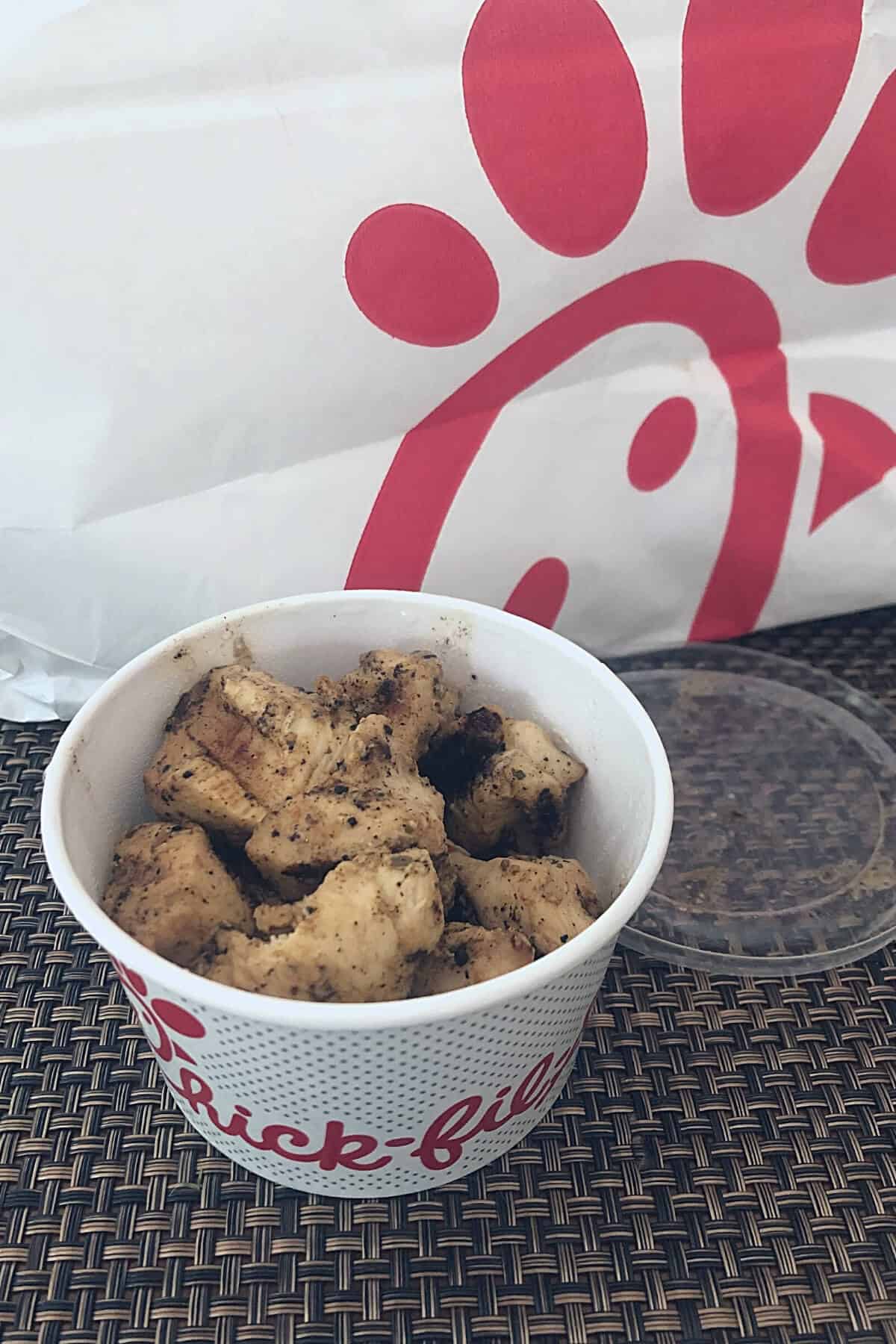 Ordering Tips
Because Chick-Fil-A is pretty limited on keto-friendly options, it can be a bit difficult to order there. It is certainly possible, but there are a couple of things to keep in mind and a few specific no-nos when it comes to ordering food.
So here are some rules to follow when ordering keto-friendly food at Chick-Fil-A:
1. Avoid All Things Flour
Anything made with flour is a huge no-no. This means no buns, no sandwich bread, and no biscuits. They are all loaded with carbs!
When ordering, make sure that bread doesn't come with your meal, and if it does, ask them to remove it.
2. No Desserts
There are, as of yet, no keto-friendly dessert options at Chick-Fil-A. They are all too sugary and full of carbs, making them completely off the keto diet plan.
3. Skip The Breaded Section
You will also need to skip any breaded items on the menu as these are high in carbs as well. This includes items like the breaded chicken strips. Instead, try ordering the grilled chicken nuggets!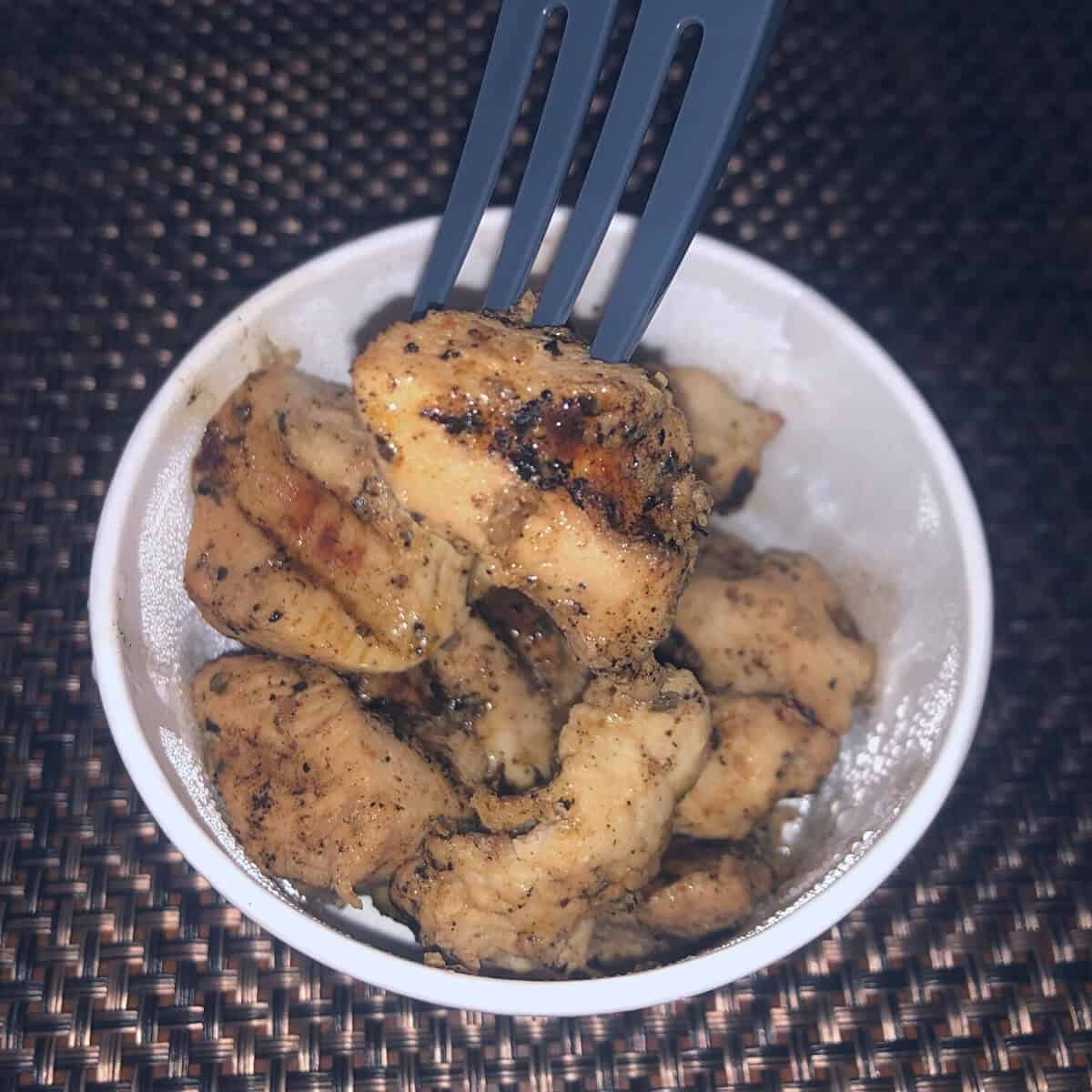 FAQs
Here are a few answers to the most frequently asked questions about ordering keto food at Chick Fil A!
Does Chick-Fil-A have any keto-friendly options?
They certainly do! Their options might be slightly limited, but Chick-Fil-A still has some pretty tasty options.
The only thing that you will need to keep in mind is that most keto options will need to be customized. For example, the hash brown bowl will need to be ordered without hash browns to make it keto-friendly.
With most keto options, you'll have to ask to have certain ingredients taken out of your order to keep it within your diet plan.
Can I order Chick-Fil-A sauces on a ketogenic diet?
Yes, you can! Unlike their food options, Chick-Fil-A actually offers a pretty wide selection of keto-friendly sauces and dressings. These are perfect for dressing up any keto meal. And, since many of their low-carb options happen to be chicken, these sauces give you something tasty to dip into!
How are the nuggets keto-friendly?
The reason why the grilled chicken nuggets are keto-friendly is that they are not breaded. They are basically naked chicken nuggets that have been grilled instead of fried.
If they were breaded, they would be too high in carbs. But, luckily for us, they are perfect for a keto diet.
Can I eat a full meal that is keto at Chick-Fil-A?
Yes, you definitely can eat a full meal at Chick-Fil-A! You will probably have to piece together a filling meal with an entree and some sides, but it will be delicious and satisfying.
Not all meals are completely keto. Just make sure to ask for non-keto food items to be removed from your meal.
Related Recipes
If this post on eating at Chick-Fil-A got your mouth watering, why not try some of these other recipes? They are all quick and delicious and taste just like you ordered them at a restaurant.
Follow us on FACEBOOK, PINTEREST, and INSTAGRAM for even more tasty keto-friendly recipes!