Five Guys has a simplistic menu offering classic American fare without all the bells and whistles. But what kind of keto options are available? Learn how to eat keto at Five Guys with menu options, ordering tips, and must-avoid items!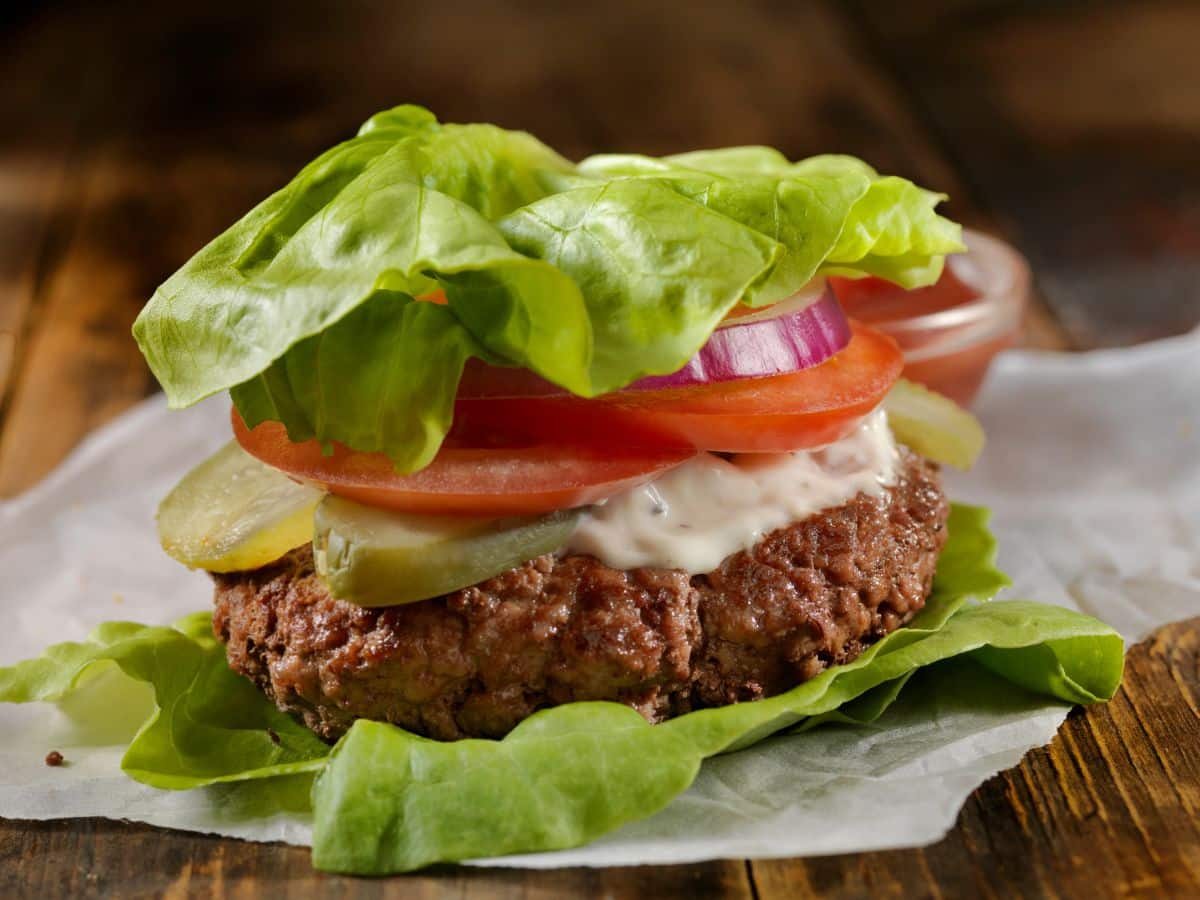 There's nothing better than a good hamburger when the craving hits... and Five Guys always delivers.
Their simple menu sports just fries, hamburgers, hot dogs, and milkshakes. So with these limited options, you might assume it's tricky to bring together a low-carb meal at Five Guys.
Luckily, that couldn't be further from the truth!
There are several low-carb options available for you to enjoy at Five Guys. And in this post, we're covering them all.
We've also included keto diet ordering tips, optional extras, and net carbs for you to keep track of your daily macros.
Note: Looking for more keto fast food restaurants? I have a bunch of keto tips for eating on the go, including how to eat fast food at Wendy's, Wingstop, Starbucks, and Dunkin' Donuts.
Best Five Guys keto options
Eating keto at Five Guys is pretty simple. In fact, almost all of their main menu items can be made low-carb-friendly. You can find the full menu here.
Here are your options when it comes to eating keto at Five Guys:
Burgers
You can eat Five Guys burgers on a ketogenic diet; just order them without the bun! Choose either a lettuce wrap or a bowl, then load it up with tasty extras like cheese, hot sauce, and grilled onions.
Note: Standard burgers come with two burger patties. Little burgers come with one hamburger patty. Choose based on your hunger level!
Hamburger – 0g net carbs

Little hamburger – 0g net carbs

Cheeseburger – 2g net carbs

Little cheeseburger – 2g net carbs

Bacon burger – 0g net carbs

Little bacon burger – 0g net carbs

Bacon cheeseburger – 2g net carbs

Little bacon cheeseburger – 2g net carbs
Hot dogs
You can also enjoy any Five Guys hot dog on a low-carb diet. Ask for it in a bowl instead of in a bun, and add the toppings of your choice, like smoked bacon, onions, and mustard.
Remember to skip the ketchup – it's filled with sugar!
Kosher style hot dog – 2g net carbs
Bacon cheese dog – 3g net carbs
Bacon dog – 2g net carbs
Cheese dog – 3g net carbs
Toppings
Ready to amp up your keto Five Guys meal? Choose between these keto-friendly sauces and toppings to customize your dish.
Remember to focus on high-fat extras like cheese and mayonnaise to better suit your ketogenic diet.
Sauces
Hot sauce – 0g net carbs
Mayonnaise – 0g net carbs
Mustard – 0g net carbs
Extras
Cheese – 1g net carbs
Green peppers – 0g net carbs
Grilled mushrooms – 1g net carbs
Grilled onions – 1g net carbs
Jalapeno peppers – 0g net carbs
Lettuce – 1g net carbs
Onions – 1g net carbs
Pickles – 1g net carbs
Tomatoes – 1g net carbs
Five Guys menu items to avoid
Along with the many Five Guys keto options, there are some menu items that you should avoid at all costs. These items are high in carbohydrates and won't fit into your daily carb allotment.
French fries
Sugary sauces

Ketchup
Relish
BBQ sauce
A1 Sauce

Sweetened drinks
How to order keto at Five Guys
Ordering keto at Five Guys couldn't be more simple. Follow these three steps to create the perfect low-carb meal.
1. Pick your protein
Begin by picking your protein. Opt for a hamburger or a hot dog, and choose if you want to add smoked bacon, cheese, or both!
2. Choose lettuce wrap or bowl
Next, choose between a Five Guys keto bowl or a Five Guys lettuce wrap to house your protein. Either way, it's going to be super tasty.
3. Load it up!
The last step is to load up your meal with yummy extras.
Choose a keto-friendly sauce like mayonnaise or hot sauce. Then, add the extra toppings of your choice. Remember to focus on high-fat foods, like cheese, for a macro-friendly dish.
You can also increase the nutritional content by adding vegetables like tomatoes, lettuce, and green peppers.
FAQs
Here are a few answers to the most frequently asked questions about Five Guys' keto options. If you don't see your question in this list, please leave it for me in the comments.
What is a burger bowl at Five Guys?
A Five Guys burger bowl is pretty much what it sounds like – a traditional Five Guys burger served in a bowl rather than on a bun.
The bowl option is great because it gets rid of the high-carb bun. It also provides more space to load up your burger with tasty toppings. If you want, you can ask for them all!
Is the Five Guys hot dog keto?
Five Guys hot dogs are absolutely keto as long as you ask for no bun.
Instead, request you get it in a bowl with additional toppings. Enjoy a kosher-style hot dog with 2g net carbs per serving.
Try adding grilled mushrooms for a macro-friendly addition with just 19 calories, 0g fat, and 1g net carbs.
Does Five Guys do lettuce-wrapped burgers?
Five Guys does offer lettuce-wrapped burgers! They are no strangers to this request, so feel free to ask. In addition, they also offer a Five Guys "no bun bowl" if you prefer.
Related recipes
If reading all about Five Guys' keto options has you craving fast food, here are some low-carb recipes you can make at home! All of them will effectively replace anything you can order at the chain.
Follow us on FACEBOOK, PINTEREST, and INSTAGRAM for even more tasty keto-friendly recipes!